German Baked Cod in Mustard Cream
Inspired by German buffet food at Disney's Epcot park, this simple but elegant German Baked Cod in Mustard Cream is a must-try recipe. Perfect for entertaining, this German fish dish is SO EASY to make, add it to your repertoire of no-brainer-but-special dinner recipes.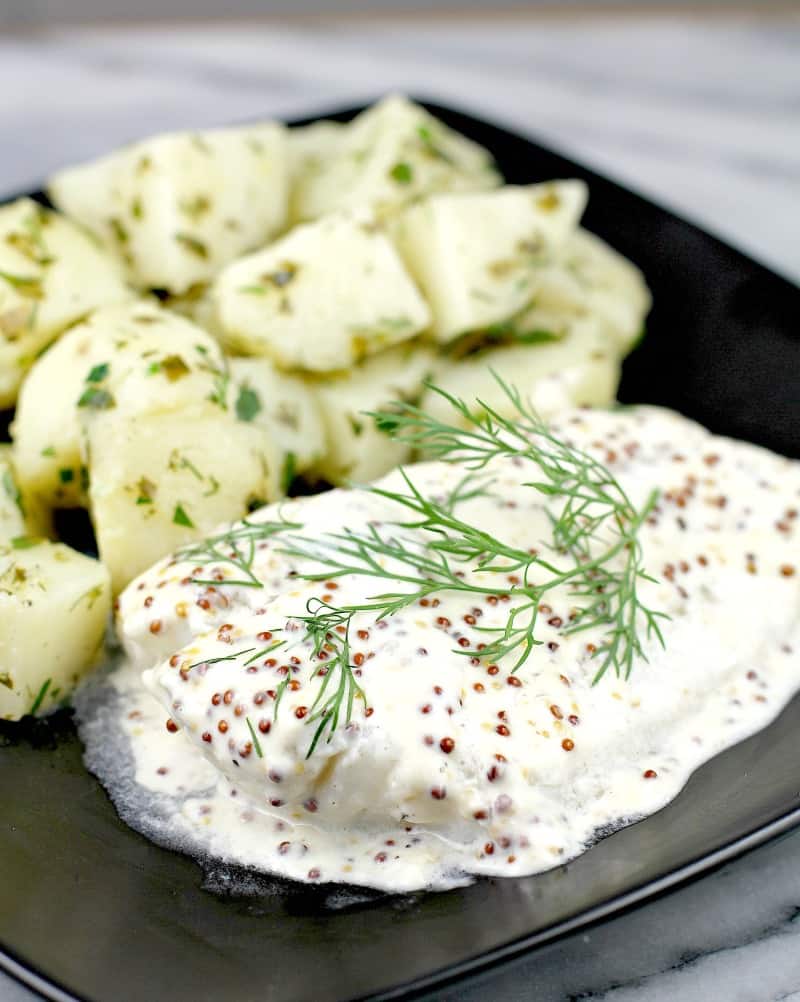 This recipe was originally posted in 2013, then updated in 2019.
We are on a German cuisine as of late, pretty much because we went to Disney Epcot in Orlando a couple weeks ago.
If you have never been, Disney's Epcot is where the countries are — realistic buildings, shops, and restaurants for a bunch of counties. So, you can walk, shop, and eat feeling almost as if you are in that country, at least a little.
So, we ate in "Germany" as we often do there because in Germany at Epcot is a big buffet to sample all the German things. And my German-decent husband has been begging for these foods ever since.
In fact, Christmas will be a virtual Bavarian buffet if the current plan holds. Don't you love when you go somewhere and have such a great meal that it inspires you in this way??
So let's embrace this uber simple, ridiculously delicious, German Baked Cod as the end-all, be-all of cod-dom.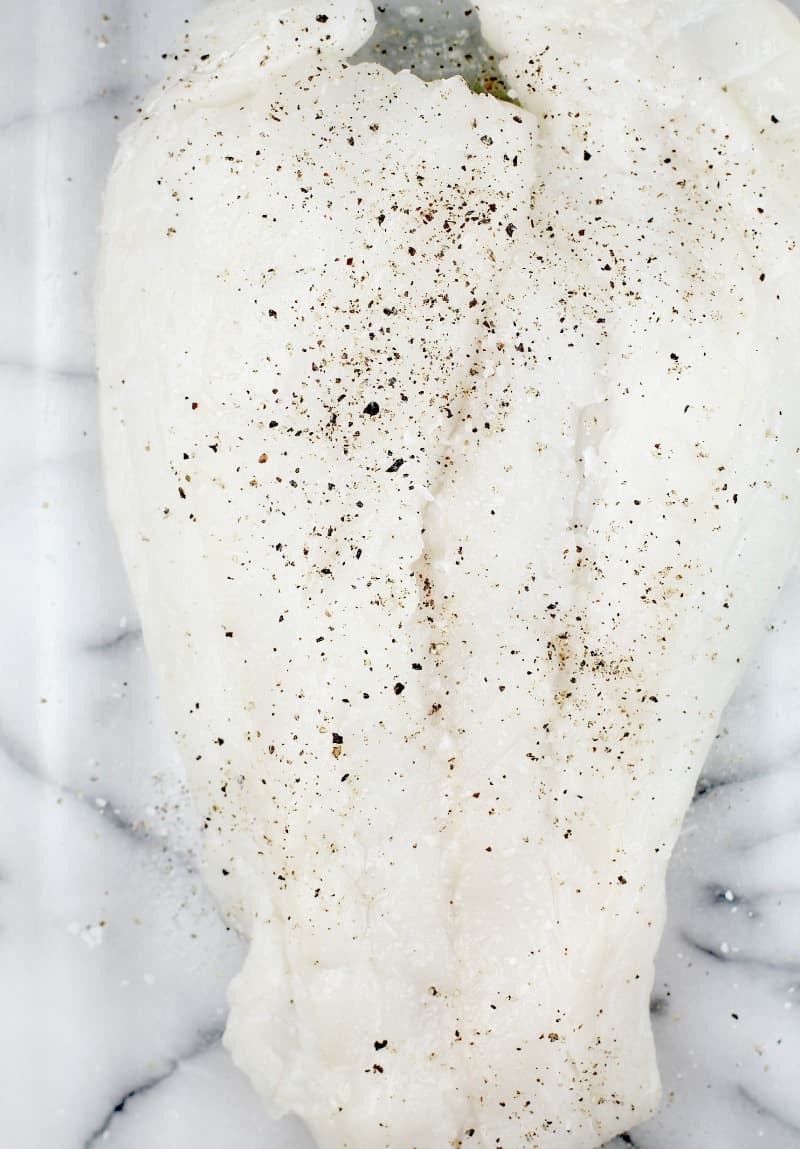 German Baked Fish
This German Baked Cod in Mustard Cream dish is specifically inspired by an item my daughter and I honed in on at that Epcot dinner – flaky, white cod fish, baked in a creamy mustard sauce.
When one thinks of German cuisine, does fish come to mind? I lived in Germany when I was a kid …I don't remember eating any fish there.
BUT, out of all the food to choose from in that buffet – pretzel bread sticks with cheddar-beer sauce, ridiculously cheesy macaroni and cheese, amazing desserts and sweets – it was a simple baked cod that won my heart.
And now, we have it at home, easy peasy. And I do kinda have to trust Disney that they try to keep things authentic, so we'll go with that.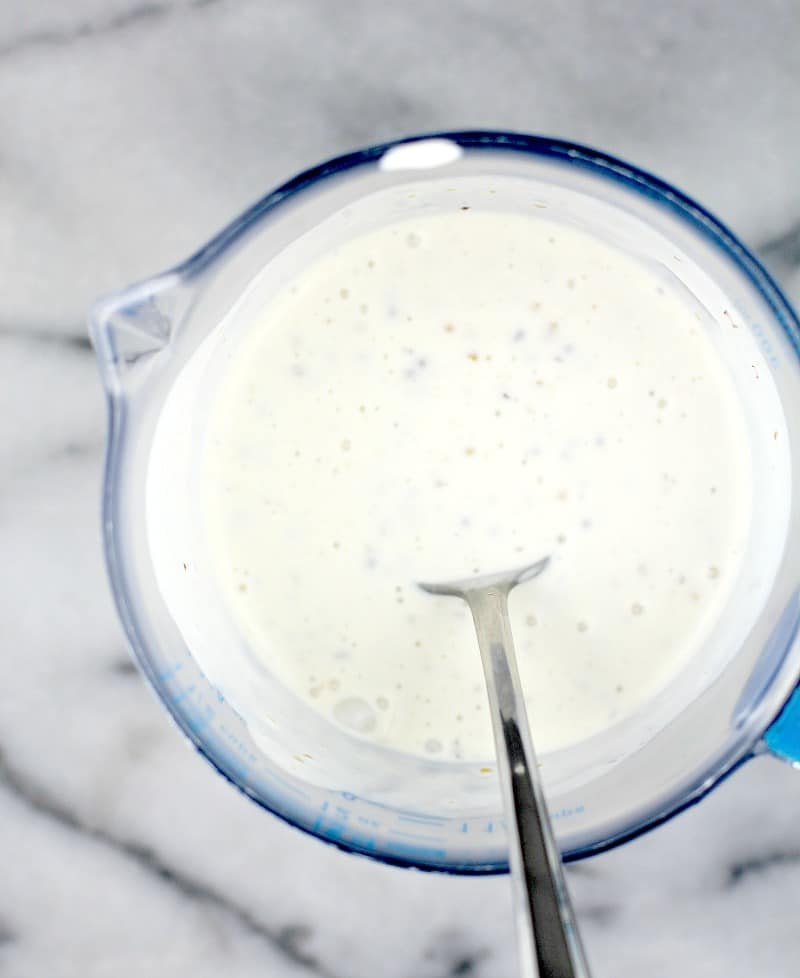 This German recipe for fish could not be any easier to prepare and it is absolutely delicious …provided the fish is fresh and well seasoned to begin so take care with the salt and pepper.
To be honest, I am really feeling that pride that goes with recreating a dish or creating a copycat recipe ….and then some.
One would think that with all that cream, that this would be a heavy dish but that couldn't be further from reality.
Because the fish is so light, and because we add tangy acidic mustard to the cream (which cuts the heavy fat on the palate, it's a foodie thing), what we get is light and just luxuriously, delicately delicious.
The dill is my extra touch and it just makes it.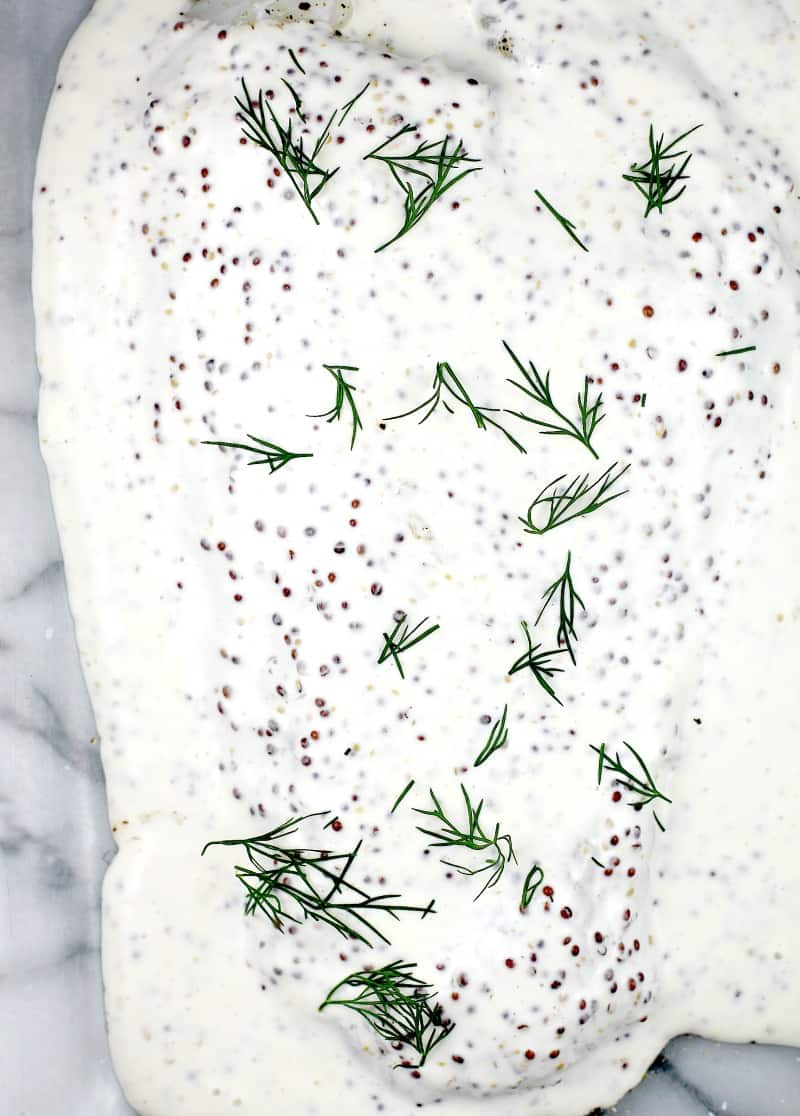 How to Make German Baked Cod
Put fish in dish and season.
Pour cream-mustard sauce over fish.
Sprinkle fresh dill.
Bake.
This recipe could not be easier! we literally mix cream and whole grain mustard, pour over the fish, top with a little dill, then bake. THAT'S IT.
My husband is not a fan of cod – it's a flaw, I deal with – BUT he has LOVED this every time I have made it.
Which brings up a good point … if you are in a situation to feed seafood to people and you're not sure that everyone is on board with seafood, this recipe is THAT ONE you want to make.
German Baked Cod will convert people AND is so easy to make too, so you cannot lose.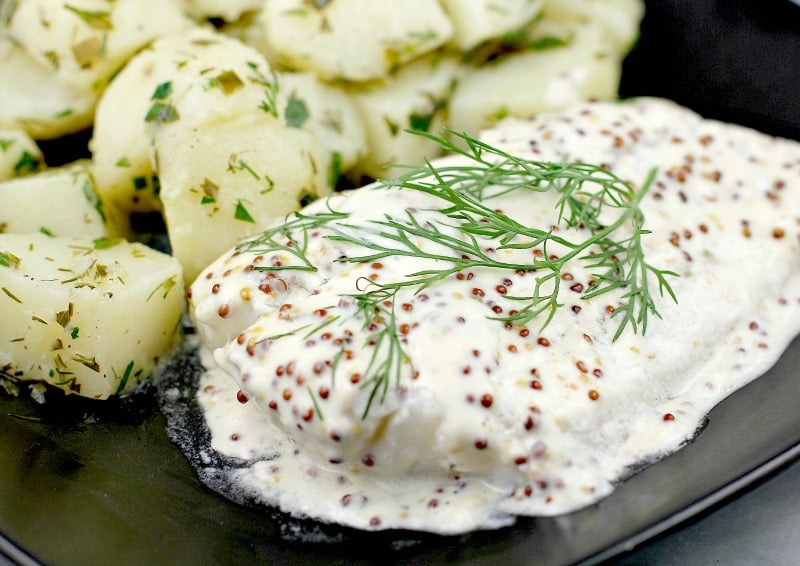 For more easy fish recipes, check out these dinners:
Now that we're making this decadent but ridiculously easy baked fish dinner, what do we want to serve it with? Here are some suggestions: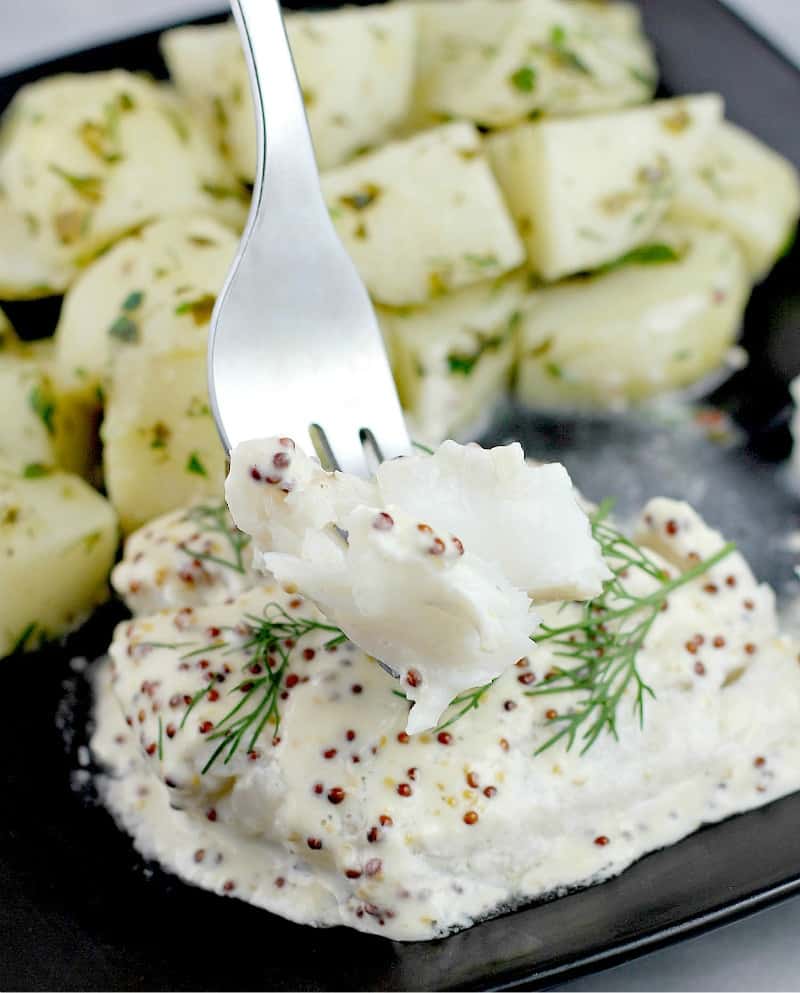 What to serve with German Baked Cod
rice pilaf
Irish Herbed Potatoes (these are in the photos in this post with my cod)
classic German potato salad
What we do not want are side dishes that are heavy. So this rules out anything with cream because we've already got that covered.
Also, I'm not feeling pasta with this recipe.
What I am feeling is rice. Rice pilaf would totally work, and the rice could mingle next to the cod on the plate and soak up some of that creamy sauce. YUM.
A simple German Green Bean Salad with Dill or classic warm German potato salad would be perfect with this fish dish especially if you are wanting to keep the whole dinner German cuisine.
I also listed some simple, easy-but-elegant roast vegetable recipes. I think the Oven Roasted Broccoli in Dijon Pesto Vinaigrette would be especially good. This recipe is where I toss broccoli with a tangy, Dijon vinaigrette.
This would complement the German Baked Cod SO well, especially since the acid from the vinaigrette on the broccoli would balance the cream on the fish.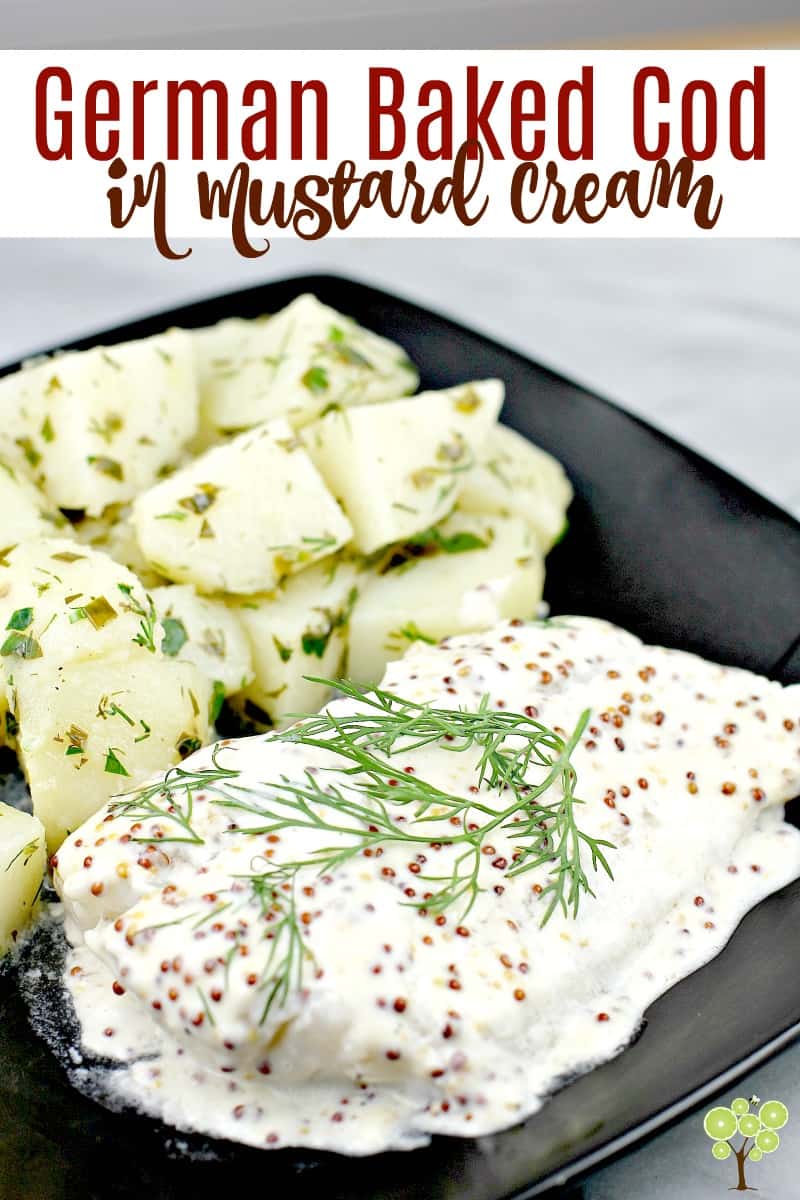 So that's it folks, an all-time favorite, EASY baked fish recipe.
This is one of those dishes that is contingent on the quality of your ingredients, so do it right and this recipe will never let you down.
This is true for the side dishes I recommend as well. So, channel your inner Ina Garten (and who doesn't love the Ina memes lol), and get the best quality ingredients for this recipe and for what you make to go with.
Because then, with so little effort and prep time, you will have yourself a spectacular dinner worthy of any special occasion.
Delicious seafood, fresh baked cod, prepared simply and perfectly.
Hit the P for Pinterest button below this post to save this recipe. If you make it, post on Instagram and tag @ericasrecipes.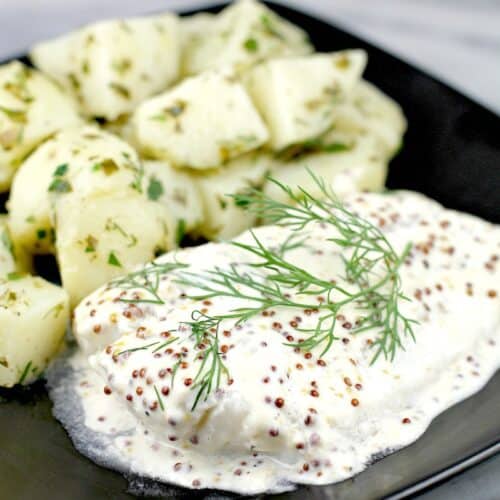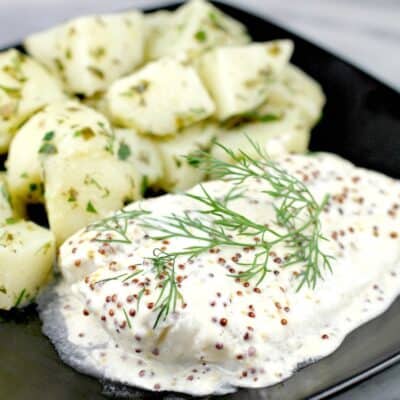 German Baked Cod in Mustard Cream
Perfect for entertaining, this cod recipe is SO EASY to make, add it to your repertoire of no-brainer-but-special dinner recipes.
Ingredients
1 ½

lb

cod filets

kosher salt

fresh cracked pepper

I prefer mixed peppercorns for this

½

cup

heavy cream

2

Tbs

quality whole grain mustard

fresh dill leaves
Instructions
Lay the fish in a 13×9 baking dish. Season with salt and pepper (at least 1/4 t salt). Separately, combine the cream and Dijon. Pour over the fish. Top the fish with small torn dill fronds.

Bake at 350F for 15 minutes until fish flakes easily with a fork. Serves 4.
Nutrition
Calorie count is purely an estimate calculated using an online application to serve as a guide and not to be taken as accurate nutritional information. Percent Daily Values are based on a 2,000 calorie diet.
Tried this recipe?
Leave a comment below and let me know!
~✿♥✿~
If this baked cod recipe looks good, check out these weeknight dinner recipes.