Grilled Steak with Horseradish Dijon Sauce
Juicy grilled steak topped with a gloriously easy creamy horseradish Dijon sauce. This grilled steak recipe is delicious, but this horseradish mustard sauce makes it AMAZING. Make it a Big Green Egg steak or grill on your grill of choice and enjoy this restaurant-quality steak at home. This sauce is versatile and so good on pork too.
So my husband said this Big Green Egg steak was like prime rib… without having to pay for prime rib. We can work with that. I grill steak often, but when I want to make it even more special, I make this sauce to go with.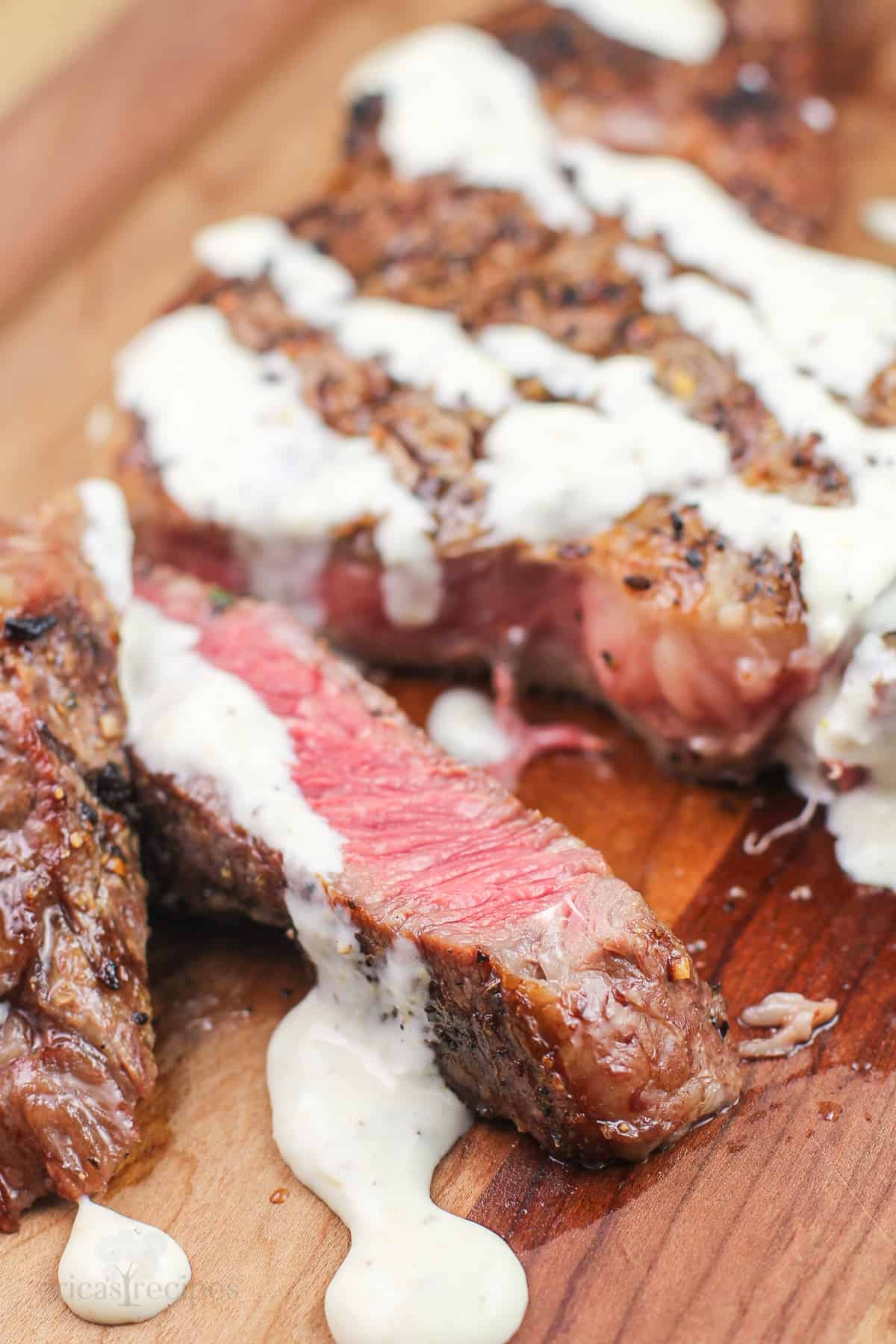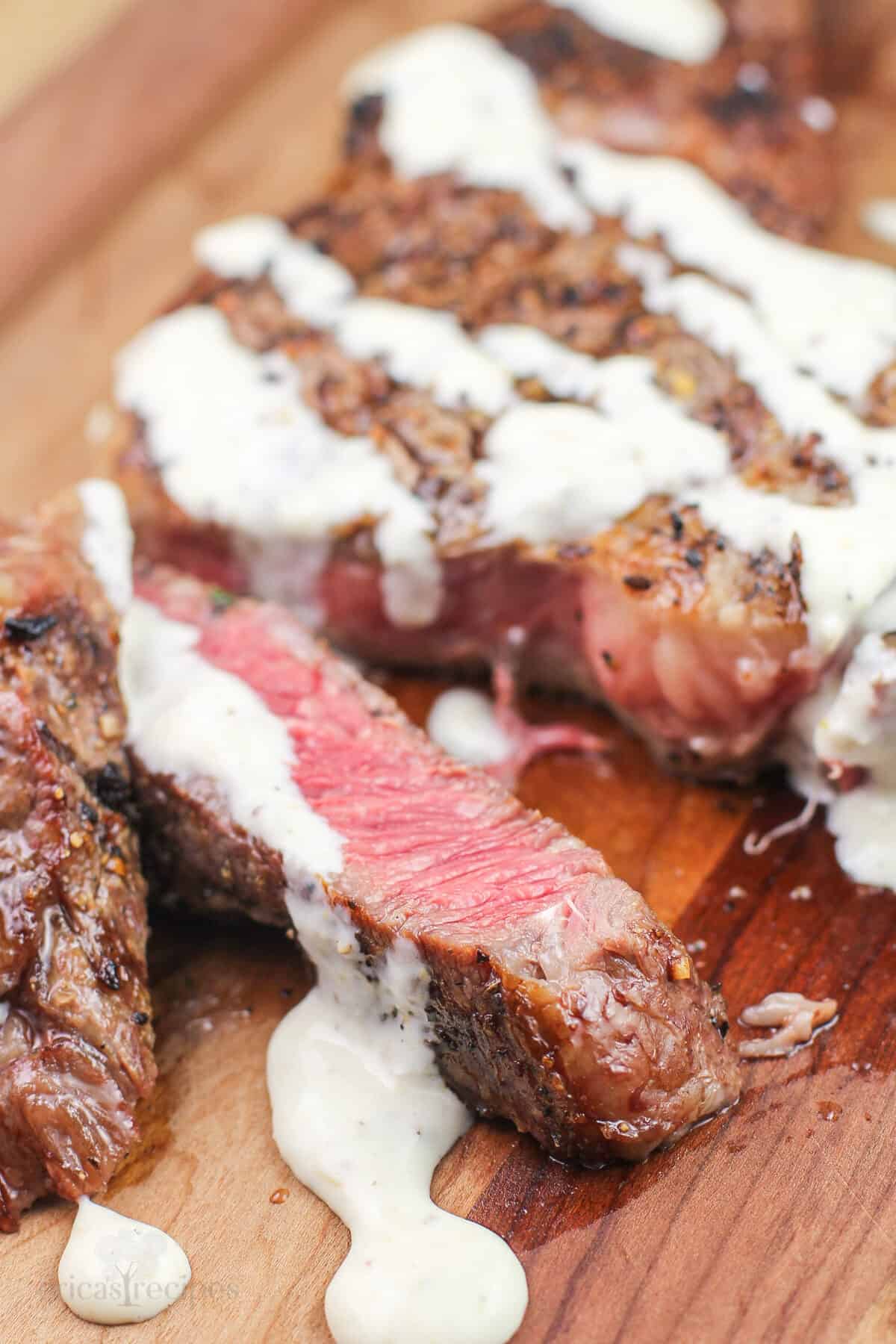 Why this recipe works
This recipe is time and again my favorite because we keep the steak simple with just seasoning and top with a lusciously extravagant horseradish Dijon sauce that loves on the steak in return. And it all comes together SO quickly! The steak is perfectly seasoned and cooked, and then my horseradish mustard sauce – with 2 kinds of mustard – is the divinity on top.
These flavors combine for a literal perfect balance of salt, seasoning, cream, and robust steak finished with the subtle bite of Dijon mustard and horseradish. Yum yum yum yum yum.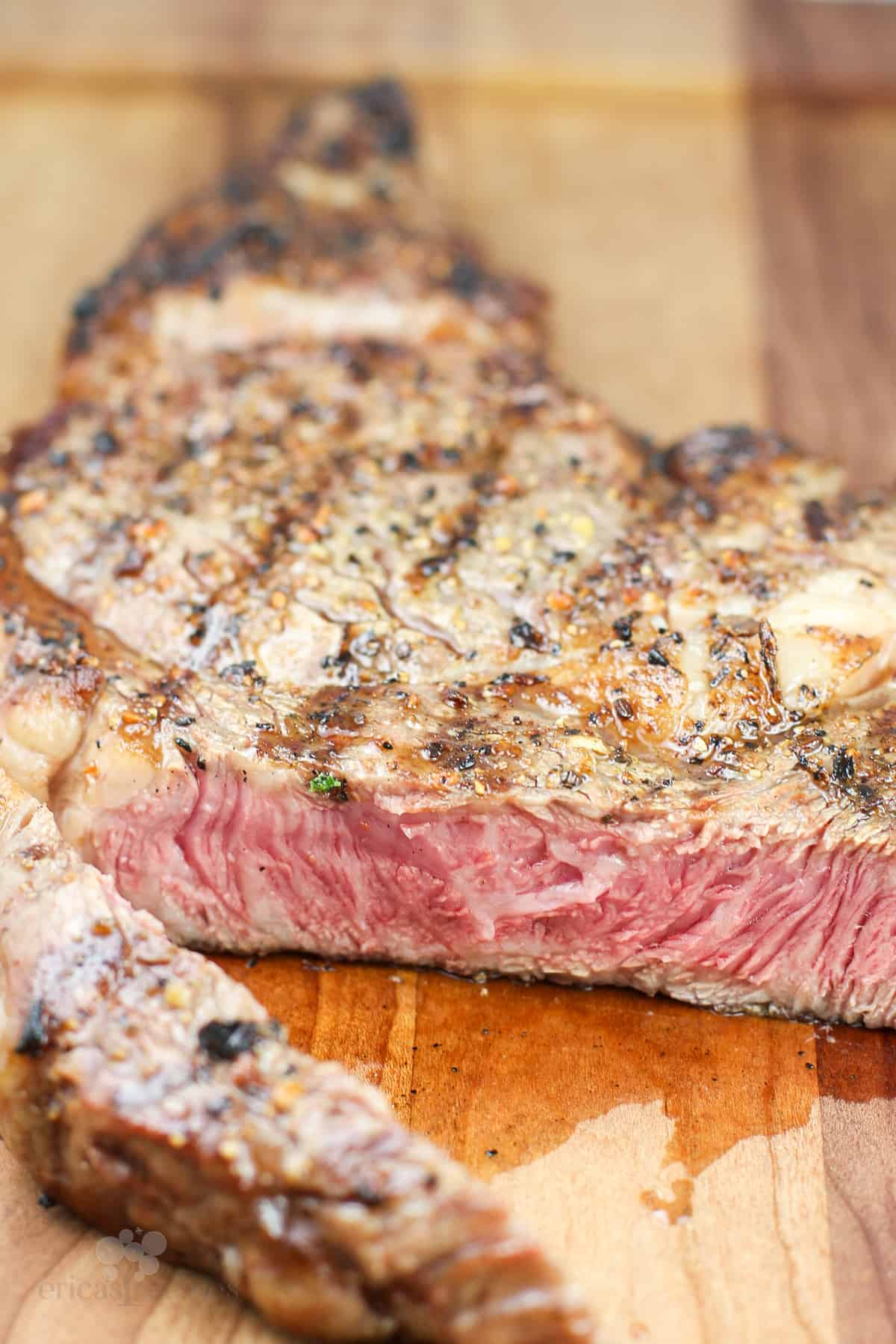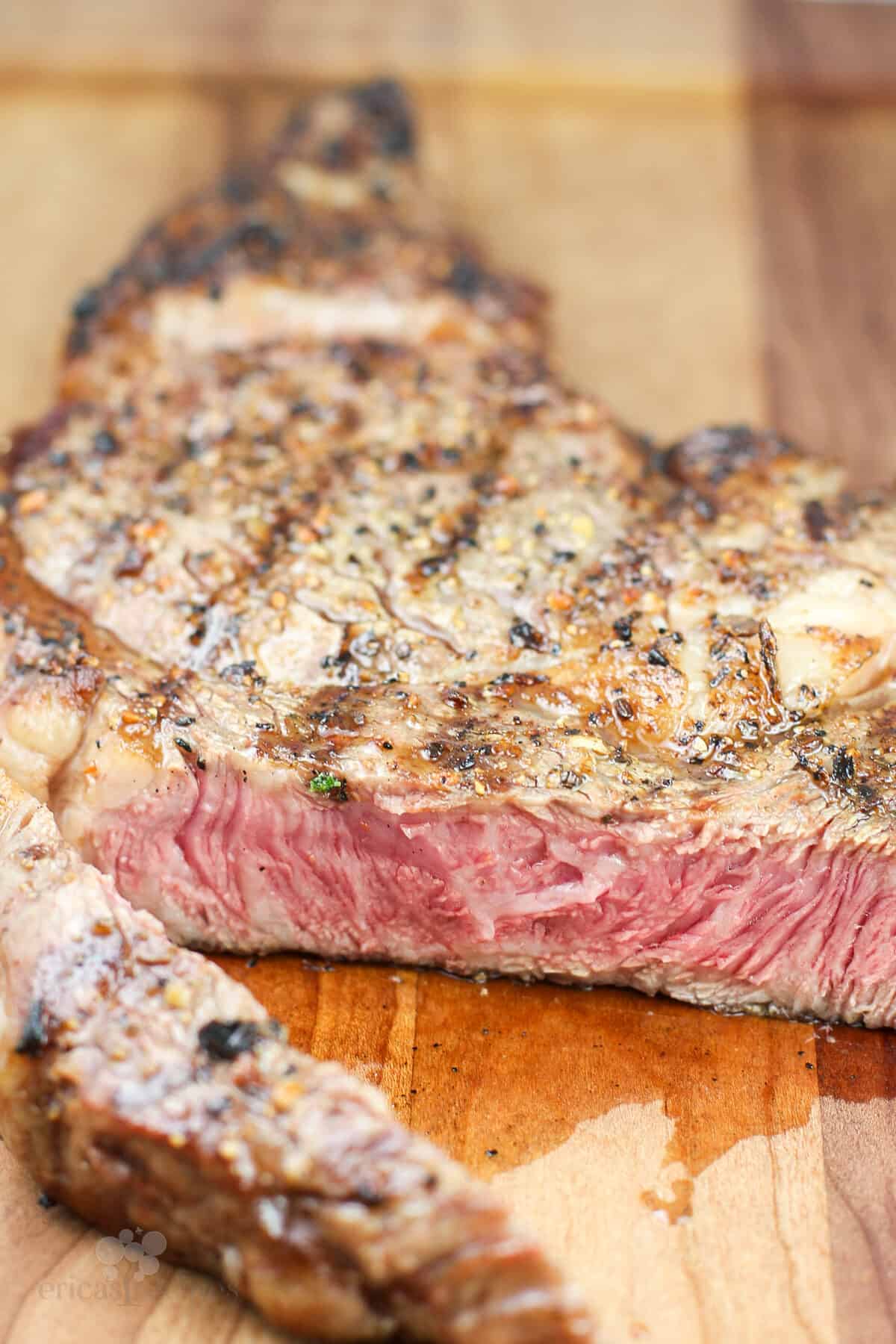 About the ingredients
These ingredients are all super easy straightforward and simple, listed in the recipe card below. The big decision is which cut of steak to cook of course. We prefer boneless ribeye steaks or NY strips steaks, but skirt steak is another to consider because it has spectacular flavor.
Look for meat that is well marbled so it will be tender, but not so fatty that you won't enjoy the meat. I also look for steaks with a good thickness – an inch is perfect I find.
I list the seasonings I use on Every Steak I've made for like 100 years – and I sometimes throw Old Bay seafood seasoning on there too by the way (so yummy). These work for us and I present them as suggestions. But if you just want salt and pepper – then just do salt and pepper. Change It Up and try new things. Find what works for you.
The horseradish Dijon sauce is ridiculously easy with just cream, prepared horseradish, Dijon mustard, whole grain mustard, salt and pepper. Be sure to use heavy cream (aka whipping cream).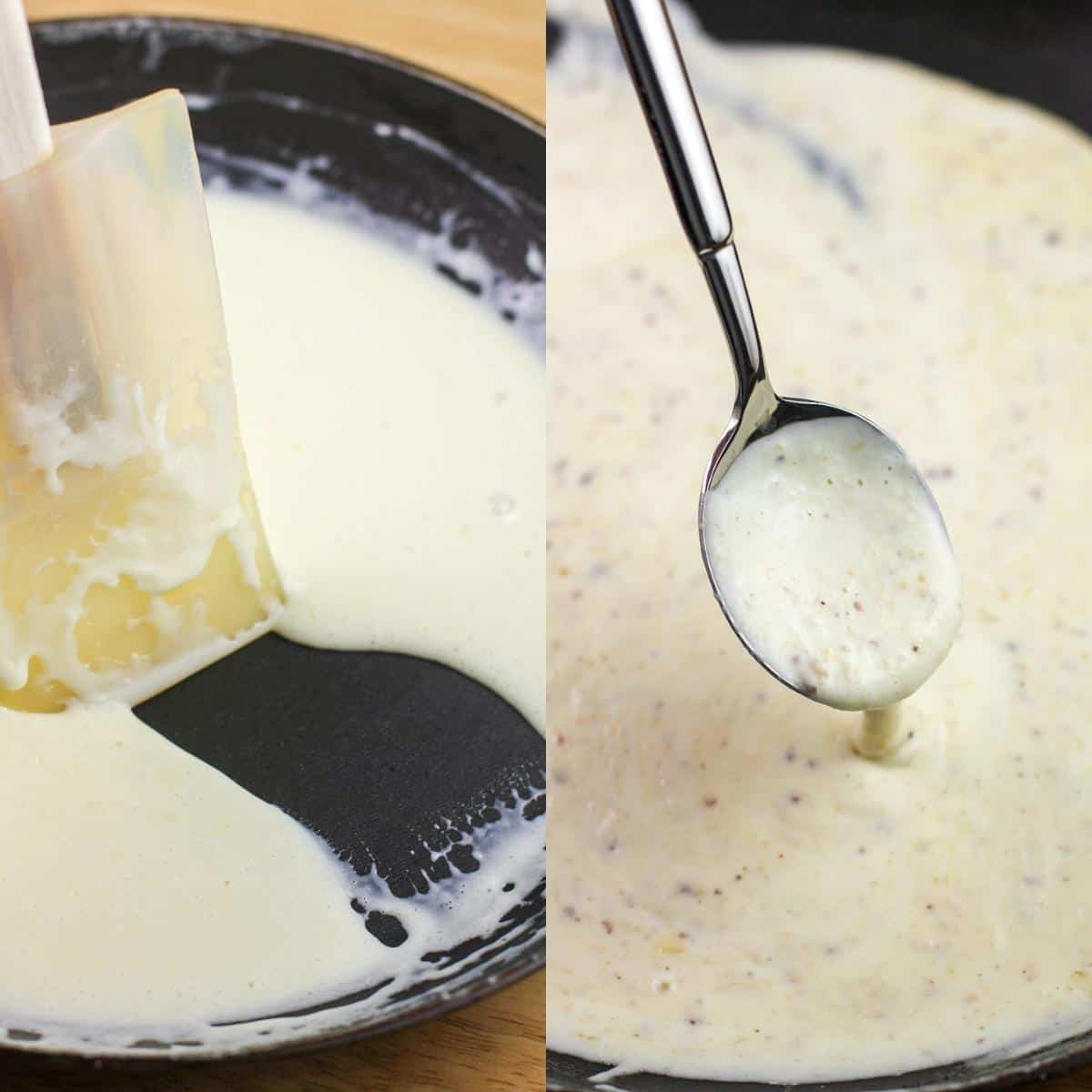 Tips to grill steak on the Big Green Egg (or any grill)
The internet is replete with tutorials and how-tos for how to grill a perfect steak – I get that. But there are a couple key tips that I can declare with 100% confidence – these are required for a truly great steak. And it does not matter if you are grilling on a Big Green Egg or Weber grill or flames or coals. These are my universal rules to a perfect steak every time.
1. Season, don't marinate. Marinades have their place, such as in my Epic Steak Tacos Caribe recipe or with a tougher cut of meat so that the acidity in the marinade helps tenderize the meat. But for a regular juicy tasty steak, Do Not Marinate. A TRULY amazing steak starts with the steak itself. If you have a great cut, then you need nothing other than seasoning.
2. Let the meat come to room temperature before grilling. When we grill, we want to quickly sear the side close to the heat, flip, sear the other side, rest (more on this below) and enjoy. We want the inside to cook some (even if you prefer rare), so by having the steaks at room temperature we ensure the inside will be where we want – no matter our desired level of doneness – by the time the outside is perfect too.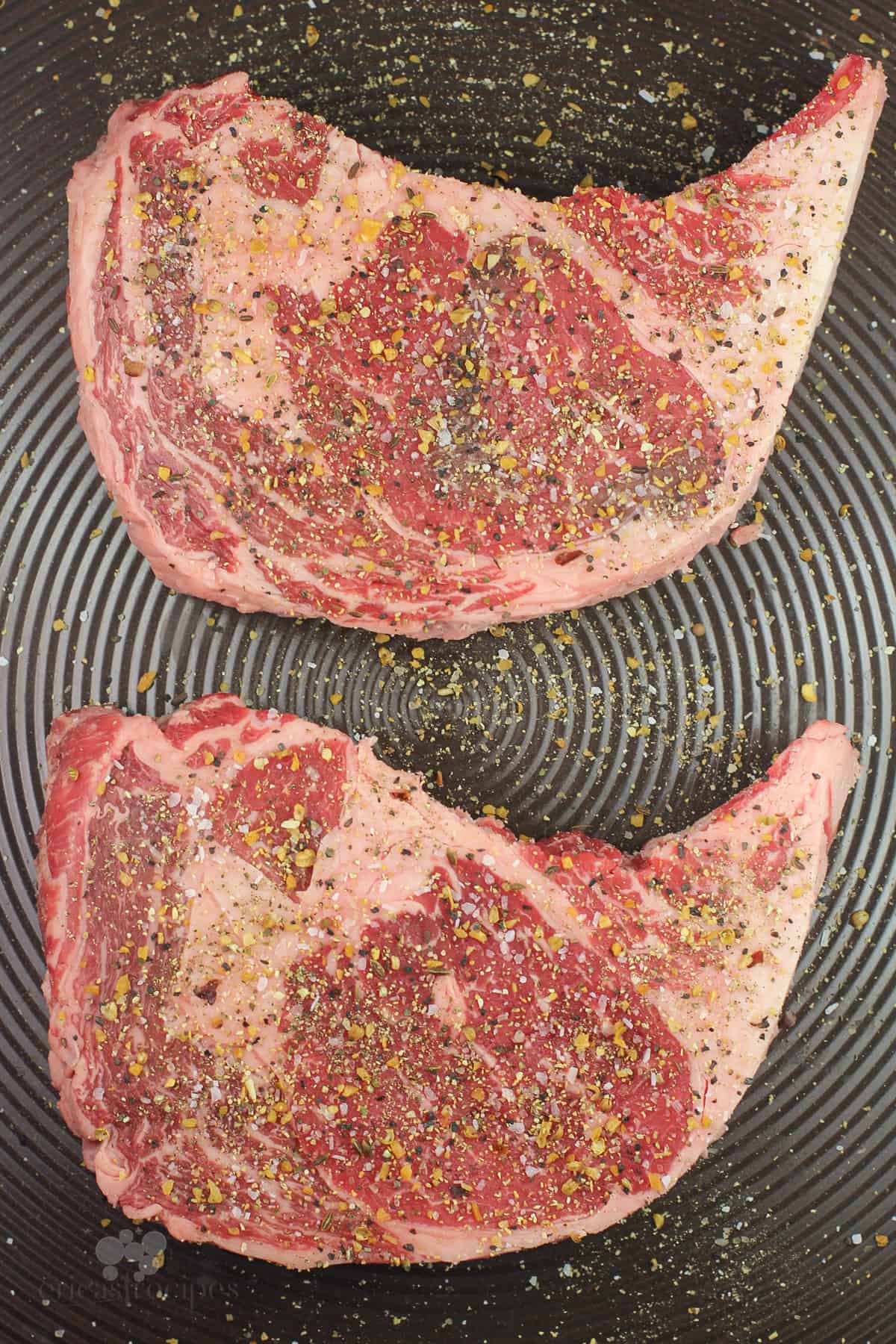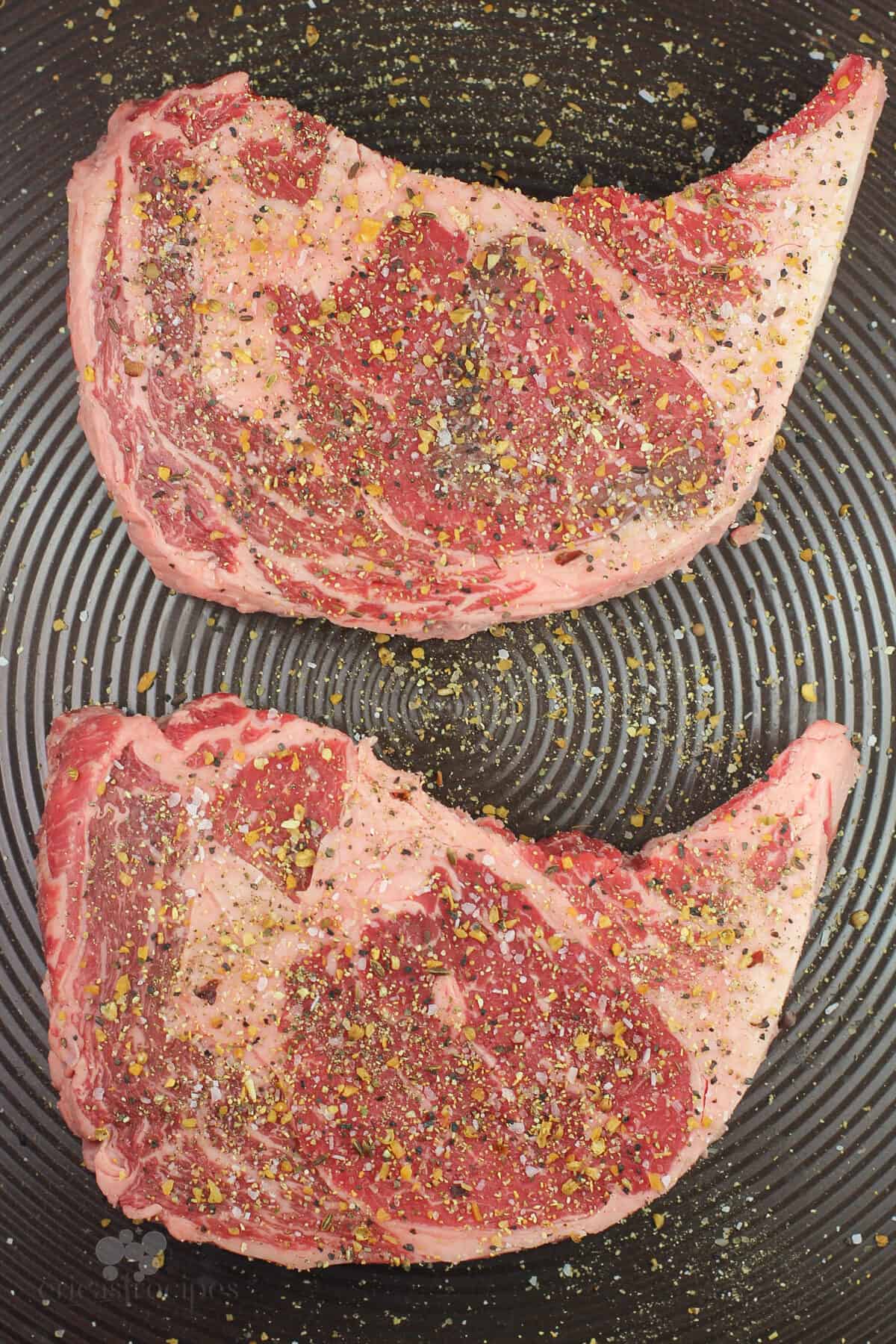 3. High heat – always. If you aren't sure your grill is hot enough – heat some more. High heat quickly sears that outside of the meat and creates the flavor we want. On a Big Green Egg, the grill temperature can get crazy high, so I shoot for 500-600°F. On a regular grill, 500°F is good too. Either way, just adjust your cook time.
4. Know the temperature of your grill. How you cook your perfect steak is determined by 2 factors: cook time and grill temperature. Investing in a thermometer to accurately measure the temperature internal in your grill is well worth it as the thermometer mounted in the grill lid is typically off.
5. Learn how to tell doneness. The best method is to learn how to poke the meat with your finger and know how done it is based on how much the meat pushes back at your finger. Do it quickly and you will not burn yourself – promise!
This is the "Poke method" and it WORKS. It's how I do it – it's where you put a finger to your thumb and poke your palm for a similar feel for how the meat should be and it varies with which finger you use. Look into it and give it a try – it is a gamechanger for being able to quickly assess if your steak is right before it overcooks.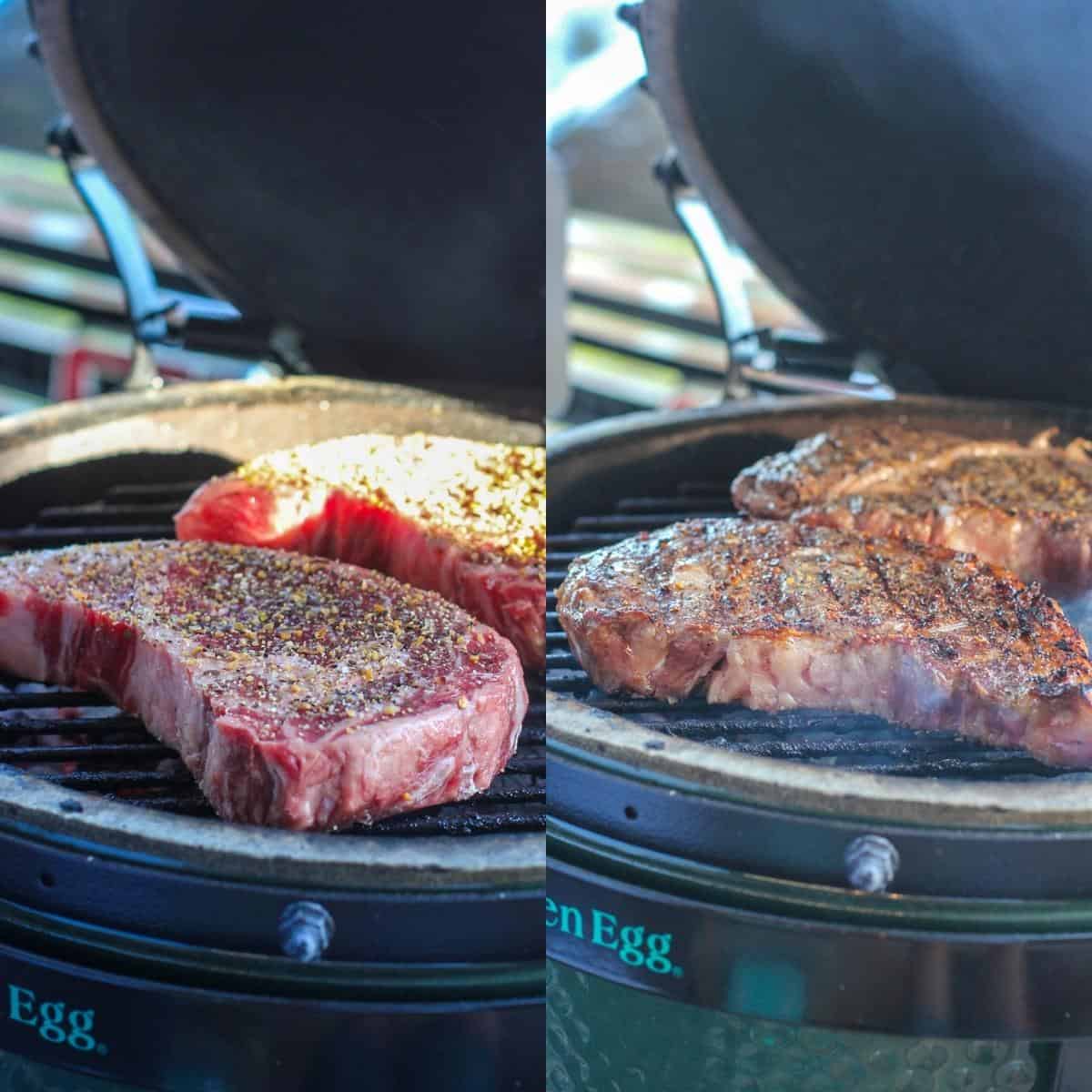 6. Steaks cook faster than you think. A truly great steak is seared on the outside and tender on the inside. This means rare, medium rare, and maybe almost medium. It does not mean well done. You can order a burger well done at a restaurant, but don't you dare take that $20 steak you bought and grill it well done. BAH.
For a T-H-I-C-K steak, think 4 or maybe even 5 minutes per side at 500-550°F and then check for doneness. Usually, I get ~1-inch steaks, so ~3 minutes per side usually works. The key is to stay flexible and judge based on the temperature of your grill and thickness of your steak. Also, use the poke method I mentioned above to check for doneness on the fly.
7. Let it rest. All meat – and I do mean ALL MEAT – needs to rest before cutting into it. This allows the juices to redistribute (because of the way water moves away from heat) and prevents tough meat. For steak, 5 minutes rest is sufficient.
If you love cooking outdoors, check out all my Grill and Griddle recipes!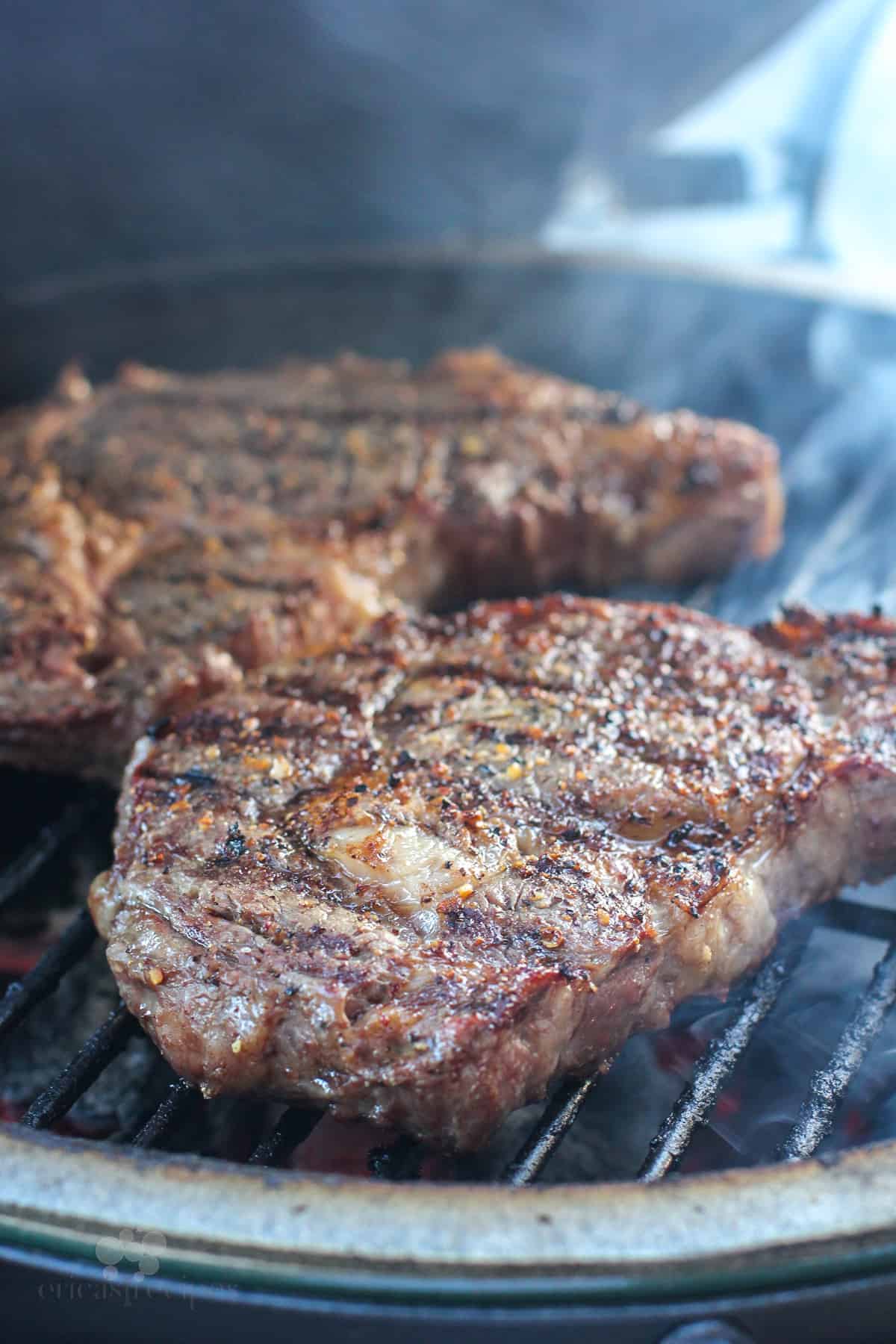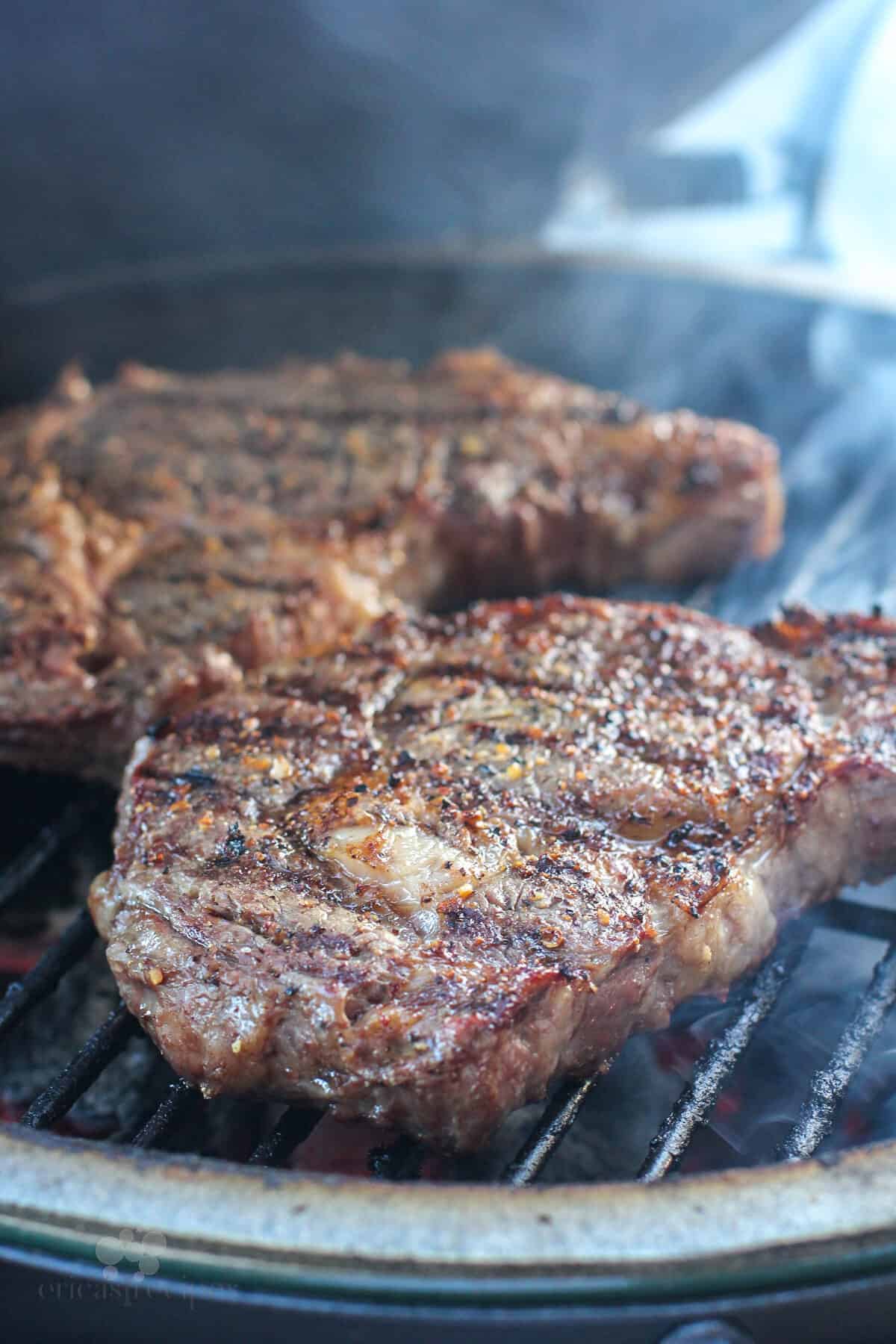 FAQs
Can the horseradish Dijon sauce be made in advance?
I do not recommend making the horseradish Dijon sauce too far in advance. Sauces based with heavy cream tend to separate and become quite oily upon reheating. This sauce is best served freshly made.
What are the best cuts for steak?
I prefer boneless ribeye or NY strip steaks and find I get consistently good results. Skirt steak is also incredibly flavorful and another favorite.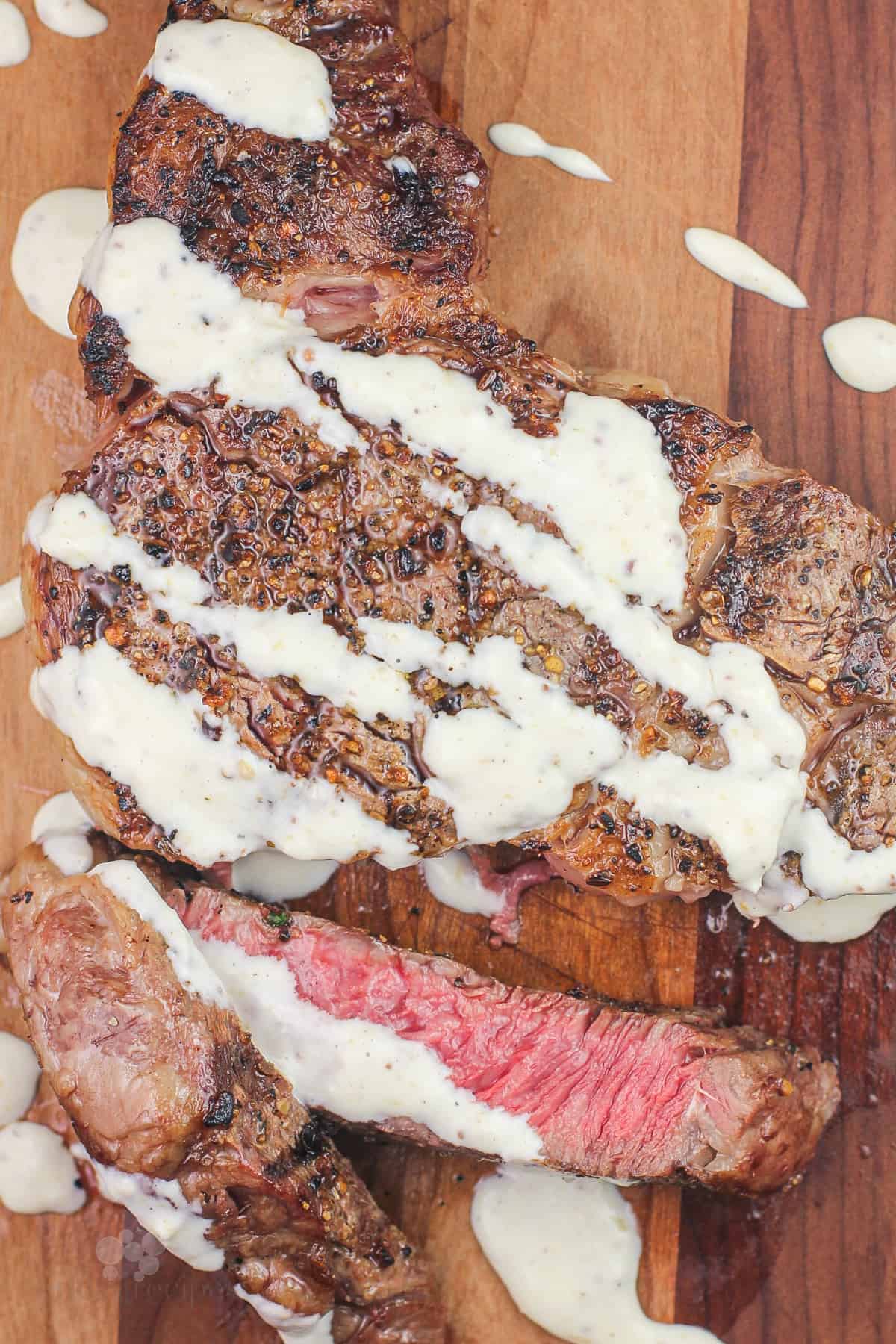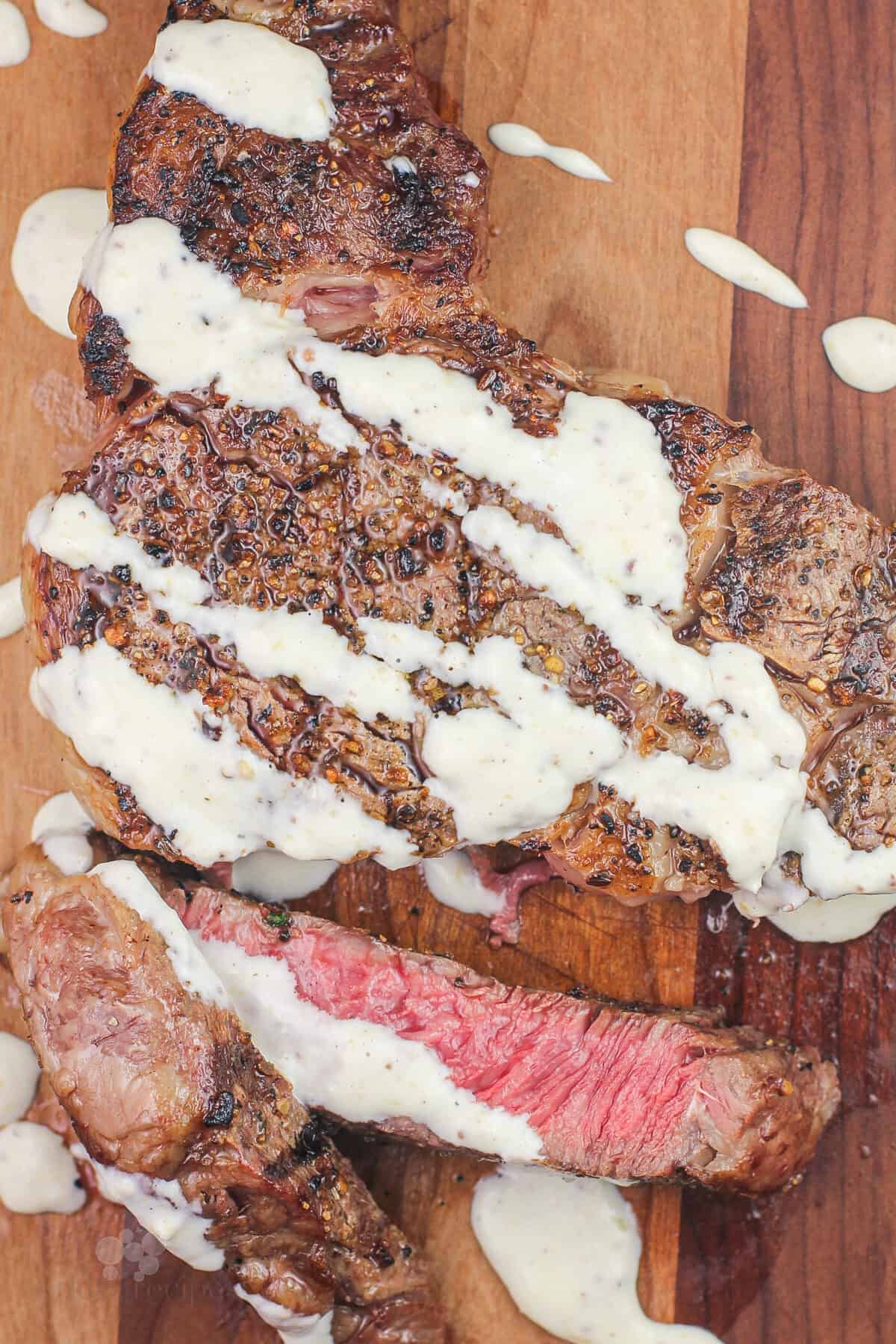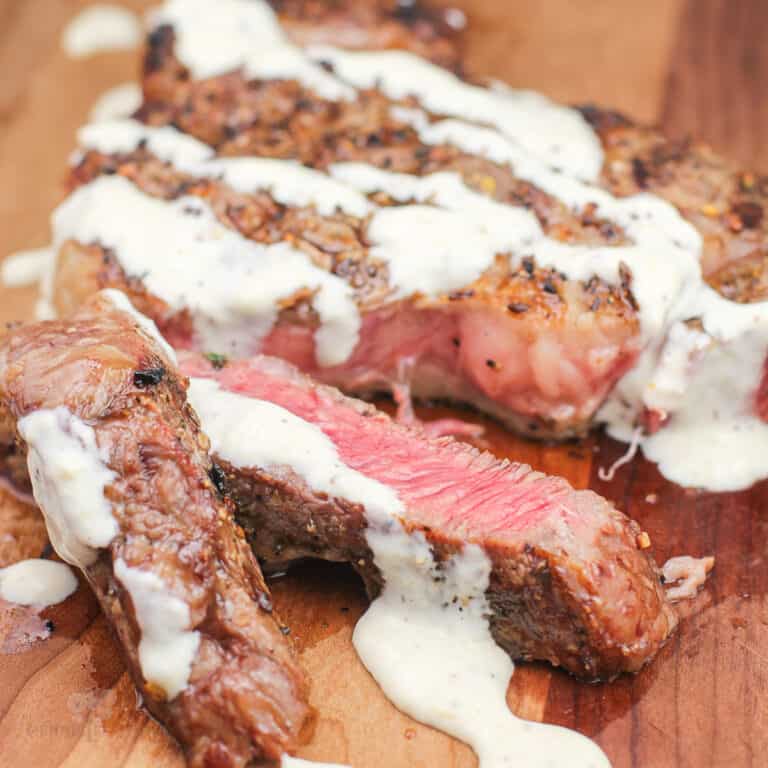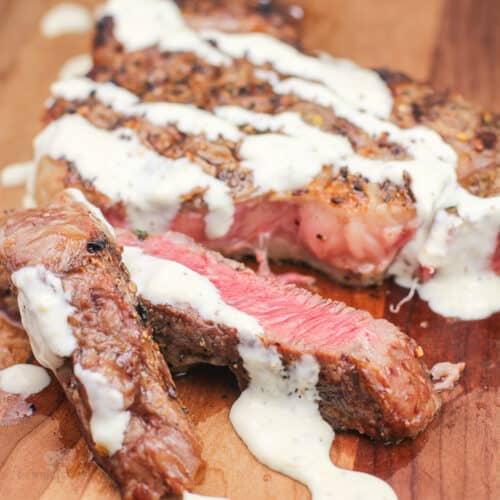 Grilled Steak with Horseradish Dijon Sauce
Horseradish Dijon Sauce perfects this grilled steak for a restaurant-quality meal. This horseradish mustard sauce is ready in minutes, versatile, and so good on pork too. Make it a Big Green Egg steak or grill on a your grill of choice for a spectacular meal.
Ingredients
For the steaks
4

steaks of choice

such as ribeye or NY strip

fresh cracked pepper

Montreal steal seasoning

salt-free garlic and herb seasoning blend
For the Horseradish Dijon Sauce
1

cup

heavy cream

1 ½

Tbsp

prepared horseradish

1

tsp

whole grain mustard

1

tsp

Dijon mustard

¼

tsp

kosher salt

2

pinches

fresh cracked pepper
Instructions
Prepare the steaks
Let the steaks come to room temperature. Season on both sides with salt, pepper, Montreal seasoning, and garlic and herb seasoning.
Make the Horseradish Dijon Sauce
Cook the cream in a medium skillet over medium heat for 10 minutes or until thickened. Stir in remaining ingredients and warm through to combine flavors. Set aside.
Grill the steaks
Bring grill or Big Green Egg to high heat. Grill the steaks over direct flame to desired doneness, flipping once. (see Notes)

Remove steaks from the grill and allow to rest 5 minutes. Serve topped with Horseradish Dijon Sauce.
Notes
Grill times can vary wildly depending on cut of steak, thickness of steak, grill type, and grill temperature. I find a 1-inch steak will cook to medium rare in around 3 minutes per side on either my Weber gas grill or Big Green Egg at 500-550

°

F. This is an internal temperature of 130°-140°F with an instant-read thermometer.
Nutrition
Calories:
769
kcal
(38%)
|
Carbohydrates:
3
g
(1%)
|
Protein:
44
g
(88%)
|
Fat:
60
g
(92%)
|
Saturated Fat:
30
g
(188%)
|
Cholesterol:
210
mg
(70%)
|
Sodium:
632
mg
(27%)
|
Potassium:
69
mg
(2%)
|
Sugar:
1
g
(1%)
Calorie count is purely an estimate calculated using an online application to serve as a guide and not to be taken as accurate nutritional information. Percent Daily Values are based on a 2,000 calorie diet.
Tried this recipe?
Leave a comment below and let me know!