Salami cornucopia are cream cheese roll ups with fresh herbs that are easy to make and fun to serve! Try these cream cheese appetizers with Genoa salami cornucopia for a fun finger food idea on your next meat and cheese tray. Make these salami roll ups once, and they will become a favorite party recipe.
How FUN are these stuffed salami bites of Heaven? So fun and SO tasty. And the fact that they look like little, wittle cornucopia makes them irresistible for any and all fall festivities at home.
Which includes, but is not limited to: Friday night gatherings, appetizers for Sunday dinner, football party food (YESSS), and Thanksgiving. Definitely, Thanksgiving. My Salami Cornucopia recipes was born for Thanksgiving. And Christmas.
Pretty much anytime you make a meat and cheese platter to entertaining.
Speaking of meat and cheese, I should mention that these Genoa salami cream cheese appetizers are keto friendly and gluten-friendly. Simply by default.
What is Salami?
In general, salami is fermented, aged meat. Just like cheese or alcohol, microbiology done right gives us something delicious.
The word salami is actually plural for the Italian work salame. Examples include Genoa salami, pepperoni, hard salami, Spanish chorizo, dry salami, and soppressata.
Not all cured meats, however, are considered salame. For example, prosciutto, bacon, and pancetta, while cured and preserved, are not salami.
Salami can be made with beef or pork, or sometimes veal, venison, or turkey. It varies on whether it is Italian, kosher, halal, eastern European, western European, or from wherever.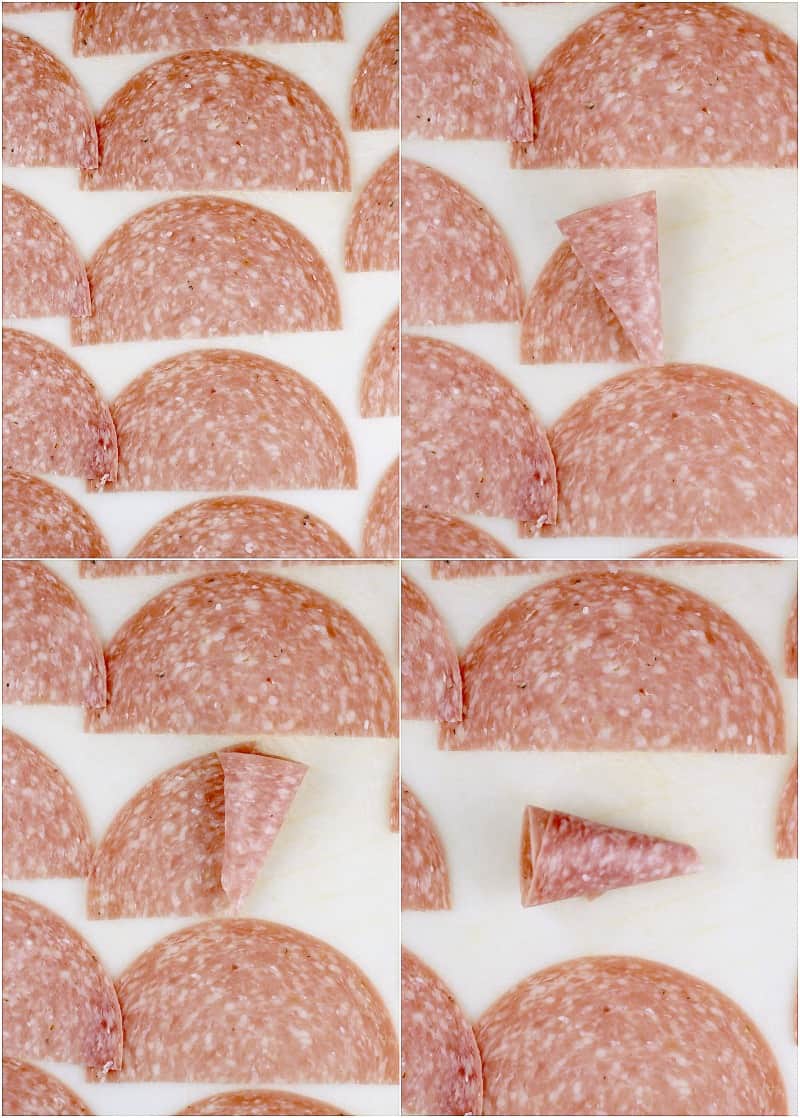 What is Genoa Salami?
Genoa salami specifically, is an Italian cold cut salami made with red wine and spices.
Compared to other Italian varieties like hard salami or Italian soppressata, Genoa salami is pink and tangy because it is made with red wine rather than smoked.
Genoa salami is soft and fatty making it perfect for these cream cheese roll ups because when we form the cornucopia shape, we can press the seam and it will hold.
On its own, Genoa salami is delicious. I love it, just as is or with a mild cheese like fresh mozzarella.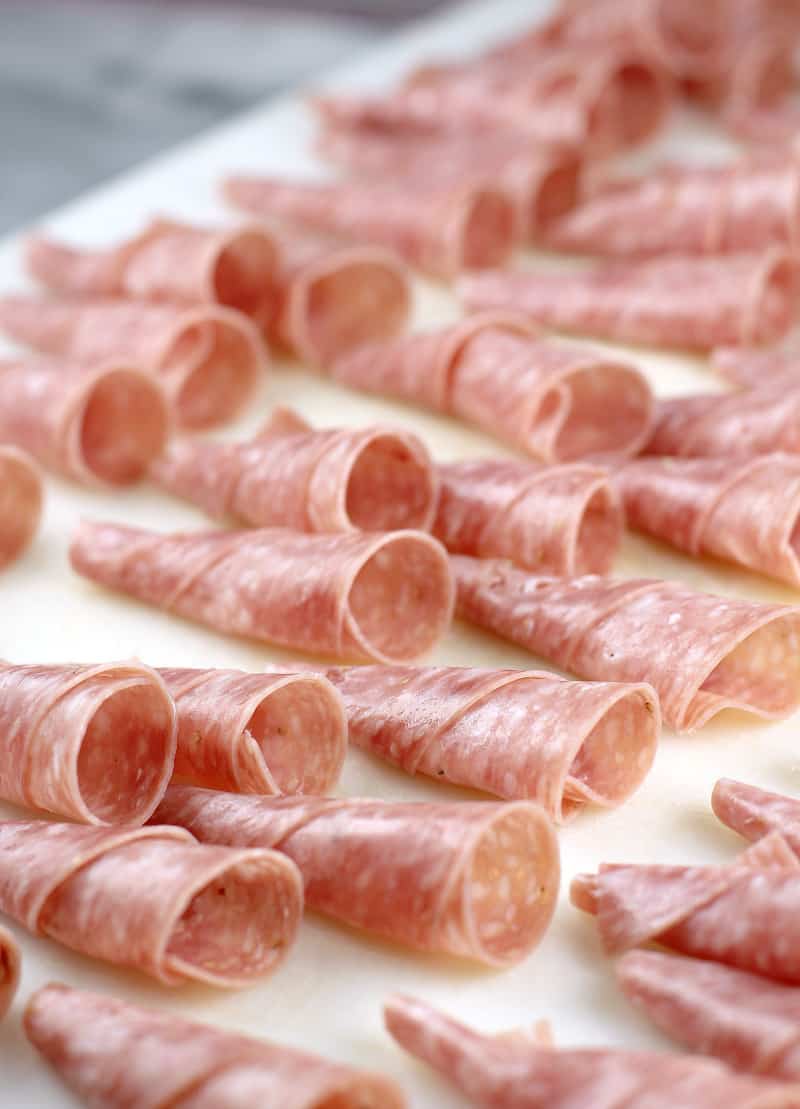 Salami Cornucopia as a Unique Finger Food Idea
Seriously, when is the last time you saw an interesting cream cheese appetizer like these, either on their own or as part of a larger meat and cheese board? Yeah, they are so unique and every time I have made them over years now, they have always been gobbled right up.
Now, this recipe is similar to cream cheese roll ups recipes in that we are using a creamy, dreamy herbed cream cheese and pairing it with Genoa salami.
But the trick HERE is that we take our super thin and so yummy slices of Genoa salami from the deli, cut them in half, then roll them up in a way like so to make our fun and unique shape.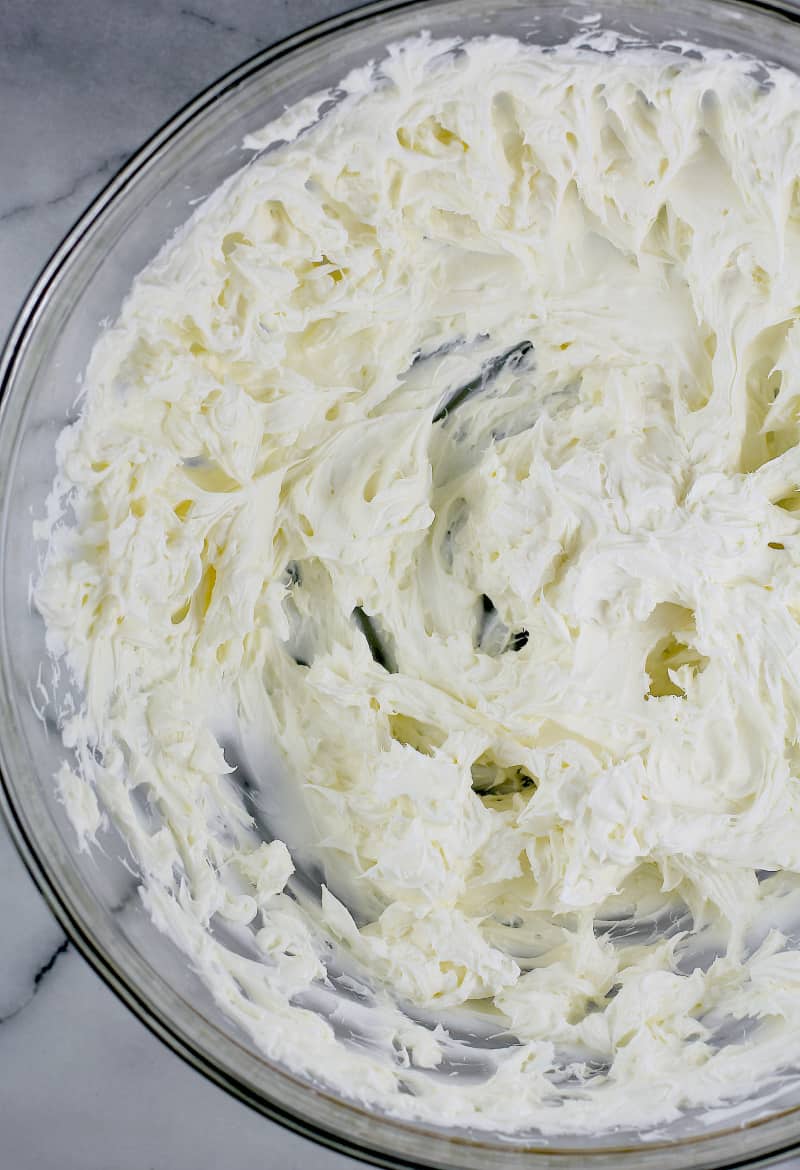 Not gonna lie, it takes a couple tries to work out the system, but if you follow my photos and roll a couple Genoa salami cornucopia slowly, it will click.
Then once you are there, you can zip zip zip right through rolling them all into perfect little adorable salami vessels to be stuffed with creamy delicious cheese.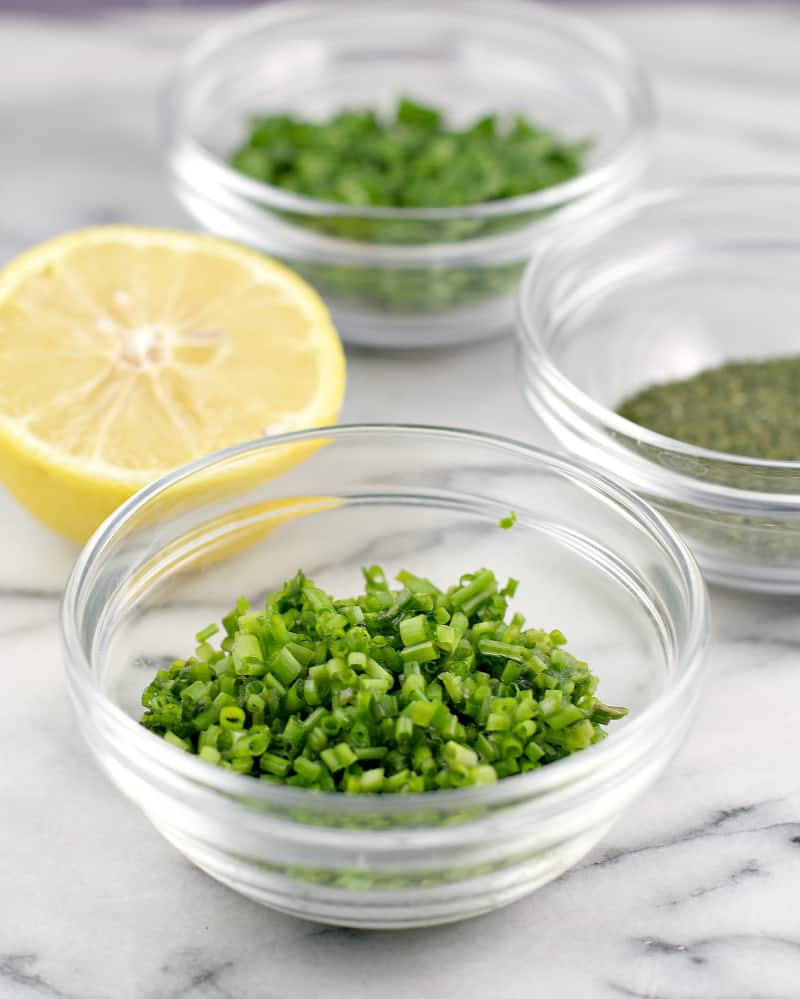 Which Brings Us to Our Next Step: The Cheese.
Softened cream cheese, combined with parsley, chive, dill, and just a touch of lemon juice to brighten up our day. That is the heart of this recipe.
There is nothing like fresh herbs to completely transform something as humble as Philadelphia cream cheese. Although, if you look at the recipe card below, I use fresh parsley and chive, but dried dill.
Because dill is one herb I feel we can squeak by on using the pantry item.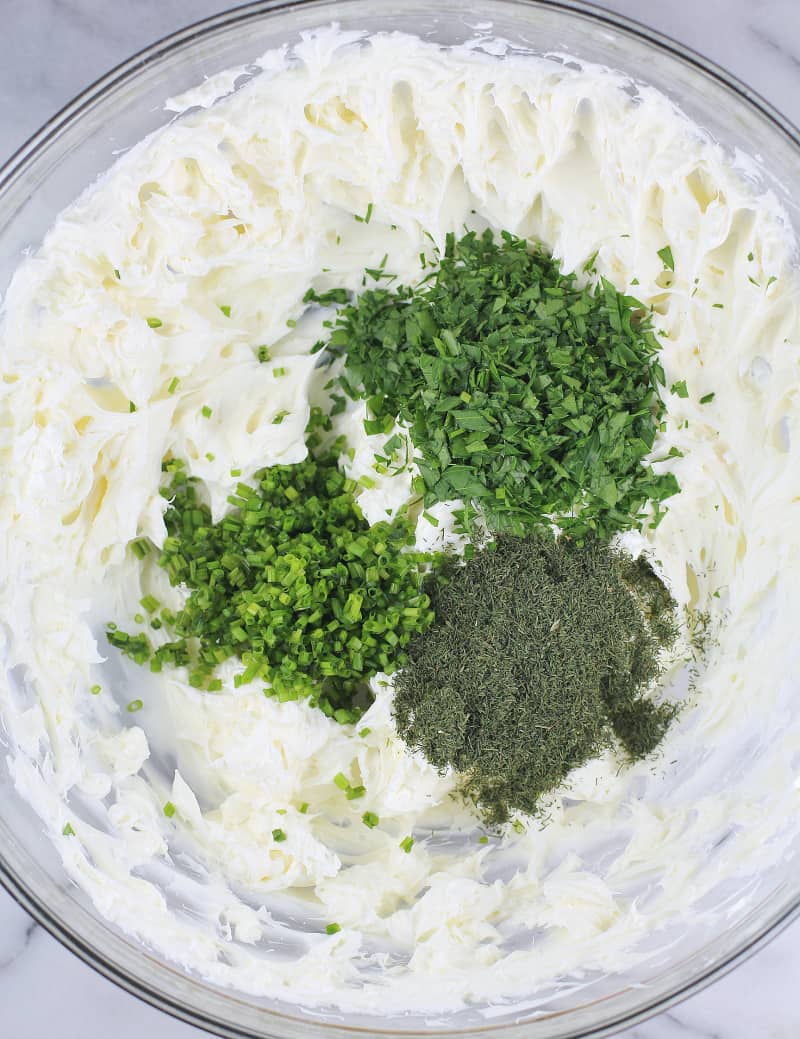 Hint: if you do opt for dried herb vs fresh or vice versa, increase or reduce by a third. So, instead of using 3 Tablespoons fresh parsley, use 1 Tbsp dried. Or instead of 1-1/2 Tablespoons dried dill, use 3-1/2 Tbsp.
Yummy yummy, and the cream cheese and herb mixture comes together in a snap.
Tips to Fill Salami Cornucopia Cream Cheese Appetizers
Once our salami roll-ups are made and cream cheese filling is finished, the next step is to get our awesome cream cheese with herbs INTO our salami cornucopia.
Without getting it everywhere else around us.
Use a resealable bag to pipe the filling into the cornucopia.
This hack works for so many recipes, but especially Salami Cornucopia and Deviled Eggs.
Fill the bag with the cream cheese filling, snip a corner of the bag off with a knife or scissors, then squeeze the filling into the salami.
An especially HELPFUL TRICK is to ensure the hole on the bag is smaller than the opening of the salami shape. This lets you press the salami around the opening and seal a bit, forcing the cream cheese into the salami cornucopia when you squeeze.
And this all – every bit of this recipe – can be made and assembled a day in advance. So when your party or holiday time arrives, this recipe is the last thing you have to worry about.
So that's it kids! Delicious salami and cream cheese appetizers that will always be a hit no matter your gathering occasion (but especially Thanksgiving, let's be honest).
Serve alone arranged on a plate, or serve as part of a big beautiful spread of other nibbles on a meat and cheese tray.
Decadent cream cheese, bright herbs, and rich Genoa salami. This is a magical combination of flavors delivered in a fun little party bite.
Check out these other fun party recipe ideas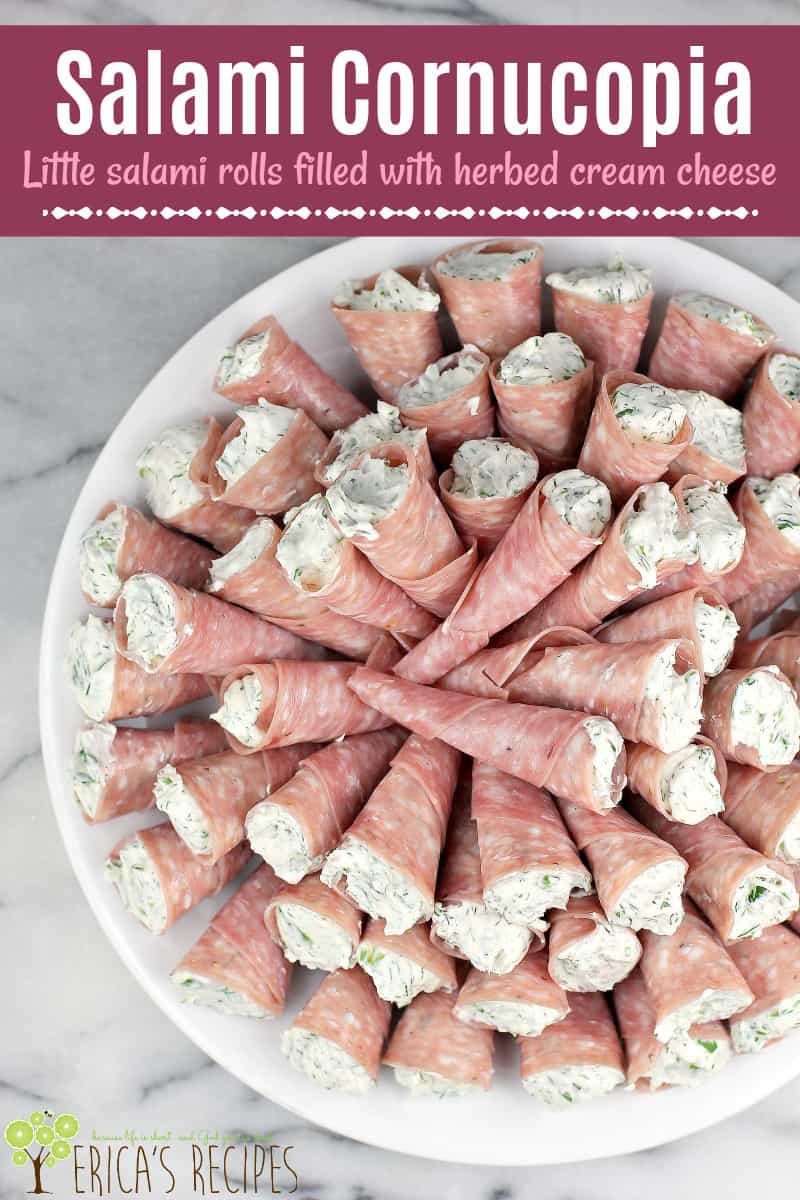 Hit the P for Pinterest button below this post to save this recipe.
If you make it, post on Instagram and tag @ericasrecipes.
Salami Cornucopia Cream Cheese Appetizers
With a delicious fresh herb filling, these cream cheese appetizers with Genoa salami can be made up to a day ahead.
Ingredients
25

thin slices of Genoa salami

~½ lb

2 (8 oz)

pkgs

cream cheese or Neufchatel cheese

softened

3

Tbsp

Italian flat-leaf parsley

minced

3

Tbsp

fresh chives

minced

1½

Tbsp

dried dill

1

tsp

fresh lemon juice

pinch

kosher salt
Instructions
For the Salami
Stack the salami slices and cut the stack in half to make to stacks of half-moon shaped salami.

Starting with a corner, roll each half piece of salami into a cone, pressing ends to seal.

Refrigerate until ready to fill with the cream cheese mixture.
For the Herbed Cream Cheese Filling
Combine the cream cheese, herbs, juice, and salt in a bowl.
For the Salami Cornucopia
Spoon the herbed cream cheese filling into a large resealable bag.

Snip a corner off the ziploc bag. Ensure the size of the hole is smaller than the opening of the salami cornucopia shapes.

Pipe the cream cheese-herb mixture in to fill the salami cornucopias. Yield: 50 appetizers.
Notes
Using a hand mixer makes combining the herbs, cream cheese, and lemon juice much faster.
Entire recipe can be made in a day in advance. No need to wait to fill the cornucopia.
Note that the calorie estimation is per appetizer (i.e. 1 cornucopia) and only an estimation.
~✿♥✿~​​​​​​​​​​​​​​​​​​​​​​​​​​