Kahlua Toffee Cheesecake with Turbinado Caramel
Kahlua Toffee Cheesecake with Turbinado Caramel is a creamy, suck-it-off-the-fork cheesecake topped with caramel, toffee candy, and a Kahlua whipped cream. This is the cheesecake foodie dreams are made of.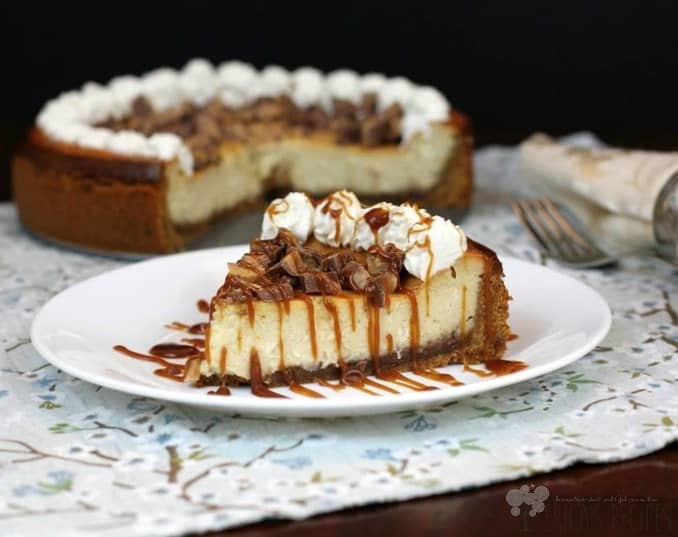 This absolutely luxurious and slightly naughty cheesecake took some trial and error, lemmeeee tell you. The other night, I had an epic cheesecake fail and almost gave up on this little endeavor completely. After the batter was made, only then did I remember that I had thrown away my springform pan in a fit of rage years ago. Then I proceeded to use a cake pan.
I also hadn't let the ingredients come to room temp, did not use a proper water bath, and just cooked the crap out of the whole thing …basically I broke every rule of cheesecake making. It was tragic. But I picked myself up, dusted off the Kahlua bottle, and tried again. And this cheesecake, my friends, is so worth it.
I took my stepmother's basic cheesecake recipe and adapted it, along with like five other recipes. Adding yummy Kahlua was the easy part …it was the rest of the chemistry that took some experimentation. Then there is the Turbinado Caramel – sooo killer. If you haven't made caramel yet, it is truly quick, cheap, and easy to make. And then we finished off with toffee candy and a little more Kahlua in the whipped cream! Yummayyyy!
I have to say, I do not get a sweet tooth often …nor do I get this motivated to make a fantastical dessert like this. But when I do, stand back.
This cheesecake is the bomb kids. It is divine. It is creamy, liquored-up sweet Heaven.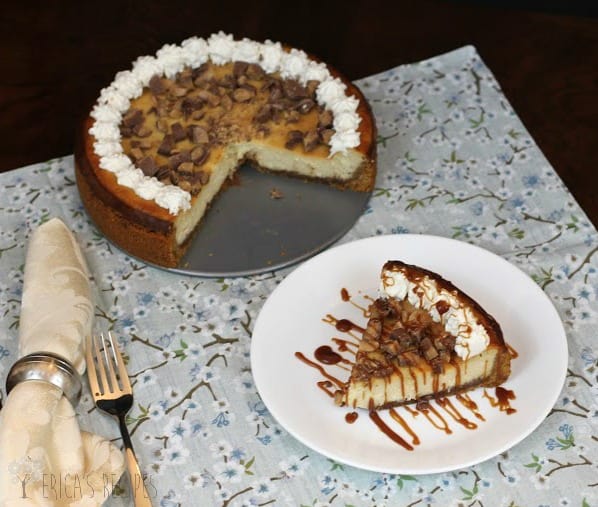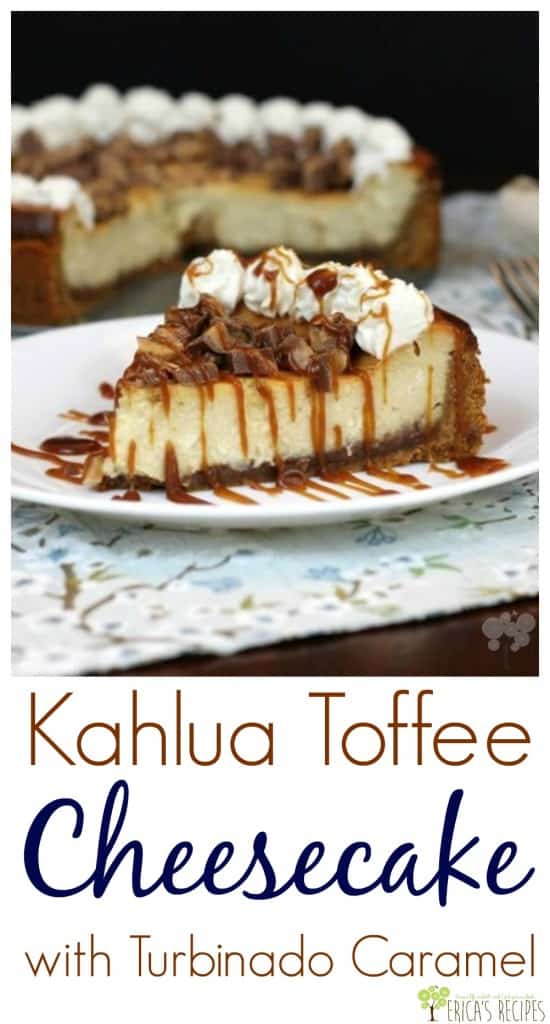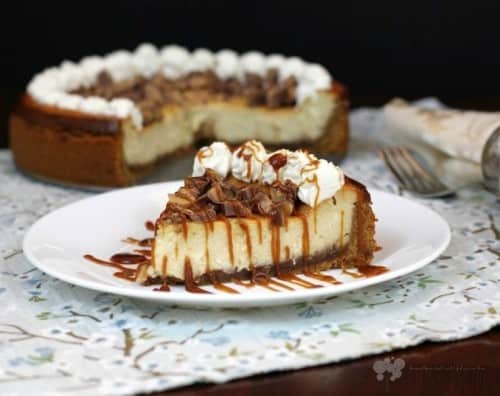 Kahlua Toffee Cheesecake with Turbinado Caramel
Ingredients
1½

c

graham cracker crumbs

6

T

unsalted butter

melted

¼

c

firmly packed light brown sugar

2

8 oz pkgs cream cheese

1

c

sugar

8

oz

sour cream

2

large eggs

3

egg yolks

½

t

Wood Chunks" class="wprm-recipe-ingredient-link" target="_blank" rel="nofollow">pure vanilla extract

¼

c

Kahlua coffee-flavored liqueur

6

oz

Heath milk chocolate English toffee miniatures

divided

Turbinado Caramel Sauce recipe

Kahlua Whipped Cream

recipe follows
Instructions
Let all ingredients come to room temperature.

On the bottom rack of your oven, place a 13×9 baking dish filled with 2-inches of very hot water. Heat oven to 325F.

For the crust, combine the crumbs, butter, and brown sugar in a medium bowl. Press the crumbs over the bottom of a 9-inch springform pan and 2-inches up the sides of the pan. Chill the crust while the remaining ingredients are prepared.

In a food processor, pulse half of the mini candy bars into crumbs. Layer into the bottom of the crust.

For the filling, beat the cream cheese in large bowl until fluffy. Add the sugar and sour cream and beat until smooth. Beat in the eggs and yolks, 1 at a time. Mix in vanilla extract and Kahlua. Pour the filling over the candy layer in the prepared crust.

Place the cheesecake on the middle rack (still with the water bath on the bottom rack – see *Note below). Bake at 325F for 55 minutes to 1 hour. (Remember, cheesecake isn't actually a cake, it's similar to a custard so you do not want the top browned and you want the center still jiggly.) Turn off the heat, crack the oven, and let the cake sit there 20 minutes. Remove to a rack to cool completely. Cover and refrigerate until well chilled, at least 6 hours.

Serve with Kahlua Whipped Cream and chopped candy pieces on top and drizzled with Turbinado Caramel Sauce.
Kahlua Whipped Cream
1 c heavy whipping cream

2 t sugar

1 t Kahlua

In a cold glass or metal bowl, whip the cream until thickened. Add the sugar and Kahlua. Whip until medium peaks form.
Notes
With the pan of water, steam from the water will help keep the top of the cheesecake from cracking. However, there are two schools of thought on cheesecake – cook directly in a water bath or cook out of the water. I do the latter. I am more willing to deal with a cake with a bit of a sunken middle than I am willing to deal with water leaking into the pan. Even if wrapped with foil, there will still be condensation leaking into the springform pan. But if you still just need that absolutely perfect top and are willing to risk it, by all means stick the cake in the water to cook!
Calorie count is purely an estimate calculated using an online application to serve as a guide and not to be taken as accurate nutritional information. Percent Daily Values are based on a 2,000 calorie diet.
Tried this recipe?
Leave a comment below and let me know!
​​​​​​​​​​