Crab mac and cheese uses all the elements of classic crab cakes infused into a creamy macaroni and cheese casserole. Crazy creative with epic flavor, this crab cake mac is a must-try awesome recipe.
This website uses affiliate links which may earn a commission at no additional cost to you. As an Amazon Associate I earn from qualifying purchases.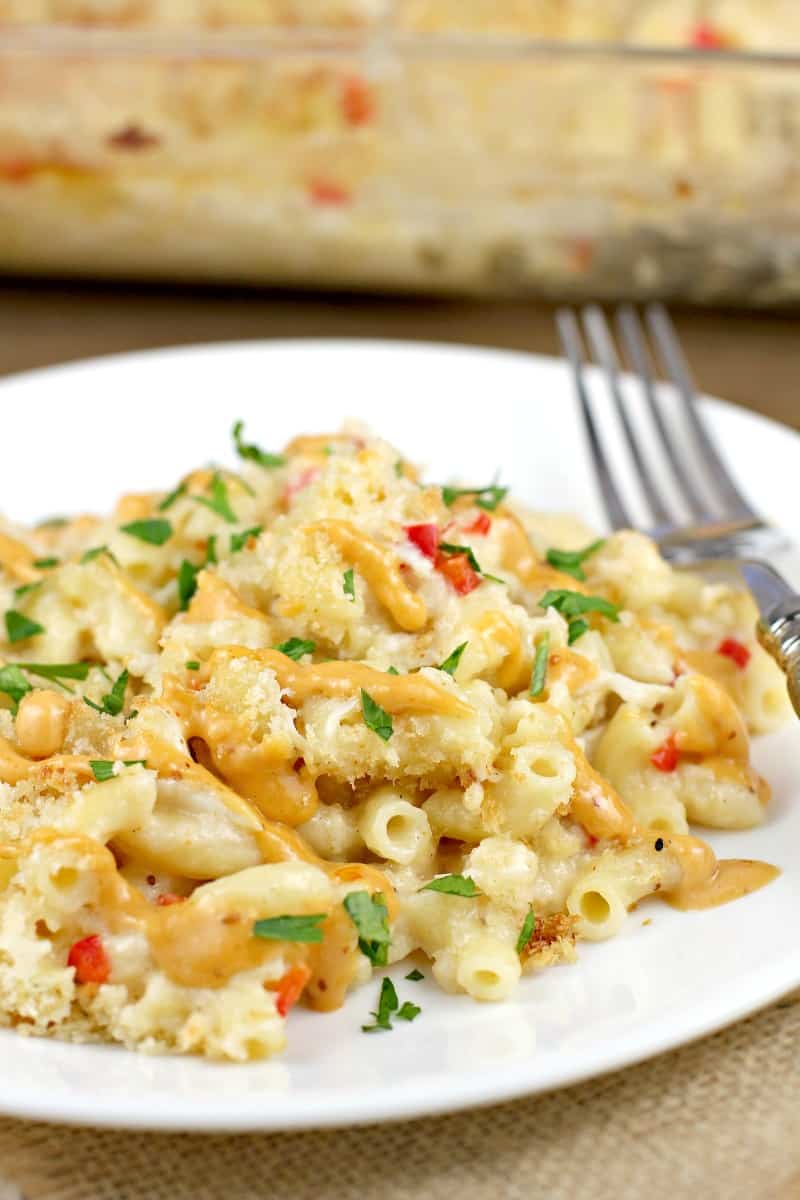 Why make a crab cake mac?
Well, why not made a crab macaroni and cheese honestly. Mac and cheese is one of the best comfort foods, but it can be a bit bland so SPRUCE spruce that mac up with delicious flavors like fresh lump crab and zesty remoulade sauce.
Aside from the incredible flavors in this recipe, I think a big selling point is that lump crab, though not cheap, is much more affordable than lobster. Lobster mac and cheese is a classic, yet it will set you back a bunch because lobster is ridiculously expensive.
So, by using lump crab meat, we have ourselves a delicious and special dish that feels just as extravagant.
The other reason I adore this recipe is because it does not just use fresh crab, but it also takes the elements of crab cakes – so, Old Bay seasoning, red bell pepper, crunchy panko topping, and zesty sauce – and incorporates those flavors.
The result is exciting, not boring. Super flavorful, not bland. A kicked up crab mac and cheese that is amazing.
Essential elements for this crab mac and cheese recipe
I eluded to this above, but there are a couple key elements for this dish.
First, fresh lump crab. This is folded in last and done so gently to give us those luscious bites of lump crab just like we want in crab cakes.
The flavor enhancers, Old Bay seafood seasoning, Dijon, horseradish, and red bell pepper. These give the decidedly "crab cake" feelz to this macaroni and cheese.
Remoulade, which is a zestly Cajun condiment.
These are all elements in many crab cake recipes, so I incorporated them here.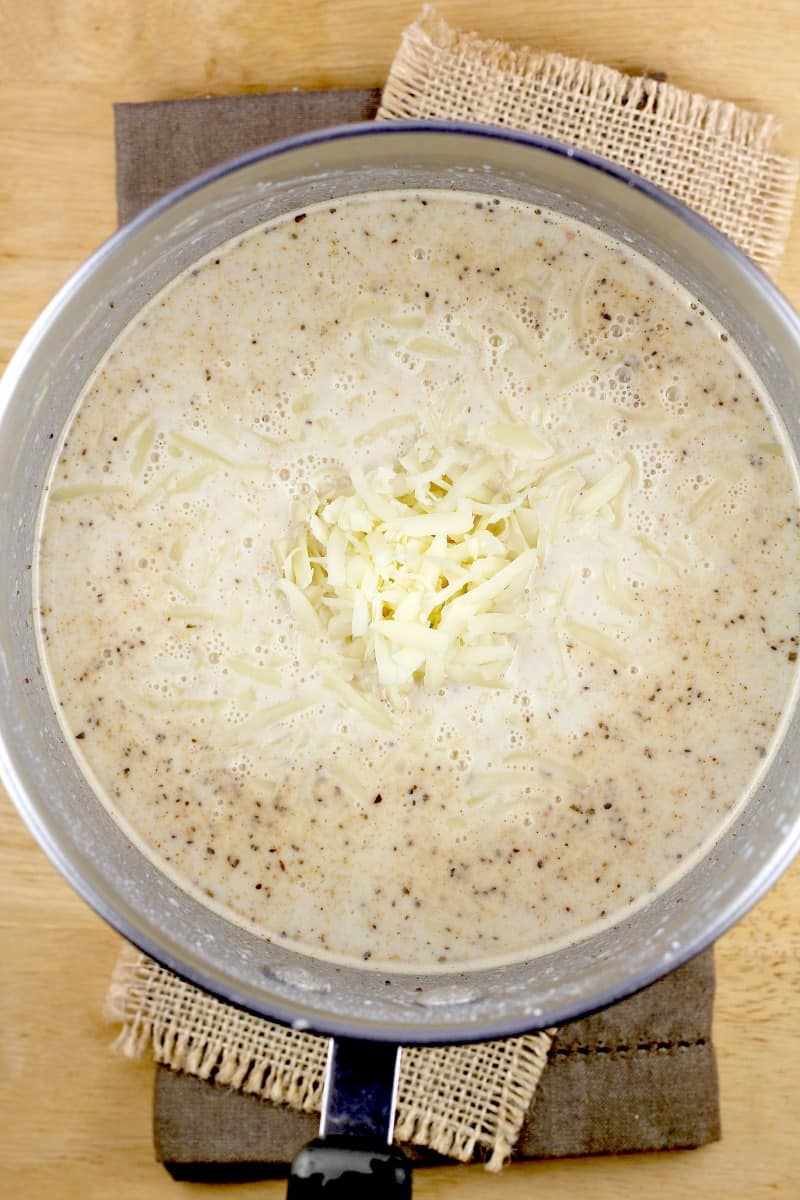 The ingredients
More specific details here on what all you need to make crab mac and cheese. These are all listed in the recipe card below, but here I will group them for the purpose they serve and how they work together.
Macaroni. I used elbows, but you can opt for whatever pasta shape you fancy.
Béchamel sauce: Unsalted butter, all-purpose flour, milk. Béchamel sauce is a basic white sauce and is standard macaroni and cheese practice. It forms the base of what will become our cheese sauce.
Flavor enhancers for the sauce: Dijon mustard, Old Bay seasoning, prepared horseradish, red bell pepper, kosher salt, and pepper. Look for Old Bay seasoning either in the bake aisle with the spices or in the seafood section – it can vary and I have found it in both places. Prepared horseradish is normally in the section with the deli meats. Dijon mustard is in the condiment aisle.
Cheese. I used sharp white cheddar cheese because I find it marries with seafood in dishes like this the best to my taste. You can substitute sharp cheddar or an Italian blend (though this would be milder in flavor). I do not recommend Swiss.
Fresh lump crabmeat. Find fresh lump crab at the seafood counter. There are generally 3 varieties: least expensive (claw meat), middle (lump), and most expensive (giant lump). You want the one in the middle.
Crunchy topping: plain panko breadcrumbs, Parmigiano-Reggiano cheese, and either olive oil or melted butter.
Garnish: remoulade sauce and chopped parsley. Find remoulade either in the condiment aisle or seafood section. If not available, you can make your own using

my recipe

. For parsley, use Italian flat-leaf parsley.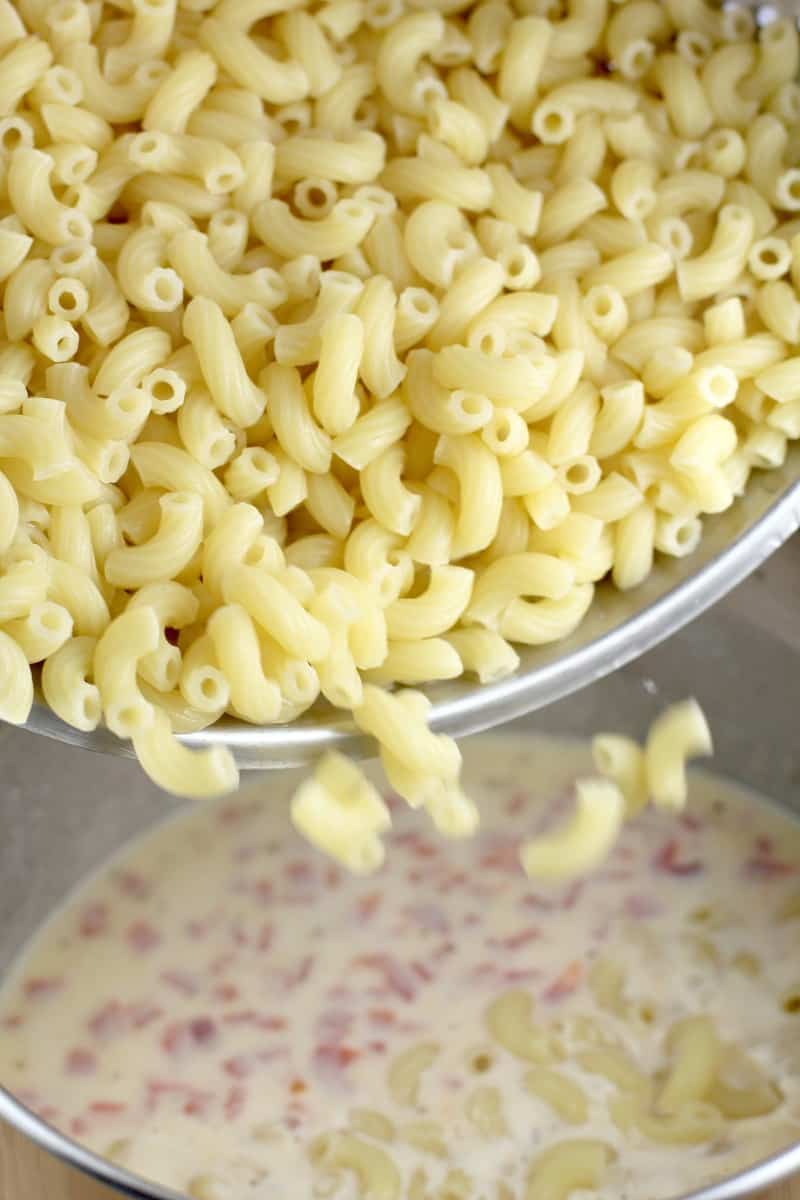 How to prepare
The good news is that despite the long list of ingredients, our crab cake mac prep is easy!
First, get everything set up with your ingredients measured, oven heated to 350°F, and a pot of water boiling for the macaroni.
Cook macaroni to al dente following the directions on the package for that pasta.
While the pasta is cooking, make the cheese sauce. To do this, we do the following 4 things:

Make a roux with flour and butter.
Add milk to bring it to the Béchamel stage and warm through.
Add all our flavors: Dijon, Old Bay, horseradish, salt, and pepper.
Add the cheese and stir/warm until mostly smooth and melted.

To the cheese sauce, add our macaroni and crab. Stir gently to try to keep from breaking up the crab too much. Then we pour into the bake dish.
Make the topping by combining panko breadcrumbs, parmesan, and olive oil (or butter), and sprinkle over top.
Bake 20-25 minutes until bubbly). At this point, you can stick this under a broiler real quick to get the top to brown more, but this may not be necessary.
Serve with a light drizzle of remoulade over top and a sprinkling of parsley.
Note that it is more important not to over thicken the sauce than it is to get all the cheese melted. If it gets too thick, simply add more milk. Keep in mind that al dente pasta will cook more in the sauce, thus thickening it further upon baking.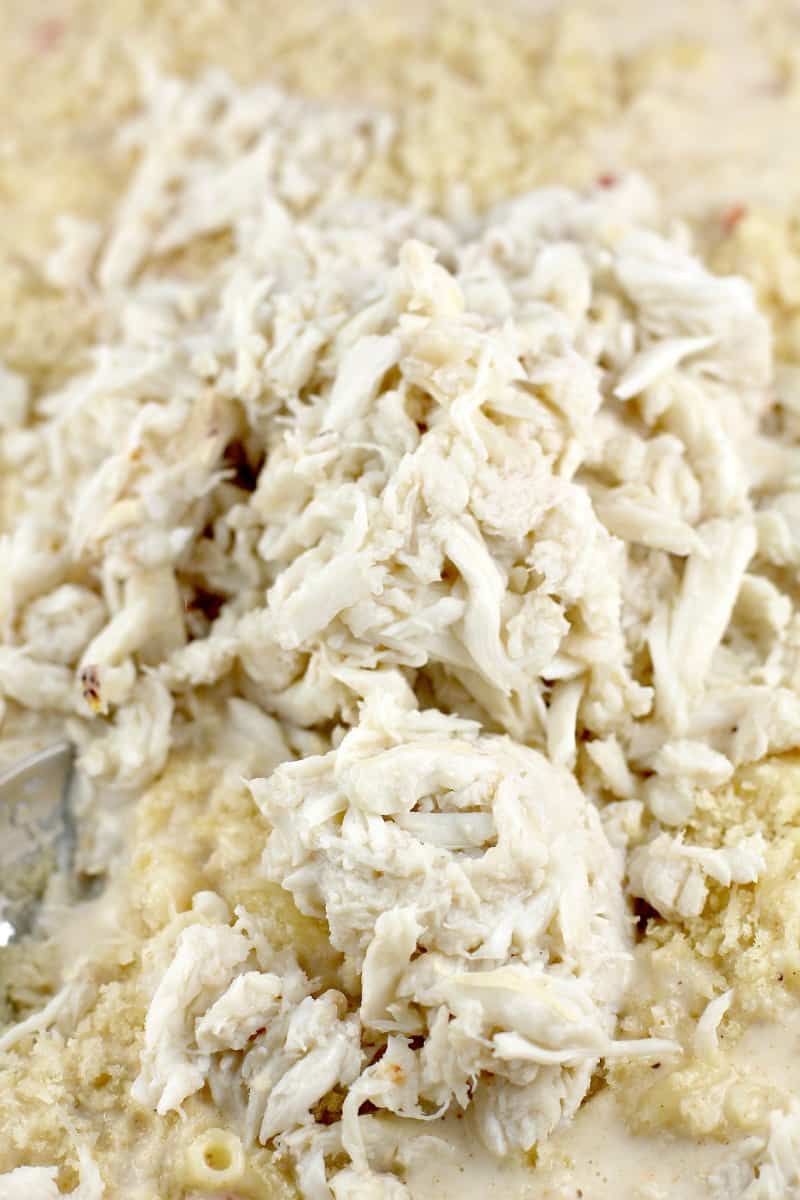 Tips and FAQs
Once done baking, if the top is still a little too "light" for you, you can stick this under the broiler for just a bit to brown it more. The olive oil or butter is added to the panko and parmesan to make the top toast as it cooks, but panko does not always cooperate.
We want our cheese sauce to not get too thick when cooking. Really, we just want to warm it enough to get the cheese mostly melted. This is because the pasta will thicken it more as it bakes. So, if the sauce thickens too much, or even if you are not sure, just add more milk (~1/4 -1/2 cup more) no worries – I do this all the time.
Since everything is cooked once the casserole is assembled and put in the oven, we are just heating through and making the flavors blend.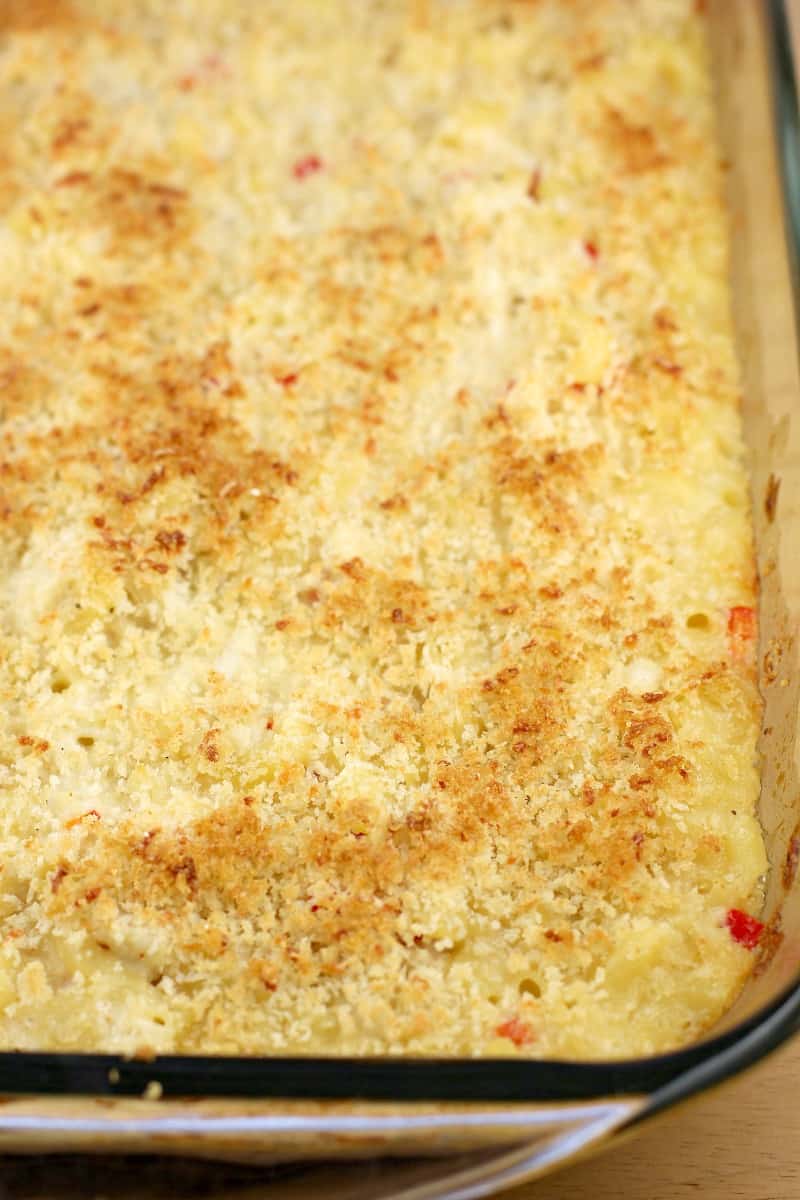 Can canned crab be substituted for fresh? Not really, sorry. Canned crab has a strong unpleasant flavor to it and will not give you a good result.
If fresh crab is not available, I would instead to with shrimp. Give the shrimp a quick sauté to cook mostly through, then chop and add at the step you would add crab.
Can this crab mac and cheese be made in advance? Yes, just know that flavors will intensify over time (such as the red bell pepper). If preparing in advance, I recommend adding additional milk (1/2 cup) to make sure it does not dry out.
Is there a substitute for the remoulade? Sure! Just use the Dijon-Horseradish sauce from my crab cakes.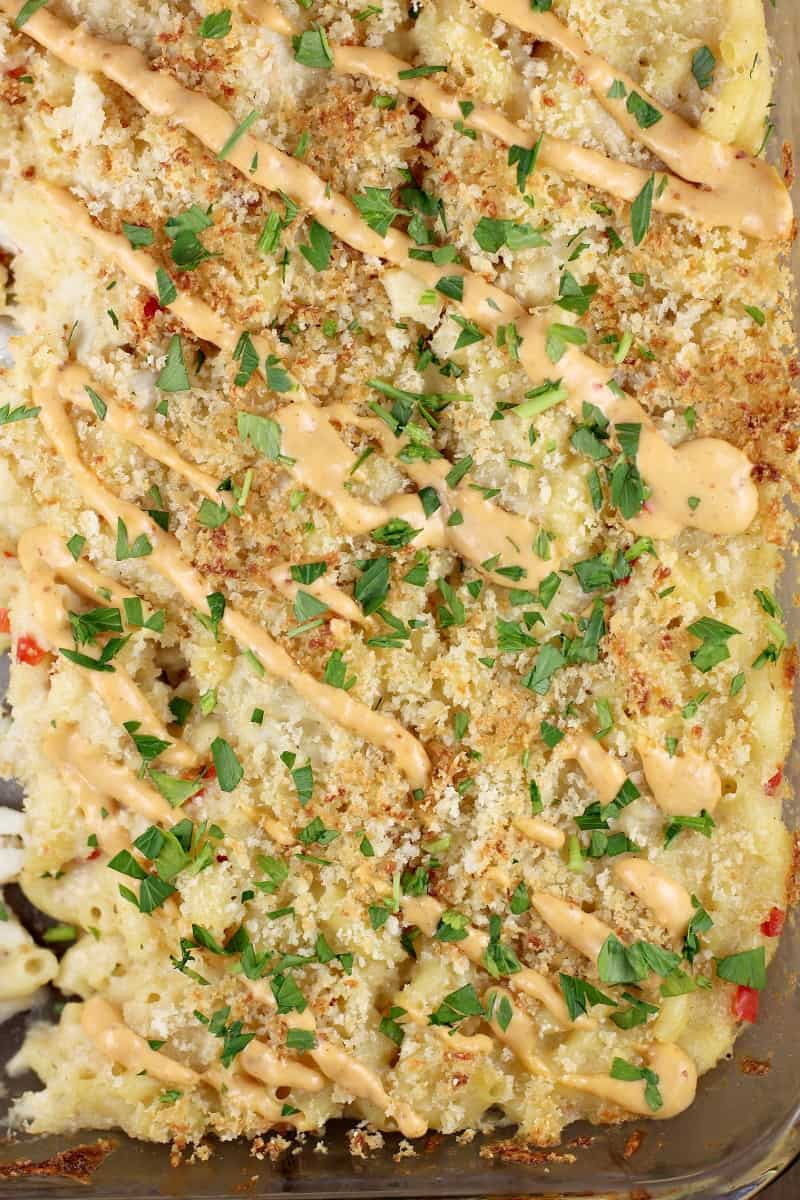 More crab recipes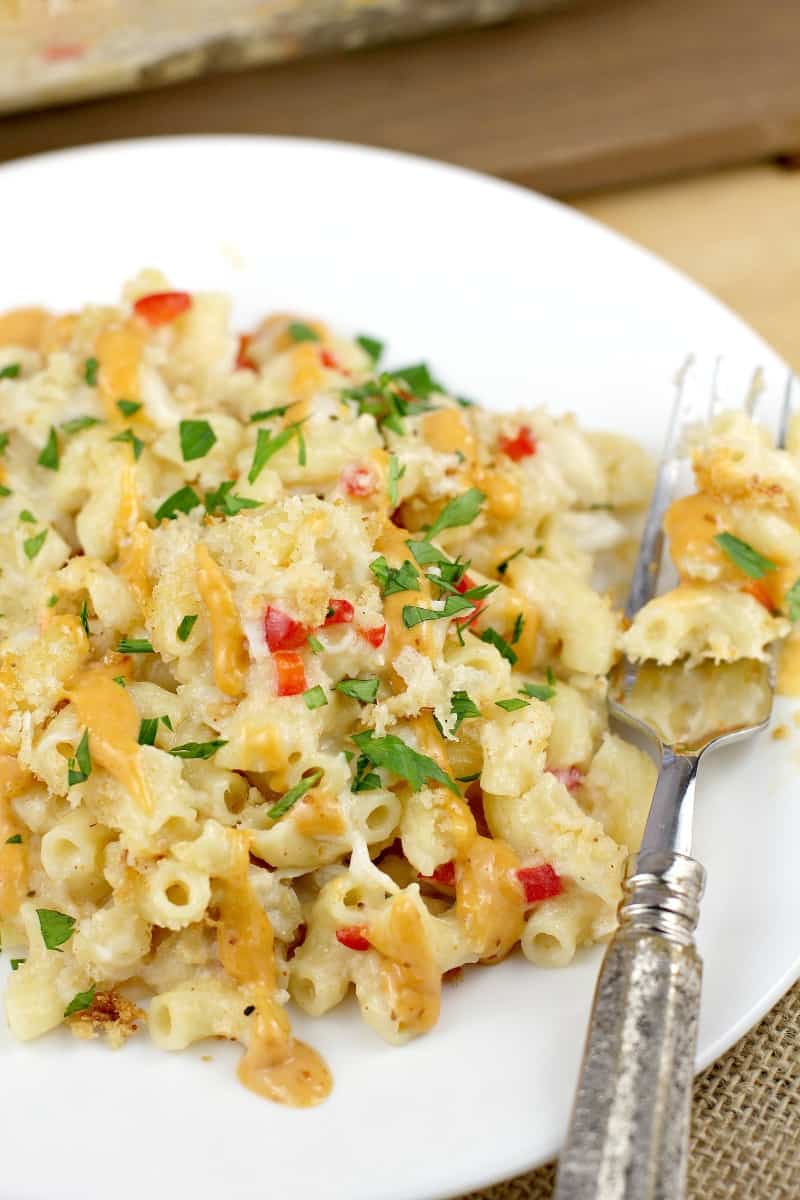 If this recipe looks good, check out my Basic Creamy Macaroni and Cheese recipe as the essential guide for all things Mac and Cheese.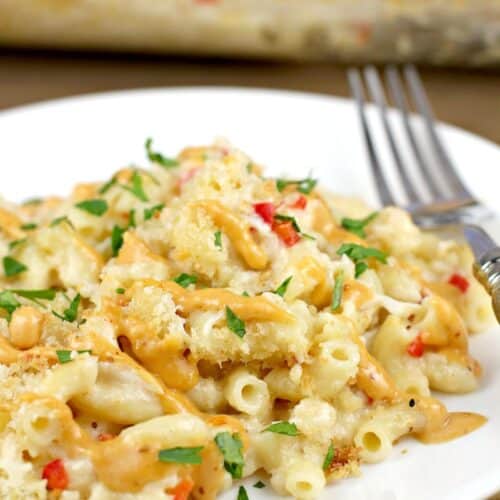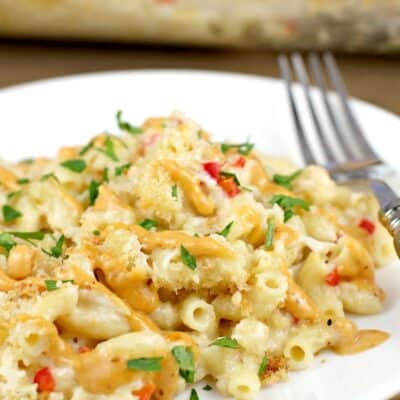 Crab Macaroni and Cheese
Crab mac and cheese uses all the elements of classic crab cakes infused into a creamy macaroni and cheese casserole. Crazy creative with epic flavor, this crab cake mac is a must-try awesome recipe.
Instructions
Bring a large pot of water to a boil. Add the macaroni and cook, according to package directions, to al dente. Drain.

While the pasta is cooking, make the cheese sauce. Heat a medium saucepan over medium-high heat. Add the butter and flour and whisk until butter melts and mixture is smooth. Cook 1-2 minutes to make a roux.

Slowly add in the milk, whisking constantly. Cook 2 minutes, stirring constantly, to heat and thicken just a little.

Remove from the heat and stir in the Dijon, Old Bay, horseradish, salt, pepper, and cheddar cheese until smooth. Put back on the heat as needed if the sauce cools too much and the cheese is not melting.

To the cheese sauce, add the crab and cooked macaroni. Pour into a 13×9 bake dish.

In a small bowl, combine the panko, parmesan, and olive oil. Sprinkle over the casserole.

Bake at 350°F until bubbly (20-25 minutes). If desired, put under the oven broiler to brown the top more if needed (~30 seconds).

Serve with a light drizzle of remoulade over top and a sprinkling of parsley.
Notes
It is more important not to over thicken the cheese sauce than it is to get the cheese all melted completely because the sauce will thicken further once the pasta is added. If the sauce does thicken too much, add ~1/4-1/2 cup milk to bring it back.
Nutrition
Calorie count is purely an estimate calculated using an online application to serve as a guide and not to be taken as accurate nutritional information. Percent Daily Values are based on a 2,000 calorie diet.
Tried this recipe?
Leave a comment below and let me know!