Brussels Sprouts and Bacon Pizza
Brussels sprouts and bacon pizza with mushrooms, onion, and smoked Gouda is baked to perfection and finished with a sweet drizzle of balsamic glaze. These irresistible pizza topping ideas will have you baking up your own creative bistro pizza at home.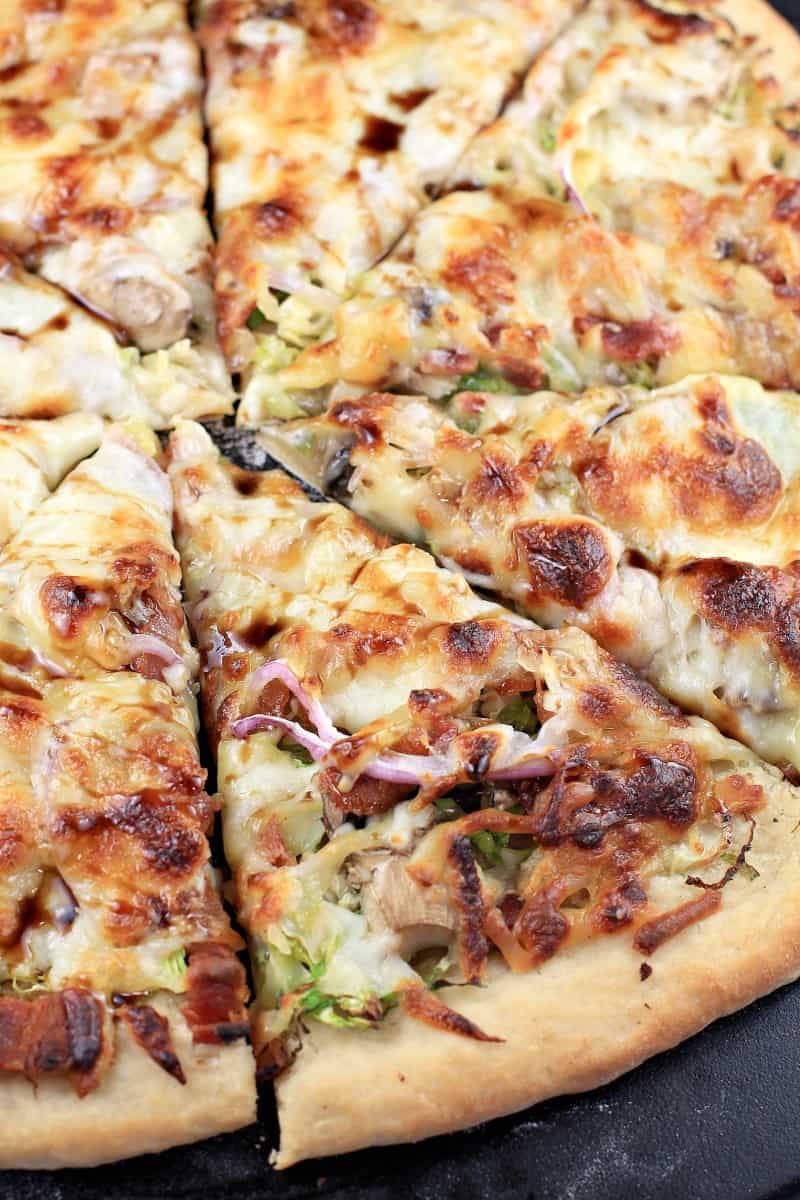 Why make a fancy bistro pizza at home
Making my own pizza, I find, is one of the most enjoyable things to cook – most rewarding, most fun, and it brings me the most happiness.
Could be that pizza is my favorite food. Could be that. May have something to do with it…
But pizza is so flexible, and the pizza topping ideas are endless. This is why I so rarely just make cheese or pepperoni pizzas. I always feel the need to experiment.
This pizza recipe is about taking homemade pizza up a notch to bistro pizza status by using a couple snooty ingredients (i.e. shaved Brussels sprouts, smoked Gouda, and balsamic glaze). And it is successful because we pair our snooty ingredients with some cozy old pizza favorites (bacon, mushrooms, onion, and mozzarella).
Using bacon also is how I got my family to try this pizza, and it was a hit. When I first told them Brussels sprouts were on it, they were not that interested not gonna lie. I, on the other hand, love Brussels sprouts so this was right up my alley.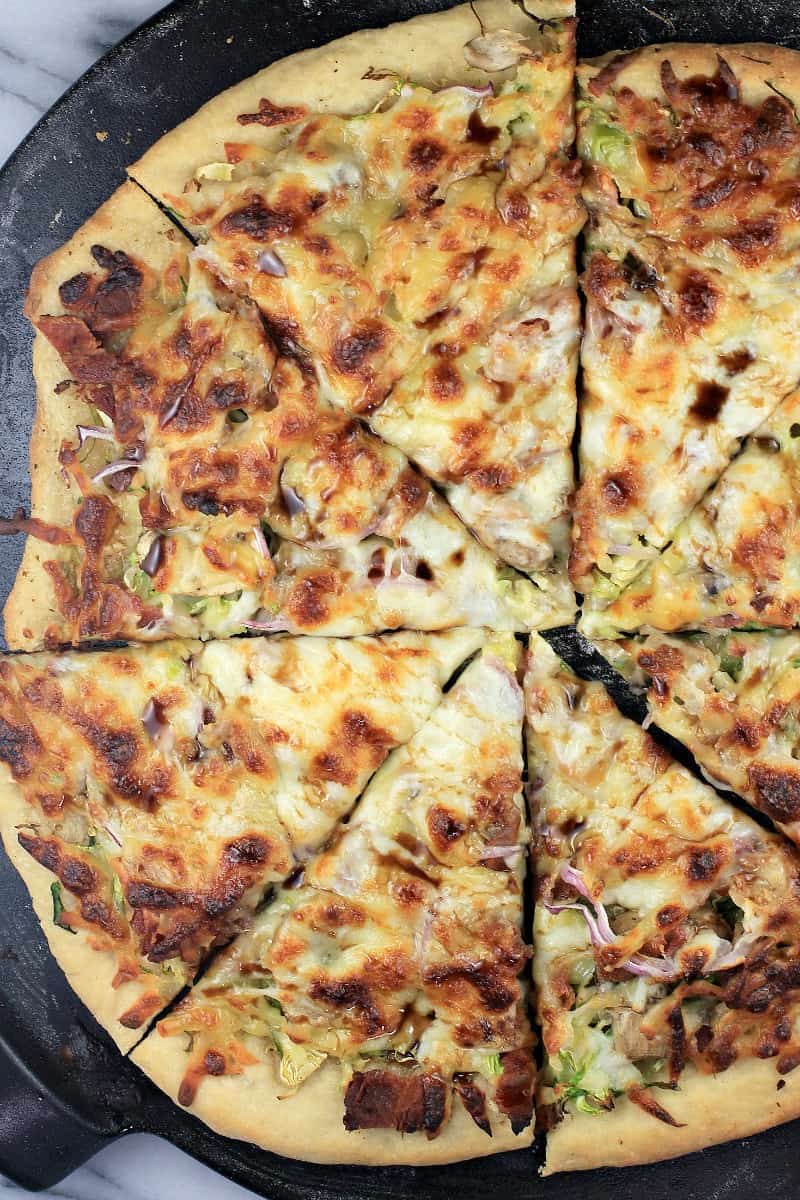 Brussels sprouts and bacon pizza ingredients
Let's break this recipe down and show that these fancy ingredients are still all easy and approachable.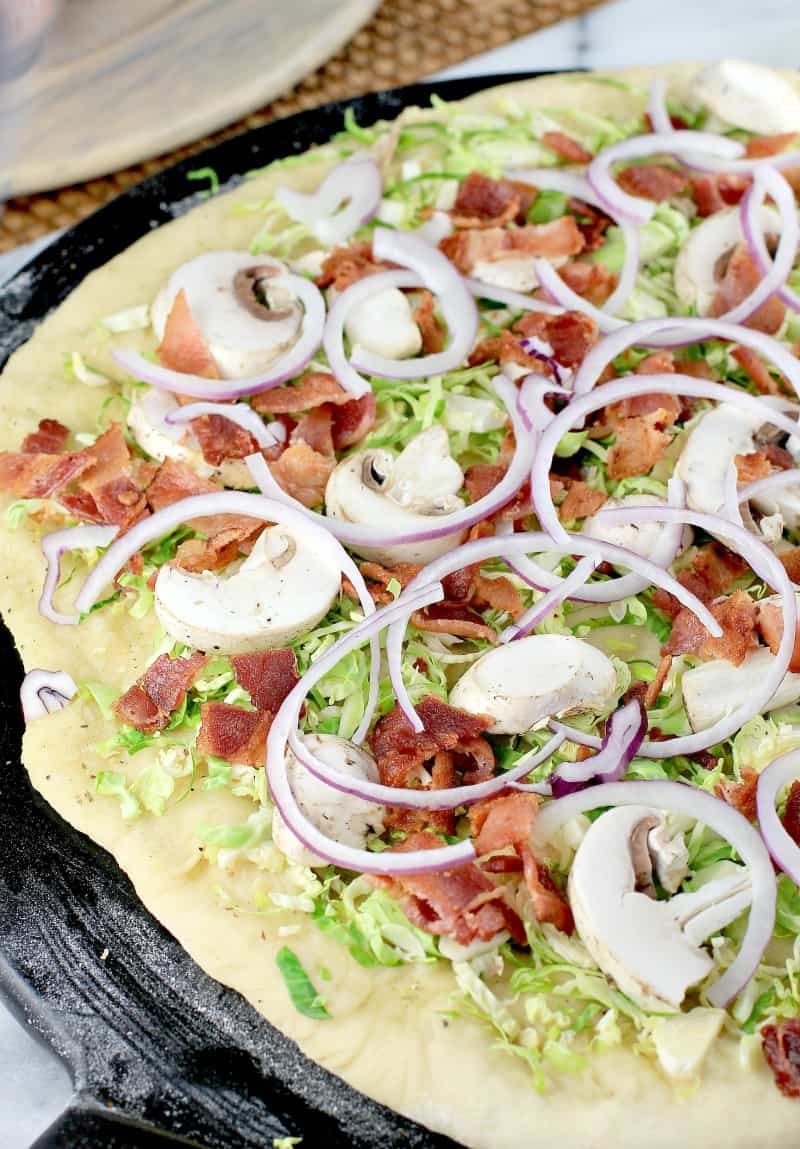 My Sam Adams Beer Pizza Dough. You can use whatever pizza dough is your favorite, but I am partial to my own. You can also use premade/precooked crusts.
Glaze for the dough: extra virgin olive oil, garlic, salt, pepper, and Italian seasoning. This is reminiscent of the dip you would get at a fancy Italian restaurant to dip your bread in.
Toppings: Brussels sprouts, bacon, red onion, and mushrooms. Buy the mushrooms pre-sliced to make preparation even easier. To shave the Brussels sprouts, I find it easiest to cut one in half, lay a half flat on its cut side, then chop into fine strands. This way they will not roll around on you.
Cheeses: smoked Gouda cheese and mozzarella. We are using the mix of cheese because we want the smoky flavor of the Gouda, but we do not want that to be all there is. Smoked Gouda can be strong, so here it is balanced with the melty mozzarella.
Balsamic glaze. Funny how a little drizzle of such a simple thing is such a game changer. I used balsamic glaze on my Pizza Margherita and now it is one of my favorite things to put on pizza. Look for it in the grocery section with the oils and vinegars.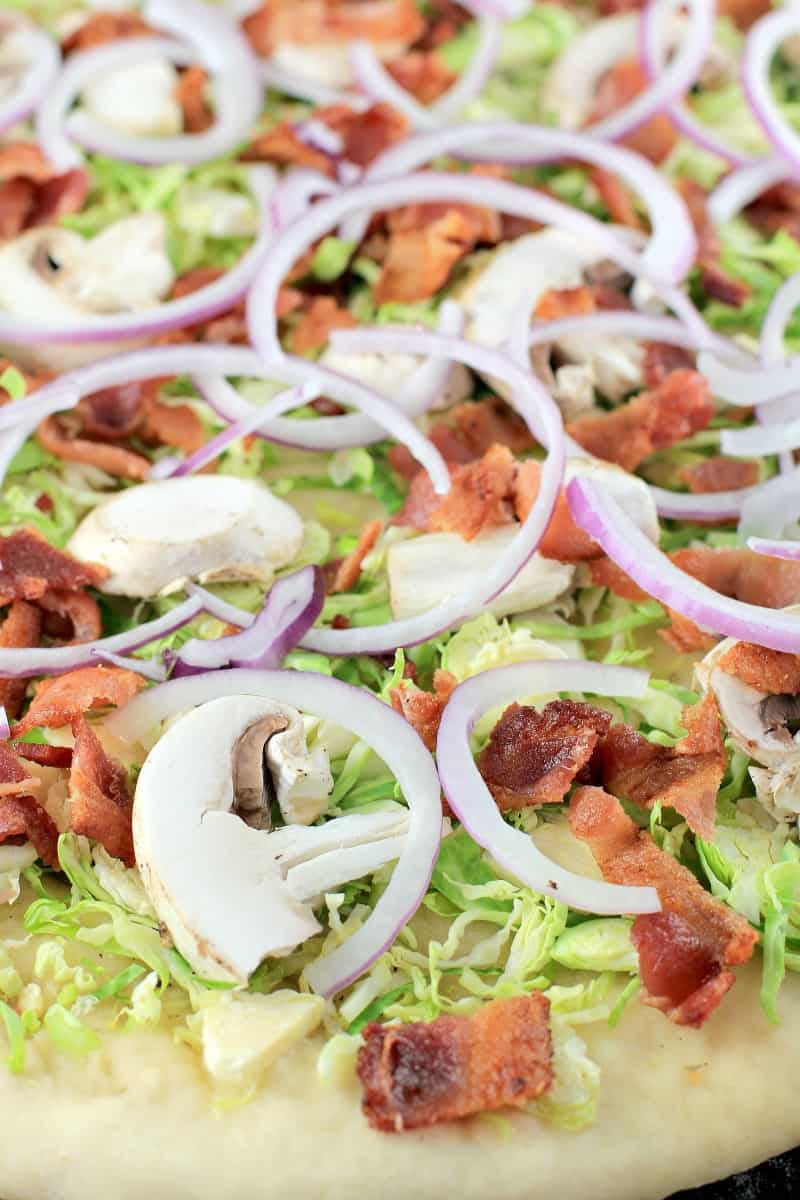 Steps for preparation
I was surprised when I made my Brussels sprouts and bacon pizza dream come true, how quickly it came together. Next thing I knew, I was burning my mouth chomping down on it.
Make or procure your pizza dough or precooked crust of choice. I so highly recommend my

Sam Adams Beer Pizza Dough

if you are looking for a recipe.
Heat up the oven with your pizza stone in the oven. Then heat more. It is imperative to get the stone thoroughly heated to cook the center and bottom of the crust all the way through when making pizza.
Roll out the dough and put on the hot pizza stone. The dough will start cooking at this point.
Brush the top of the dough with the olive oil-garlic-seasoning mixture, and lay on all the toppings.
Bake, drizzle with balsamic glaze, and enjoy.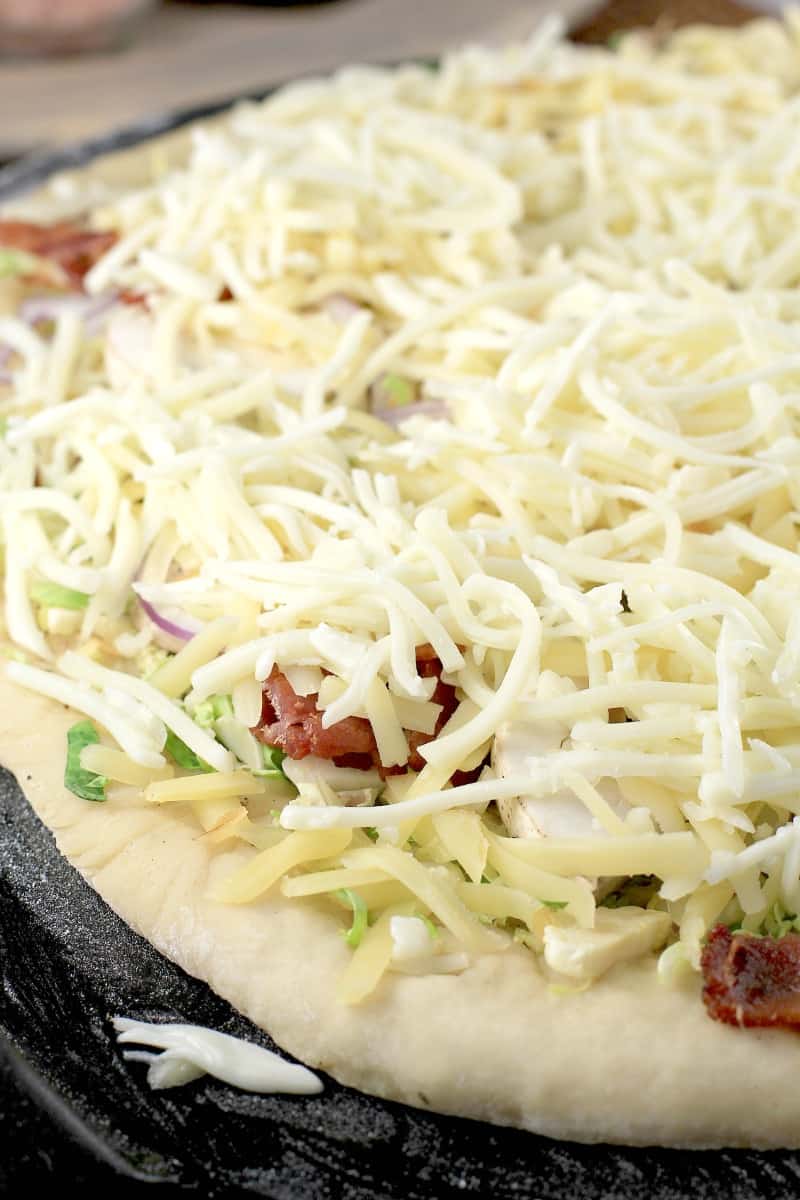 Last tips
Preheating the pizza stone thoroughly is far and away the most important key to making pizza at home with fresh pizza dough.
Make sure to roll out the dough on a well-floured surface so it does not stick.
I use my rolling pin to transfer the dough from the counter after rolling to the pizza stone. Simply roll the dough out, drape it over the rolling pin, and move.
To save preparation time, grocery stores in the US commonly now carry diced red onion, precooked and crumbled bacon pieces, and sliced mushrooms. These are handy shortcuts in a pinch.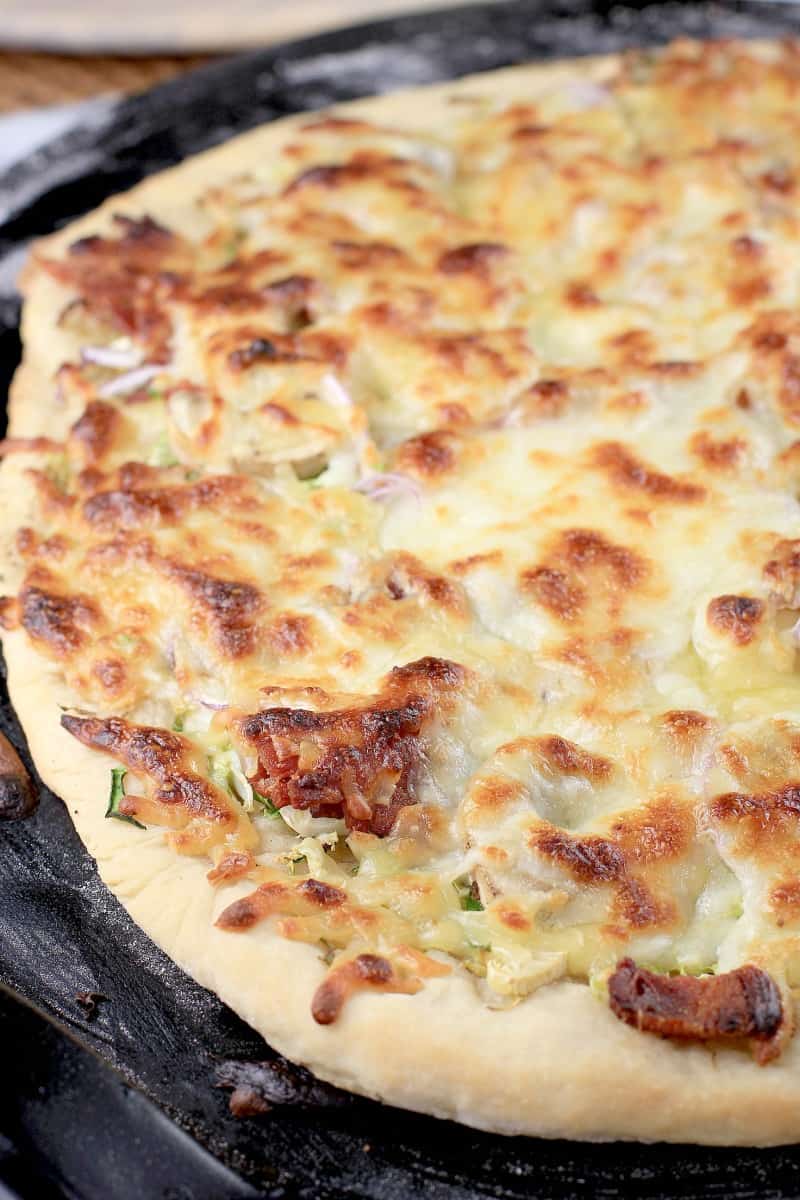 If you do not have a pizza stone, you can use a bake sheet but I cannot promise the result. The key is to get the crust cooked through without burning the cheese on top which will cook quickly, and this is what using the stone accomplishes.
That said, if using a bake sheet rather than a pizza stone, preheat it the same as you would a stone, then turn the convection of the oven off if that is a setting on the oven (it is on mine). This will stop the air circulating so much and allow more time for the crust to cook before the cheese starts to burn.
If balsamic glaze is not available, it is very easy to make at some. A simple internet search yields dozens of recipes.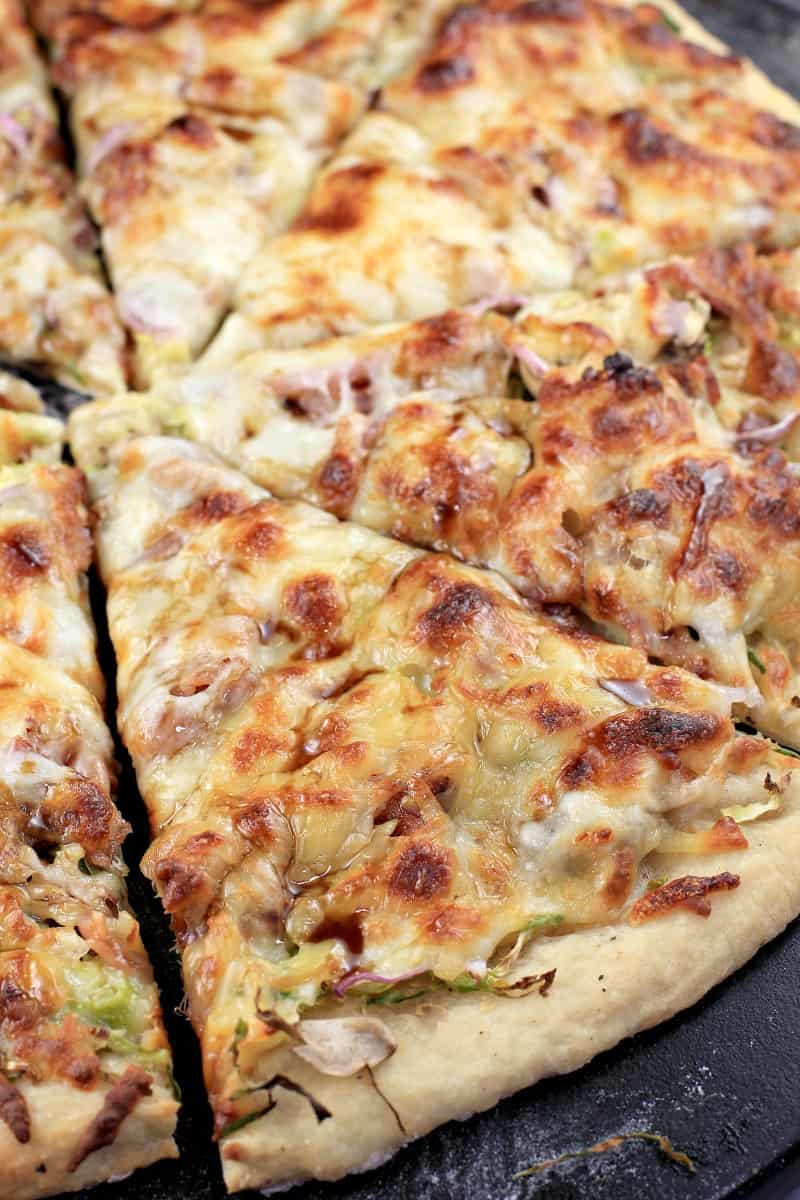 More recipes and pizza topping ideas
This recipe uses my Sam Adams Pizza Dough made with beer. Also check out my Homemade Pizza Sauce with wine and garlic.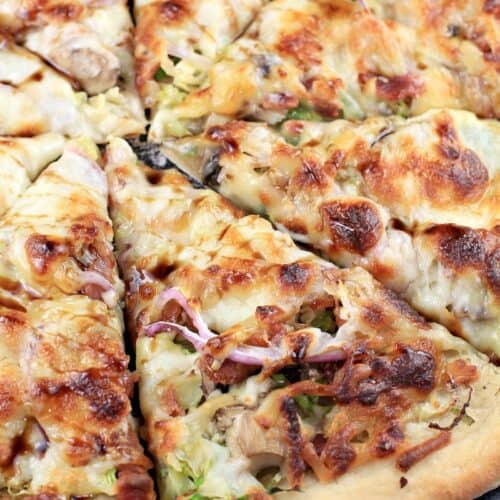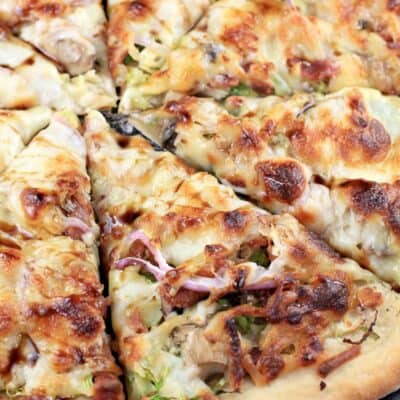 Brussels Sprouts and Bacon Pizza
Brussels sprouts and bacon with mushrooms, onion, and smoked Gouda baked into a bistro pizza and finished with a drizzle of balsamic glaze.
Instructions
Heat the oven to 450°F with the pizza stone in the oven. Heat an additional 15 minutes to ensure the stone is thoroughly heated through.

In a small bowl, combine the olive oil, garlic, salt, pepper, and Italian seasoning.

Remove the preheated pizza stone from the oven and place on the stove top.

Roll out the dough on a well-floured surface and carefully transfer to the pizza stone. Brush with the olive oil mixture.

Top the dough with Brussels sprouts, bacon, onion, mushrooms, and both cheeses.

Reduce oven heat to 425°F and bake pizza 10-12 minutes or until crust is cooked through and top is golden.

Serve drizzled with balsamic glaze.
Notes
Calorie estimation does not include my pizza dough recipe.
Nutrition
Calories:
416
kcal
(21%)
|
Carbohydrates:
15
g
(5%)
|
Protein:
23
g
(46%)
|
Fat:
29
g
(45%)
|
Saturated Fat:
13
g
(81%)
|
Polyunsaturated Fat:
4
g
|
Monounsaturated Fat:
4
g
|
Cholesterol:
70
mg
(23%)
|
Sodium:
1153
mg
(50%)
|
Potassium:
229
mg
(7%)
|
Fiber:
2
g
(8%)
|
Sugar:
9
g
(10%)
|
Vitamin C:
2
mg
(2%)
|
Calcium:
570
mg
(57%)
|
Iron:
1
mg
(6%)
Calorie count is purely an estimate calculated using an online application to serve as a guide and not to be taken as accurate nutritional information. Percent Daily Values are based on a 2,000 calorie diet.
Tried this recipe?
Leave a comment below and let me know!