Chicken Tender Quesadilla with Sun-Dried Tomato Chutney
Smokey Gruyere cheese and a sweet Sun-Dried Tomato Chutney dress up crunchy chicken in this new Chicken Tender Quesadilla. This simple recipe comes together lickity-split for a tasty lunch or quick weeknight dinner.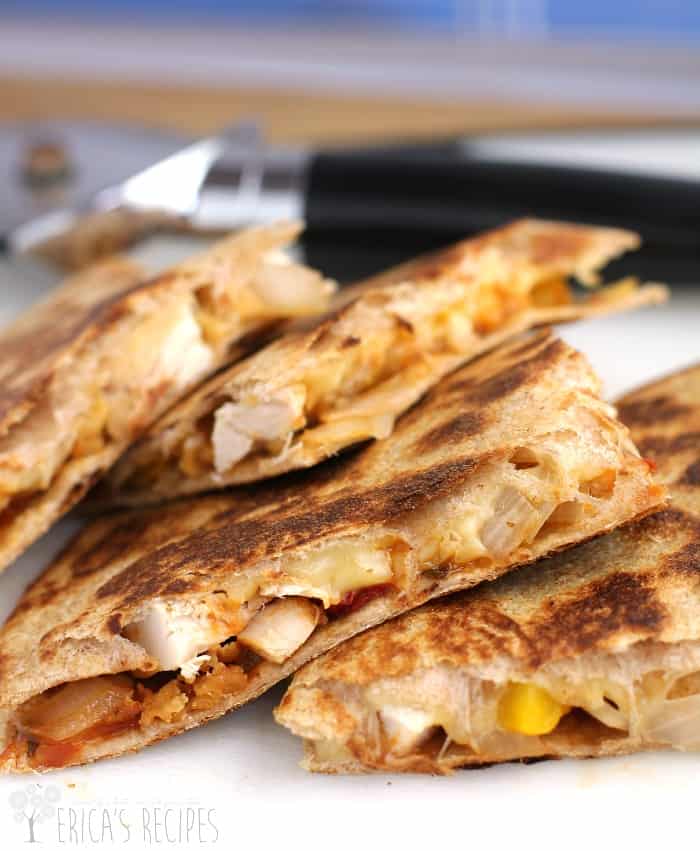 Cooking spray (random, yes. but hang in there). One of the best inventions like everrr is cooking spray, don't you think? Because we can use cooking spray to make all kinds of "grilled" stuff. Rarely does a day go by that I do not use olive oil cooking spray to make something like a grilled ham and cheese sandwich. Lately, I've been on a kick of making grilled cheese sandwiches in Pita bread with cheddar, deli chicken, and turkey bacon. And quesadillas. Constantly. Flour tortilla, corn tortilla, doesn't matter, they both totally work. No oil or butter needed. Just a little spritz does the trick and keeps these yummies light.
So, okay. Having established that I love using cooking spray to make crispy, yummy, grilled cheesy things, we get to this quesadilla. ..Which uses purchased chicken tenders.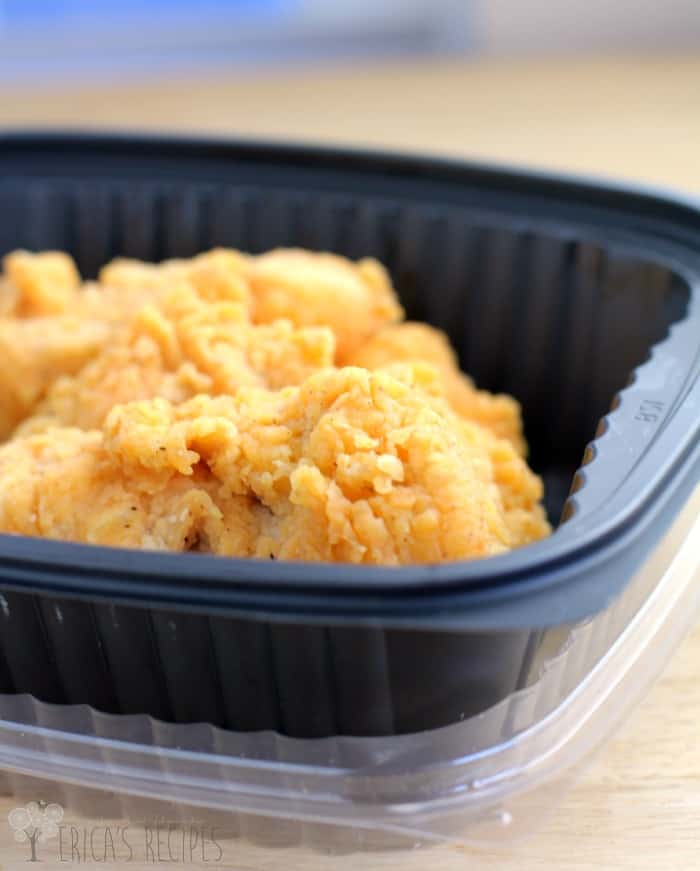 Bup! Bup! Bup! Don't yell at me! …Cuz I knowwwwww, "Erica, what the hell with the totally not homemade fried chicken?!"
So, if you would like, just replace the fried chicken with some baked chicken tenders. Viola happiness!
BUT, if you like crispy fried tenders, like those available in most grocery store deli sections anymore (and you want more happiness) ….then go for it. Because the crunchy chicken in a cheesy, crispy quesadilla, is just. so. friggin. tasty.
And the whyyy is because of what all else we're adding here. Such as tender, sweet browned onions ….like so…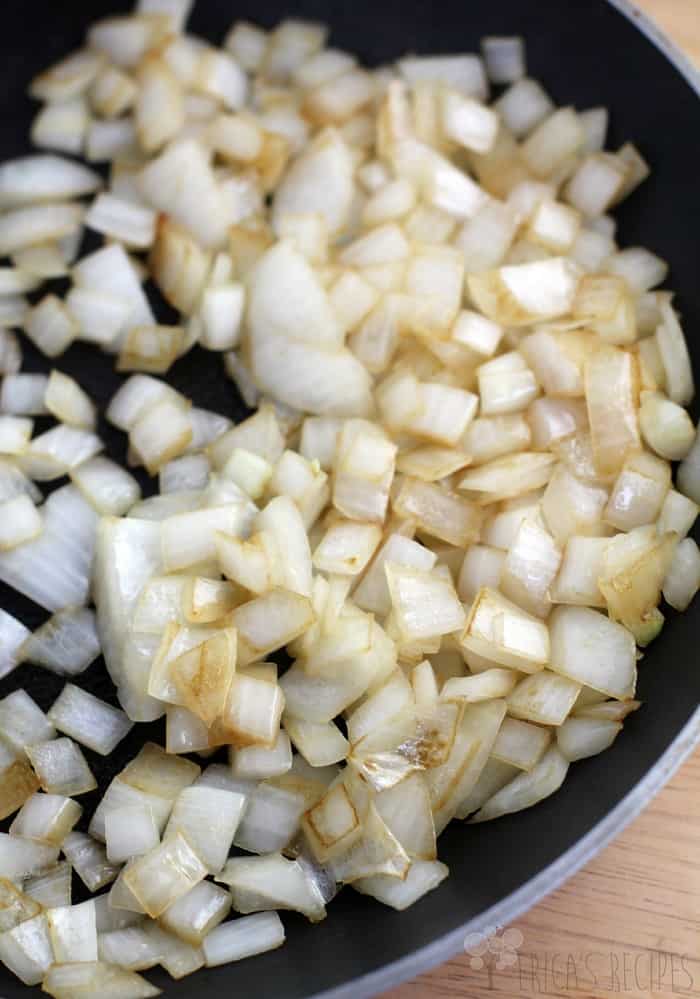 And some sweet roasted bell pepper (which did not photograph well a-tall, so no pic). …and the chutney!
This simple, sweet chutney is so damn tasty. Only three little ingredients, it comes together in a sec. And whatever you don't use for the quesadillas, use for what-ev-ah you can think of …chicken, salmon, steak, baked potatoes, sub sammies, whatever. Seriously good eats.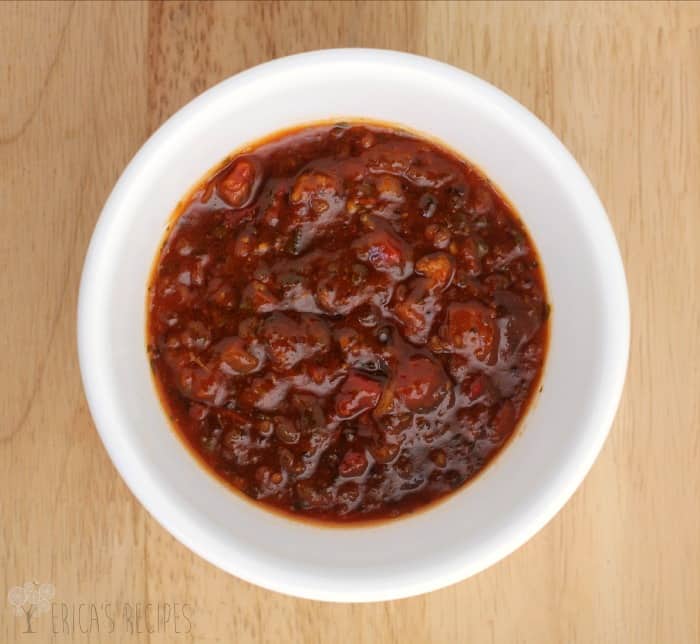 So here is it kids! A yummy, random lunch. That's how I had it anyway. But I would (will) totally do this for dinner too. Amazing flavor combination and easy to make. Different, not totally unhealthy. And yummy yummy good.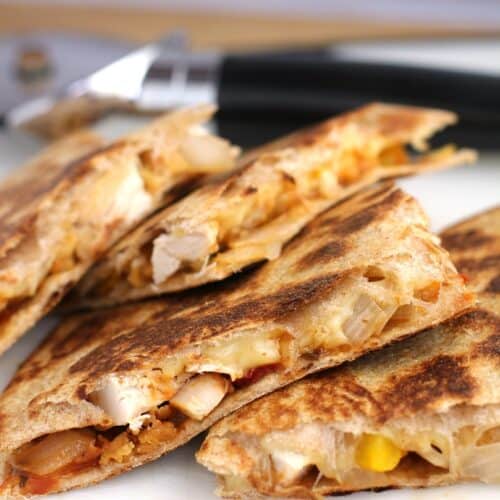 Chicken Tender Quesadilla with Sun-Dried Tomato Chutney
Smokey Gruyere cheese and a sweet Sun-Dried Tomato Chutney dress up crunchy chicken in this new Chicken Tender Quesadilla.
Ingredients
2

yellow bell peppers

1

onion

diced

2

tsp

extra virgin olive oil

pinch

kosher salt

¼

cup

sun-dried tomato pesto

3

Tbsp

apricot preserves

½

tsp

balsamic vinegar

4

large purchased chicken tenders

chopped

2

cup

shredded smoked Gruyere cheese

8

large whole wheat tortillas

olive oil cooking spray
Instructions
Put on the oven broiler. Roast the bell peppers, turning a quarter turn every 5 minutes, directly under the broiler. Transfer to a ziploc bag to steam 5 minutes.

While the peppers are cooking, cook the onions. In a nonstick pan, saute the onions in the olive oil over high heat until lightly browned. Add a pinch of salt and set aside.

Remove the peppers from the ziploc bag. Discard the blistered skins and seeds, and chop the peppers. Set aside.

To make the Sun-Dried Tomato Chutney, simply combine the sun-dried tomato pesto, apricot preserves, and balsamic vinegar in a small bowl.

To assemble a quesadilla: lay a tortilla on a board or dish. Spread a couple tablespoons of the sun-dried tomato chutney. Layer 1/4 of the onions, roast yellow bell pepper, chicken, and cheese. Top with a second tortilla.

Heat a large nonstick skillet over medium-high heat. Spray with cooking spray. Carefully slide an assembled quesadilla into the pan. Spray the top tortilla with cooking spray. Cook until bottom quesadilla is toasted. Put a heat-resistant bake sheet or dish on the pan and quickly flip to transfer the quesadilla out of the pan. Then carefully slide the tortilla back into the pan to toast the other side. Once done, slide to a board or dish to cut and serve. Yields 4 servings.
Nutrition
Calorie count is purely an estimate calculated using an online application to serve as a guide and not to be taken as accurate nutritional information. Percent Daily Values are based on a 2,000 calorie diet.
Tried this recipe?
Leave a comment below and let me know!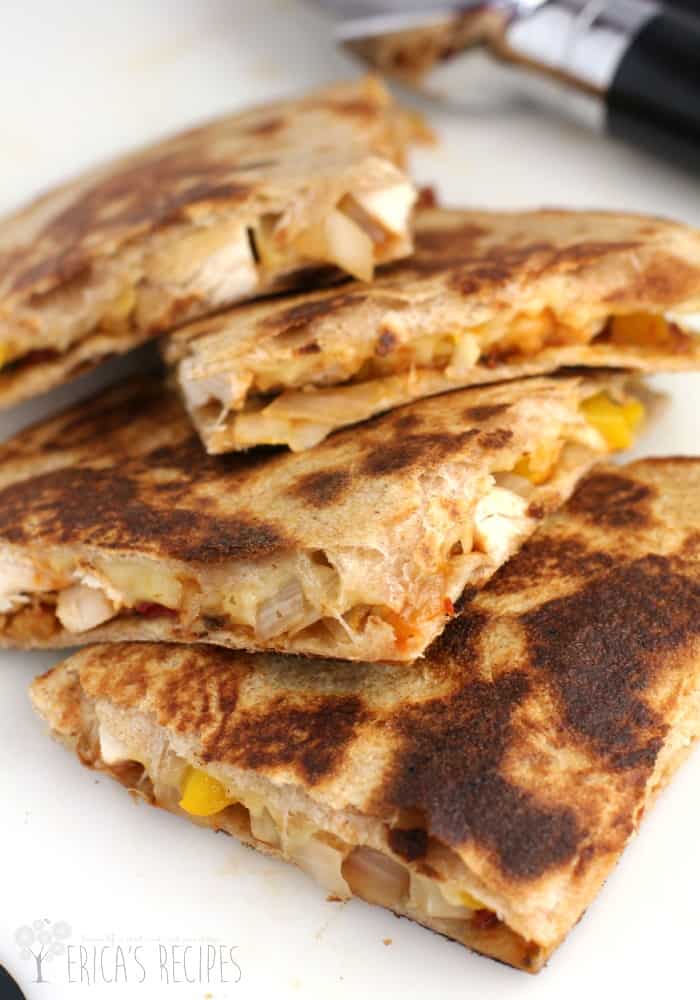 If this recipe looks good to you, check out my Spinach, Mushroom, and Thyme Quesadillas with Smoked Gouda.