Mediterranean Crescent Ring
The Mediterranean Crescent Ring is a classic crescent ring recipe made using Mediterranean-inspired ingredients. With spinach, artichokes, two cheeses, roasted peppers, and olives, the flavors in this crescent roll ring recipe are busting with briny Mediterranean flavor beautifully presented in a flaky crescent ring. This is a vegetarian crescent roll recipe meant for sharing!
This website uses affiliate links which may earn a commission at no additional cost to you. As an Amazon Associate I earn from qualifying purchases.
Make this Mediterranean Crescent Ring for a breakfast, brunch, lunch, baby shower, potluck, bunco, whenever – seriously make this crescent ring. I developed this recipe in 2014 in the early hours before a work potluck breakfast, and it has since grown into one of the top recipes on this blog. It is delicious, different, makes people happy, and it will make you will look like a rock star.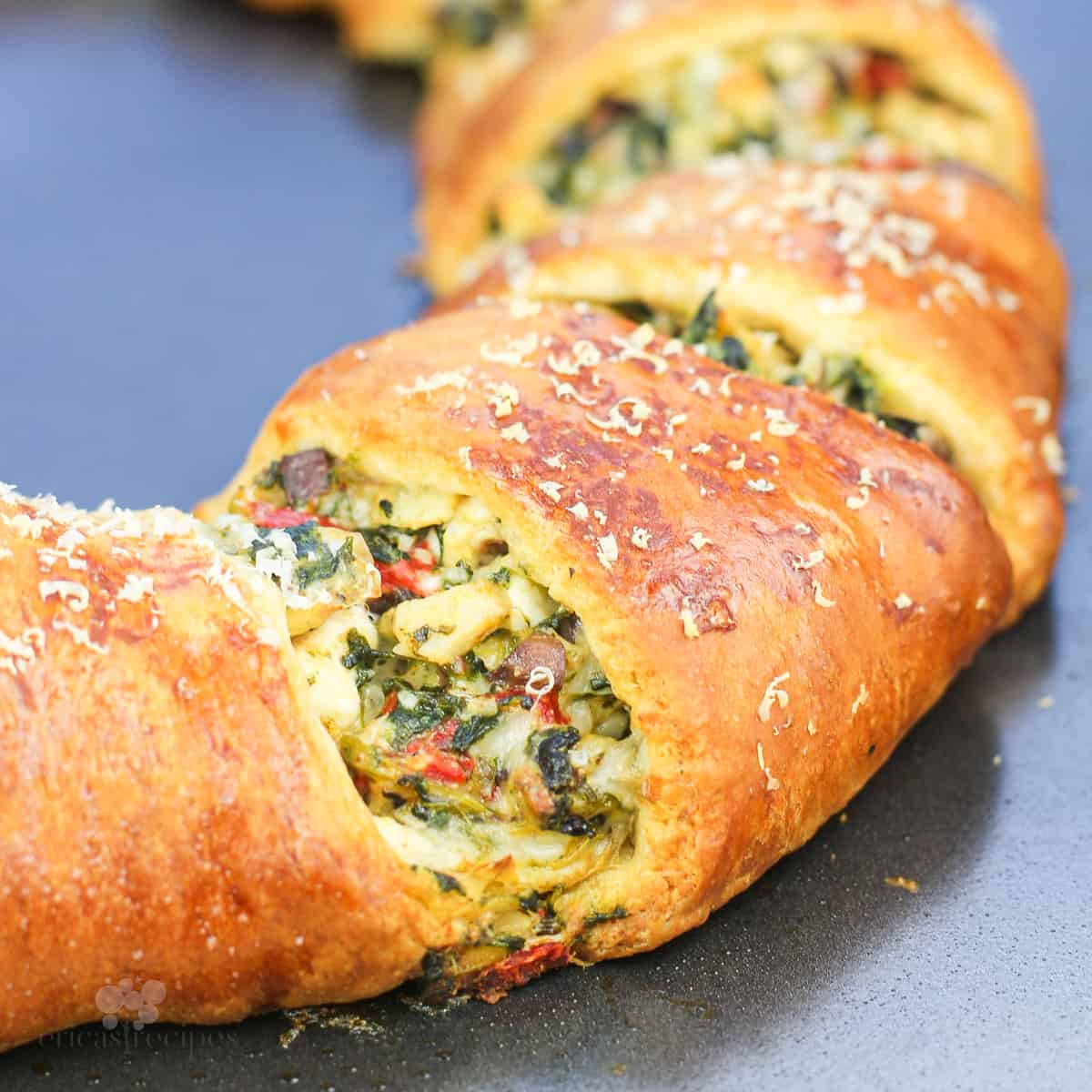 One thing we do at my day job every once in a while is have a massive, gluttony-packed pot-luck breakfast. My co-workers know I have no problem using them as guinea pigs for a new recipe, which is precisely how this recipe was born.
I made this recipe up in the weeee early AM before the sun was even up. Cooked it, brought it to the work potluck, and waited for the verdict… and it was, as we say, blog-worthy.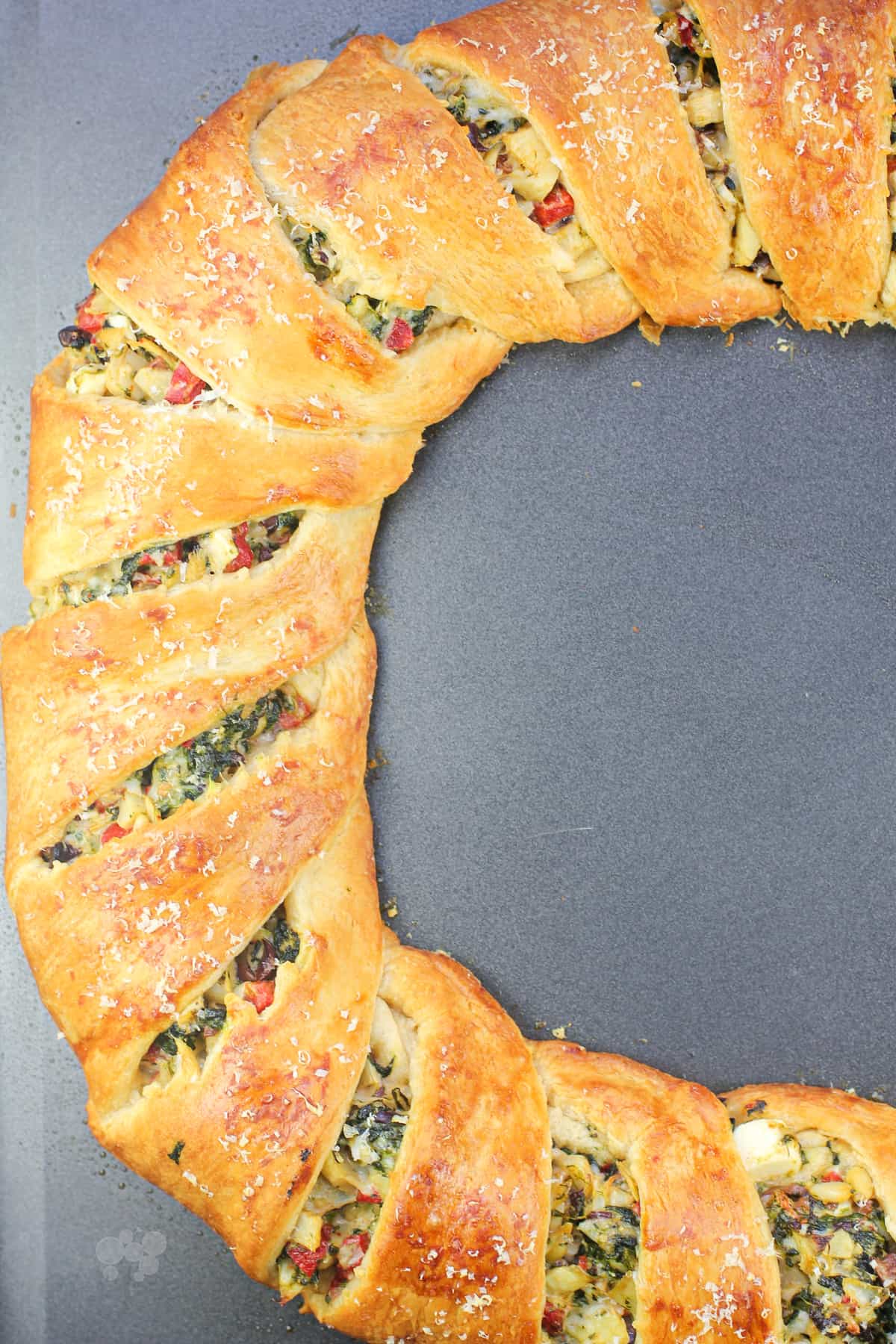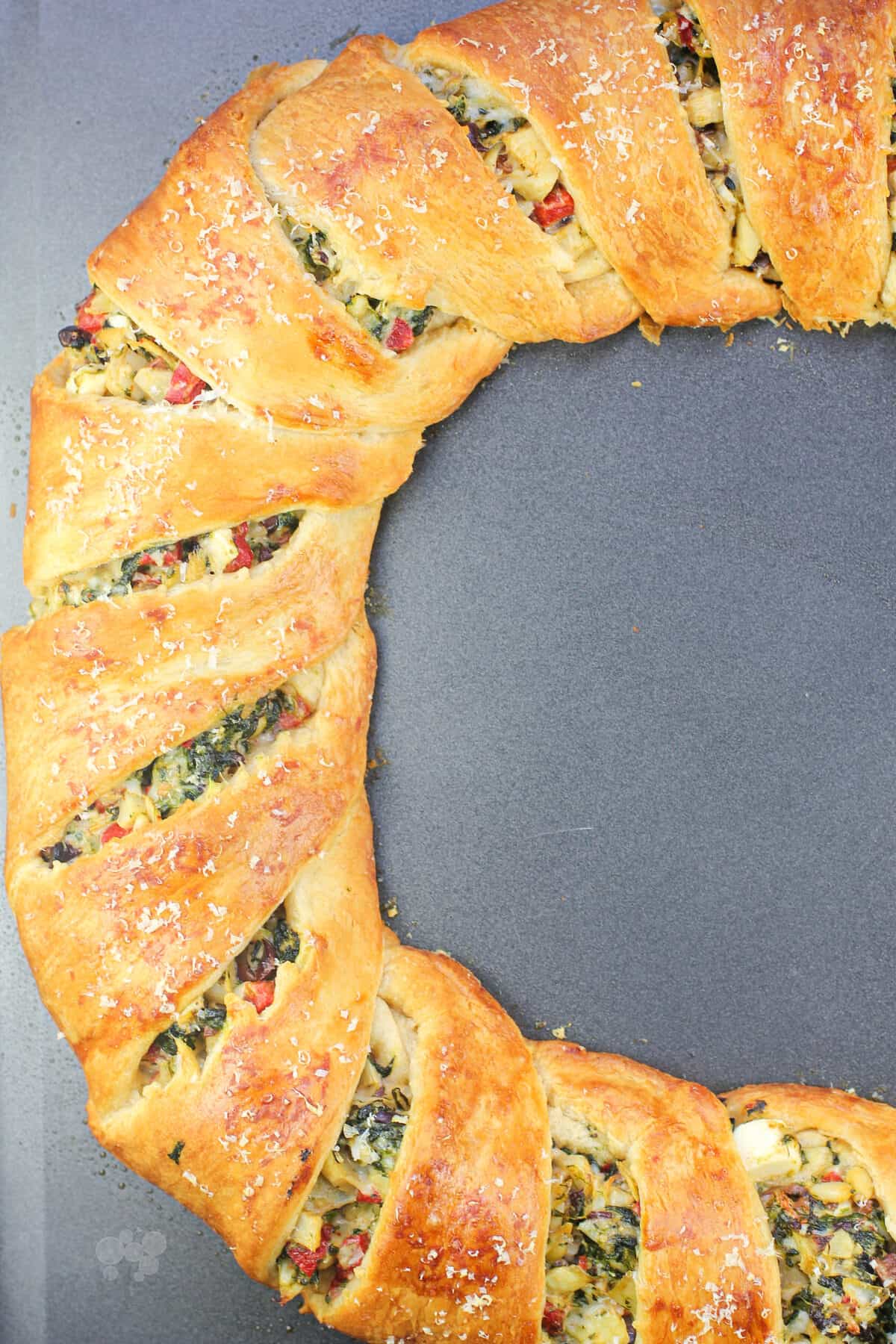 Why this recipe works
The Pillsbury crescent ring is always a hit, and the most famous is probably the Pampered Chef recipe which is essentially spinach-artichoke dip wrapped in crescent dough. There are taco versions, broccoli-cheese versions, and chicken-bacon and such too.
My Mediterranean Crescent Ring recipe works because I wanted a truly tasty crescent ring filling. I wanted a satisfying, salty, rich, Mediterranean-inspired filling wrapped in those flaky crescent rolls everyone loves and this recipe delivers in spades.
With pungent feta and olives and garlic and stuff. And pine nuts for that smooth crunch. This vegetarian crescent roll recipe is spectacularly impressive on the table, as all crescent rings are, but THIS crescent ring is incredibly delicious with its bombdiggity filling.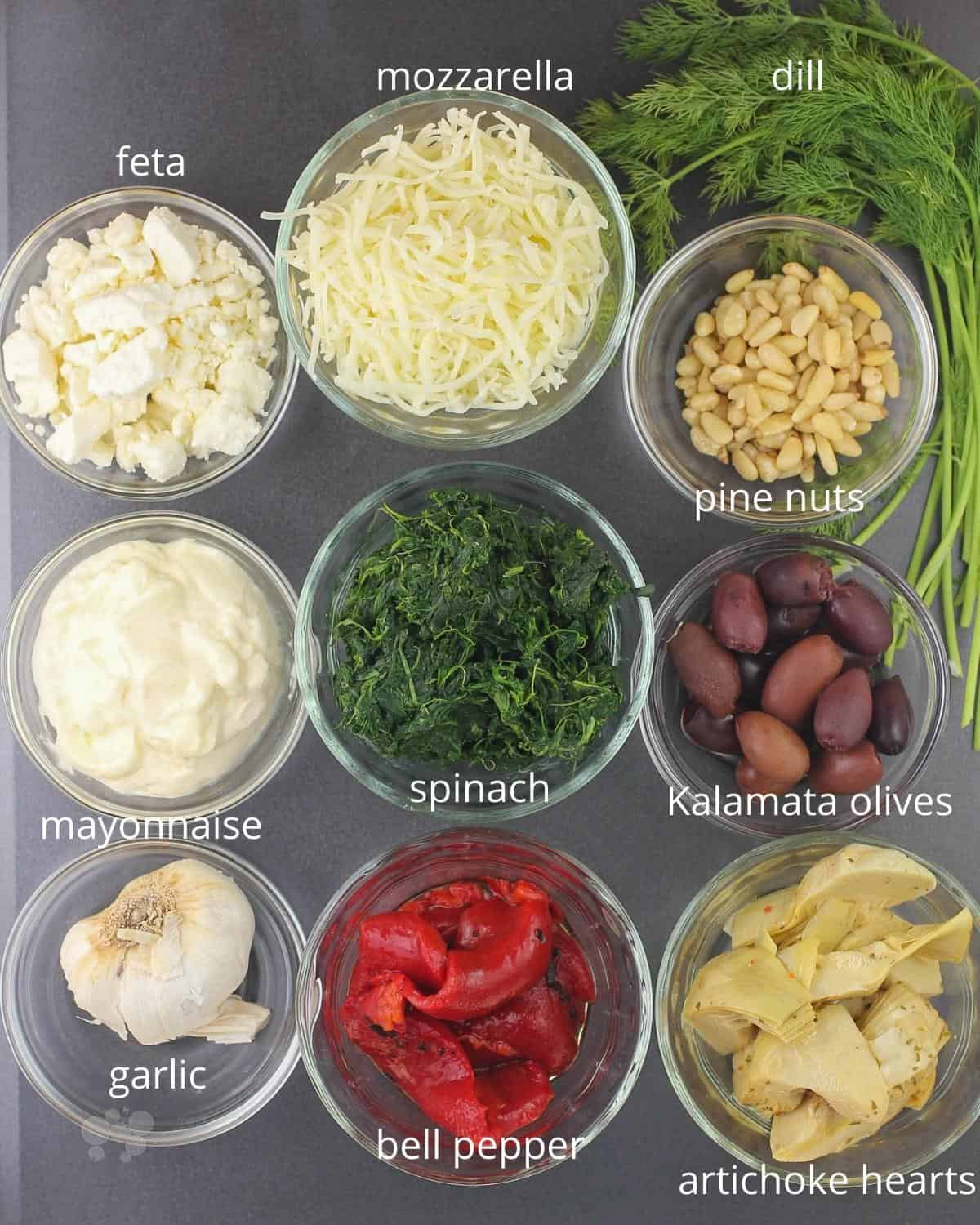 About the ingredients
Okay, there are some ingredients here but they are all very easy. We just assemble them together, chop what needs to be chopped, and throw them in a bowl to mix. Nothing to shy away from and each element makes its own flavor contribution. Remember this is a vegetarian crescent roll recipe – no meat required.
Spinach. One box of frozen chopped spinach works. Thaw and squeeze out as much water as possible using a kitchen towel.
Marinated artichoke hearts. Marinated artichoke hearts are far better tasting than canned hearts in only water. Give them a good drain to remove as much brine as possible, then give them a rough chop but not too small. The chunks of artichoke heart give texture.
Mozzarella cheese
Garlic and herb flavored feta cheese. Garlic and herb feta is what I originally used for this recipe, but I sometimes can't find it anymore. So, if not available, use plain feta + 1/2 teaspoon salt-free garlic and herb seasoning.
Roasted red bell pepper. Find this in the condiment section of the grocery store with the olives and pickles.
Pitted Kalamata olives. Find these in the condiment section of the grocery store. If not available, use black olives.
Pine nuts. Give them a light toast until golden in a small, nonstick skillet.
Fresh cracked pepper.
Mayonnaise.
Garlic.
Dill. I use fresh dill, but you may substitute dried dill, just use 1/3 as much.
Two packages refrigerated crescent rolls dough.
Egg white.
Fresh grated Parmigiano-Reggiano cheese.
Cooking spray.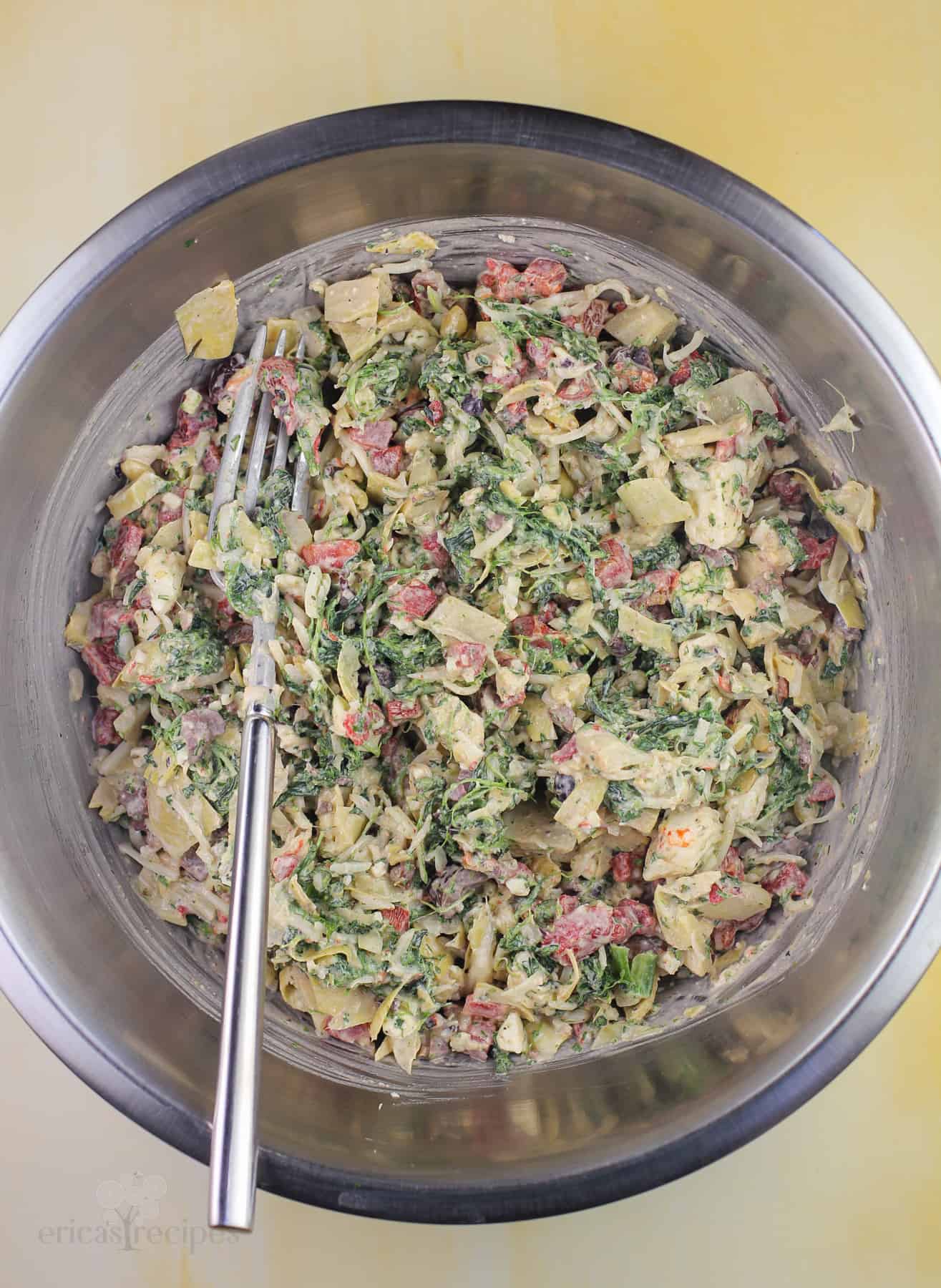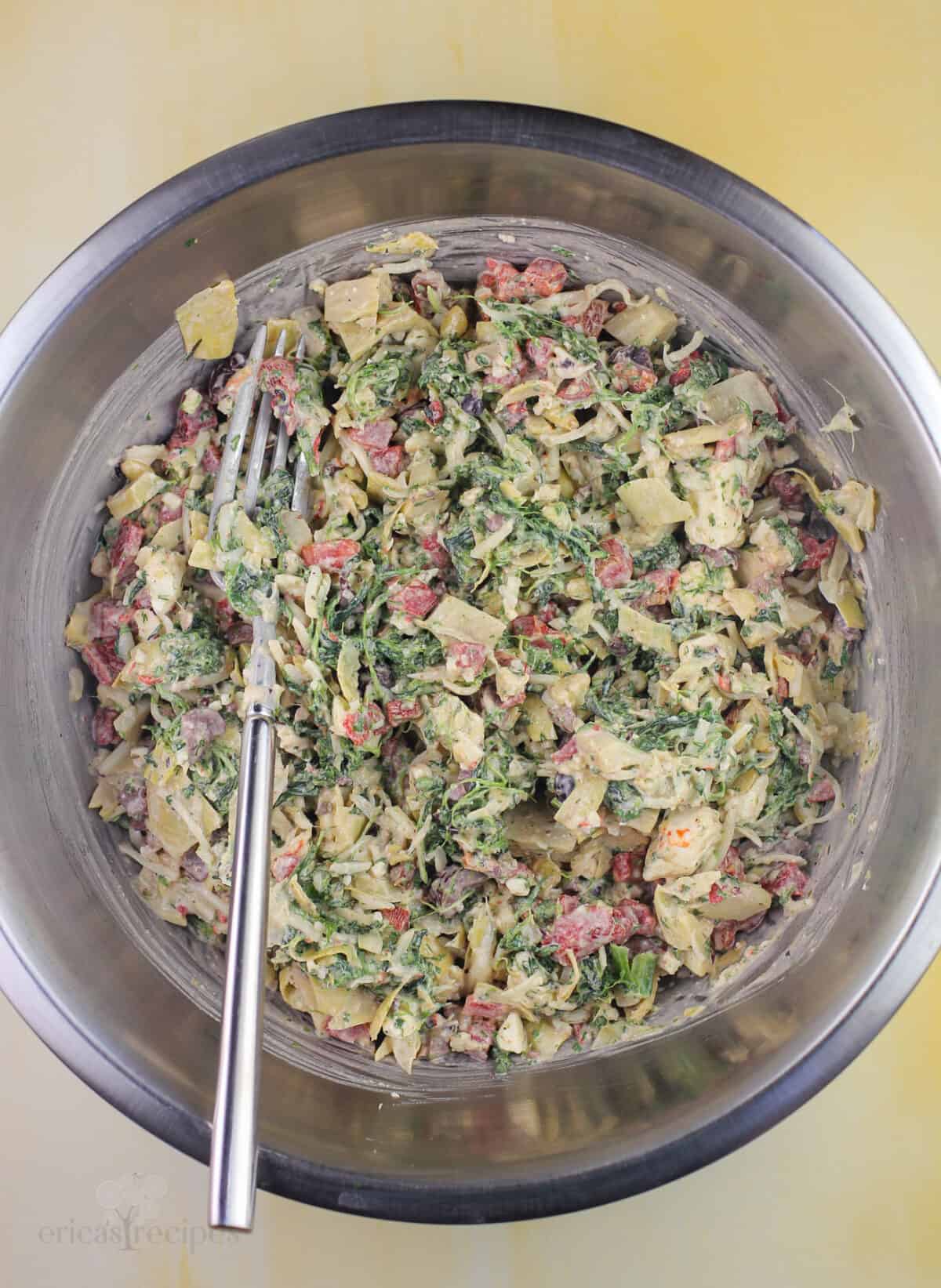 How to make this crescent ring recipe
This filling is so easy, we just mix those ingredients in a bowl. Assemble the ingredients together, chop what needs to be chopped (artichoke hearts, olives, and roasted red pepper – be sure to drain everything well), and throw it all in a medium or large mixing bowl.
Once the water is squeezed out, the spinach is in a bit of a wad. I find a trick that helps is to mix the mayonnaise into the spinach first, then add everything else. This prevents the filling from getting large chunks of just spinach. I find a simple fork works best for mixing the filling.
Next, we assemble the crescent ring. Break open the tubes of crescent dough and you will see that the dough is perforated to break into triangles. On your largest, flat bake sheet, lay the crescent dough triangles, overlapping corners, to make a circle. For each triangle of dough, put the short side towards the center of the circle (see my photo to see what I'm talking about).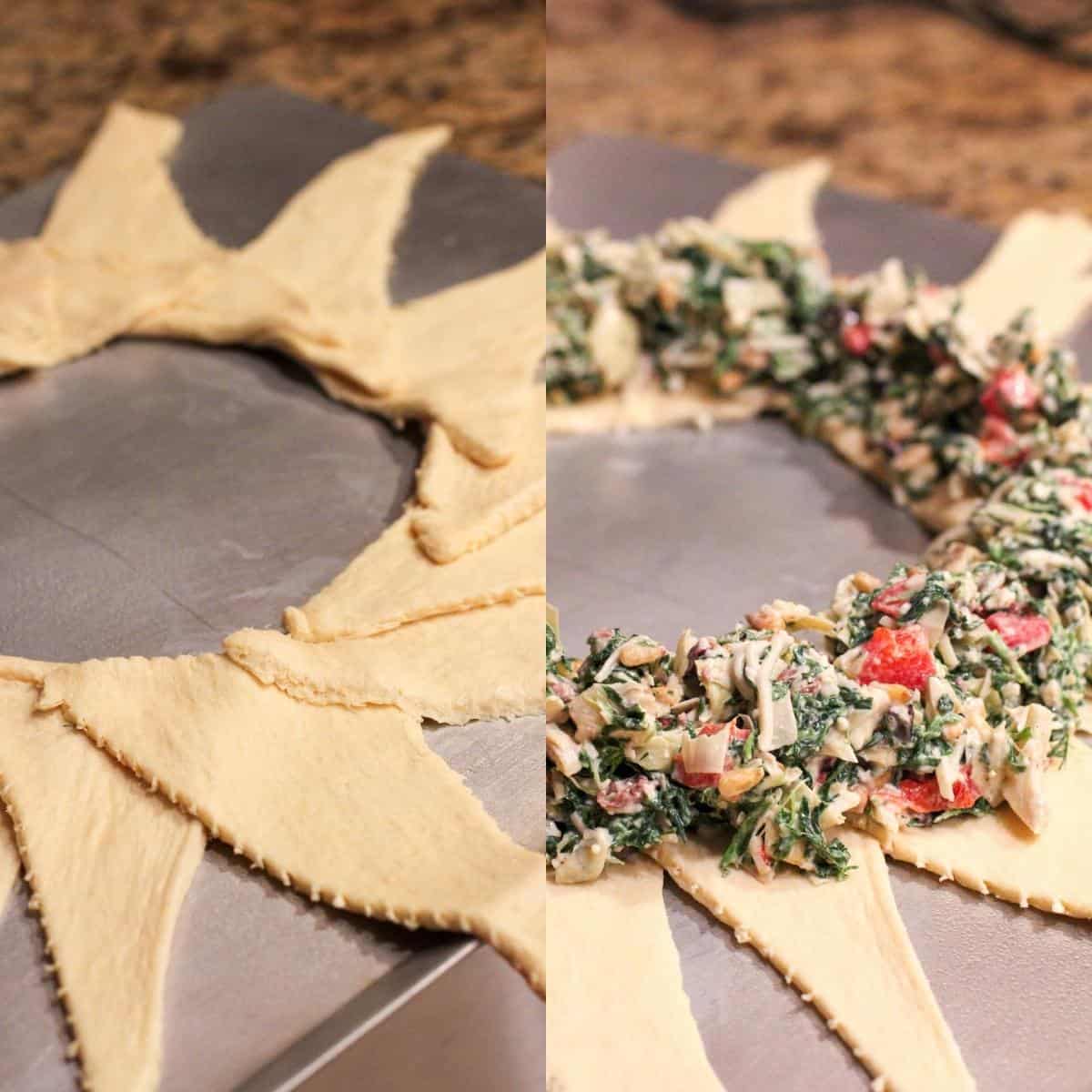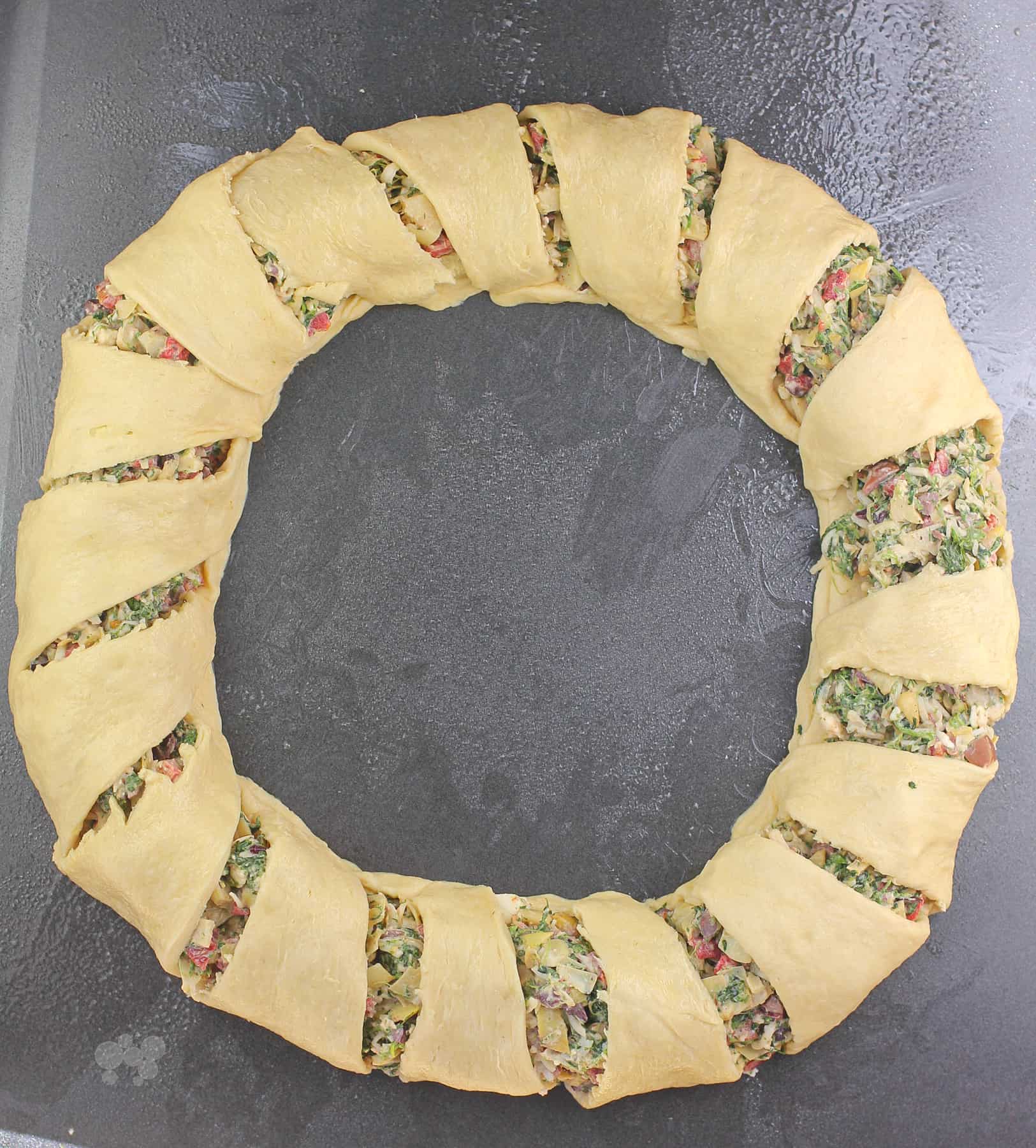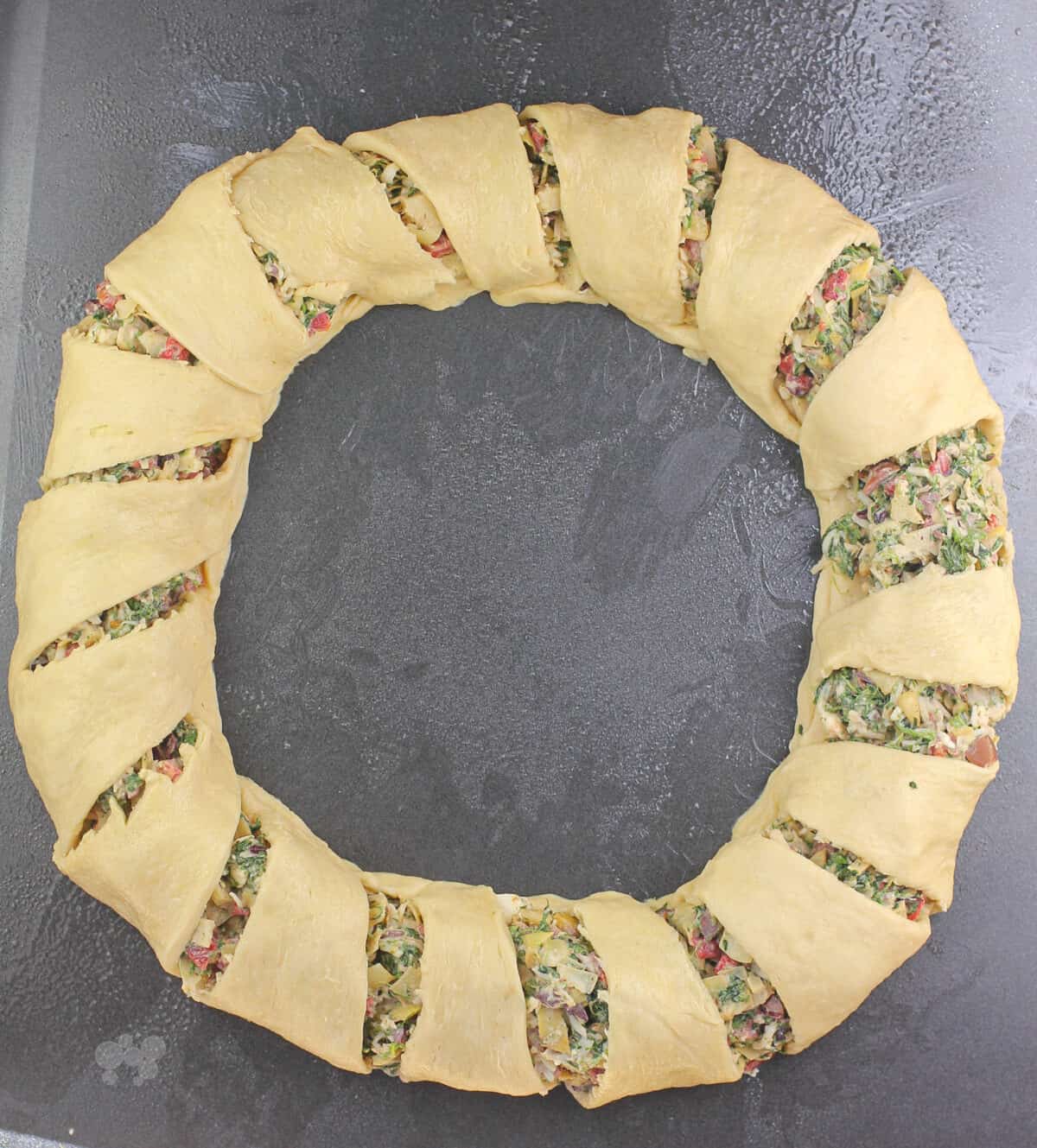 The trick to making a somewhat symmetrical circle is to not work around the circle clockwise or counterclockwise. Rather, think of a clock: put a triangle at 12, 2, 6, and 9. Then fill in with the remaining pieces of dough evenly. Remember there are 16 triangles of dough, not 12 like hours on an actual clock, so keep that in mind as your are laying out the triangles.
Next, we spoon – or in my case, just use my hands because it's faster – the filling onto the dough keeping it on the areas of overlap to the center. Fold the dough over the filling, tucking in the end, to form the ring.
Brush with ring with a bit of egg white to make the pretty glaze as the dough cooks. Top with some freshly grated parmesan. Bake at 375 degrees Fahrenheit (190 degrees Celsius) for 20 minutes or until crescent rolls are golden.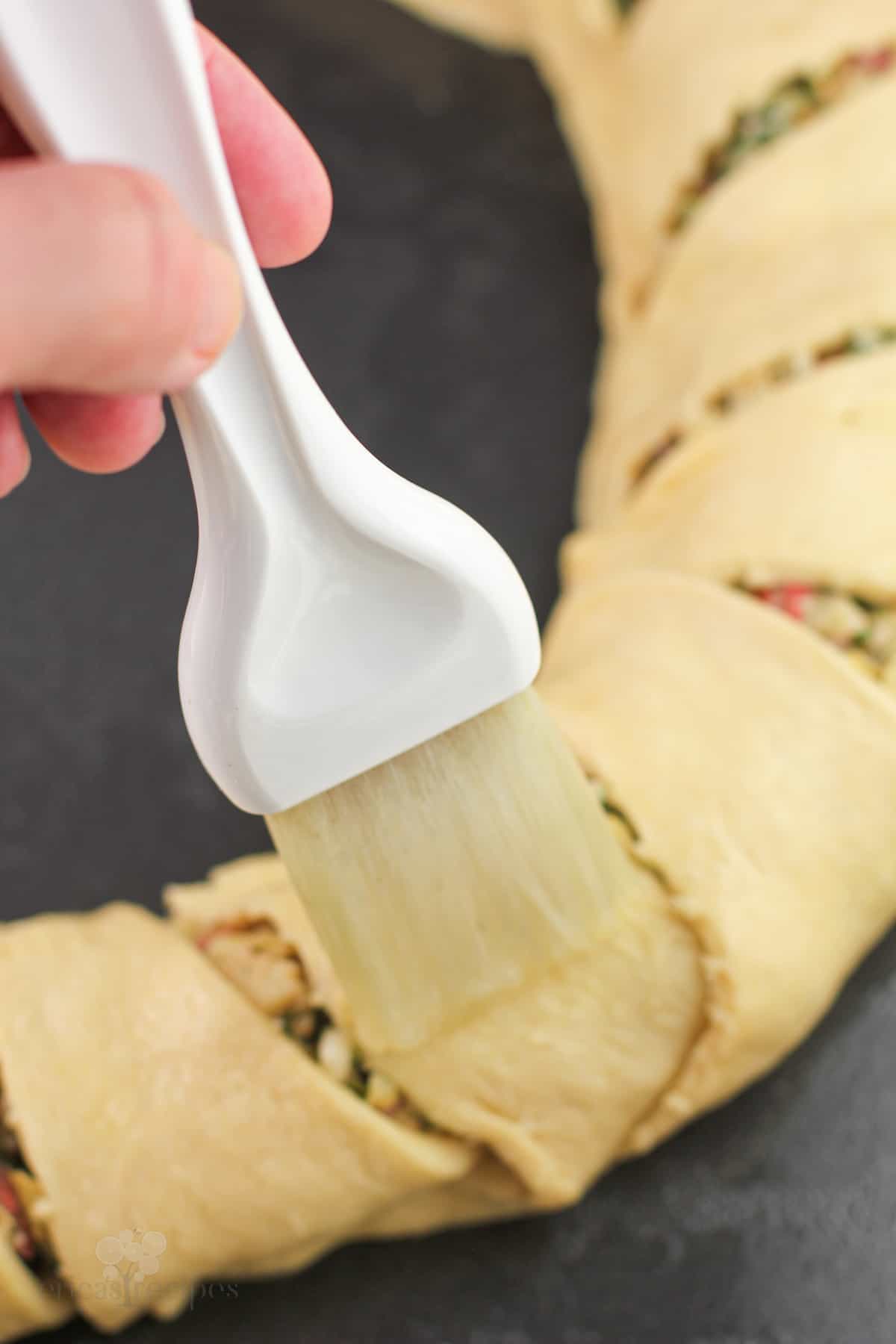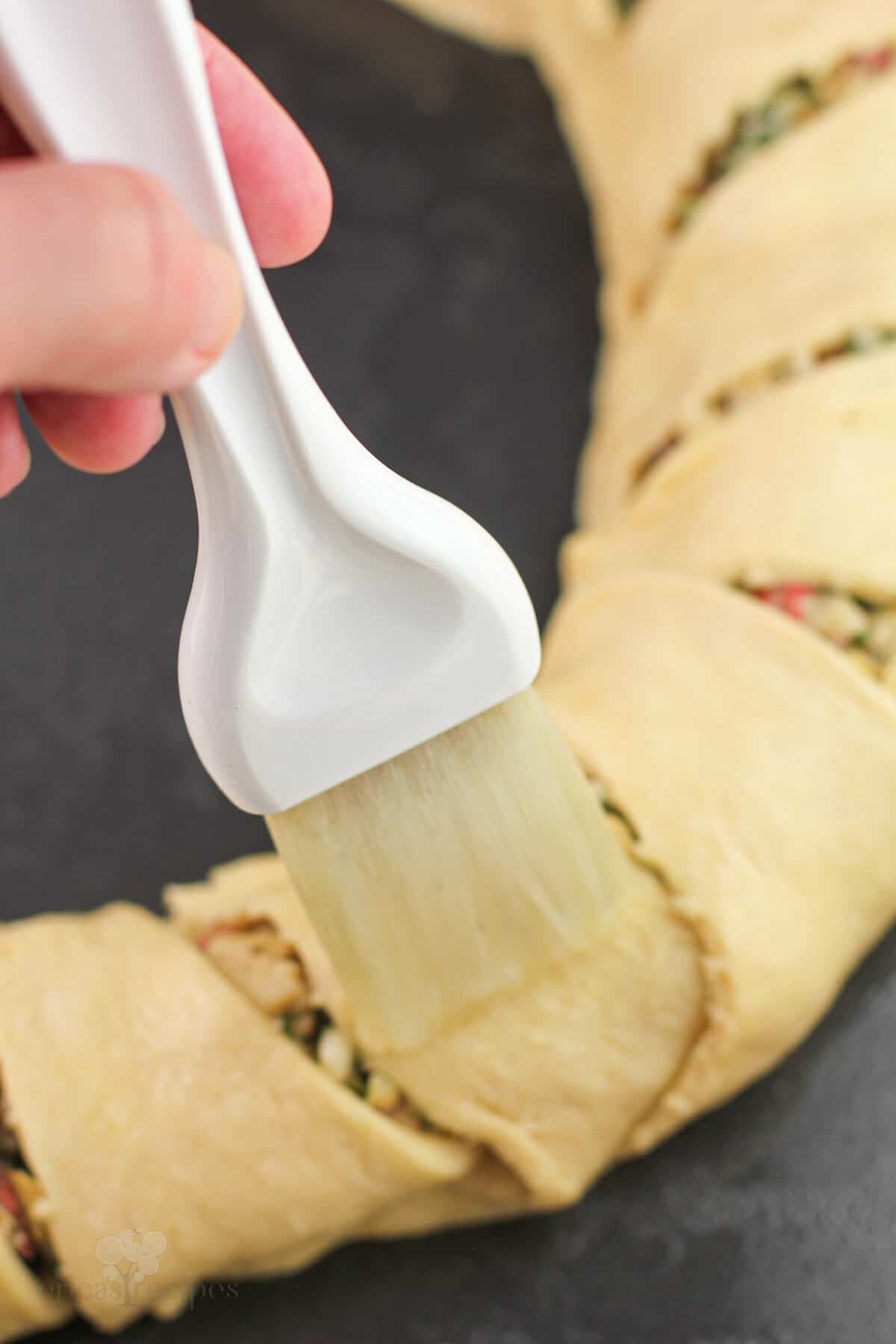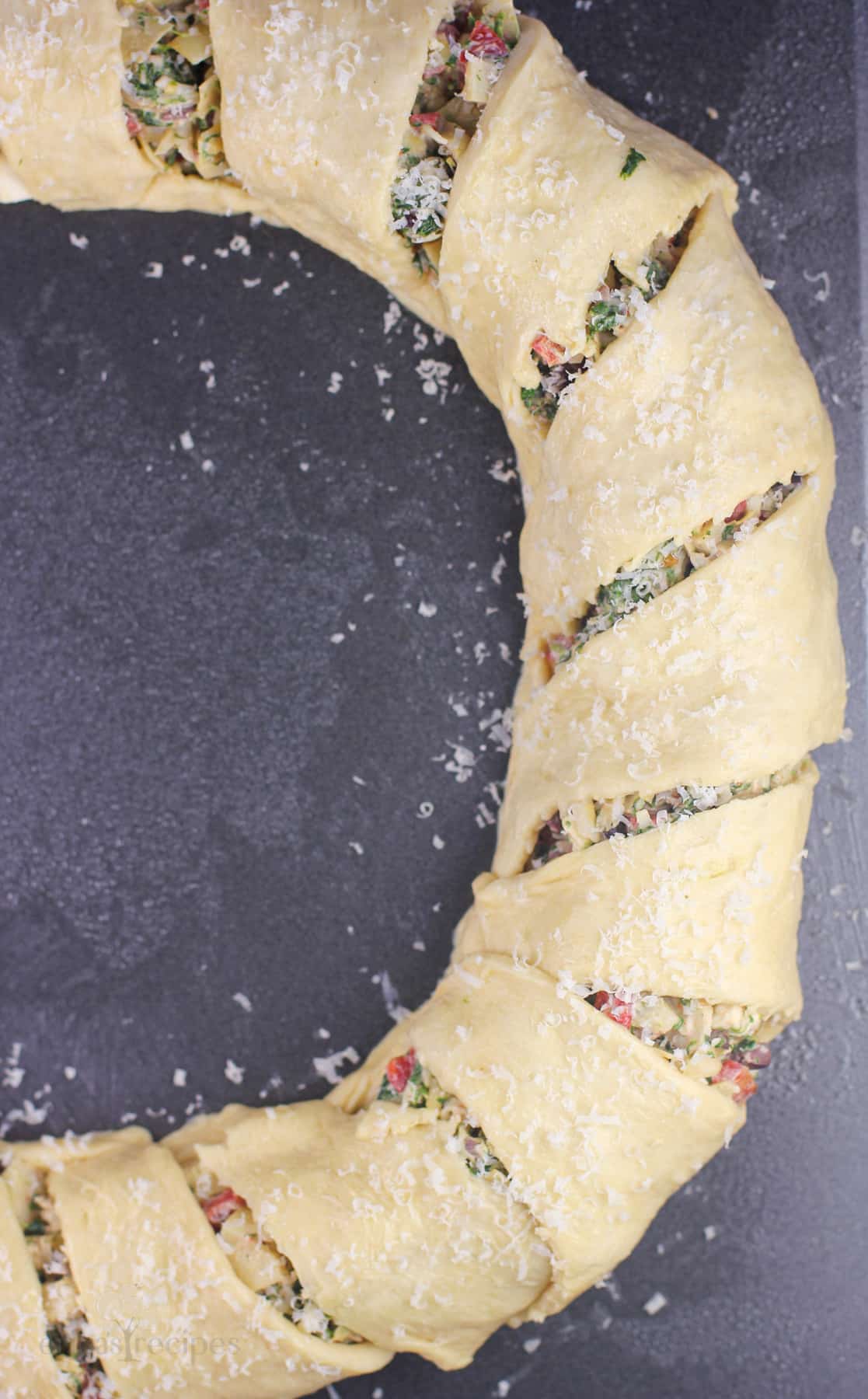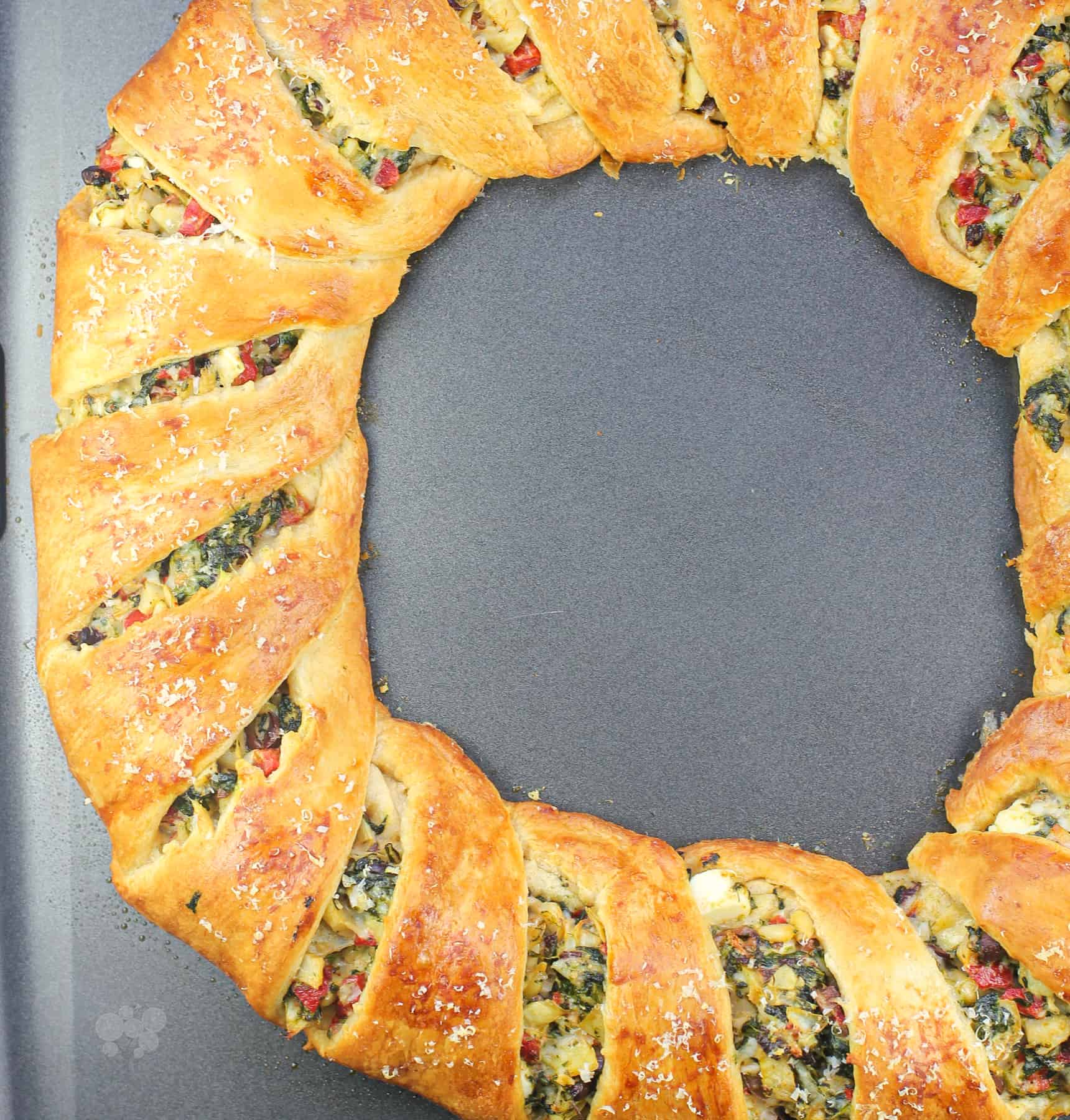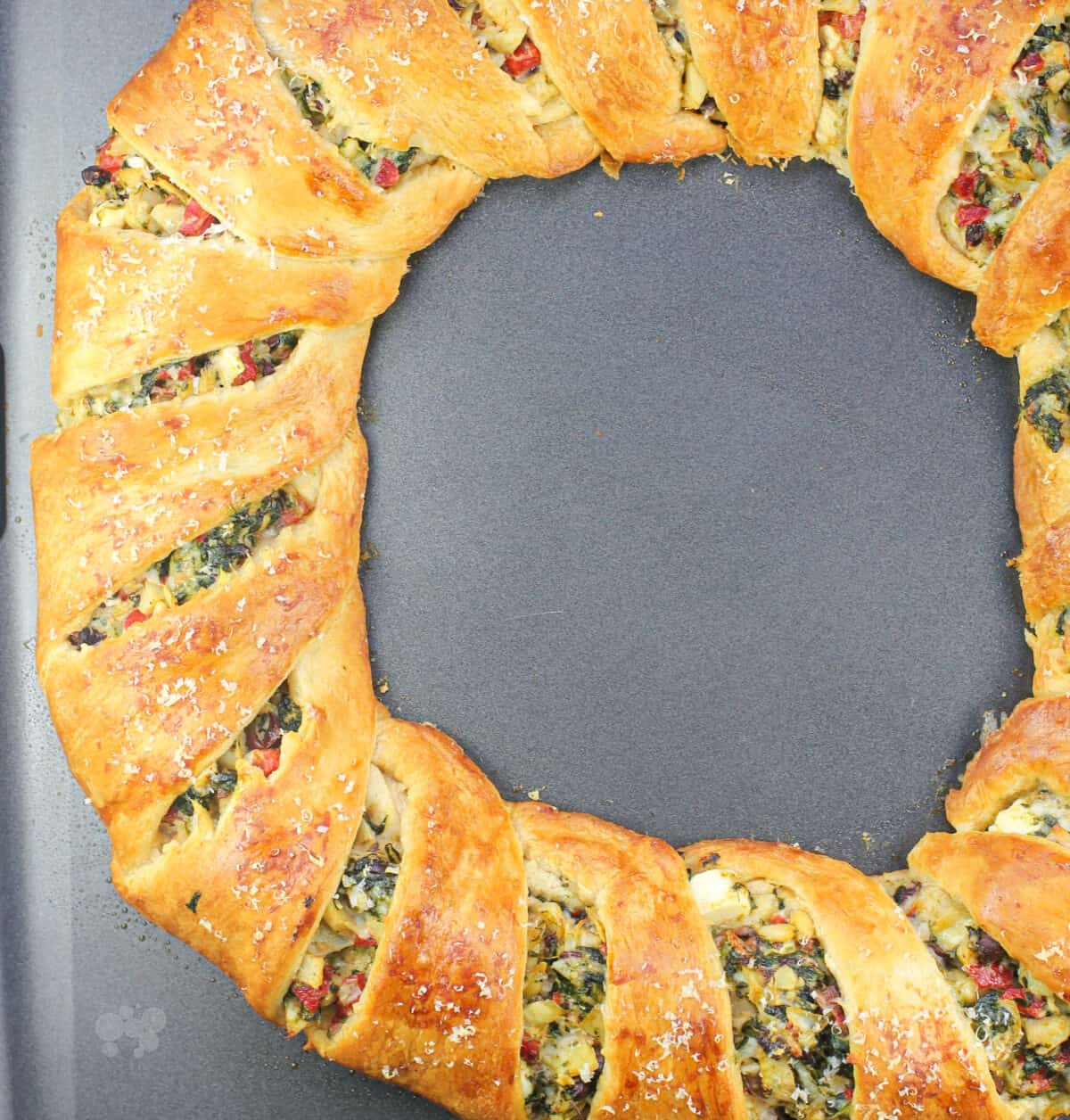 FAQs
Can this crescent roll ring recipe be made in advance?
Yes and no. The filling can totally be made in advance, even up to a day ahead. The ring itself can be made an hour or two in advance (wait until serving to slice). Refrigerated crescent dough does not have much staying power, so I do not recommend making more in advance than an hour or two. This recipe can be served warm or at room temperature.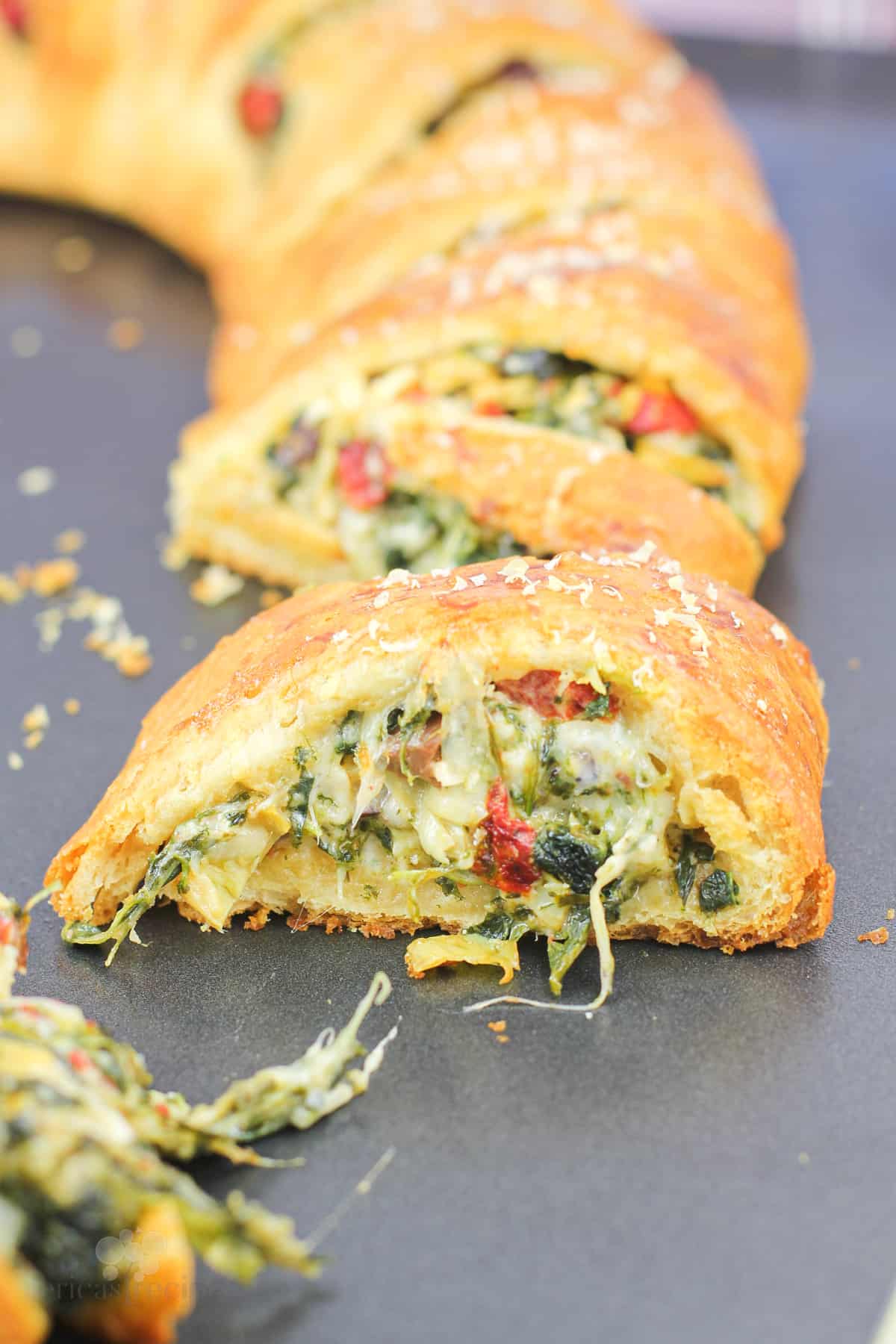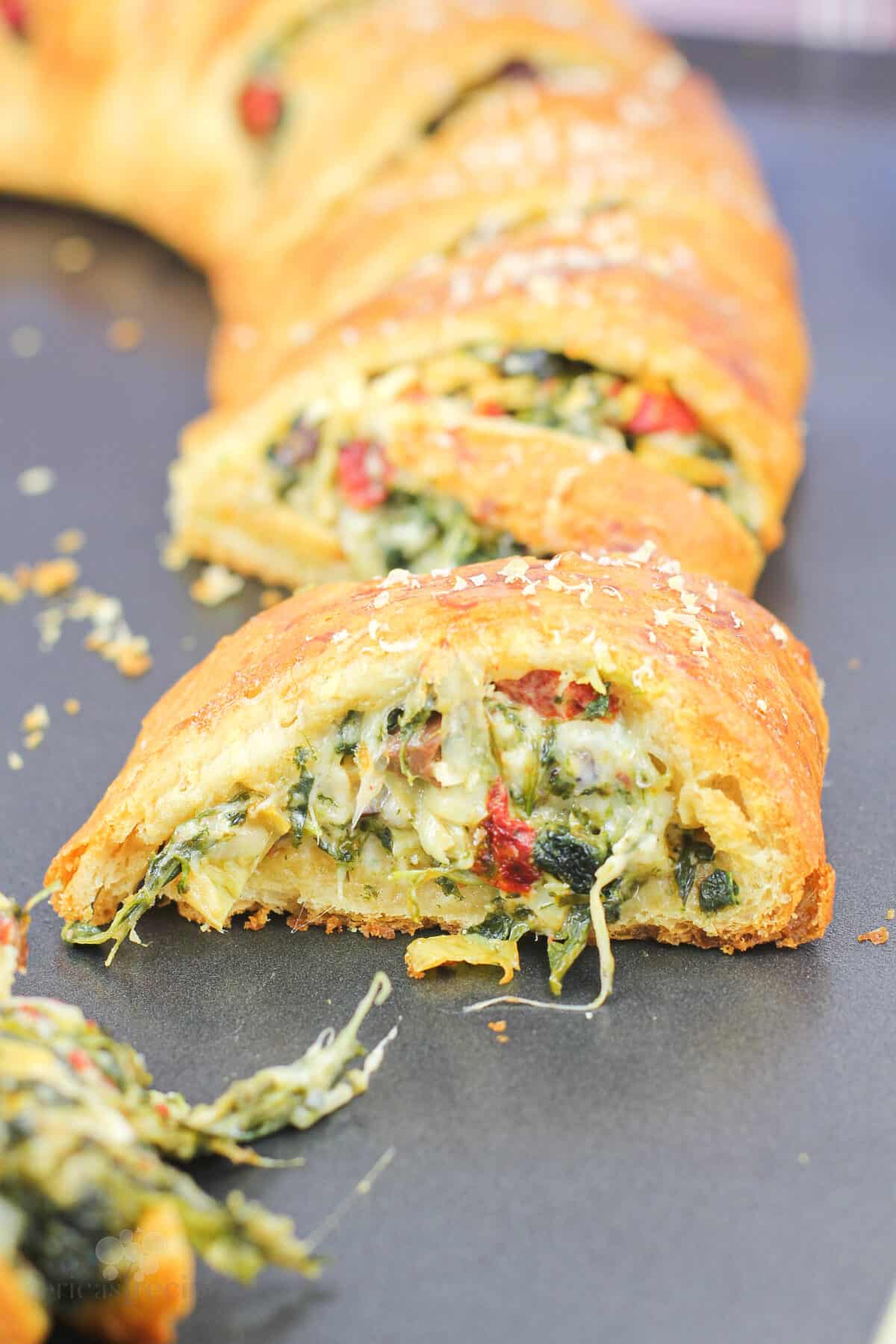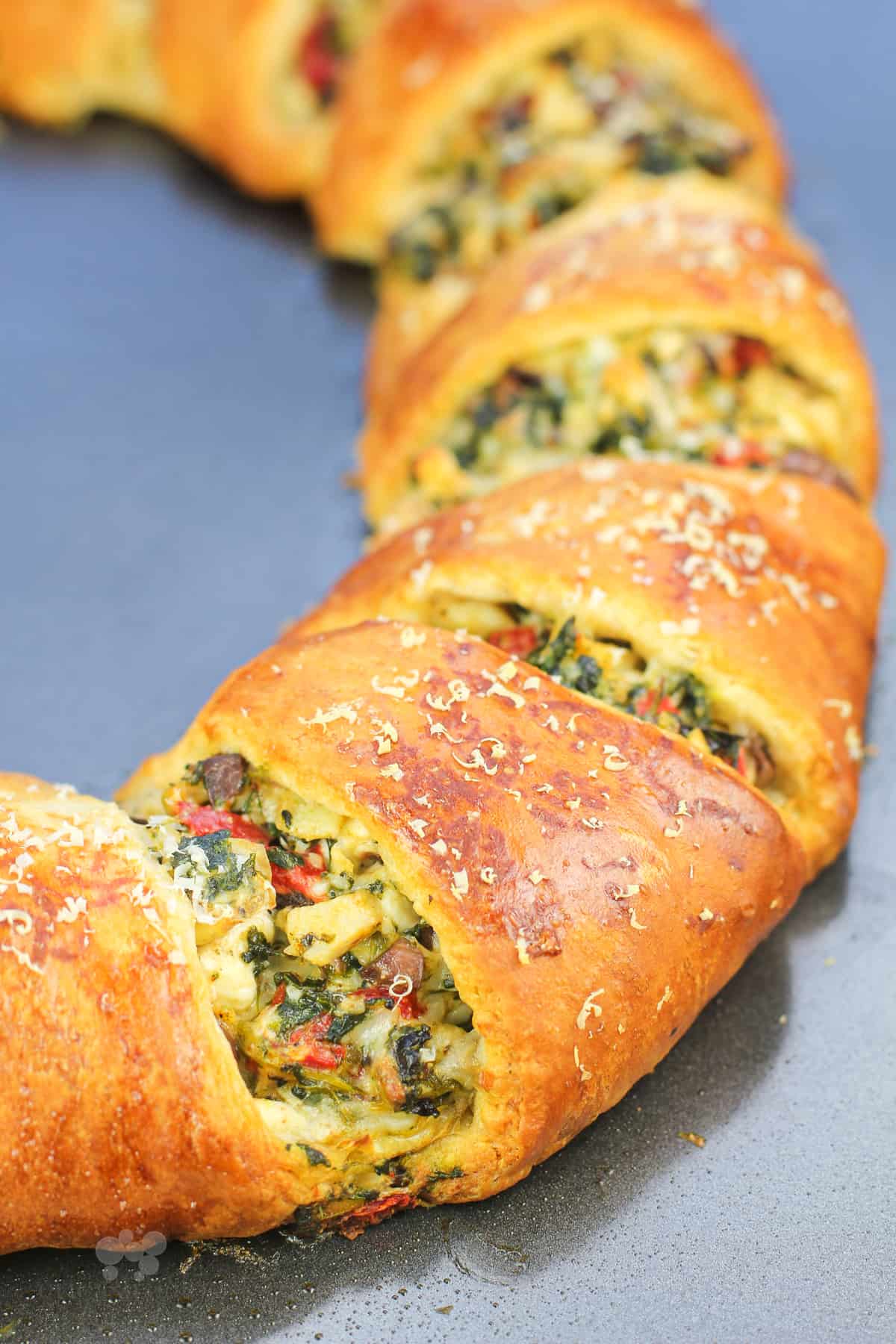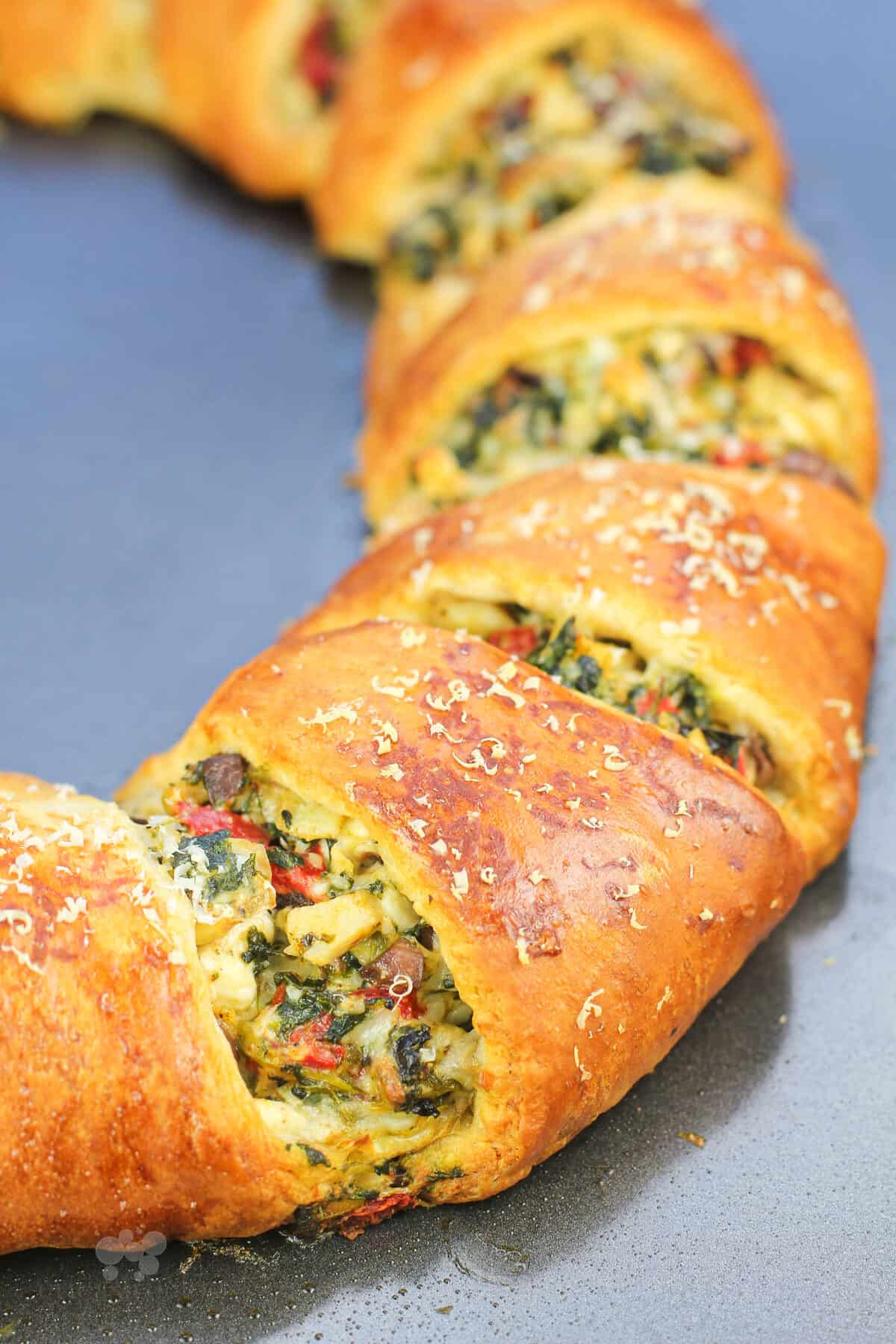 If you want more finger foods to serve with your beautiful crescent ring, check out my Cornucopia Salami Rollups with Cream Cheese and Deviled Eggs.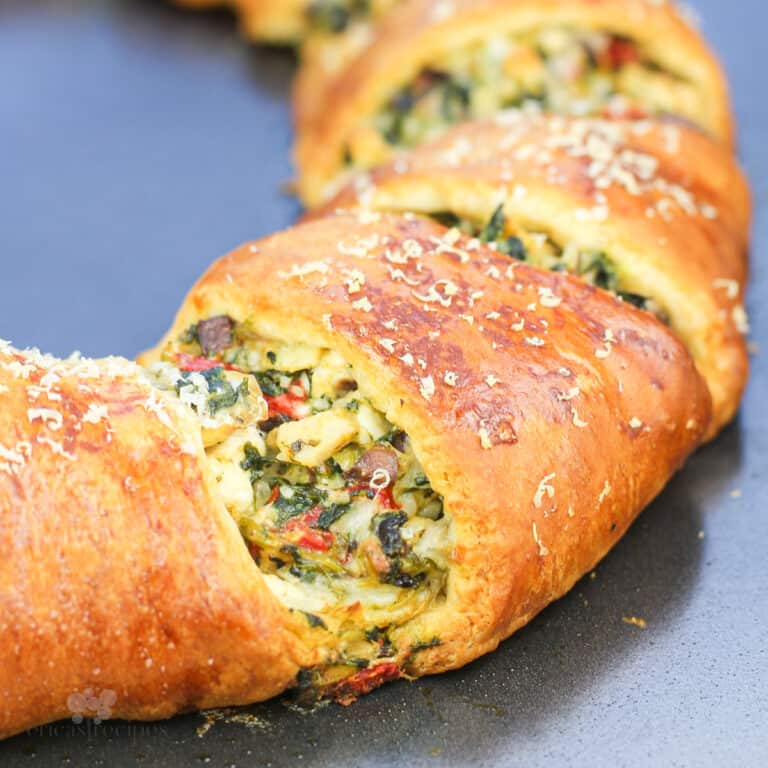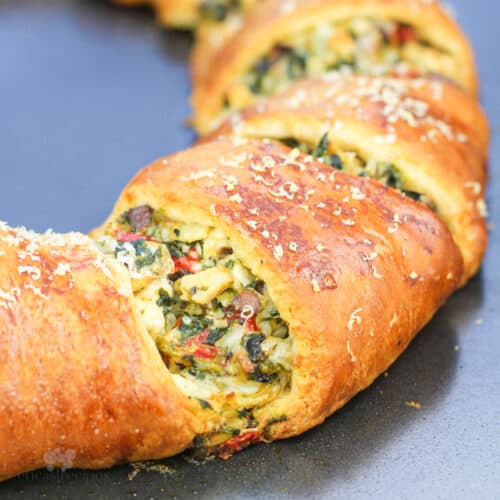 Mediterranean Crescent Ring
This Mediterranean Crescent Ring recipe uses Mediterranean-inspired ingredients briny flavor beautifully presented in a flaky crescent ring. This is a vegetarian crescent roll recipe meant for sharing.
Instructions
In a bowl, use a fork to toss together the first 11 ingredients (up to and including the dill). Set aside.

On a large bake sheet sprayed lightly with cooking spray, arrange the crescent dough, separating the dough into triangles along the perforations: lay the dough triangles, overlapping at the corners, so that the short end of the triangles form a circle.

Spoon the spinach filling around the circle formed by the overlapping dough triangles. Gently fold the long end of each triangle over the filling to form the ring.

Brush the dough lightly with the egg white and sprinkle with parmesan cheese.

Bake at 375°F for 20 minutes or until filling is heated through and crescent dough is browned and toasty.
Notes
When I developed this recipe in 2014, I used garlic and herb seasoned feta, but I often can't find it anymore. I have remade this recipe using plain feta + 1/2 teaspoon salt-free garlic and herb seasoning blend, and the taste is the same.
It is important to drain the artichokes, roasted red bell pepper, and olives well. Also squeeze as much water as possible from the spinach. This is to prevent the filling from being too wet.
Nutrition
Calories:
255
kcal
(13%)
|
Carbohydrates:
15
g
(5%)
|
Protein:
6
g
(12%)
|
Fat:
20
g
(31%)
|
Saturated Fat:
5
g
(31%)
|
Polyunsaturated Fat:
4
g
|
Monounsaturated Fat:
3
g
|
Cholesterol:
15
mg
(5%)
|
Sodium:
547
mg
(24%)
|
Potassium:
12
mg
|
Fiber:
2
g
(8%)
|
Sugar:
3
g
(3%)
Calorie count is purely an estimate calculated using an online application to serve as a guide and not to be taken as accurate nutritional information. Percent Daily Values are based on a 2,000 calorie diet.
Tried this recipe?
Leave a comment below and let me know!