Bacon-Wrapped Peppercorn Filet with Pepperjack Grits
Tender filet mignon, lovingly wrapped in bacon and seared to perfection, then served over creamy, cheese grits. This Bacon-Wrapped Peppercorn Filet with Pepperjack Grits recipe is extraordinary.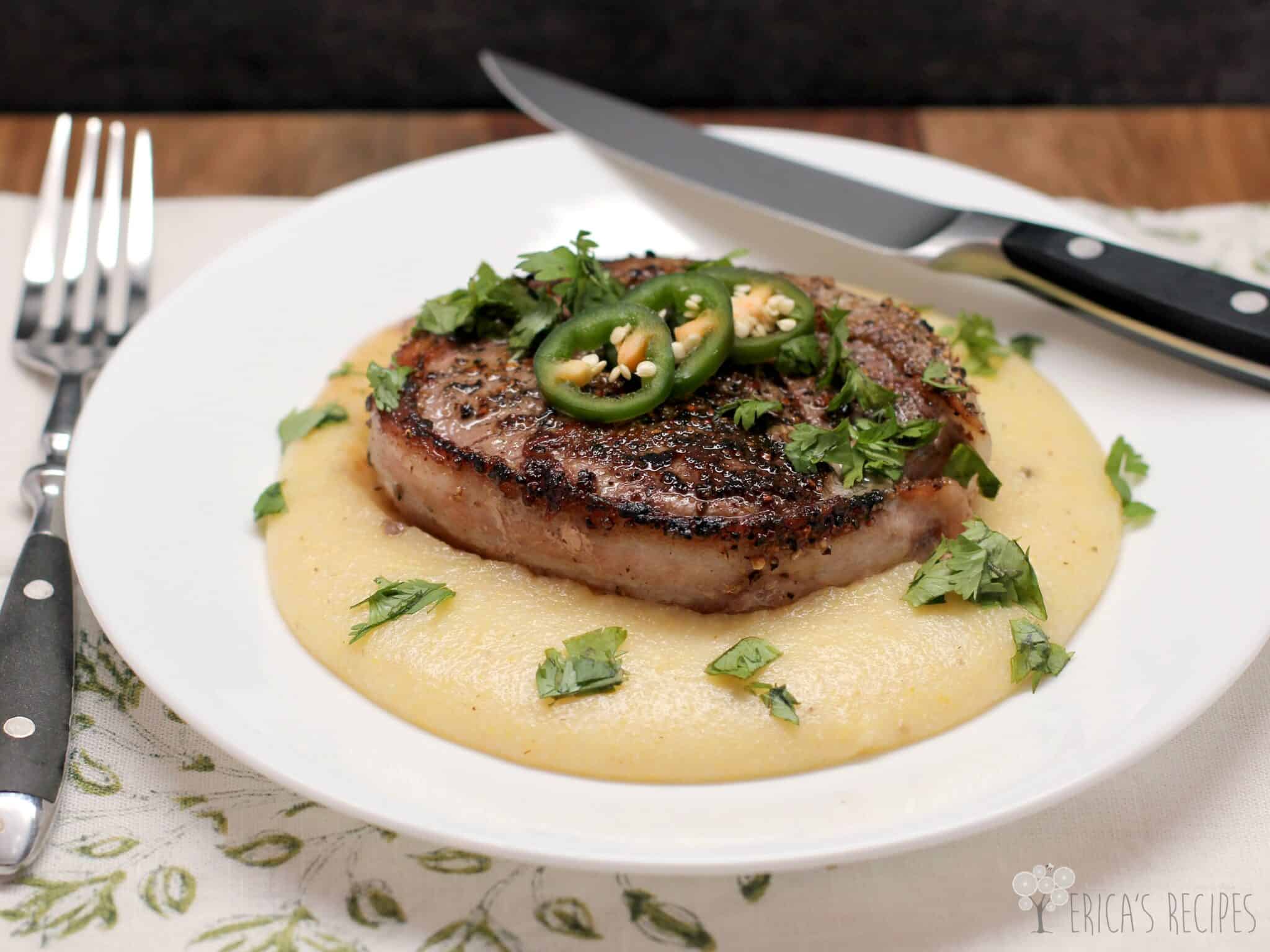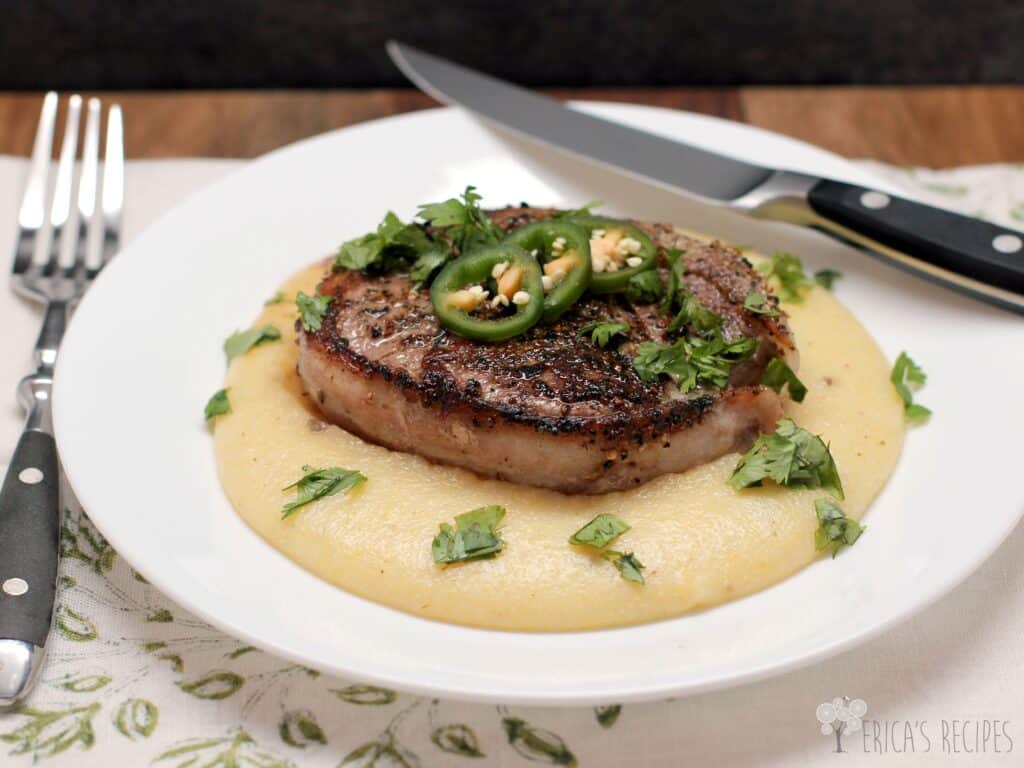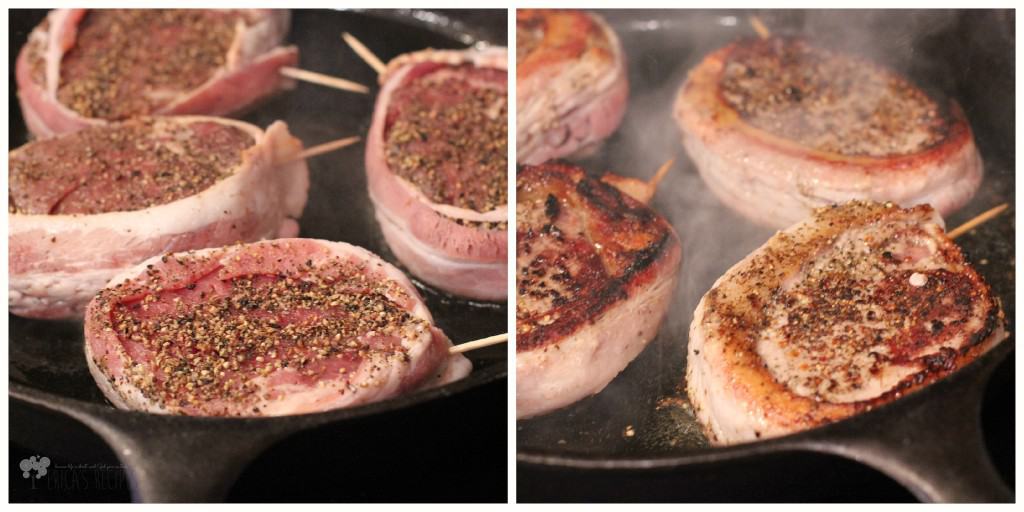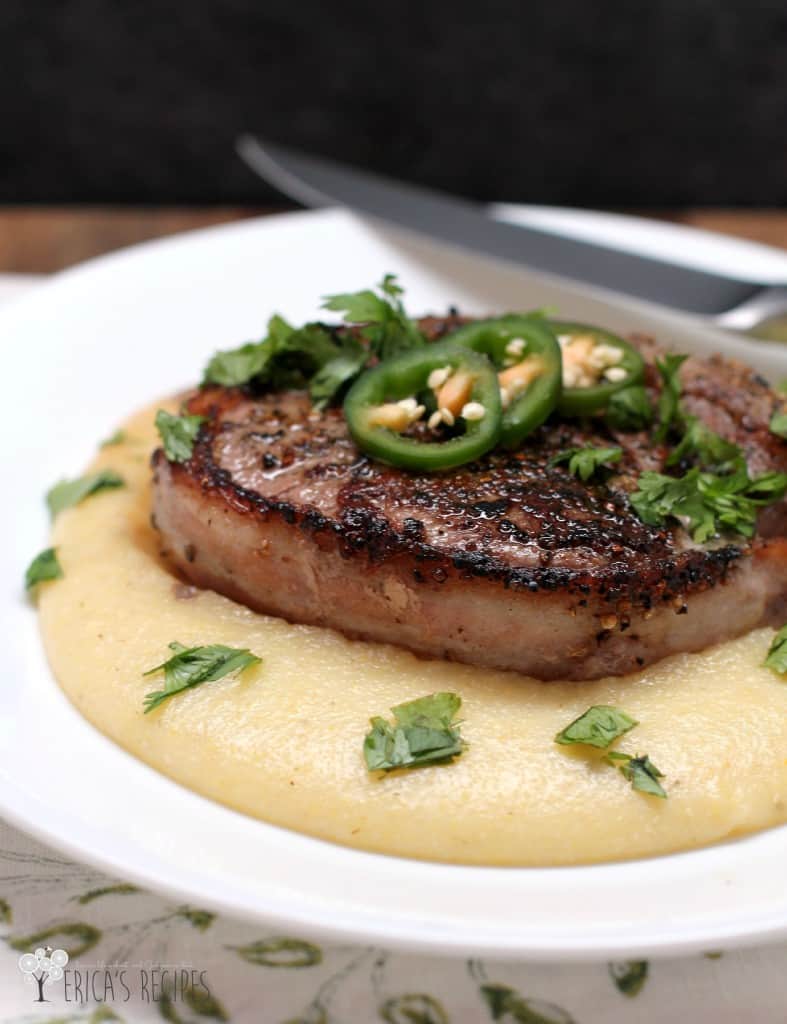 Filet mignon. Tender, delicate filet mignon. Thanks to my father-in-law, I just happened to have a couple of these beautiful bits of beef in my possession …so I wrapped them in bacon, cooked them real nice, and served them on some creamy, cheesy, kicked-up grits. Heaven. Sheer heaven.
If you spend the money on such a cut of meat like filet, the last thing you want to end up with is a hockey puck. So, to cook filet mignon steaks, I give them a little extra care by starting on the stove-top and finishing the oven. This way, using full-contact with a screaming hot cast iron skillet, I can get that really good sear faster than on a grill to keep the center nicely rare.
Now the grits… Love them? Hate them? If you make them with plenty of salt and make them cheesy, like with my Shrimp and Grits or this recipe here, grits can be amazing. These grits are amazing. Even the leftovers were fabulous with some simple sauteed shrimp for lunch the next day. Yum yum yum. Yum.
So for a gorgeous meal, elevated way past meat and potatoes – for a special occasion or just if you want to show someone you love them, here's a recipe I sincerely hope you'll want to keep.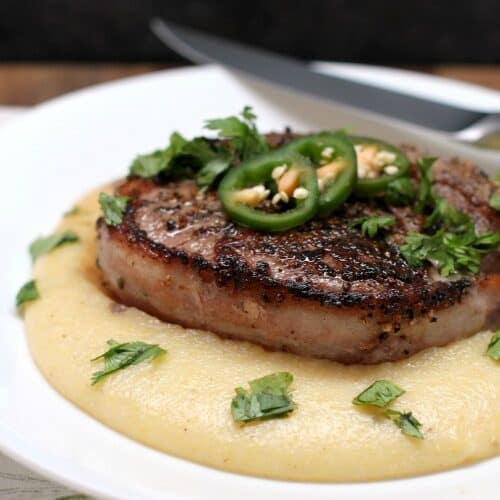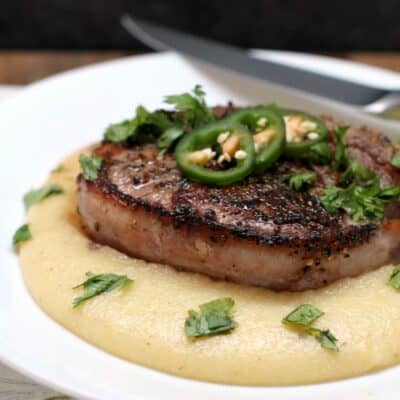 Bacon-Wrapped Peppercorn Filet with Pepperjack Grits
Ingredients
4

filet mignon steaks

4

strips center-cut bacon

kosher salt

1

T

fresh cracked peppercorns

preferably mixed or multi-colored peppercorns

1

T

extra virgin olive oil

3-1/2

c

water

½

c

milk

1

c

yellow cornmeal

1-1/2

c

shredded Monterey jack cheese with jalapenos

1

t

kosher salt

½

t

cumin

garnish: fresh

chopped cilantro and very thinly sliced jalapeno pepper
Instructions
Heat oven to 450F.

Very lightly rib the steaks all over with olive oil. Season both sides with salt. Put the crushed peppercorns in a dish, and gently press the steaks into the peppercorns to coat both sides. Wrap a slice of bacon around each steak and secure ends with a toothpick. Let the steaks sit 15-20 minutes.

Heat a large iron skillet on high heat. While pan is heating, get together the remaining ingredients to have ready.

Add the tablespoon olive oil to the hot skillet to coat. Add the steaks and get a good sear on the first side (~2 minutes). Flip the steaks to the other side and put the skillet into the oven. Cook to desired doneness (my 1-1/2-in steaks were medium-rare after 4 minutes in the oven). Remove skillet from the oven and transfer the steaks to a cutting board or dish to rest 5 minutes.

While steaks are resting, make the grits. In a large saucepan, bring the water and milk to a boil. Add the cornmeal in a steady stream whisking constantly to avoid clumps. Reduce heat to medium-high and cook 1 minute to thicken, whisking constantly - be careful against splatter because it hurts. Really hurts. Remove from the heat and add the cheese, 1 t kosher salt, and cumin.

To serve, spoon some grits in the center of a dish. Place a steak over. Lay a couple jalapenos slices on top of each steak and sprinkle cilantro over top. Yield: 4 servings.
Calorie count is purely an estimate calculated using an online application to serve as a guide and not to be taken as accurate nutritional information. Percent Daily Values are based on a 2,000 calorie diet.
Tried this recipe?
Leave a comment below and let me know!