Crab Stuffed Salmon has luscious baked salmon topped with perfectly balanced lump crab stuffing and light lemon sauce. With choice ingredients and thoughtful seasoning, this crab stuffing for salmon is lighter and will not break the calorie bank. Paired with a creamy lemon sauce and healthful succulent salmon, this dinner recipe is deceivingly divine.
This website uses affiliate links which may earn a commission at no additional cost to you. As an Amazon Associate I earn from qualifying purchases.
Creamy, savory, indulgent seafood dishes are one of the great loves of my life. I am talking crab cakes, old fashioned baked stuffed flounder, baked stuffed shrimp, baked cod yesss, and of course… lobster or steamed crabs with lots of butter.
This recipe is in that same realm of indulgent awesome with the extra BONUS of NOT being over-the-top in calories. I lightened this sucker up to make super flavorful, decadent Crab Stuffed Salmon with no regret.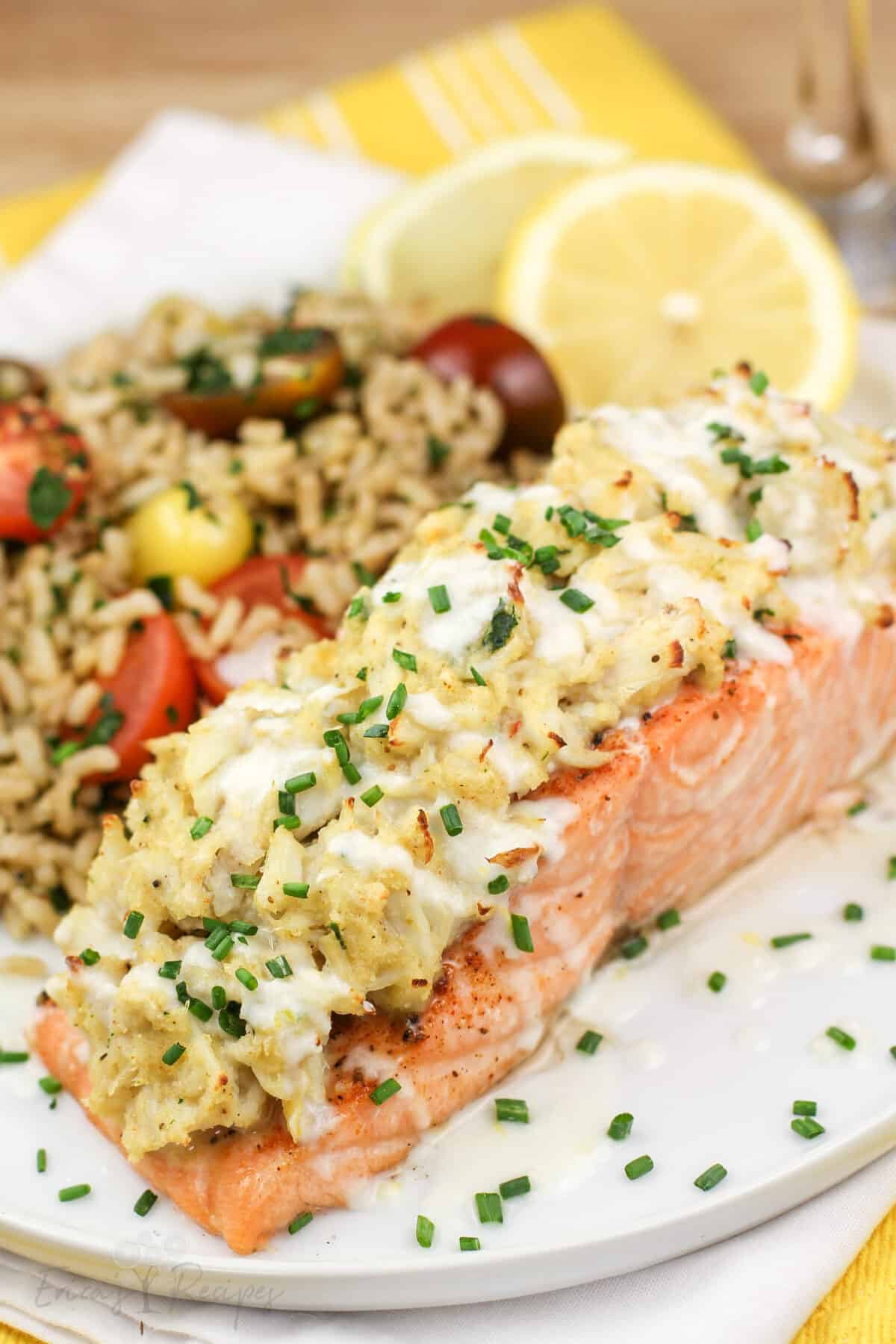 Why this recipe works
Oh goodness, this recipe for crab stuffed salmon gets a big ol' high five. Foodie success like this – a lightened up dish that doesn't taste lightened up – is rare so when it happens I just want to happy dance. This crab stuffing is such a delicious compromise of seasonings, binder, and beautiful lump crab. Salmon is already rich on its own, and so the stuffing can be lighter because combined with the richness of the salmon = YUMMM.
So, that is the first reason to have this recipe in your repertoire. For when you want an indulgent feeling, amazing seafood dinner with no regret.
Next is how easy this is to make. Make crab stuffing, put on salmon, bake – that's essentially all there is to this. The Light Lemon Sauce is a simple bechamel with lemon made while the salmon cooks too. Easy peasy.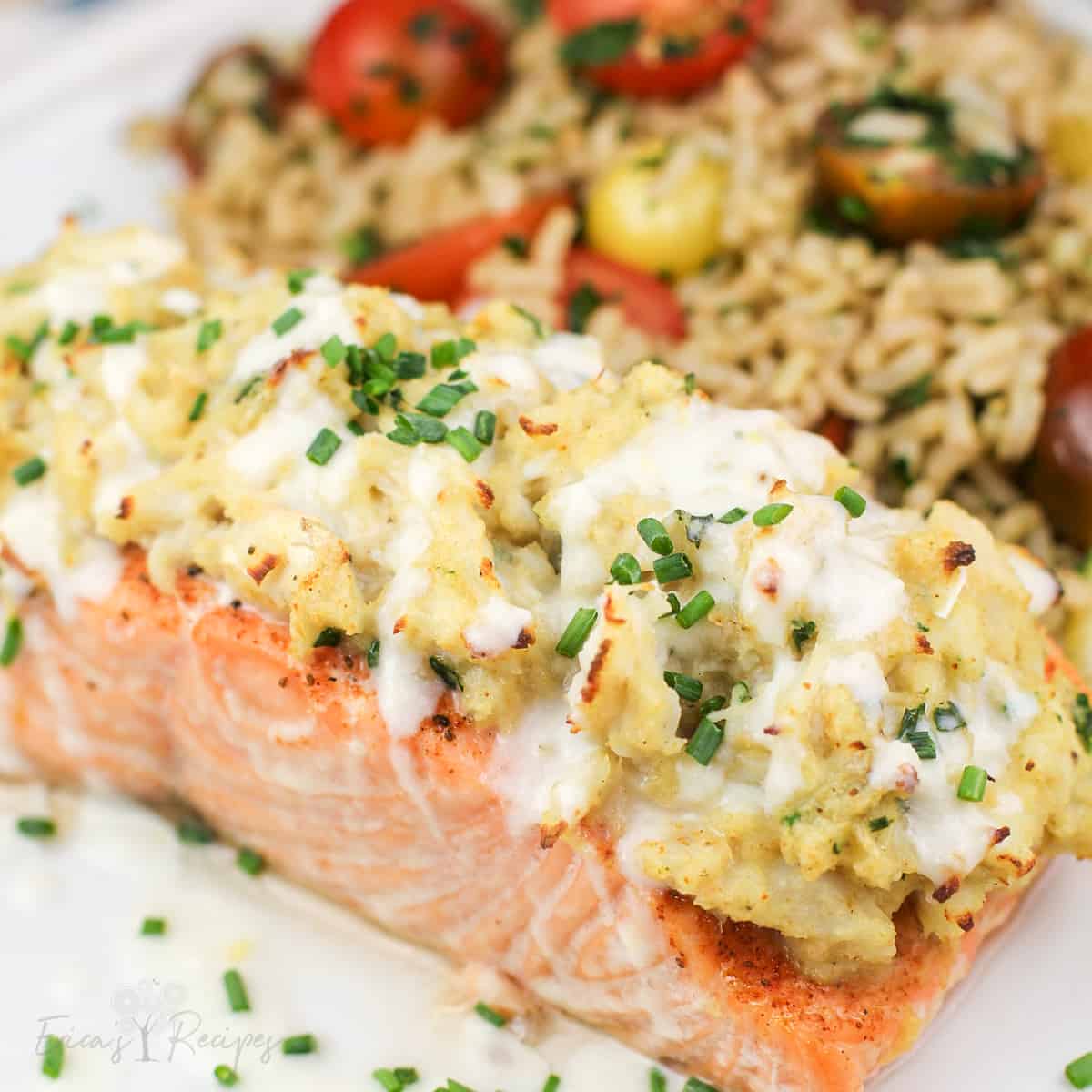 Ingredients
The ingredient listing may look long, but a lot are repeats. So there are not as many ingredients as it might appear, it's just easier to cook this with the elements broken out like so: stuffing, salmon, and sauce.
For the crab stuffing
This stuffing recipe is adapted from my Crab Stuffed Crepes.
Binder: panko breadcrumbs, milk, egg, and mayonnaise serve as the stuffing "binder" to keep it together. The parmesan cheese does too, but also brings flavor.
Horseradish. Just a teensy bit of prepared horseradish packs a flavor punch. Find it in the refrigerated section of the grocery store.
Herbs: chives and parsley. Use flat-leaf parsley and not curly leaf (which is garnish).
Seasonings: Old Bay seasoning, dried minced onion, kosher salt, and fresh cracked pepper.
Lump crab meat. Get this fresh at the seafood counter, refrigerated and not canned. We want white lump crab meat, not claw meat.
For the salmon
Salmon. I prefer salmon filets with the skin on because the skin protects the meat to keep it juicy.
Seasonings: kosher salt, fresh cracked pepper, and Old Bay seasoning.
For the sauce
Roux: unsalted butter and all-purpose flour.
Milk. I recommend using 2% or 1% milk and not skim milk.
Freshly grated parmesan cheese.
Kosher salt.
Lemon: fresh lemon zest and juice. One lemon will provide enough.
In both the stuffing and sauce, use real, parmesan cheese (Parmigiana-Reggiano) to avoid additives like anti-caking ingredients which interfere with melting.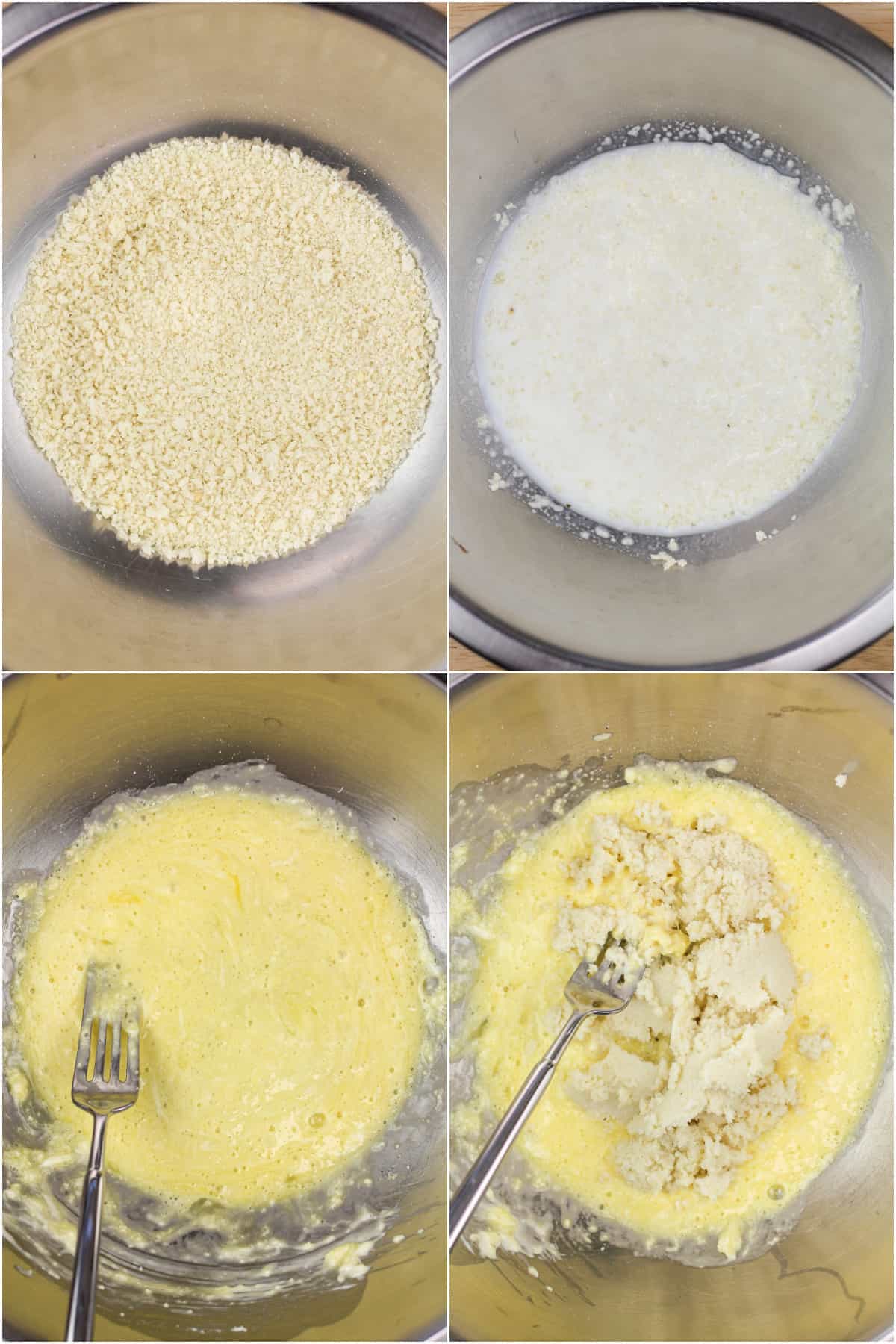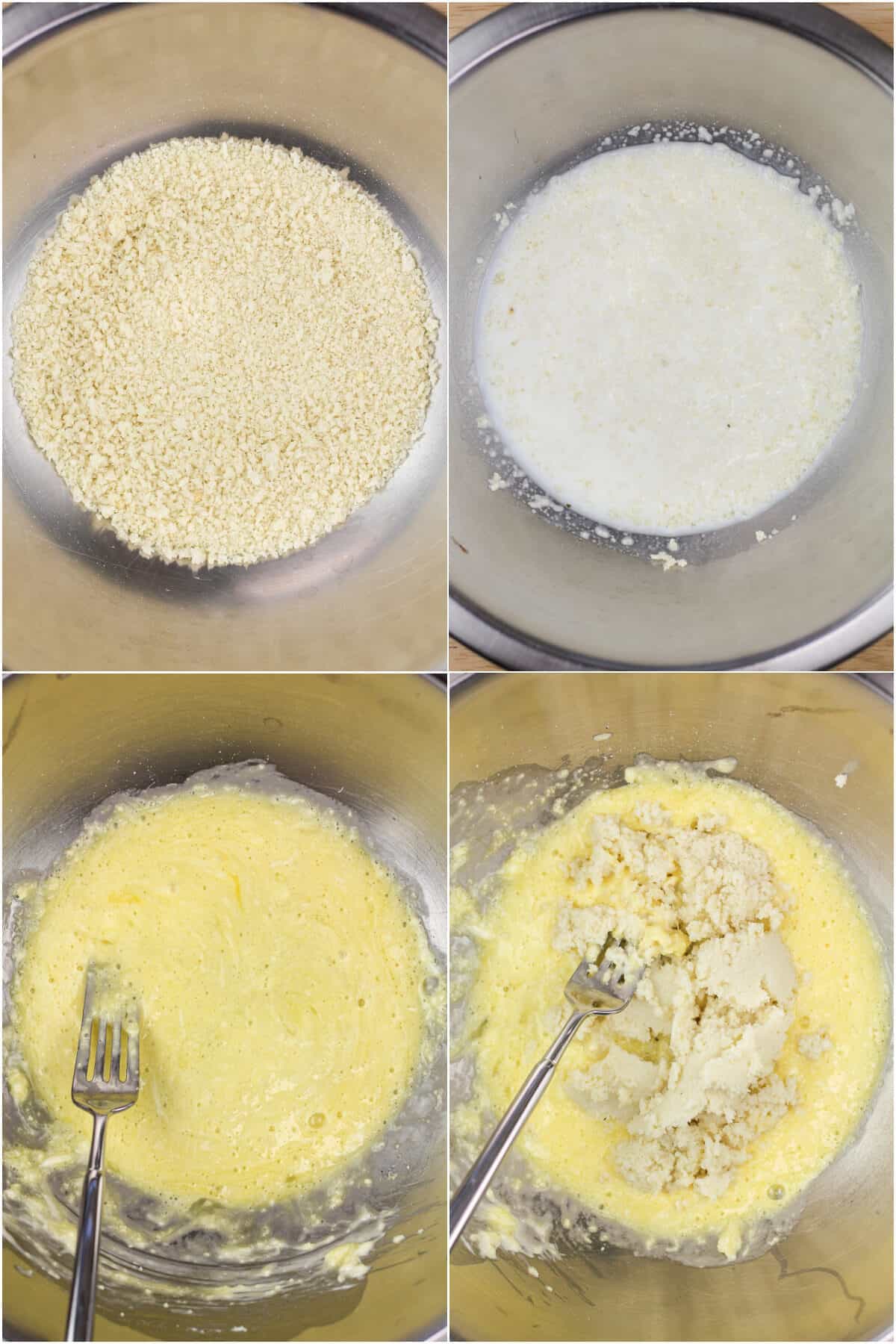 How to make crab stuffed salmon
Make the crab stuffing
First thing we want to do for the stuffing is to soak the panko breadcrumbs in milk to soften them. Otherwise, the stuffing will be crumbly and not stay on top of the fish. So, in a little bowl, add the panko and milk and let them sit while you assemble the rest of the ingredients (~5 minutes).
Next, combine the egg, mayonnaise, and parmesan cheese using a fork or whisk. Stir in the softened panko breadcrumbs. The egg yolk, 1 Tablespoon mayonnaise, and bit of parmesan are all the fat we are adding and, with the panko crumbs, give structure to the stuffing (aka, the binder).
Add the herbs and seasonings to the mixture and stir well. Then add the crab: at this point, we want to gently fold or stir in the crab because we want to break up those beautiful lumps of crab as little as possible.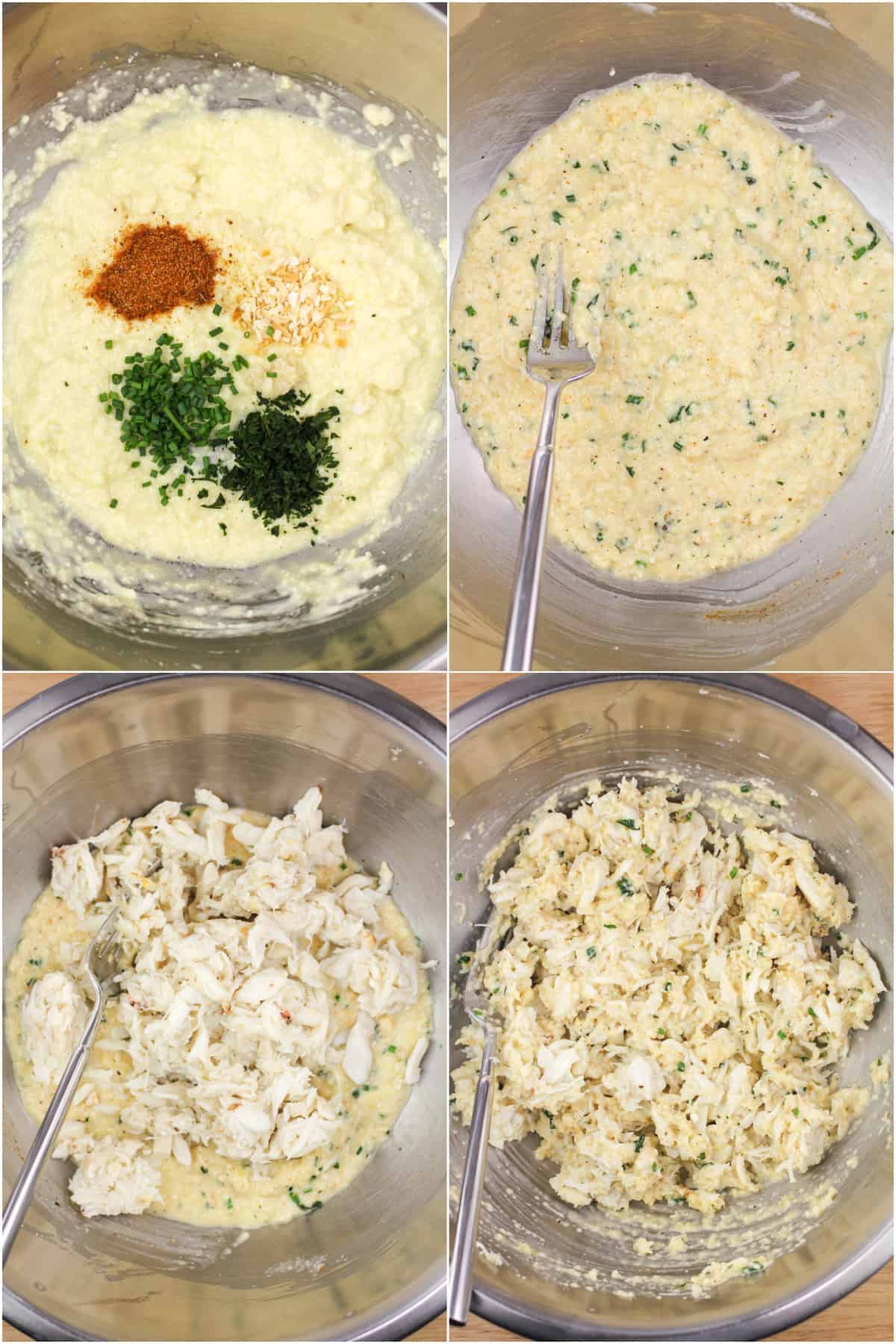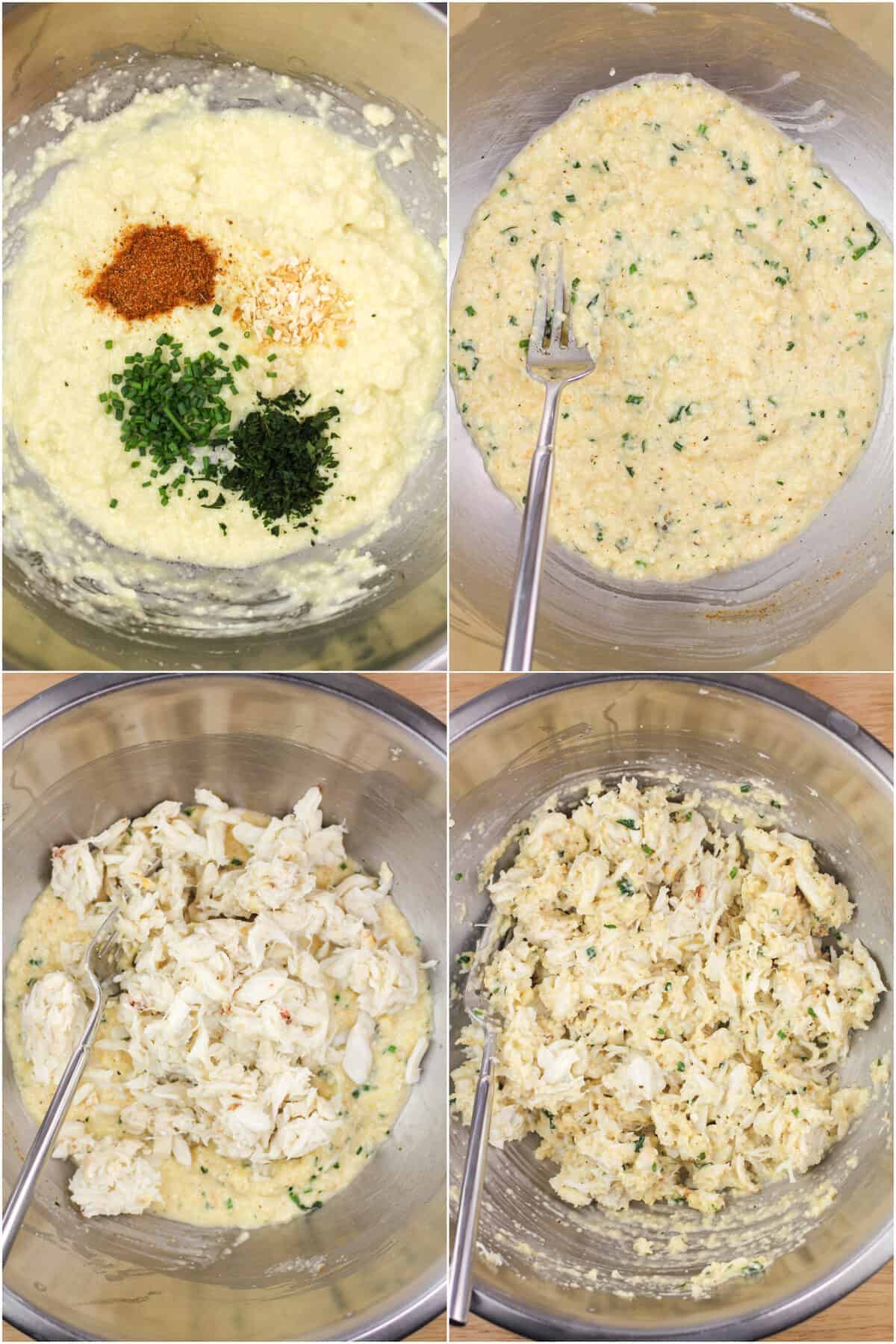 Top and cook the salmon
Next, prep the salmon. I line my rimmed bake sheet with foil because the skin will stick and is a total pain to get off. Despite that, cooking salmon with the skin on gives you a result that is far more tender and juicy than baking salmon without the skin.
Lay the salmon filets on the foil with the skin down on the foil directly. Season overtops with a couple pinches each of Old Bay, salt, and pepper (go easier on the pepper). This seasons the fish, but also helps the stuffing adhere while cooking.
Top each filet with 1/4 of the crab stuffing mixture and bake for 10-15 minutes or until the fish flakes with a fork. Salmon gets to that point faster than most people realize, which is why salmon is so often overcooked.
Salmon is done when a fork inserts easily and the meat flakes and is juicy. The outside will be light pink, but the center will not be AS light pink as the outside. Salmon cooked light pink and firm throughout is overcooked in my opinion. But if that is how you prefer it, then do that – there are no salmon police.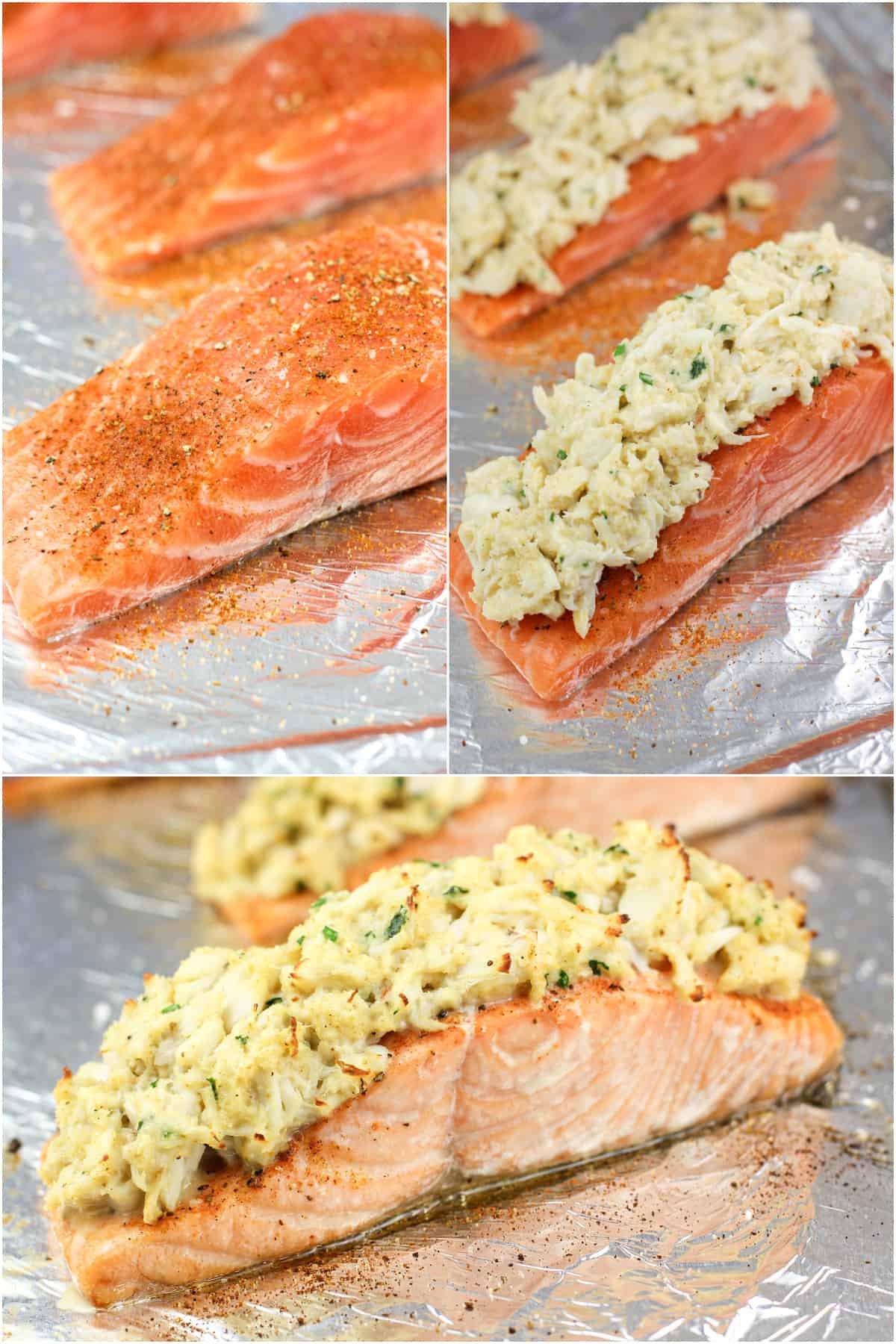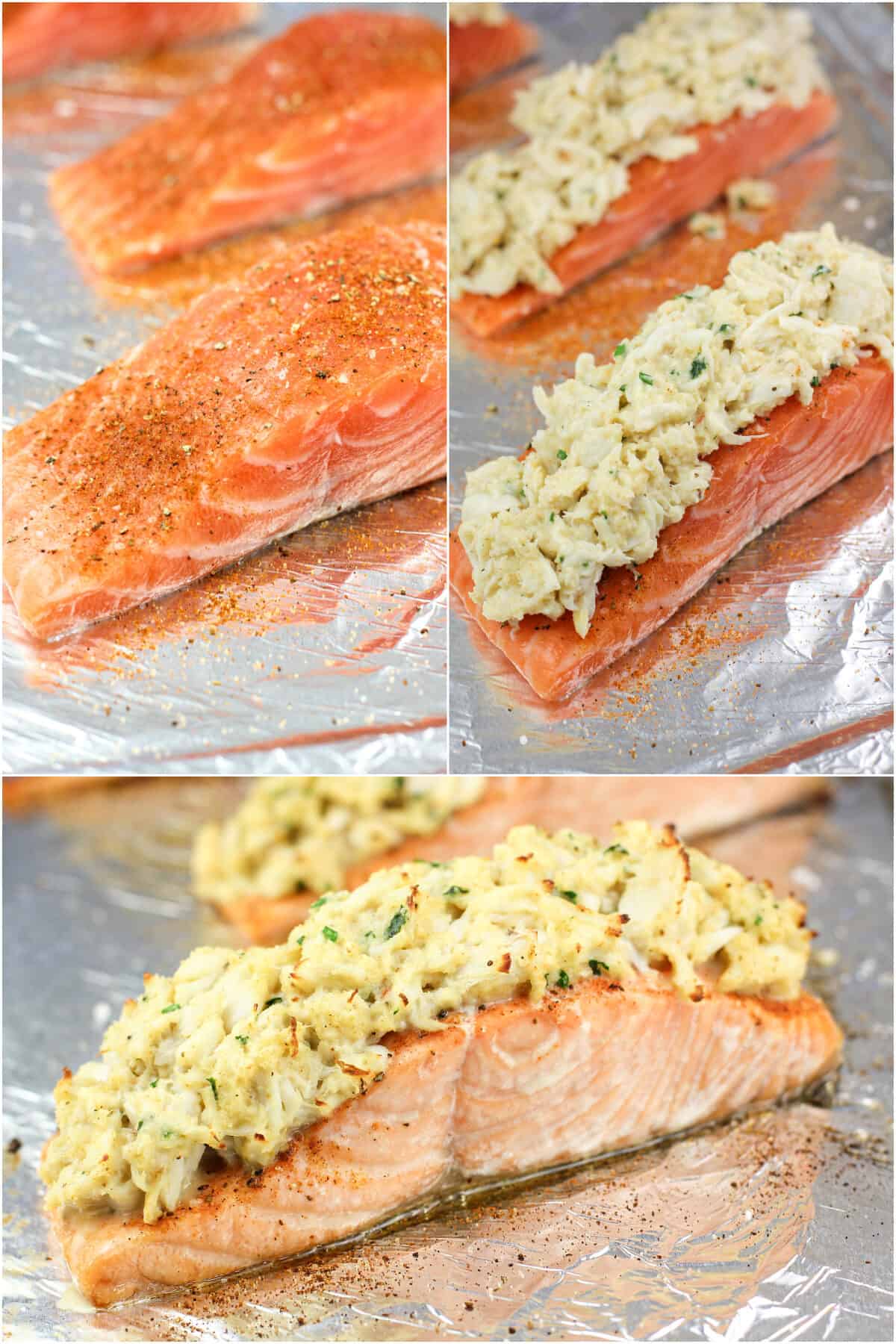 Make the light lemon sauce
We make the sauce quickly while the salmon is cooking. On the stovetop over medium-high heat, we whisk together the butter and flour to make a roux, then give that a quick cook to cook the flour.
Next, we add the milk and we do this slowly by pouring it in while we whisk constantly. Then we stand there, don't go anywhere, and stir stir stir (whisk or wooden spoon) until the sauce is hot. If we leave it or stop stirring, the sauce will scorch on the bottom.
Once the sauce is thickened (and you know this because it will start coating the spoon), add the remaining ingredients. If it gets too thick, simply add a little splash of more milk.
Then we get to enjoy this loverly delicious dinner.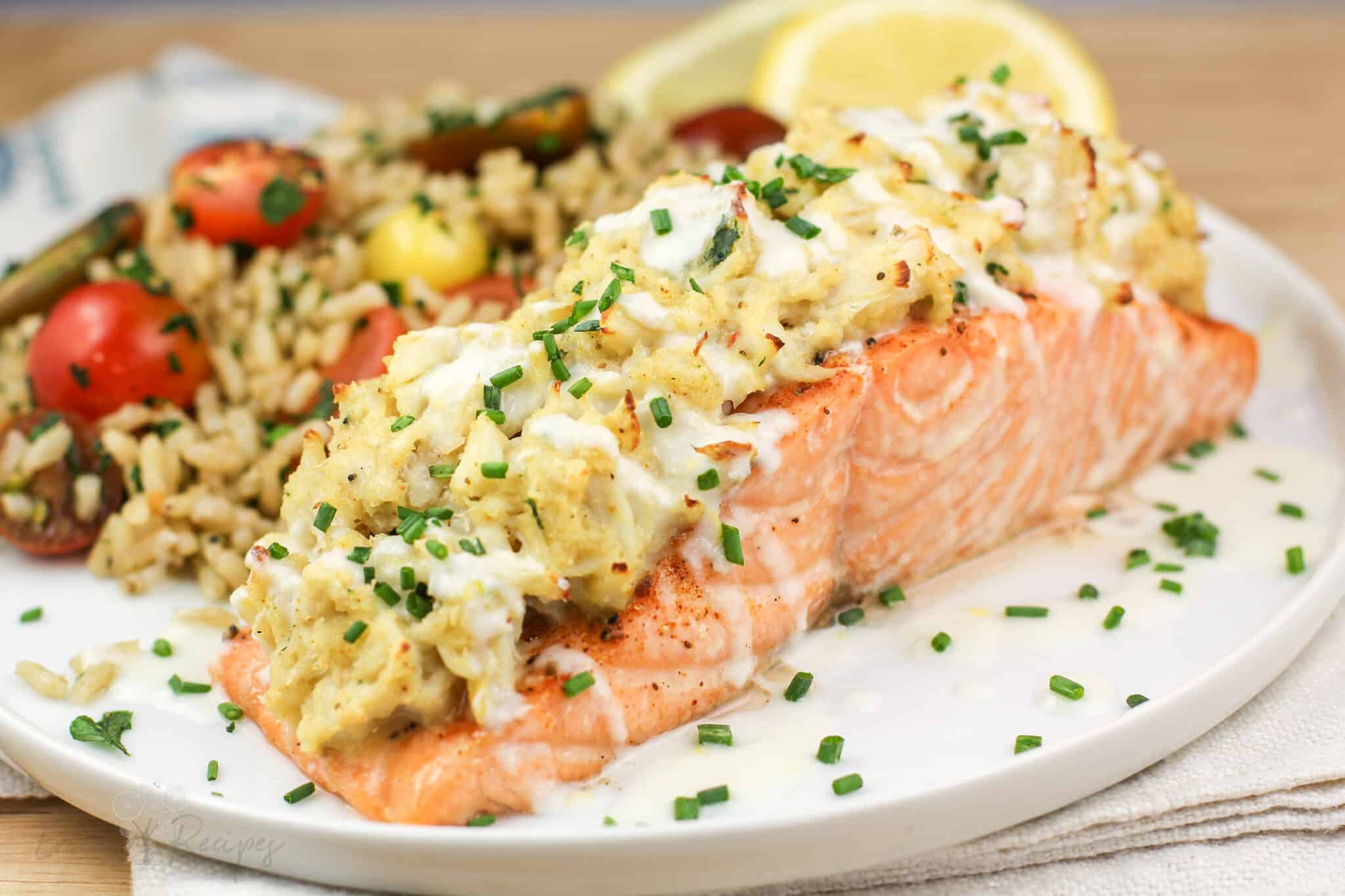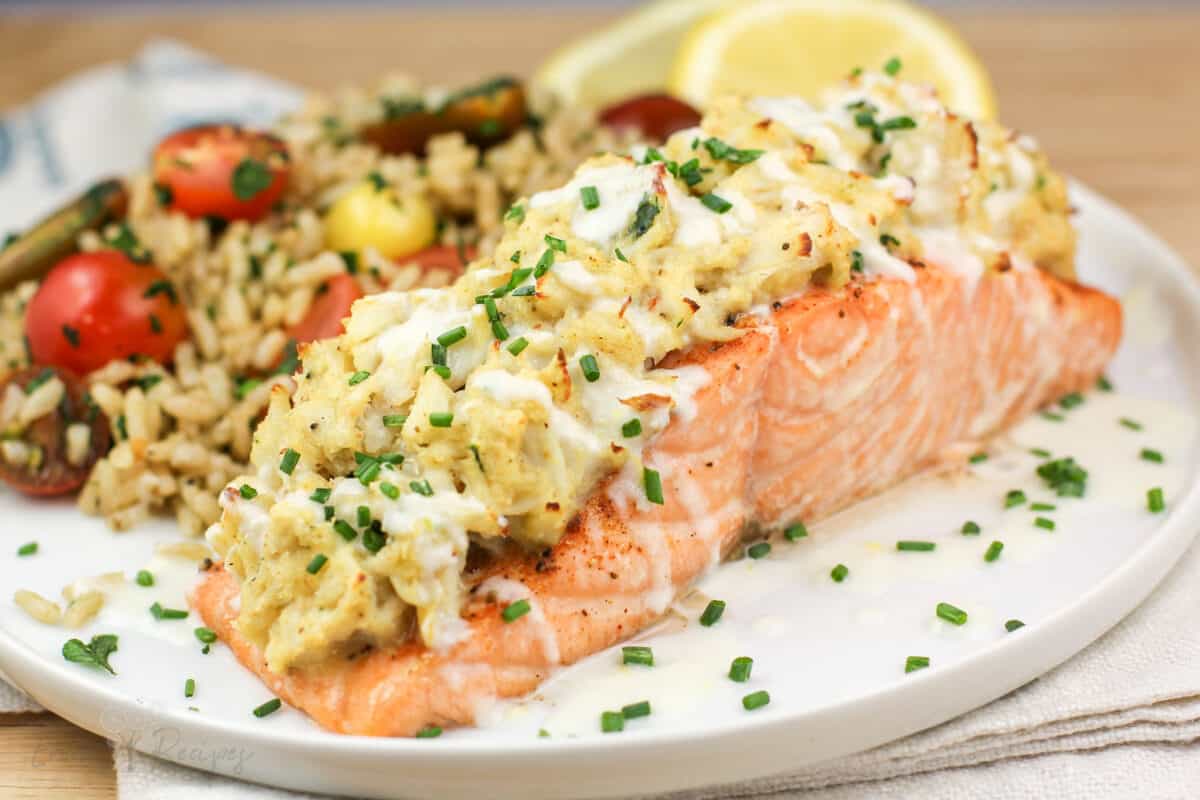 FAQs
What if I don't have a rimmed bake sheet?
A 13×9 pyrex dish can be used, but this may increase cook time a bit. Not dramatically though, so if that is what you have, go with it. Another option would be to use the foil and fold the sides on a flat bake sheet. The key is just to have some barrier so that salmon juice doesn't run everywhere and make a mess.
Can crab stuffed salmon be prepared in advance?
Yes. The stuffing can be assembled hours in advance. The salmon can be seasoned and topped with the salmon in advance as well, then refrigerated until cooking. Leftovers reheat well in the microwave, so like the next day, but I wouldn't do that initially because while it's good, it won't be as good as when freshly cooked.
Because there is so little sauce, I do not recommend making the sauce in advance. Instead, if you want a similar sauce that can be made even a day ahead, see my Lemon Bechamel sauce with my Chicken and Potato Crepes which is heavier, but makes more and can withstand earlier preparation.
Can this recipe be made gluten-free?
Yes, theoretically, but I have not done so. What I can say is not to use almond flour or gluten-free panko crumbs in place of the panko. Almond flour won't absorb and soften, and gluten-free panko crumbs would disintegrate.
What should work is using breadcrumbs made from a good gluten-free bread like Udi's. Toast the bread, make crumbs, then proceed.
Why didn't you slice and stuff the salmon?
Because it just isn't necessary and sounds like a total pain in the butt. One could get salmon steaks and make pinwheels using this crab stuffing – that would be fabulous. But slicing salmon to make a pocket – no thanks. Besides, with this recipe you get more delicious crab stuffing in every bite.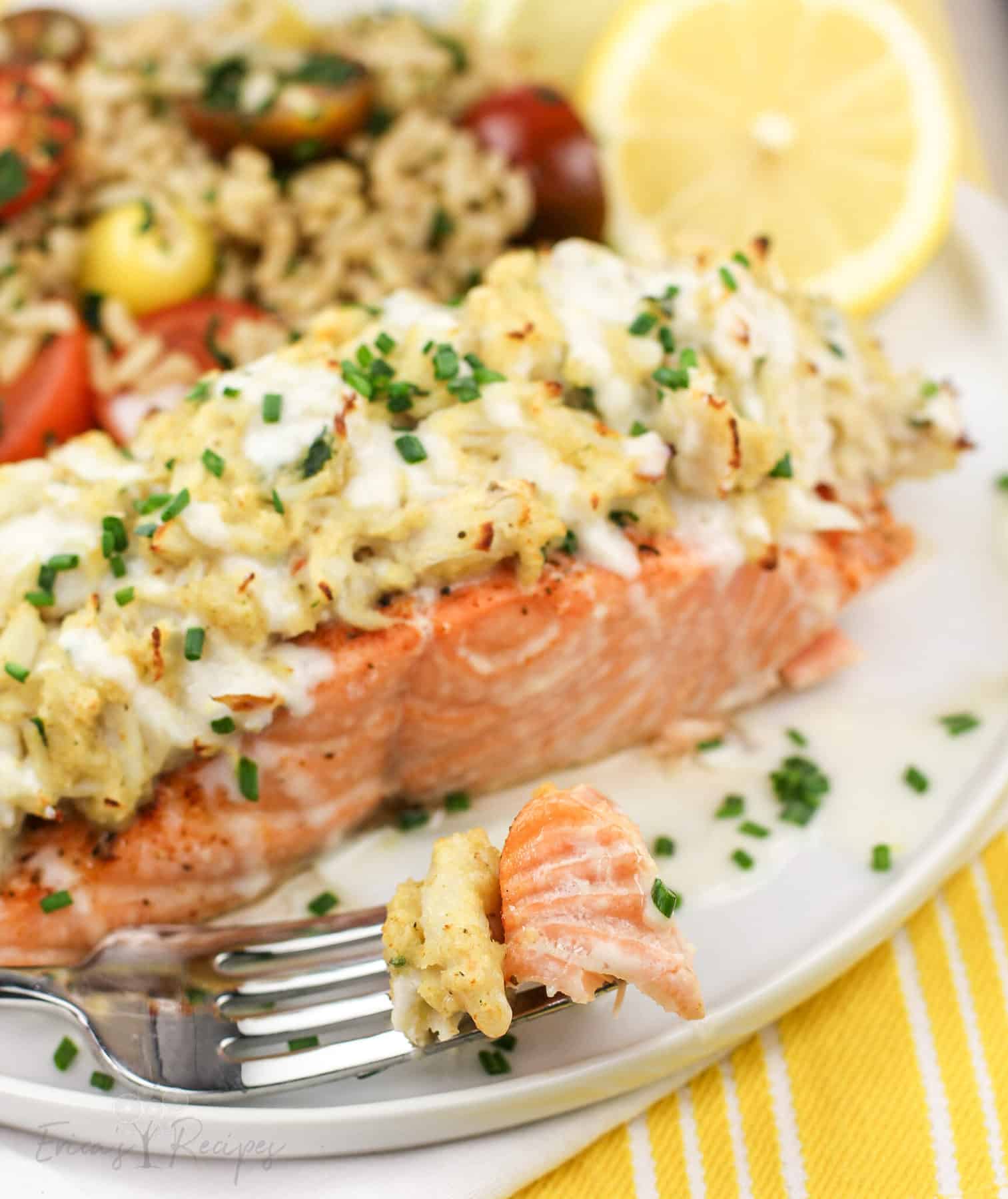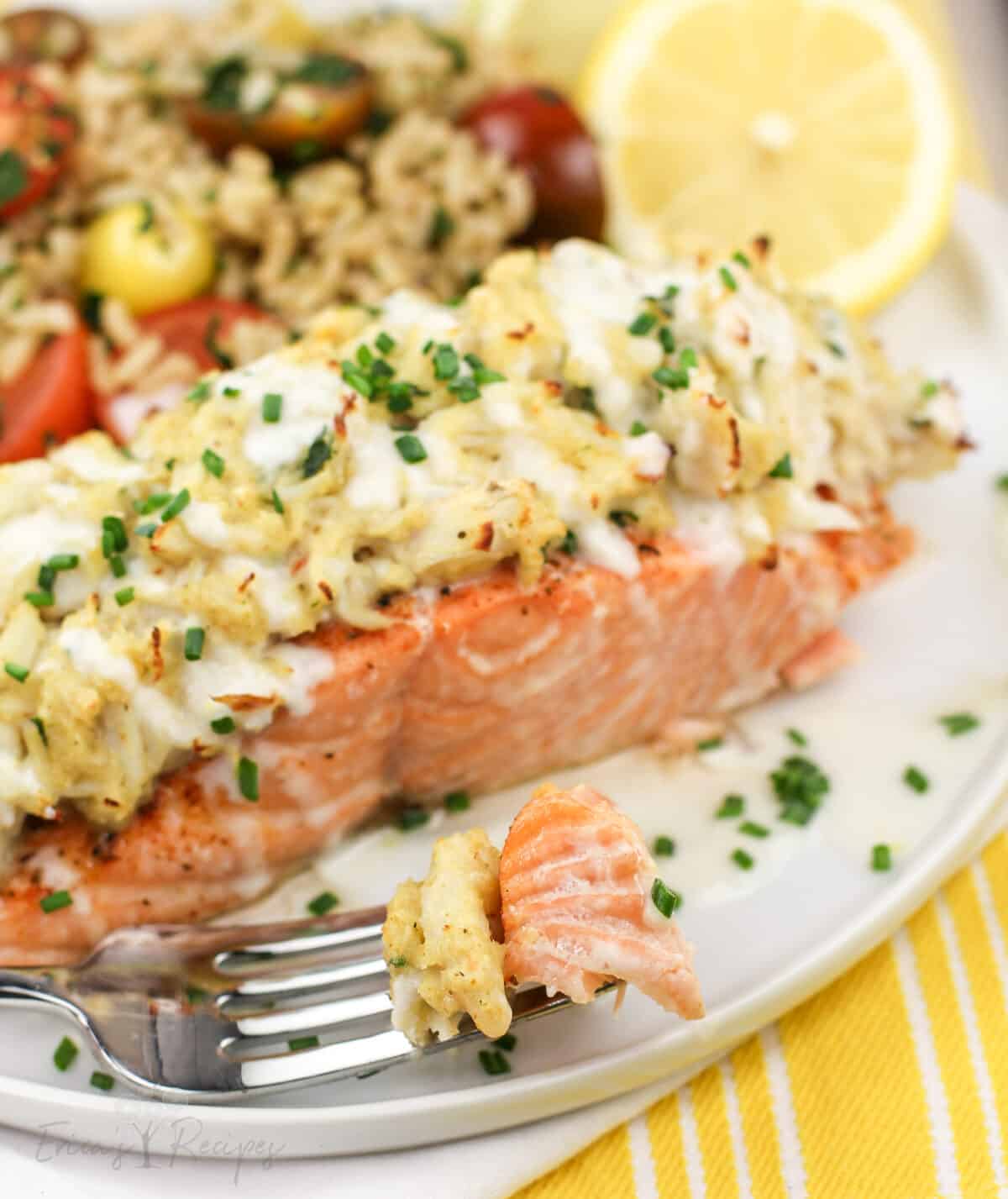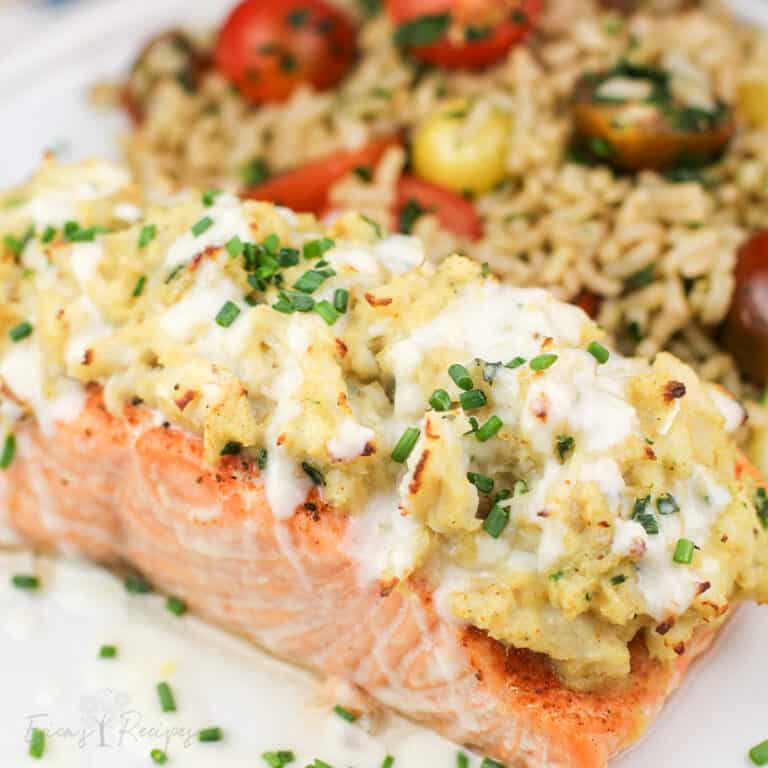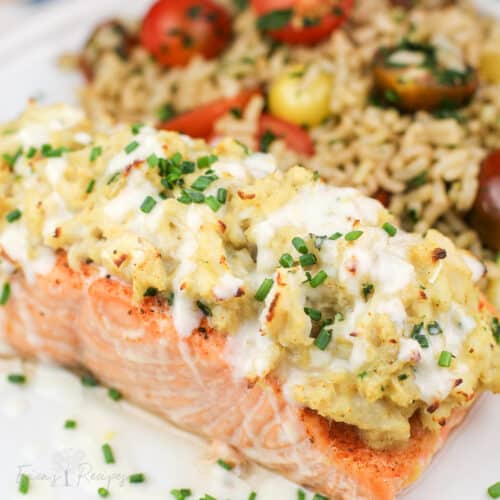 Crab Stuffed Salmon
Crab Stuffed Salmon has luscious salmon, lump crab stuffing and light lemon sauce. This is a lower calorie recipe with thoughtful ingredients.
Ingredients
4

(4 oz)

salmon filets, with the skins on

garnish: snipped chives
For the Light Lemon Sauce
1

tsp

unsalted butter

1

tsp

all-purpose flour

1

cup

milk

1

Tbsp

freshly grated parmesan cheese

pinch

kosher salt

1

tsp

fresh lemon zest

2

tsp

fresh lemon juice
Instructions
Assemble the crab stuffing
In a small bowl, combine the panko breadcrumbs and milk. Set aside 5 minutes.

In a medium bowl, combine the egg, mayonnaise, and parmesan using a fork or whisk to break up the mayonnaise. Stir in the panko-milk mixture and combine.

Add the horseradish, chives, parsley, Old Bay, minced onion, salt, and pepper. Mix well.

Add the crab and fold in until just combined taking care not to break up the large pieces of crab.
Prep and bake the salmon
Lay the salmon filets, skin-side down, on a rimmed bake sheet lined with foil. Season each with Old Bay, salt, and pepper. Top each with crab stuffing, pressing just enough so the stuffing stays put.

Bake at 425°F for 10-15 minutes or just until salmon is fork tender cooked through. (*see Notes)
Make the Light Lemon Sauce
While the fish is cooking, make the sauce: heat the butter and flour in a small saucepan over medium-high heat, whisking until smooth. Cook 1 minute.

Slowly whisk in the milk and cook, stirring constantly, until hot. Add the parmesan, salt, and lemon zest. Cook gently until thickened enough to coat the back of a wooden spoon. Add the lemon juice and remove from the heat.

Drizzle sauce over the salmon, garnish with chives, and serve.
Notes
Salmon is cooked when the meat is tender and flakes with a fork, rather than tear. The meat should be quite juicy, not dry.
Nutrition
Calories:
448
kcal
(22%)
|
Carbohydrates:
12
g
(4%)
|
Protein:
49
g
(98%)
|
Fat:
21
g
(32%)
|
Saturated Fat:
5
g
(31%)
|
Polyunsaturated Fat:
7
g
|
Monounsaturated Fat:
6
g
|
Cholesterol:
147
mg
(49%)
|
Sodium:
335
mg
(15%)
|
Potassium:
615
mg
(18%)
|
Sugar:
4
g
(4%)
Calorie count is purely an estimate calculated using an online application to serve as a guide and not to be taken as accurate nutritional information. Percent Daily Values are based on a 2,000 calorie diet.
Tried this recipe?
Leave a comment below and let me know!