Bacon-Wrapped Crab-Stuffed Shrimp
Crab-stuffed shrimp wrapped in bacon and served with a beautiful lemon basil cream sauce is a classic New England recipe. Bacon wrapped shrimp with crab stuffing is elegant and impressive with balanced flavor, lemon, and seasoning. Here are all the tips and instructions so you can make this restaurant-quality recipe for baked stuffed shrimp at home.
This crab-stuffed shrimp recipe is a very dear one that I have had for ages. Back in New England where I grew up, my father would take me to a restaurant that served huge crab-stuffed shrimp and I LOVED them. So this recipe gets me in the heart strings.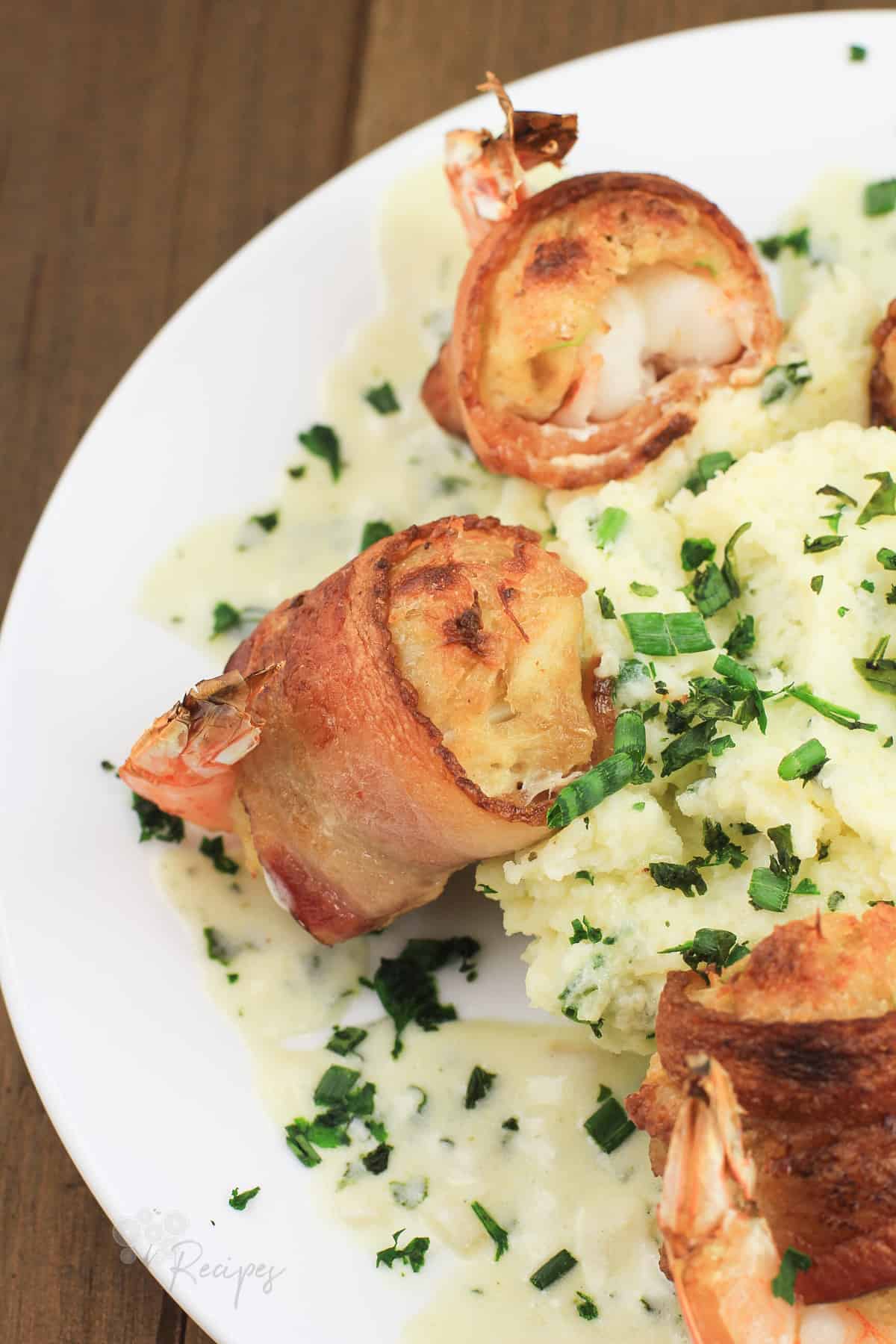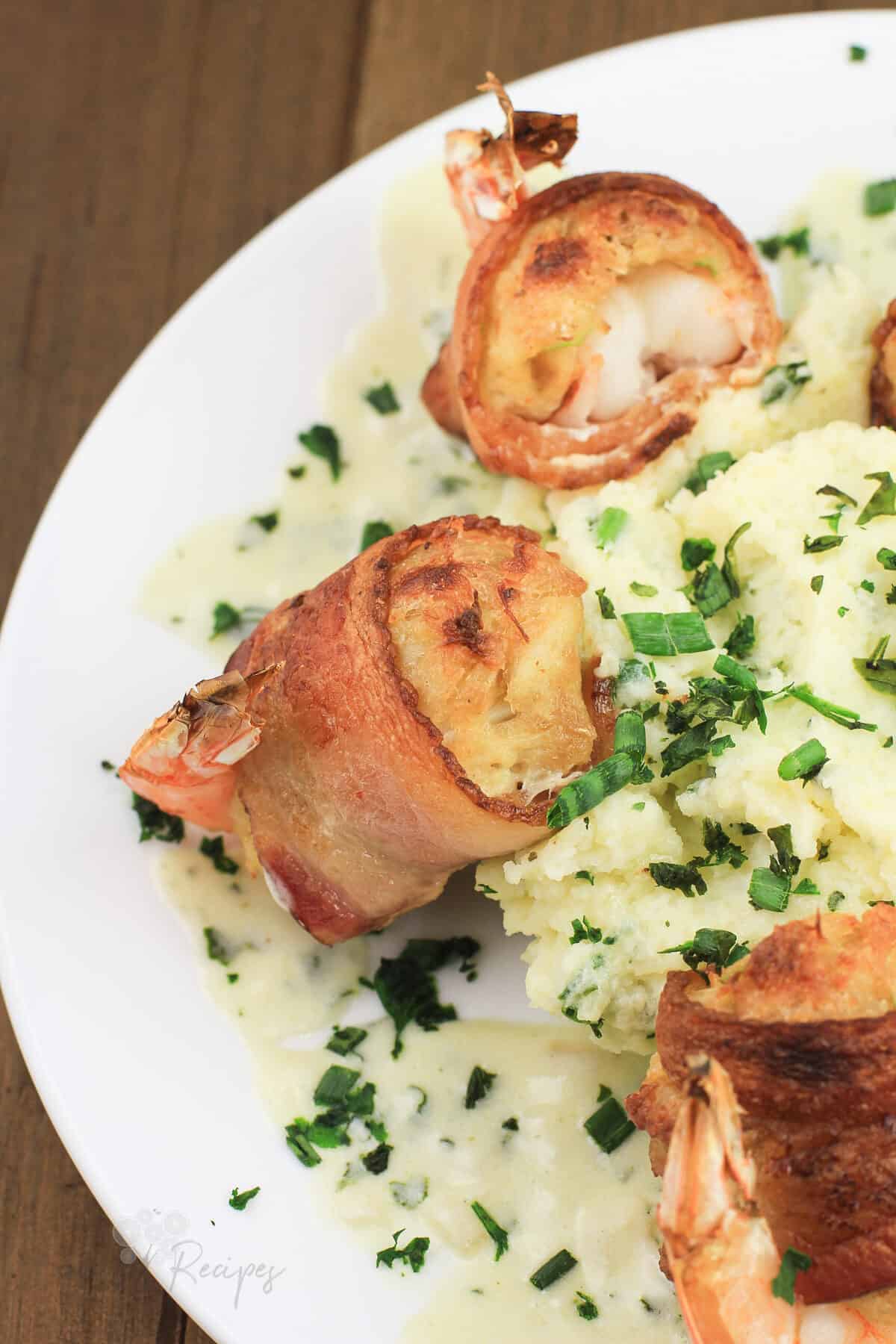 But after the sentimentality of it, this recipe for baked stuffed shrimp is simply DELICIOUS. First, there is crab stuffing made with buttery crackers. That is total New England deliciousness right there.
Next, there is this crazy yummy, lemon basil cream sauce, which is my personal touch to this otherwise classic New England recipe because I do believe most foods reserve the right to be served with a creamy sauce.
Finally, it's all wrapped in bacon and there we are.
Why this recipe works
The trick to bacon-wrapped shrimp is to cook the bacon without overcooking the shrimp. Shrimp cook very quickly, so all too often while we are waiting on the bacon to get crisp, the shrimp are long overdone.
Not in this baked stuffed shrimp recipe. By using large (as in jumbo) shrimp, we buy ourselves more time to get the bacon to cook and have the shrimp not overcook. Also, we bake first, then finish with a broil to get that bacon crisp but keep the shrimp protected under the crab stuffing.
Then we add a luscious, delicious sauce with fresh lemon and basil, and we nail our crab-stuffed shrimp. Gorgeous, succulent shrimp, savory crab stuffing, and crispy bacon. YUM.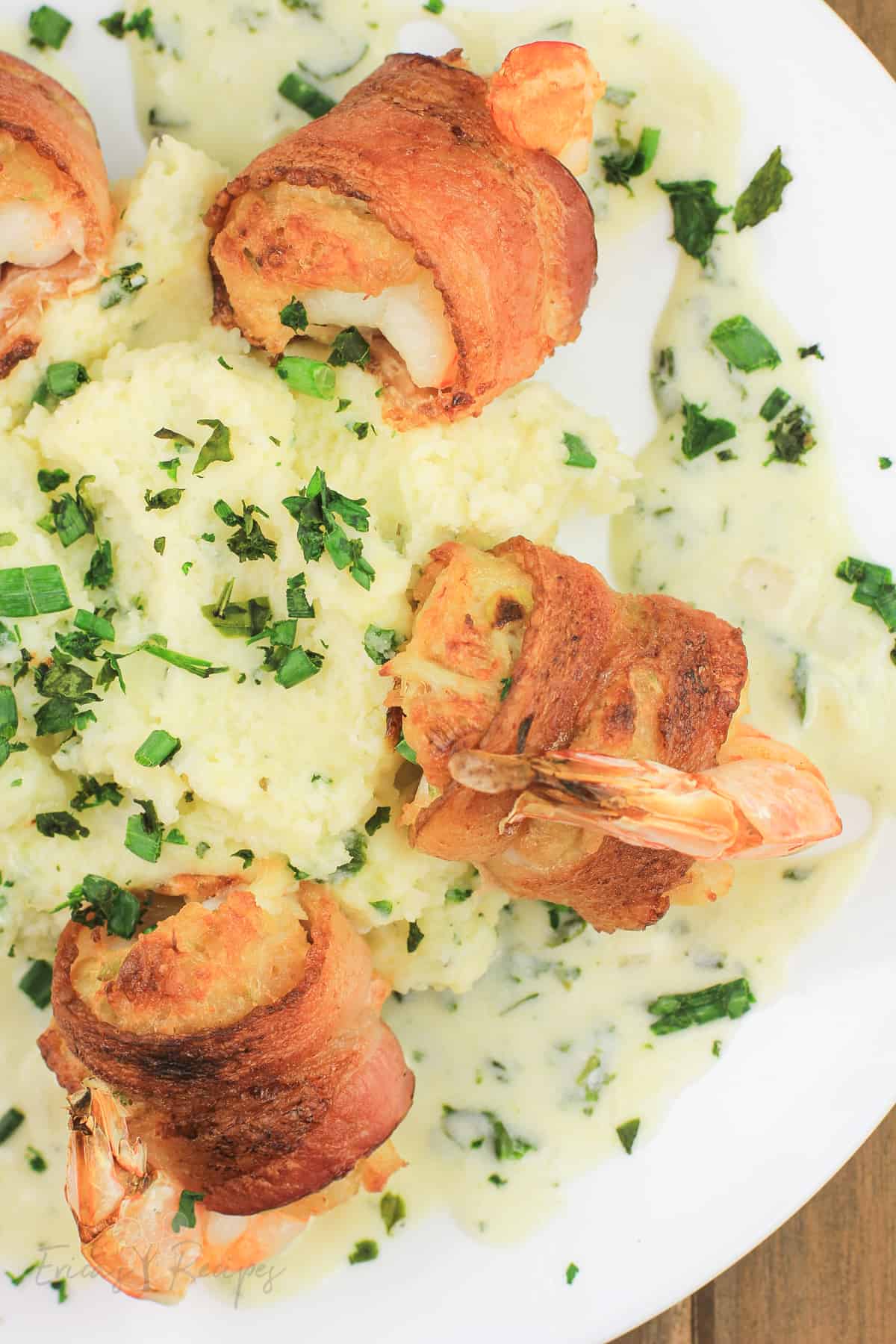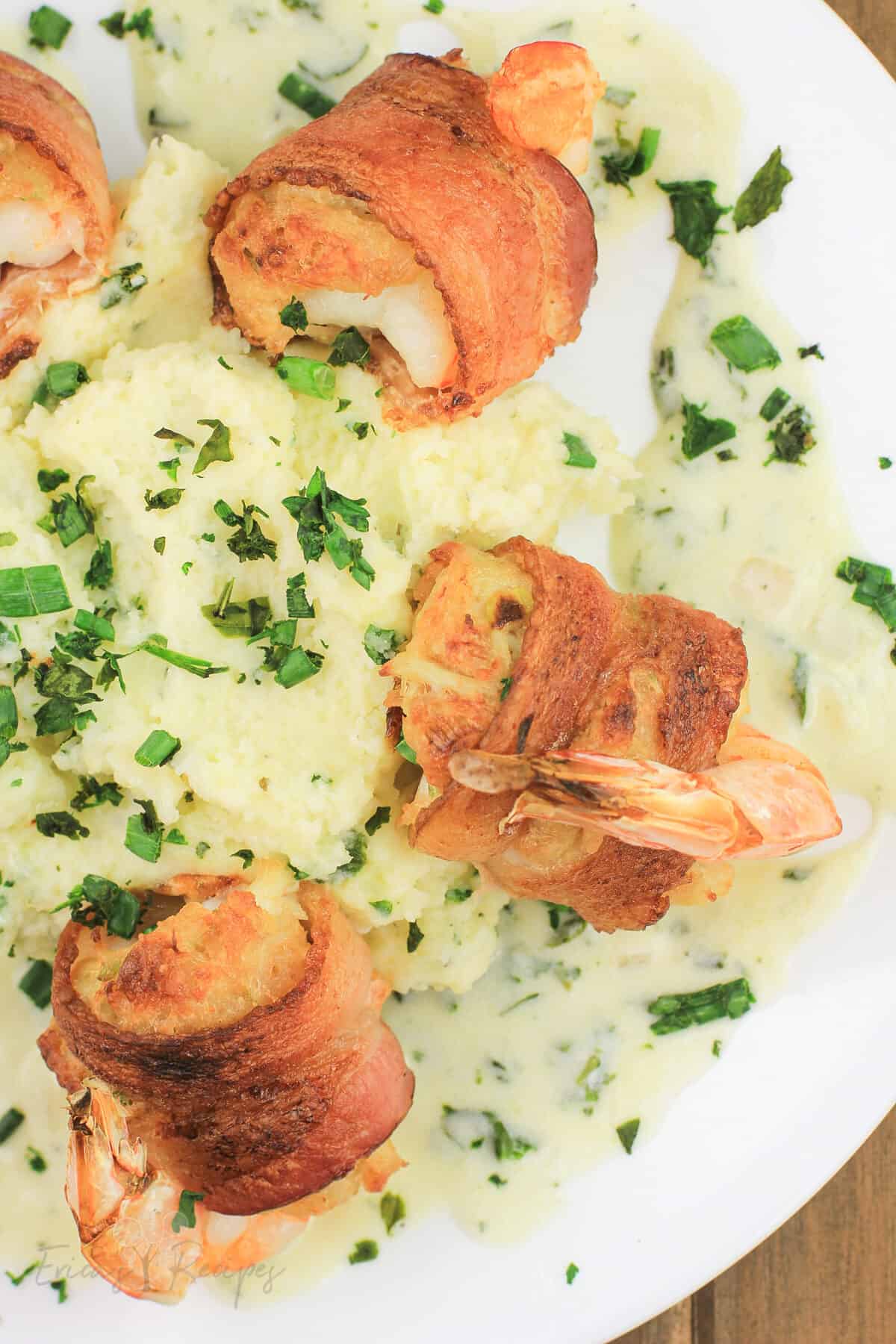 The Ingredients
For the shrimp
Shrimp. The bigger, the better. I used large wild-caught shrimp which were 16-20 to a pound. I would not go smaller than that.
Bacon. There is nothing special about the bacon other than that it needs to be sliced thin.
For the crab stuffing
Lump white crabmeat. Not jumbo lump ($$$) and not claw meat ($). We want lump white crab meat which is the one priced in the middle ($$). Check the crab over to make sure no pieces of shell sneak into the stuffing.
Ritz crackers. The basis for any New England seafood stuffing is always buttery Ritz crackers.
Assorted seafood stuffing ingredients: green onions, mayonnaise, an egg, Worcestershire sauce, and Dijon mustard. Use full-fat, regular mayonnaise.
Seasonings: garlic powder, Old Bay seafood seasoning, and kosher salt.
For the Lemon Basil Cream
The lemon basil cream is a basic béchamel with lemon and basil. It is similar to the lemon béchamel I made for my Crepes with Chicken and Potato and the white wine béchamel sauce I served with my Smoked Salmon Crepes. This is a béchamel infused with shallot, a hint of garlic, white wine, lemon, and basil.
Unsalted butter and all-purpose flour. As always, we start a béchamel sauce by making a roux which will thicken the sauce.
Shallot and garlic. Shallot is readily available in the produce section, but if not available, simply replace with white or yellow onion.
Wine and half-and-half. Dry whites include Chardonnay, Sauvignon Blanc, or Pino Grigio. Do not use a sweet wine like Moscato or Riesling.
Lemon. We use a tablespoon which is about the amount you get from half a lemon.
Seasonings: kosher salt and fresh cracked pepper. Just a pinch of each does the trick.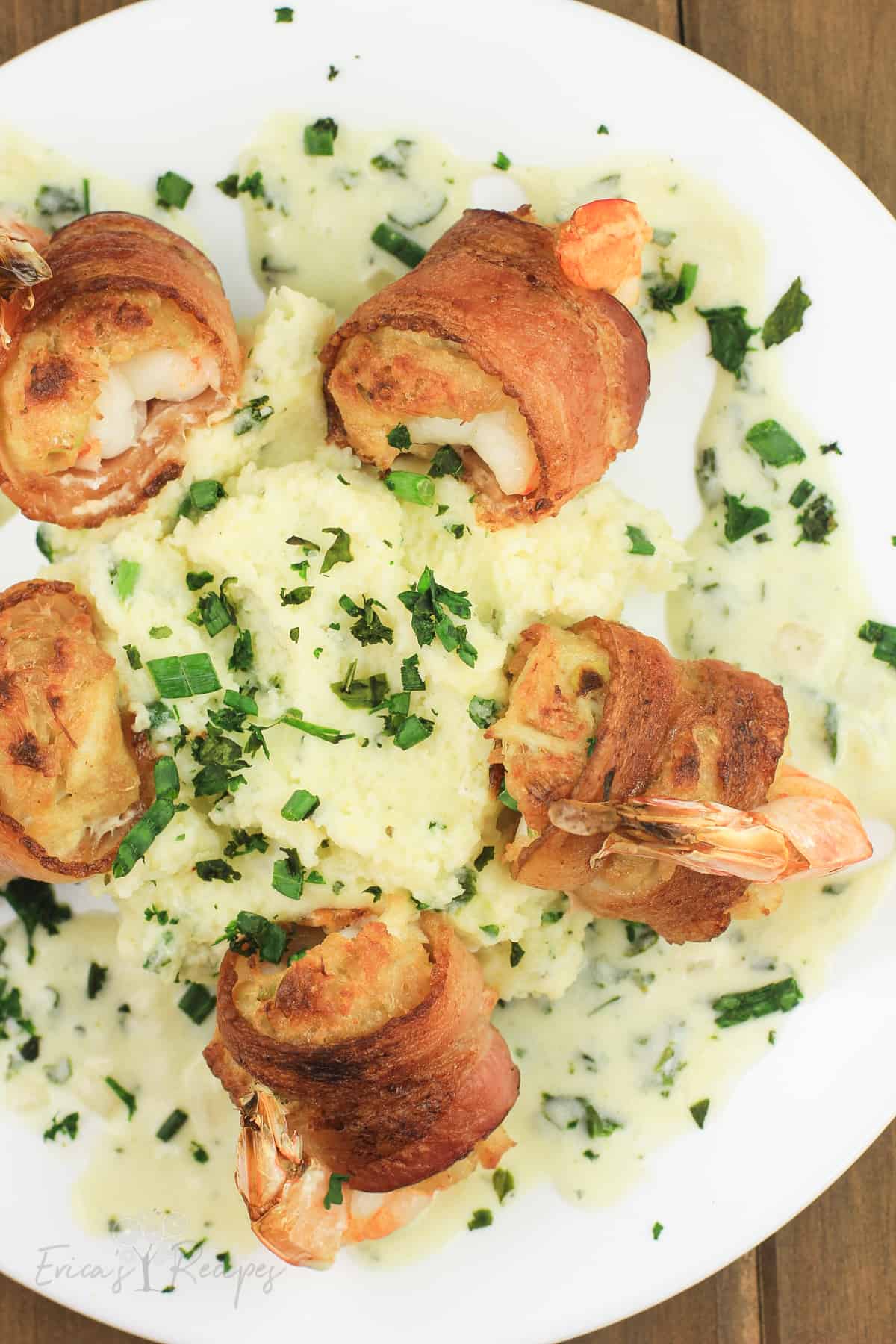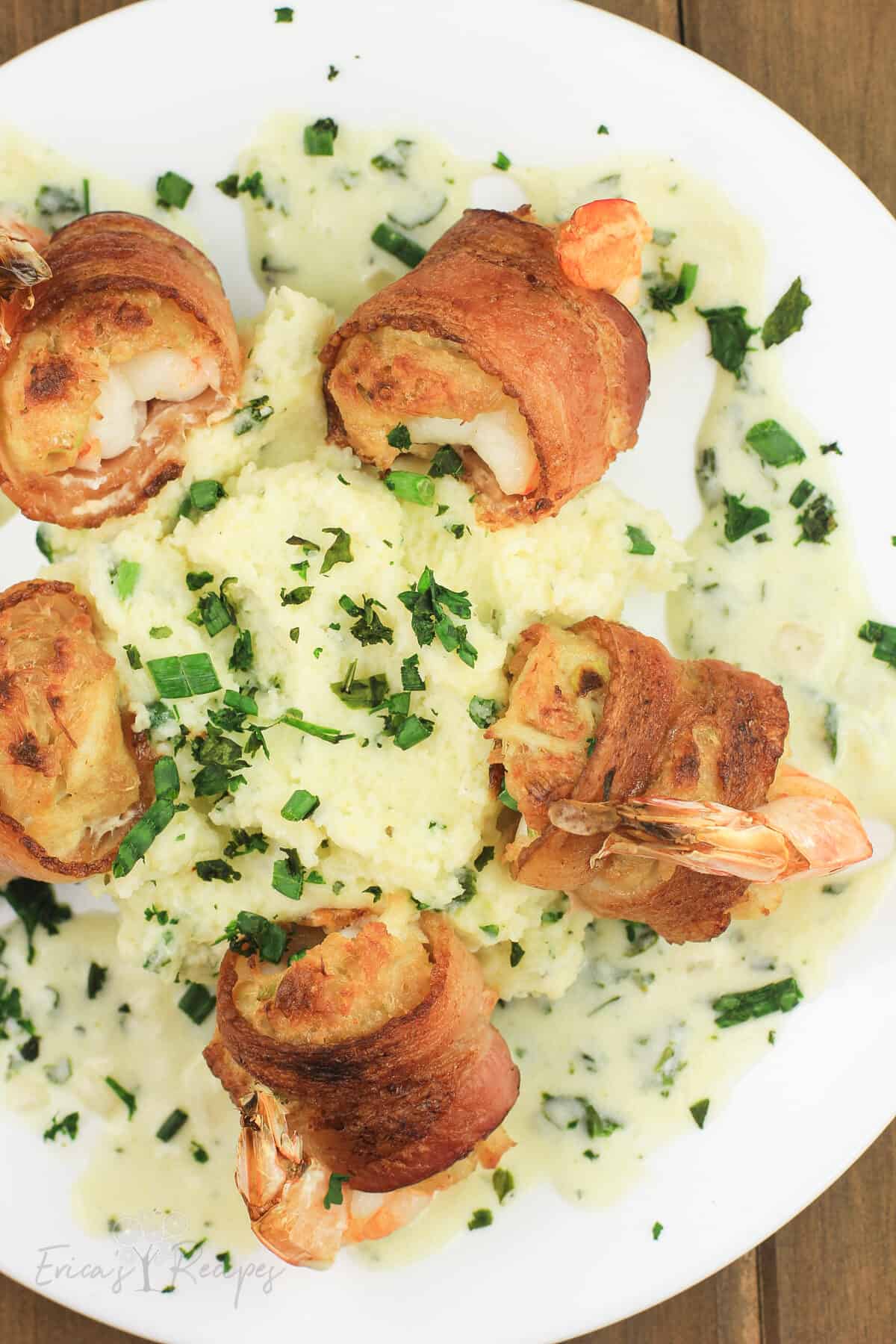 How to make crab-stuffed shrimp
This recipe is best explained broken down in essential steps: prepping the shrimp; making the crab stuffing; stuffing the shrimp, wrapping in bacon, and baking; and making the sauce.
Prep the shrimp
Preparing the shrimp is a bit of a labor of love but it is necessary and once you get the flow of it, it really isn't a big deal.
First we peel the shrimp, but we leave the last bit of shell over the tail. This protects that part of the meat while cooking.
Then devein the shrimp as you would do for any recipe, and in that process cut the shrimp further to butterfly. Emeril Lagasse has a nice quick video tutorial so you can visualize it.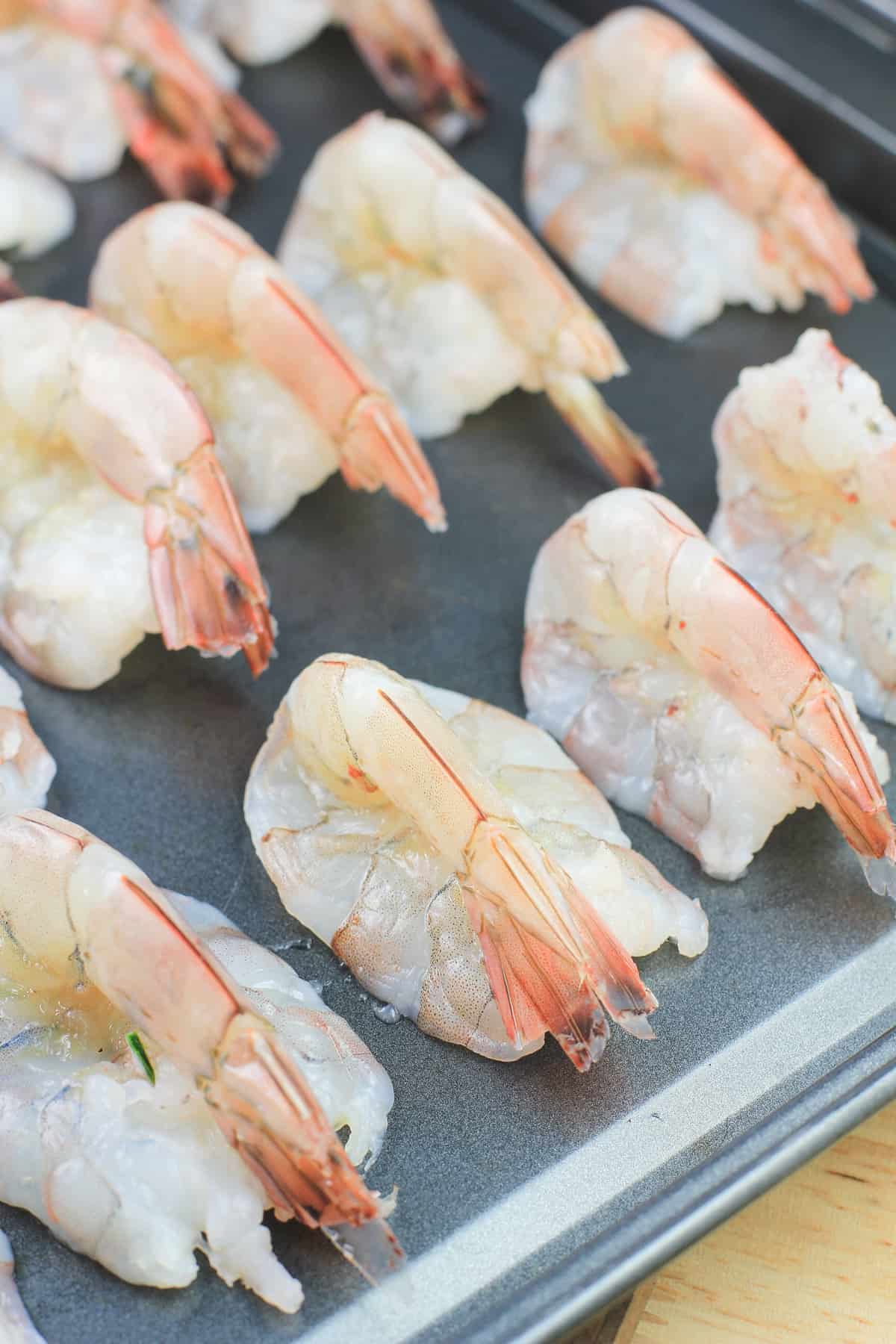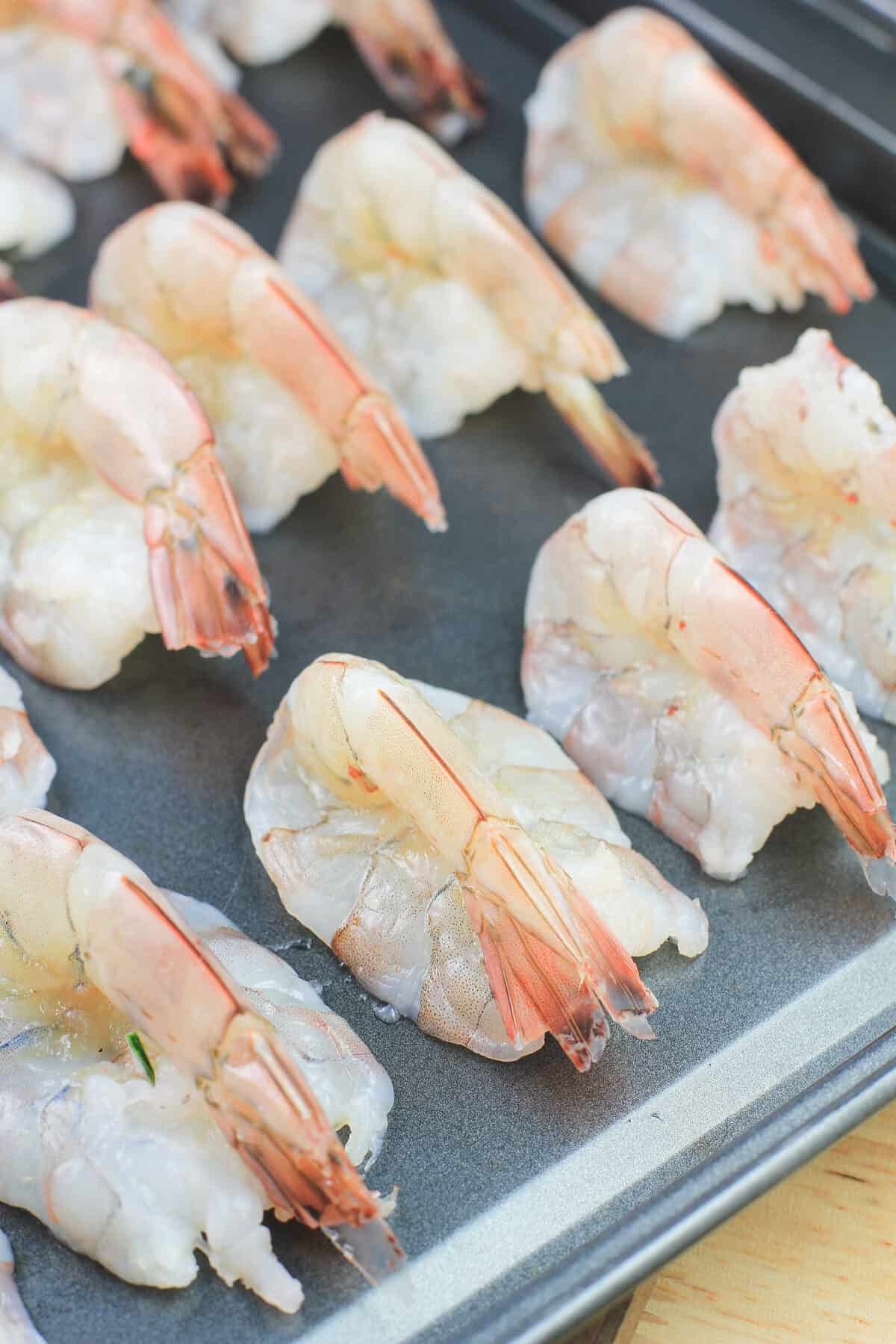 Make the crab stuffing
We just mix the crab stuffing ingredients and that's it. This can be done hours in advance too, then simply refrigerate until ready to stuff the shrimp.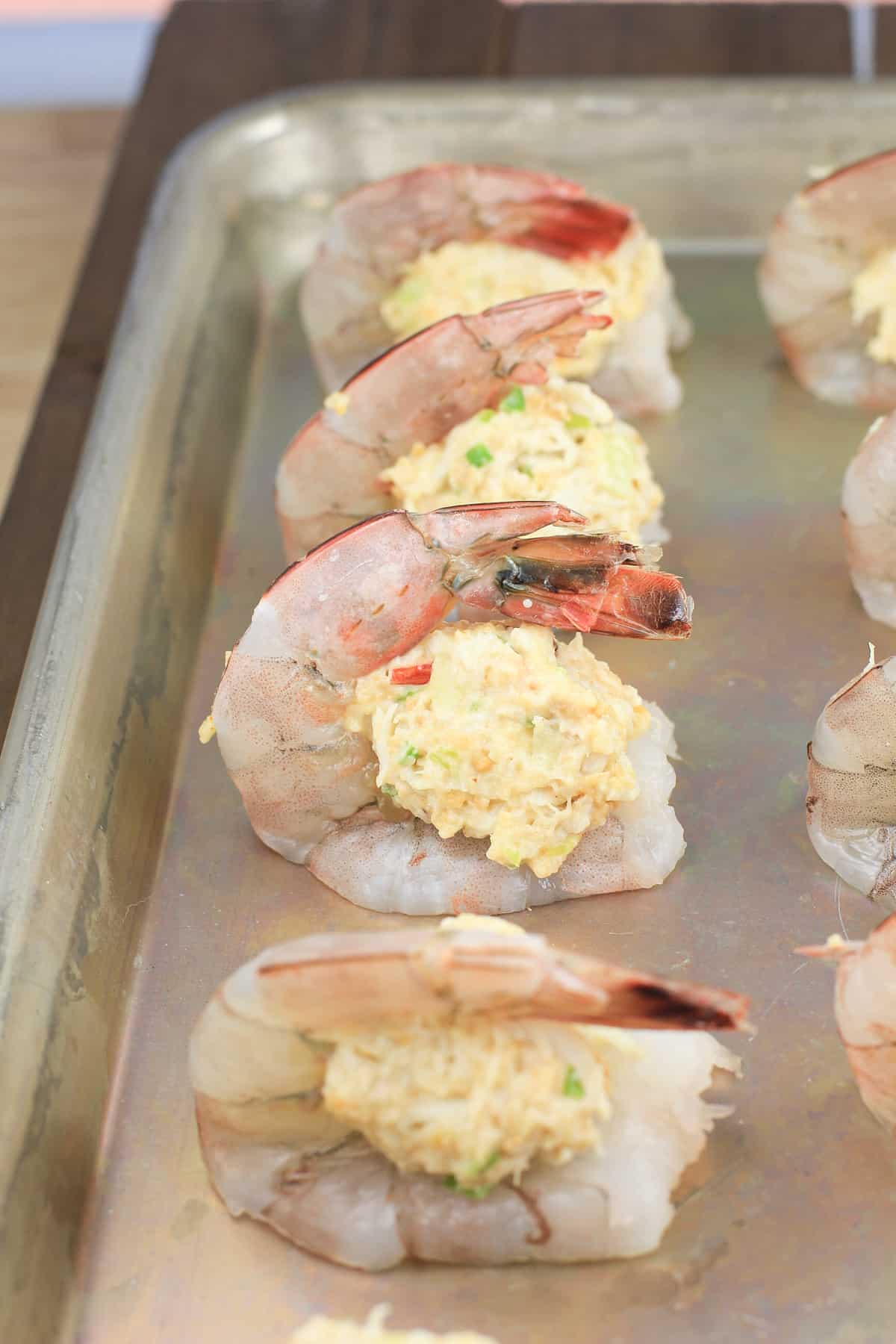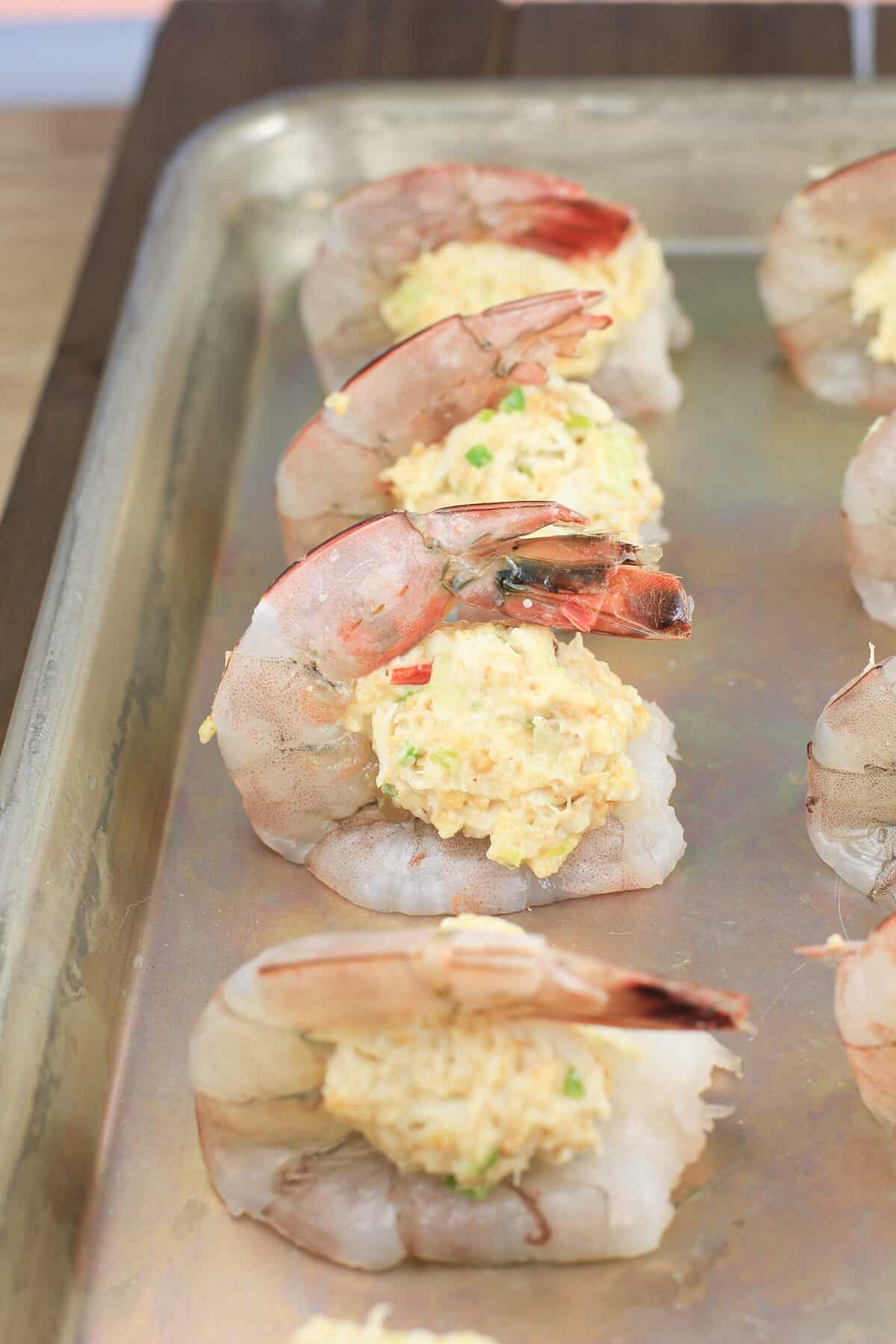 Assemble crab-stuffed shrimp and bake
Shrimp are little creatures, so we don't actually "stuff" them so much as we just put a mound of stuffing on them. Then we wrap in bacon and bake.
I find it easiest to lay a piece of bacon on a cutting board (one that can go through a dishwasher), put a piece of shrimp on one end of the bacon, put a mound (scant tablespoon) of stuffing on the shrimp, then lift up the other end of bacon, lay it over the shrimp (over the stuffing, but under the tail), and tuck it under to make your bacon-wrapped shrimp.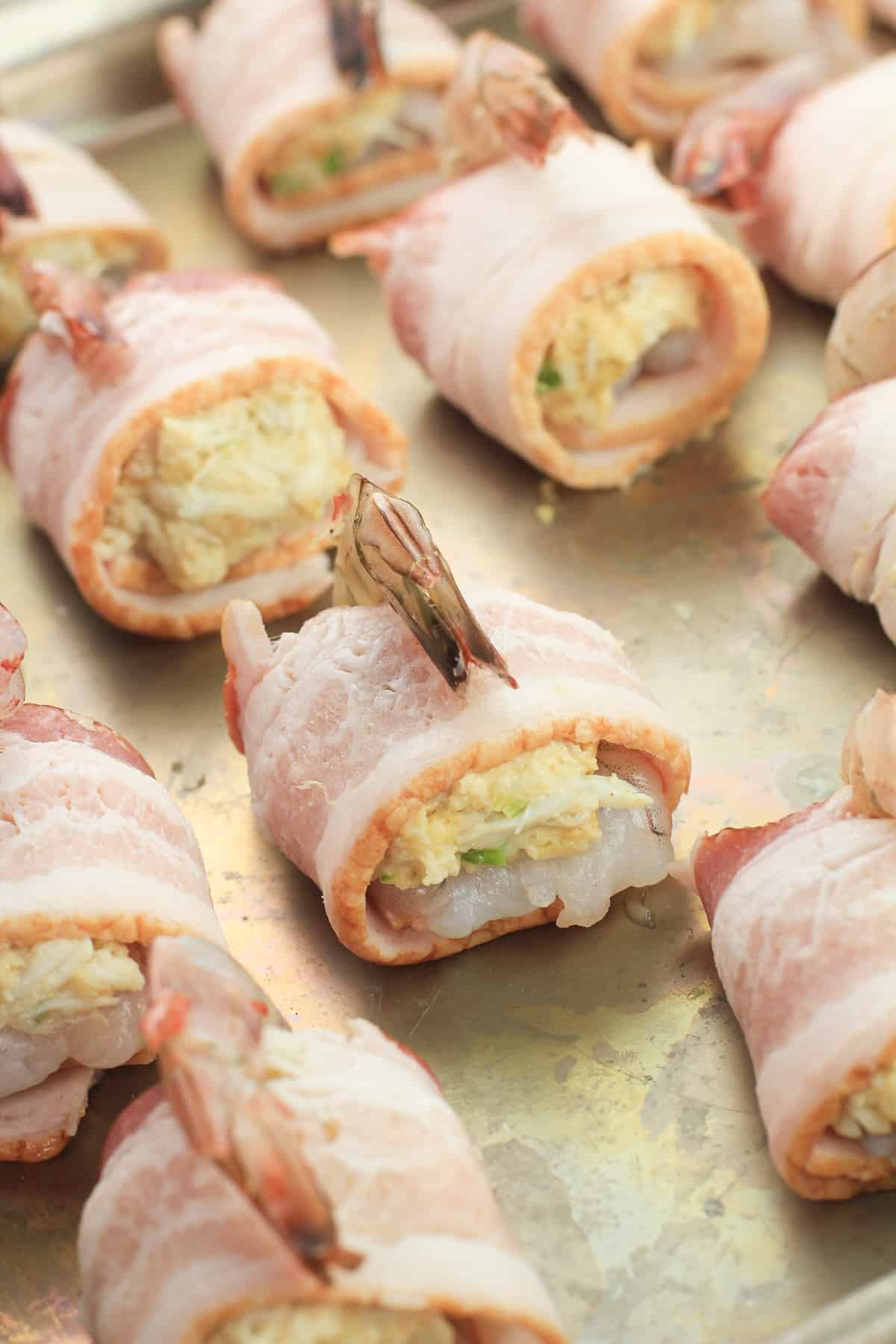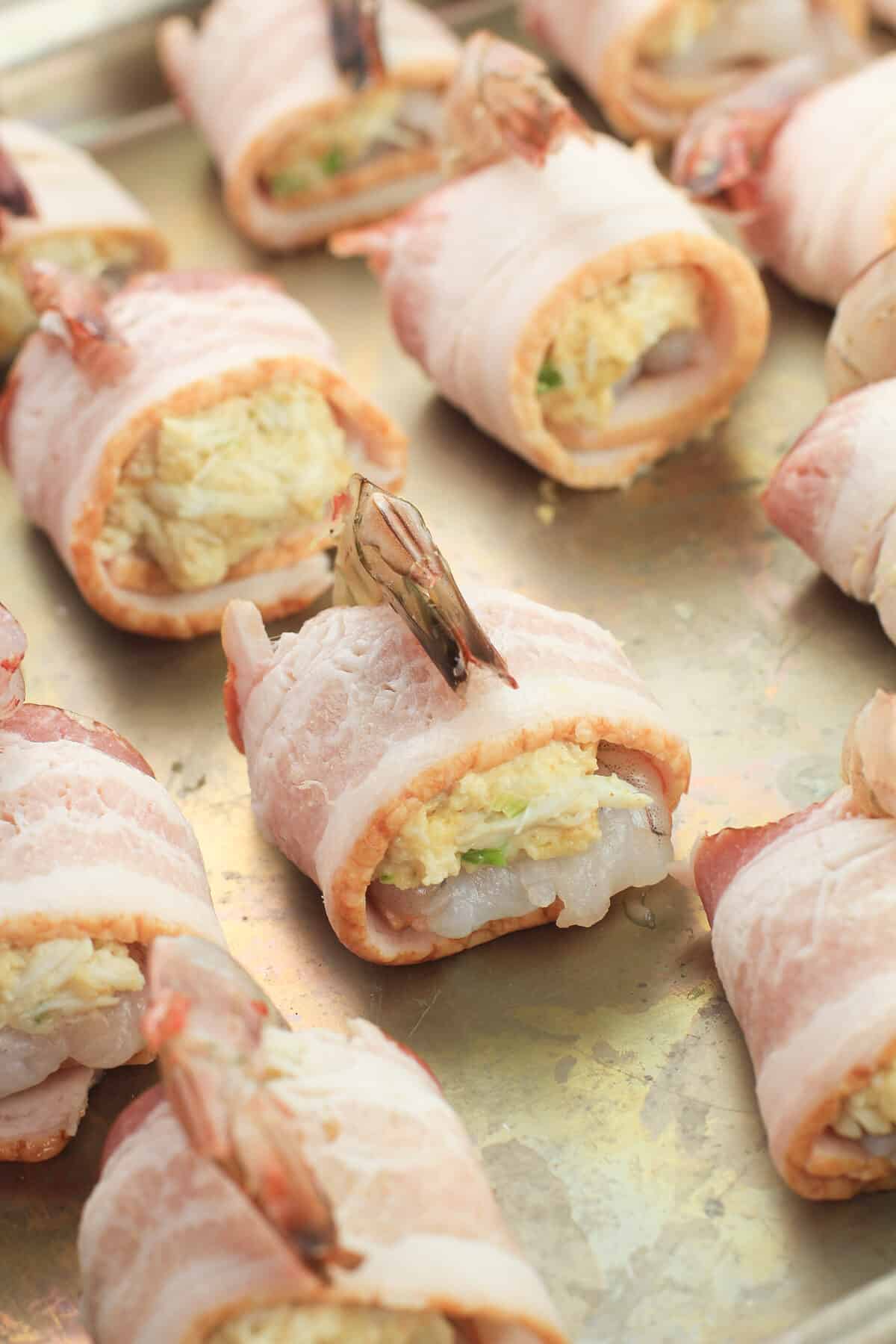 We bake at 425°F until the bacon is mostly cooked, then switch the oven to broil (on high, if that is an option) and cook until the bacon is crisp.
When we flip the oven from Bake to Broil, we do not move the shrimp right under the broiler. Just leave in the center of the oven, as they were when baking, and we are giving a quick broil to force the bacon to cook from above, but protecting the shrimp below.
Make the Lemon Basil Cream
The Lemon Basil Cream is made while the shrimp are cooking. We quick shallot and garlic a quick cook in butter to release and infuse their flavor. Whisk in flour to make a roux with the butter – give that a quick minute to cook the flour.
Next, we add the wine and half-and-half, bring to a simmer (stirring constantly or the bottom will scorch), and cook until reduced by half. The "reduced by half" amount isn't so important – just cook until nicely thickened so that it coats a wooden spoon.
At this point, we add lemon juice, basil, and seasonings, and our sauce is complete.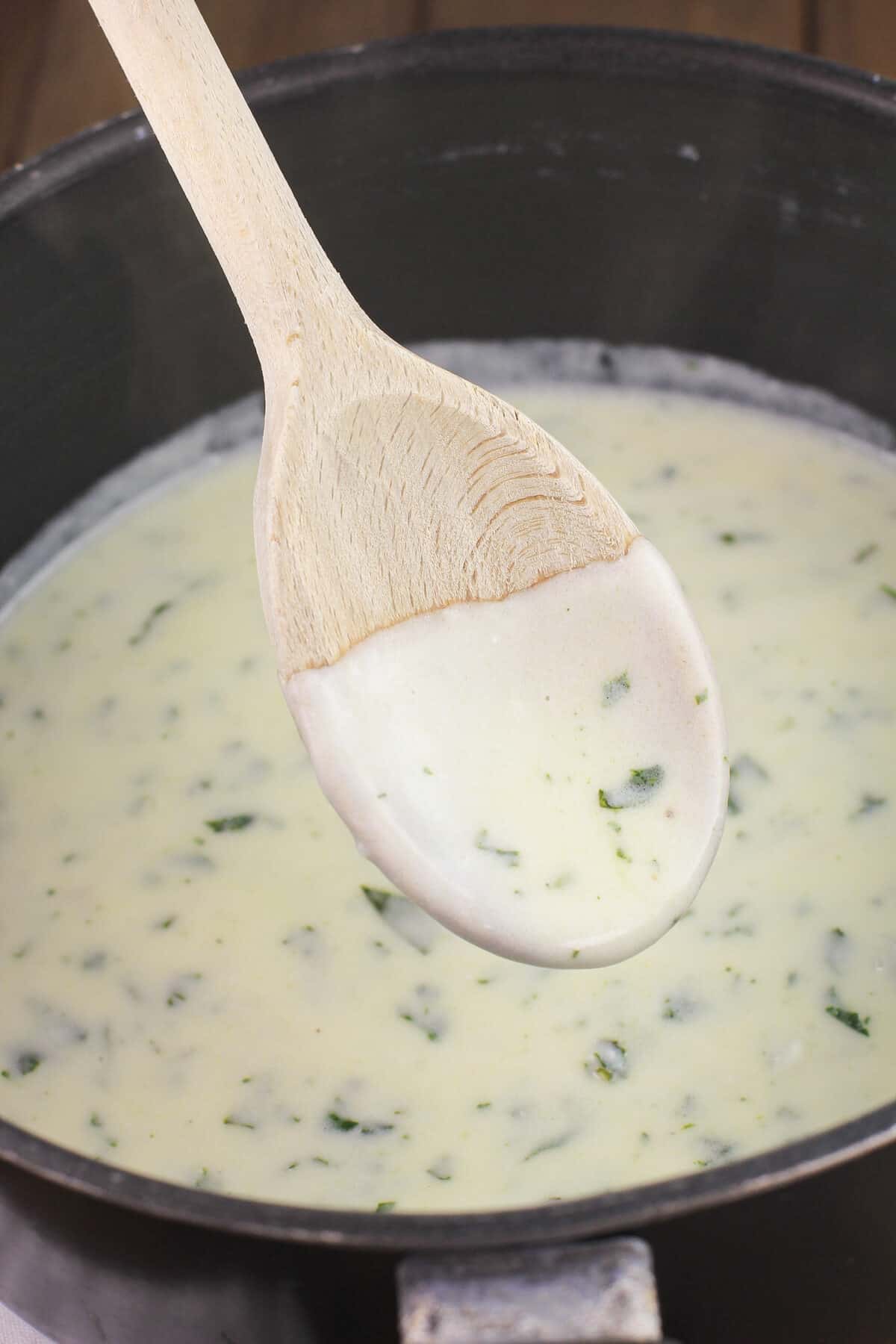 FAQs
What shrimp work best for this recipe?
Shrimp is a touchy subject because we can get into all kinds of discussion about sustainability – of the lack there of – wild vs farmed, etc, and I am very sensitive to this topic. I go to a local fish monger, and the shrimp you see in these photos were wild caught from Texas. The United States requires sea turtle-excluder devices for shrimping in US waters.
As far as variety of shrimp goes – i.e. pink, white, brown, and red – that doesn't matter so much as long as they are BIG.
Can this dinner be made in advance?
So while I like these leftovers reheated, I do not recommend making them in advance. That said, the shrimp can be prepped in advance (as this is the most time consuming part), the stuffing ingredients can be combined in advance, the lemon basil cream can be prepared in advance (gently reheat to ensure it doesn't separate). The shrimp with the stuffing can even be assembled in advance.
What I do not recommend is assembling the bacon with the shrimp in advance. If anything, stuff the shrimp and chill in the fridge until ready to cook. Wrap in bacon then, and then cook. If fully assembled in advance, I fear the cold bacon would take longer to cook and this would risk overcooking the shrimp.
Can center cut bacon be used?
Center cut bacon is regular bacon with the fatty ends cut off. I did not use center cut bacon, which are shorter then regular bacon (obviously) so I cannot attest if that works or not. Center cut probably would work, I just have not used it.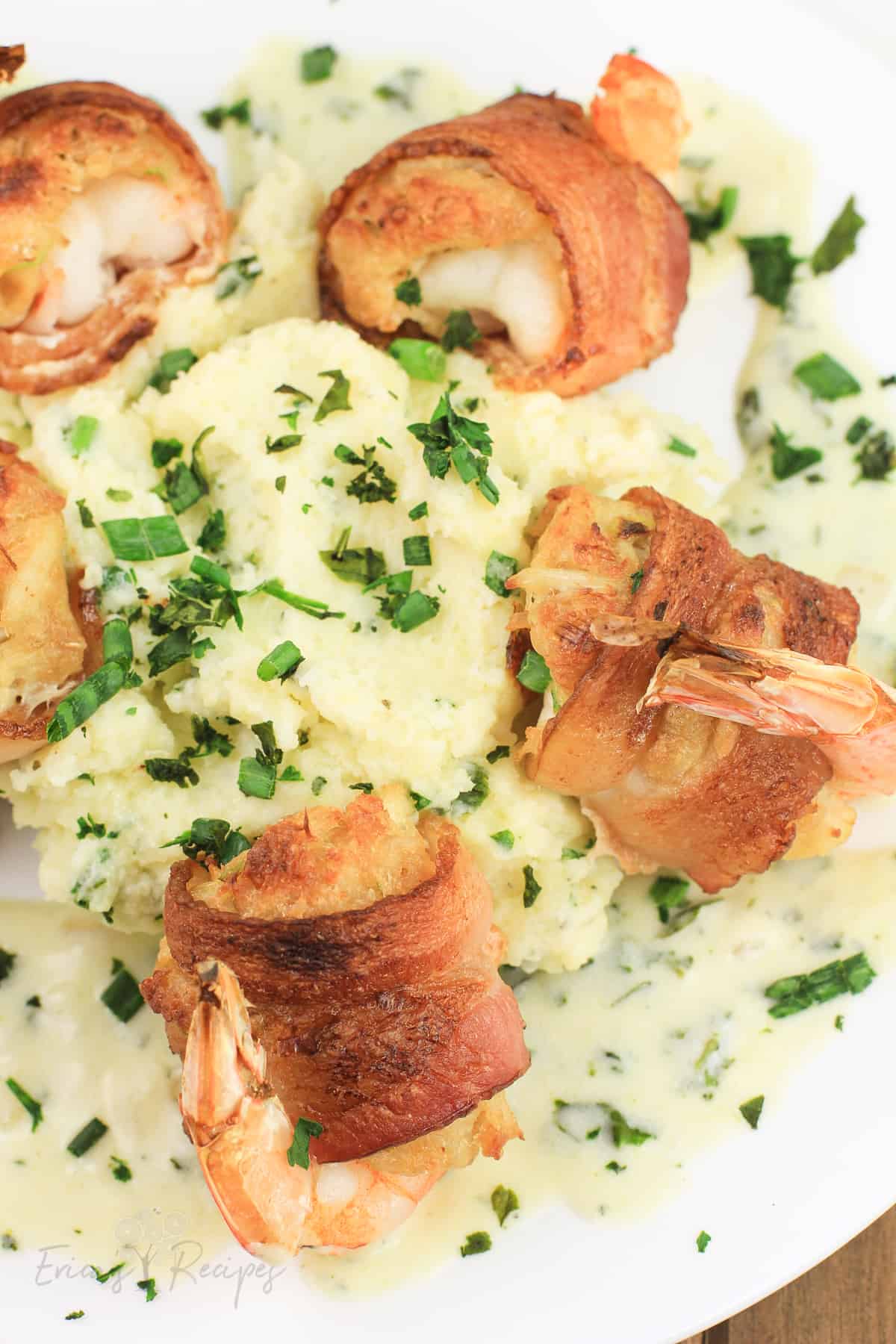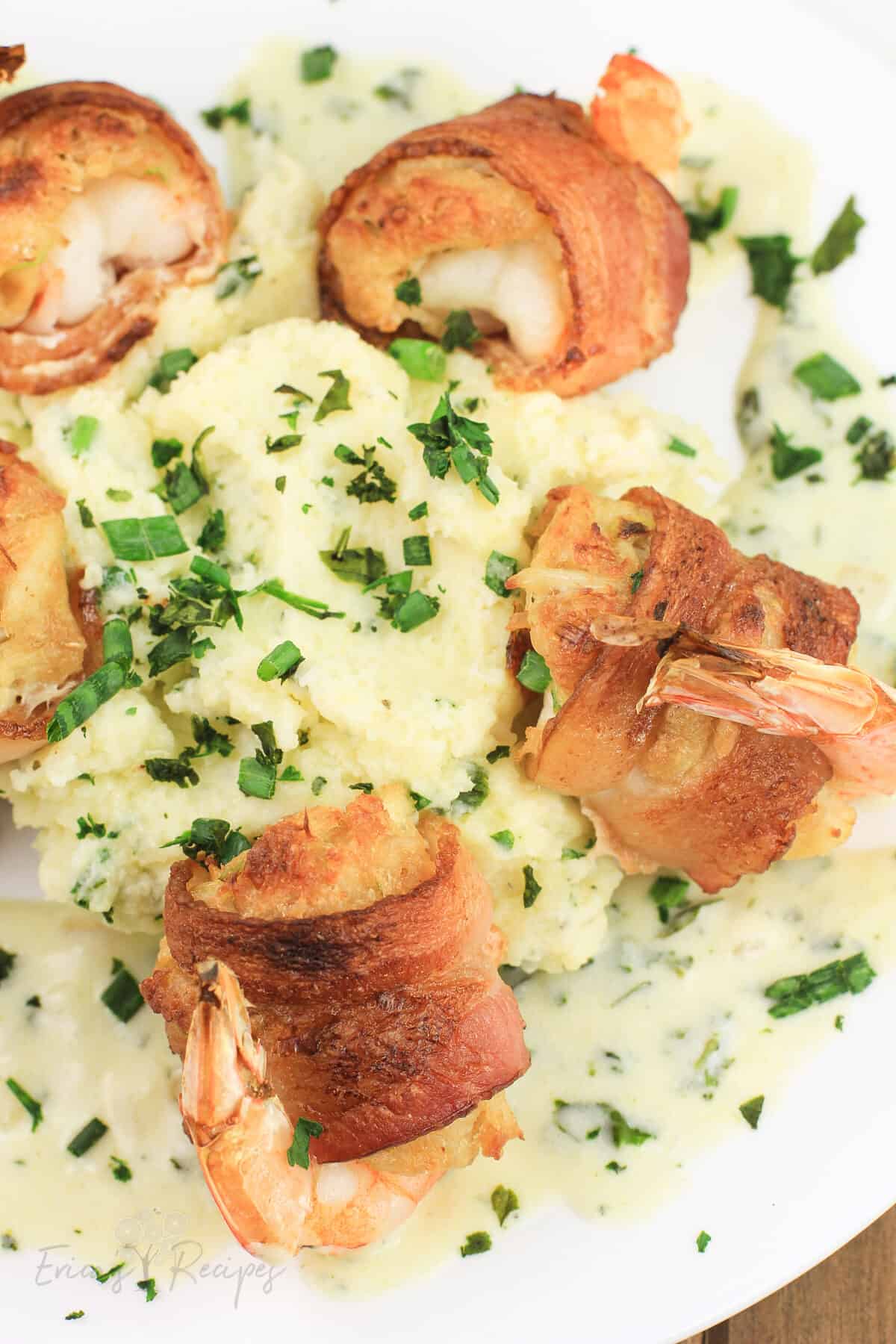 Recommended side dishes
I really like to serve these shrimp with mashed potatoes, so here are 3 recipe suggestions plus a rice casserole if mashed potatoes are not your thing.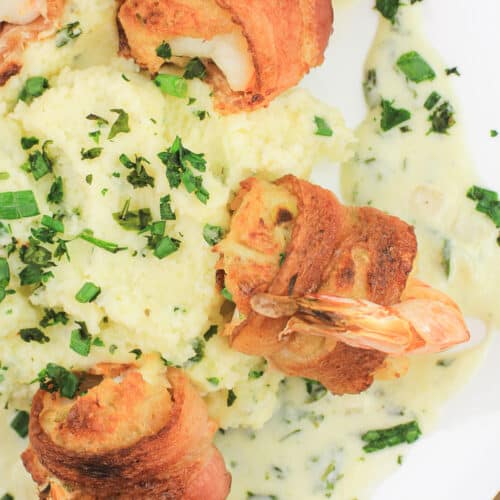 Bacon-Wrapped Crab-Stuffed Shrimp
Crab-stuffed shrimp wrapped in bacon and served with a beautiful lemon basil cream sauce is a classic New England recipe. Bacon wrapped shrimp with crab stuffing is elegant and impressive with balanced flavors, lemon, and seasoning.
Ingredients
For the stuffed shrimp
1 ½

lb

large/jumbo shrimp

16-20 per pound

1

lb

thin sliced bacon

halved
For the crab stuffing
8

oz

lump white crabmeat

1

cup

crushed Ritz crackers

(~26 crackers)

2

green onions

finely chopped

¼

cup

mayonnaise

1

large egg

lightly beaten

½

tsp

Worcestershire sauce

2

tsp

Dijon mustard

¼

tsp

garlic powder

¼

tsp

Old Bay seafood seasoning

½

tsp

kosher salt
For the Lemon Basil Cream
2

Tbsp

unsalted butter

2

Tbsp

minced shallot

(~1 small shallot)

1

clove

garlic

minced

1

Tbsp

all-purpose flour

¼

cup

dry white wine

1

cup

half-and-half

1

Tbsp

fresh lemon juice

2

Tbsp

fresh basil leaves

finely chopped

1

pinch

kosher salt

1

pinch

fresh cracked pepper
Instructions
Prepare the shrimp
Preheat the oven for 425°F.

Peel the shrimp leaving the shell on the last section of tail.

Use a sharp paring knife to slice open the shrimp along the back (side opposite of where the legs were). If visible, remove the vein and discard.

Use the paring knife to slice the shrimp further into the same cut (i.e. from the back towards the "belly" (where the legs were) to fold open without going all the way through. Spread cut side open, and lay on large rimmed bake sheet ("belly" will now be up). Repeat with remaining shrimp.
Make the crab stuffing
Combine all ingredients listed for the crab stuffing, and use a fork to combine well.
Assemble shrimp and bake
Spoon a scant Tablespoon of crab stuffing and place/mound onto each shrimp.

Wrap each with bacon and arrange in a large, rimmed baking pan. (*see Notes)

Put the shrimp in the 425°F oven and roast until the bacon renders and lightly browns, 15-20 minutes. Switch the oven to broil.

Broil the shrimp 2-3 minutes or until bacon is browned.
Make the Lemon Basil Cream
While shrimp are cooking, make the sauce: Heat butter in a small skillet over medium heat. Add the shallot and garlic, and cook, stirring frequently, until shallot is softened, 2-3 minutes.

Add the flour, whisk, and cook 1 minute. Whisk in the wine and half-and-half, and simmer until thickened to coat a wooden spoon (roughly reduced by half).

Add the lemon juice, basil, salt, and pepper. Taste for seasoning. Keep the sauce warm over very low heat until shrimp are done. Served stuffed shrimp with the sauce.
Notes
A light metal bake sheet worked better for me than dark as far as the bacon sticking to the pan. Both will work, but with a dark sheet be prepared with a spatula to pry them up.
When wrapping the shrimp with the bacon, take care to wrap loosely. This will keep the bacon from squeezing out the crab stuffing as it cooks and contracts. I recommend laying the piece of bacon on a board, placing a stuffed shrimp on one end, then lifting the other end of bacon up and over to lay on the shrimp (under the tail), then tuck the bacon under.
Nutrition
Serving:
5
shrimp
|
Calories:
490
kcal
(25%)
|
Carbohydrates:
14
g
(5%)
|
Protein:
37
g
(74%)
|
Fat:
31
g
(48%)
|
Saturated Fat:
11
g
(69%)
|
Polyunsaturated Fat:
5
g
|
Monounsaturated Fat:
5
g
|
Cholesterol:
289
mg
(96%)
|
Sodium:
1062
mg
(46%)
|
Potassium:
129
mg
(4%)
|
Sugar:
3
g
(3%)
Calorie count is purely an estimate calculated using an online application to serve as a guide and not to be taken as accurate nutritional information. Percent Daily Values are based on a 2,000 calorie diet.
Tried this recipe?
Leave a comment below and let me know!