Boursin Mashed Potatoes have delicious garlic and herb flavor in the creamiest mashed potatoes ever. These Boursin potatoes are a perfect accompaniment for your main dish be it a weeknight quickie, special occasion, or holiday. Boursin cheese mashed potatoes can even be made hours in advance and reheated to make dinner prep easier.
Holy hell, these are – I do in fact believe – my best mashed potatoes yet. I thought I had executed creative genius with my Gruyere, Garlic, and Gouda Mashed Potatoes (and, not gonna lie, but I still think I did), but THESE Boursin mashed potatoes are now far and away my FAVORITE of all time.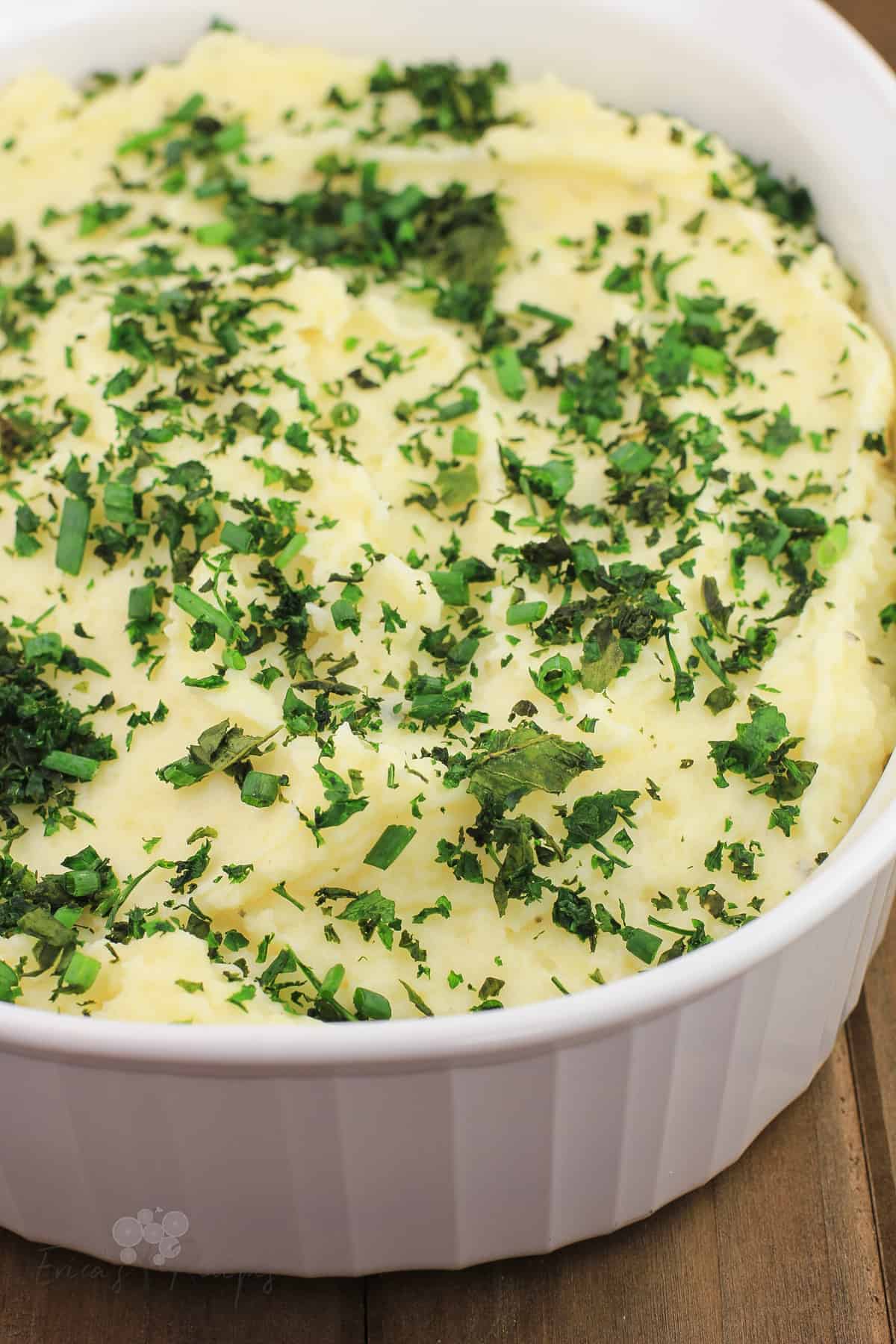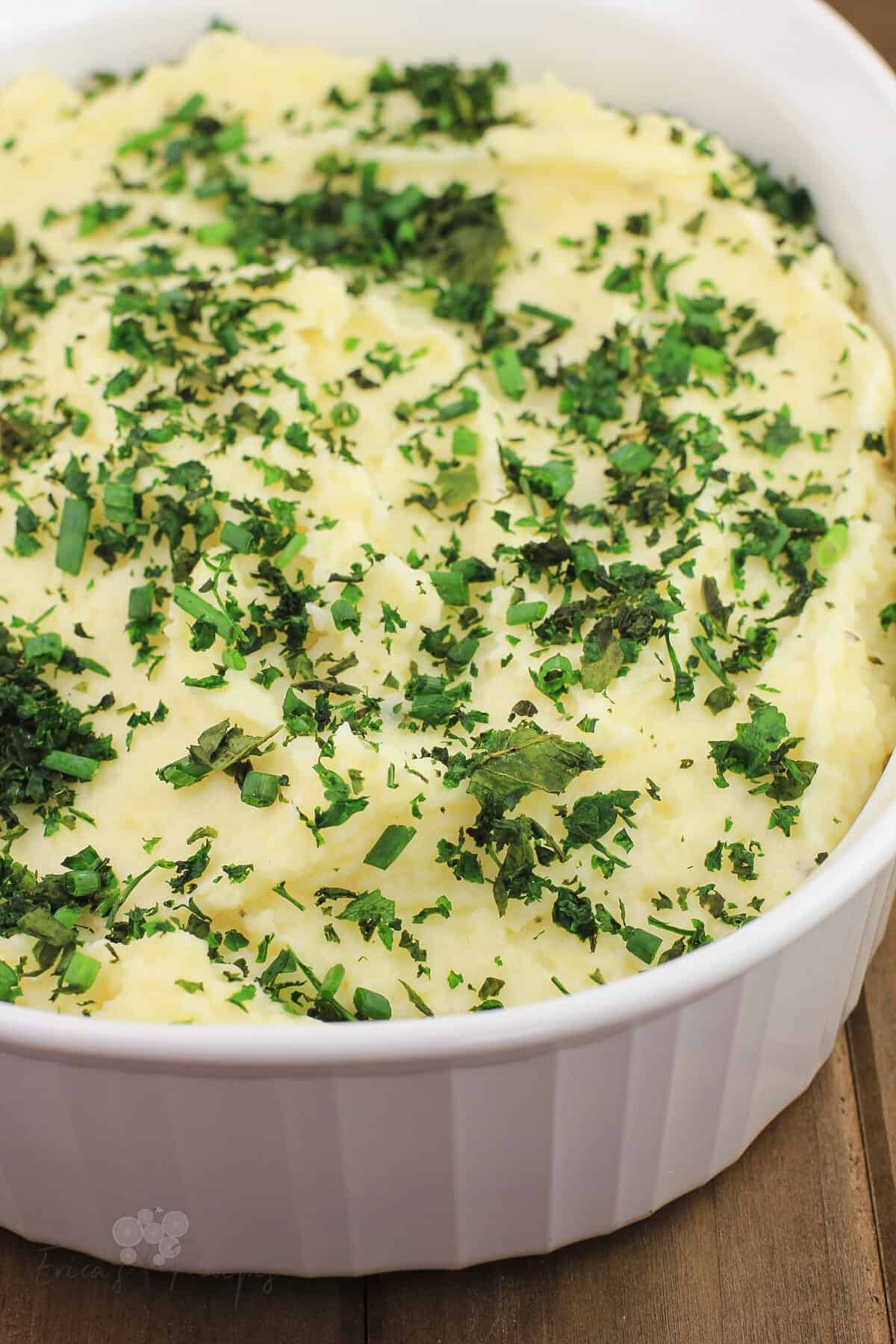 Why you will love this recipe
If you spend a literal 5 minutes on my site, you will hear me profess my love for Boursin cheese. You can get more details about Boursin here, but suffice it to say it is one of my favorite ingredients to cook with both for its perfect flavor and creamy, buttery texture.
I also love mashed potatoes. My Cream Cheese Smashed Potatoes are my longest-time favorite, and I have even made them several times for church suppers upwards of 80-100 people.
So, pairing the two: creamy mashed potatoes with Boursin is clearly the answer.
Boursin cheese mashed potatoes are easy to make, SO balanced with the perfect combination of potato, seasoning, and hints of garlic and herbs in every bite. They can be made hours in advance and reheated too to make life easier. These are why you will love this recipe.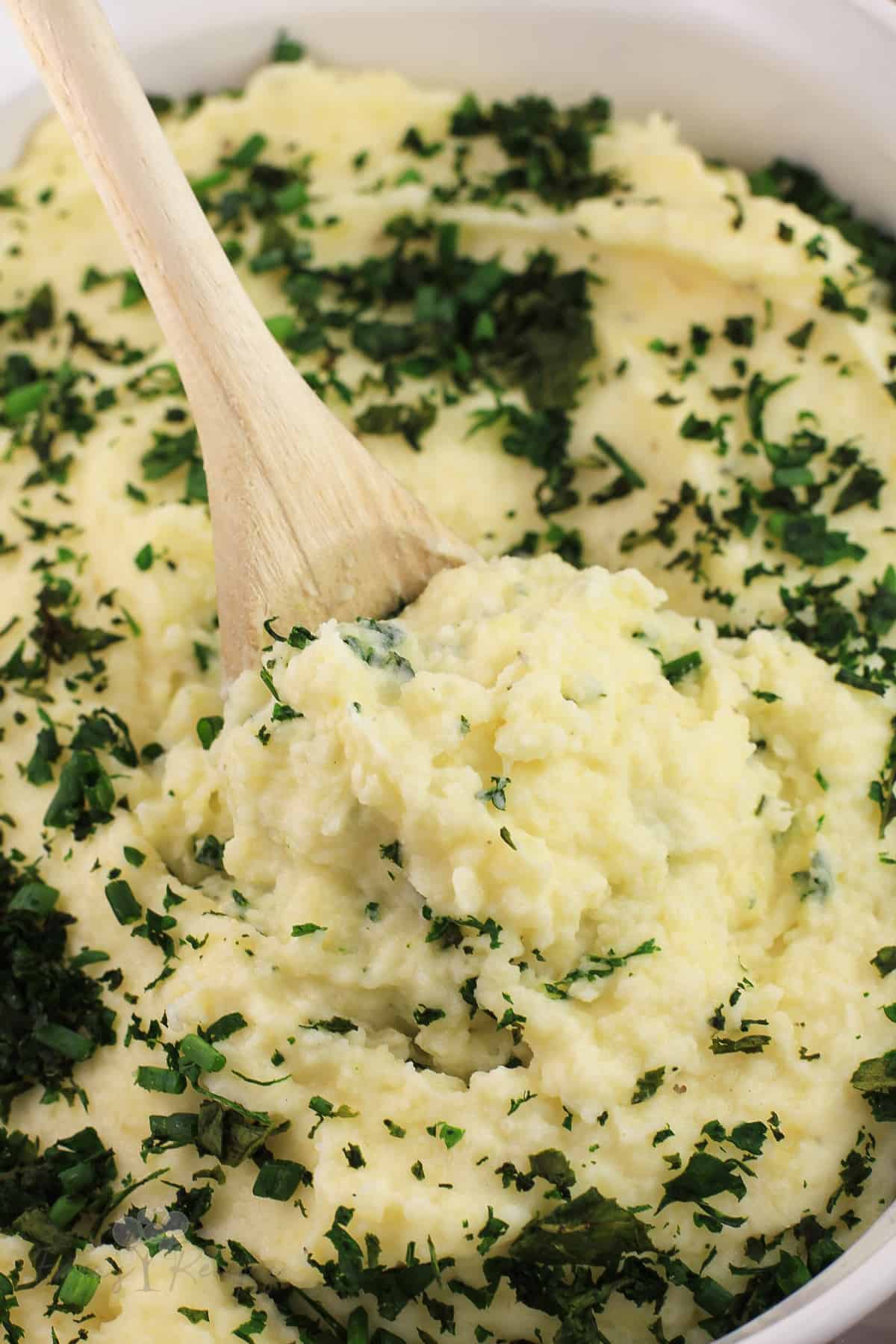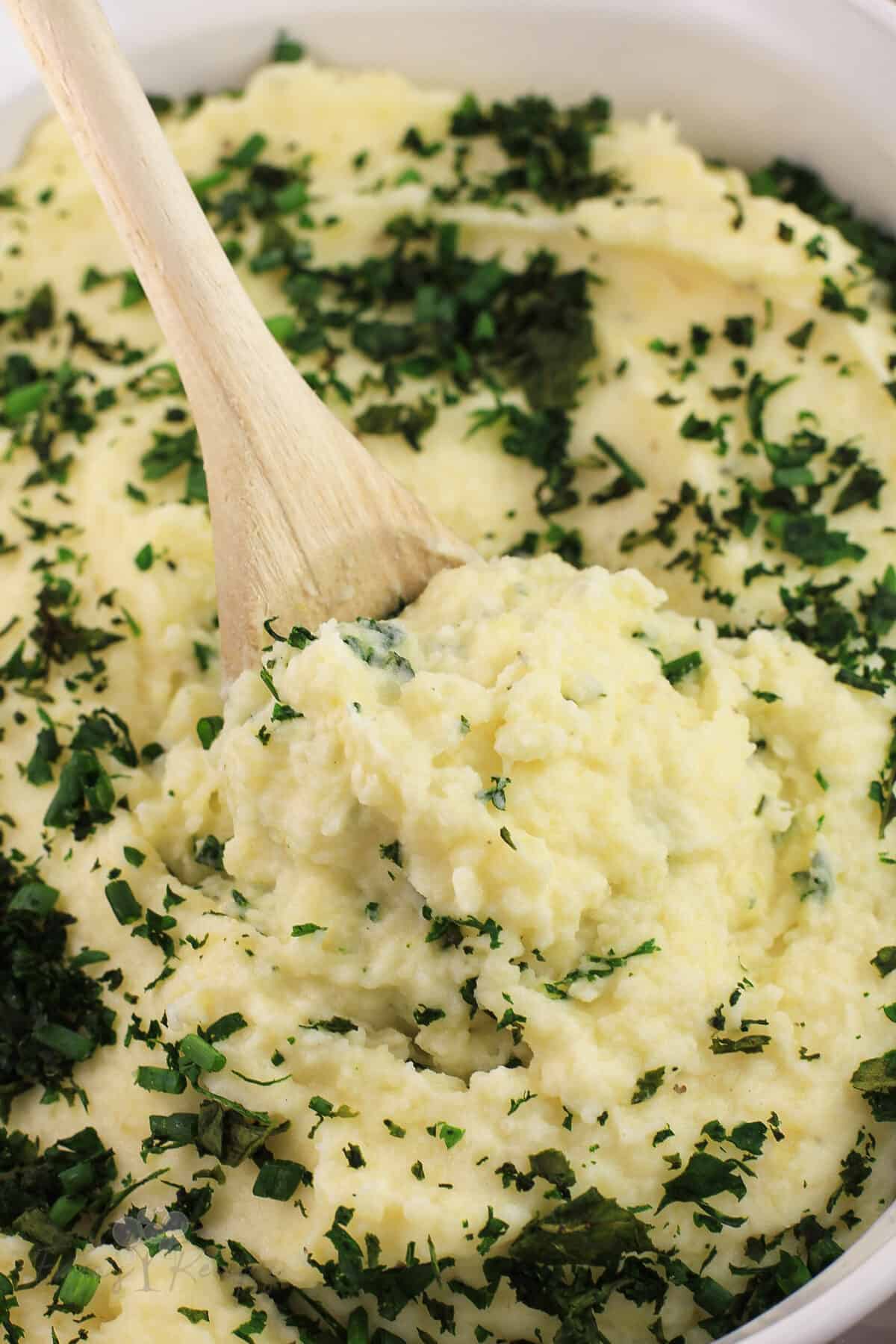 How to make Boursin mashed potatoes
The ingredients
Yukon gold potatoes. I used Yukon golds with my Gruyere, Garlic, and Gouda Mashed Potatoes and I was so impressed with how fully smooth they were, I wanted them in this recipe too. Peeling the skins off is optional if you are going to mash. But I HIGHLY recommend peeling the potatoes, cooking, then passing through a potato ricer for the smoothest, fluffiest mashed potatoes.
Unsalted butter and garlic. We heat the garlic in the butter to infuse that garlic goodness, then add it all to the mashed potatoes.
Heavy cream and milk. I use 2% milk. Half-and-half can be substituted for the cream and milk together.
Boursin Garlic and Fine Herbs Gournay cheese. Boursin is found with the specialty cheeses and comes in a cute little box. We are using the whole box.
Seasonings: salt and pepper.
Fresh herbs to finish: flat-leaf parsley, basil, and chives
Boursin has garlic and herb flavors, but when distributed in a couple pounds of potatoes, it will mute a bit. So we are complementing and enhancing those flavors by adding more garlic and herb to this recipe.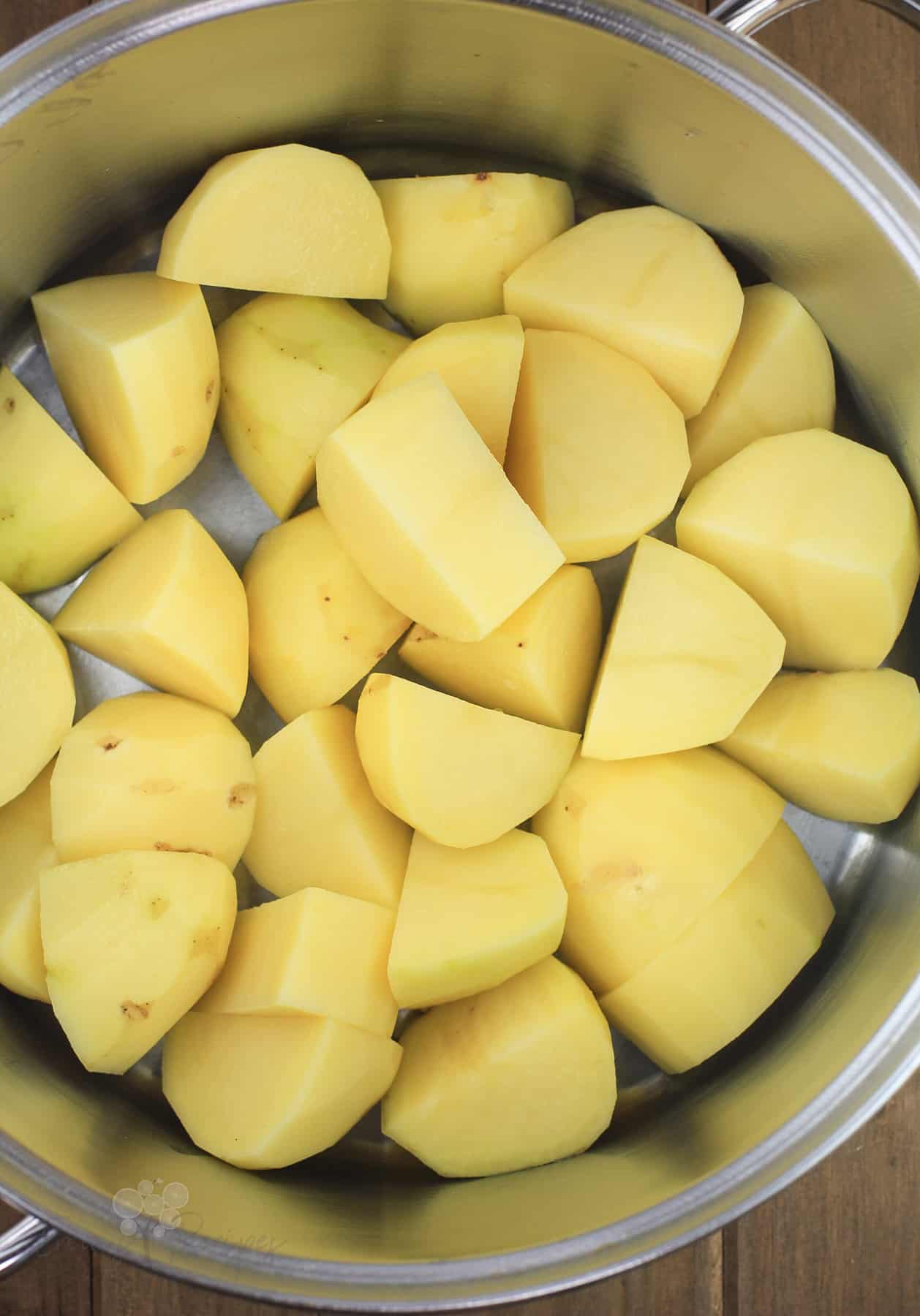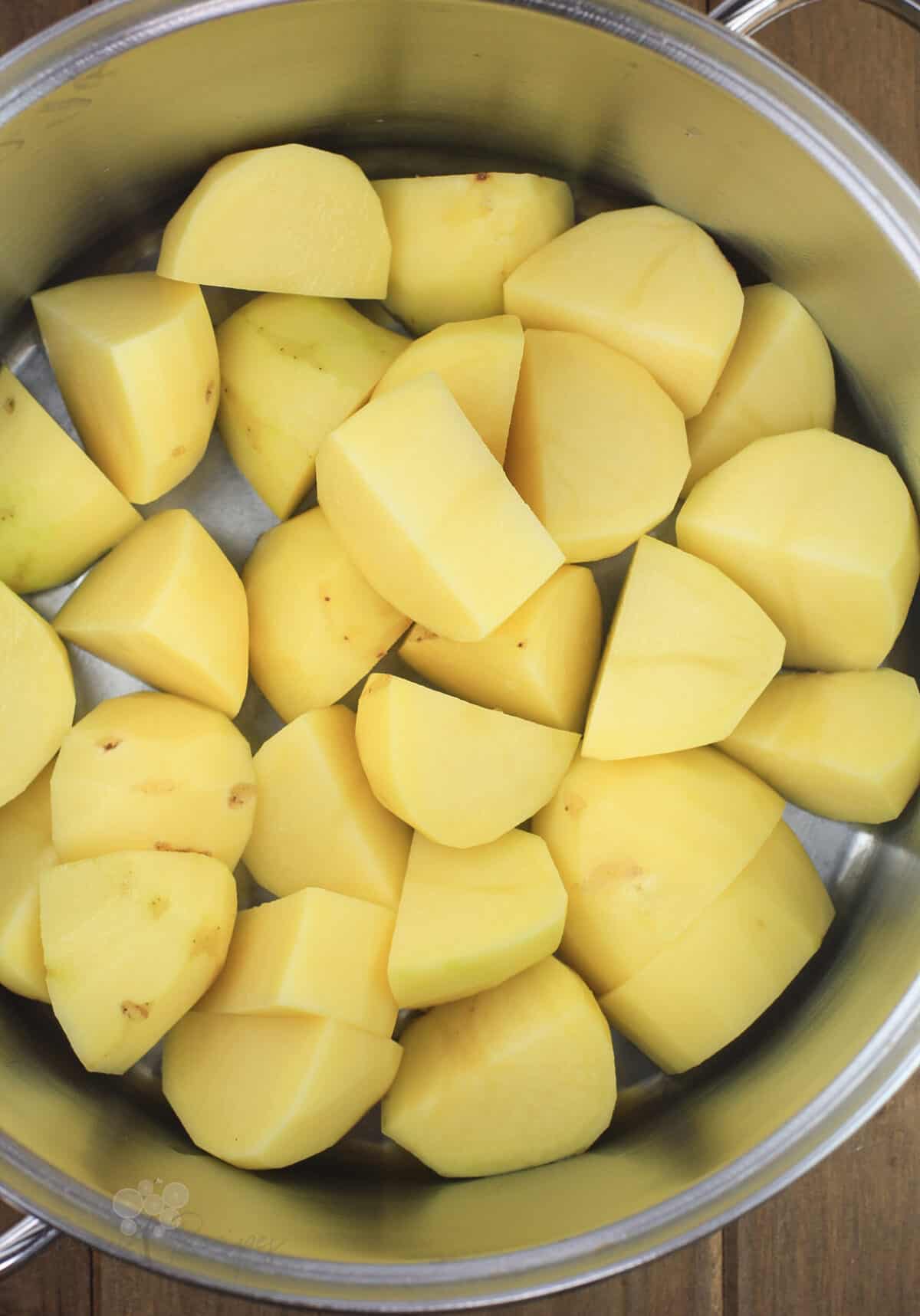 The method
There is not much different here than any standard mashed potato recipe honestly.
First, we simmer the potatoes. I start with cold water, and once they come to a boil, I turn down the heat a touch to keep it to a simmer rather than a rolling boil.
While the potatoes are cooking, we melt the butter and cook the garlic for just a minute to tame the raw garlic flavor and infuse the butter.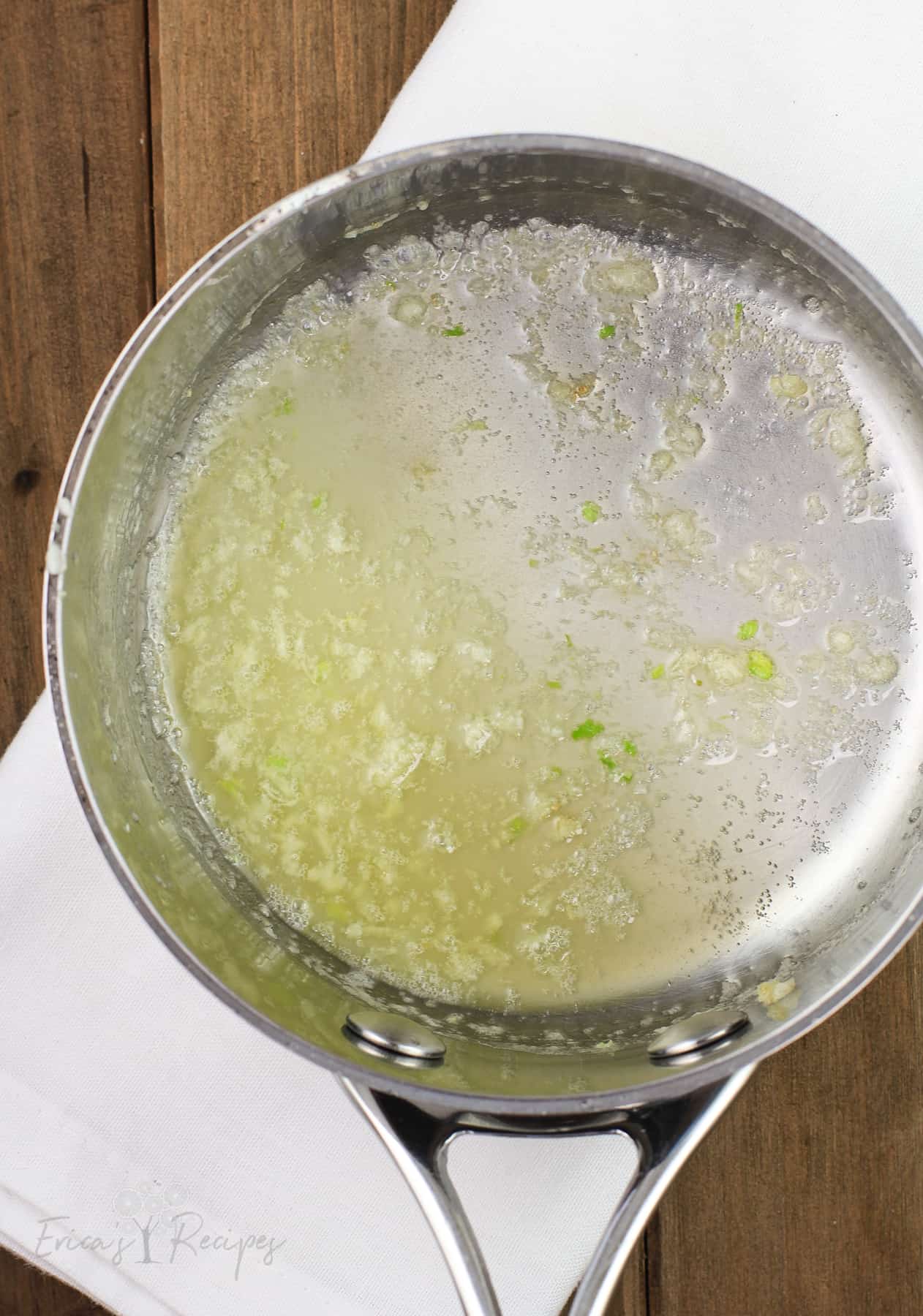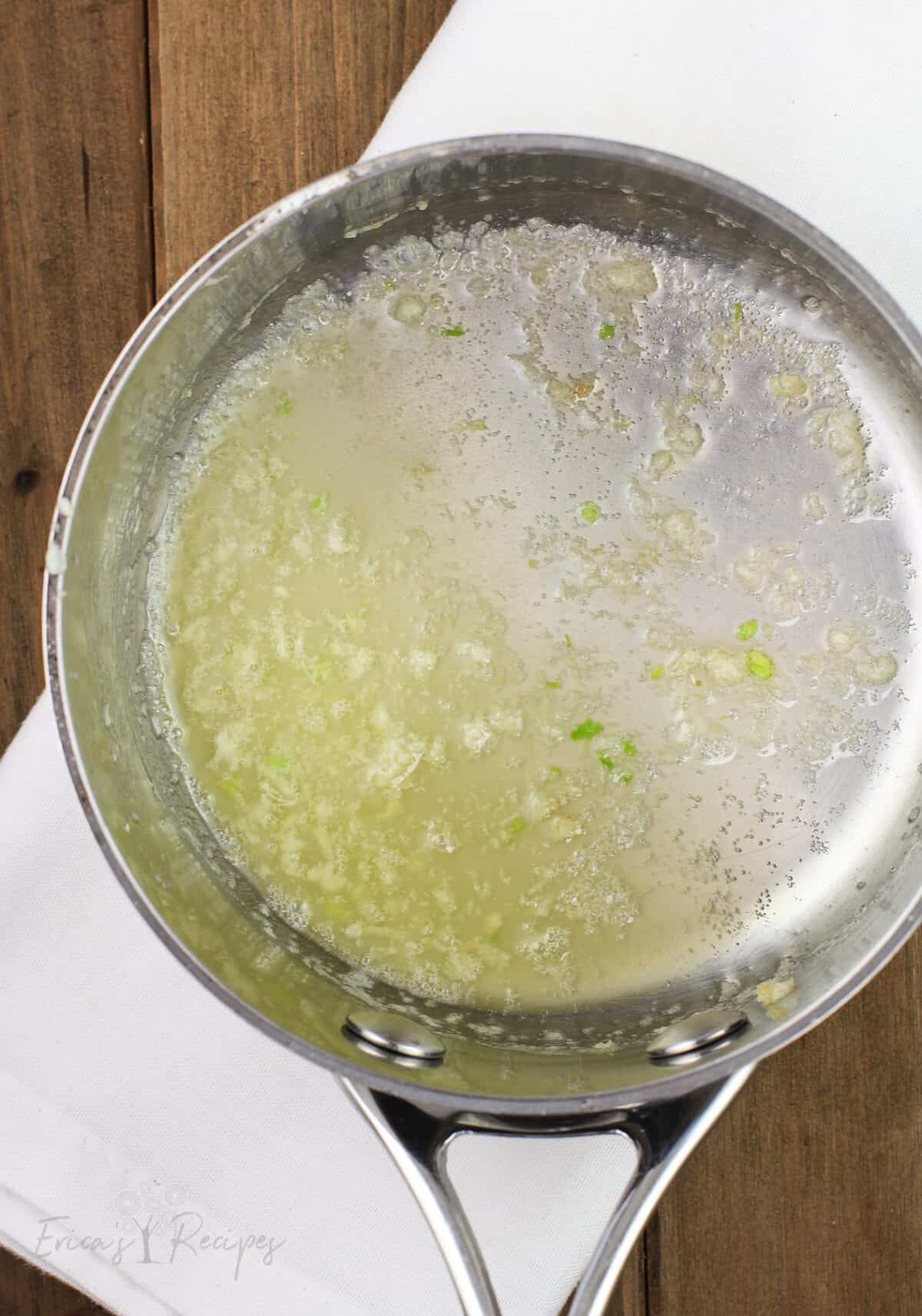 Once the potatoes are fork tender, we drain them well and pass them through a potato ricer. This method is preferable for perfect mashed potatoes; however, if a ricer is not available, the potatoes can be mashed – no worries.
Next, we add the remaining ingredients and combine – EXCEPT the herbs. We hold the herbs until the end. This allows us to keep the potatoes warm if we want – or cool and reheat later. But we want those fresh herbs to go on last for that burst of bright fresh flavor that is always special.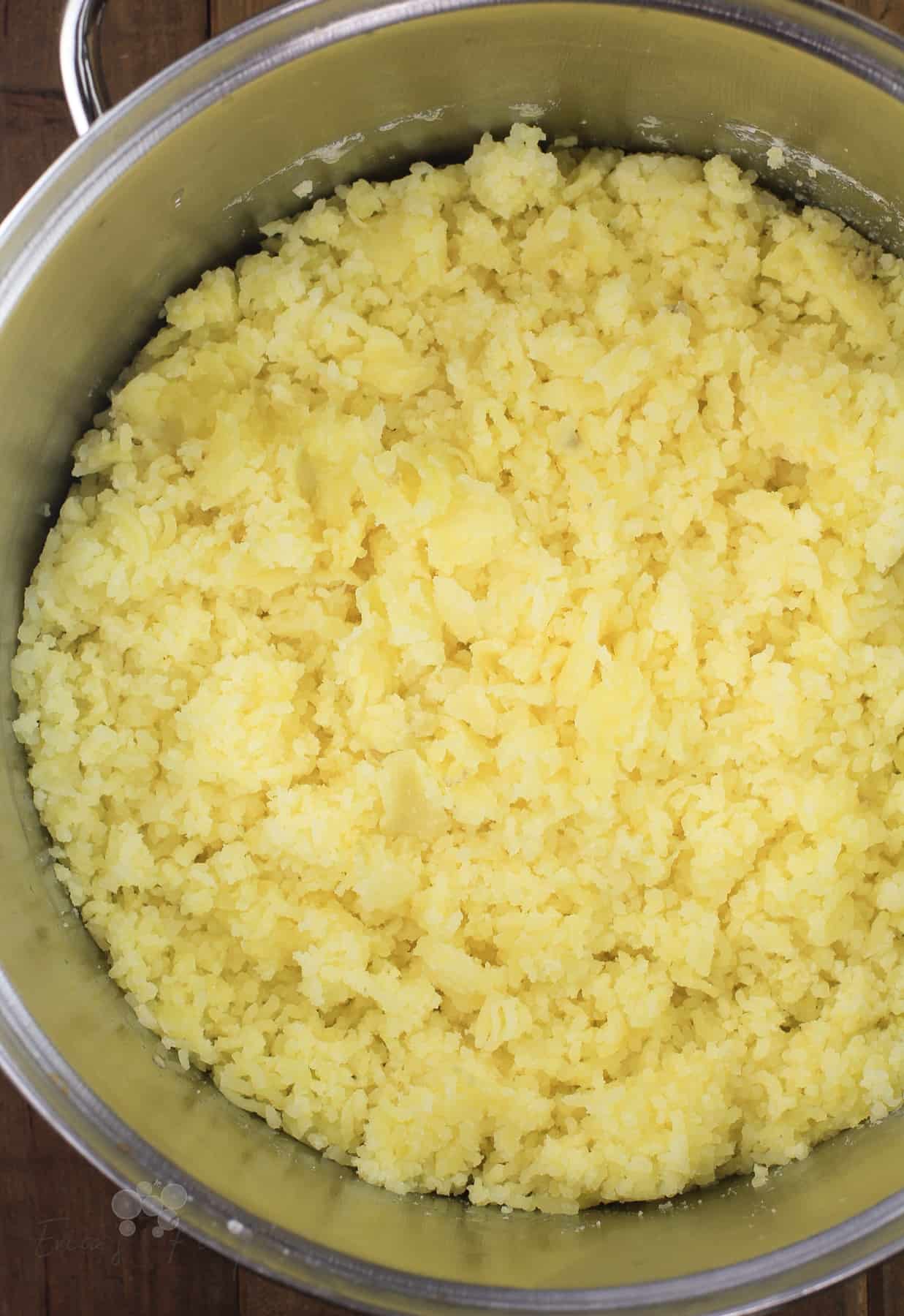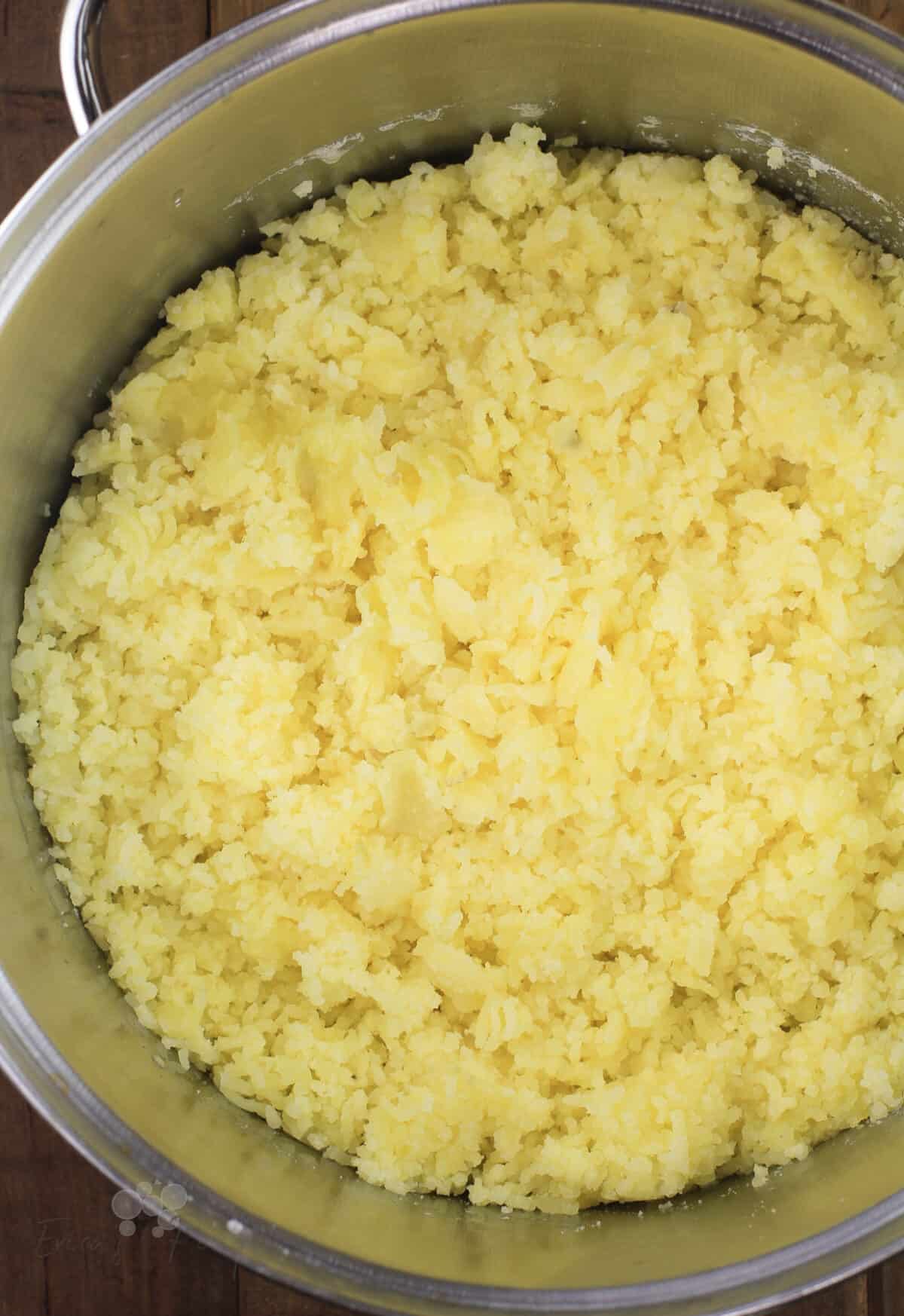 Recipe Variations
There are a couple different ways to change up our Boursin mashed potatoes.
We can change out the herbs – opt for others like fresh oregano, thyme, or rosemary
Shredded cheese! These could be Fontina, cheddar, Gruyere, or fresh Parmigiano-Reggiano.
As I said above, we could leave the skins on and make smashed potatoes.
You can bake Russet potatoes, halve, scoop out the flesh leaving the skin shells, and use the flesh to make a filling with Boursin for twice baked potatoes.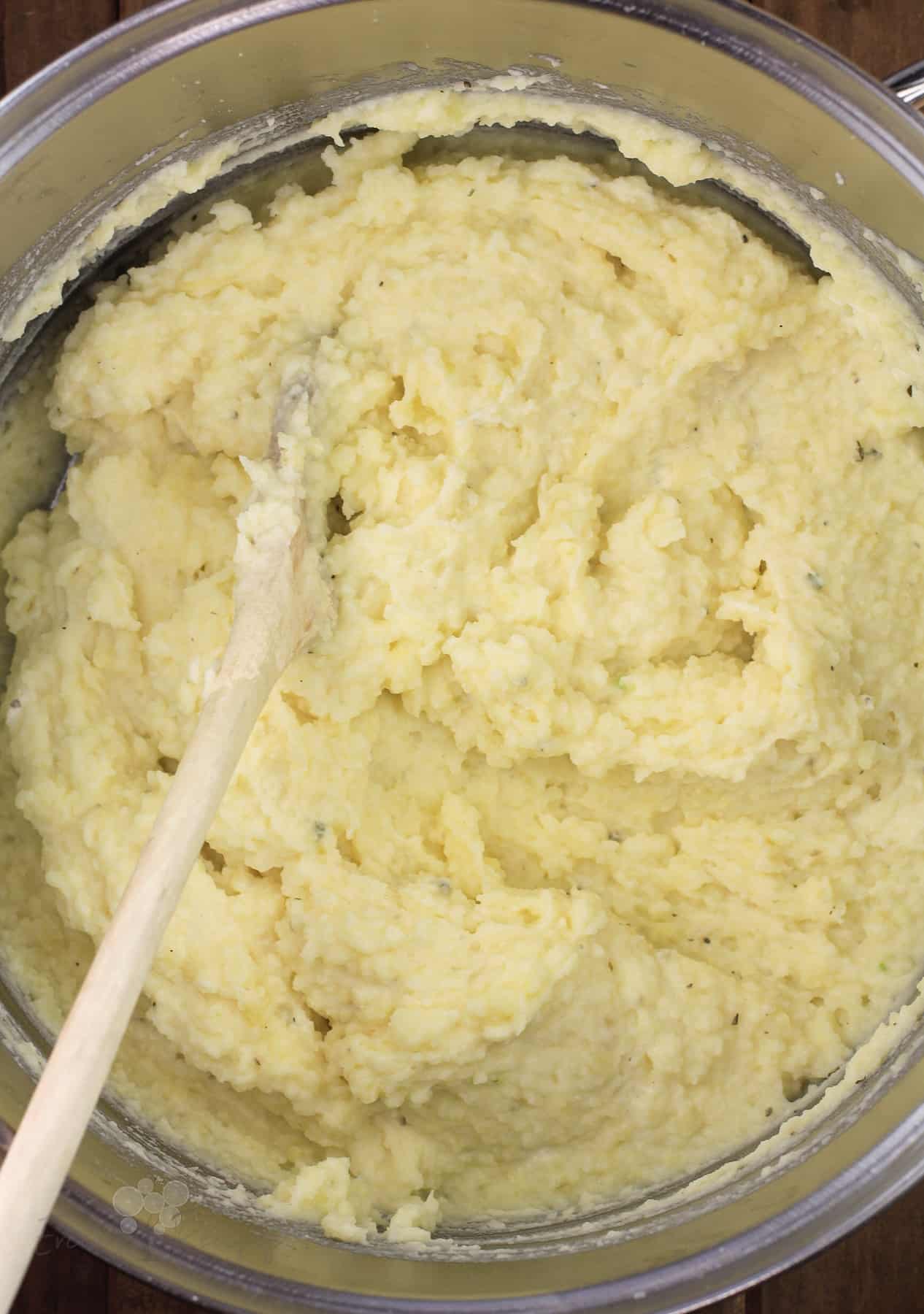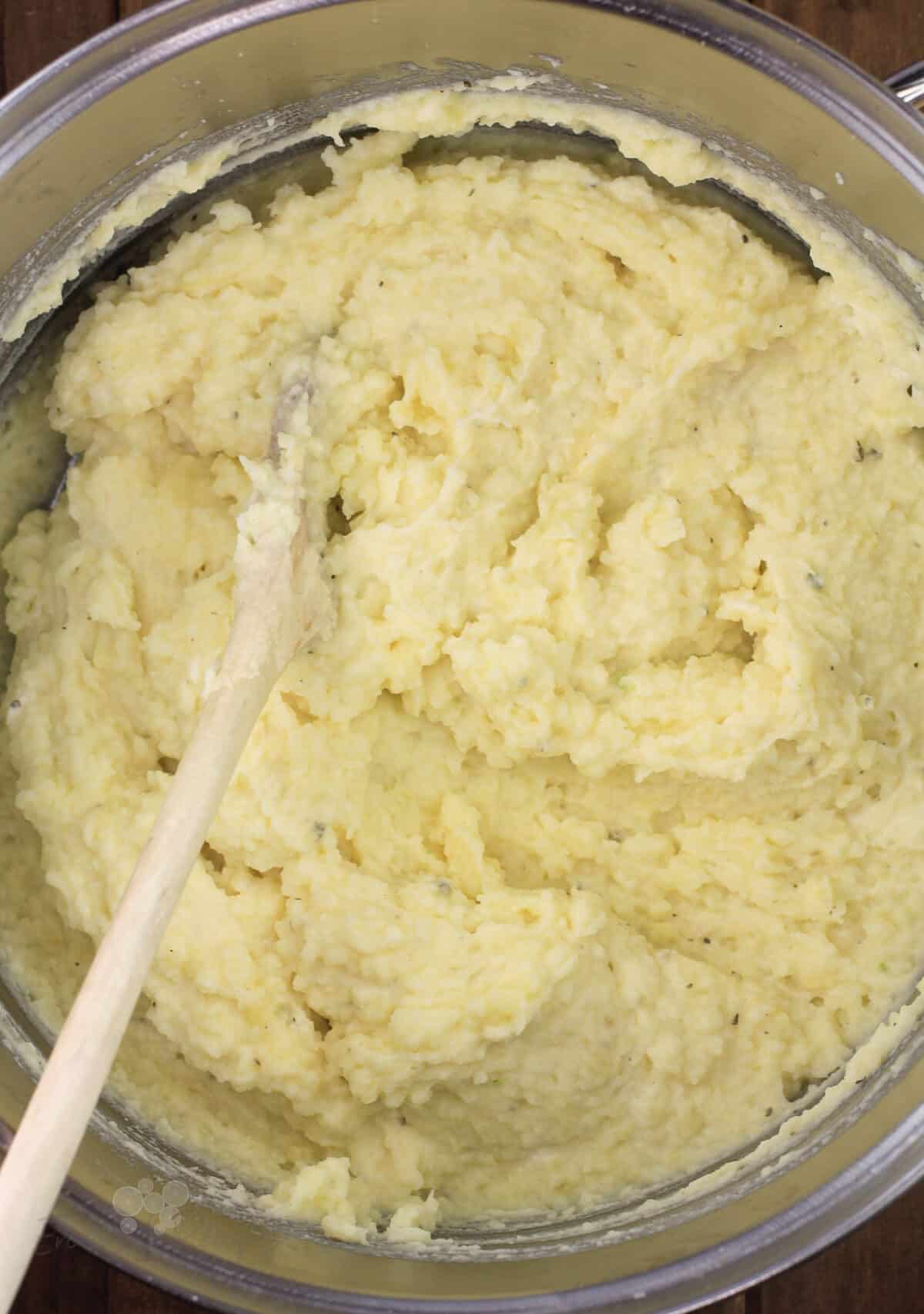 FAQs
Do I really have to peel the potatoes?
OK, Yukon gold potatoes have thin skins. So, if you are using a potato ricer (preferred!), then yes you should peel the skins before cooking them. If you are mashing, then you can feel totally free to leave the skins on and "smash" them after cooking.
Do these potatoes freeze well?
I am going to have to go with no on this one. Potatoes in general do not reheat, let alone, freeze well. I feel fortunate that we get a few hours staying power with this recipe. But freezing is just asking too much of potatoes.
Can other potatoes be used in place of Yukon golds?
Yes. Red potatoes or Russets will work for this recipe. If opting for Russet potatoes, then definitely remove the skins prior to cooking. If using red potatoes, then it is up to you if you want mashed or smashed potatoes whether you remove the skins or not.
What are alternatives for the Boursin cheese?
GASP!! ….ok, so yeah what if Boursin is not available to you… Then get Alouette garlic and herb cheese or Philadelphia Whipped cream cheese with chives. OR you can make your own Boursin with my Mock Boursin Cheese recipe.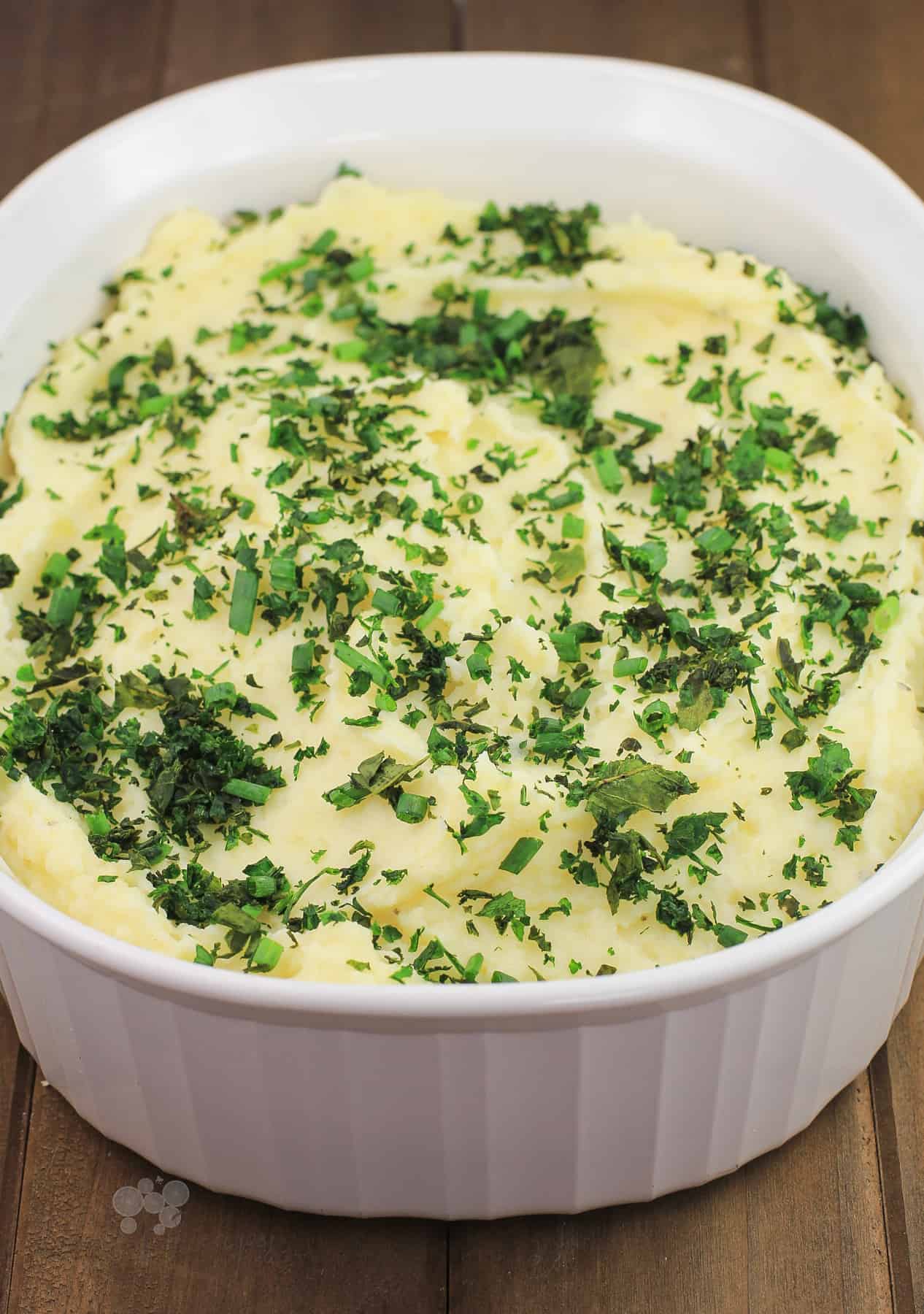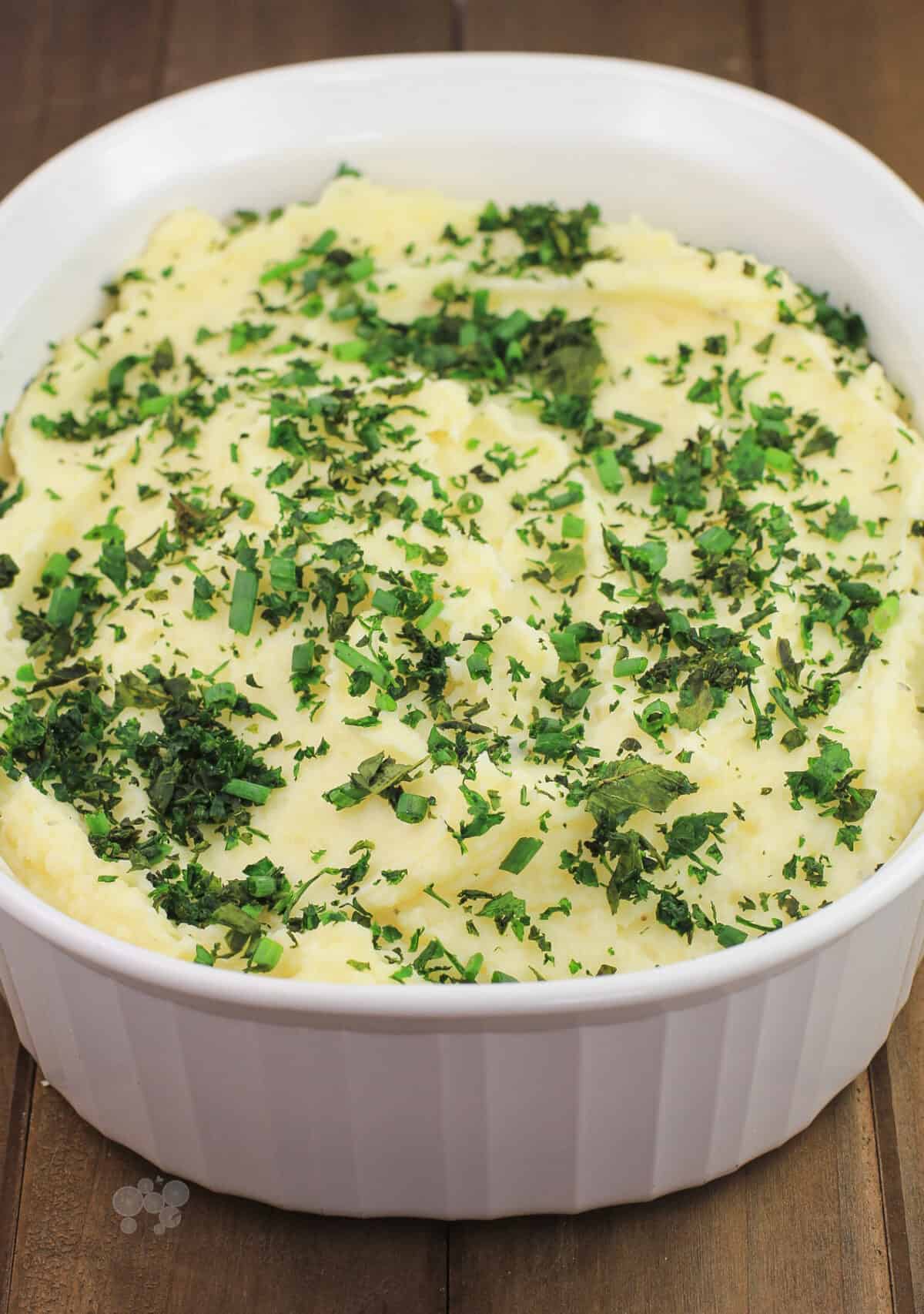 Last tips
Wait until serving to top these potatoes with the fresh herbs, otherwise the herbs will cook and lose their color.
Cover potatoes with cold water, bring to a simmer, and reduce heat so they stay at a simmer. If cooked at a full boil the potatoes may break apart. Using a potato ricer works best with chucks of potato.
Grocery stores in the US currently carry several "semi-dried" herbs in the produce section, such as basil and parsley, and I have started opting for them because they are close to fresh (and even more flavorful actually) but have a much longer life (and therefore, less waste). Store in the fridge.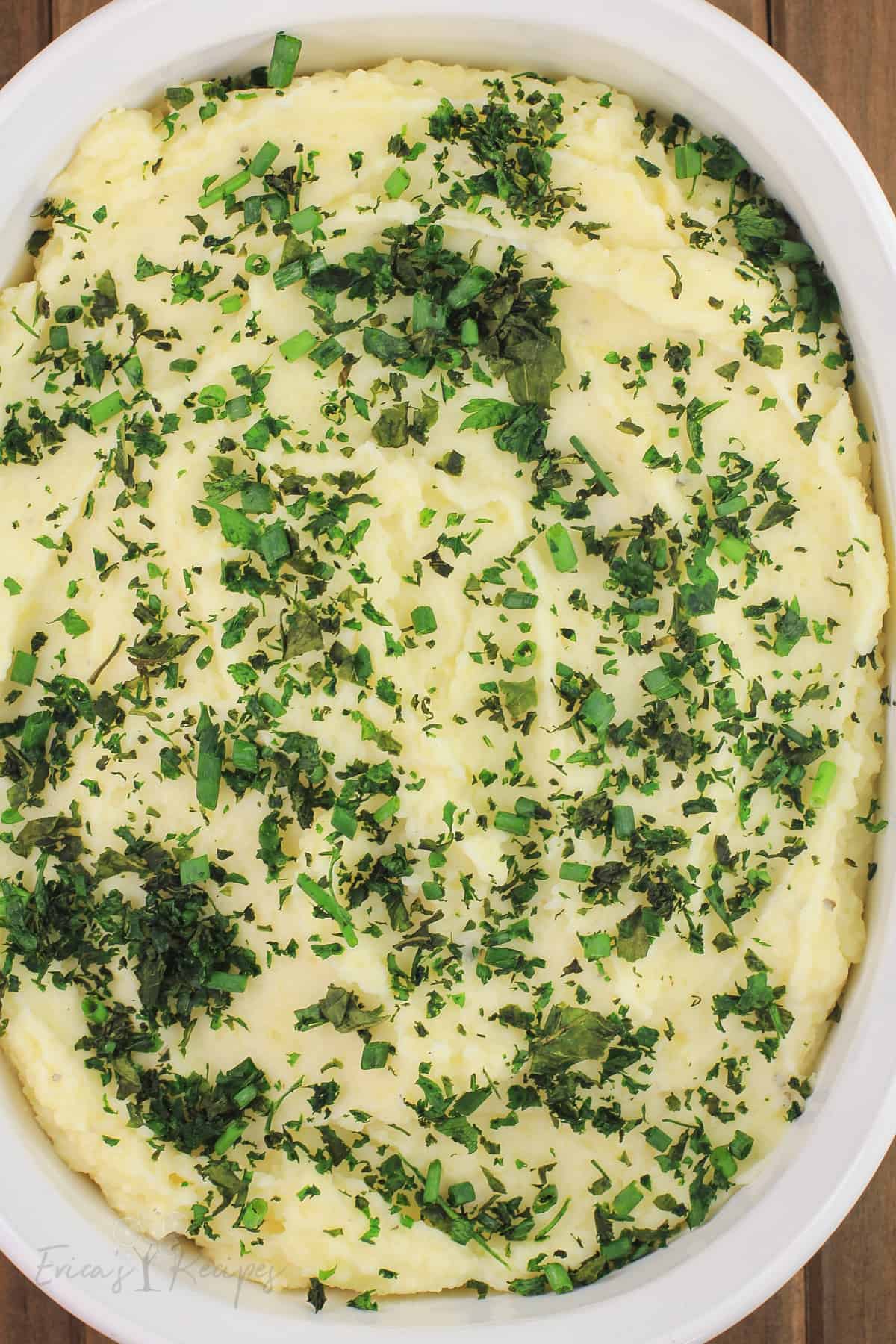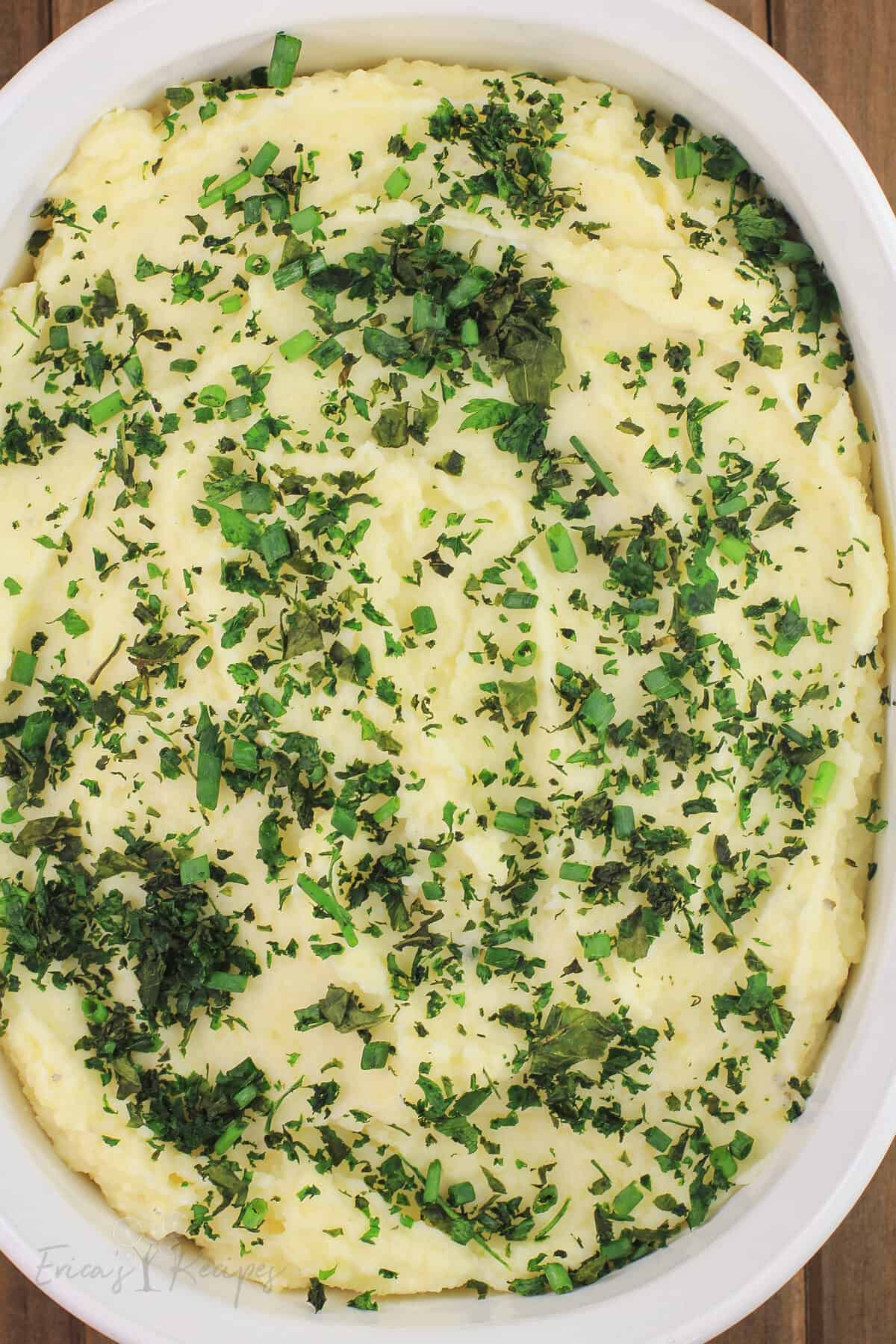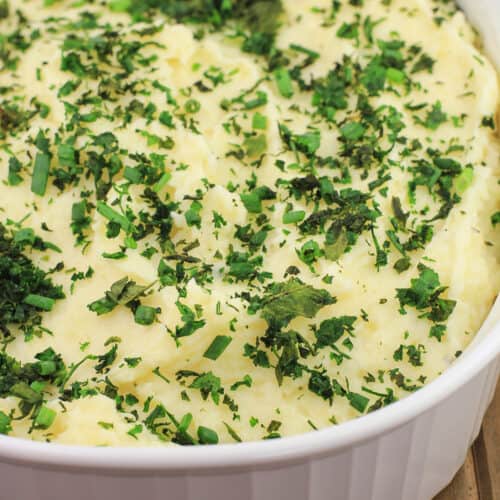 Boursin Mashed Potatoes
Boursin Mashed Potatoes have delicious garlic and herb flavor in the creamiest mashed potatoes ever. A perfect accompaniment for your main dish, Boursin potatoes can be made hours in advance and reheated to make dinner prep easier.
Ingredients
2

lbs

Yukon gold potatoes

peeled and cut into ~2-inch uniform pieces

1

Tbsp

unsalted butter

1

clove

garlic

minced

¼

cup

heavy cream

½

cup

milk

1

(5.2 oz) pkg

Boursin Garlic and Fine Herbs Gournay cheese

½

tsp

kosher salt

1

pinch

fresh cracked pepper

1

Tbsp

chopped Italian flat-leaf parsley

1

Tbsp

finely chopped fresh basil leaves

1

Tbsp

fresh chopped chives
Instructions
Put the potatoes in a pot and cover with cold water. Bring to a simmer on high heat.

Once potatoes are at a simmer, reduce heat to medium-high and simmer 10-15 minutes until just fork tender. Drain well.

While potatoes are cooking, melt the butter in a small saucepan over medium heat. Add the garlic and cook gently for 1 minute. Remove from the heat and set aside.

Pass the potatoes through a potato ricer back into the pot. Alternatively, put the potatoes back in the pot and mash with a potato masher.

To the potatoes, add the garlic-butter mixture, cream, milk, Boursin, salt, and pepper, and stir (allow time for the Boursin to melt in between stirs). Taste for seasoning.

If desired, transfer to a bake dish or small casserole.

Keep warm until ready to serve, or potatoes can be allowed to cool and reheated (either way, keep covered with foil).

Top with the herbs when ready to serve.
Nutrition
Calories:
421
kcal
(21%)
|
Carbohydrates:
43
g
(14%)
|
Protein:
9
g
(18%)
|
Fat:
25
g
(38%)
|
Saturated Fat:
16
g
(100%)
|
Monounsaturated Fat:
1
g
|
Cholesterol:
66
mg
(22%)
|
Sodium:
389
mg
(17%)
|
Potassium:
1018
mg
(29%)
|
Fiber:
5
g
(21%)
|
Sugar:
3
g
(3%)
Calorie count is purely an estimate calculated using an online application to serve as a guide and not to be taken as accurate nutritional information. Percent Daily Values are based on a 2,000 calorie diet.
Tried this recipe?
Leave a comment below and let me know!