Bacon and Boursin Macaroni and Cheese
Bacon and Boursin united in a creamy macaroni and cheese. Bacon and Boursin Macaroni and Cheese is the cheesy mac recipe dreams are made of. Cheesy, so savory and incredibly flavorful, this divine recipe is absolutely a must-try. Let's top off 2018 with this incredible recipe, shall we?
This post is not sponsored in any way. I just really like Boursin cheese.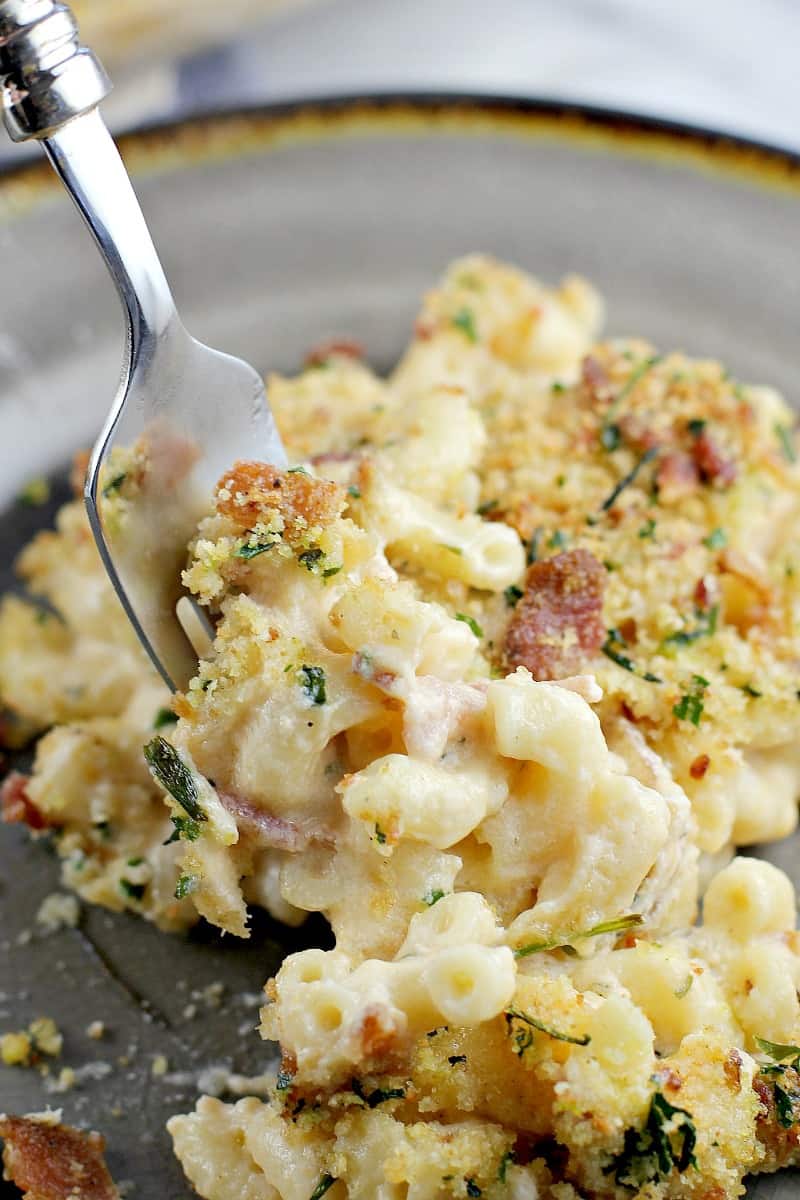 This new recipe is precisely and often what happens when I am home with a sick child having website/hosting/upgrades/blogger blogger crap crap issues. COMFORT FOOD. In the form of macaroni and cheese.
Because this just kinda makes it all better, yuh know?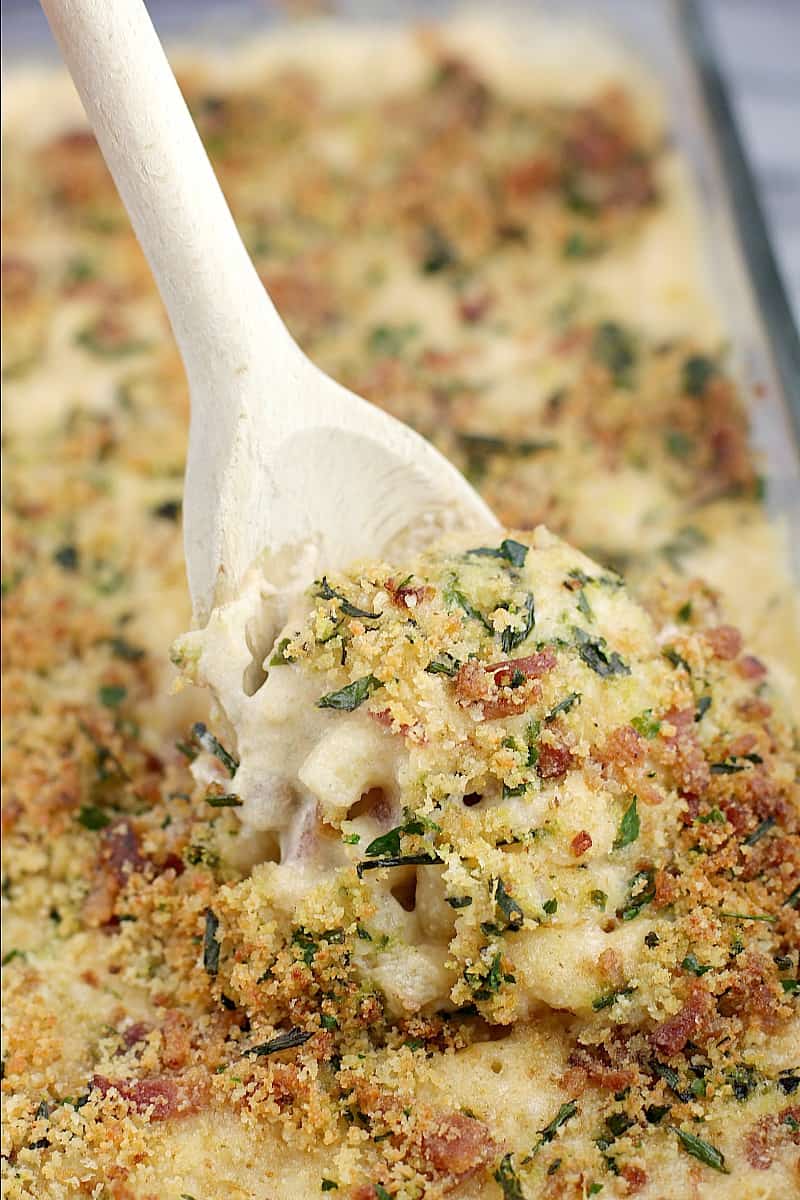 Bacon and Boursin Macaroni and Cheese
There is just something so satisfying and comforting about macaroni and cheese, right? THAT we can take as gospel and not discuss further because we are all in agreement, yes? Because that horse has been beat, and we all know it.

So. Let's discuss Boursin instead…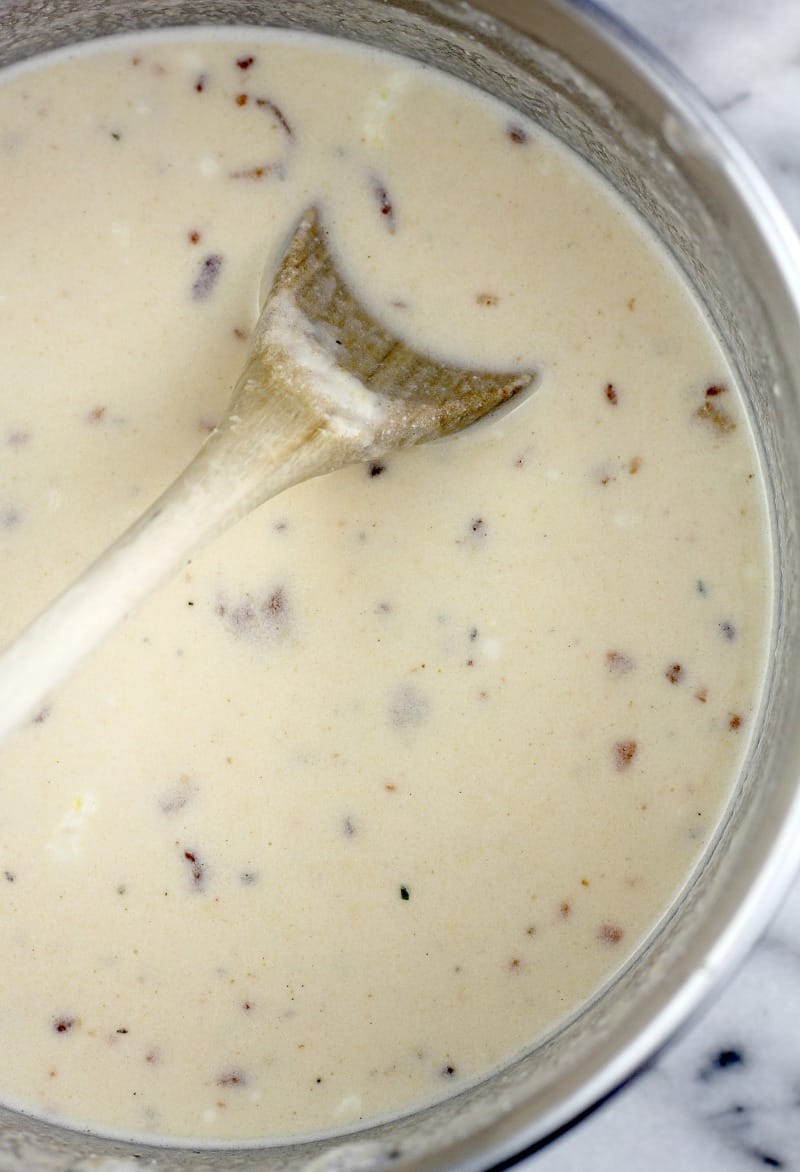 What even is Boursin Gournay Cheese with Garlic and Fine Herbs?
Boursin is a brand of Gournay cheese.
Gournay is a creamy but also a little crumbly soft cheese, with a texture similar to a mix of butter and cream cheese.
Boursin was originally created in 1957 by François Boursin, a cheese maker from Normandy, France.
Boursin is BUTTERY and melts wonderfully to make all kinds of sauces and dips.
In my opinion (and pretty much the rest of the world agrees with me), Boursin is far superior to anything else that tries to pull off what Boursin does.
You can find Boursin in the specialty food section of most grocery stores in America.
If your grocer doesn't have Boursin, you can use my Mock Boursin recipe.
If you find my love of Boursin over-the-top, then good! You are paying attention.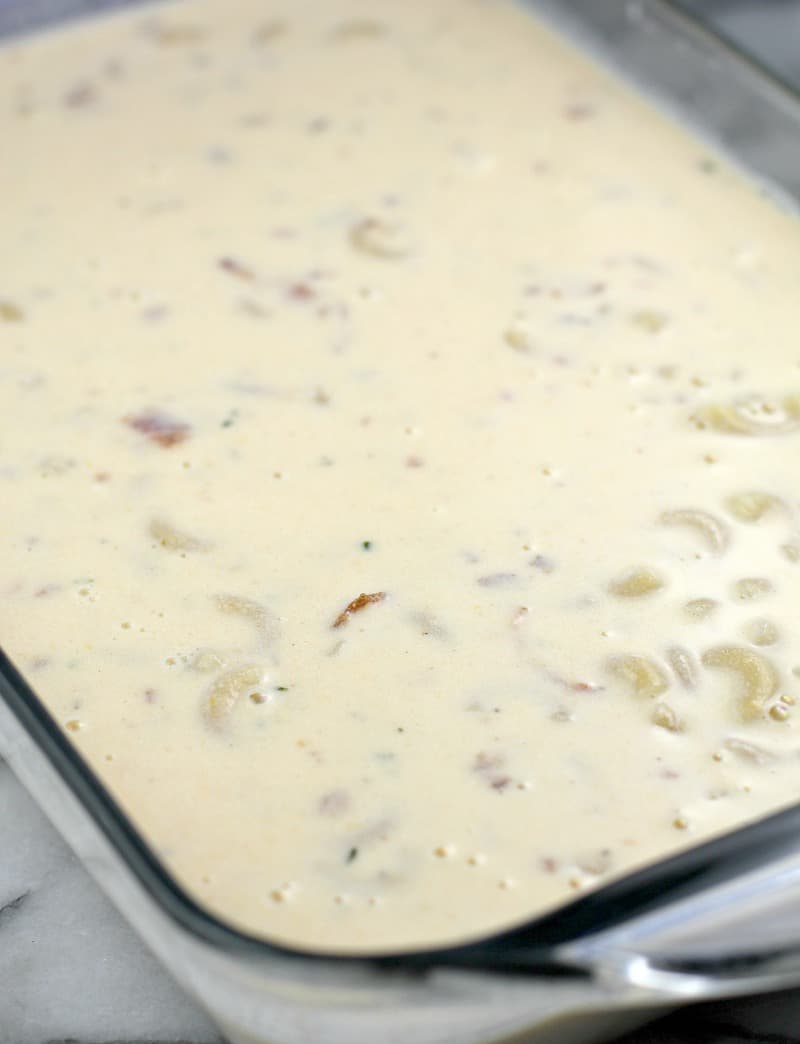 So, yes clearly I love Boursin cheese. I can't even remember when I first had it – or discovered it – or whatever. I just know that I have Always Loved Boursin. It melts sooooo well (clearly, it is half made of butter), and the flavor is just perfect.
Obviously, it was time I used Boursin in macaroni and cheese.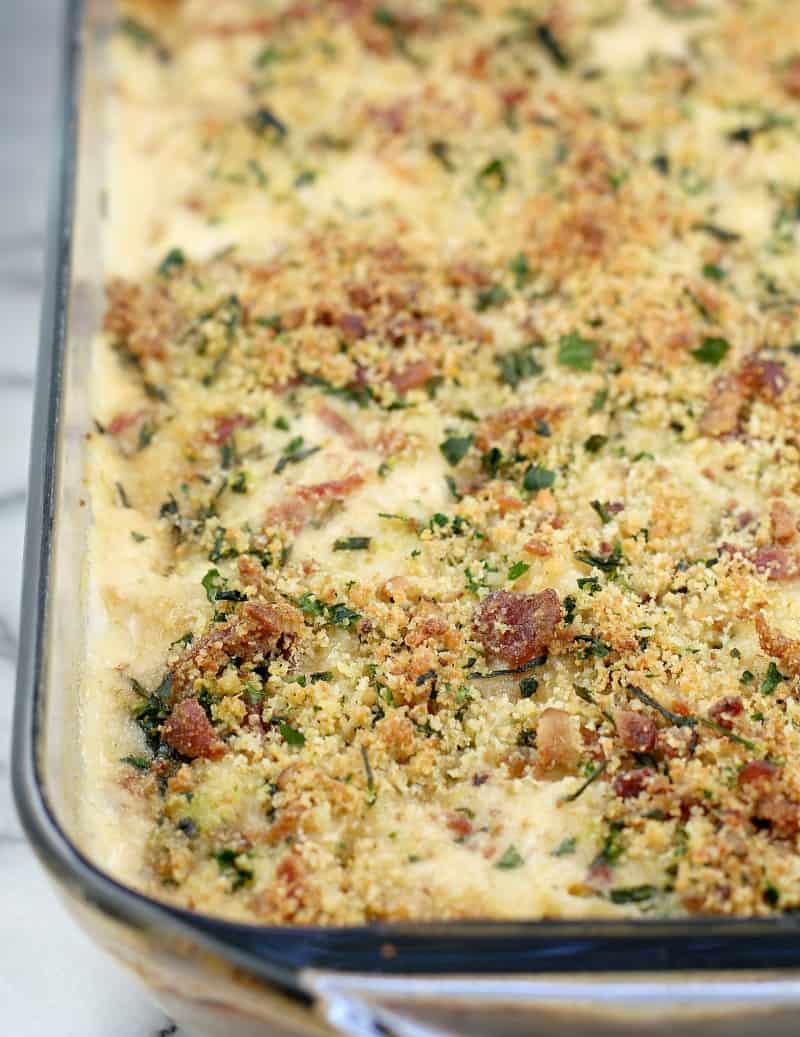 So, THIS recipe is so straightforward I think it's funny. Because literally all I did compared to my regular macaroni and cheese is sub out half the cheddar for the Boursin and make a Boursin and cheddar cheese sauce.
And I added wine. And bacon. That is pretty much it.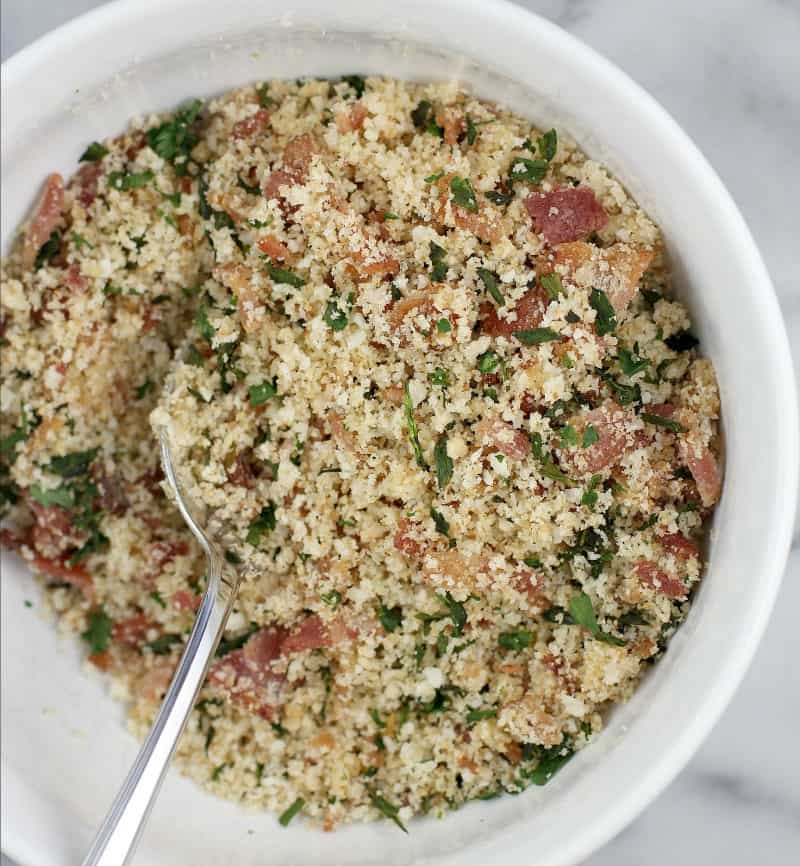 Other than that this is a pretty typical macaroni and cheese recipe. On the one hand, super creative. On the other hand, kinda not. It's all good.
OH! Except the bacon-breadcrumb-parmesan topping. That is pretty freaking epic good right there too, let me tell you. LOVE this crunchy topping.
The key to the topping is not just the bacon, but adding some oil to the breadcrumbs AND the parmesan cheese – this is a CRUNCHY perfect topping for macaroni and cheese.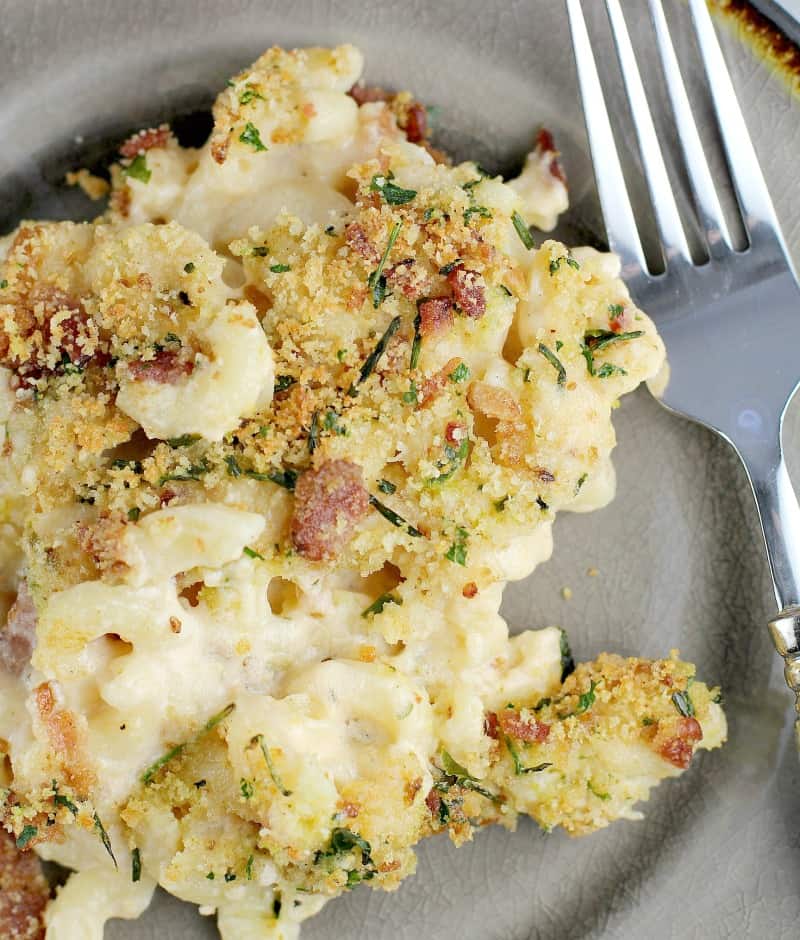 Steps to making Bacon and Boursin Macaroni and Cheese
The very easy steps to making this delicious dinner are thusly:
Cook the bacon.
Cook the macaroni pasta.
While the pasta is cooking, make the Boursin cheese sauce.
Make the crunchy bacon topping.
Put all in a casserole and bake.
How easy is that?! Pretty freaking easy, as most mac and cheese recipes are.
Make bechamel > add cheese > add pasta > add crunchy topping > cook. This is the way of macaroni and cheese.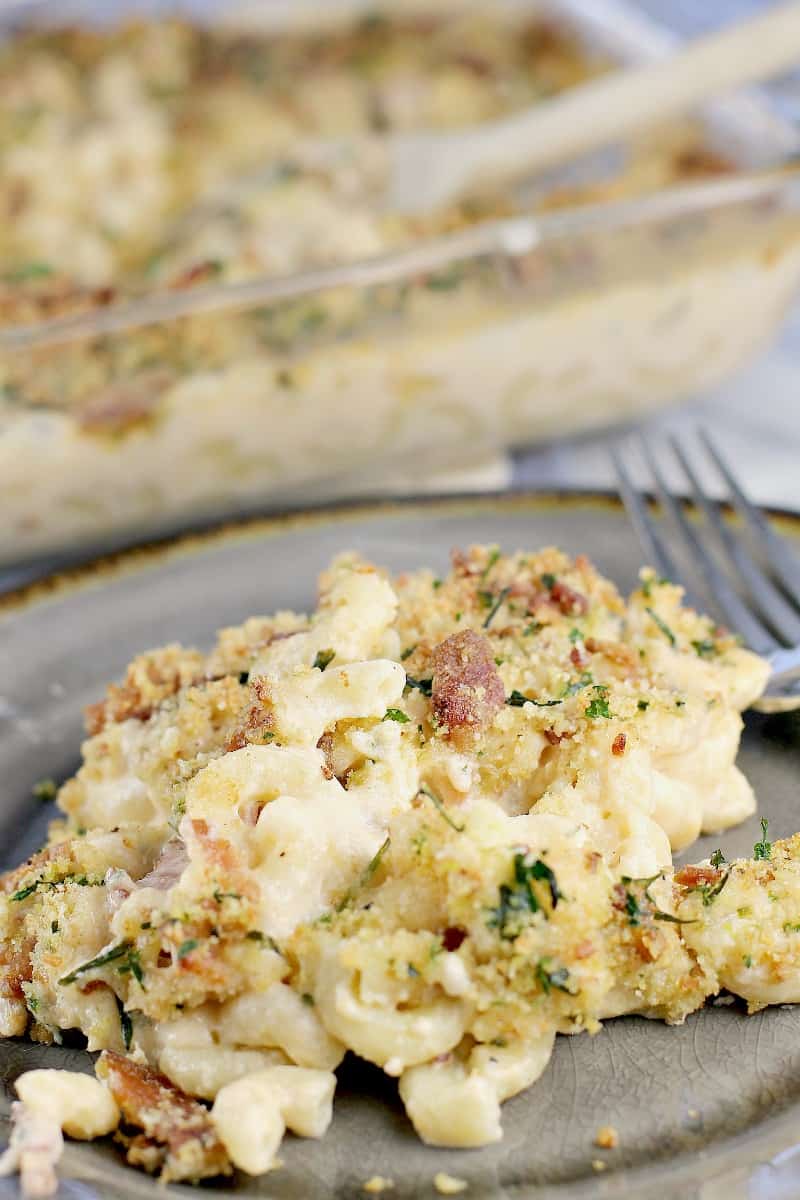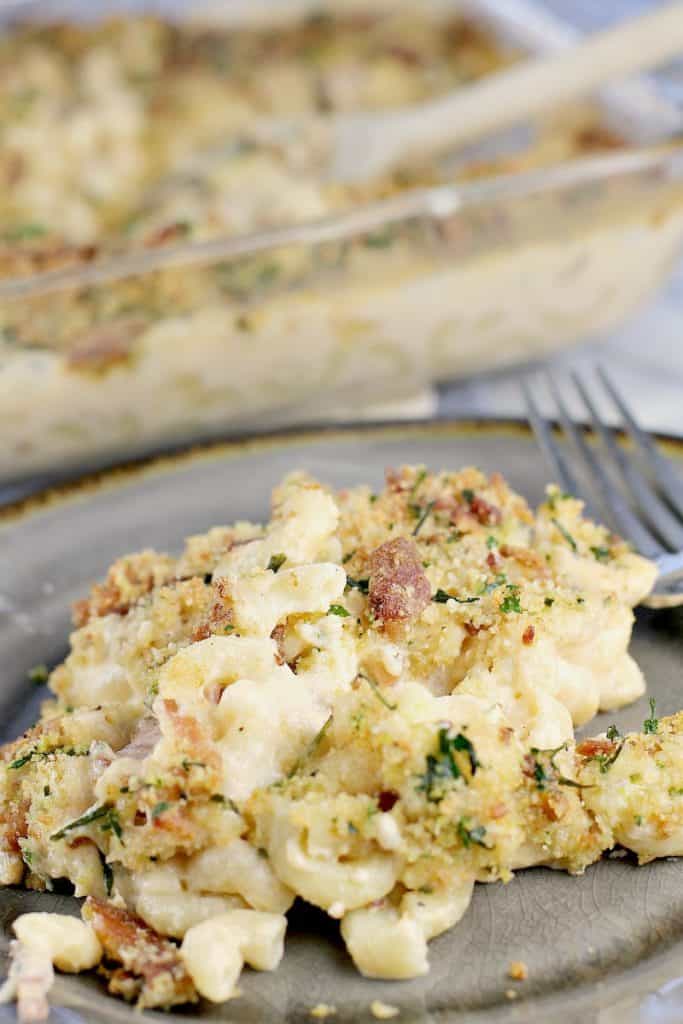 Here are more recipe ideas using Boursin cheese
So that's it kids! Another macaroni and cheese recipe, and this one is truly special. Using bacon with one of my ALL-time favorite products, BOURSIN garlic and herb cheese, this delicious dinner dish or side dish is simply fantastic.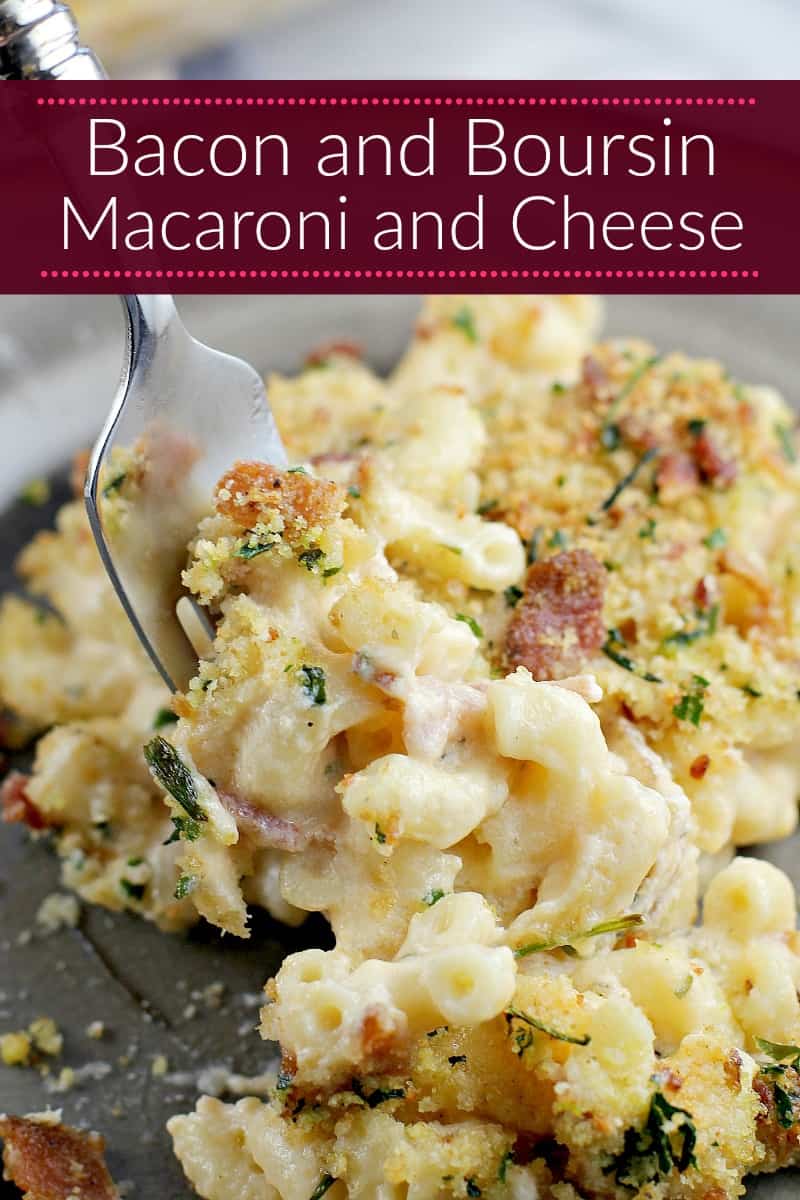 If this recipe looks good, check out my Basic Creamy Macaroni and Cheese recipe as the essential guide for all things Mac and Cheese.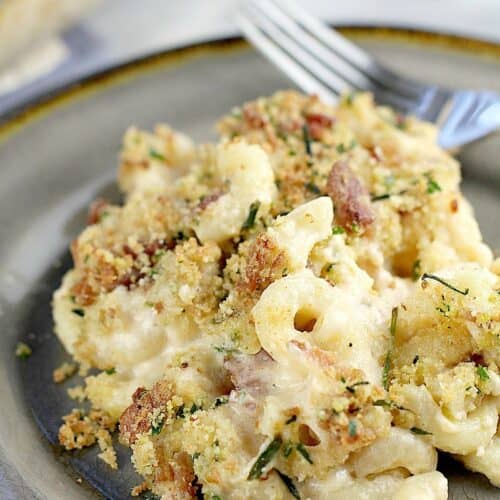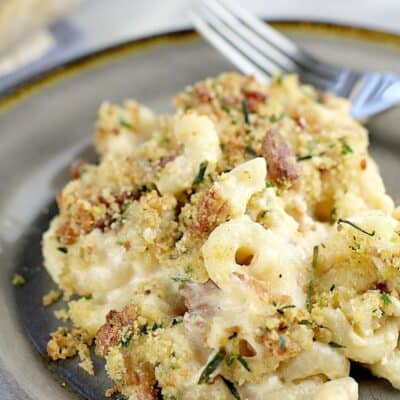 Bacon and Boursin Macaroni and Cheese
Cheesy, so savory and incredibly flavorful, this is the cheesy mac recipe dreams are made of.
Ingredients
6

slices

bacon

divided

8

oz

macaroni elbows pasta

uncooked

2

Tbsp

unsalted butter

2

Tbsp

all-purpose flour

2

cups

milk

1

cup

cheddar

1

5.2 oz pkg Garlic & Herb Boursin Gournay cheese

1

tsp

kosher salt

1

tsp

Dijon mustard

¼

cup

dry white wine

¼

cup

plain breadcrumbs

¼

cup

freshly grated parmesan cheese

1

Tbsp

minced fresh herbs

such as Italian parsley, chives, and basil

1

Tbsp

extra virgin olive oil or melted butter
Instructions
Heat oven to 350°F. Bring a large pot of water to a boil.

Meanwhile, cook the bacon until cooked but not yet crisp. Drain, cool, and chop the bacon finely.

Cook the pasta to al dente according to package directions.

While pasta is cooking, make the Boursin cheese sauce. Heat the 2 tablespoons butter and flour in a medium sauce pan, whisking until smooth. Simmer 1 minute.

Slowly whisk in the milk until smooth. Heat over medium heat, stirring constantly, until the sauce just starts to steam.

Shut off the heat and add the cheeses, salt, and mustard, stirring until smooth. Add the wine and half of the bacon.

Once the macaroni is cooked, drain and add to the Boursin cheese sauce. Pour all into a 13×9 baking dish.

In a small bowl, combine the remaining bacon with the breadcrumbs, parmesan, and olive oil. Layer as a topping over the macaroni and cheese.

Bake the casserole at 350°F for 15 minutes or until very bubbly and golden on top. Yields 6 servings as a main dish; 8 as a side.
Notes
The wine is optional, I just love the flavor it brings. The alcohol cooks off, but if you want to leave it out simply substitute milk.
Nutrition
Calories:
512
kcal
(26%)
|
Carbohydrates:
36
g
(12%)
|
Protein:
22
g
(44%)
|
Fat:
31
g
(48%)
|
Saturated Fat:
17
g
(106%)
|
Polyunsaturated Fat:
246
g
|
Monounsaturated Fat:
7
g
|
Cholesterol:
73
mg
(24%)
|
Sodium:
956
mg
(42%)
|
Potassium:
234
mg
(7%)
|
Fiber:
2
g
(8%)
|
Sugar:
6
g
(7%)
Calorie count is purely an estimate calculated using an online application to serve as a guide and not to be taken as accurate nutritional information. Percent Daily Values are based on a 2,000 calorie diet.
Tried this recipe?
Leave a comment below and let me know!