Bacon and Boursin Stuffed Tomatoes
These Bacon and Boursin Stuffed Tomatoes are super pretty and so crazy yummy! A perfect party bite for the holidays.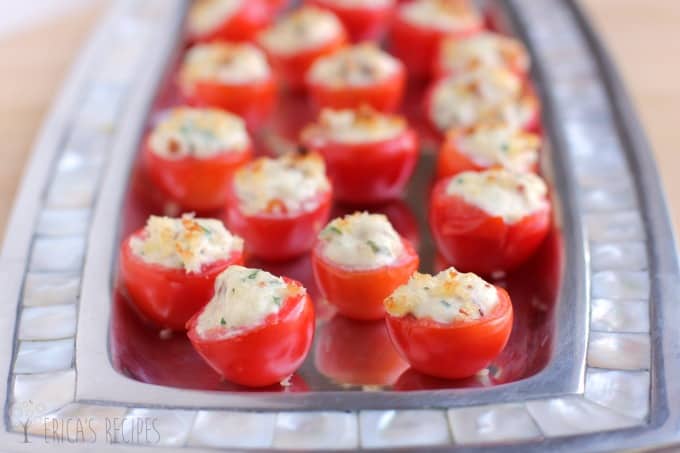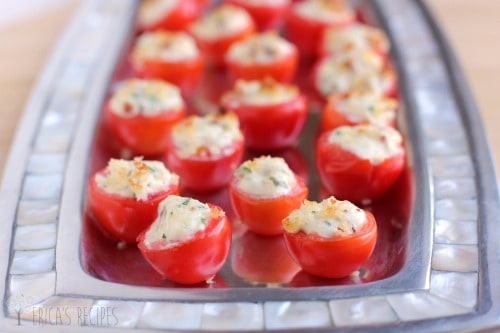 Can you bee-leeeve we are well into November?! I can't believe I'm sitting here working on my Christmas list. Holy time flying right by… I could list all the things we've had going on lately, but that would be boring – I am sure you get it. Cuz you are super busy too right? We are all just super crazy ridiculously busy. Pfffth. …When I need to take a break from the world, I do that by spending time in my kitchen just making stuff up. Last Sunday was one of those days, after an early morning 10K race with my daughter (VERY early. Cuz I forgot to set the clock back. The daughter was not pleased). …When I have a "food day" where I just stay in my kitchen, I am soooo happy. Ridiculously full, but happy. And the recipes get super fun like with my Spinach and Cheese Pretzel Balls and Salmon Dijon Purses. And these new little bites of Boursin love.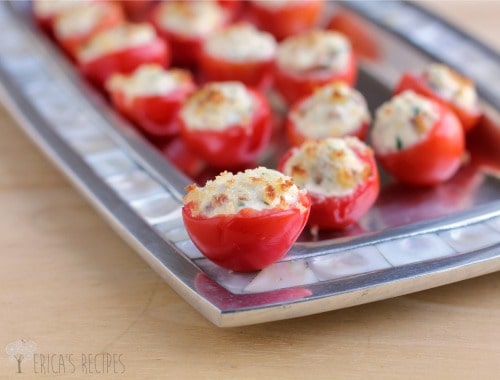 So we've got the holidays ahead – YAY more busy-ness! …I'm kidding, kinda – I do enjoy the holidays. And one good thing about the holidays are the parties right? I love holiday parties – even the boring work ones. I love spreads with festive foods, over-cooked turkeys, and four kinds of mac 'n cheese. I honestly do! So in that spirit, I give you these little stuffed tomatoes – so you too can jazz up your boring work party :).
…besides, there's bacon.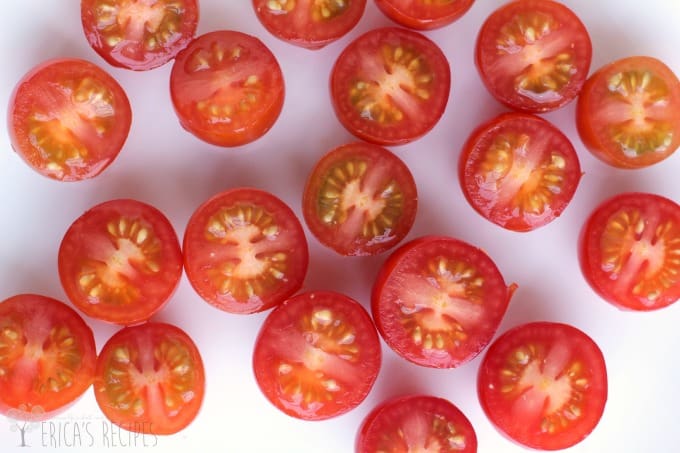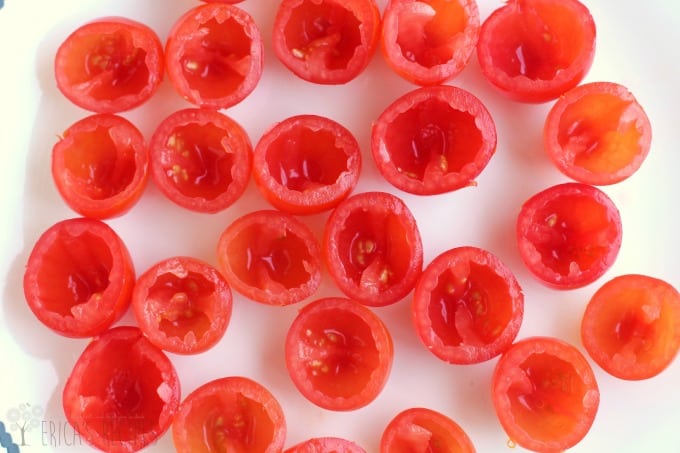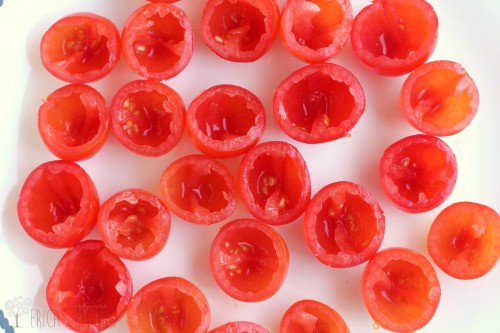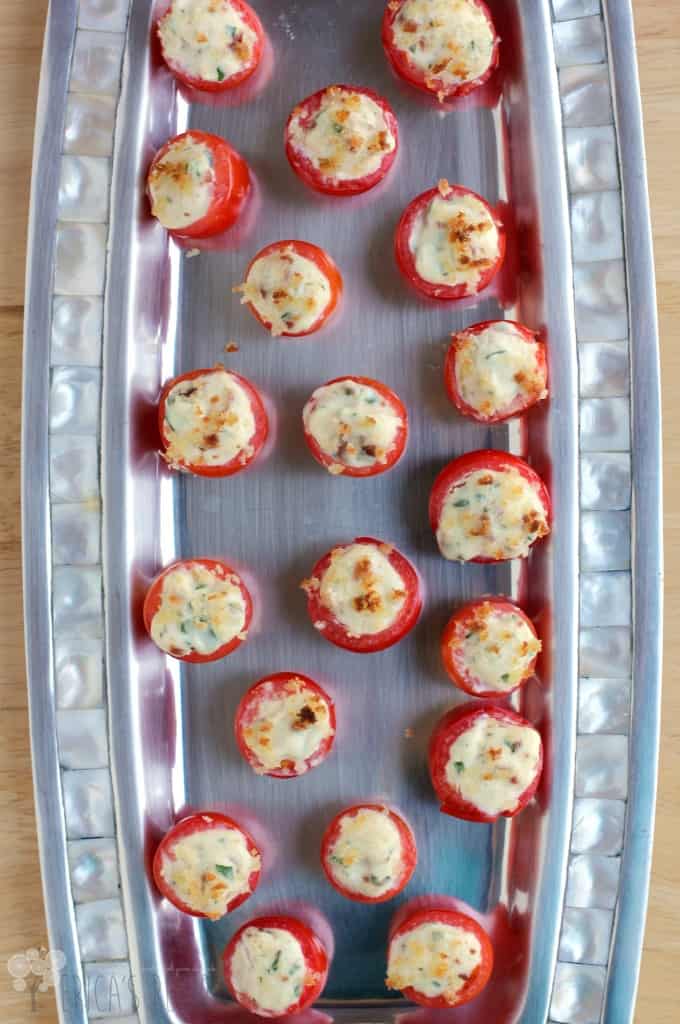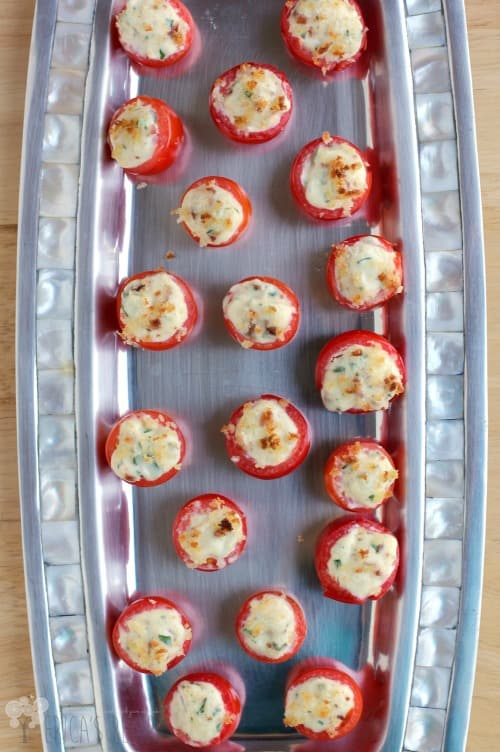 Also check out another holiday favorite, the Best Stuffing Ever.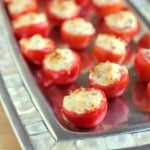 Bacon and Boursin Stuffed Tomatoes
Ingredients
2

pints

cherry tomatoes

3

strips bacon

cooked and finely chopped

1

5.2 oz pkg Boursin Garlic and Fine Herbs cheese

½

c

light mayonnaise

I use olive oil-based mayo

1

t

Dijon mustard

2

t

Italian flat-leaf parsley

minced

pinch

kosher salt

2

T

panko

1

T

Parmigiano-Reggiano cheese
Instructions
Using a serrated knife, cut the tops off the cherry tomatoes. Use a melon baller to scoop out the flesh and seeds. Place the tomatoes in a rimmed baked sheet. Use the sides of the pan to stabilize any tomatoes that need a little help standing upright. Alternatively, you can slice off a very thin layer off the bottoms to make a little flat area to stabilize the tomatoes so they don't roll all around.

Turn on the oven broiler.

In a bowl, combine the bacon, Boursin, mayonnaise, Dijon, parsley, and salt. Spoon into a ziploc bag, snip a corner, and pipe the bacon-Boursin mixture into the tomatoes.

In a small bowl, combine the panko breadcrumbs, parmesan cheese, and olive oil. Sprinkle over the tops of the filled tomatoes. Broil 2 minutes or just until the crumb topping browns lightly. Yield: approximately 40 appetizers.
Calorie count is purely an estimate calculated using an online application to serve as a guide and not to be taken as accurate nutritional information. Percent Daily Values are based on a 2,000 calorie diet.
Tried this recipe?
Leave a comment below and let me know!