Mushroom, broccoli, and spinach, mixed with cheese, rolled in pasta, and baked. This vegetarian Mushroom, Broccoli, and Spinach Lasagna Roll-ups pasta dinner is not heavy and not greasy. Just delicious comfort food, under a blanket of bechamel.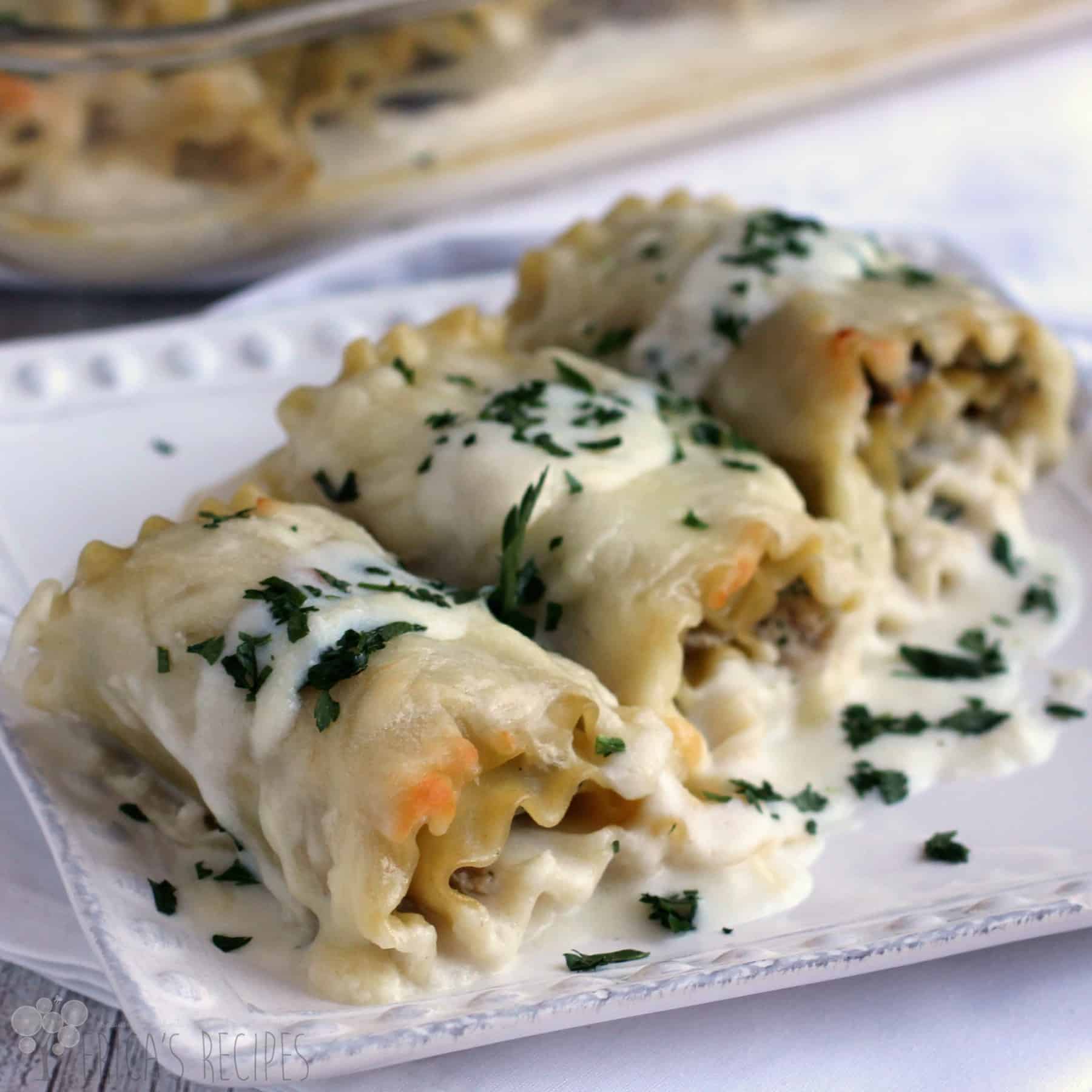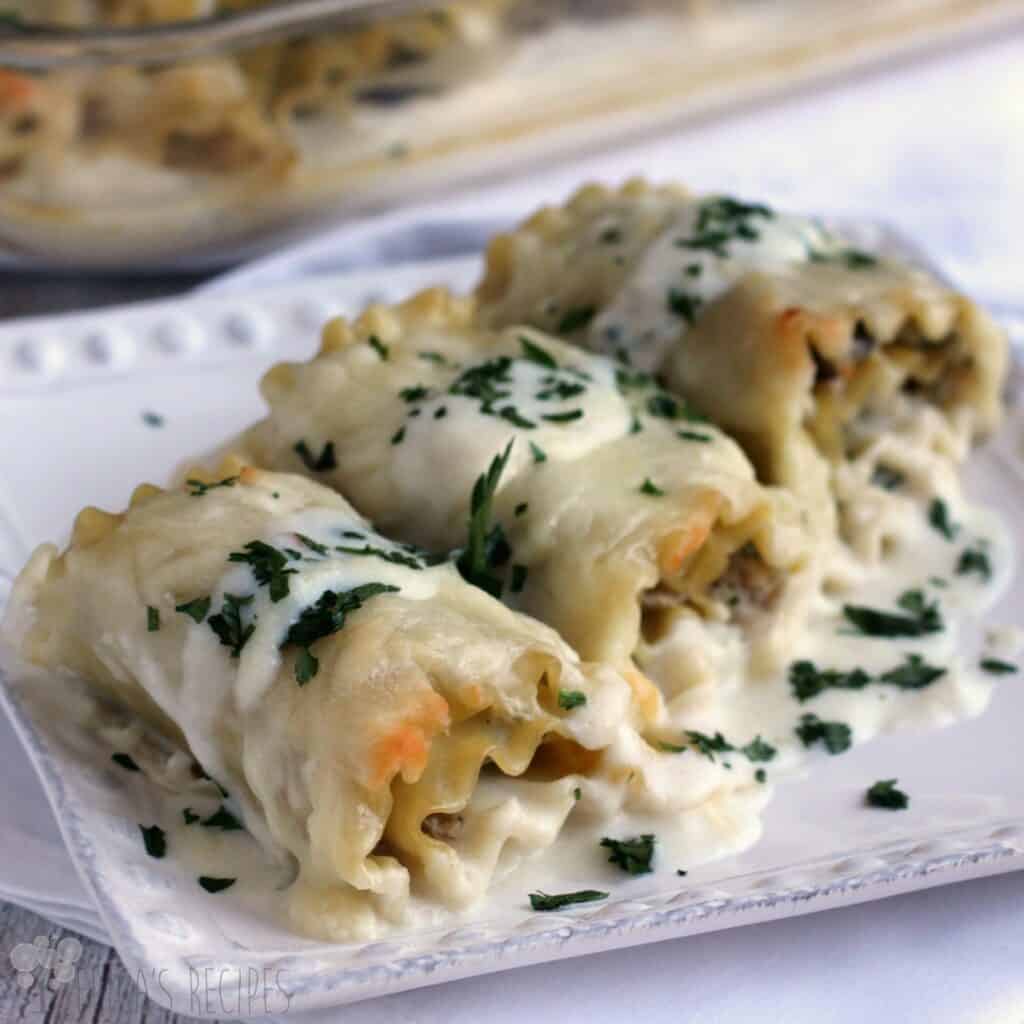 Mushroom, Broccoli, and Spinach Lasagna Roll-ups
Here is a simple little dinner with cheesy, veggie-filled pasta baked in creamy bechamel. Again, not too heavy – just a nice meal that reheats well too!
In the interest of full disclosure, I have made this vegetarian Mushroom, Broccoli, and Spinach Lasagna Roll-ups dish twice. Once with mushrooms and once without. This recipe made its debut on my kitchen table without the mushrooms ….and the recipe needed a little love as they often doooo first time out.
So, a couple adjustments later, including adding some juicy shrooms, and we had what you see before you.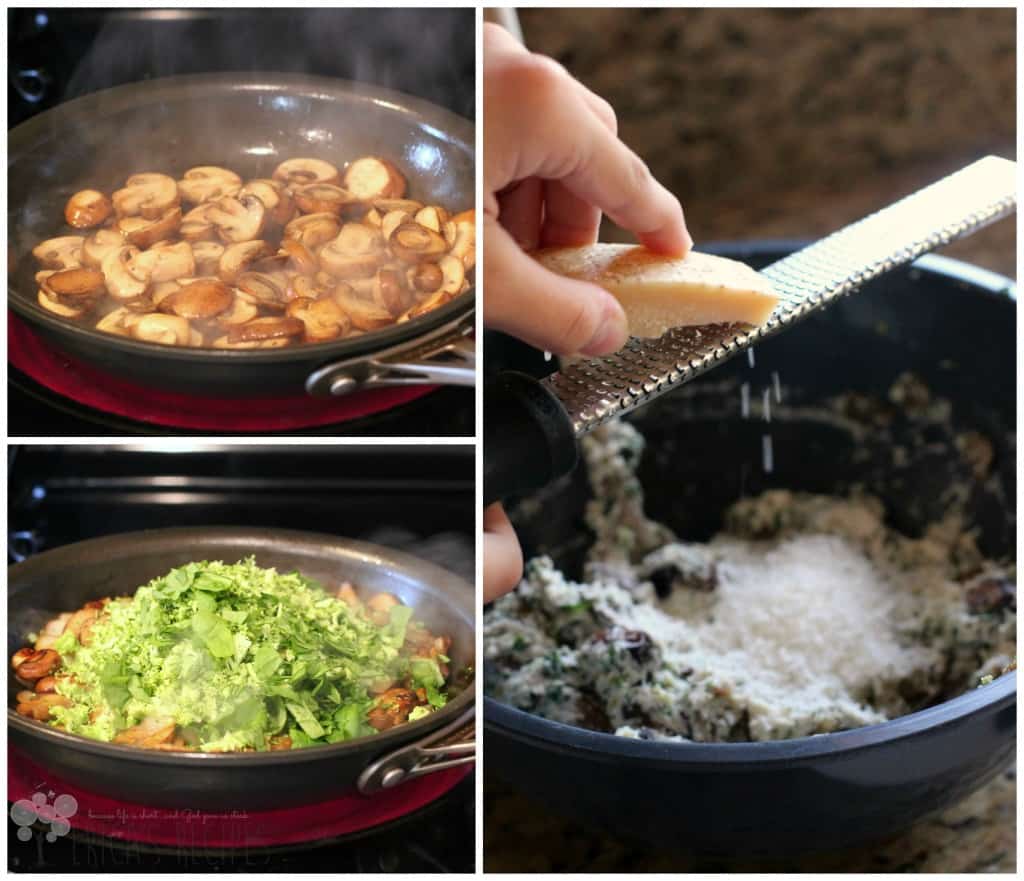 We were sitting at the dinner table, I was inhaling my dinner very happy with it and pleased with myself, and my daughter suddenly says "you know, I liked this better without the mushrooms. I think they don't contribute flavor and just add a weird texture". …sigh.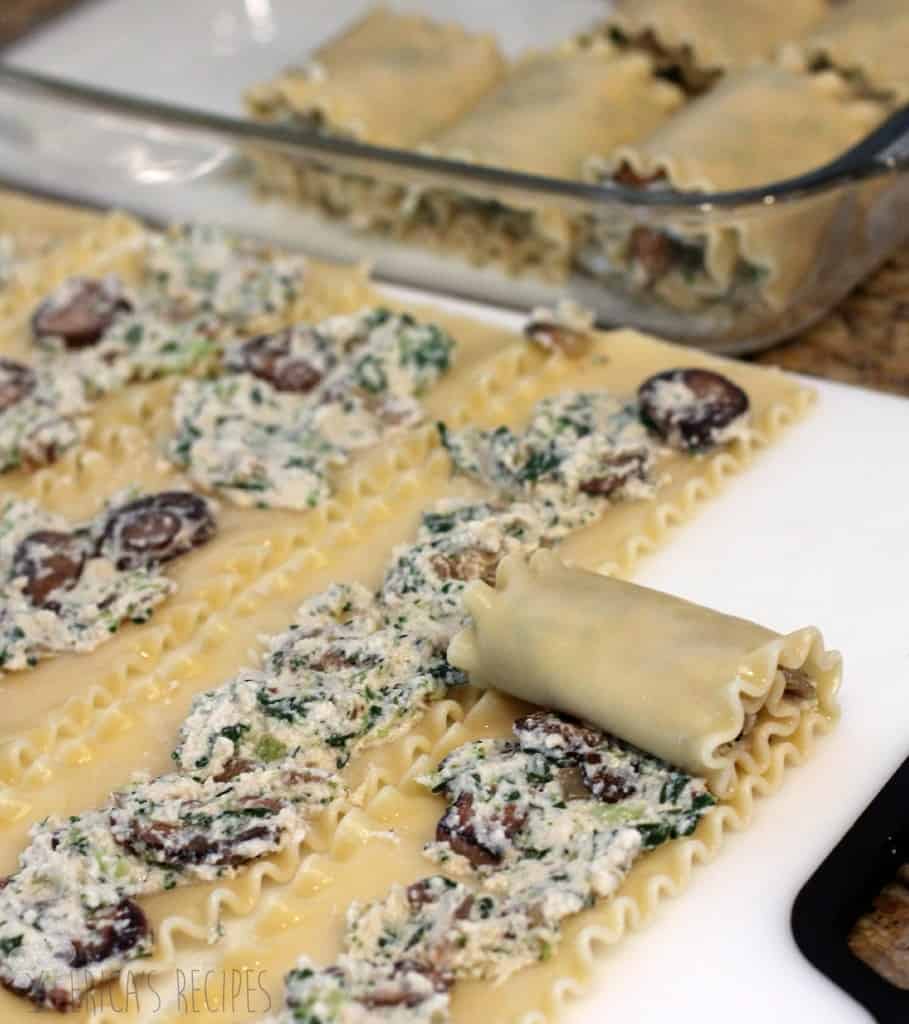 Although that is good commentary for a 12 year old, I disagree completely. But mushrooms are one of those ingredients some people (such as my Mom) stand firmly, forever opposed.
So, if you don't like mushrooms, just leave them out – this will still be a delicious dinner for ya (just cut the olive oil to 1 tablespoon and proceed with the recipe as written). If you like mushrooms, then absolutely, definitely keep them in.

How to make Mushroom, Broccoli, and Spinach Lasagna Roll-ups:
Brown the mushrooms.
Add the remaining veggies to the mushrooms and cook.
Combine the veggies with some cheeses and herbs.
Make a bechamel sauce.
Cook the pasta noodles.
Assemble the roll-ups.
Bake!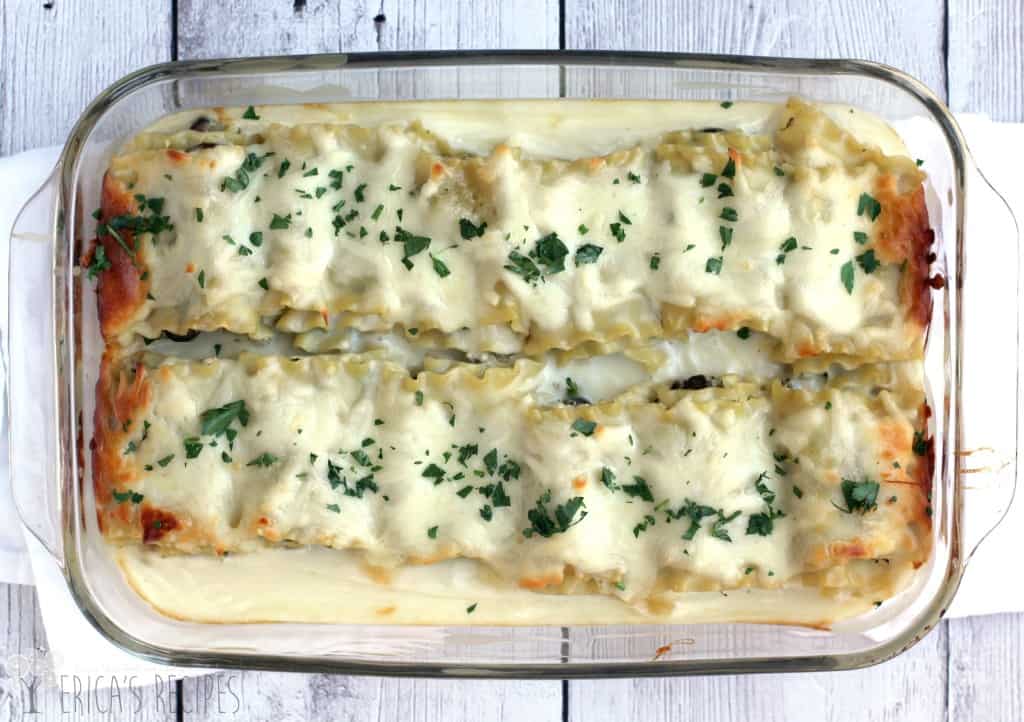 See? Pretty straightforward. That's because this recipe is basically a vegetarian lasagna recipe with white sauce, but instead of layering the components, we are making fun pasta roll-ups. So just keep things organized and appoach step-wise, and you can knock it out in no time. Family-friendly, kid friendly (with or without mushrooms).
So that's it folks. A lovely, delicious vegetarian recipe with all the loving comfort of lasagna. In fun pasta rolls!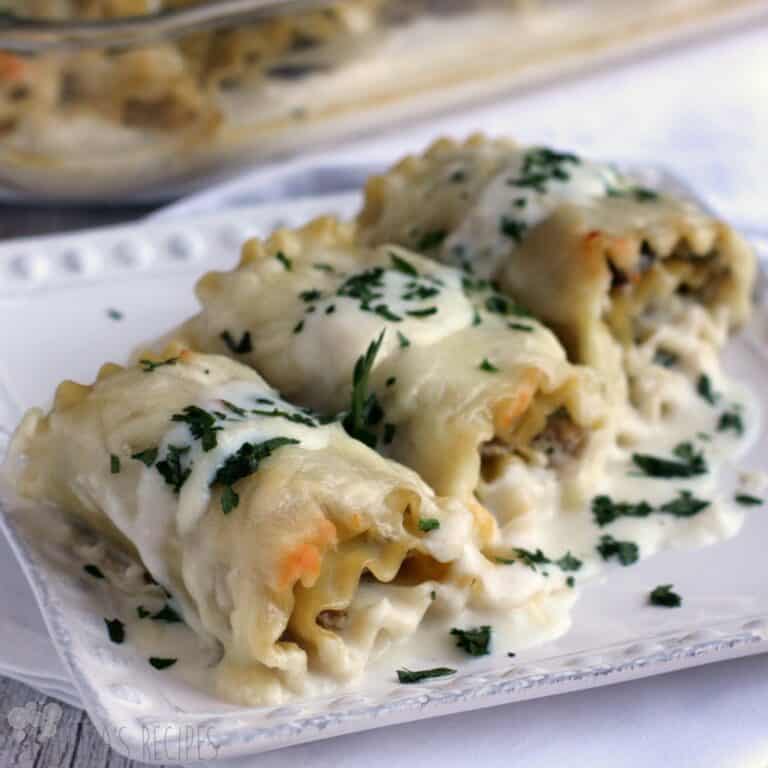 Mushroom, Broccoli, and Spinach Lasagna Roll-ups
Mushroom, broccoli, and spinach, mixed with cheese, rolled in pasta, and baked.
Ingredients
12

lasagna noodles

2

Tbs

extra virgin olive oil

8

oz

white button or baby bella mushrooms

sliced

1

small onion

diced

1

clove

garlic

minced

1

cup

finely chopped broccoli

1

cup

chopped fresh baby spinach leaves

1

Tbs

fresh thyme leaves

1/4

cup

fresh parsley

1/2

cup

freshly grated Parmigiana-Reggiano cheese

divided

1

15 oz tub part-skim ricotta cheese

kosher salt

fresh cracked pepper

2

Tbs

unsalted butter

2

Tbs

all-purpose flour

2

cup

milk

1

cup

shredded part-skim mozzarella
Instructions
Heat oven to 350F. Bring a large pot of water to a boil.

In a large, nonstick pan, heat the olive oil. Add the mushrooms and saute until mushrooms are well browned. Add the onion and garlic and saute until onion turns translucent. Add the broccoli and spinach and cook just until broccoli is fragrant and the spinach is wilted.

In a medium mixing bowl, combine the mushroom-broccoli-spinach mixture with the thyme, parsley, 1/4 cup parmesan, and ricotta. Season well with salt and pepper (~1/2 t salt, good pinch pepper) to taste. Set aside.

In a medium saucepan, heat the butter and flour, whisking until smooth, over medium-high heat. Cook another minute to cook the flour. Slowly whisk in the milk and cook, stirring constantly, 7-8 minutes until thickened. Add the remaining 1/4 cup parmesan and season with a pinch salt. Set aside.

Cook the lasagna noodles to al dente in heavily salted water according to package directions. Drain and rinse with cold water so pasta is cool enough to handle.

Ladle ~1/2 c bechamel in a 13x9 baking dish sprayed with cooking spray. On a large cutting board or other clean surface, lay out 6 noodles. Divide half the veggie-ricotta mixture over the pasta, spreading in a layer. Roll up each noodle and place in the baking dish. Repeat with the remaining noodles. Ladle the rest of the bechamel over the lasagna rolls. Top each with mozzarella.

Cover baking dish loosely with foil. Bake at 350°F for 45 minutes until top is lightly browned. Serve with additional parsley sprinkled over top. Yield: 6 servings.
Calorie count is purely an estimate calculated using an online application to serve as a guide and not to be taken as accurate nutritional information. Percent Daily Values are based on a 2,000 calorie diet.
Tried this recipe?
Leave a comment below and let me know!
~✿♥✿~