Crab Cakes with Dijon-Horseradish Aioli
Crab Cakes with Dijon-Horseradish Aioli are classic New England-style crab cakes, complete with tangy Dijon-Horseradish sauce to go with.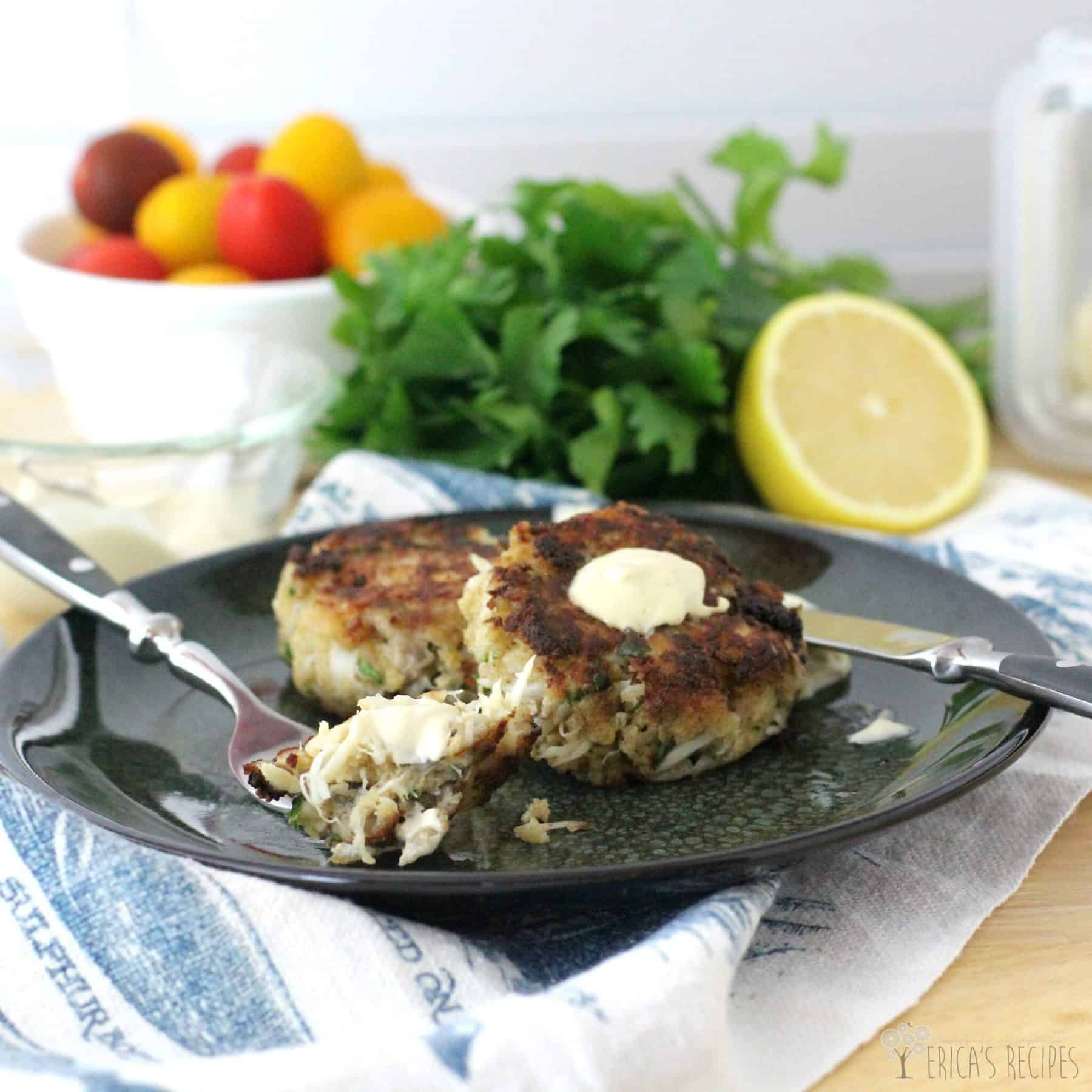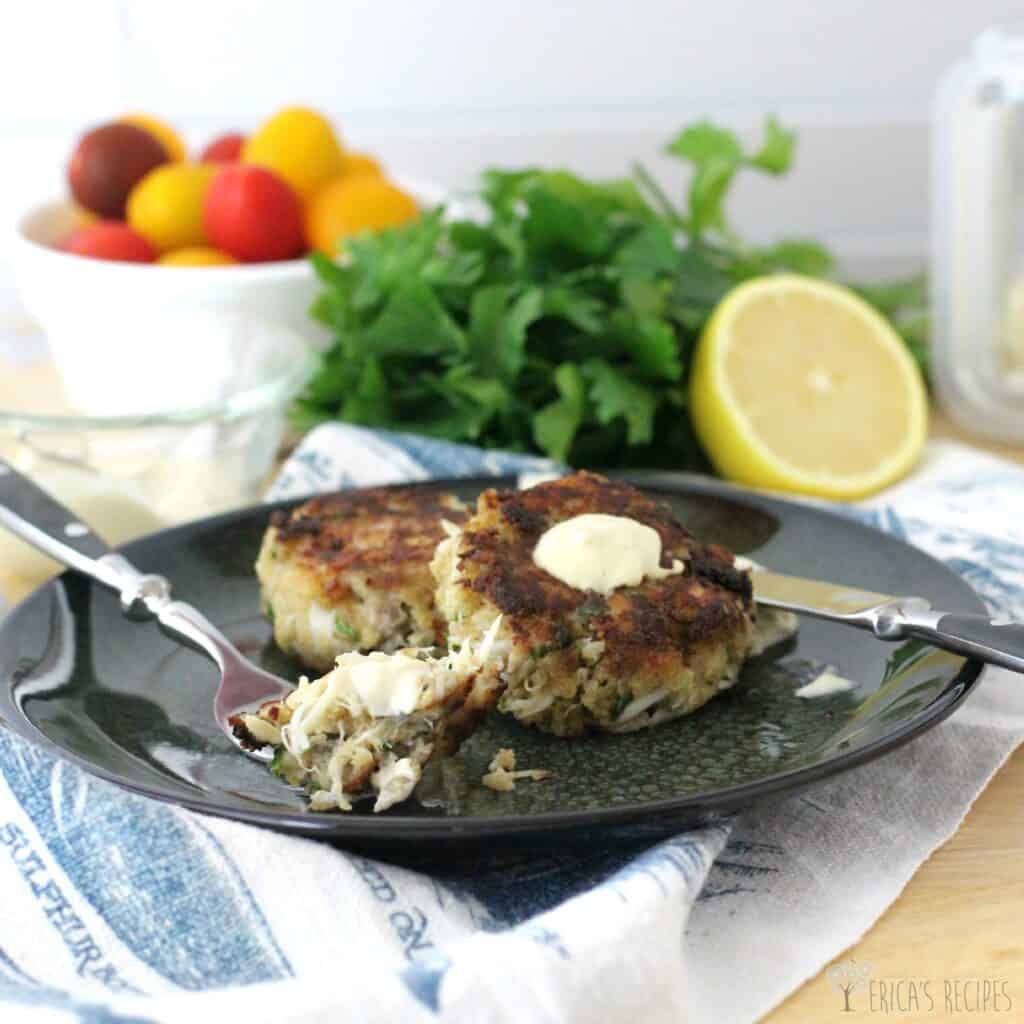 So what does one do with extra steamed blue crabs because you are too full to eat another bite? Pick those suckers clean to get the meat for crab cakes!
Last post, I introduced you to our family tradition where one night a week, we go a little seafood crazy. And sometimes, of course, our eyes at the market are bigger than our stomachs later that evening. With those Classic Steamed Blue Crabs, this is precisely what happened. And this was totally fine with me because crab cakes are just about one of my favorite favorite foods.
OK, so I think crab cakes are no-joke, serious business. Seriously. I'm talking about the age-old debate …how much filler should there be? You know, the stuff in the cakes other than the crab itself. …I am from New England. We like filler. My husband is from Maryland …minimal filler. But when I lived in Maryland and had crab cakes with like zilch filler, they were basically fried balls of straight pure crab. These were not tasty.
(awww snap, no she di'n't)
…Yes, I did. I do not like Maryland crab cakes. But guess what – up nawth, folks get overzealous with the ingredients and go heavy-handed with the filler and that doesn't work for me either. New England, I luv ya – but bell pepp-ah has no place in crab cakes. And they shouldn't be mostly breading eith-ah.
So my solution is to take the best of both worlds. I add filler, but I keep it simple. I use lump blue crab. A little herb, a little seasoning, some panko (because panko holds up better and doesn't get grainy like dried breadcrumbs or pasty like fresh breadcrumbs), and some egg to bind it together – and there you have it! Top with a traditional aioli, and now we're talking.
In a snap, this recipe produces crab cakes that are totally restaurant quality. So incredibly delicious with just the right balance of ingredients …and filler.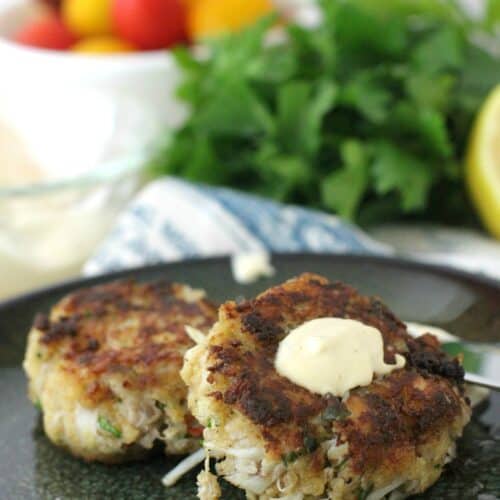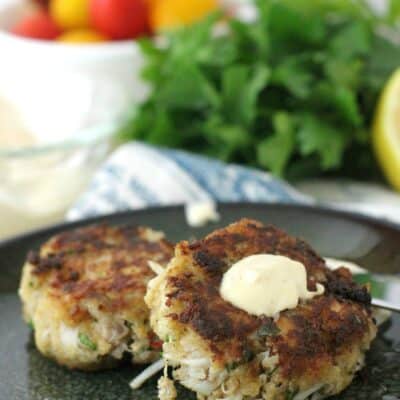 Crab Cakes with Dijon-Horseradish Aioli
This is a classic New England-style crab cake recipe, completely with tangy Dijon-Horseradish sauce to go with.
Ingredients
For the crab cakes
1

lb

fresh lump crabmeat

preferably blue crab

1

cup

panko breadcrumbs

1

Tbs

chopped fresh parsley

2

Tbs

mayonnaise

1

Tbs

fresh lemon juice

1

tsp

Old Bay

2

tsp

Grey Poupon Country Dijon Mustard

1

tsp

Worcestershire sauce

½

tsp

onion powder

1

egg

lightly beaten

2

Tbs

unsalted butter

2

Tbs

extra virgin olive oil

fresh squeezed lemon

if desired
For the Dijon-Horseradish Aioli
½

cup

mayonnaise

I use olive oil-based mayo

1

Tbs

Dijon mustard

couple sprinkles Worcestershire sauce

½

tsp

prepared horseradish

pinch

kosher salt
Instructions
Combine the ingredients for the aioli in a small bowl. Chill until ready to serve.

In a bowl, combine all the ingredients up to and including the egg. Toss together lightly with a fork so that the crab doesn't completely break apart. Using your hands, form the crab mixture into 8 patties.

Heat a large, nonstick over medium-high heat. Add the butter and olive oil, and wait for the butter to stop frothing. Using your hands, take a palmful of the crab mixture and form into a patty. Gently lay 4 formed crab cakes into the oil and cook until browned on one side. Gently flip over each crab cake and brown the other side. Remove to a plate. Cook the remaining 4 crab cakes. Serve with Dijon-Horseradish Aioli and fresh squeezed lemon. Yield: 8 crab cakes; 4 servings.
Calorie count is purely an estimate calculated using an online application to serve as a guide and not to be taken as accurate nutritional information. Percent Daily Values are based on a 2,000 calorie diet.
Tried this recipe?
Leave a comment below and let me know!