Easy Individual Tropical Trifles
This layered dessert uses fresh Lime Curd, pineapple, Macadamia nuts, and toasted coconut layered with bits of Edwards® Triple Coconut Crème Pie as a kitchen hack to give you a beautiful treat worthy of your Easter table or holiday spread. Assemble Easy Individual Tropical Trifles in advance in individual mason jars for easy service.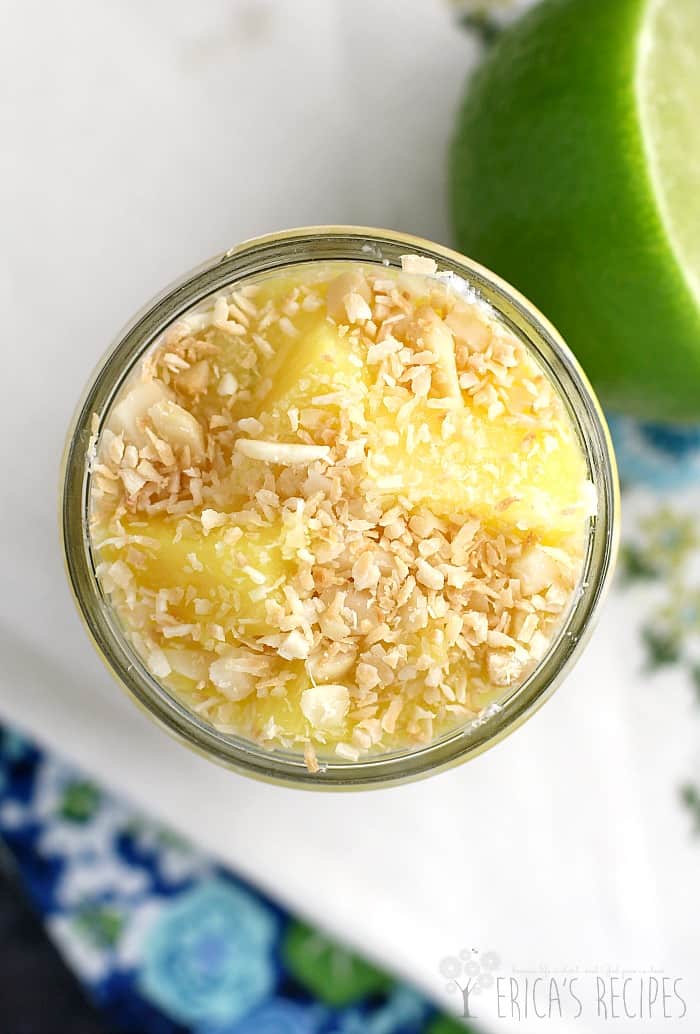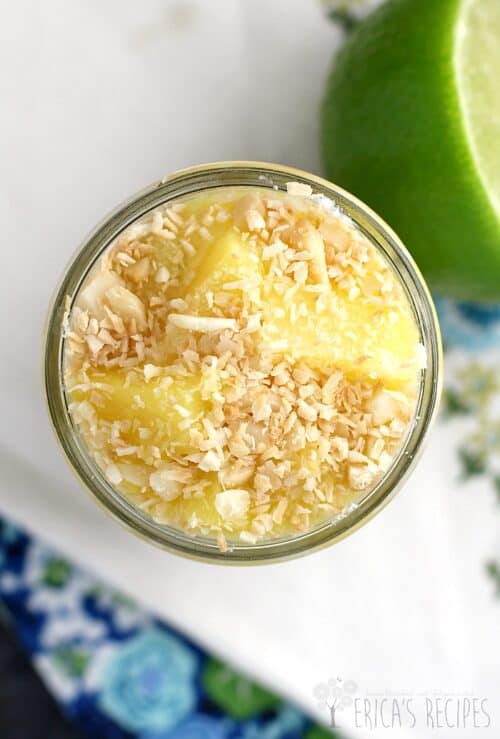 Okay, so I took a little liberty with the title …since I did not use any cake. So, technically not a trifle… but this dessert is everything else. It is lucious and tart and dreamy and coconutty (but, not too much) with a subtle crunch. All the feels.
And I served it in little mason jars. Because I'm a food blogger and we do stuff like that.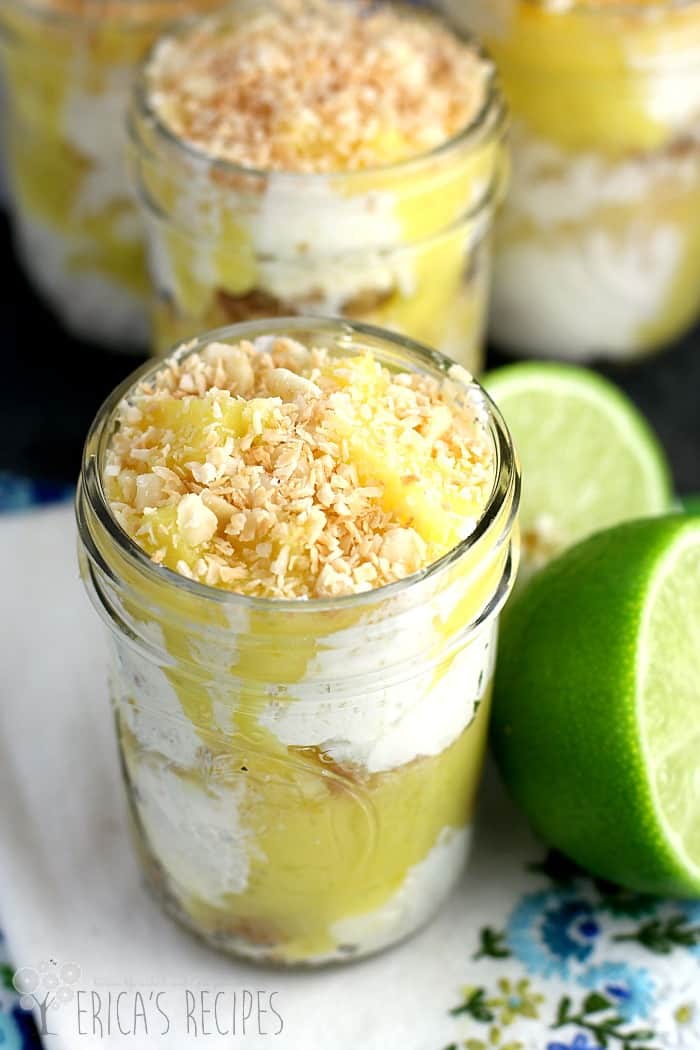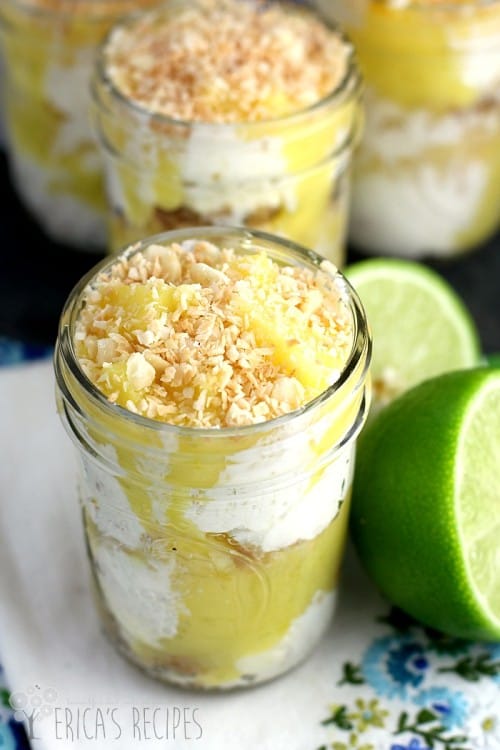 By the way, this dessert was totally amd completely inspired by spring and my garden. I have been doing a ton of gardening lately, starting things from seeds and such. And with the beautiful weather, things here in Florida are green and the sky is blue and it is all pretty spectacular. Even with a little chill left in the air. ?
Last weekend, when I was outside working I noticed that my beloved lime tree – which I have gushed about on my blog oh, maybe a hundred times (just look at my logo) – is once again full of blossoms. And these blossoms attract the bees. I have – err, had – a tumbler composter, and about 2 million bees have taken it over. I am ok with that, they are bees (again, look at my logo for the little bee ?) and welcome. So when my lime tree gets going like this and the bees notice, I notice too and just stand under it, looking up, watching Mother Nature happen. ?
Then the fact that I can pull a few of those suckers off and make something crazy good like Lime Curd just completes the whole experience. ?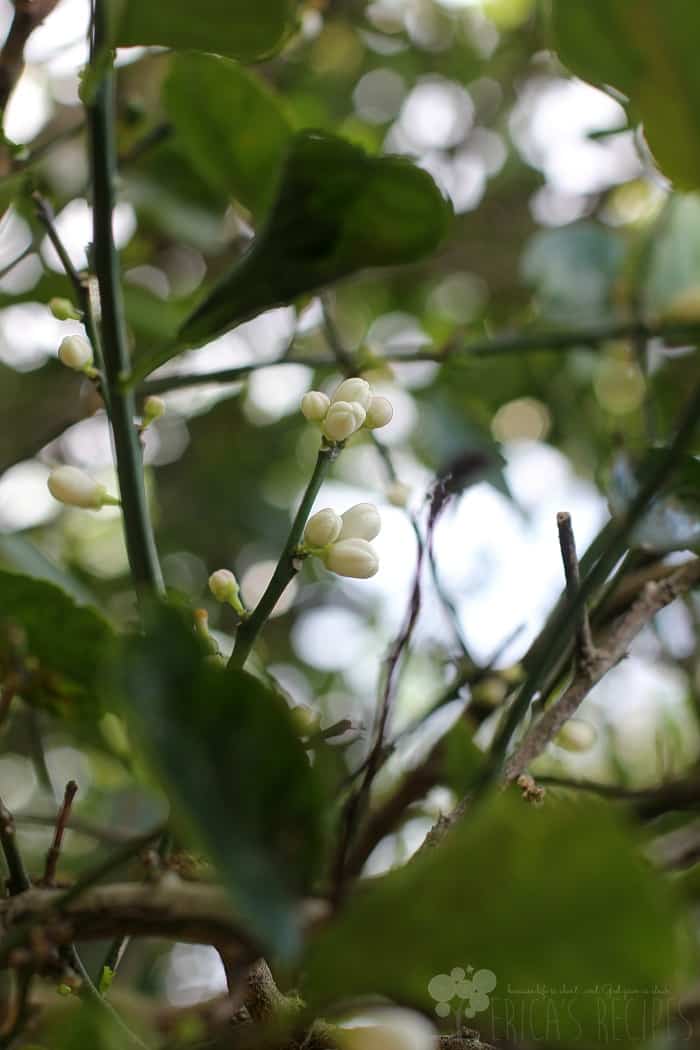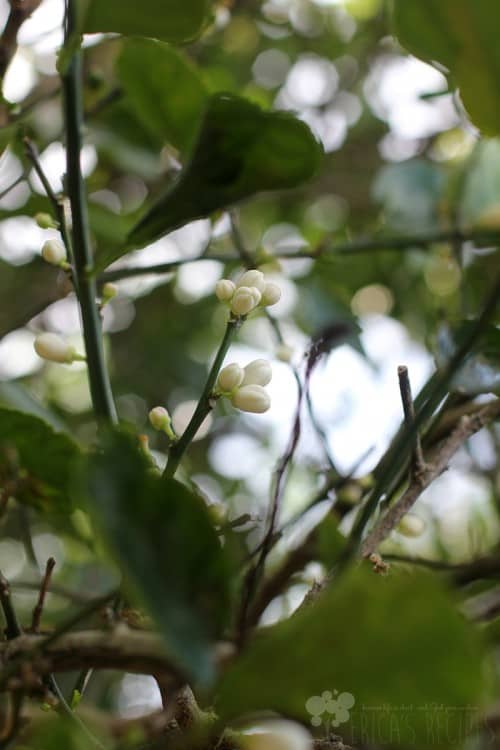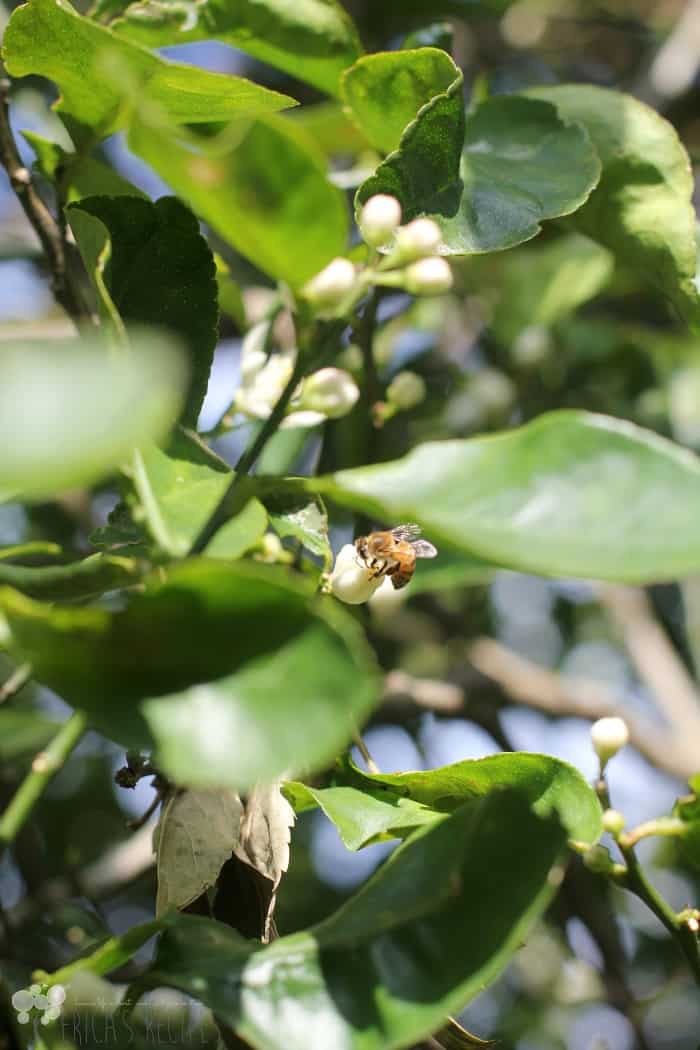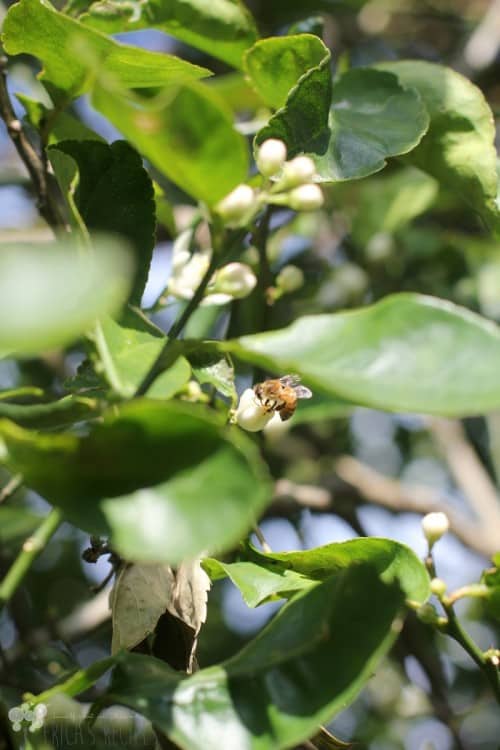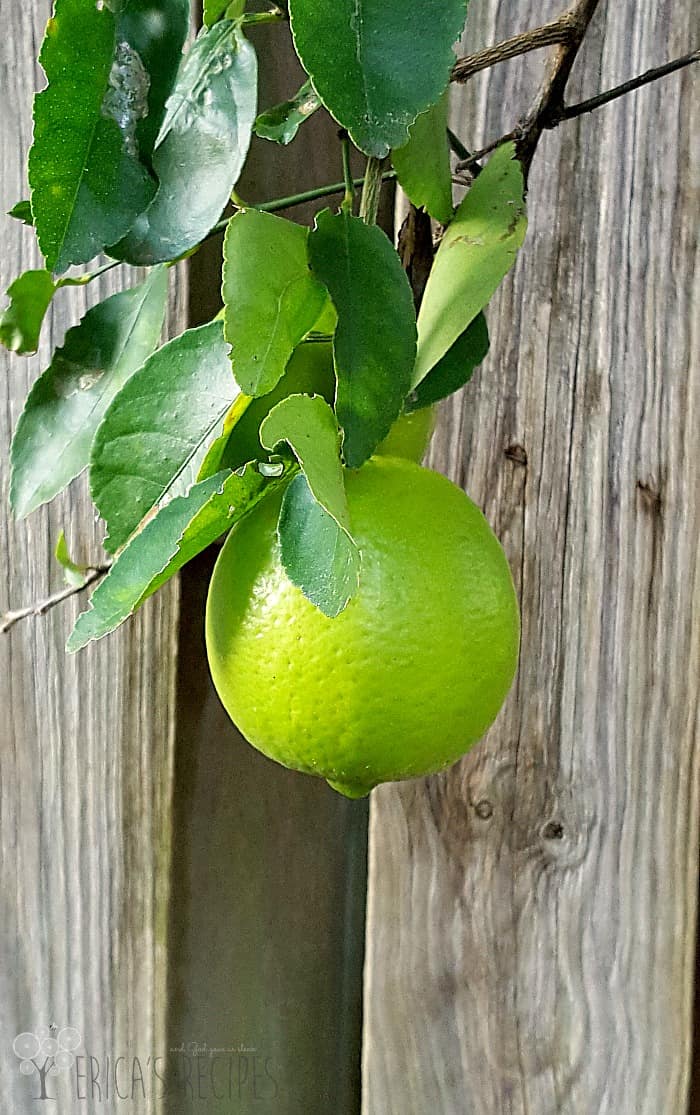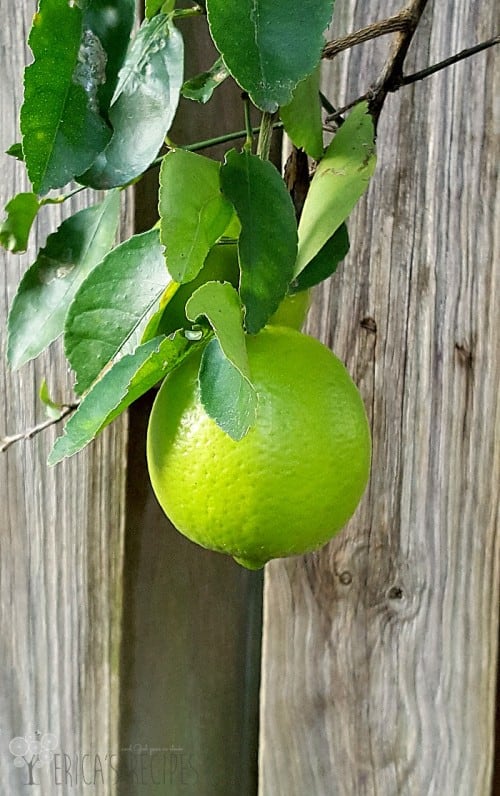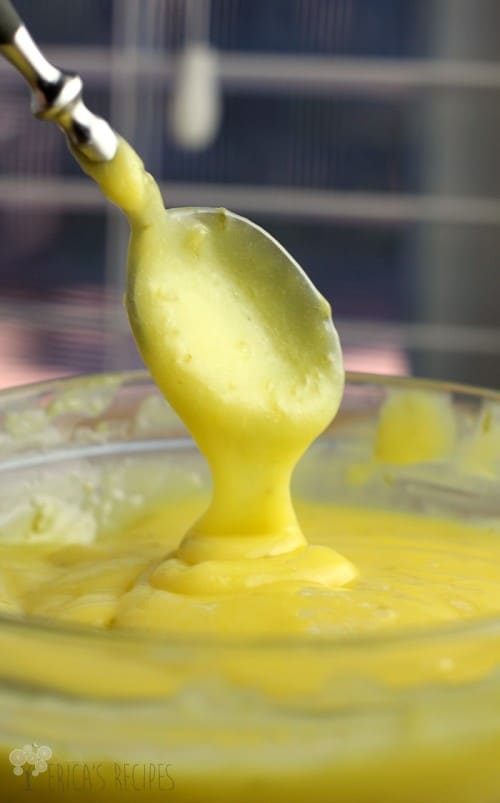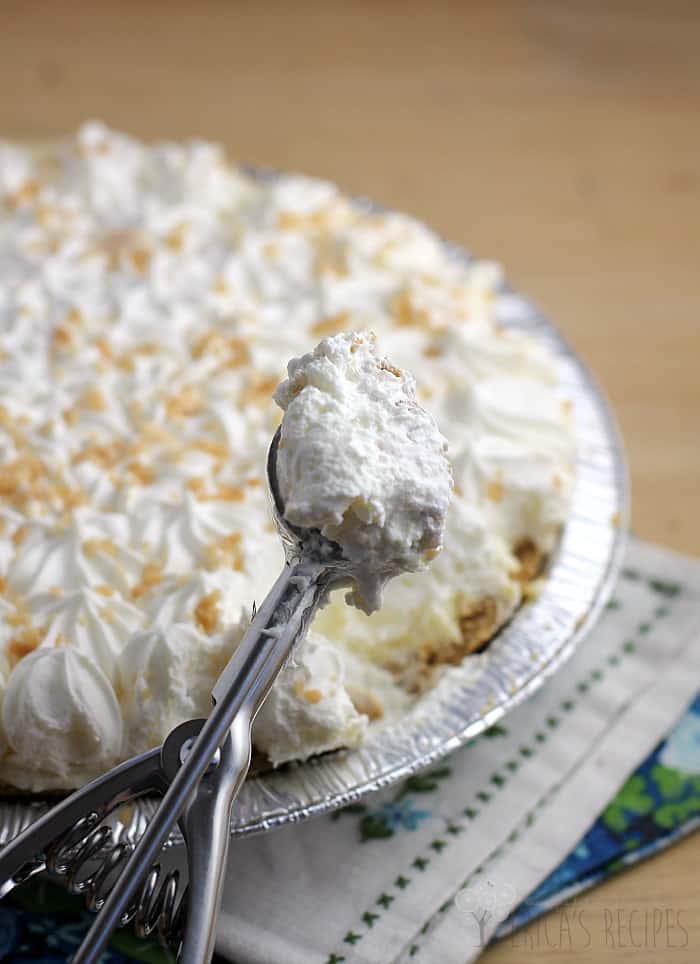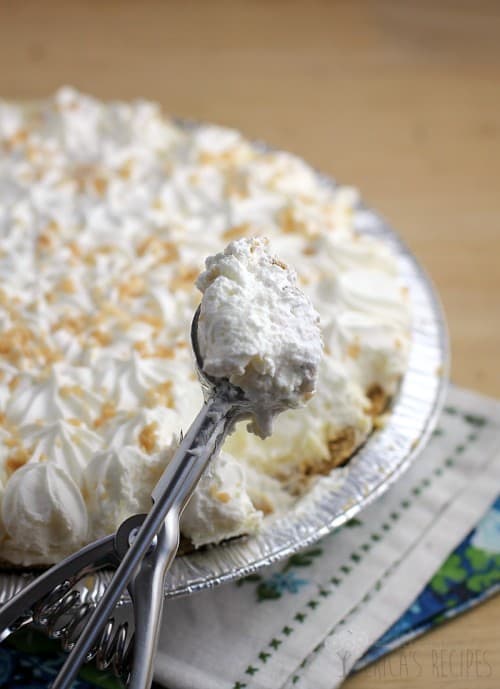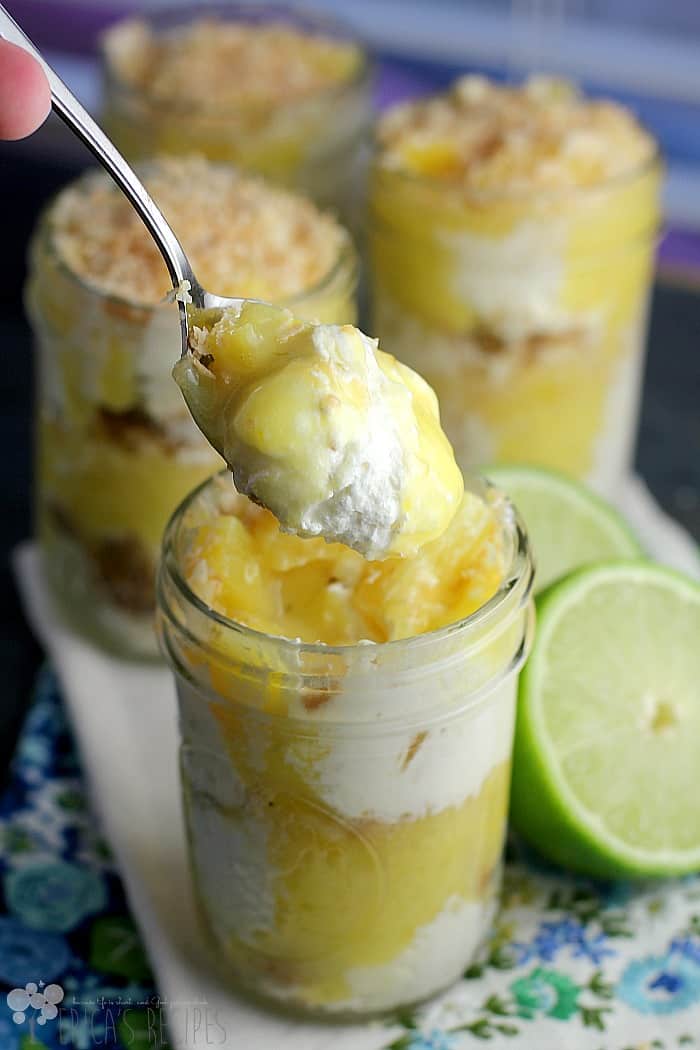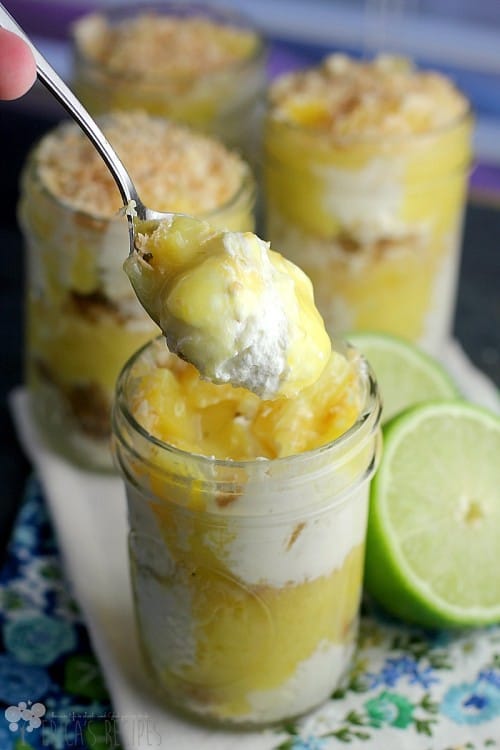 Guys, this dessert. After I took these photos and started eating, I don't remember stopping. This is so divine! The fresh Lime Curd – well, I am just going to start smearing that on everything in my life. It is tangy and sweet, but not too much of either. I have never made curd before, but it was easy. So completely worth it.
I chose to layer the "fix-ins" with little scooped bits of pie. I have had Edwards pies before – the Hershey's Chocolate Crème Pie is insanely good. This was my first time with the Triple Coconut and I loved it. I am not a fan of things that are too coconutty, you know what I mean? This was just right, and with a cookie crust and layered with other fresh ingredients this tasted completely homemade.
Come up with a cute kitchen hack to make my life easier, especially for dessert which I don't make often…. Check! ✔
So think of this recipe as a base for all kinds of other possibilities year-round. You could use different fruit and nuts. You could use different pies. Mrs. Smith's makes a whole assortment of fruit pies that could also be used in a dessert like this too (such as replace lemon juice for the lime for the curd, then layer with Mrs. Smith's® Blackberry Cobbler, nuts, and berries).
So that's it kids! Make this one! With the Edwards pie hack and just minutes to make the lime curd, this easy dessert is perfect for any occasion or as a way to treat your family for no reason at all.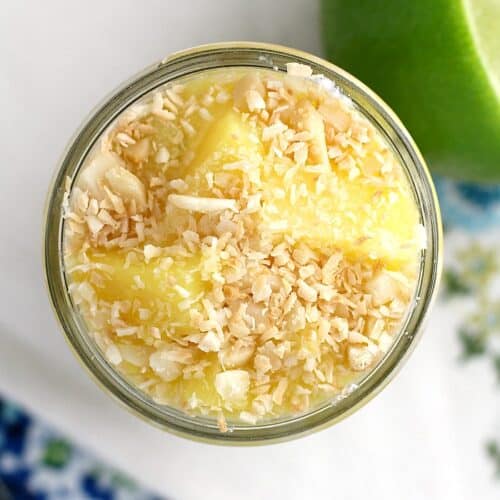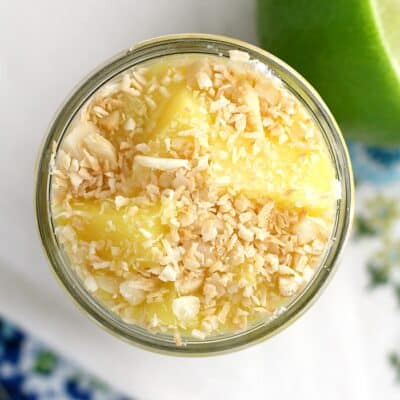 Easy Individual Tropical Trifles
This layered dessert uses a kitchen hack to give you an easy but beautiful treat worthy of any occasion.
Ingredients
For the Lime Curd
1

cup

granulated sugar

2

whole large eggs

3

egg yolks

¾

cup

fresh squeezed limie juice

zest of 1 large or 2 small limes

pinch

kosher salt

4

Tbs

unsalted butter
For the Tropical Trifles
Lime Curd

1

EDWARDS® Triple Coconut Crème Pie

thawed

1

cup

chopped macadamia nuts

2

cups

pineapple tidbits

drained

½

cup

unsweetened flaked coconut

lightly toasted
Instructions
For the Lime Curd, put all the ingredients for the curd except the butter in a medium sauce pan. Turn burner to medium-high heat, and heat, stirring constantly, for ~5min until mixture thickens and coats the back of a wooden spoon. Remove from the heat, and whisk in the bitter, 1 tablespoon at a time. Put in the fridge to set overnight. Alternatively, put in the freezer 20 minutes, stir, then let set in the fridge for 2 hours.

To assemble the desserts, using a melon baller or small ice cream scoop, scoop 4-5 balls of EDWARDS® Triple Coconut Crème Pie into 8 mason jars. Layer a good sprinkling of Lime Curd, macadamia nuts, and pineapple. Repeat. Top off with the toasted coconut. Yields 8 servings.
Calorie count is purely an estimate calculated using an online application to serve as a guide and not to be taken as accurate nutritional information. Percent Daily Values are based on a 2,000 calorie diet.
Tried this recipe?
Leave a comment below and let me know!