Broccoli Cheese Casserole
Broccoli Cheese Casserole is the best with tender broccoli baked with bread cubes in cheddar cheese sauce with mayo, horseradish, and two cheddar cheeses. This broccoli casserole with cheese can be assembled a day ahead for easier preparation and makes a perfect side dish for Thanksgiving or Christmas. So move over church potluck or family reunion buffet, because this broccoli and cheese casserole will steal all the hearts.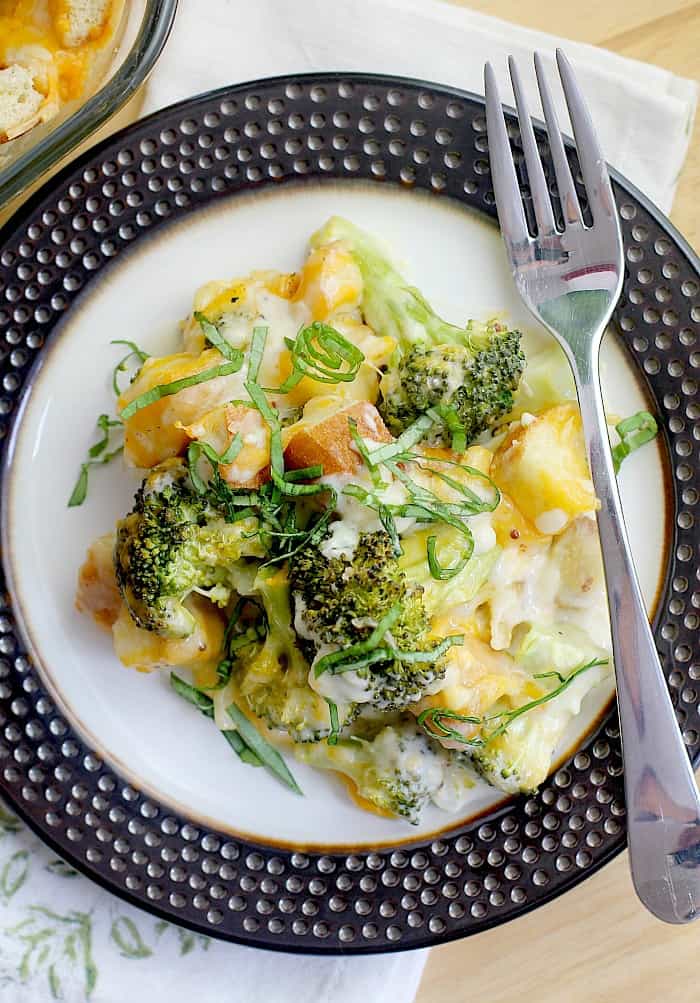 Broccoli cheese Casserole is quite literally one of the tastiest of all my recipes ever. Let me repeat, Tastiest Ever. In my life.
This dish guys. This dish. Can we just sit here for a moment? And bask? I am totally gushing and could not care less because this dish is FANTASTIC.
This Broccoli Cheese Casserole recipe is a remake of an old favorite of mine, but the previous version had condensed cream of celery soup and half a cup of mayonnaise. That old recipe was yummy, but kind of evil too.
So, acknowledging I could do better, I made this one up. This was a few years ago (and I have since updated it on occasion), but my broccoli and cheese casserole is now in regular rotation in dinners I cook at church for 80-100 people. Specifically, Thanksgiving, and it is loved every time.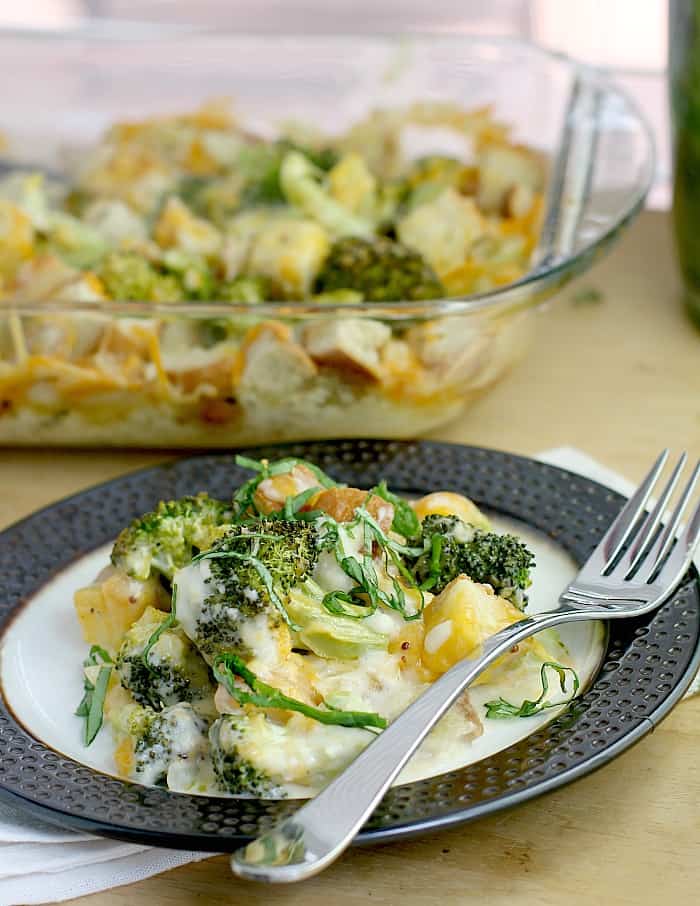 Why this recipe for Broccoli Cheese Casserole works
My broccoli cheese casserole works because of the textures, combination of flavors, and how it comes together.
Balanced textures
First, is the textures in this dreamy casserole. The bread serves to add bulk and make the dish more interesting than simply baked broccoli and cheese. It also absorbs liquid from the cheese sauce and given off by the broccoli and goes into bread pudding territory.
The bread becomes luxurious, and it makes me forget completely that I am eating my veggies.
Then the broccoli magically retains its crunch and this balances with the soft and creaminess of the best and cheese. It all works together beautifully.
Side note, if you use frozen broccoli in this casserole, which I often do as well, the broccoli will be considerably softer than if using fresh heads of broccoli, but not mush. Still delicious.
Amazing combination of flavors
Second, is the combination of flavors in this broccoli cheese casserole. Broccoli is one of the few vegetables that I truly like. The cheese sauce includes both Dijon mustard and whole grain mustard, so we get the little bit of zip from the mustard and the lovely pearls of whole grain mustard.
The cheese sauce also has a little bitty touch of prepared horseradish that gives the perfect yummm in the background. Absolutely delicious.
Bringing the dish together
Lastly, is how this casserole comes together. The bread and broccoli are loaded into a bake dish with some onion. We make a cheese sauce with similar ingredients and by the exact same method as if we were making mac and cheese. Top with the cheeses and bake.
These steps are all very easy, and the beautiful thing is that they can be done in advance.
When I cook my broccoli casserole with cheese and mayo for dozens of people, I often put it together the day prior, cover in plastic wrap, and refrigerate overnight. This saves me a ton of time the next day when I have more to do.
And, along this line, this recipe scales up very well to feed a crowd. I make it in hotel half pans, two recipes per pan. As a side dish with lots of other food being served, the recipe stretches too serve 8-10.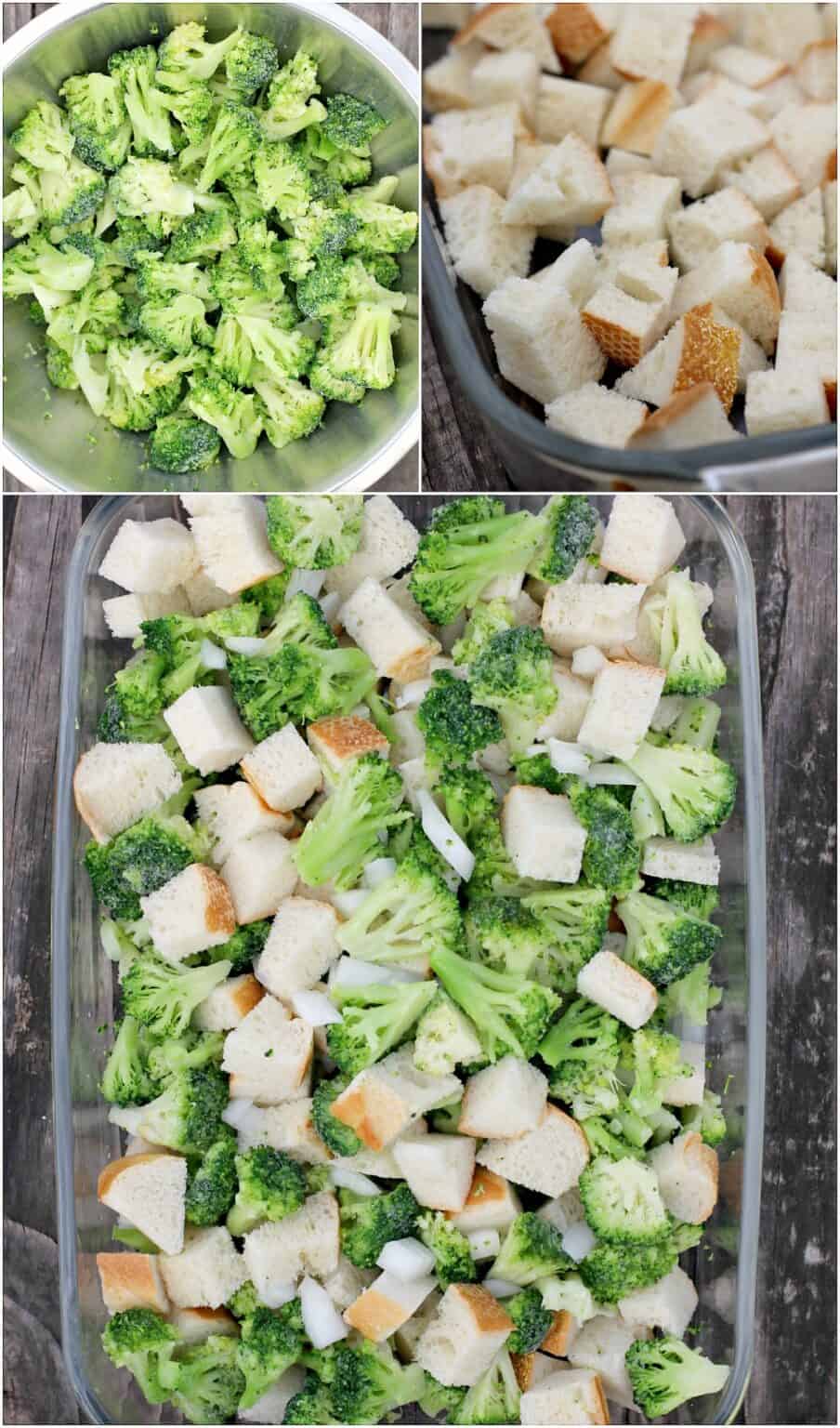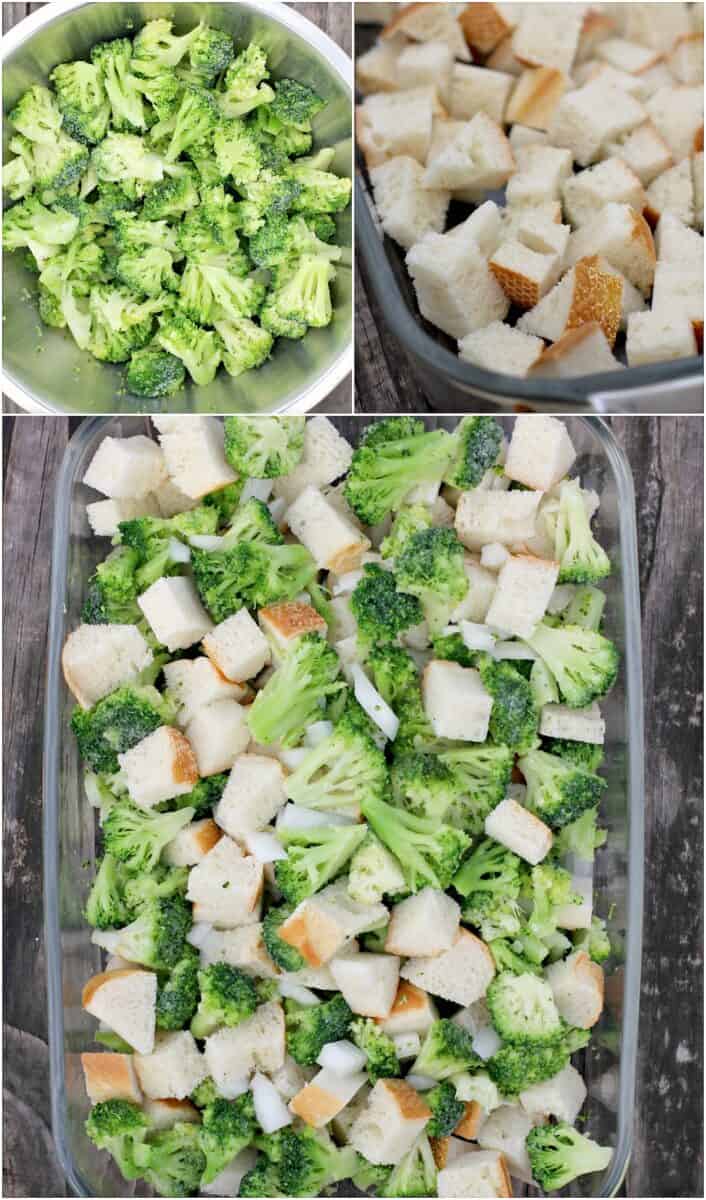 The ingredients for broccoli and cheese casserole
Crusty, day old baguette. I specify "day old", but actually 2-3 days old is better. We want that bread nice and dry.
Broccoli florets. I have used fresh and frozen. Both yield delicious results, but using frozen broccoli will come out softer.
White onion.
Unsalted butter and all-purpose flour to make a roux.
Milk. Added to the roux to make a bechamel.
Seasonings: kosher salt and fresh cracked pepper.
Sauce additions: Dijon mustard, prepared horseradish, and whole-grain mustard.
Mayonnaise. Use full fat mayonnaise.
Cheeses: sharp cheddar cheese and Vermont white cheddar cheese. I use both regular and white cheddar cheeses for topping the casserole mostly for looks. It is much more appealing to have the variation in color than a monochromatic cheese topping.
Fresh basil leaves. Thin strands of fresh basil are added for garnish, but pungent basil is an important flavor contributor too.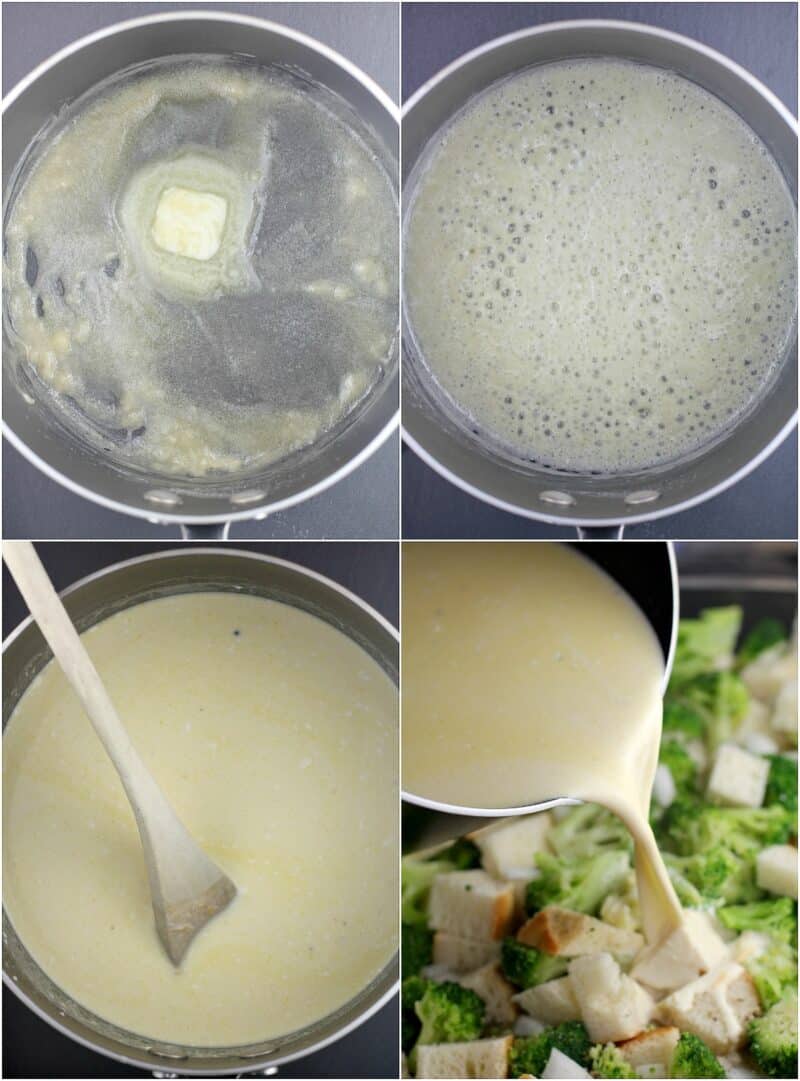 How to make broccoli casserole with cheese
There are essentially three phases to making this recipe: the first assembly, making the sauce, and the final assembly and cooking.
Prepare the veggies
First, we want to get our bread drier especially if it is still somewhat fresh. Do this by giving the bread cubes a little toasty toast in the oven. Ten minutes should do the trick.
Once all the other ingredients are measured and ready to go, we throw the broccoli in our 13×9 bake dish with the onion and toasted bread cubes. Done with this part.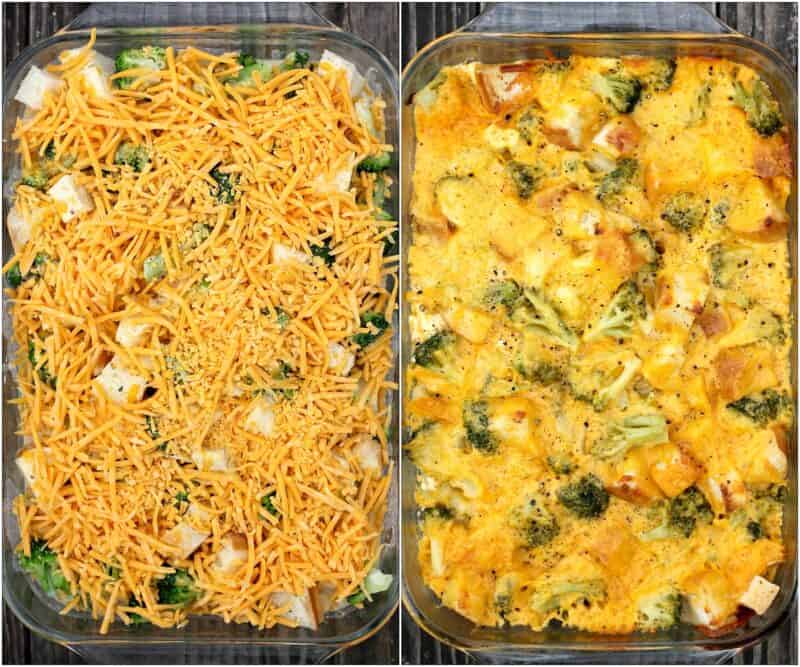 Make the cheddar cheese sauce
All we are doing for this sauce is making a roux with flour and butter, then making that a bechamel by adding milk, then cheese. Standard stuff.
Using a whisk continuously, cook the flour and butter for a minute to make sure the flour is cooked and that the roux will then be able to thicken the sauce during baking. Add the milk, whisking continuously, and then heat just until the bechamel steams.
At this point, we take the sauce off the heat and add horseradish, both mustards, mayo (because this is a broccoli casserole with mayo but just not a lot of it), salt, pepper, and the sharp cheddar. Stir until the cheese is mostly melted.
Final casserole assembly and baking
After we make the cheese sauce, we pour it all over the bread cubes and broccoli. Top with the rest of the sharp cheddar, as well as the white cheddar. Wrap with foil and bake.
After about 50 minutes, we take off the foil and bake another 5 minutes just to get the top extra toasty.
More casserole recipes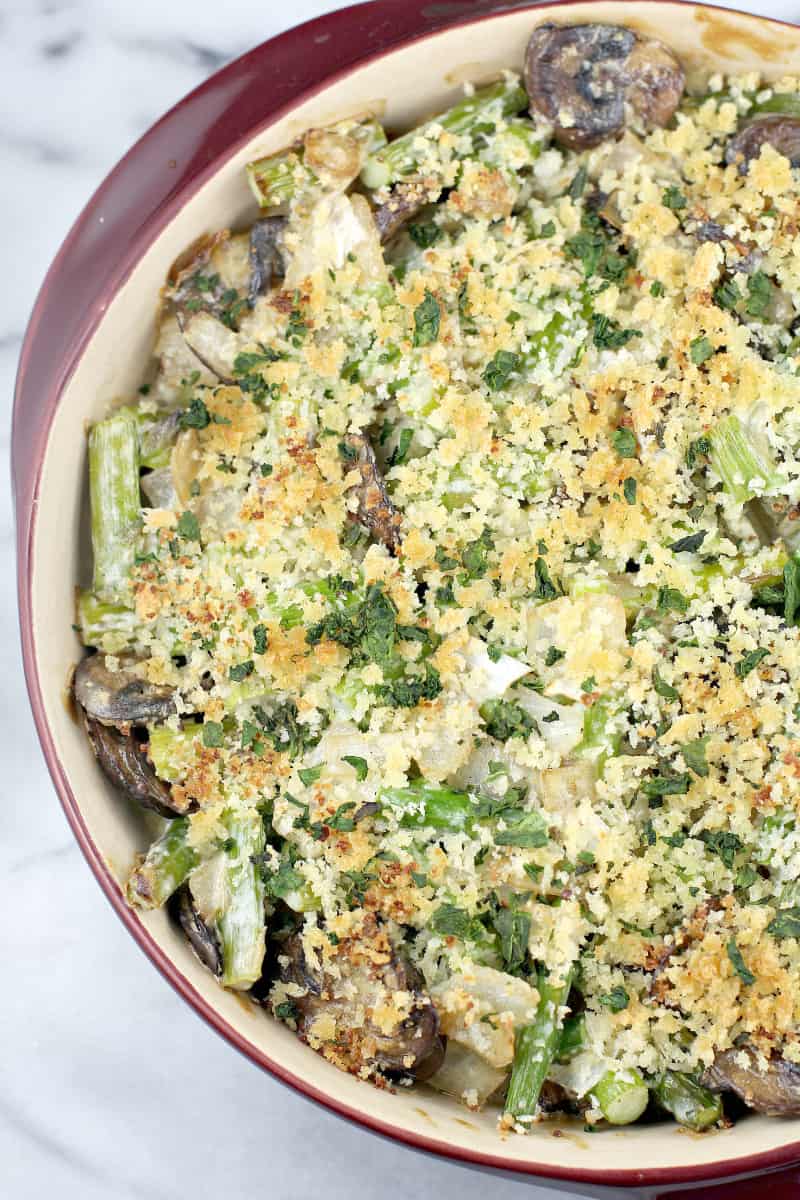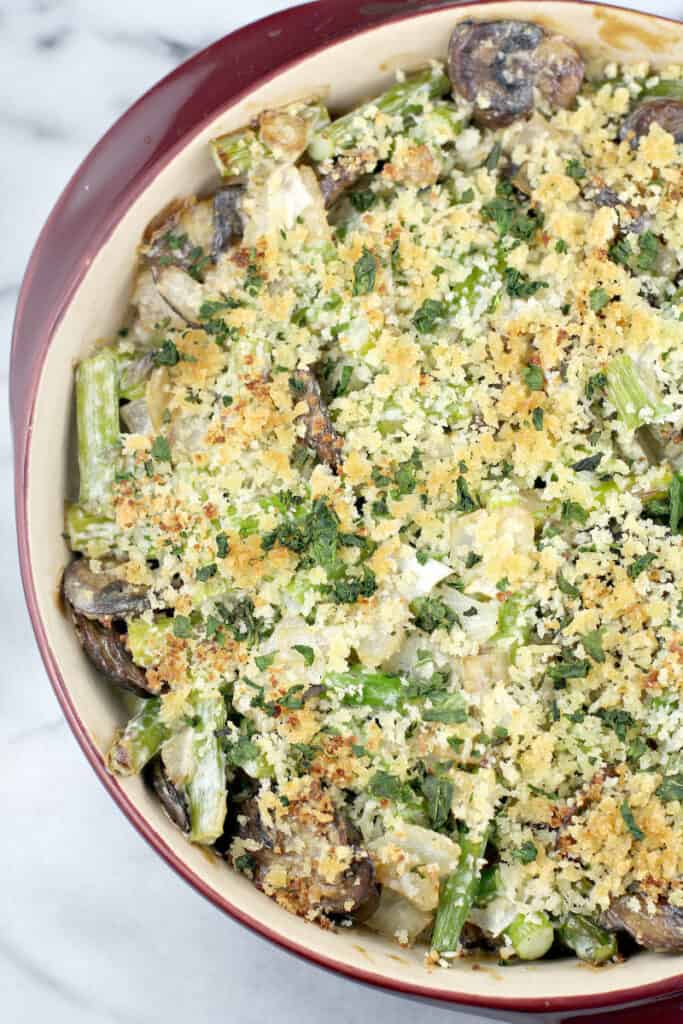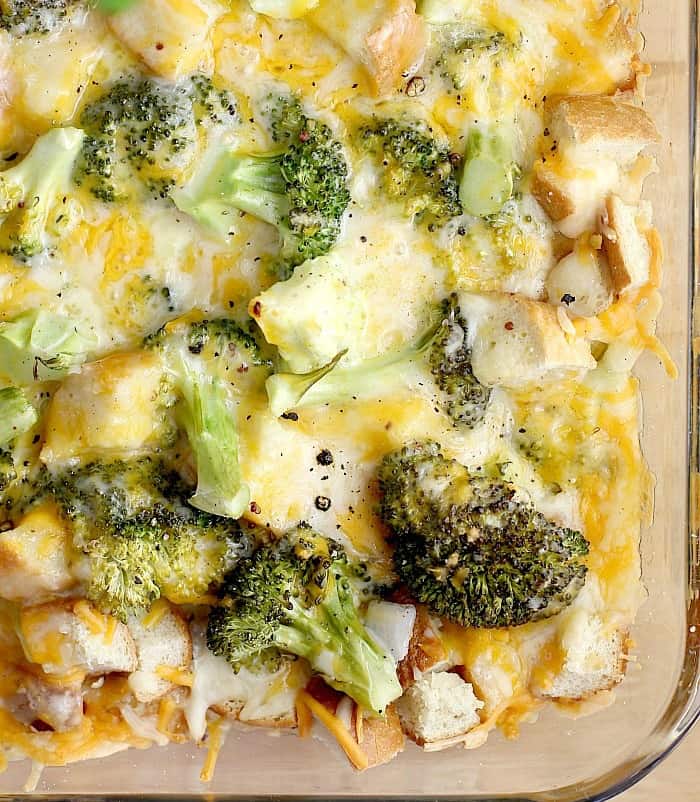 Tips and FAQs
Using fresh broccoli yields firmer broccoli with a bit of crunch (think al dente) compared to softer frozen broccoli. Both variations are delicious, just be aware that there is the different and choose according to your desired taste.
If using frozen broccoli, the casserole can be assembled with the broccoli still frozen, and I often do so.
If preparing in advance, simply wrap in plastic wrap and refrigerate. When ready to cook, allow the casserole to come to room temperature (or at least get some of the fridge chill off) before baking.
When making the cheese sauce, be sure to whisk/stir continuously otherwise the milk can scorch on the bottom.
We want the cubes of bread to be dry before assembling this broccoli cheese casserole, this way the dry bread is better able to soak up the cheese sauce and the liquid (water) given off by the broccoli as it cooks.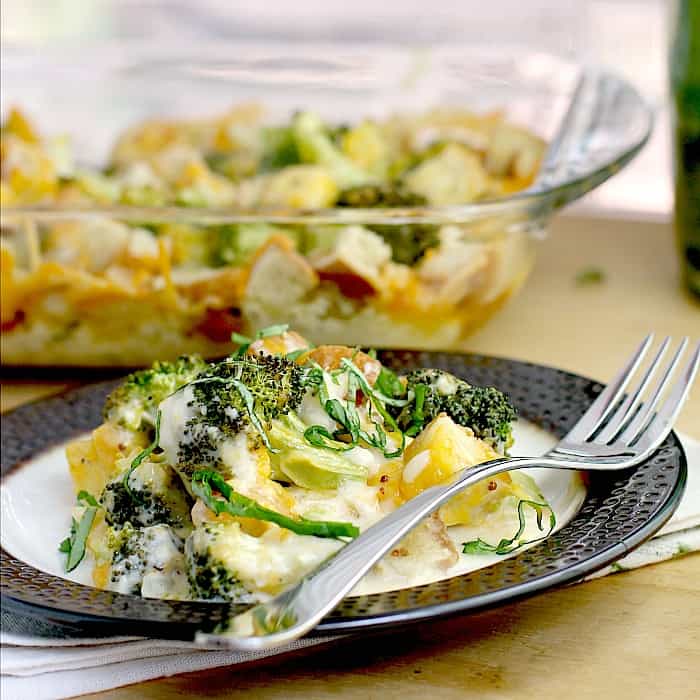 Also check out another holiday favorite, the Best Stuffing Ever.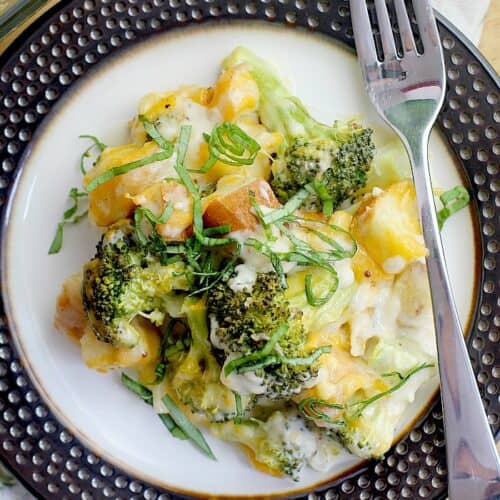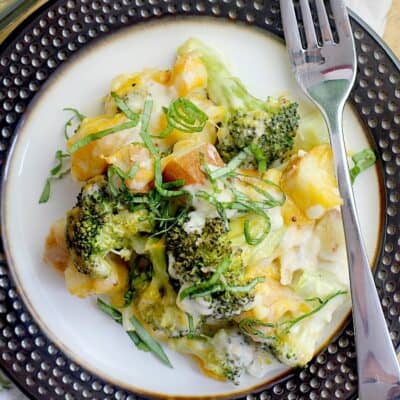 Broccoli Cheese Casserole
Broccoli Cheese Casserole is the best with tender broccoli baked with bread in cheddar cheese sauce with mayo, horseradish, and two cheddar cheeses. This broccoli casserole with cheese can be assembled a day ahead for easier preparation and makes a perfect side dish for Thanksgiving or Christmas.
Ingredients
6

oz

crusty, day old baguette

cut into 1-inch cubes

1

lb

broccoli florets

½

(~1 cup)

large white onion

diced

2

Tbsp

unsalted butter

2

Tbsp

all-purpose flour

2

cups

milk

1

tsp

kosher salt

2

pinches

fresh cracked pepper

1

tsp

Dijon mustard

½

tsp

prepared horseradish

1

tsp

whole-grain mustard

¼

cup

mayonnaise

3

cups

shredded sharp cheddar cheese

divided

1

cup

shredded Vermont white sharp cheddar cheese

garnish: fresh basil leaves

rolled up and sliced very thin
Instructions
Prepare the casserole
Put the cubed bread in the oven to lightly toast for 5-10 minutes.

In a 13×9 bake dish, toss together the broccoli, bread cubes, and onion.
Make the cheese sauce
To a medium saucepan, add the butter and flour. Heat over medium-high, stirring until smooth, to make a roux. Slowly whisk in the milk and cook, stirring constantly, until milk starts to steam. Remove from the heat.

Whisk in the Dijon, salt, pepper, horseradish, whole-grain mustard, and mayonnaise. Add half (2 cups) of the cheese, stirring until the cheese is mostly melted (see Notes).
Final assembly and baking
Pour the cheese sauce over the broccoli casserole. Top with the remaining 1 cup sharp cheddar cheese and the 1 cup Vermont white cheddar cheese.

Cover casserole tightly with foil and bake at 350°F for 50 minutes or until broccoli is tender with a sharp knife inserted (see Notes).

Remove foil and bake an additional 5 minutes. Serve topped with basil.
Notes
Note that once added to the sauce,

the cheese does not have to melt completely smooth. It is preferable to leave it a bit less than completely melted than risk over thickening the sauce. If it refuses to melt (i.e. if the sauce has cooled too much), the sauce can be put back on the heat to give it a nudge.
The texture of the broccoli with depend on whether fresh or frozen is used. If fresh, broccoli will retain more texture (i.e. crunch). If previously frozen, broccoli will be a bit softer. Both variations are delicious.
This recipe can be fully assembled and refrigerated a day in advance. I recommend allowing the casserole to sit out for an hour to come to room temperature prior to baking. 
Nutrition
Calories:
554
kcal
(28%)
|
Carbohydrates:
31
g
(10%)
|
Protein:
26
g
(52%)
|
Fat:
38
g
(58%)
|
Saturated Fat:
18
g
(113%)
|
Polyunsaturated Fat:
5
g
|
Monounsaturated Fat:
3
g
|
Cholesterol:
103
mg
(34%)
|
Sodium:
810
mg
(35%)
|
Potassium:
377
mg
(11%)
|
Fiber:
3
g
(13%)
|
Sugar:
7
g
(8%)
|
Vitamin C:
5
mg
(6%)
|
Calcium:
1880
mg
(188%)
Calorie count is purely an estimate calculated using an online application to serve as a guide and not to be taken as accurate nutritional information. Percent Daily Values are based on a 2,000 calorie diet.
Tried this recipe?
Leave a comment below and let me know!