This is the best Broccoli Cheese Casserole I have ever in my life made, or had. Let me repeat, Ever. In my life. So move on over church potluck and family reunion buffet. There's a new casserole here that will steal all the hearts. Because, literally …oh my gosh this recipe is just the best.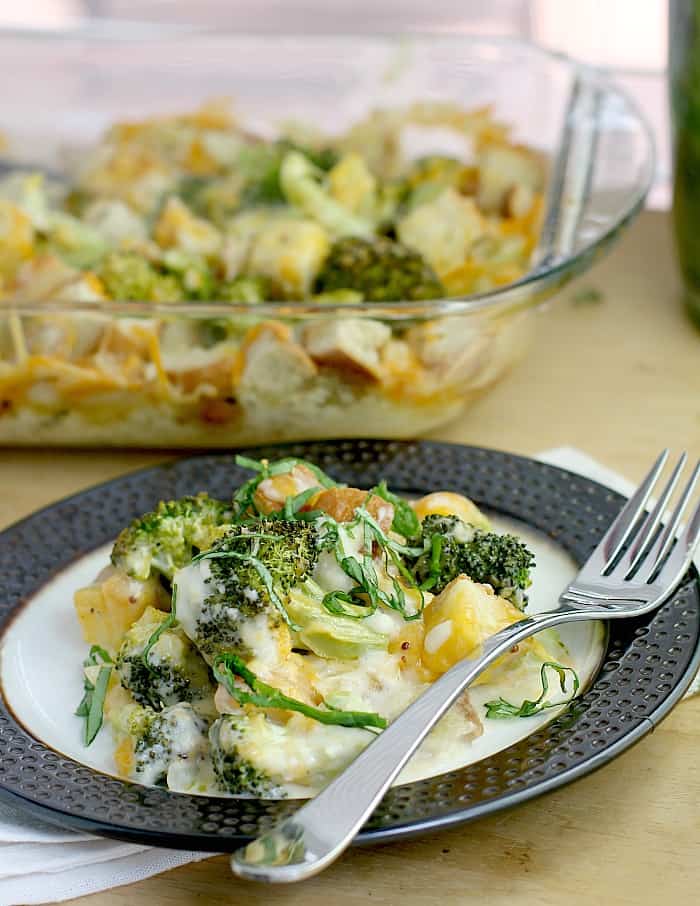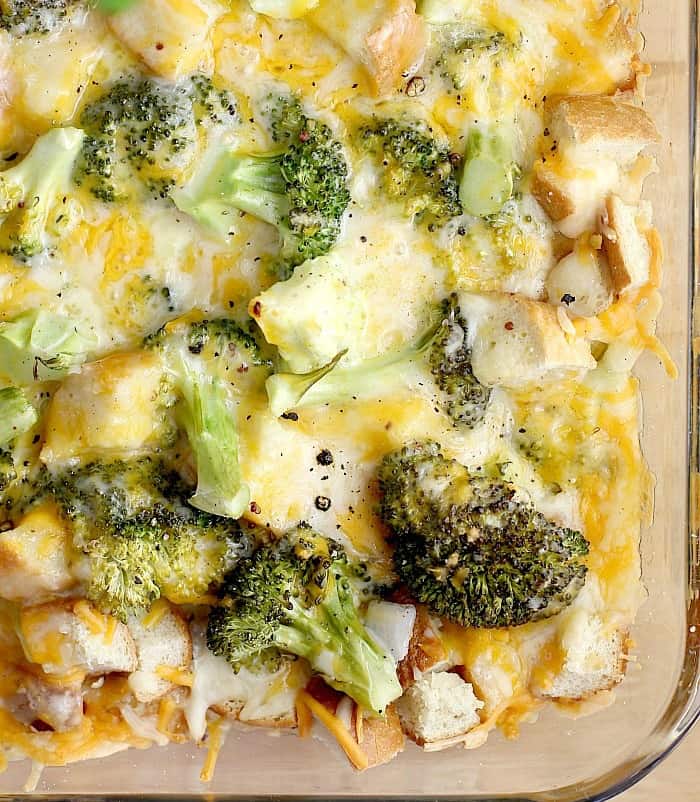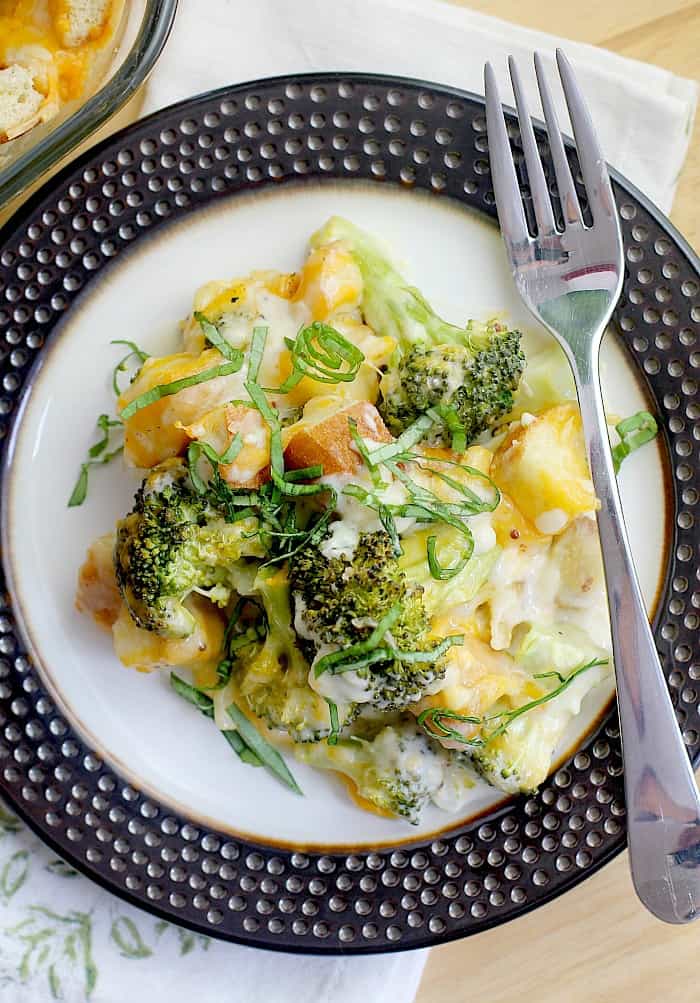 Lordy lordy lordy. This dish guys. This dish. Can we just sit here for a moment? And bask? I know I'm gushing but it is completely warranted because this is FANTASTIC. …This Broccoli Cheese Casserole recipe is a remake of an old favorite of mine, minus the condensed cream-of-anything soup and half a cup of mayonnaise.
That old recipe is yummy, but evil. Because we are far past the point where we can use condensed cream soup in anything and call it an actual recipe and feel anywhere good about it, aren't we?
[and if you want a laugh, check out those old photos. Yikes.]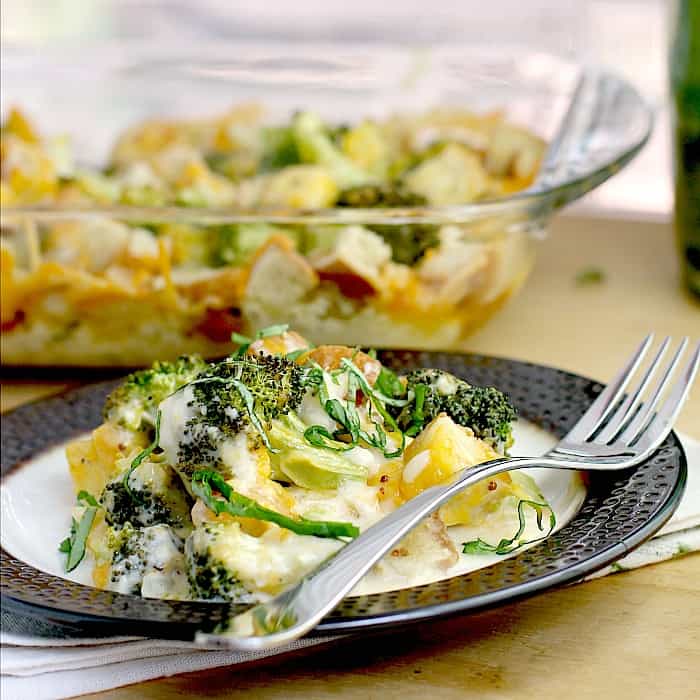 So, one thing to overcome is this Broccoli Cheese Casserole recipe makeover was how to replace the condensed cream soup and mayo because in addition to flavor, they added bulk. My solution, was to add bread cubes, from a lovely crusty baguette, to add substance and such, and then I made a cheese sauce. And of course topped with more cheese. ?
These simple little changes made this so much more than just broccoli and cheese and goo in a bake dish. So much more, that I could not stop eating it …"Oh, I'll just taste and see".. Yeah right.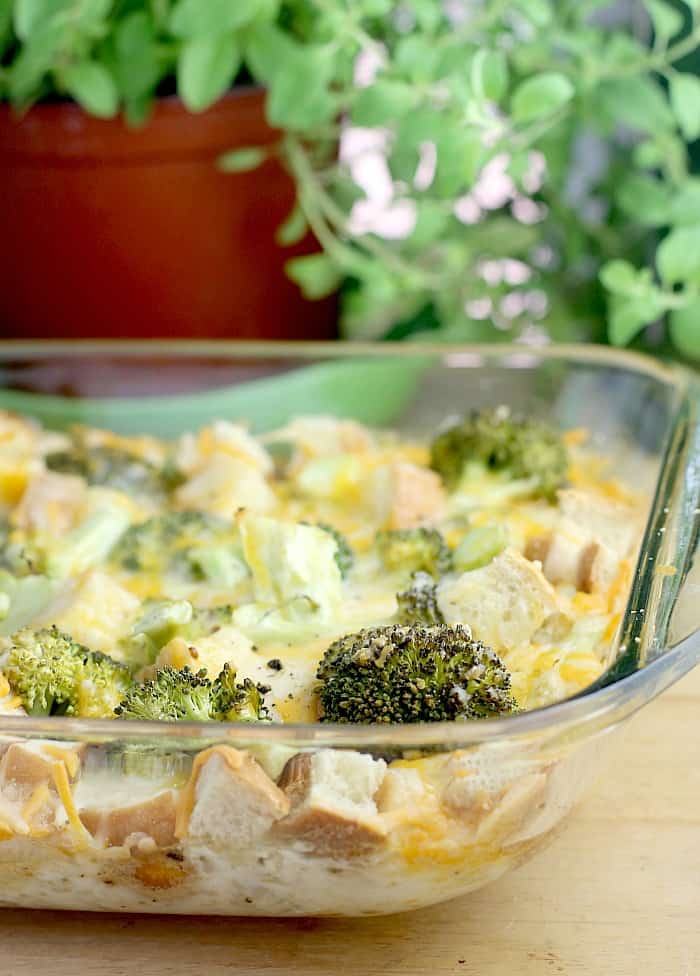 So that's it folks! I am dropping and running with this Broccoli Cheese Casserole in a short post. Save/PIN/share this recipe and give it a try next time you want a yummy, DELICIOUS cheesy broccoli thing to enjoy.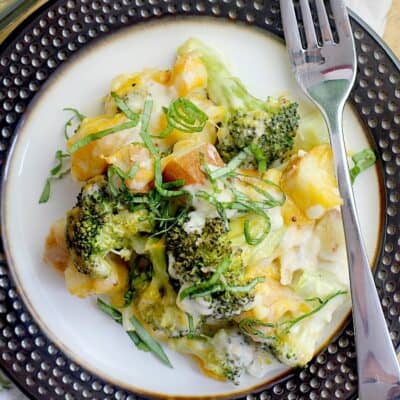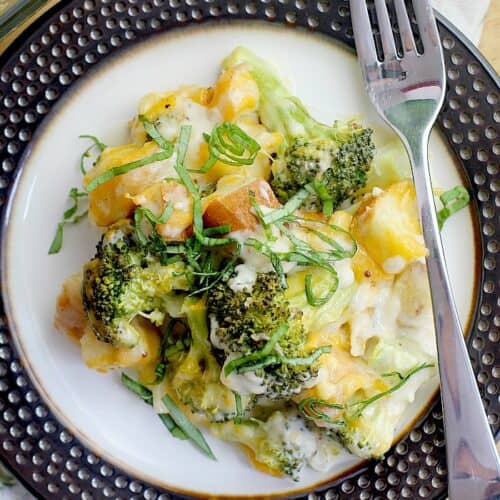 Broccoli Cheese Casserole
Broccoli, bread, and a dreamy cheesy sauce bring this delicious casserole together.
Ingredients
4

cups

crusty baguette

cut into 1-inch cubes

5-6

cups

broccoli florets

~3 heads

1/2

large white onion

diced

2

Tbs

unsalted butter

2

Tbs

all-purpose flour

2

cups

milk

1

tsp

kosher salt

couple pinches fresh cracked pepper

1

tsp

Dijon mustard

1/2

tsp

prepared horseradish

1/2

tsp

whole-grain mustard

1/4

cup

mayonnaise

see Notes

4

cups

shredded cheddar cheese

divided

garnish: fresh basil leaves

rolled up and sliced very thin
Instructions
Heat oven to 350F. If using fresh bread, put the cubed bread in the oven to very lightly toast for 10 minutes. If using day-old bread, do this for just 5 minutes or skip this step.

In a 13x9 bake dish, add the broccoli, toasted bread cubes, and onion. Season with a pinch of salt and pepper.

To a medium saucepan, add the butter and flour. Heat over medium-high, stirring until smooth, to make a roux. Slowly whisk in the milk and cook, stirring constantly, until milk starts to steam. Remove from the heat. Whisk in the Dijon, salt, pepper, horseradish, whole-grain mustard, and mayonnaise. Add half of the cheese, stirring until the cheese is mostly melted (does not have to be completely, and you can put back on the heat if necessary if it cools too much.)

Pour cheese sauce over the broccoli casserole. Top with remaining cheese. Cover tightly with foil and bake at 350F for ~50 minutes or until broccoli is tender with a sharp knife inserted (see Notes). Remove foil and bake an additional 5 minutes. Serve topped with basil. Yields: 6 servings as a side; 4 as a main dish.
Notes
We want the broccoli to cook but still retain texture. We are not going for mushy broccoli here!
~✿♥✿~
Leave me a comment! Otherwise, I'm just talking to myself here. And that's no fun.?
And don't forget to follow the fun on Instagram and Facebook.