Crab Stuffed Mushrooms have the perfect balance of succulent crab, binder, herb, and seasoning. Make these luxurious stuffed mushrooms with crab as an appetizer for your special occasion or holiday gathering.
This website uses affiliate links which may earn a commission at no additional cost to you. As an Amazon Associate I earn from qualifying purchases.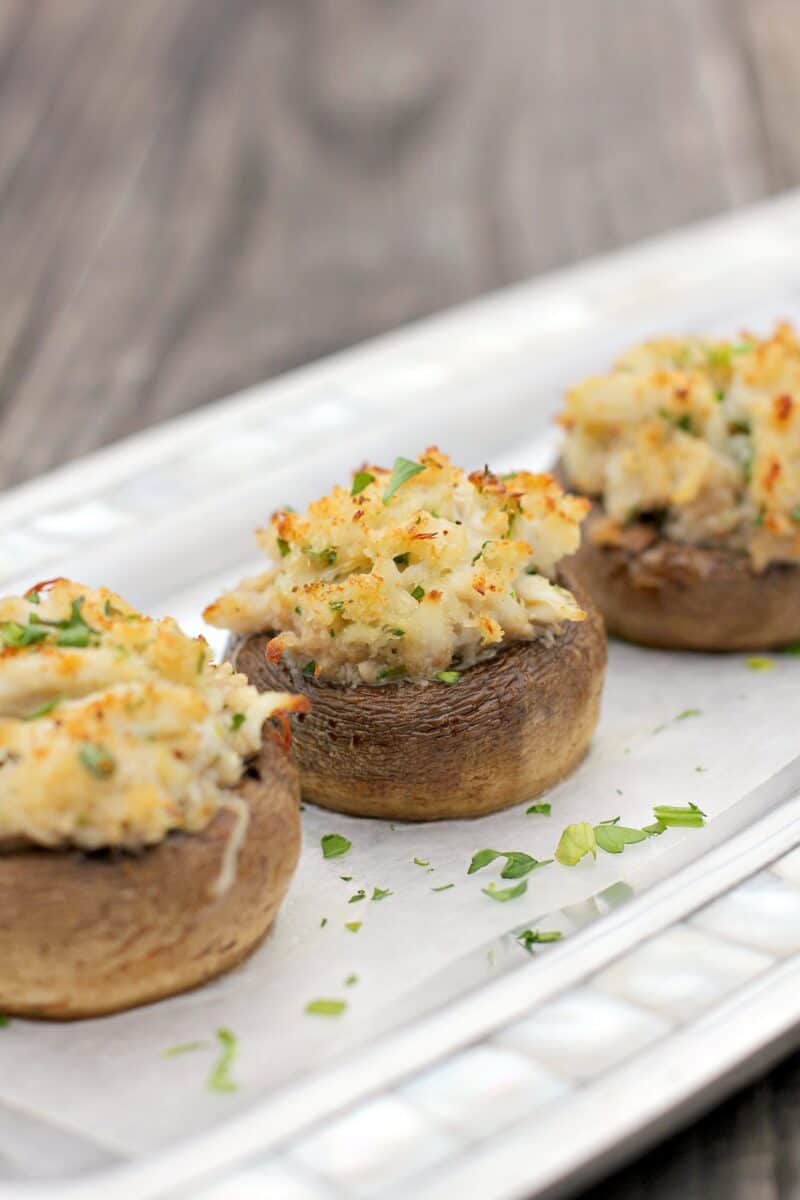 There are those recipes that are more of a labor of love than others. Deviled Eggs would be one, for example, and I feel stuffed mushrooms can be another. But oh, aren't they so good and SO worth that effort?
And, as it so happens, my recipe is actually easier and pretty foolproof if you have just a little patience.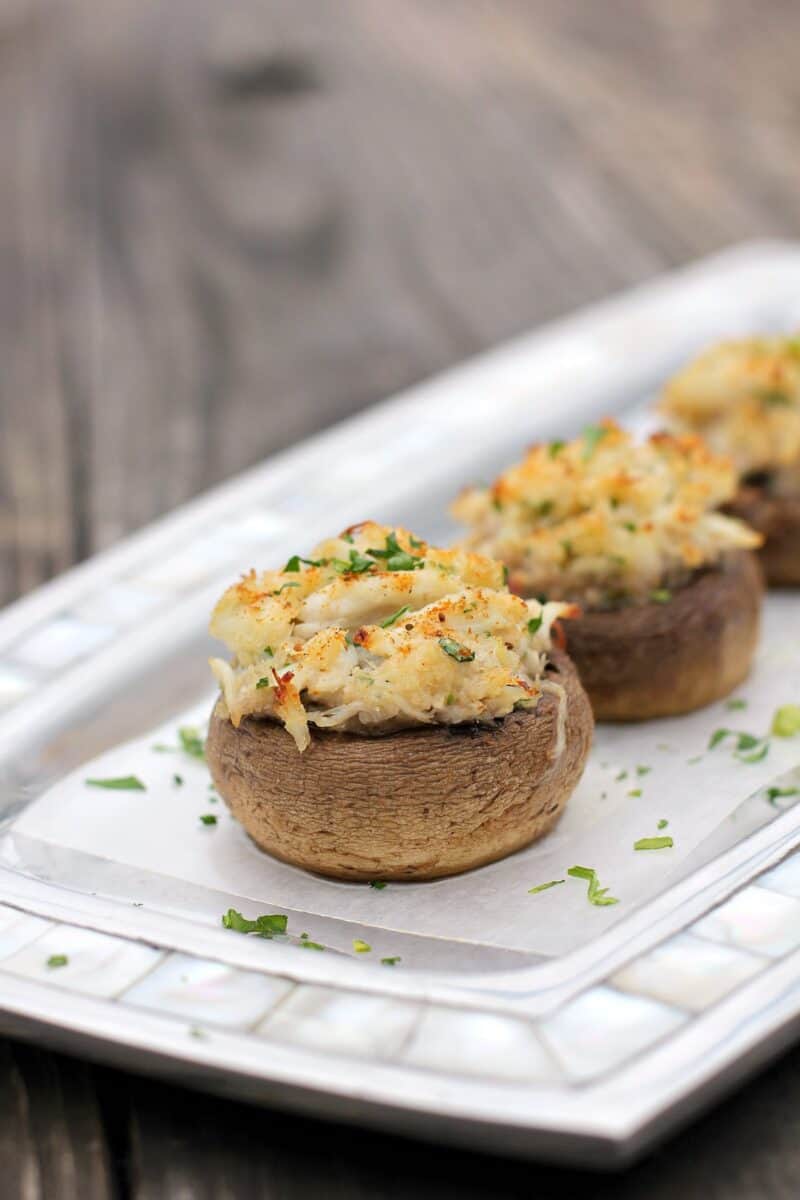 Why this recipe works
This crab stuffed mushrooms recipe is so unbelievably good because it is simple. Succulent lump crab, a little herb and seasoning, some parmesan, breadcrumbs and mayonnaise. Not too much of anything, and all the flavors balance to let that wonderfully extravagant crab meat shine.
As they go, my recipe is less of a huge task too because I have learned that by using larger mushrooms, though I make fewer, it is the same amount of food but with less effort because filling fewer, larger mushrooms is easier.
Larger mushroom caps are significantly easier to clean, prepare, and stuff with the crab stuffing.
As always, crab stuffed mushrooms are an absolute crowd-pleaser and always the first to be gobbled up and gone every time I have made them.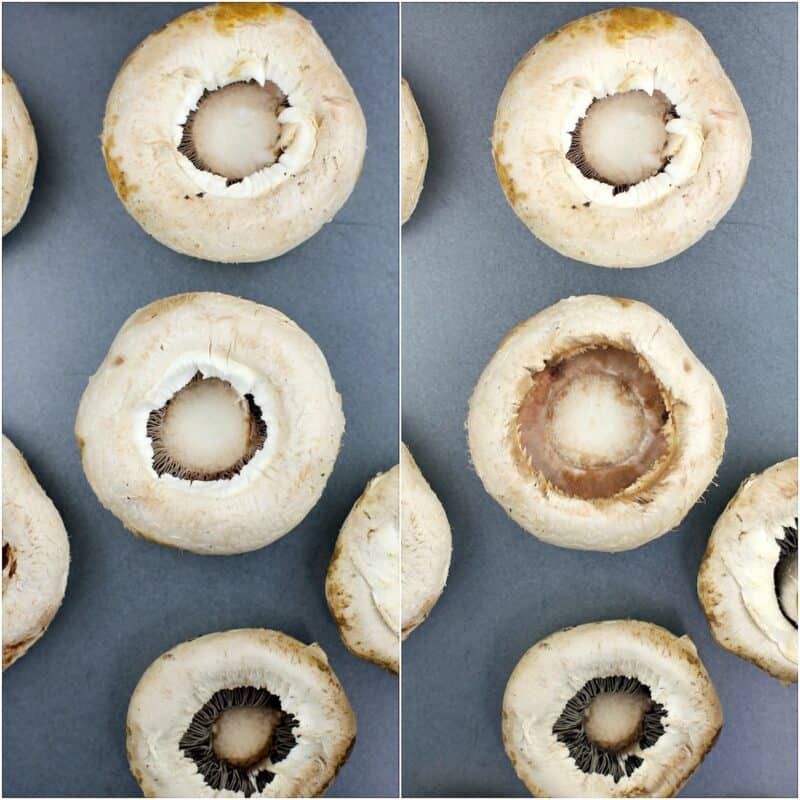 Ingredients for crab stuffed mushrooms
Large white mushroom caps. I find them in the produce section in packages of 6 each.
Extra virgin olive oil. We use a fair amount because the mushrooms soak it up.
Lump crabmeat. At your seafood counter, there are 3 types of fresh crab: less expensive, medium expensive, and most expensive. You want the one in the middle.
Mayonnaise. Use full fat, good quality mayonnaise. The crab stuffed mushrooms deserve that.
Dried minced onion. I used dried because I love the mellow flavor of dried minced onion, but you may substitute with 2 tablespoons chopped green onion if desired.
Prepared horseradish. Horseradish and crab were made for each other.
Panko breadcrumbs. Be sure to get plain and not make the mistake I do have the time and accidentally by Italian seasoned panko.
Fresh parsley. We want flat leaf parsley as a general rule in life, but curly can be substituted if you absolutely have to.
Freshly grated parmesan cheese. Fresh parm only! So, not the stuff you would find in the spaghetti aisle.
Kosher salt. Just the slightest pinch because crab and parmesan bring salt on their own.
Old Bay seafood seasoning. We add Old Bay to the stuffing, but also sprinkle some on top before baking to make the mushrooms even prettier.
More crab recipes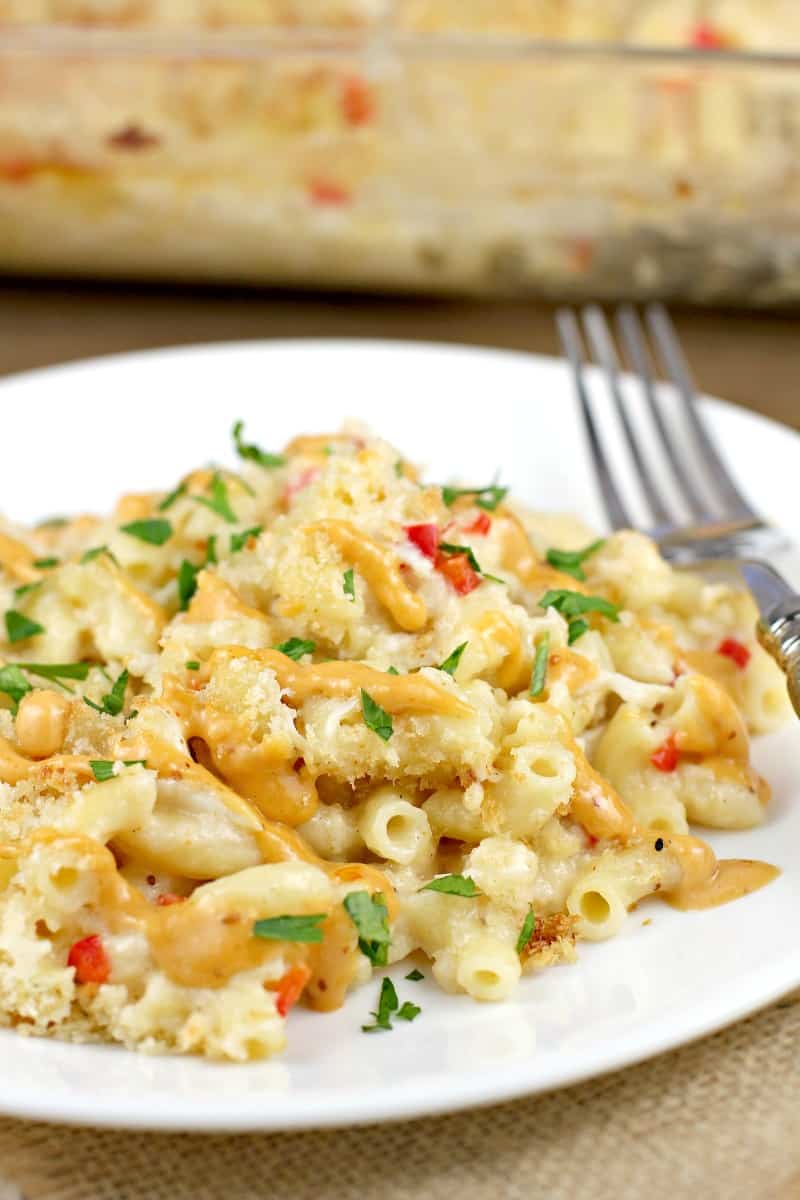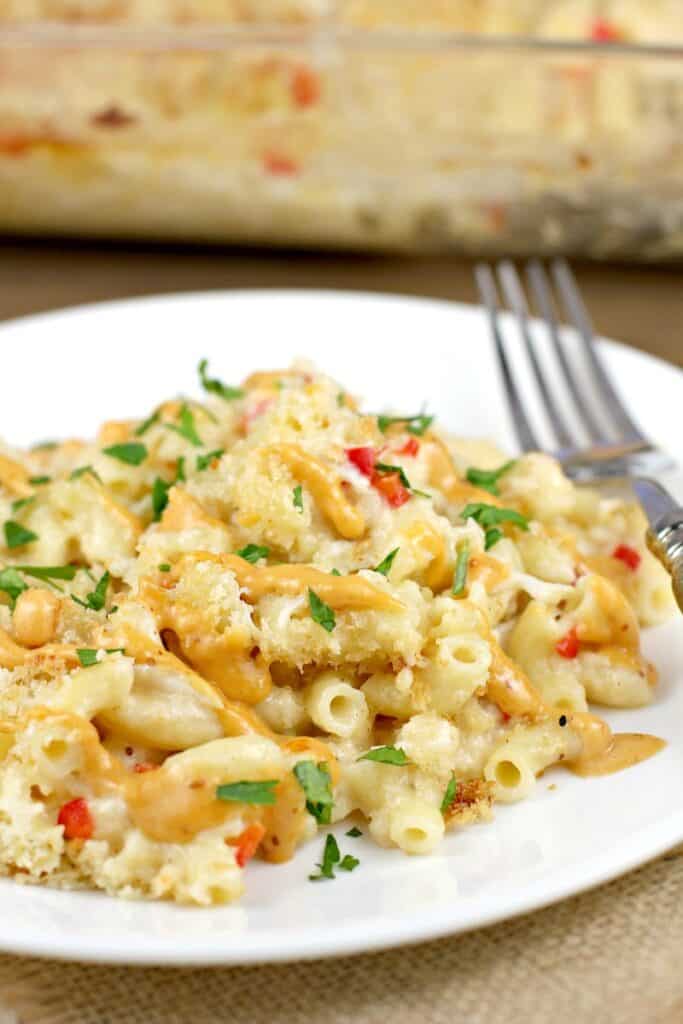 How to make stuffed mushrooms with crab
Making stuffed mushrooms with crab takes a few minutes, but that is only because we are making a bite-by-bite appetizer. As far as technique and all go, the process is super easy.
First, we prepare our mushrooms. Gently brush off any dirt, remove the stems, and use a spoon to kind of clean out the cavity (like removing the dark gills. This last part with the spoon is optional, but I like to do it to make more room for the crab stuffing.
Next we assemble the stuffing, which entails just mixing the ingredients together in a bowl. Easy.
Then all that is left is to fill the mushroom caps with the crab stuffing, dust a little Old Bay seasoning over top like you would put paprika on deviled eggs, and bake.
How you tell with this crab stuffed mushroom recipe is ready is when the filling on top gets a nice light golden color, and when the juices down around the bottom of the mushrooms is sizzling bubbly. Then we enjoy.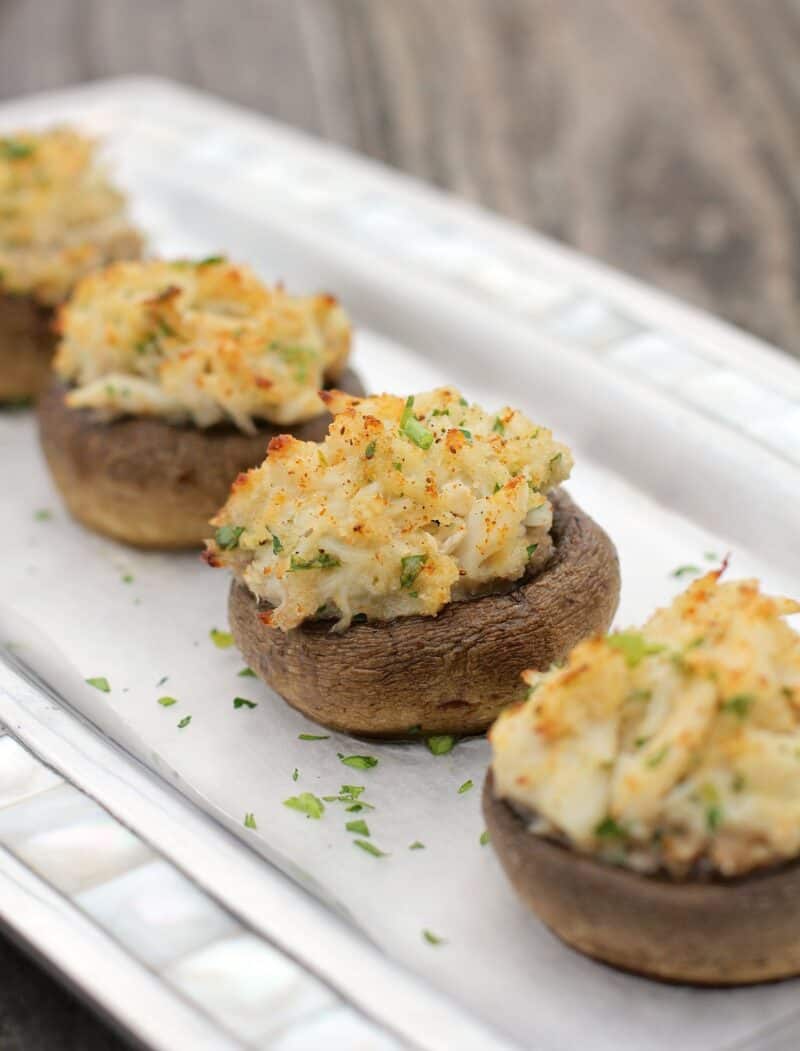 Tips and FAQs
Do not wash or in any way let the mushrooms get near water. Mushrooms are nature's sponges, and we want them to save that super power for the olive oil. Simply brush off any dirt with a paper towel and proceed.
Brush the mushroom caps generously with the olive oil. The olive oil brings flavor but also helps cook the mushrooms to be tender and not rubbery. It serves as a necessary barrier from the moisture in the filling.
Crab stuffed mushrooms are best served immediately. They can be assembled in advance, but do not cook them in advance.
Why do we discard the mushrooms stems? So, some stuffed mushrooms fillings are more watery than others, and that water is what leads to watery mushrooms. Brushing the caps with olive oil helps, but so does not including the stems in the filling (which would give off water as they cook).
If large mushrooms caps are not available your can go big or go little! You can stuff giant portobello caps or little white mushrooms caps. Just be sure to adjust your cook time accordingly. Crab stuffed mushrooms are ready when the top is lightly golden and juices around the bottom are bubbly.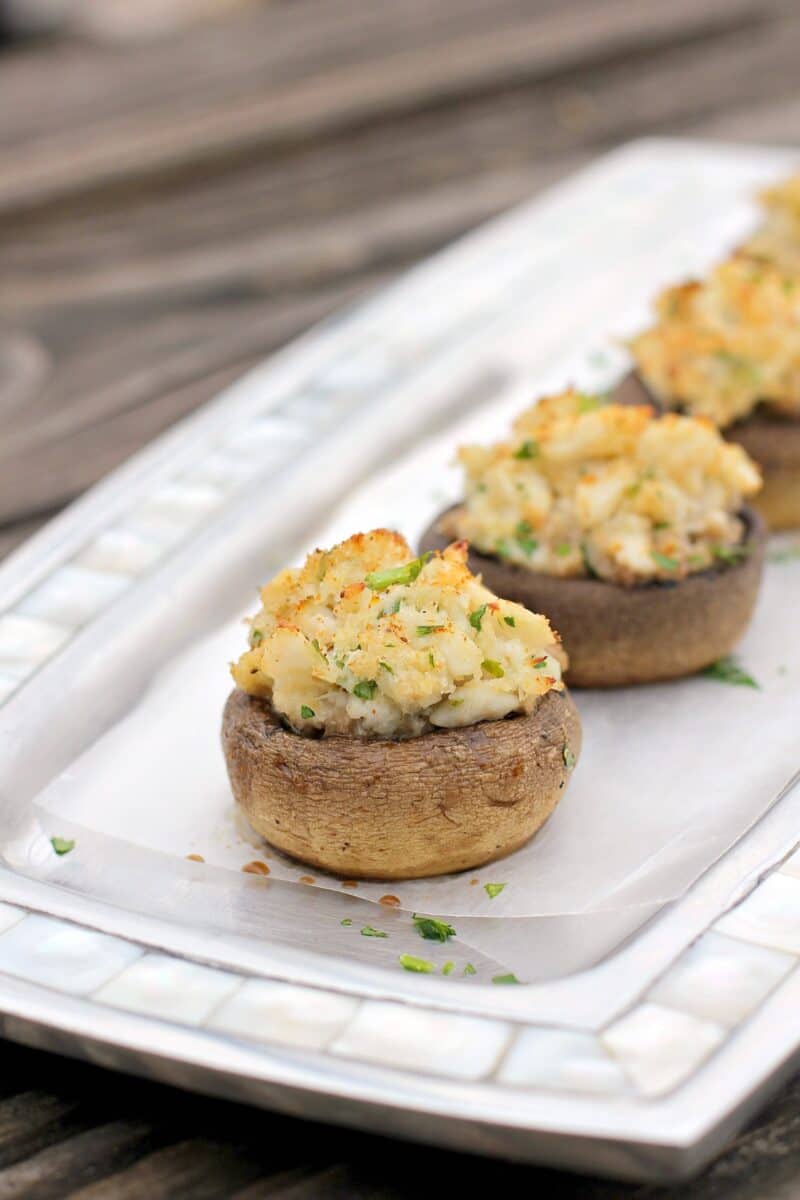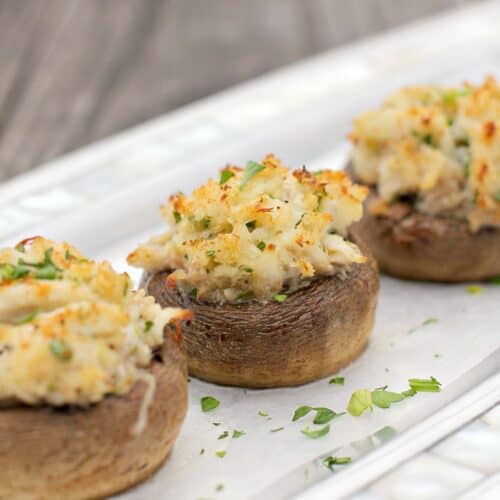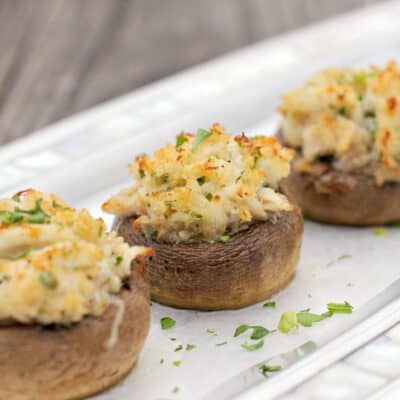 Crab Stuffed Mushrooms
Crab Stuffed Mushrooms have the perfect balance of succulent crab, binder, herb and seasoning. Make these luxurious stuffed mushrooms with crab as an appetizer for your special occasion or holiday gathering.
Instructions
Gently use a spoon to clean out the gills and cavity of the mushrooms to make more room for stuffing.

Brush the mushrooms all over with olive oil and place on ungreased baking sheet.

In a medium bowl, stir together all of the remaining ingredients.

Fill the mushroom caps. Lightly sprinkle Old Bay seasoning over top.

Bake at 375°F for 15 minutes or until very lightly browned on top and mushroom juices are sizzly around the bottom. Serve immediately.
Notes
If large white cap mushrooms are not available, small mushrooms can be used but reduce cooking time to 10-15 minutes.
Nutrition
Calories:
207
kcal
(10%)
|
Carbohydrates:
17
g
(6%)
|
Protein:
7
g
(14%)
|
Fat:
15
g
(23%)
|
Saturated Fat:
2
g
(13%)
|
Polyunsaturated Fat:
4
g
|
Monounsaturated Fat:
8
g
|
Cholesterol:
22
mg
(7%)
|
Sodium:
678
mg
(29%)
|
Potassium:
400
mg
(11%)
|
Fiber:
4
g
(17%)
|
Sugar:
11
g
(12%)
|
Vitamin C:
34
mg
(41%)
|
Calcium:
110
mg
(11%)
|
Iron:
1
mg
(6%)
Calorie count is purely an estimate calculated using an online application to serve as a guide and not to be taken as accurate nutritional information. Percent Daily Values are based on a 2,000 calorie diet.
Tried this recipe?
Leave a comment below and let me know!