Deviled eggs are that quintessential classic American recipe that is always loved and immediately devoured. Every holiday, I make this very recipe that I have developed over decades of trial and error. It is the BEST damn deviled eggs recipe by FAR that you will every taste. Not too tangy, not sweet, perfectly balanced flavor and a completely FAILPROOF recipe that never lets me down.
Making deviled eggs is always a bit of a labor of love, let's be honest. You have to boil the eggs, shell them (and hopefully they cooperate), halve them, scoop out the yolks, make the filling, and put the filling back in the egg so to speak.
Well, over GAH years, I have developed a kind of system that now really lets me knock out a batch of deviled eggs without it being much of a hassle at all anymore – the benefit of which is I make them more often and people get to enjoy them more often. So in this post, I am sharing all my secrets to the BEST deviled eggs of your life.
The secret to perfect deviled eggs
First, measuring is everything
It is funny to me that such classic American recipe – and personal favorite – was so hard for me to figure out. It took me literally years to get this just right, and in that process, I learned that the primary key is to measure the ingredients.
Now, I never like to measure anything. This is why I am a cook and not a baker. Cooks don't have to measure, generally, and I am very fine in that world.
Well, deviled eggs don't work that way. Anytime I have made deviled eggs by eye-balling the ingredients and throwing them together by "feel", I have screwed them up Every Time. Too much mustard or too much horseradish – they have never come out right if I did not measure and if I DO measure with this recipe, they are perfect Every Time.
Okay, I think I have made that point. Moving on…
Second, all the other reasons
Now, other reasons why THESE are the best damn deviled eggs ever:
A perfect balance of vinegar and mayo. This is key – I use 2 different mustards, vinegar, and mayonnaise and the exact ratios of each are a perfect balance.
No relish. Because on a hot dog, sure, but in deviled eggs… yuck, honestly.
Cooking the eggs a little longer than usual for hard-boiled eggs. We don't cook long enough to overcook them at all, but we do enough to make shelling easier, even if the eggs are fresh.
Using a ziploc bag to "pipe" the filling into the egg white halves. Filling deviled eggs was the bane of my foodie existence until I figured out this super handy hack that really lets me knock this recipe out.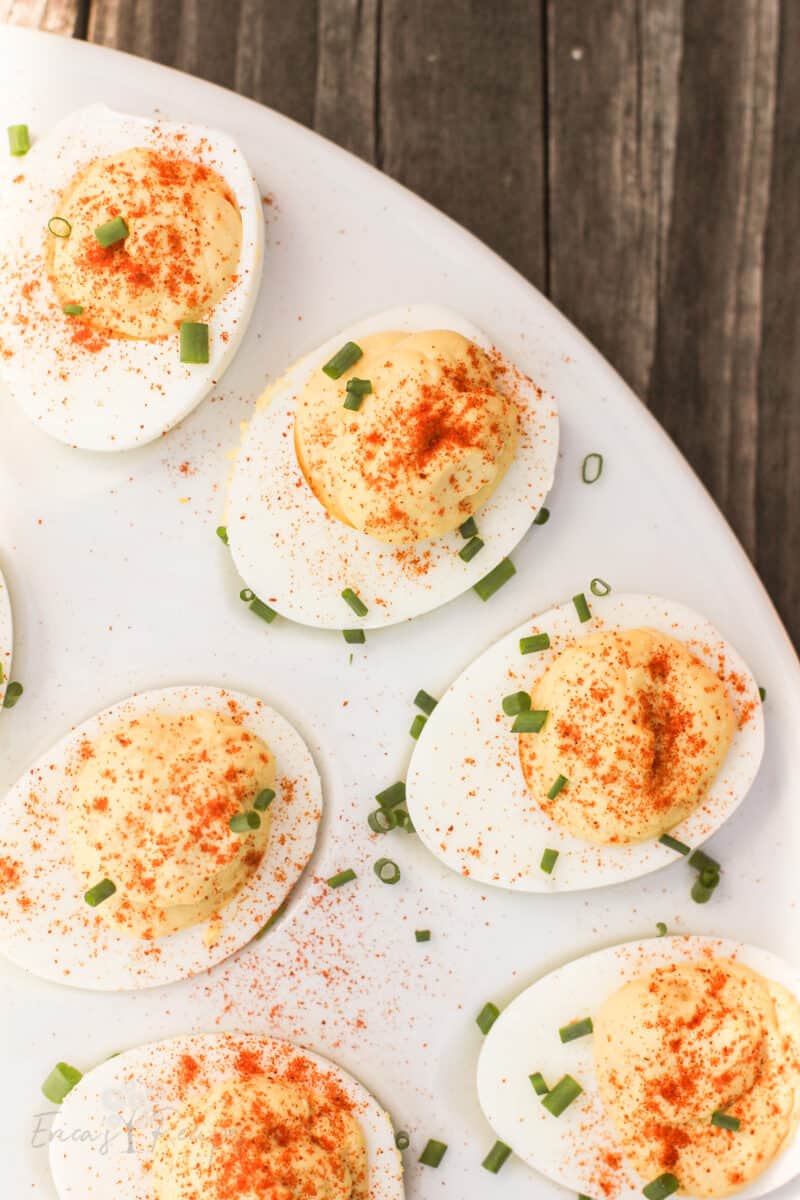 Deviled egg ingredients
Alright this is where we need to mean business, because these ingredients are intentional and the measurements are specific.
Honestly though, although I am totally stressing measuring ingredients for my deviled egg recipe, which is so unlike me, at the same time I am not completely anal about it.
I use a measuring spoon instead of a regular spoon and I get about a teaspoon or about a tablespoon, then knock it on the inside of the mixing bowl to get that ingredient out and proceed.
This isn't rocket science. We're still just cooking.
Eggs. I find that the old adage that fresh eggs are harder to shell is totally and complete true. Fresh eggs are b*tch eggs to shell. So, best case scenario is to get your eggs a week in advance, but if you can't no worries – removing the shells under cold running water helps a bunch.
Mayonnaise. I use Duke's mayonnaise. I used Hellman's for years completely convinced it was the best until I tasted Duke's and was immediately converted. Full fat is necessary – do not cut this corner then complain to me that your eggs weren't the best ever.
Vinegar. I keep a large jug of white vinegar on hand at all times for making deviled eggs and cleaning my floors. (kidding!, but actually not kidding whatsoever)
TWO mustards: yellow mustard and Dijon mustard. Yellow mustard brings bite while Dijon brings cool sophisticated flavor. They balance with the white vinegar for just the right amount of "deviled".
Horseradish. Just a bit and I measure this more precisely than the rest of the ingredients. When I have not measured, I have always added too much and that doesn't work well here.
Onion powder. Again, measure.
Worcestershire sauce. I call for 4 sprinkles in the recipe card below, by which I mean – dash, dash, dash, dash. Don't overthink it, just doooo.
Paprika. Because would they even be deviled eggs without a little sprinkling of paprika?
More deviled egg recipes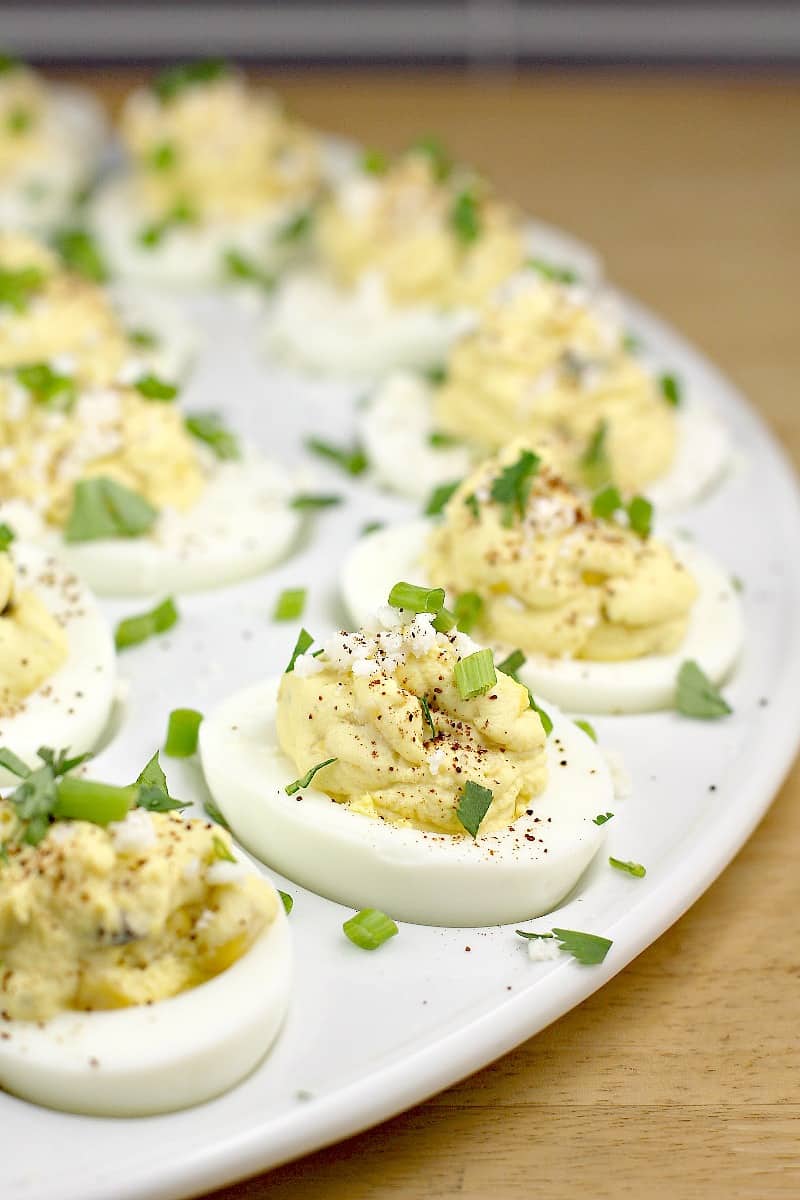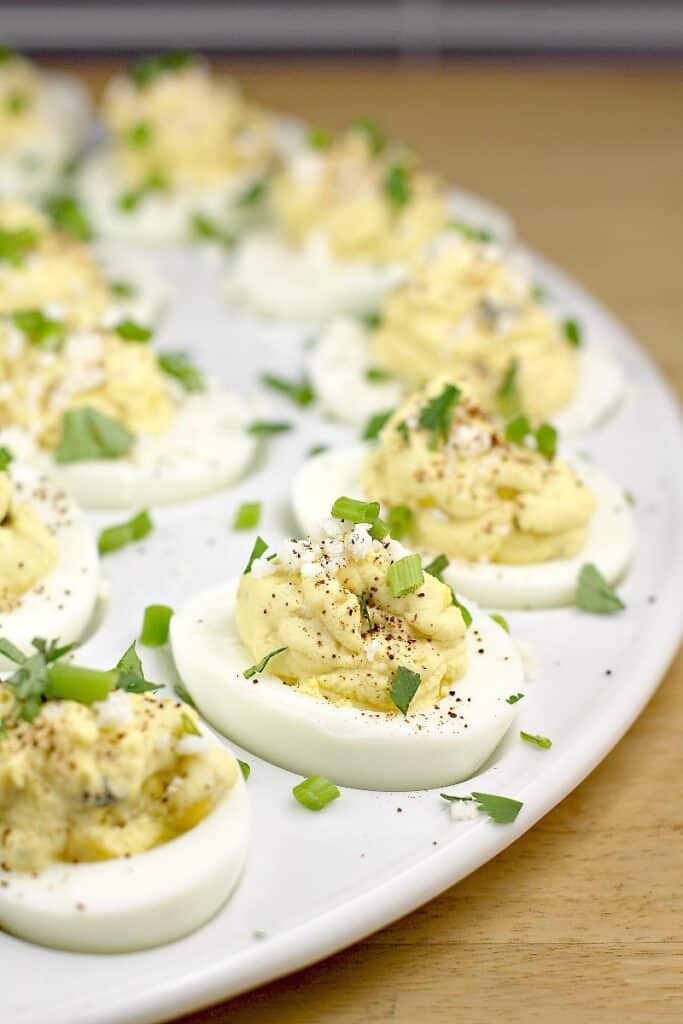 How to make the best deviled eggs
Cook the eggs
Here we go, and the process in important. These are the little tricks to make deviled eggs so easy that you will actually want to make them.
One. Boil the eggs. Older eggs are better because it tends to be easier to remove the shells, but if your eggs are fresh – no worries. Boil 17 minutes to give them an extra cook so the white is firmer to make the shells easier to remove. If your eggs are super fresh, like straight from the freaking chicken, boil 18 minutes.
Two. Shell the eggs. If the universe is on your side this day, your shells will come off easily. If not, and probably it's not let's be honest, do so under cold running water helps. So does patience and a glass of wine.
Devil the eggs
Three. Halve each egg and put the yolks in a mixing bowl. We use an electric mixer to whip up the filling, so use a mixing bowl large enough to not splatter egg everywhere.
Four. Add the rest of the filling ingredients to the bowl with the yolks. I fill each teaspoon or tablespoon, then tap tap tap on the side of the mixing bowl to get it out. Meaning, I don't bother with a rubber spatula or anything to get out all of it. We're still measuring for the most part, and it's close enough.
Five. Combine the ingredients. I use an electric mixer but you can totally use a fork.
Six. Pipe the filling into the egg white shells. Using a ziploc bag helps soooooo immensely much. I spoon the filling into a quart or gallon bag, snip off a corner large enough to allow for remaining chunks yolk to pass through, and bam bam bam fill the egg whites like it's nothing.
Done and then you will have yourself the best damn deviled eggs ever.
FAQs
Can deviled eggs be made in advance?
Absolutely yes and I always do. This is why it is such a perfect holiday recipe especially. If you can trust people to not eat them in the meantime, they can be made a day in advance.
What is the best way to transport deviled eggs?
When making deviled eggs at home with the intention of them staying at my home, I put them on a large, round white serving platter specific for deviled eggs. Meaning, it has indentations for the eggs. I used this dish for the photos in this post.
If I am going to take my delicious deviled eggs elsewhere, I have a Rubbermaid container with a lid, also specifically designed for deviled eggs. Oddly enough, this container has 22 indentations and I don't know what the hell they were thinking.
If you do not have a deviled egg-specific container or platter, I recommend using a large dish or serving tray layered with paper towel. This will keep the eggs from moving around.
In all cases, cover with plastic wrap to keep the eggs from drying out.
Should the filling be lumpy or no?
If you see a deviled egg recipe claiming to get perfectly smooth filling they are either lying or they are using a potato ricer – which would probably do the trick now that I think about it, not gonna lie. Still not going to do it myself, but if that's your jam, have at it.
At the end of the day It Does Not Matter. What matters is the flavor of your deviled eggs. Literally, no one ever has complained "Uhh, there are chunks of yolk in this deviled egg". But SO many will be all "These eggs are too much mustard" or "Too much something – I don't even know" or "Uggg, relish" or… the worst… "GAH Miracle Whip".
Can I add bacon?
Well, yes of course but it has to be done right. And I fully admit to being a bit of a food snob when it comes to this.
Adding bacon bits or crumbles to sounds like a fabulous idea in theory, but bacon does not stay crispy in deviled egg filling. It quickly turns gummy, soft.
The best way to add bacon – and this adds a wow factor as well – is to just right out stick a piece of bacon on top of each deviled egg. Trust me, comme ça: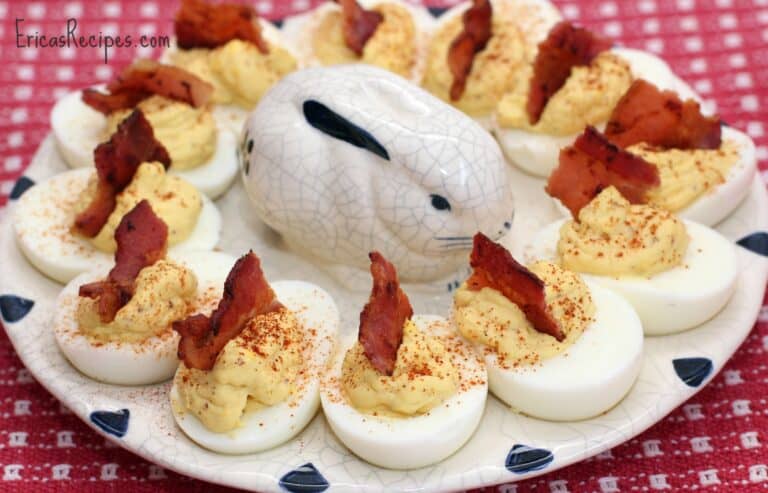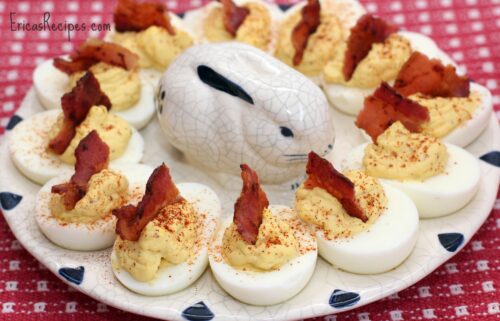 Last tips
Use a straight-edged, sharp knife to halve the eggs. Then wipe it off on a paper towel before doing the next egg. This keeps the white clean and perfect.
I pretty much always boil 13 eggs for this recipe because there is always that one a$$hole egg that doesn't cooperate and gets damaged when I take the shell off or cracks while boiling. I use that egg white for taste testing the filling, and I don't adjust the recipe except to add maybe another 1-2 teaspoons mayonnaise.
If you don't have an electric mixer, use a fork or two spoons to get the filling into the egg whites.
Paprika is tricky! It can dump out on you if you are not careful. So take care to just sprinkle. You can even put ~1 teaspoon in the palm of your hand or bowl, and use your other hand to sprinkle over the eggs.
After piping the filling into the eggs, if some look like they have a little spike or nipple of filling, your can use a wet finger and gently tap it down.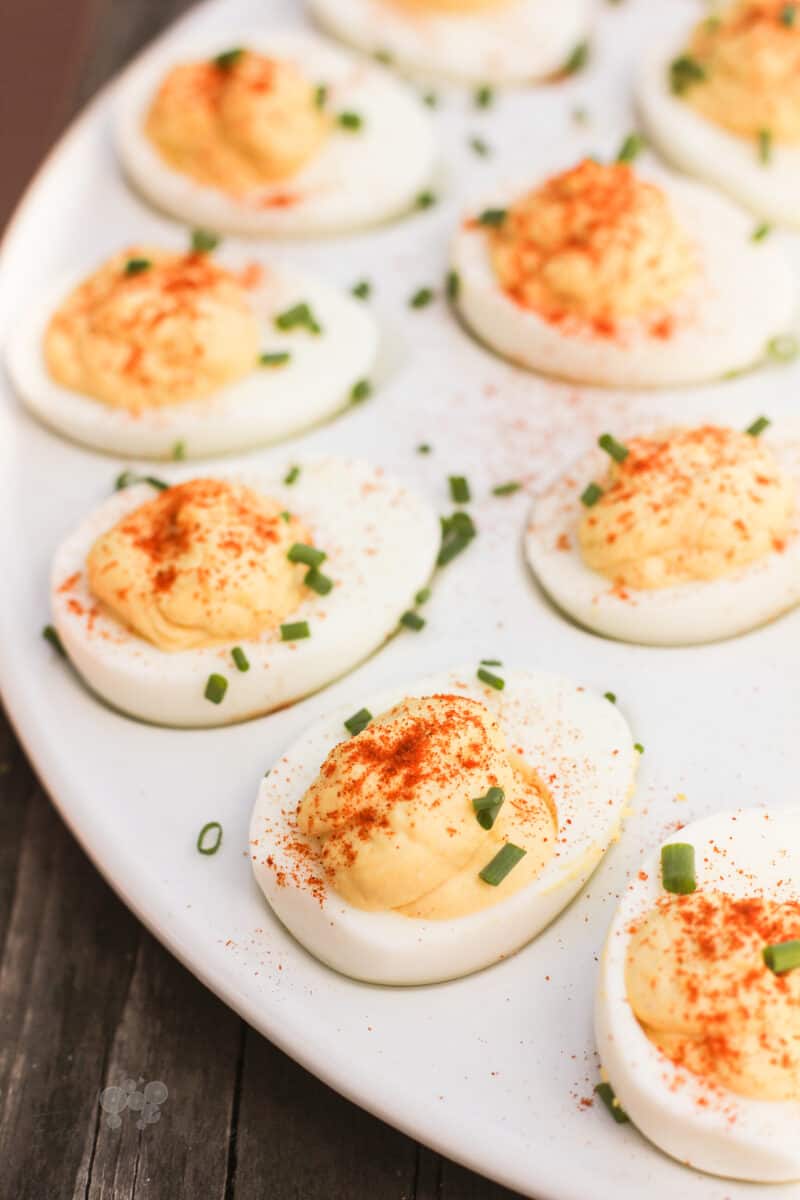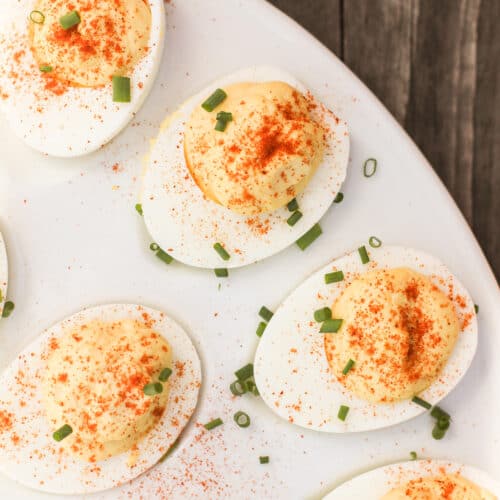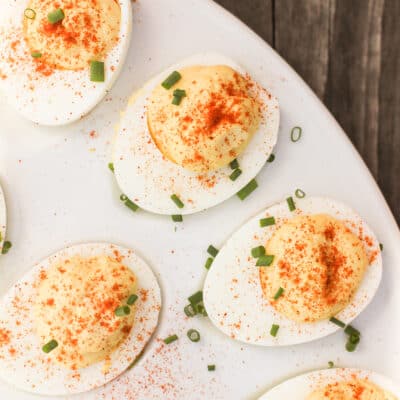 Deviled Eggs
Deviled eggs are always loved and devoured, and this is the BEST damn deviled eggs recipe with perfectly balanced flavor in a failproof recipe. Make the best deviled eggs of your life with this time-proven, family-loved recipe.
Instructions
Put the eggs in a pot and just cover with cold water. Put pot on the stove top, uncovered, on high heat and set the timer for 17 minutes. Once done, remove from the heat and run under cold water until cool enough to handle. Remove and discard shells.

Halve the eggs and put the yolks in a mixing bowl with the remaining ingredients (except paprika). Use an electric mixer to blend ingredients together until smooth (lumps of yolk may remain).

Put the yolk mixture in a resealable bag, snip the corner, and pipe the filling into the egg whites.

Sprinkle paprika lightly over the filled eggs.
Notes
Recipe can be made a day in advance.
See the recipe post above for more tips and tricks to make preparation easy.
Nutrition
Serving:
1
deviled egg
|
Calories:
106
kcal
(5%)
|
Carbohydrates:
1
g
|
Fat:
9
g
(14%)
|
Saturated Fat:
2
g
(13%)
|
Polyunsaturated Fat:
3
g
|
Monounsaturated Fat:
1
g
|
Cholesterol:
178
mg
(59%)
|
Sodium:
135
mg
(6%)
|
Potassium:
7
mg
Calorie count is purely an estimate calculated using an online application to serve as a guide and not to be taken as accurate nutritional information. Percent Daily Values are based on a 2,000 calorie diet.
Tried this recipe?
Leave a comment below and let me know!
~✿♥✿~