Creole Shrimp Deviled Eggs with Bacon
This Creole deviled eggs recipe with crisp bacon and succulent shrimp is a perfect shrimp appetizer. Shrimp Creole taken to a whole new level!
Just about as easy as making plain deviled eggs, that is what this recipe is. And I love it so much I can hardly stand it.
I have been wanting – dreaming – planning to make these Creole shrimp deviled eggs with BACON for quite some time and nothing makes me happier than when I really think about a recipe – picture it in my head before I make it – and it comes out as I hoped it would.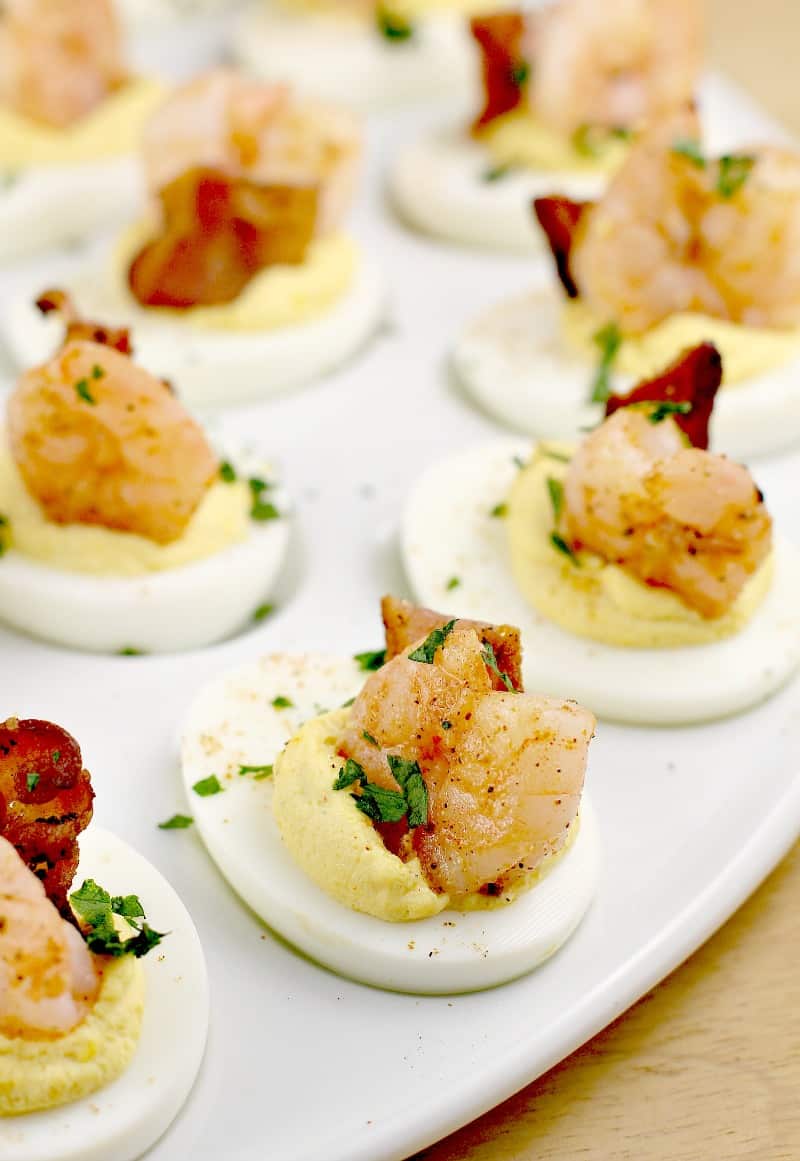 What is Creole vs Cajun food?
OK, so both Creole and Cajun are from Louisiana. "Cajun" means Acadian, who were French kicked out of Nova Scotia by the British.
Point of order, my Scotch family was kicked out of America to Nova Scotia when we lost the Revolutionary War by fighting for the British HA!
Anyway, "Creole" referred to the first French or Spanish descendants of settlers born in Louisiana.
Still not much of a difference yet, huh.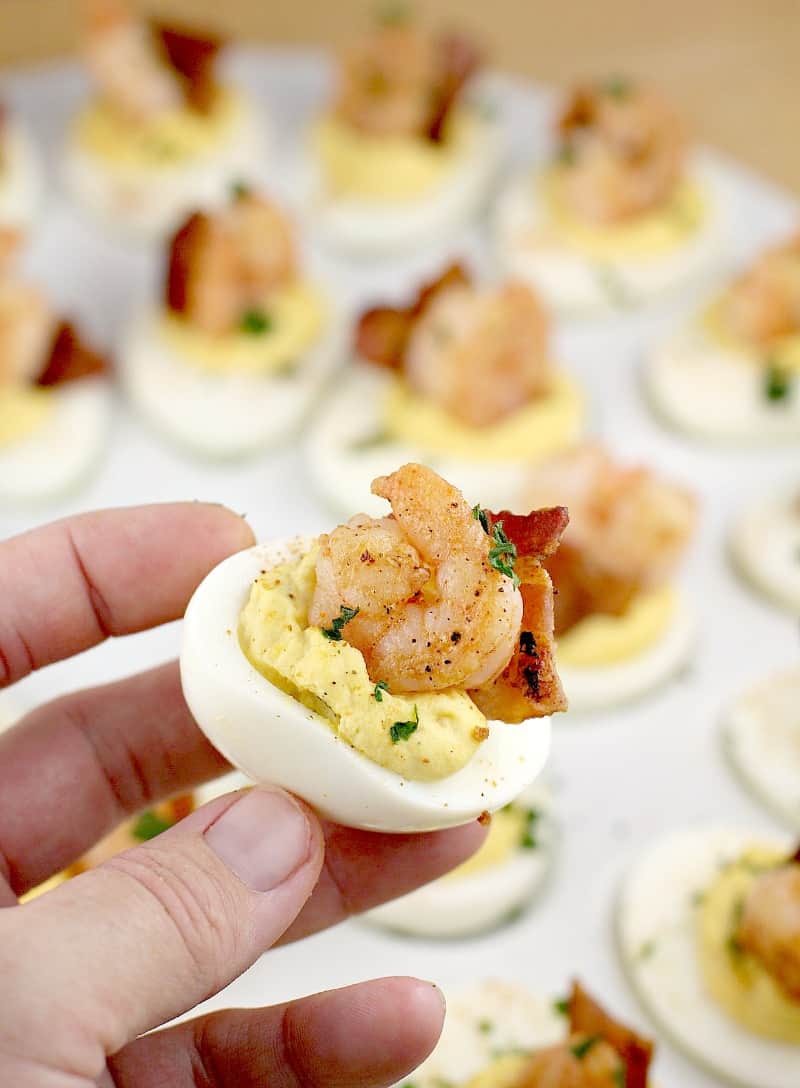 But I'll continue…. The tradition is that Cajun is country cooking. Think peasant food, cheap hearty eats. Gumbo and dirty rice, wildgame (such as gator), crawfish and boudin.
Creole is city food. Think New Orleans, think restaurants near the port, think fancier ingredients. Oysters, crab, tomatoes, and shrimp. And fresh herbs like parsley.
Ahhh now there it is. These deviled eggs with bacon – and shrimp and parsley – are clearly Creole and clearly not Cajun. And can't we just say that deviled eggs are fancy anyway?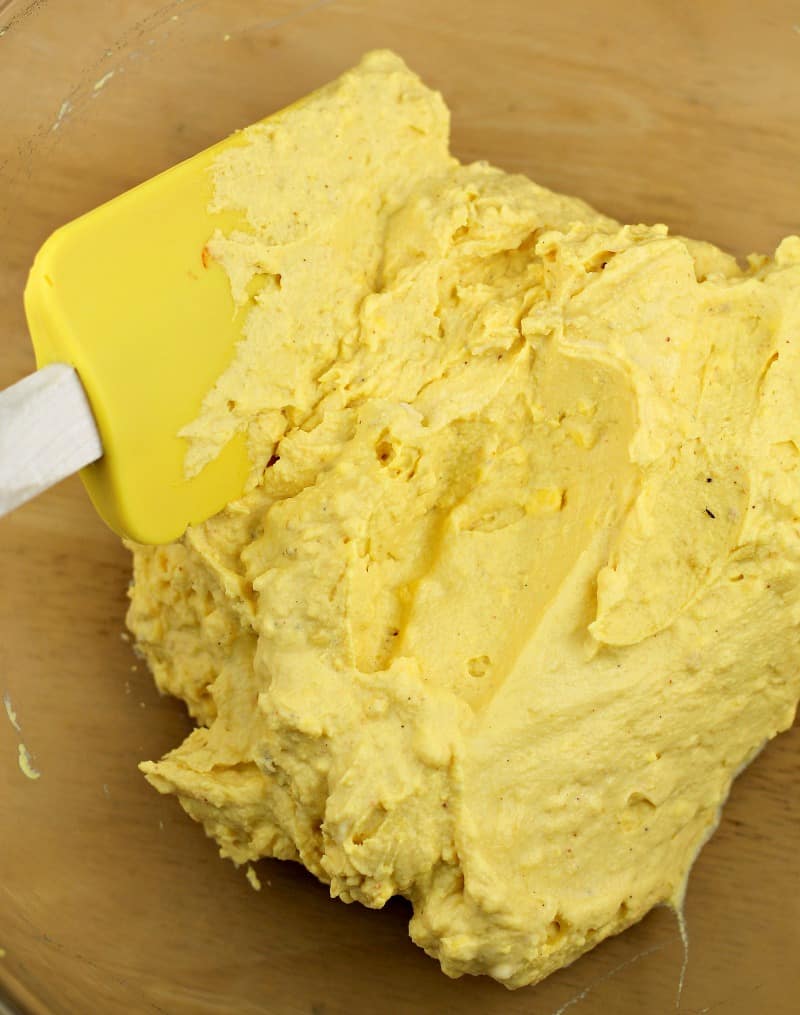 What are the Ingredients for Shrimp Deviled Eggs?
Aside from the bacon, shrimp, parsley, and seasoning, these ingredients are pretty standard fare for deviled eggs recipes.
Typical deviled egg ingredients. I altered my original Deviled Egg recipe, but not by much. I simplified it by using only sexy Dijon mustard which I loooove, instead of both Dijon and yellow mustard.
Creole flavor. To up the Louisiana ante, I added Creole seasoning (already covered that) and a bit of hot sauce. The hot sauce is totally optional depending on your taste, but those in the South tend to like their foods hot.
Bacon. Not too much to say about that.
Shrimp. I was completely being lazy and bought the small shrimp at the grocery seafood section, already peeled and deveined.
And I literally only got 24 shrimp, so I didn't mind the extra $1.00 per pound, since I wasn't buying much to begin with.
Did you know that "deviled eggs" literally means spicy eggs? In America, this kick comes from mustard and maybe pepper, a little paprika. But in my shrimp deviled eggs recipe we are all about the kick.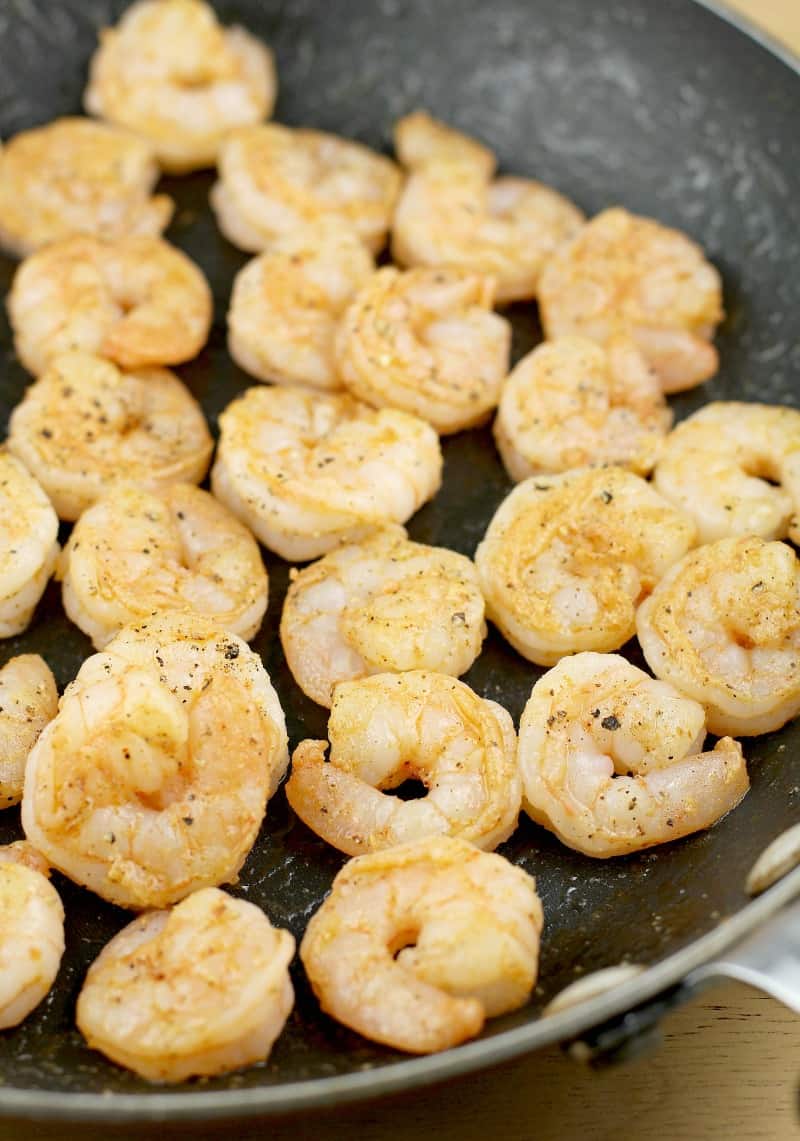 What are the Steps for making Deviled Eggs with Bacon and Shrimp?
The steps for making this Creole shrimp recipe are thusly:
Cook bacon. Cut, break, or tear into pieces.
Cook shrimp. Toss with Creole seasoning, and cook the shrimp super quickly in a skillet with olive oil.
Make the deviled eggs. Do this just as you would any deviled egg recipe, just use my ingredient listing.
Top deviled eggs. Top each one with shrimp, bacon, parsley, and a sprinkle of Creole seasoning (instead of the traditional paprika).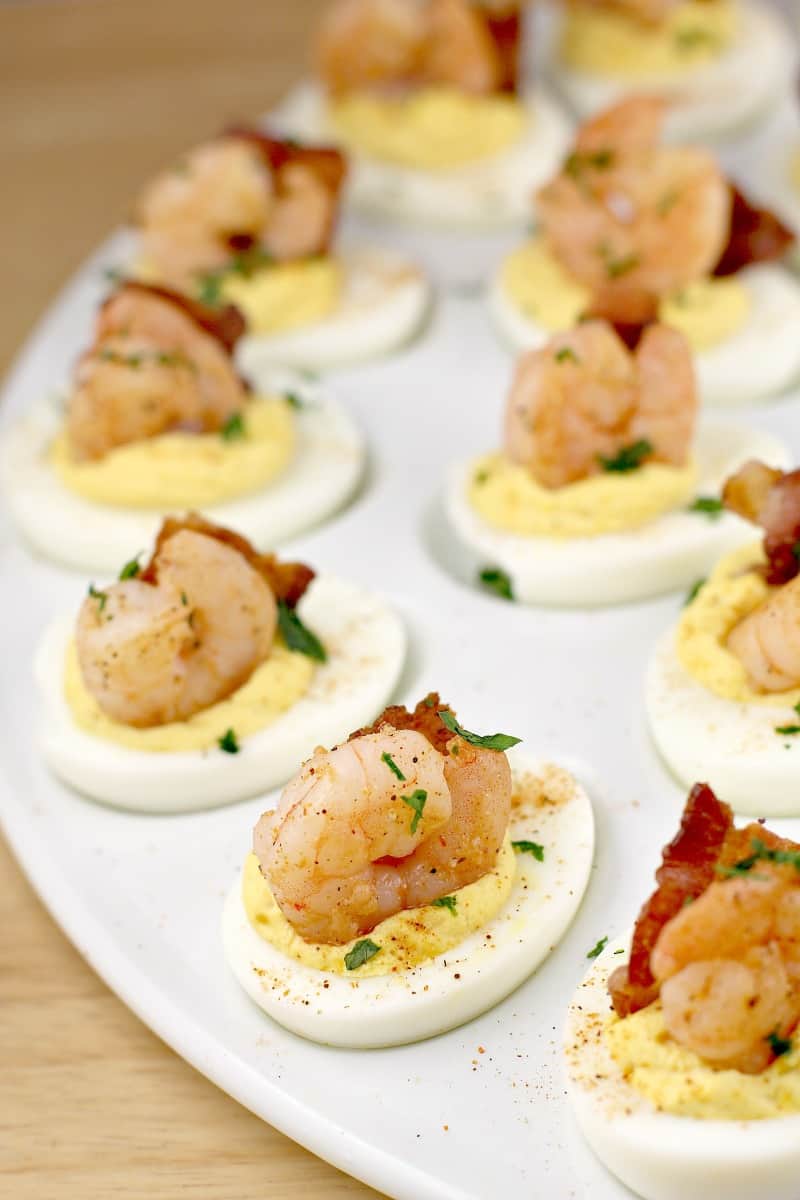 Extra Tips and Ideas
Using a hand mixer helps making the egg mixture much easier and faster then just a fork.
Deviled eggs are a labor of love, but you can cut down on the prep time by cooking the bacon and sauteing the shrimp while the eggs are boiling and cooling.
These shrimp deviled eggs can be made a day in advance.
As with all deviled eggs, week-old eggs will peel more easily than fresh.
Variation Ideas for your Creole Shrimp Deviled Eggs
You can totally play with this recipe and add more Louisiana favorites such as:
Finely diced green bell pepper.
Finely diced celery.
Add a thin slice of cooked andouille sausage on top.
Replace with shrimp with crawfish or crab (I would recommend mixing into the egg mixture if you do).
Food is fun, isn't it? That is precisely what this recipe is. Fun, DELICIOUS, and flavorful finger food.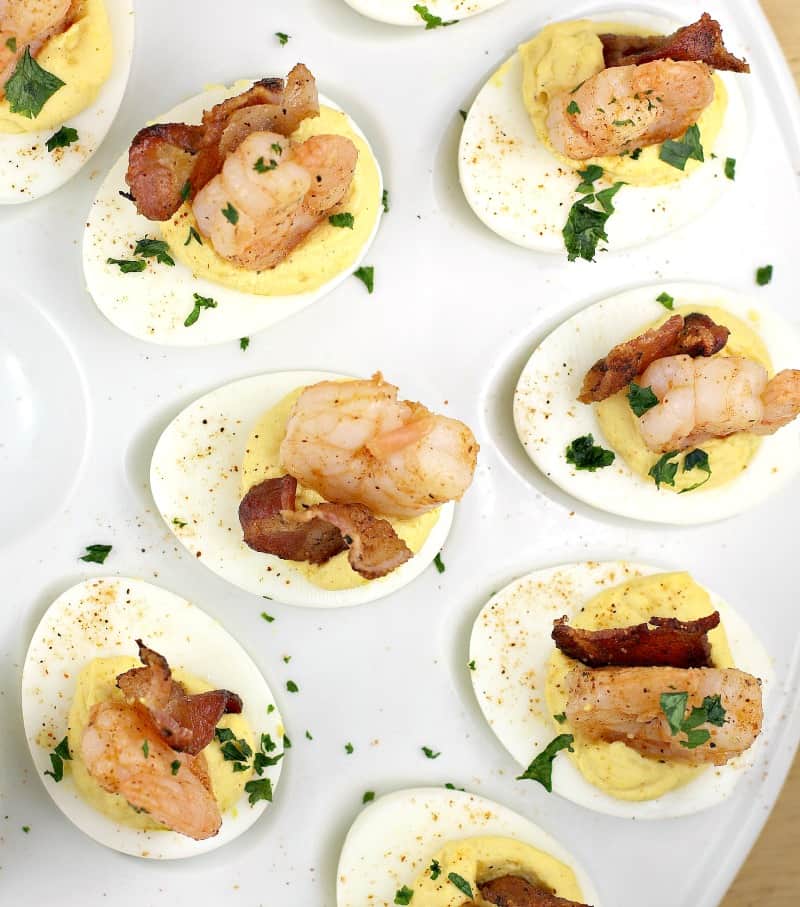 If you love shrimp, check out these recipes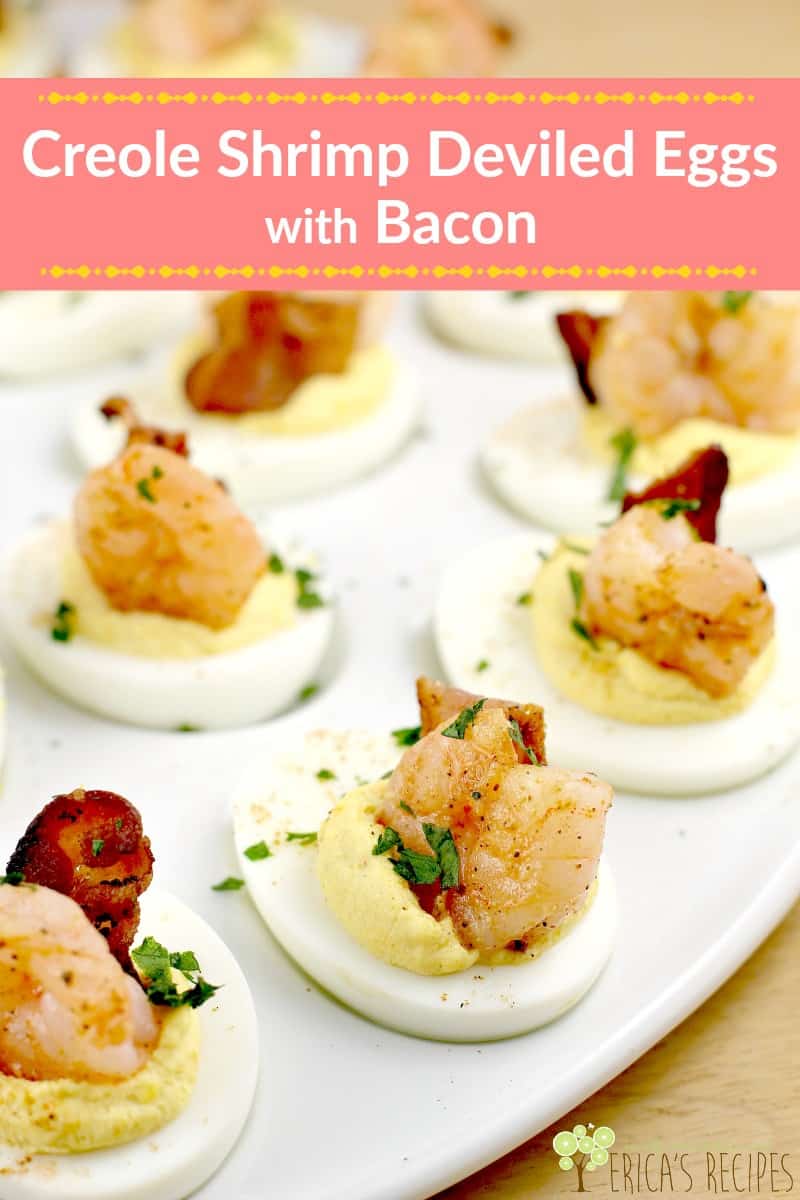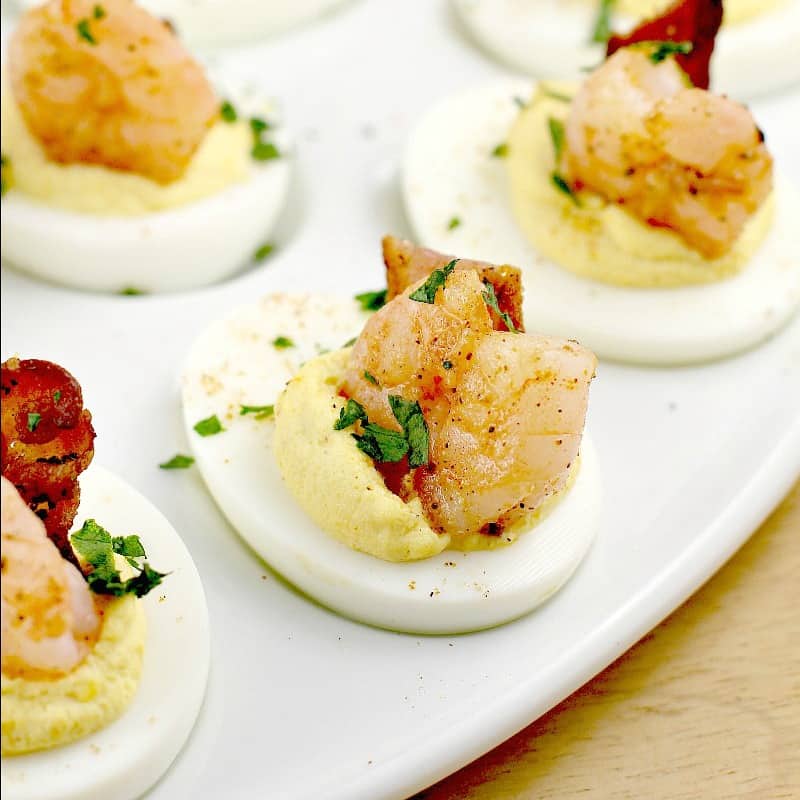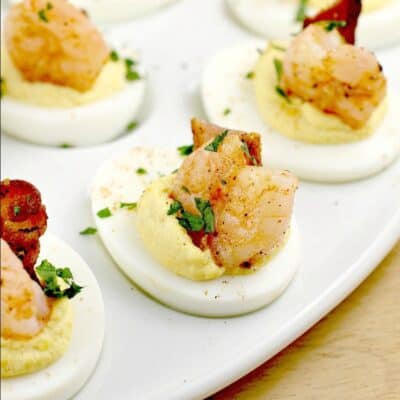 Creole Shrimp Deviled Eggs with Bacon
This Creole deviled eggs recipe with crisp bacon and succulent shrimp is a perfect shrimp appetizer.
Instructions
For the Creole Shrimp
Heat the olive oil in a nonstick skillet on high heat.

Toss the shrimp in the 1 teaspoon Creole seasoning and saute, tossing lightly, until shrimp is opaque and just cooked through. Remove from the heat.
For the Deviled Eggs
Remove the eggs from the shells. Split each in half lengthwise, and put the yolks in a mixing bowl.

To the bowl with the egg yolks, add the remaining ingredients except the bacon and garnish.

Using a fork or hand mixer, mash yolks and combine ingredients until smooth.

Transfer the deviled egg mixture to a large resealable bag. Snip off one corner of the bag, and "pipe" the egg mixture into the egg white halves.

Top each egg with a shrimp, a piece of bacon, and a sprinkling of parsley or snipped chives, and a light sprinkling of Creole seasoning.
Notes
If your Creole seasoning has salt included in it, season the egg mixture to taste (~1/2 tsp). Remember that the shrimp and bacon will contribute more salt. If your Creole seasoning is salt-free, then you can be more generous.
Calorie calculation is an estimation, with 2 pieces per person.
Nutrition
Calorie count is purely an estimate calculated using an online application to serve as a guide and not to be taken as accurate nutritional information. Percent Daily Values are based on a 2,000 calorie diet.
Tried this recipe?
Leave a comment below and let me know!