Key Lime Parfait with Simple Grain-Free Granola (DF, GF, Paleo)
Tropical flavors shine in this Key Lime Parfait with Simple Grain-Free Granola that is so not ordinary. Refreshing fruit, Simple Grain-Free Granola with coconut and maple, dairy-free yogurt, and a little drizzle of honey are just what you need to help get you through this busy seasons.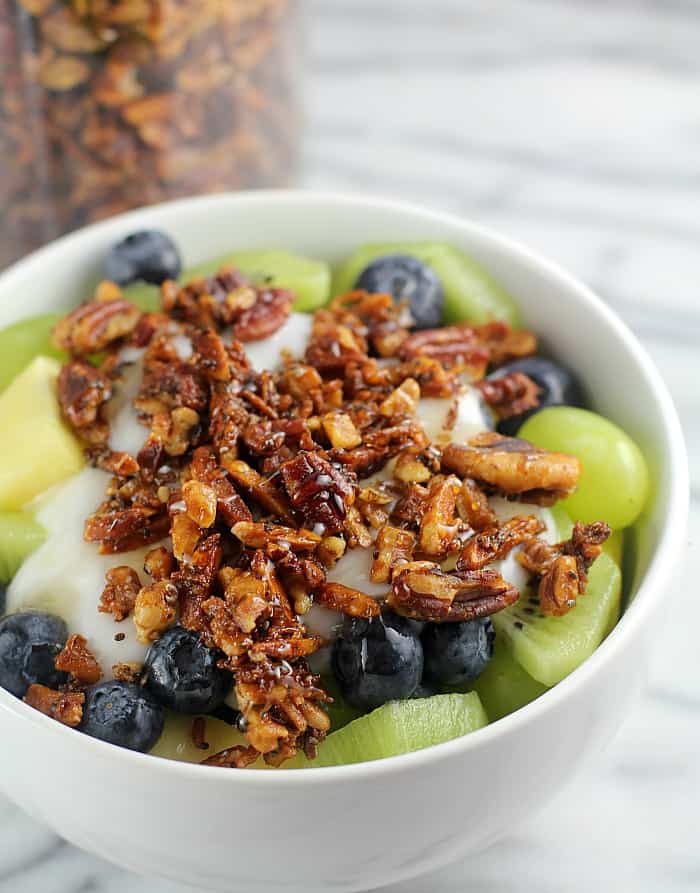 Because it is a "season", isn't it? Let's be honest with ourselves. The anticipation, preparation, then, ultimately… shock-and-dive-right-back-in-there. Back-To-School is a season. So, we need easy, simple recipes like this grain-free granola where a little preparation in advance can save us during the busy week.
Besides, HEY! You gluten-free, paleo, dairy-free souls out there! I am looking out for you with this recipe. So, let's remake our same old parfait into an exciting and DELICIOUS new twist, shall we?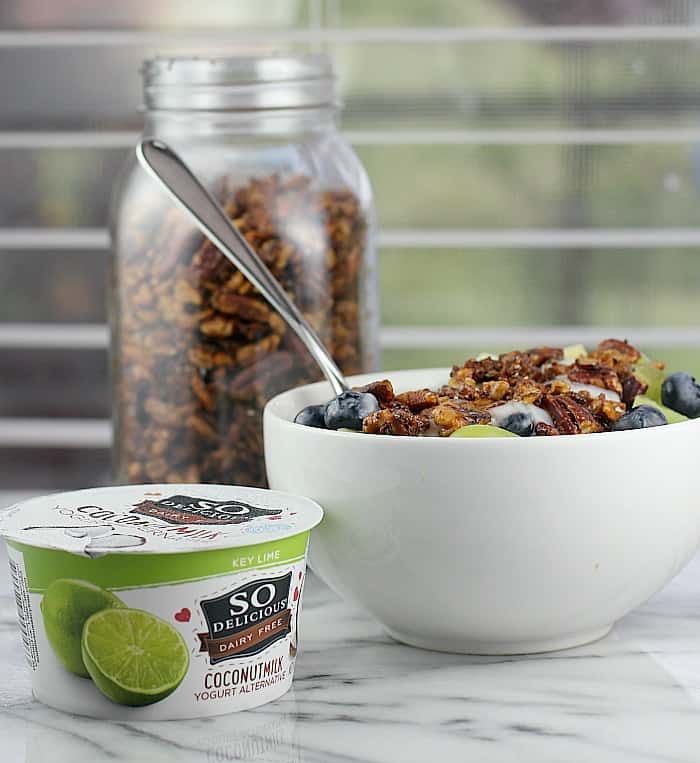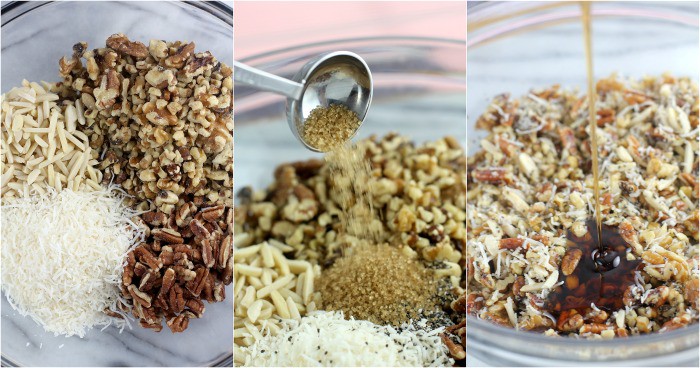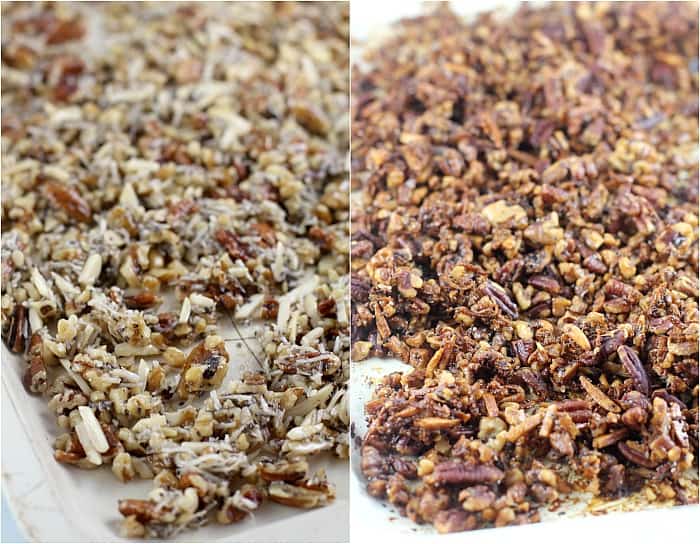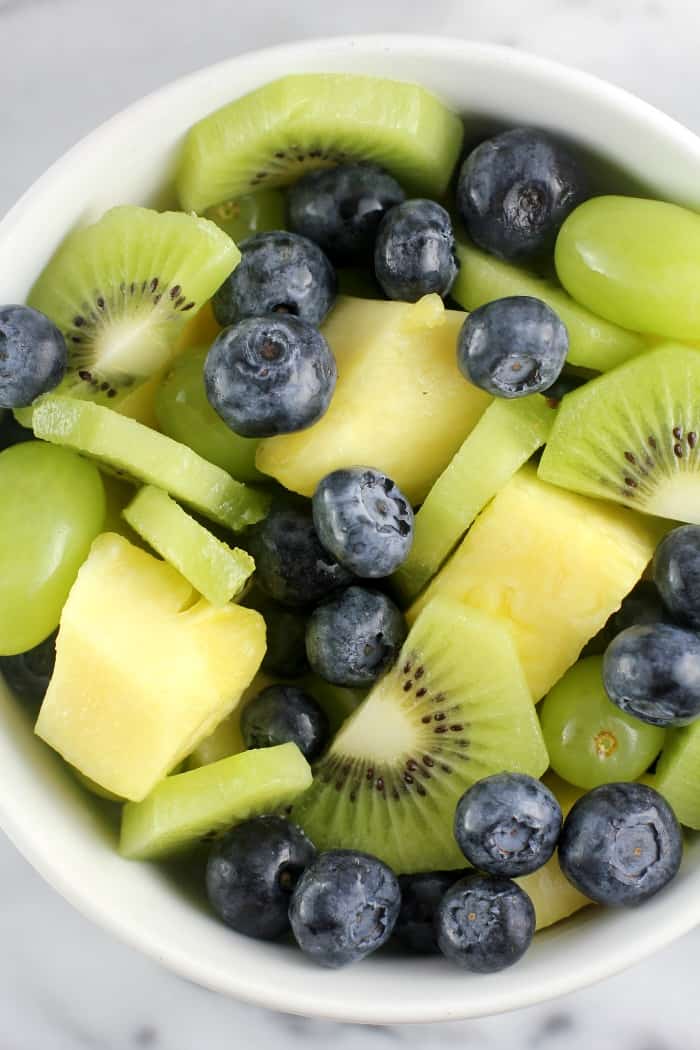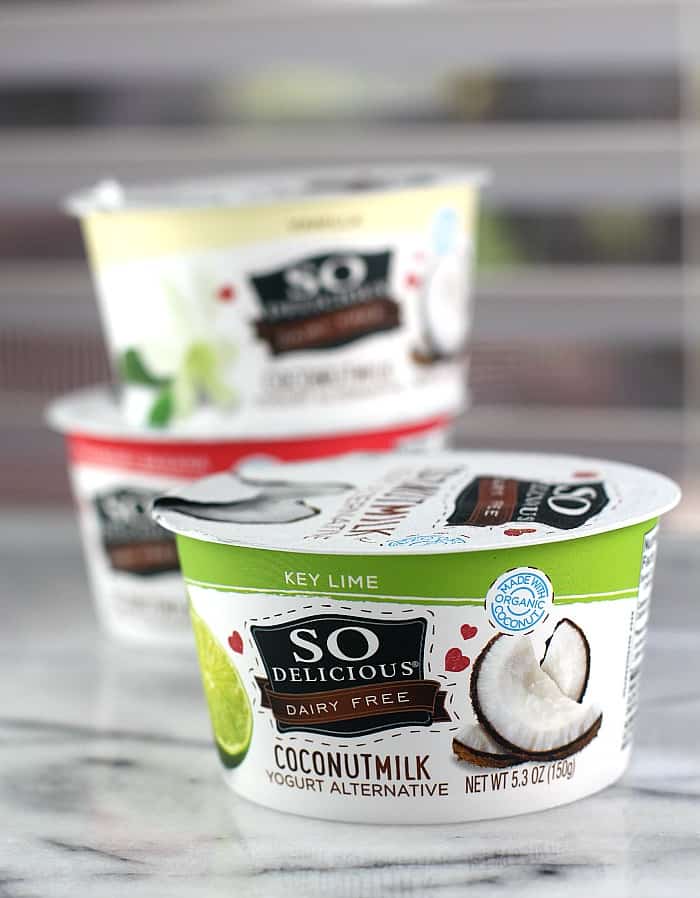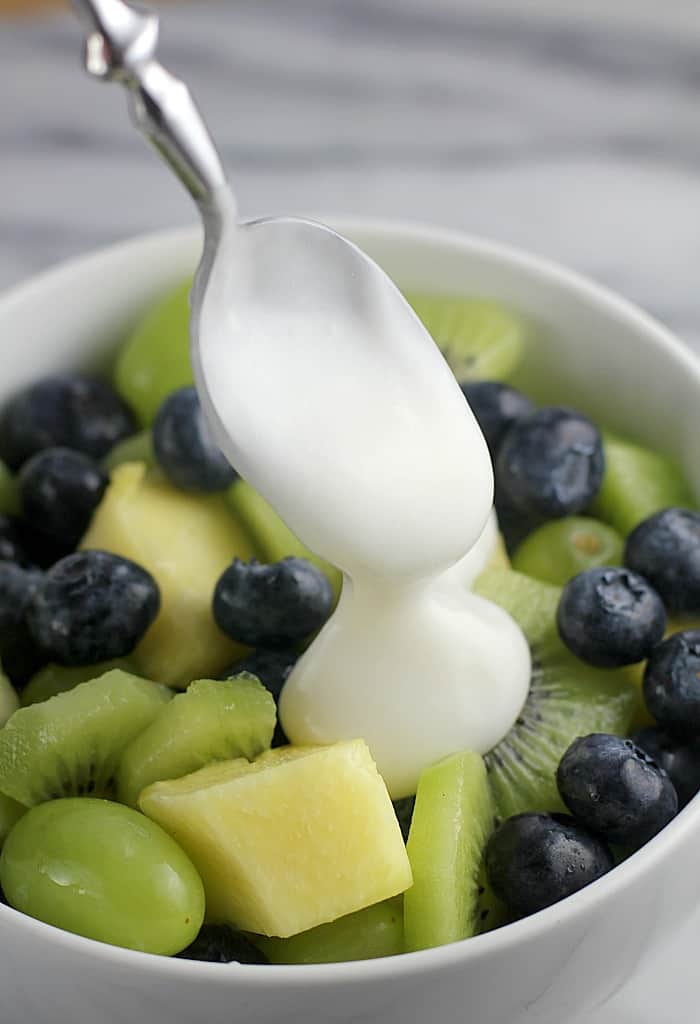 So one thing I did this summer was work on new ideas to help my life during the week, during the school year. I can't count how many times I have set out to grandiosely prep on a Sunday literally everything for everyone for the week. But I've over done it or made stuff that wouldn't last through Friday… too many fails. So I tried to come up with smarter ideas that would keep, and this recipe is one of those.
The first trick is the grain-free granola. It is versatile, you can change it up however you want. AND it makes a good amount – enough to fill three 16-ounce Mason jars. Just store in the fridge and use as you like. The flavor is SO good – deeper and richer, not overly-sweet like store-bought granola can be. If you care about avoiding grains or gluten, they aren't here. If you don't care about that, you won't even notice they aren't here. Just awesome, maple crunch to top our Key Lime Parfait.
So let's talk about the So Delicious Dairy Free® Key Lime Yogurt Alternative. Because all that thick, creamy, tangy-sweet, but not too sweet, Key Lime flavor is what makes this whole thing extra special too …and actually a Key Lime parfait. If you are wanting dairy-free, this coconut milk-based product also gives you your probiotics too. So Delicious has 9 other flavors available too, two with less than a gram of sugar and all non-GMO Project verified, certified gluten-free, and certified vegan.
Okay, so the way to do this as a meal-prep thing is ..this: Make the granola. Store the granola in jars or a ziploc bag in the fridge. Then, when you are in super-meal-prep mode, prep it up in a food container following the directions for the recipe if it is going to be eaten within a day or two. If prepping for longer, I keep the components separate in their own containers, then throw together when I'm ready to eat. The So Delicious Dairy Free® Key Lime Yogurt Alternative can stay in their own handy containers until go-time.
So that's it folks! A yummy treat ..er, breakfast, to help us survive the busy Back-to-School times. Bursting with all the flavors, refreshing, crunchy, with just the right amount of sweet!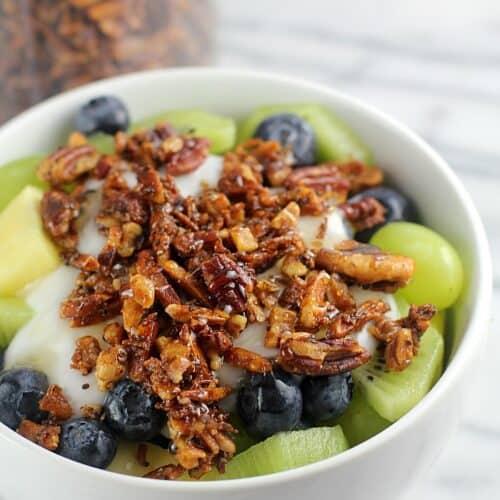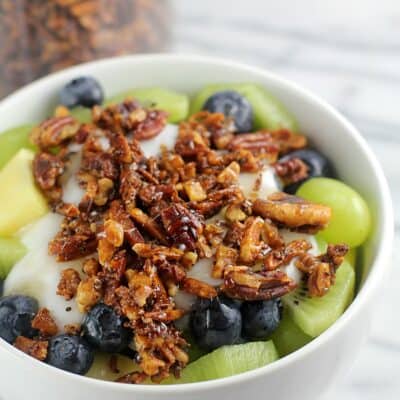 Key Lime Parfait with Simple Grain-Free Granola
Tropical flavors shine in this dairy-free parfait that is so not ordinary.
Ingredients
Simple Grain-Free Granola
½

cup

unsweetened flaked coconut

½

cup

slivered almonds

2

cups

chopped walnuts

2

cups

chopped pecans

2

Tbs

raw sugar or coconut sugar

2

Tbs

chia seeds

¼

tsp

kosher salt

3

Tbs

coconut oil

melted

¼

cup

pure maple syrup
For the Tropical Parfait
Simple Grain-Free Granola

assorted fruit

such as green grapes, kiwi, pineapple and blueberries

So Delicious Dairy Free® Key Lime Yogurt Alternative

honey

for drizzling (or substitute agave syrup as a vegan option)
Instructions
Heat oven to 325F.

In a bowl, combine the granola ingredients in the order listed. Toss well to combine.

Layer on a large, rimmed sheet pan. Bake at 325F for 20 minutes or until well browned. Let cool enough to handle, then transfer to storage container. Store in the refrigerator.

To assemble a parfait: layer fruit, yogurt, and granola in a serving bowl. Drizzle with honey and serve.
Calorie count is purely an estimate calculated using an online application to serve as a guide and not to be taken as accurate nutritional information. Percent Daily Values are based on a 2,000 calorie diet.
Tried this recipe?
Leave a comment below and let me know!