This here is a tailgate/grillgate recipe for the ages. Huge shrimp stuffed with a classic RITZ cracker seafood stuffing, wrapped in bacon, doused in a new Chipotle Dr Pepper® BBQ sauce, and grilled over coals for an epic bite that will win all the parties.
This post was sponsored. #GrillGatingHero #GrillGating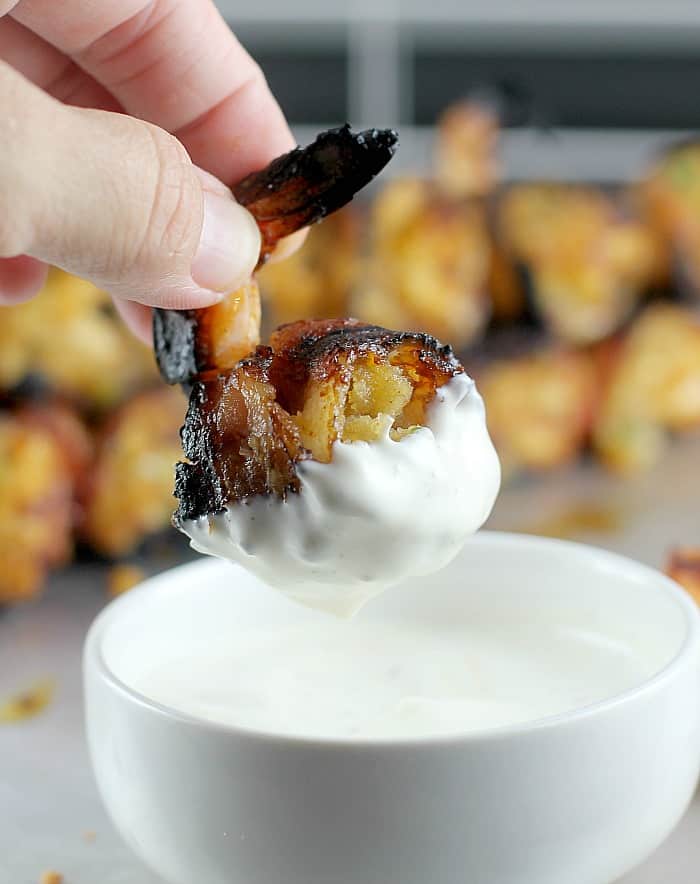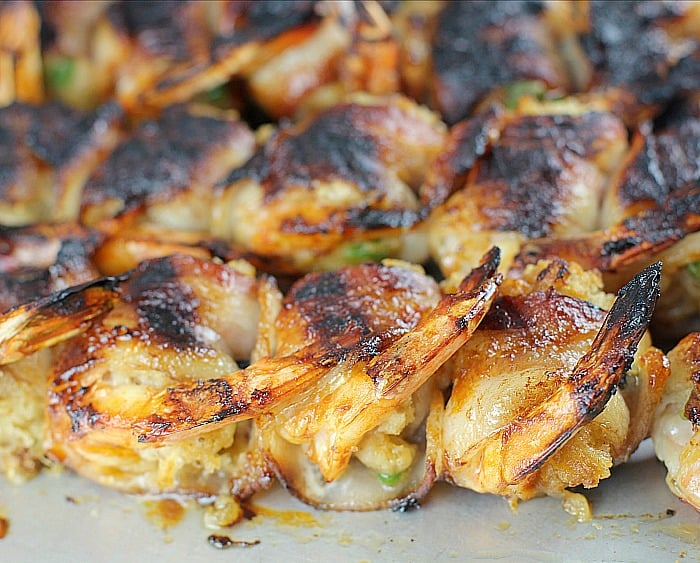 GUYS GUYS GUYS!! Just GUESS what is around the corner. …Like seriously, what does FALL say to you … other than back-to-school (which was actually a week ago here in Florida), cooler weather (but not in Florida), colorful fall leaves (again, not in Florida), and pumpkins (definitely, not Florida)… …🙄
Hint ….Homecoming ….???? Anyone? Bueller?
FOOTBALL! It's back thank gawd. And because I am from Florida and we have big schools and big teams, it is only fitting that we come up with a ridiculously fun new recipe for tailgating with the grill and awesome game-day grub.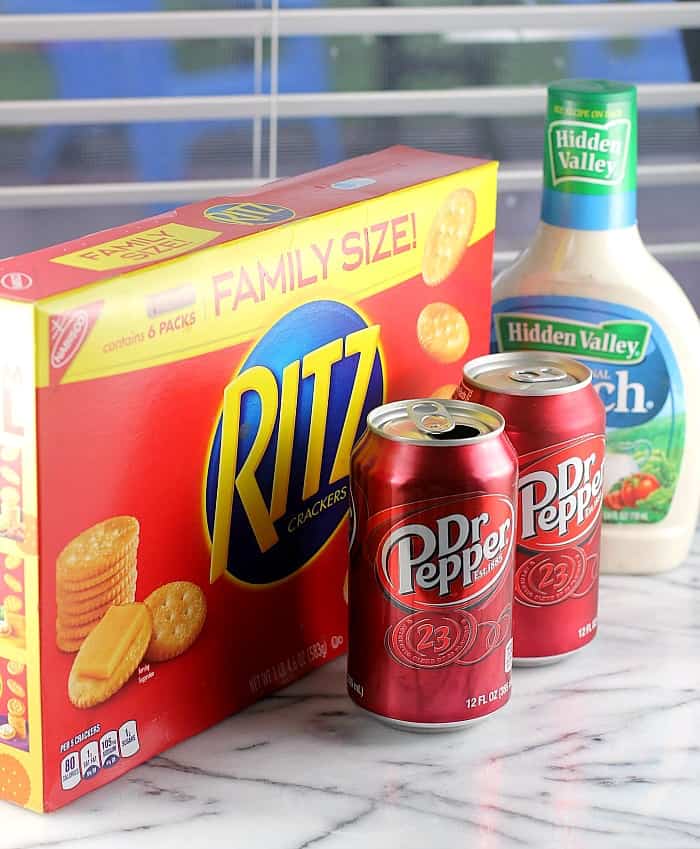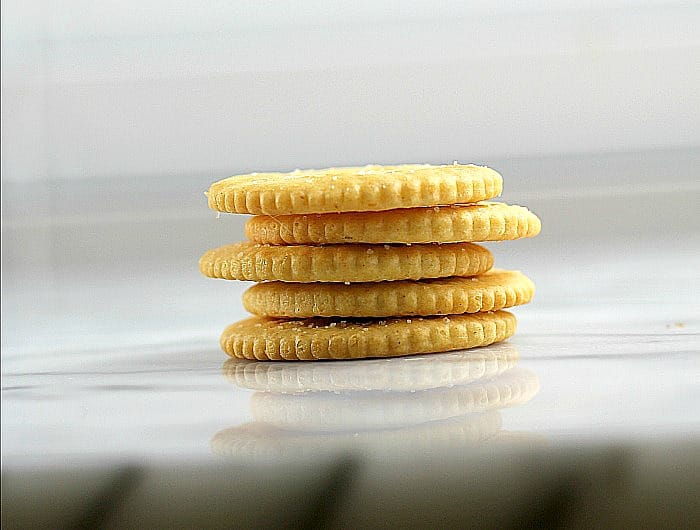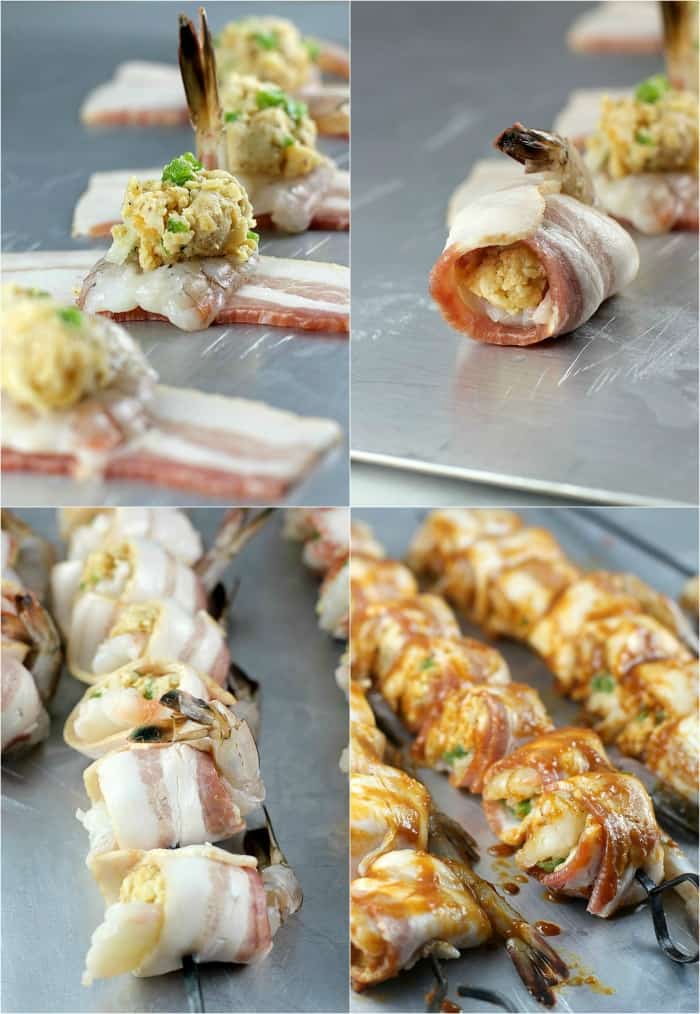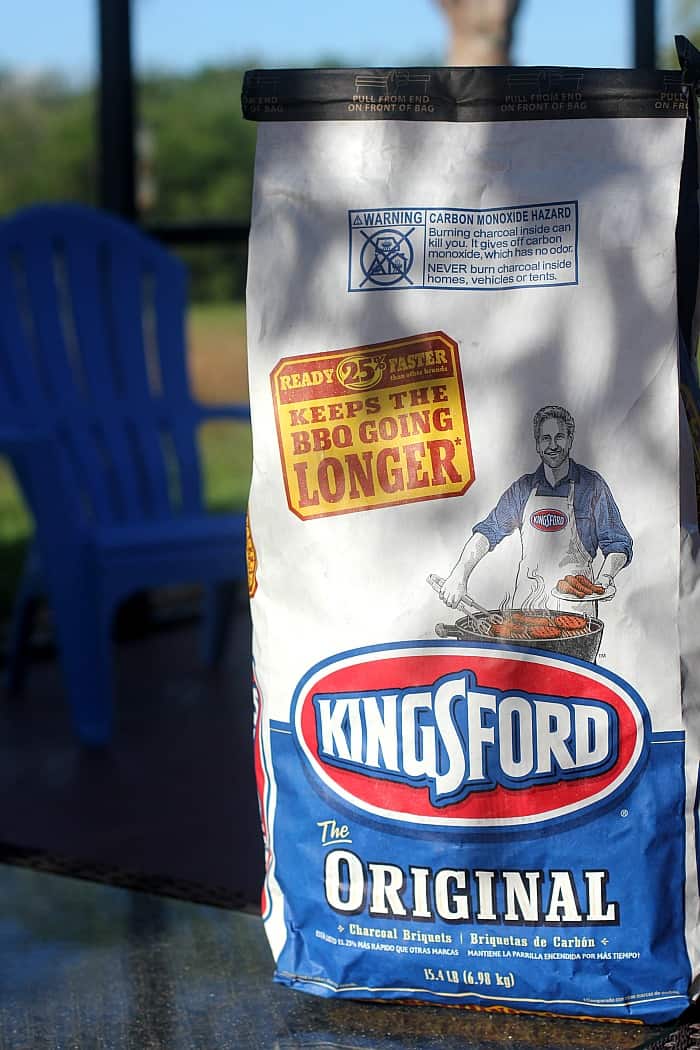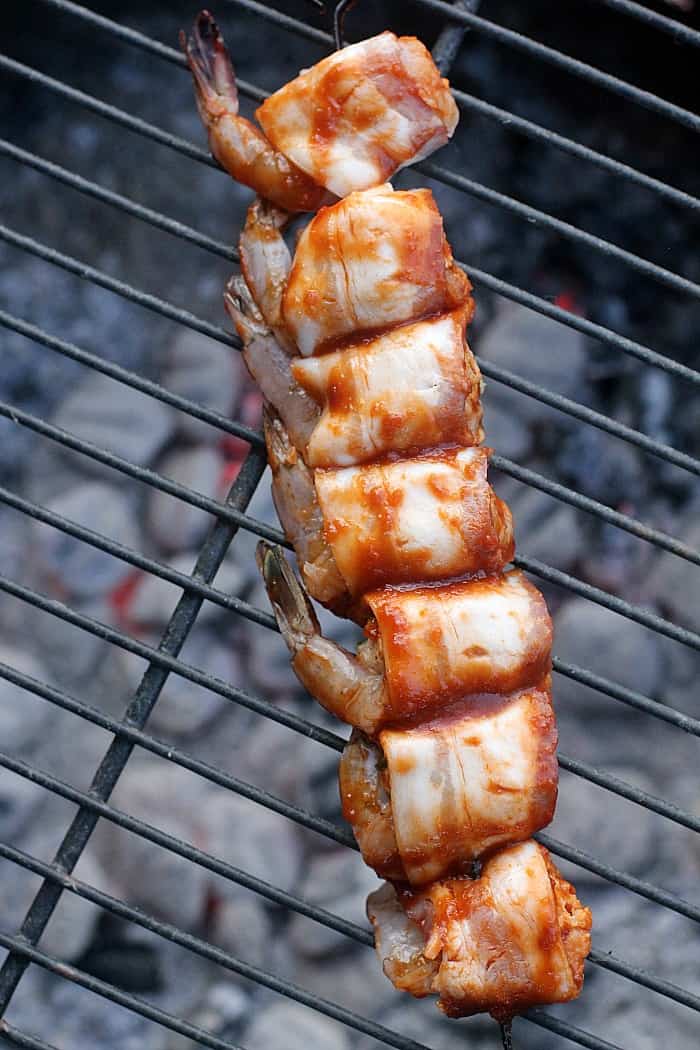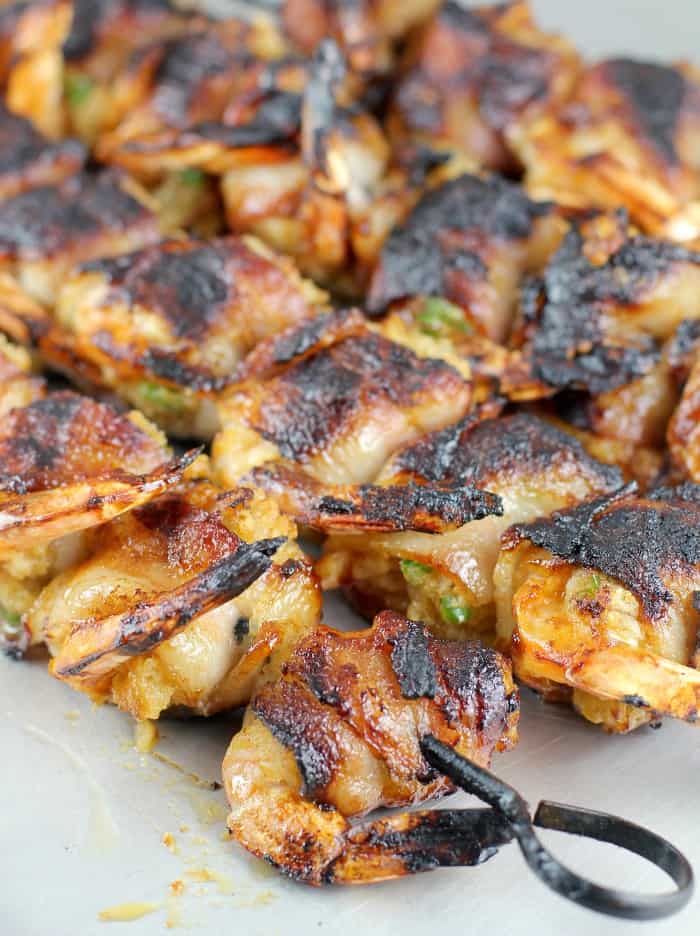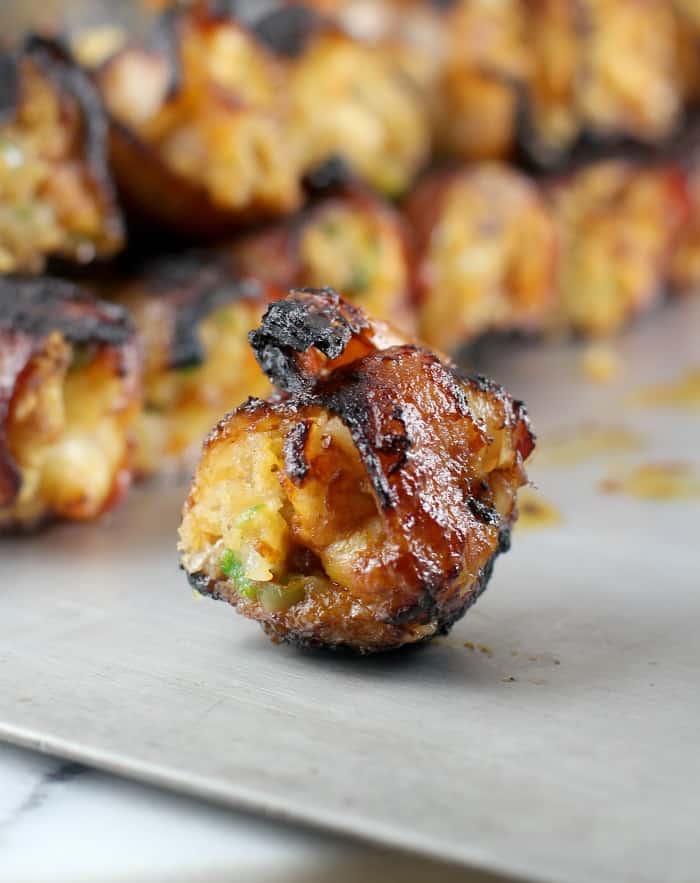 I make up new recipes all the time, but these Bacon-Wrapped BBQ Stuffed Shrimp sent me over the moon. AND as a bonus, every component can be made in advance so that come game-day, just grill them up and make any fall football tailgate gathering perfect.
I am working with several brands here for this Bacon-Wrapped BBQ Stuffed Shrimp post (FUN right?) – Dr Pepper, RITZ crackers, Kingsford® Charcoal, and Hidden Valley® Ranch. Whew. How proud am I that I knocked out a recipe using them ALL? But it was actually easy, because they are so fun for a foodie to play with.
I have worked with RITZ before by the way, and my Garlic Sriracha Shrimp Topped Crackers are still to this day a family favorite party bite. My teenager still requests them when she has a sleepover party. Weird? Probably.
RITZ crackers are the quintessential ingredient for a good seafood stuffing. I remember eating stuffed lobster in New Hampshire when I was in college and pretty much the stuffing was all RITZ crackers and butter. So, accordingly, I have that affection. Likewise, Dr Pepper soda is fantastic as part of the base for a BBQ sauce – just look at the caramelization on my shrimps. And while we're at it, if you are going to grill ….clearly, Kingsford. Nothing beats that charcoal grill flavor.
Alright, so when you go to throw your football tailgate party, 1) a grill is a must, and 2) you need easy, good food. But not TOO easy. Like, just dogs and burgers, really? Can't we do better than that? Of course we can, and it is from that place that I give you this recipe. Load up your cooler with Dr Pepper, bring the grill – dogs and burgers – and all, but ALSOOOOO make a freaking fantastic recipe like this too. And be awesome. All of the components can be made in advance, and the shrimp can be assembled in advance. Then when you get outside that stadium and set up shop, you just brush on the sauce and grill. And puff your chest out while you do it too. Be proud. 👌
So, this Bacon-Wrapped BBQ Stuffed Shrimp recipe. First, we make a BBQ sauce. This is very easy, we just saute up some onion and garlic, then add the rest and blend. Too easy. Next, we make the stuffing. Also easy – I just took a couple sleeves of RITZ crackers and applied force to the ends to crush them all, then emptied the sleeves into my bowl, added the rest and combined. Also, very easy. Clean up the shrimp, assemble, then grill. See? It is easy, and that is why I included so many photos in this post .. to take out the guesswork.
Once they come off the grill, you are going to want to eat them right away but give them a minute – that filling is HOT. I totally scorched my mouth. Also, serving with the cool Hidden Valley Ranch helped for that and was a perfect finishing touch.
So that's it folks! I am super proud of this recipe, it is DELICIOUS. So when you head out for those football pre-game-shenanigans, pack this recipe up along for the ride.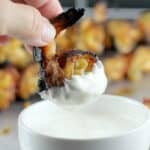 Bacon-Wrapped BBQ Stuffed Shrimp
Huge shrimp stuffed with a classic RITZ cracker seafood stuffing, wrapped in bacon, doused in a new Chipotle Dr Pepper® BBQ sauce, and grilled over coals for an epic bite that will win all the parties.
Total Time
1
hour
40
minutes
Ingredients
For the Chipotle Dr Pepper BBQ Sauce
4

Tbs

unsalted butter

1

medium yellow onion

diced

3

cloves

garlic

1/4

cup

Worcestershire sauce

1/2

cup

cider vinegar

1

12 oz can Original Dr Pepper soda

3

oz

tomato paste

1

cup

ketchup

1/4

cup

honey

1

Tbs

low sodium soy sauce

1

chipotle chili pepper

pinch

kosher salt

couple good pinches fresh cracked pepper
For the Seafood Stuffing
12

Tbs

1-1/2 sticks unsalted butter, melted

2

sleeves RITZ crackers

crushed into crumbs

1/2

cup

very finely diced green bell pepper

1/2

cup

very finely diced yellow onion

2

Tbs

seafood seasoning

1/2

tsp

garlic powder
For the BBQ Shrimp
1

lb

bacon

cut in half (so, 1 slice bacon for every 2 shrimp)

2

lbs

very large or "colossal" shrimp

shells removed with tails left on, deveined and butterflied

Seafood Stuffing

above

Dr Pepper Barbecue Sauce

above
Instructions
To make the Chipotle Dr Pepper BBQ Sauce, heat the butter in a medium saucepan. Add the onion and garlic and cook until onion is translucent. Add the remaining ingredients. Hit the mixture with an immersion blender (see Notes) until smooth. Simmer the BBQ sauce over medium-low heat for a while (~45 minutes) until thickened and flavors are blended.

To prepare the Seafood Stuffing, add the stuffing ingredients to a large bowl. Combine with a fork.

To assemble, lay out the half-cut strips of bacon. Place a butterflied shrimp on each, tails in the air. Place ~ a tablespoon of stuffing on each shrimp. Fold up the bacon to wrap the shrimp and stuffing. Skewer, ensuring that the skewer passes through both ends of the bacon to keep it wrapped while cooking.

Place Kingsford briquets in your grill in a tight pile (or use a chimney if available), add a little lighter fluid, and light. Let the briquettes burn to almost all white ash, then spread them out into a single layer. Place the grill grate over the coals to heat. Grill the shrimp skewers, covered (turning once and brushing with more BBQ sauce), until bacon is cooked (~15-20 minutes total).

Remove skewers from the grill. Serve with Hidden Valley Ranch Dressing for dipping.
Recipe Notes
Alternatively, a regular blender can be used in place of an immersion blender. But if using a regular blender, add all ingredients EXCEPT the Dr Pepper. Blend and transfer back to the saucepan, THEN add the Dr Pepper. This will cut down on the volume of liquid in the blender and make it easier.
The Seafood Stuffing and the Chipotle Dr Pepper BBQ Sauce can be prepared a day in advance. The bacon-wrapped stuffed shrimp can also be assembled a day in advance. Wait on brushing with BBQ sauce until ready to cook, as the acidity in the sauce would "ceviche" cook the shrimp.
~✿♥✿~
Visit the grillgating site for more ideas HERE. And leave me a comment! What do you grill up when you tailgate?