100% Whole Wheat Crusty No Knead Artisan Bread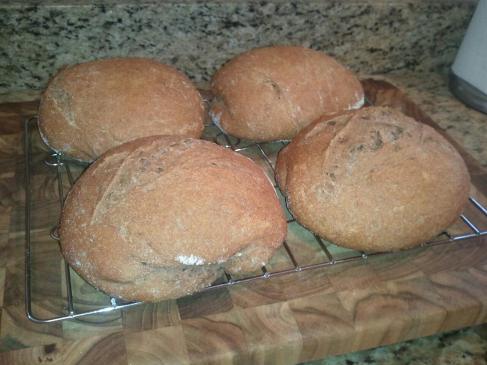 I am such a bread addict, I needed a whole wheat version of the crusty bread I love. So I adapted this recipe from one I found at http://www.instructables.com. It's a very flexible recipe and allows for leaving the dough in the fridge if you can't bake it right away. Also, I have learned when making bread it is MUCH easier to use a scale and add things to a bowl than measuring out 7+ cups of flour.
100% Whole Wheat Crusty No Knead Artisan Bread
7 1/2 c (910 g) whole wheat flour
1/4 c (35 g) vital wheat gluten 35 grams
1 t yeast
3/4 T kosher salt
4 c water
corn meal
Combine all ingredients in a large mixing bowl, adding the water last stirring with a fork. If you find you have flour that won't go in, add 2-4 T more water, but you shouldn't have to add more than that.
Cover bowl with a couple damp paper towels and wrap in plastic wrap. Let sit to rise until doubled (16-18 hours). At this point, you can stick it in the fridge until you're ready to cook it or just cook it.
Once the dough has doubled, divide into 4 loaves on a counter sprinkled with flour and put into the shape you want. Let rest 30 min (or up to 2 hours if dough is cold from the fridge).
Preheat oven to 450 with a pizza stone on the middle rack. Put a broiler pan on the bottom rack to heat as well. When ready to cook, sprinkle a little corn meal on the pizza stone, add 2 loaves, slice each on top with an X, and pour a cup of water into the hot broiler pan. Bake 30 minutes. Remove from the oven, and cook the remaining two loaves. Cool on wire racks.
Whenever I make bread, I wrap the loaves individually with foil and freeze as soon as they are cool. Then I just take one from the freezer, and heat in the oven (~350, 20 minutes or so). Done that way, they taste just as fresh!
~✿♥✿~