Fresco Vegan Sofritas Tacos
Fresco Vegan Sofritas Tacos is a copycat recipe for vegan Chipotle sofritas tacos with tofu in an delicious sauce with roasted tomatoes and poblano pepper. A perfect recipe for mealprep, the depth of flavor in these vegan tacos will satisfy you all week for lunch, in the dairy-free, gluten-free, healthiest way.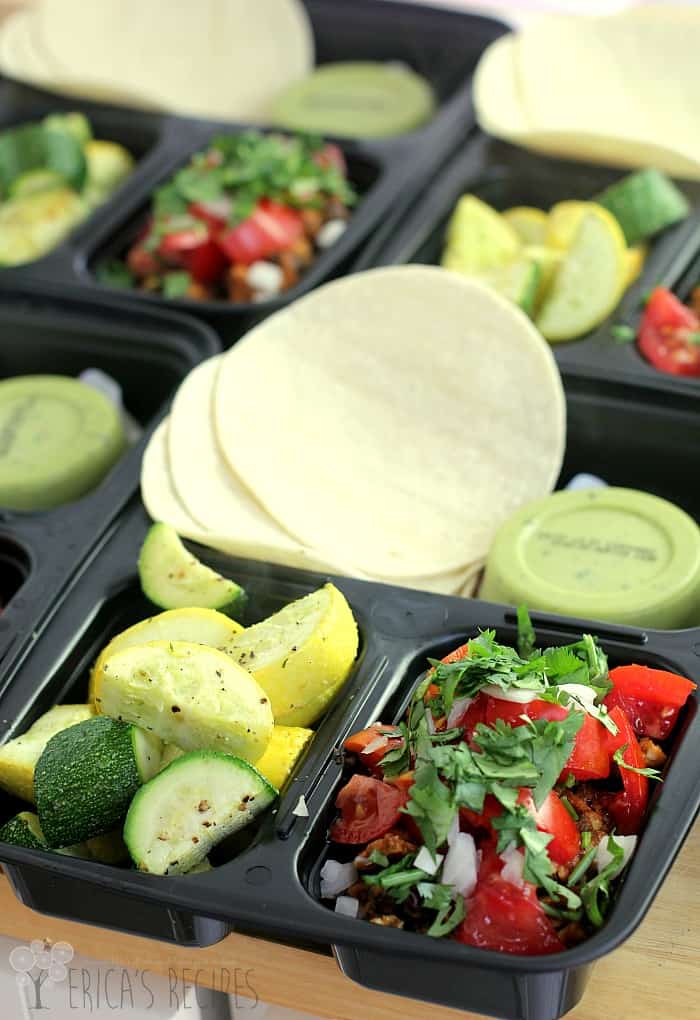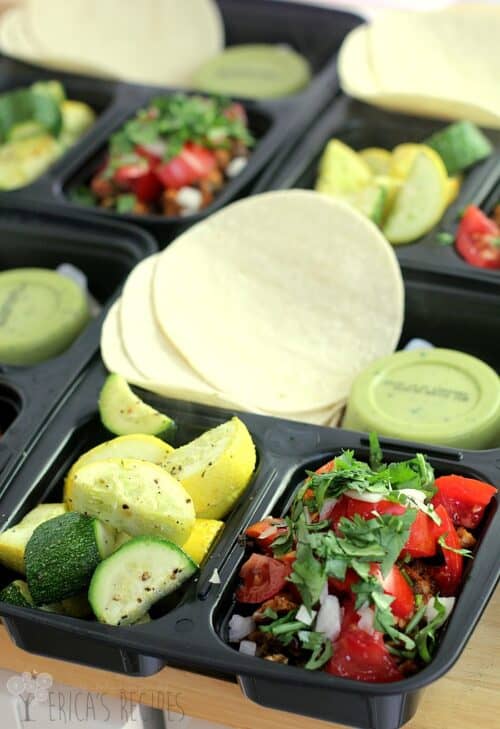 With Earth Day coming up April 22, don't just go vegetarian for a meal or two a week. Give vegan tacos a try.
So, yes. These vegan sofritas tacos are totally Chipotle restaurant copycat.
The funny part is that I made these for myself at home before I even ever tried Chipotle sofritas.
So I was really just copying the idea, but then I think I kinda nailed it. …or not.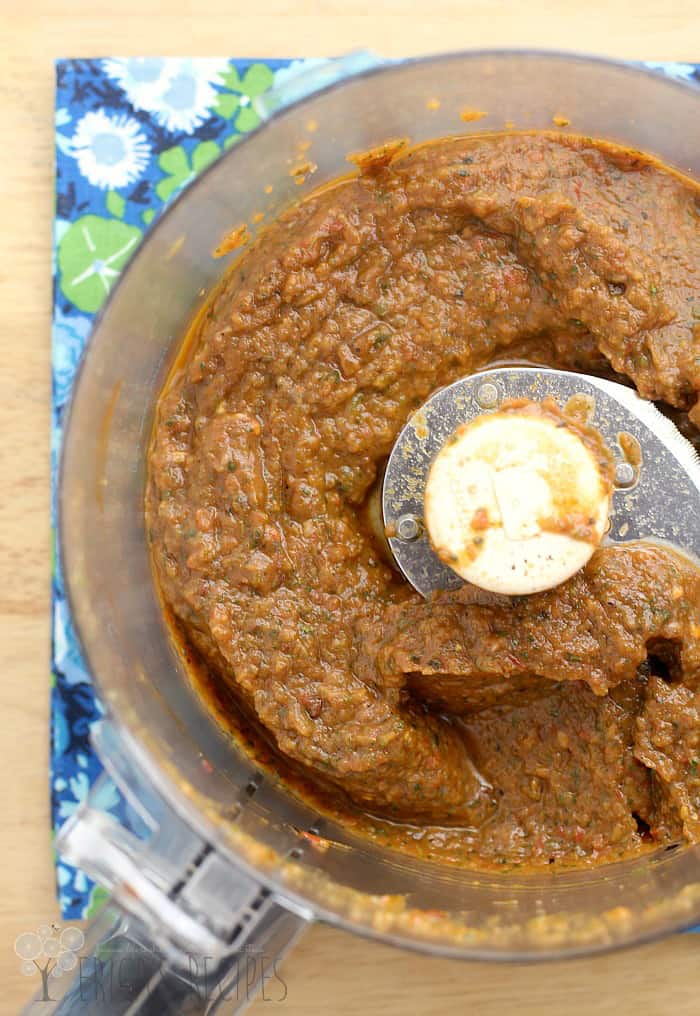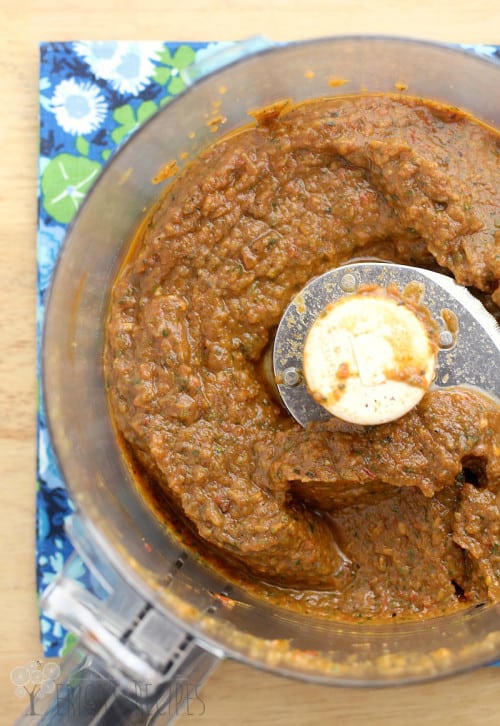 I don't care. The whole point here is to have a feel-good lunch made for the whole week.
Healthy, vegan (because we love our planet yes?), and YUMMMMYYYY.
Because if we are going to make something with no meat, no dairy, no bread or such, it had better be bad-ass. ?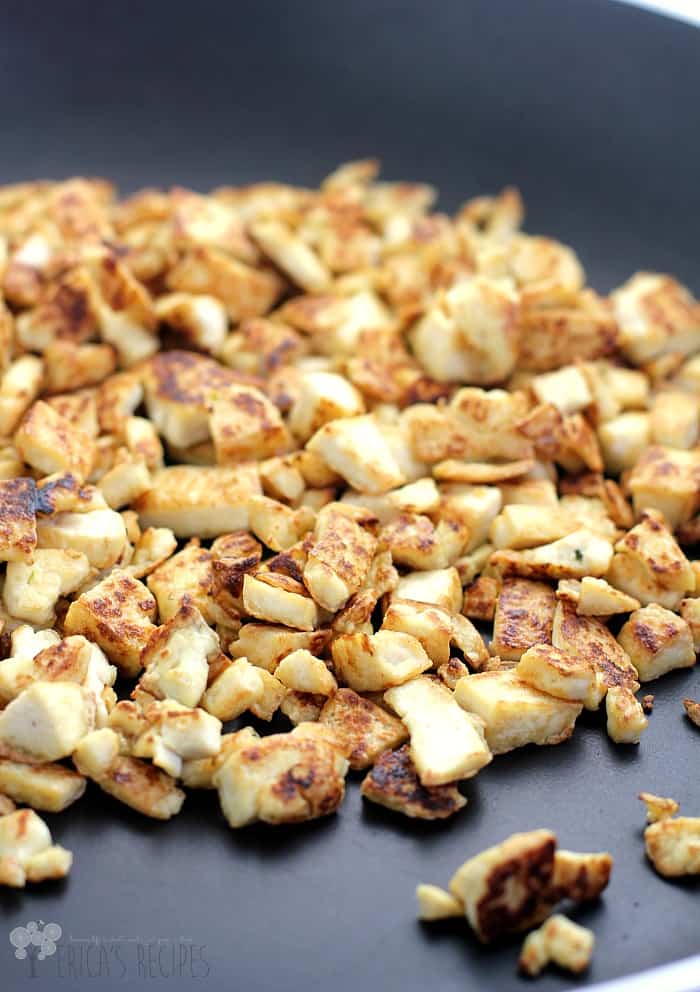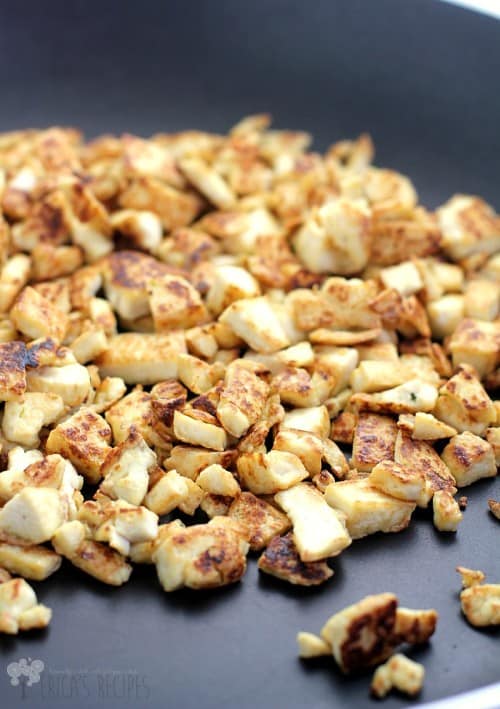 Last weekend was my first tri of this year. I did the Olympic distance this year at HITS in Ocala, FL. Oly is a 1.5k swim, 26mi bike, and 10k run.
It went well, was fun. Long enough to make me work for it, short enough that I didn't have to work too hard. Unlike the half Ironman there last year. ?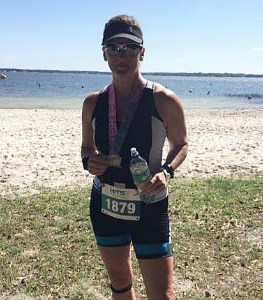 So, in getting ready for this race, I made this vegan sofritas tacos lunch because I wanted the protein but I really want to back off so many meat products all the time.
So I went full out VEGAN. I took it as a personal challenge. ??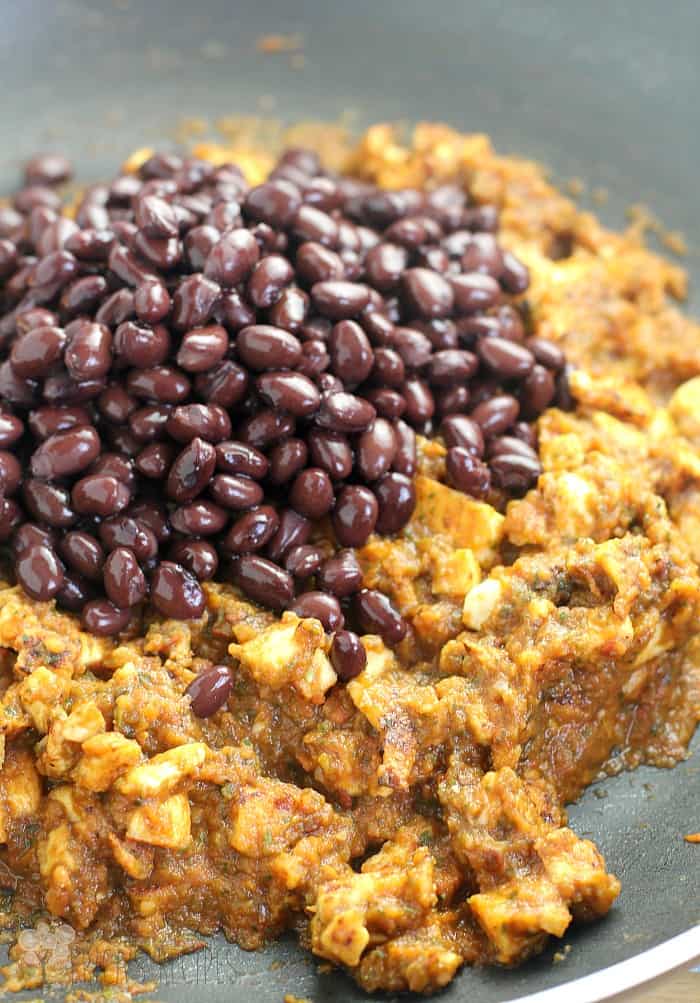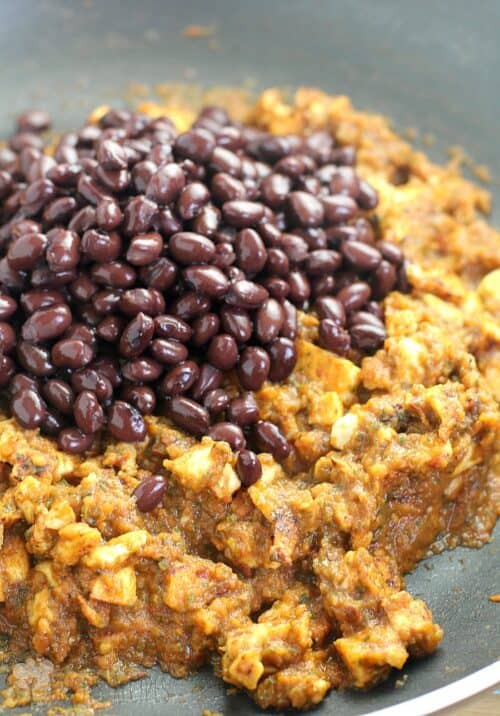 Why vegan? Well, that's a bit of a story that I will save for another post.
But in a nutshell, a significant portion of our estuary where I live collapsed a couple weeks ago. An algae bloom, fueled by sewage and fertilizers, sucked the O2 from the water and all the fish for 100 square miles suffocated and died.
I will explain better in future post as I said, but in seeing this and processing it and investigating what caused it and what needs to be done about it…
This lunch recipe – and whole approach to eating and living actually – suddenly had much greater meaning for me.
"Meatless Monday" is not enough. We have to do better. ?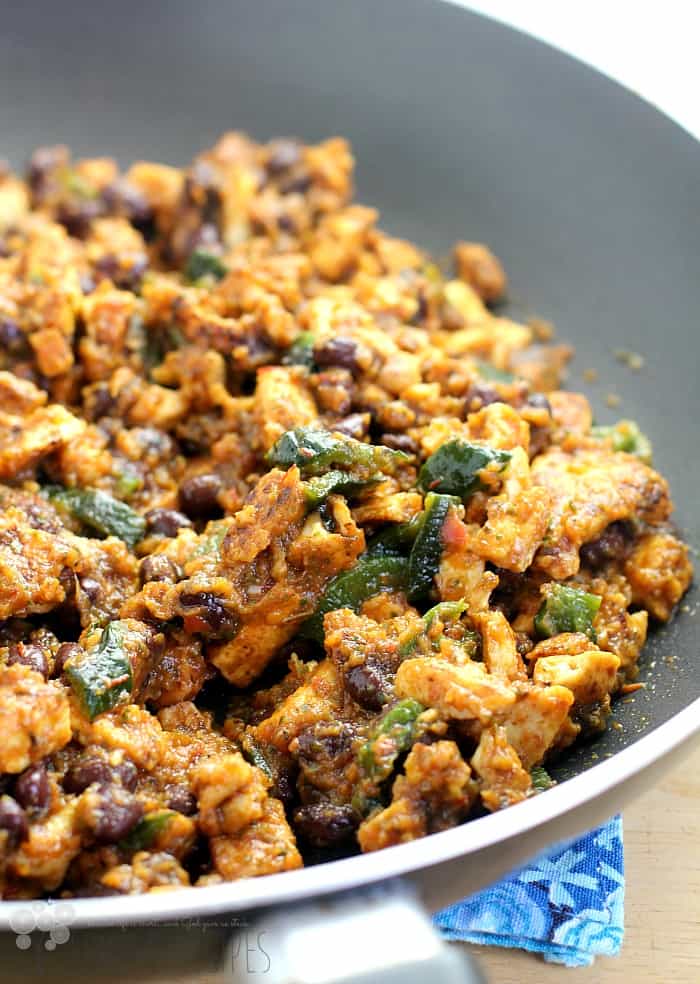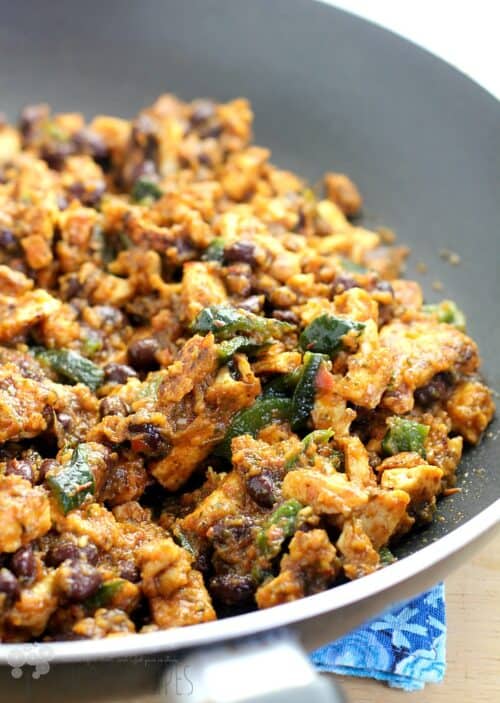 Fresco Vegan
Sofritas Tacos

So, now I'm coming from that place, with a truly great vegan tacos recipe I really hope you will try. No matter your motivation:
Health
Wellness
Simplicity
Affordability (tofu is cheap!)
Fitness
or the Environment
There are so many reasons to love this vegan sofritas tacos lunch. ❤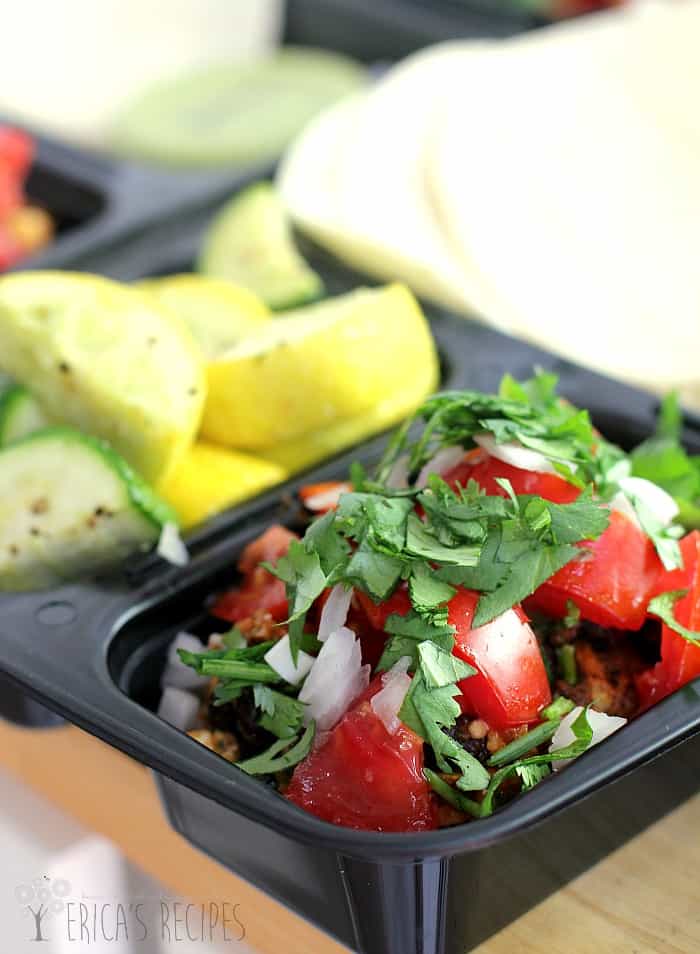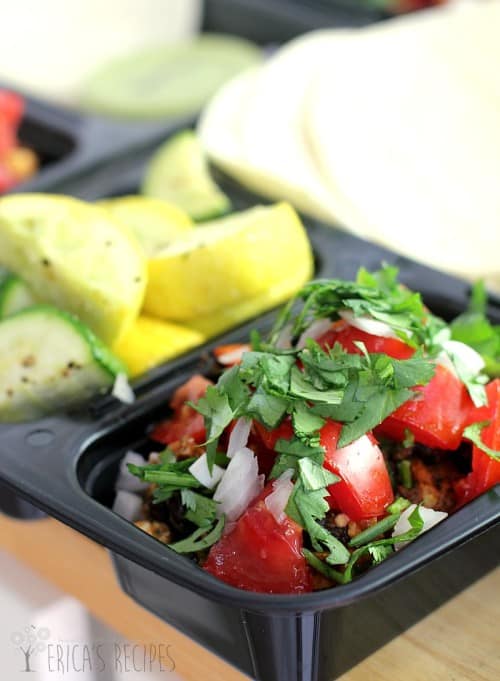 What is Sofritas?
Sofritas is the vegetarian protein option at Chipotle.
Sofritas is tofu braised in a sauce made with chipotle and poblano peppers and a blend of spices.
This is not to be confused with sofrito, which is a Spanish sauce.
So because tofu is essentially tasteless, it soaks up all the delicious spices and aromatics from the chipotle and roasted poblano peppers, to become divine and satisfying.
And you won't even miss the meat.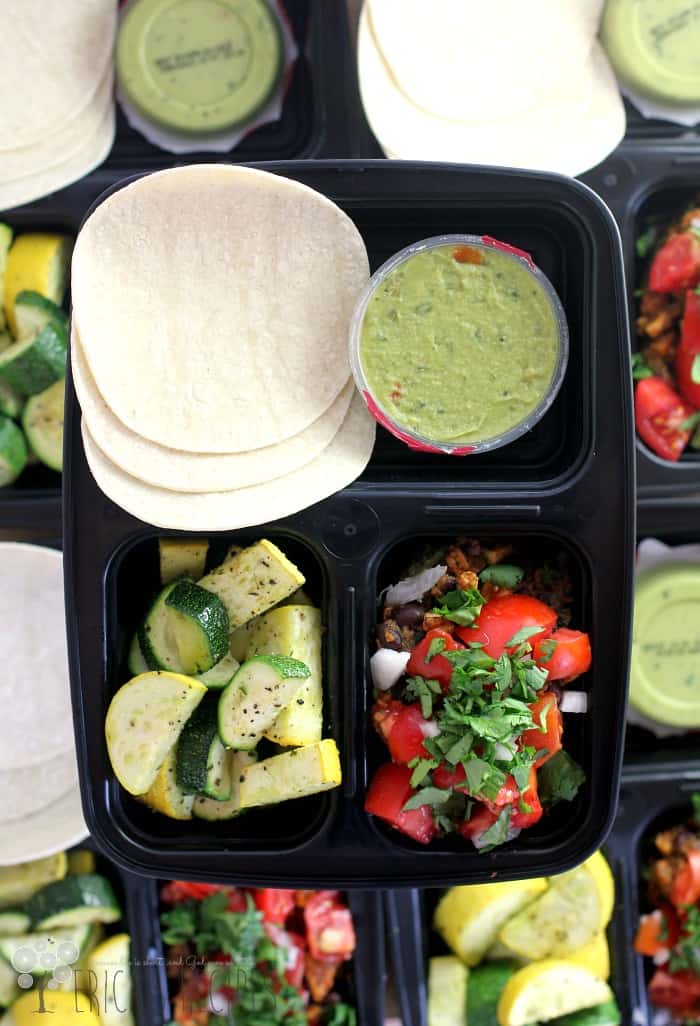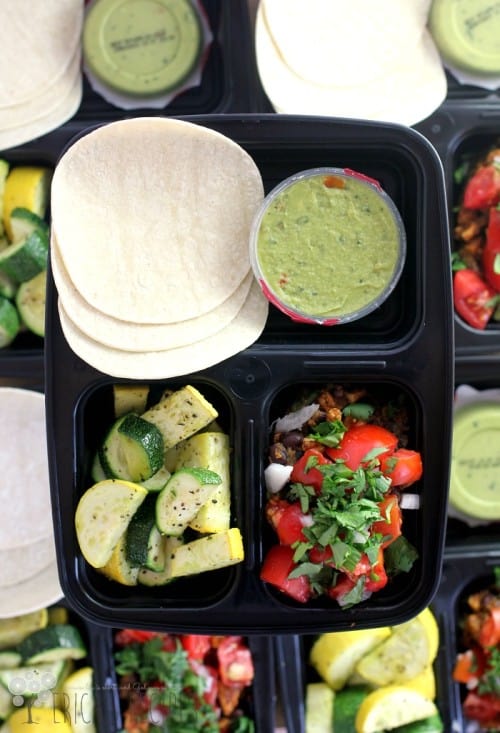 This vegan sofritas tacos recipe is very easy (I know, I always say that).
We toast up some tofu as our protein, then add some filling black beans and the DELICIOUS sauce that is really key to the whole thing.
Holy cow – roast tomatoes and poblano pepper give a phenomenal depth of flavor.
Finally, we top it off with fresh tomatoes, onion, herb, and healthy guacamole so we do not even miss the cheese or sour cream or whatever.
This lunch will satisfy. I promise.
So that's it kids. A truly tasty, inspired vegan sofritas tacos lunch – made all in advance – to make our lives easier, healthier, and to do our part for this one and only home we have. ?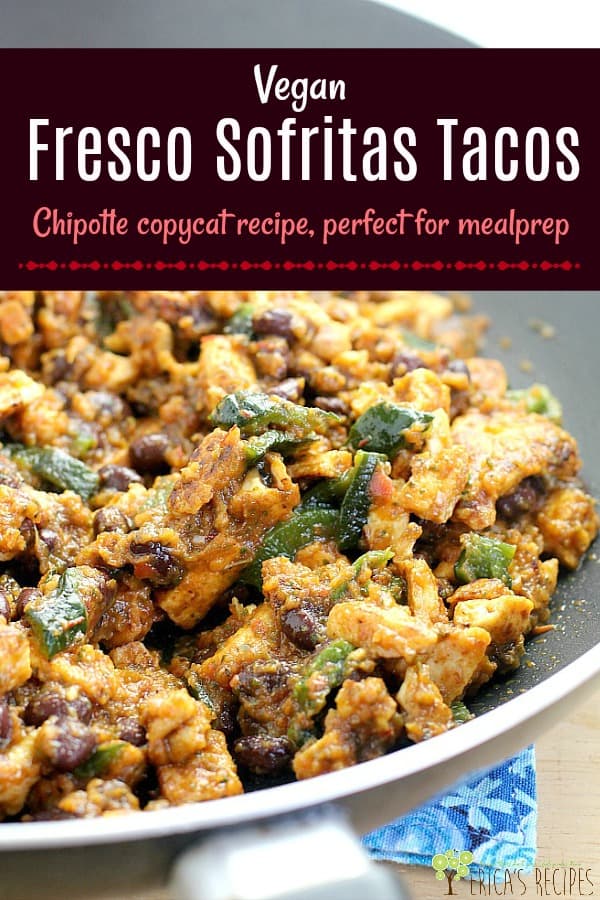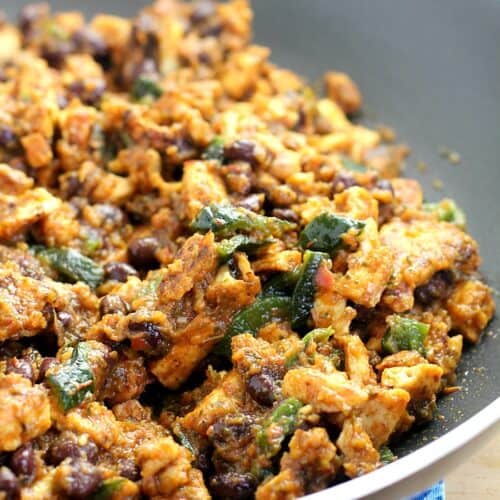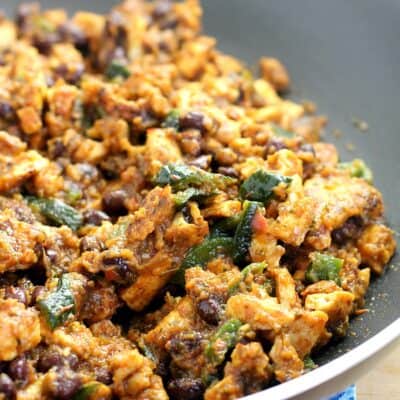 Fresco Vegan Sofritas Tacos
This copycat recipe for vegan Chipotle sofritas tacos uses tofu with an delicious sauce with roasted tomatoes and poblano pepper.
Ingredients
12

oz

organic extra firm tofu

2

poblano peppers

1

(14.5 oz)

can diced tomatoes, drained

1

clove

garlic

1

Tbsp

fresh oregano leaves

chopped

½

cup

diced onion

½

tsp

cumin

¼

tsp

kosher salt

4

tsp

extra virgin olive oil

divided

1

chipotle pepper in adobo sauce

1

Tbsp

red wine vinegar

1

cup

reduced sodium black beans

rinsed

2

tomatoes

chopped

1

Tbsp

fresh cilantro

5

single packets guacamole

or substitute avocado

15

3 per serving small "street taco" sized corn tortillas

5

lime wedges
Instructions
Layer the tofu with paper towels and press under a book or pot or something for 20 minutes to get moisture out. Chop.

Roast the poblano peppers. I did mine on the grill, turning regularly to get the skin all black and blistered. This can also be done under a broiler. Once done, transfer them to a large ziploc bag, seal, and let them steam. Once cool enough to handle, remove the skin and seeds. Place one pepper in a food processor. Dice the other pepper and set aside.

Toss the drained diced tomatoes in 1 tsp olive oil and layer on a bake sheet. Roast in a 400F oven or on the grill (indirect heat) for 30 minutes until slightly charred and awesome. Transfer to the food processor.

Along with the roasted tomatoes and one of the poblano peppers, add the garlic, oregano, onion, cumin, salt, chipotle pepper, red wine vinegar, and 1 teaspoon olive oil to the food processor. Process until smooth.

Heat the last 2 teaspoons olive oil in a large nonstick skillet over high heat. Add the tofu and cook, tossing regularly and breaking into small pieces with a spatula, until well browned.

To the browned tofu, add the chipotle-poblano-tomato sauce and the black beans. Add the reserved diced poblano pepper. Portion out to 5 containers. Top with fresh tomato and cilantro. Serve in corn tortillas with guacamole and a squeeze of lime. Yields 5 servings.
Notes
For the squash, I just sprayed cut zucchini and yellow summer squash with olive oil, and dusted lightly with kosher salt, fresh cracked pepper, and garlic and herb seasoning, then baked for 20 minutes or so at 400F until tender.
Nutrition
Calories:
409
kcal
(20%)
|
Carbohydrates:
45
g
(15%)
|
Protein:
16
g
(32%)
|
Fat:
9
g
(14%)
|
Saturated Fat:
4
g
(25%)
|
Polyunsaturated Fat:
1
g
|
Monounsaturated Fat:
3
g
|
Sodium:
493
mg
(21%)
|
Potassium:
854
mg
(24%)
|
Fiber:
9
g
(38%)
|
Sugar:
7
g
(8%)
Calorie count is purely an estimate calculated using an online application to serve as a guide and not to be taken as accurate nutritional information. Percent Daily Values are based on a 2,000 calorie diet.
Tried this recipe?
Leave a comment below and let me know!
If my tacos look good, check out these other vegan recipes