Cheesy fiesta potatoes are spiced Mexican potatoes served with a simple 2-ingredient nacho sauce and your choice of toppings. Make this Taco Bell copycat recipe to enjoy perfect crispy potatoes at home. The secret is par-boiling potatoes before baking for restaurant-style potatoes.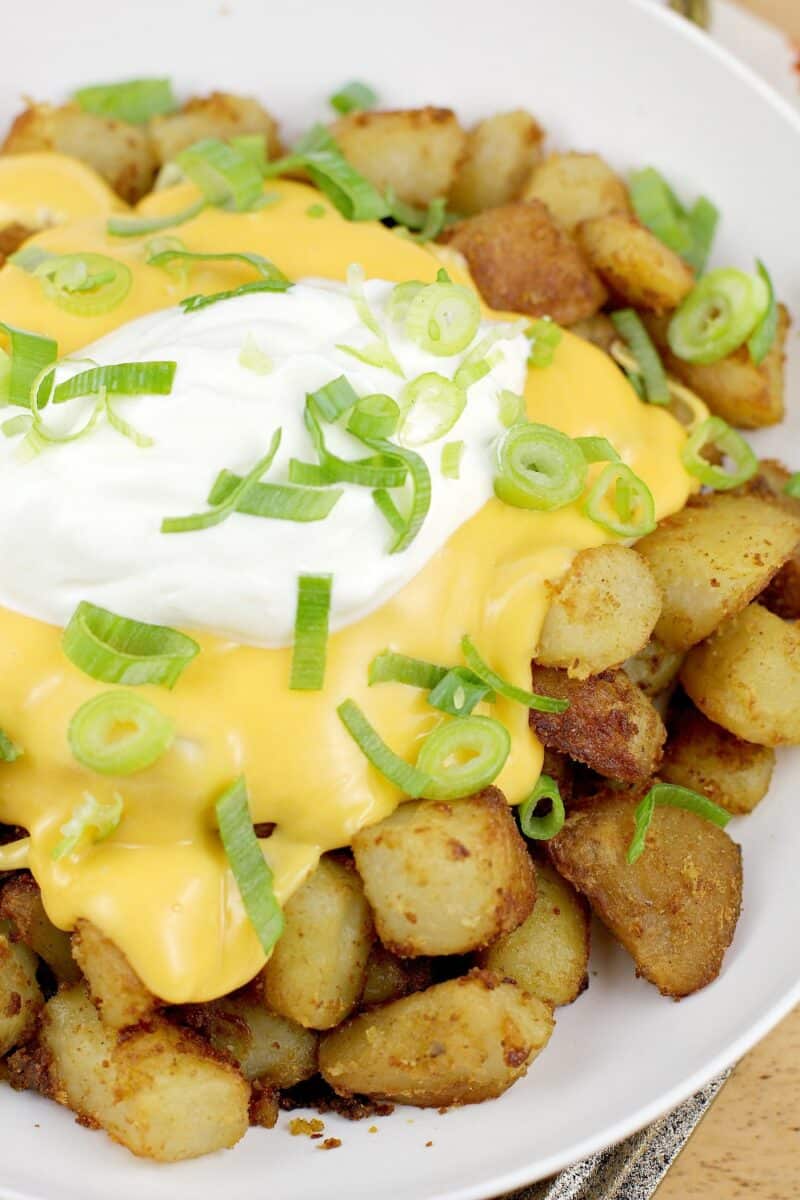 What are fiesta potatoes?
At Taco Bell, Fiesta Potatoes are seasoned, crispy potatoes served as a side in a bowl topped with warm nacho sauce and reduced fat sour cream. The potatoes are tasty, the cool sour cream is nice, but I am actually really not a fan of the nacho sauce. Not One Bit.
So this recipe for Fiesta Potatoes gives you amazingly yummy, super satisfying, seasoned potatoes with the lovely texture we want, but with a simple, 2-ingredient nacho sauce that is actually tasty and does our potatoes justice. All together, this dish is yum yum yum.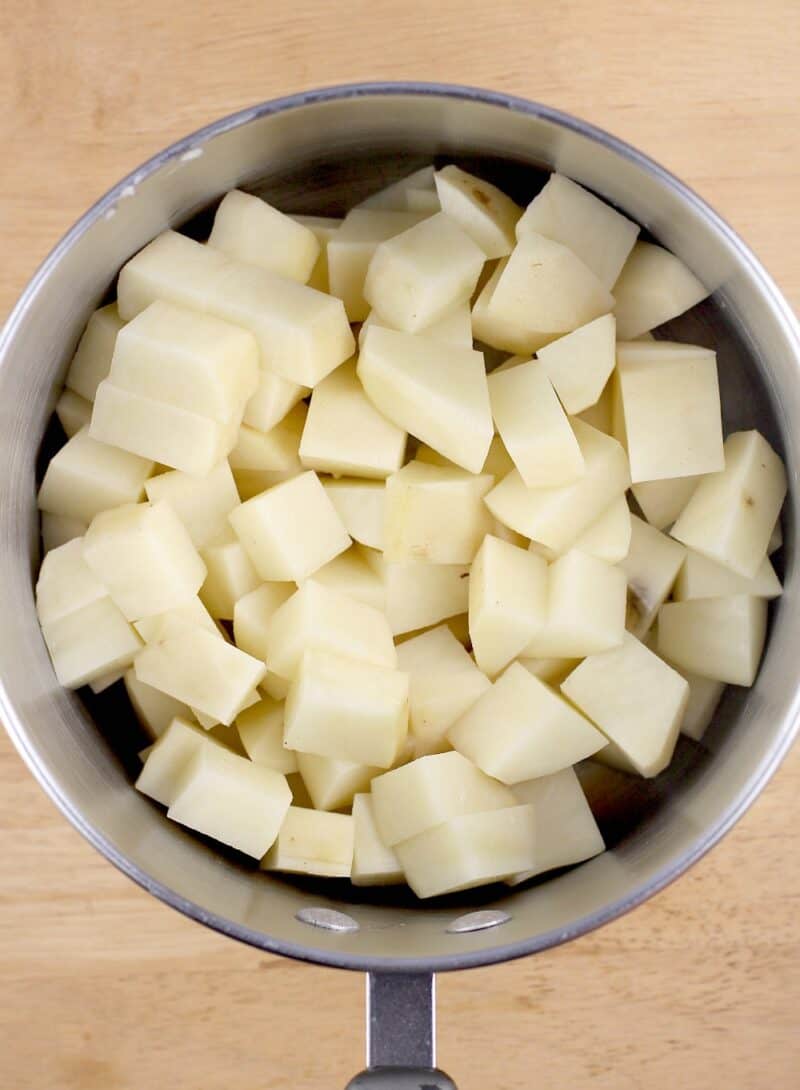 Par-boiling potatoes before baking
One of the great challenges to cooking at home is making restaurant quality potatoes.
Be it that perfectly baked potato like you would get at a steakhouse, light and fluffy on the inside, and that not-too-thick, not-too-thin skin on the outside.
Or roast potatoes that are actually crispy. Not just cooked dry on the outside, but CRISPY. And the key to achieve true potato crispiness is to par-boil.
For a more detailed explanation, you can see this resource. In a nutshell, we give our potatoes a little simmer in alkaline water by adding baking soda.
The baking soda breaks down the pectin on the outside of the potato leaving each piece coated kind of a slurry (for lack of a better term). Once tossed in oil and butter and roasted, all the broken down bits and exterior of the potato are what get crispy.
This is what restaurant do. And now you will be able to do it too.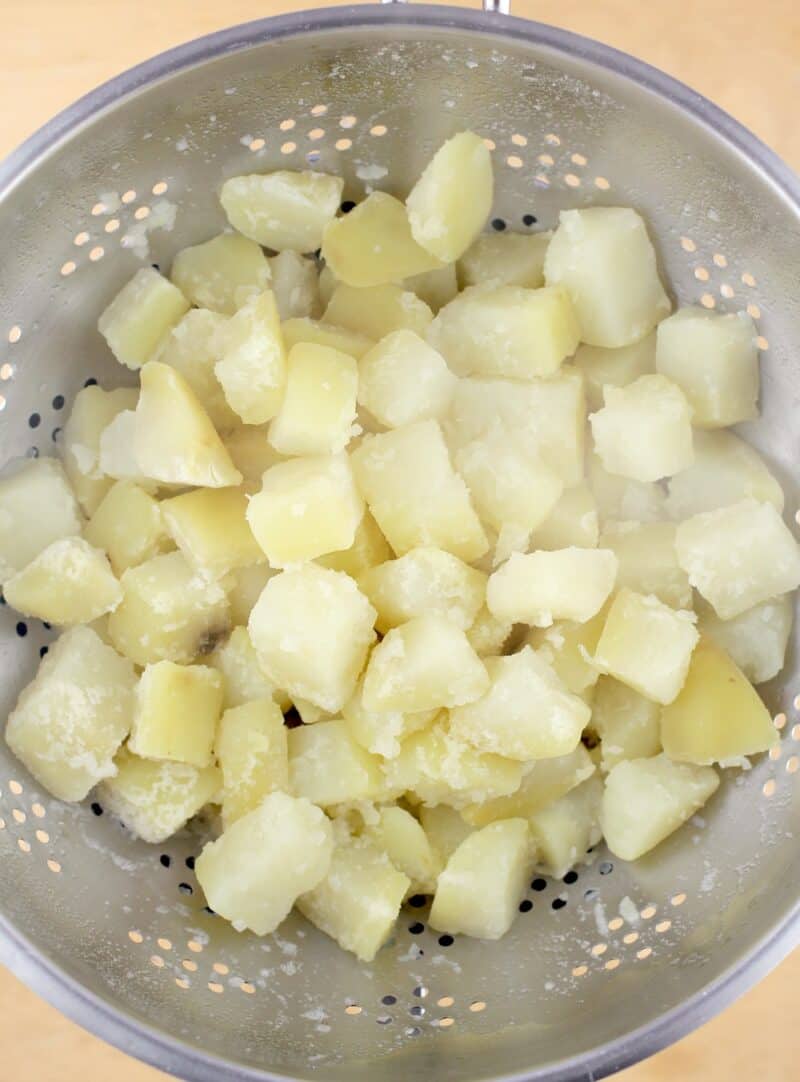 Ingredients for Mexican potatoes
Russet potatoes. If not available, you may substitute Yukon gold potatoes.
Baking soda. Baking soda alkalizes the water to make the par-boil magic happen (see above).
Kosher salt. Added to the water with the potatoes, they will be just right and not need additional salt later.
Unsalted butter. For delicious buttery potatoes.
Vegetable oil. This oil has a higher smoke point, so while the butter brings flavor, the oil allows roasting the potatoes at a high oven temperature without burning.
Seasonings. Cumin and garlic powder
Velveeta. This is where this recipe does better, because I feel like Taco Bell nacho sauce comes from a can and is generally unpleasant. Velveeta is milder, melts smoother, and we fix the Velveeta-ness with pickling brine.
Pickling brine from jarred jalapenos. This brings all the flavor we need to our nacho sauce, but also serves to adjust the consistency.
Toppings of choice. I use reduced fat sour cream like Taco Bell, but the topping possibilities are endless. Get creative and make it yours!
Why reduced fat sour cream when this is not a healthy recipe? Because of the consistency. Reduced fat sour cream is looser relative to thicker, regular sour cream. For topping our potatoes, it works better.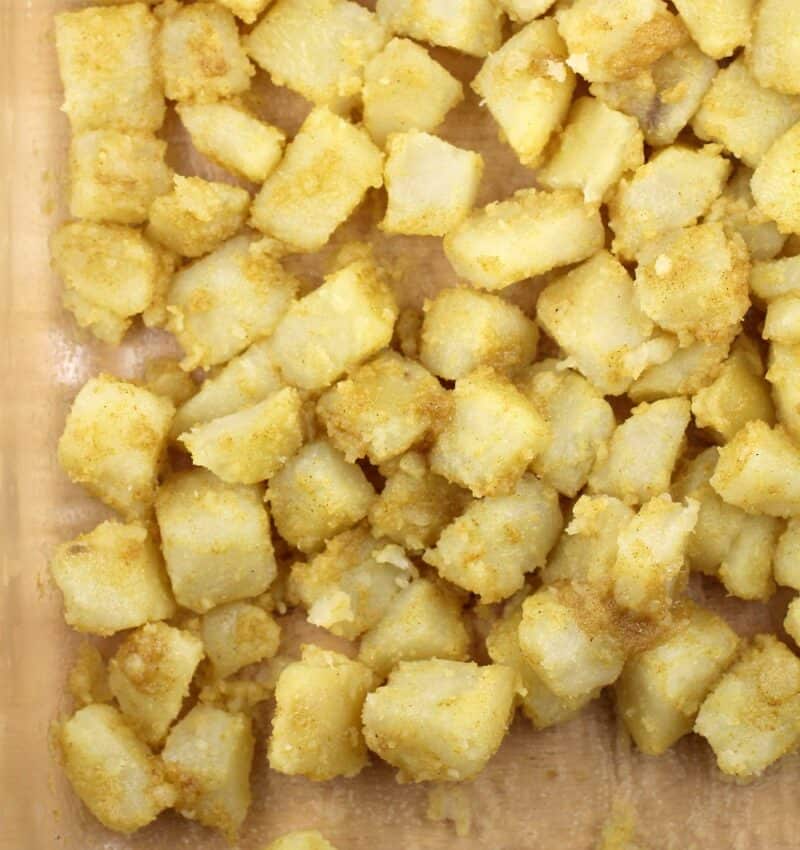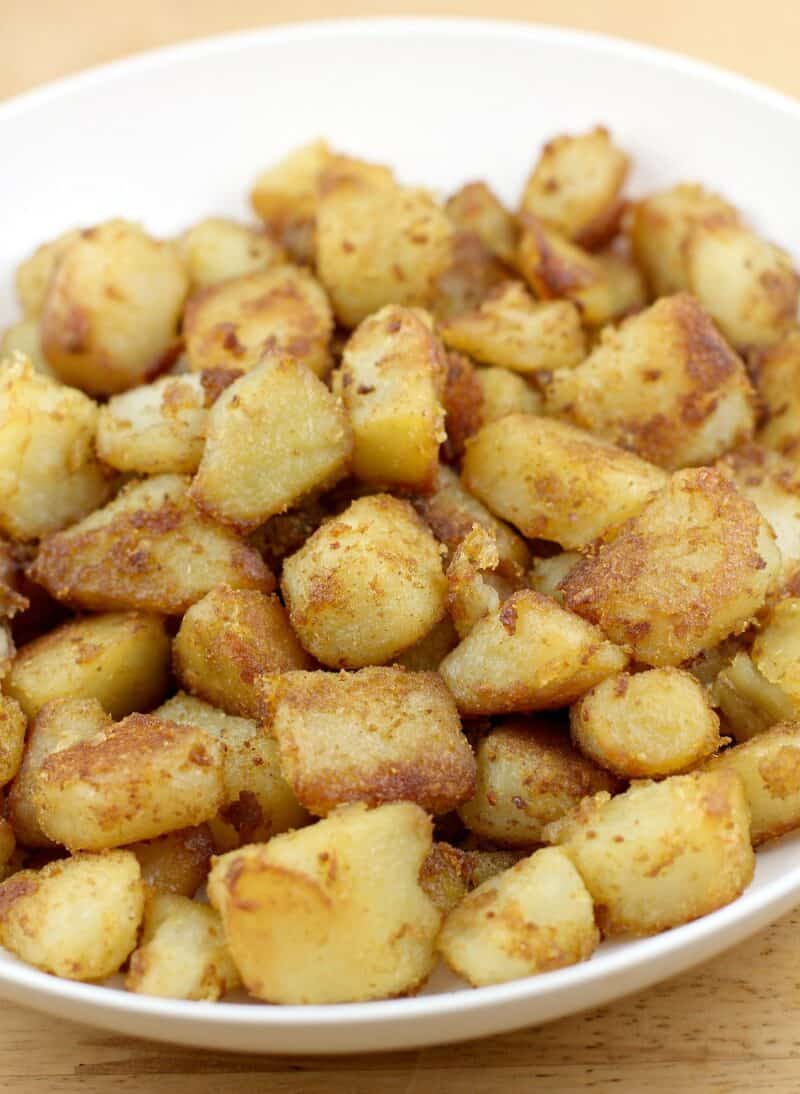 Steps to preparing this potato side dish
First, we put our potatoes in a pot, and simmer with baking soda to par-boil the potatoes. Once drained, the outsides of the potatoes will dry nicely (this is desired) and the potatoes will be coated in little potato bits (also desired).
Next, we coat the potatoes in the butter, oil, and seasonings. Then we roast the potatoes in a hot oven.
While the potatoes are cooking, we make the nacho sauce. This recipe is ridiculously simple with only 2-ingredients, Velveeta and pickling brine from jalapenos.
Once the potatoes are done, we serve our Mexican potatoes topped however we like. I followed Taco Bell and topped with nacho sauce and sour cream, but you can get creative and top how you like.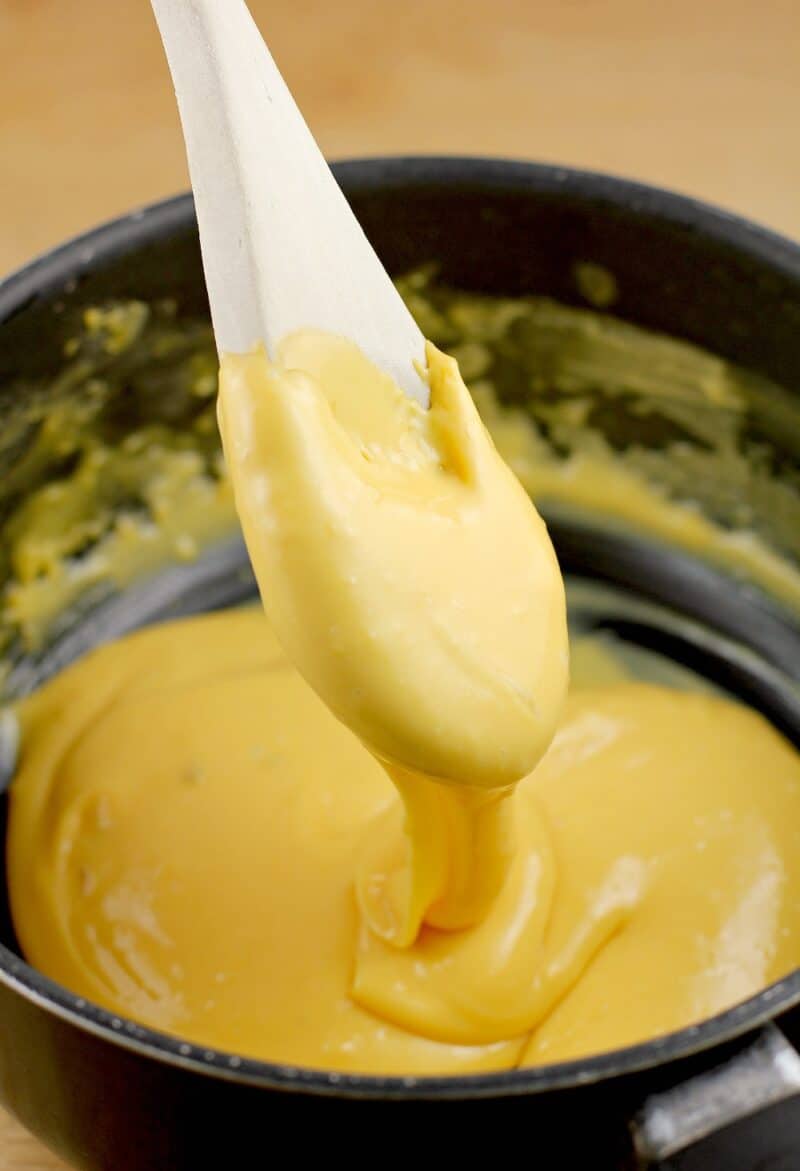 Suggested variations and toppings
As I said above, there are endless topping ideas and ways to incorporate this method of cooking potatoes into fun dinner or party ideas.
I have done both tacos bars and nacho bars, and Fiesta Potatoes are a perfect addition to both. More topping ideas include:
Seasoned black beans.
Taco meat made with ground beef, chicken, or turkey.
Chili.
Shredded chicken or pork.
Black bean and corn salsa.
Pico de gallo.
Roasted Tomatillo Salsa or purchased salsa verde.
Assorted yummies like green bell pepper, sliced jalapenos, tomato, poblano pepper, and black olives.
If doing a taco or, more especially, a nacho bar, I would skip the nacho sauce altogether, and just use Classic Queso Dip with Sausage that I usually make anyway. These cheesy things are all tasty, but we really only need one vat of cheese sauce, you know?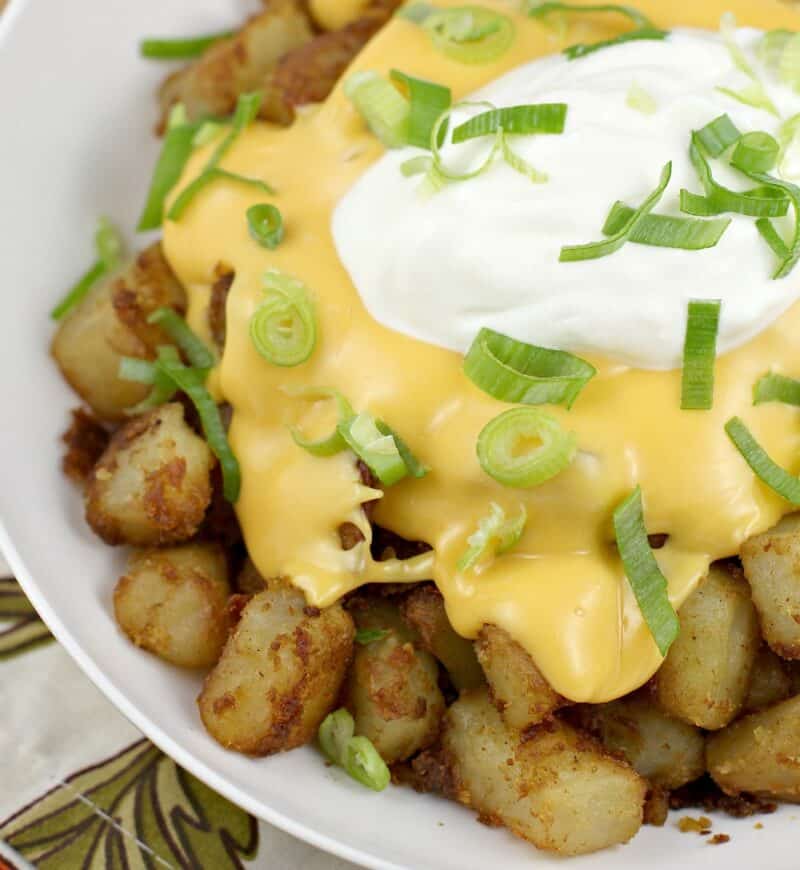 Last Tips
After par-boiling, the cubes of potato will be mostly cooked, and, therefore, delicate. Use a rubber spatula to gently coat in the butter-oil mixture, then use a spatula to gently give them a turn as they roast in the oven.
These potatoes are done when they and all their yum-yums get crispy and golden brown.
Make sure the potatoes are spread on the bake sheet in an even layer.
Use additional pickling brine to adjust the consistency of the nacho sauce as necessary.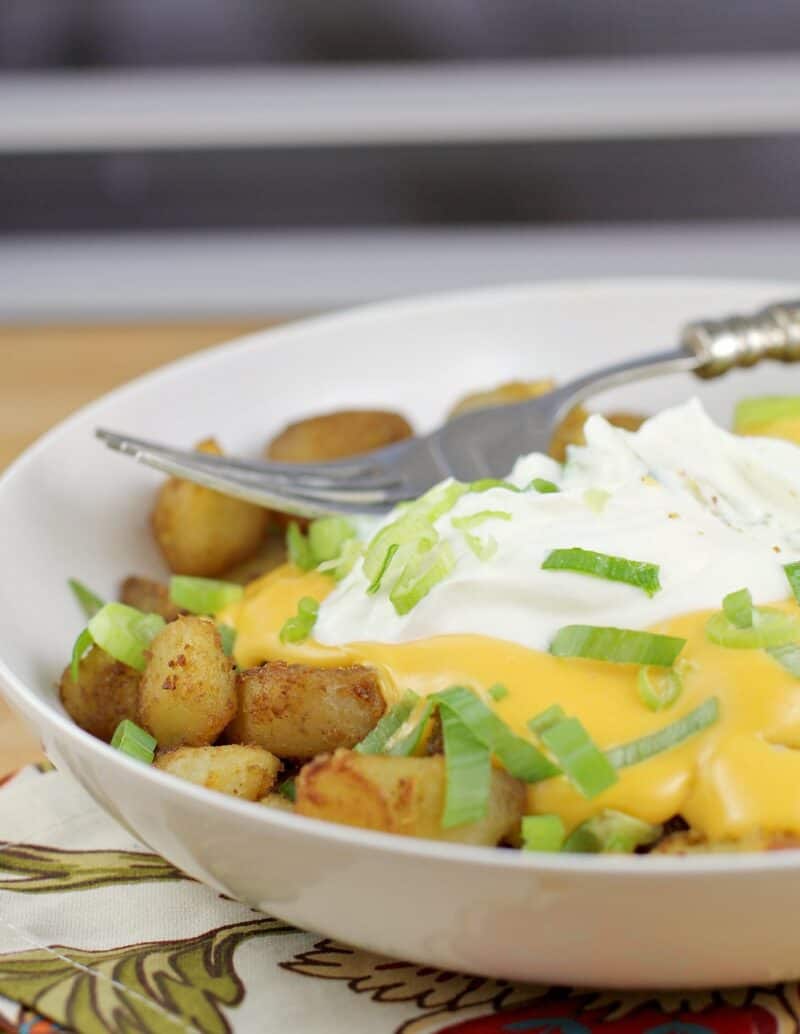 Looking for recipes to serve with Fiesta Potatoes?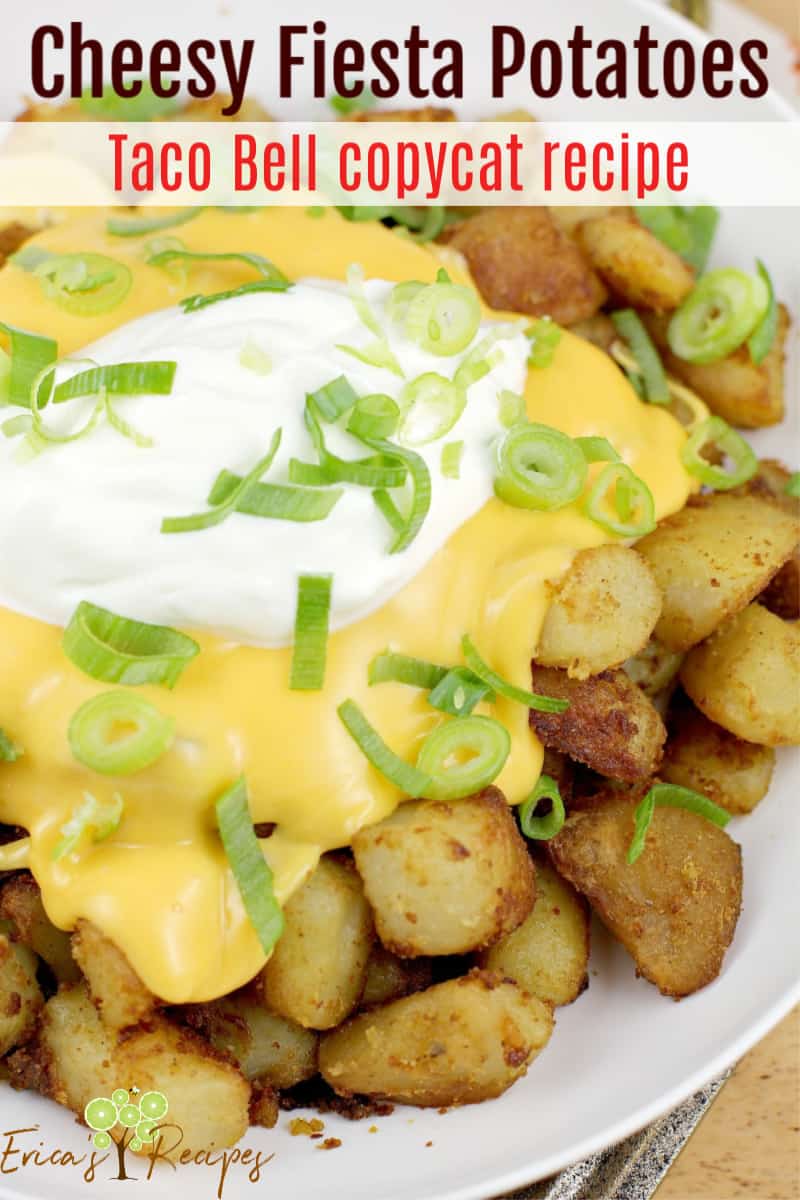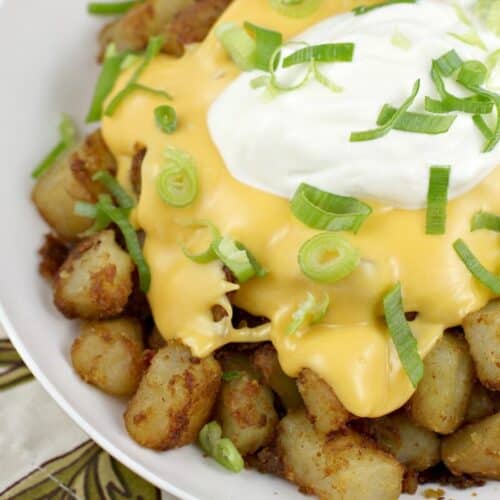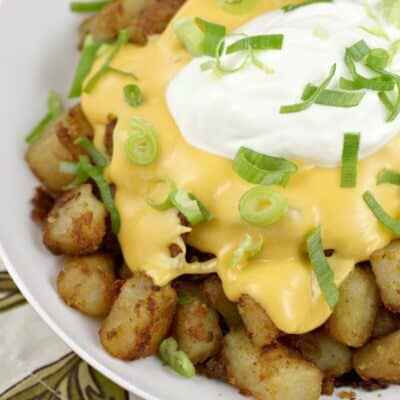 Cheesy Fiesta Potatoes
Cheesy fiesta potatoes are spiced Mexican potatoes served with a simple 2-ingredient nacho sauce and your choice of toppings. Make this Taco Bell copycat recipe to enjoy perfect crispy potatoes at home.
Ingredients
2

large Russet potatoes

peeled and diced (1 inch dice)

1

Tbsp

baking soda

1

Tbsp

kosher salt

2

Tbsp

unsalted butter

melted

2

Tbsp

vegetable oil

1

tsp

cumin

½

tsp

garlic powder

8

oz

Velveeta cheese

2-3

Tbsp

pickling brine from a jar of jalapenos

plus additional to adjust consistency

additional toppings: reduced fat sour cream, chopped green onion
Instructions
Put the potatoes in a pot and cover with water to an inch over the potatoes. Add the baking soda and salt.

Cover pot and bring to a boil. Uncover, reduce heat, and simmer 4-5 minutes (potatoes should not be cooked all the way). Drain potatoes well.

In a mixing boil, combine the butter, oil, cumin, and garlic powder. Add the par-boiled potatoes and gently toss to coat (a rubber spatula helps to not break up the potatoes).

Spread the potatoes in a single layer on a rimmed bake dish. Bake at 450°F for 10 minutes, gently give the potatoes a turn with a spatula, and bake an additional 10-15 minutes or until potatoes are cooked through and toasty crispy.

While potatoes are cooking, prepare the nacho sauce. Put the Velveeta and jalapeno brine in a saucepan and heat on low heat until melty smooth.

Serve the potatoes topped with nacho sauce, sour cream, and green onion.
Notes
Water with baking soda added will make a thick, bubbly film on top that can boil up and out of the pot, depending on the size pot you are using. This is why it is better to choose a larger pot and not add too much water. If it does bubble up too much, simply skim it off.
Serving size is for a side dish. This recipe can be easily scaled up to feed more people or for larger servings.
Calorie estimation is approximate and was generated using an online calorie calculator. Calculation includes 2 Tbsp reduced fat sour cream per person.
Nutrition
Calorie count is purely an estimate calculated using an online application to serve as a guide and not to be taken as accurate nutritional information. Percent Daily Values are based on a 2,000 calorie diet.
Tried this recipe?
Leave a comment below and let me know!