Air Fryer Pulled Pork Taquitos
Air fryer taquitos with a flavorful cheesy filling using leftover pulled pork. Make these crispy taquitos for a fun dinner on taco night, game day food, or gluten-free snack.
What are taquitos?
Taquitos, in Spanish, literally mean "small taco". They are made with a cheesy filling, usually with beef or chicken, rolled in corn tortillas, and fried. Corn tortillas are traditionally used to make taquitos, and in the circumstance when flour tortillas are used, they are then considered flautas, or "little flutes".
A traditional Mexican food, taquitos gained popularity in the US when restaurants in Los Angeles and San Diego, both California, had them on the menu in the 1930s.
Taquitos were also one of the first "Mexican" foods developed as an American freezer food. Oddly, this was back in 1976 by Van de Kamp's, known today for freezer seafood.
Taquitos in Mexico are also called tacos dorados, or "golden tacos". They are served there with shredded cabbage, crema (Mexican sour cream, which is looser then American), guacamole, or green or red chile salsa.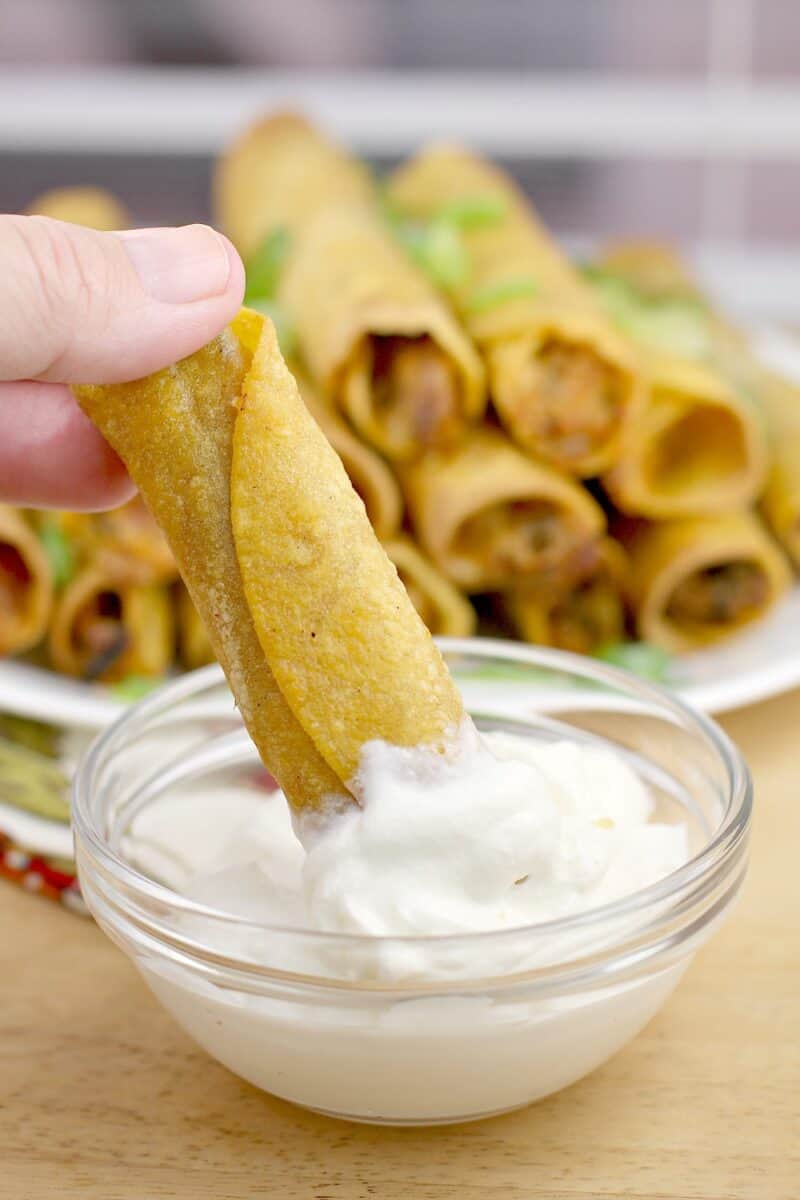 How does an air fryer work?
I first discussed the air fryer in my post for Greek-Style Air Fryer Chicken Wings. Simply put, an air fryer is a turbo-powered, counter-top convection oven. It has a basket like a deep fryer, but uses the circulation of super hot air to "fry" food and get it crisp rather than submerging in oil.
So we are still just essentially baking taquitos in the air fryer, but that moving hot air does a fantastic job of making things crispy, will little or no oil. Hence, the air fryer gives us a healthier way to prepare food.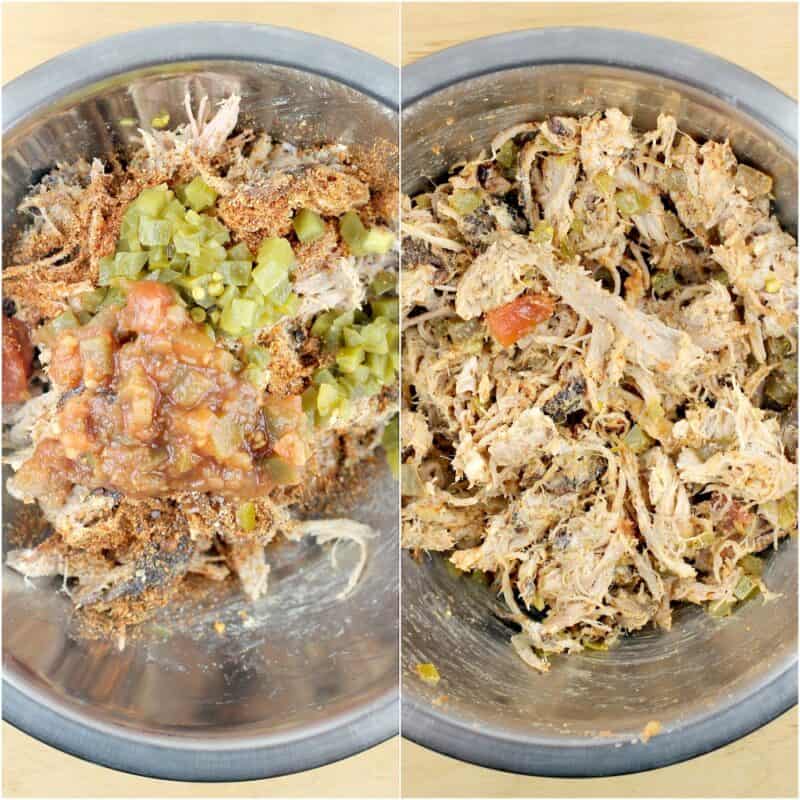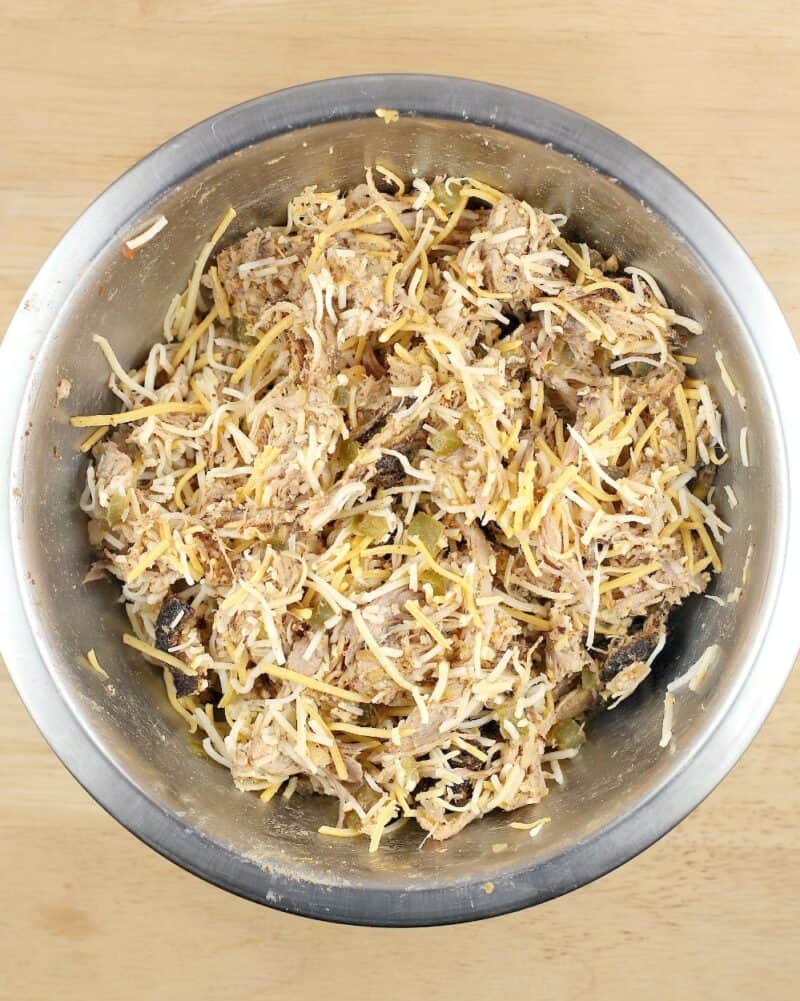 Pork taquito ingredients
Pickled jalapeno. Pickled jalapeno brings such great flavor and a little zip, but we are not using so much that these are spicy. Then way my kids inhaled them, this recipe as written is kid friendly.
Salsa. This moistens and flavors the meat.
Mexican seasoning blend. See the recipe notes for substitutions if this is not available.
Oregano. Did you know oregano is commonly used in Mexican cooking just like Italian? They use Mexican oregano, which is different than Mediterranean, but for the purposes of this recipe, whichever is available is fine.
Kosher salt. Reduce or omit if your Mexican seasoning blend contains salt. As always, I recommend tasting for seasoning.
Mexican cheese blend. There is a lot of flexibility here to use whatever cheese you have on hand, such as colby-jack, Monterrey Jack, or cheddar. Alternatively, the cheese can be omitted to keep these dairy-free.
Leftover pulled pork. Take a minute and use 2 forks to ensure the meat is very well shredded to make taquito assembly easier.
Cooking spray. Softening corn tortillas is required before making taquitos, enchiladas, or tacos, or they fall apart. Rather than dipping the tortillas in oil, as is traditionally done, I use cooking spray saving fat and calories.
Corn tortillas. I used yellow corn, but white corn tortillas would work too.
Condiment of choice. Suggestions include sour cream, guacamole, and salsa. I also love the bite of green onion with my taquitos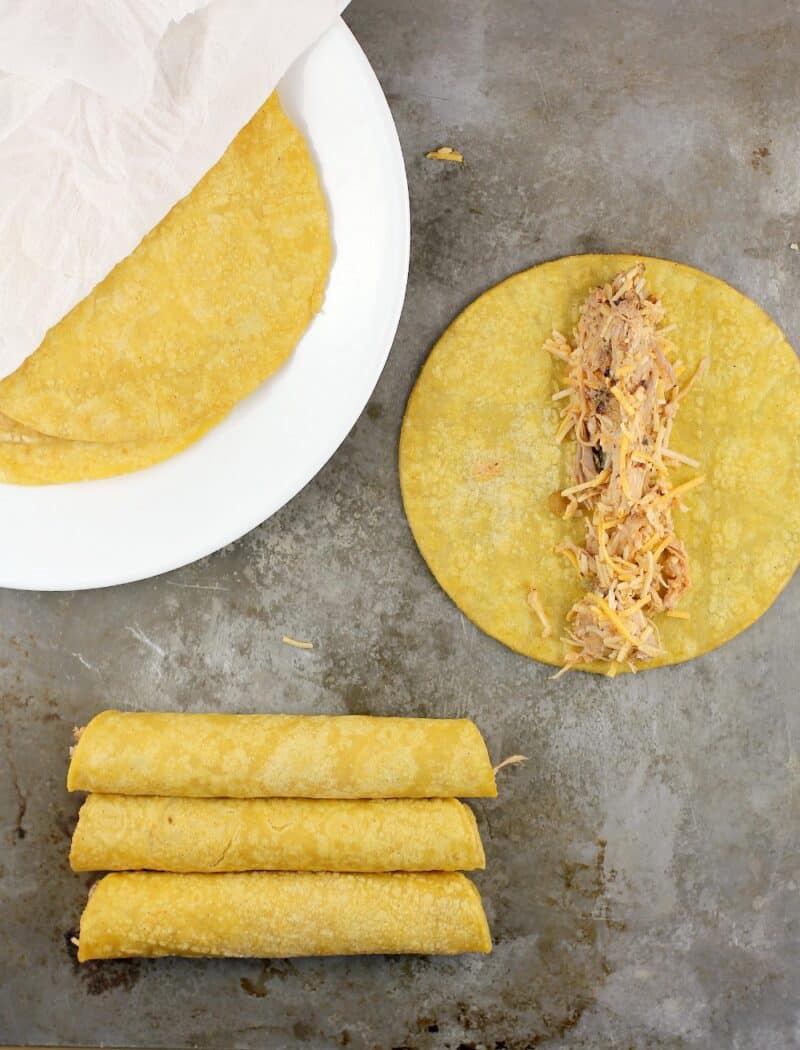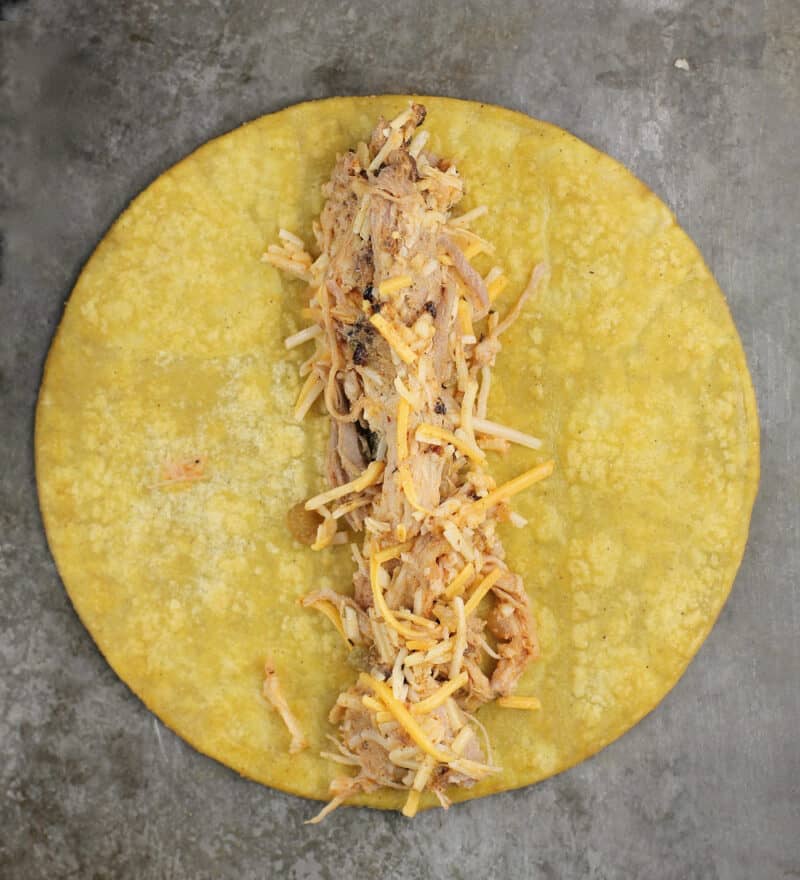 Steps for preparation
While, the air fryer is heating up, we soften the tortillas. There are multiple ways to do this, such as dipping the tortillas in oil (the traditional method), microwaving (this doesn't work very well), or the method I used – cooking spray and a pan.
I give each side of the tortilla a little spritz of cooking spray, then warm each side and the tortilla softens up nicely. I do this for enchiladas as well. It takes a couple minutes (not that long really because it is a quick process), but it is necessary so the tortillas hold together.
Next we make the pork taquito filling. Using leftover pulled pork and just a couple ingredients is easy and SO tasty.
Roll the taquitos by placing a bit (roughly 2 tablespoons) of filling down the center of a tortilla and roll her up. Do take care to kinda-sorta pack that filling dense so that it expands less while cooking, and possibly breaking open our taquito.
Then we cook taquitos in the air fryer. I am able to comfortable fit 7-8 (7 in a row, then an 8th off on one side) in my air fryer basket. Just ensure that they are not packed in so much that the hot air can't circulate and do that magic it does.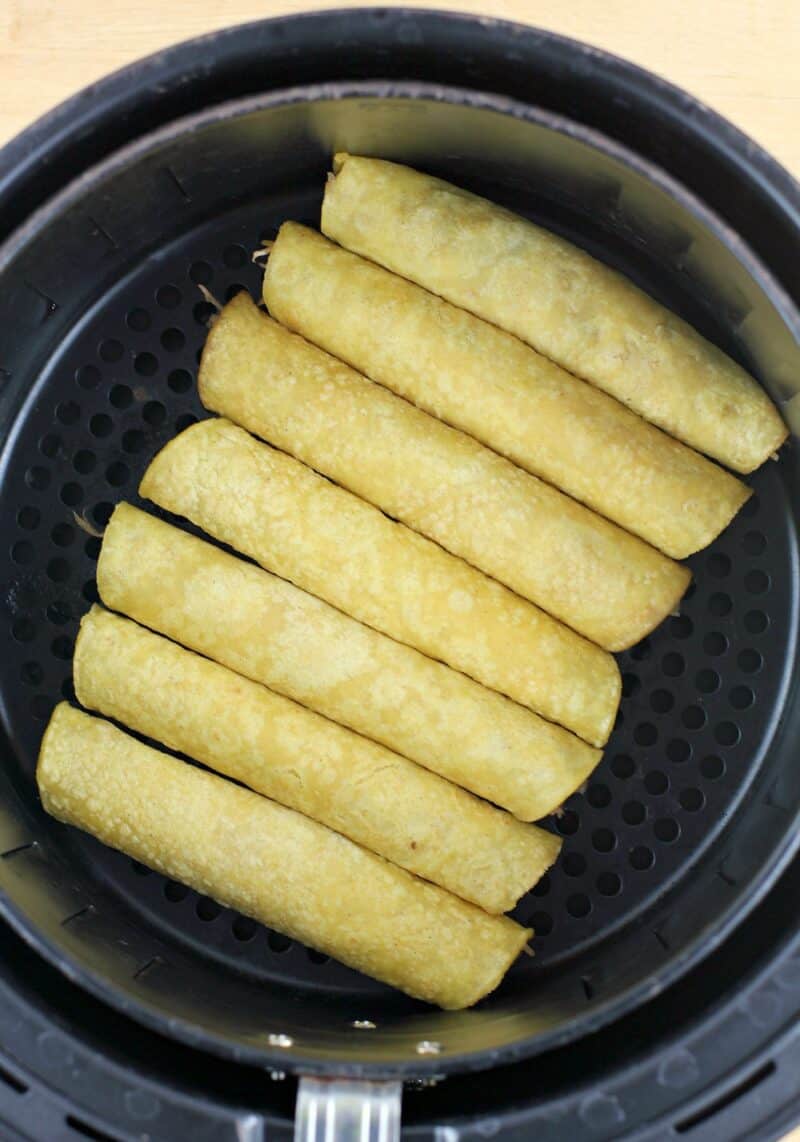 Last Tips
Check the taquitos at 5 minutes. They are done when heated through, crispy, and browned around the edges. If you have fewer in the basket (such as, say, you ended up with 2-3 to cook by themselves at the end), they will require less cook time – so check at 4 minutes, and cook another minute if necessary.
Like all fried foods, air fryer taquitos reheat just okay in the microwave because the tortilla will eventually lose its crispness. Optimally, reheat leftovers in a warm oven until heated through and crisp again.
These taquitos can be assembled in advance, but I do not recommend cooking in advance of serving.
When placing taquitos in the air fryer basket, place them seam-side down to prevent unrolling while cooking.
As written, this recipe is kid friendly as far as the spice level goes. If additional heat is desired, add hot sauce to the filling or serve on the side.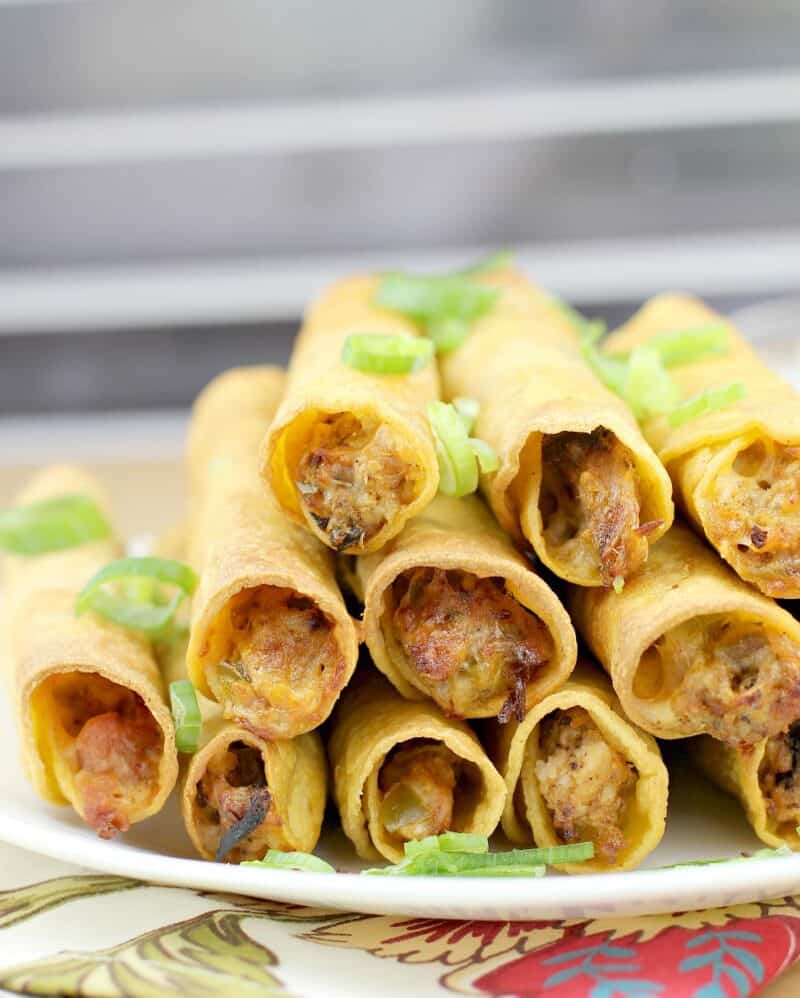 More recipes with pulled pork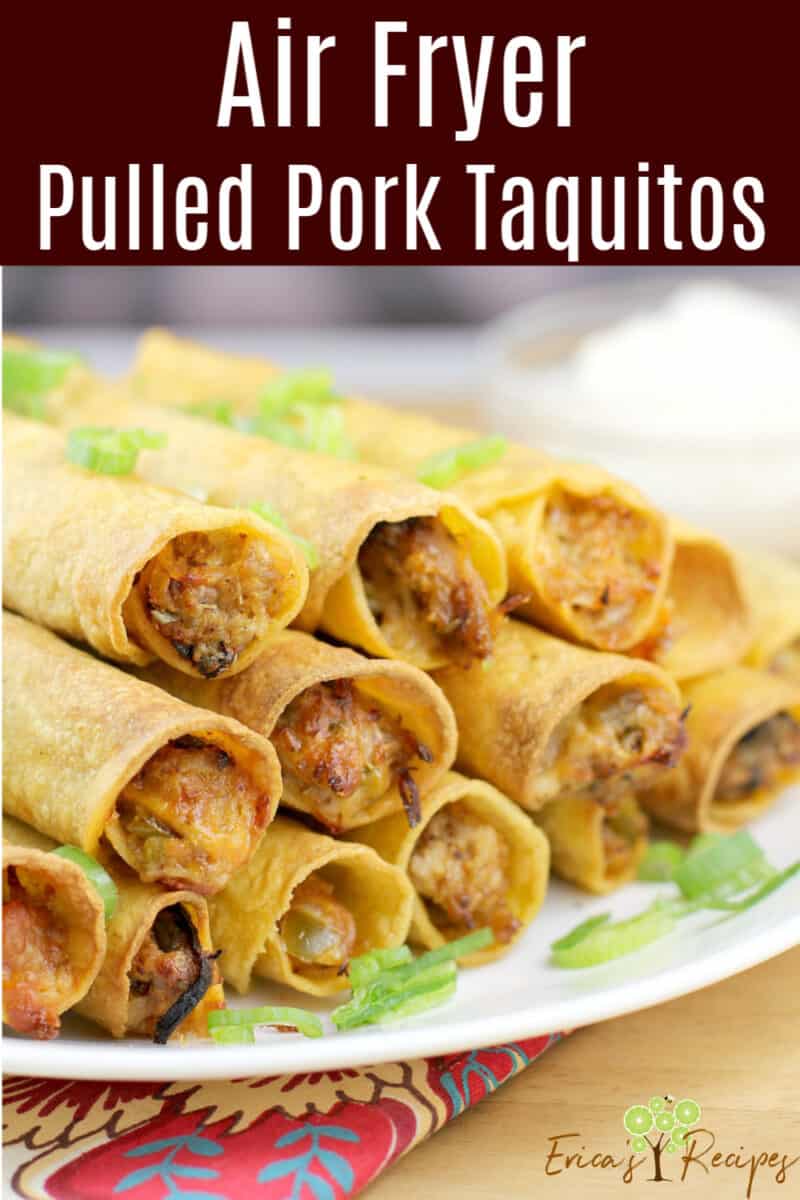 For a fun recipe that goes really well with these taquitos, check out my Cheesy Fiesta Potatoes.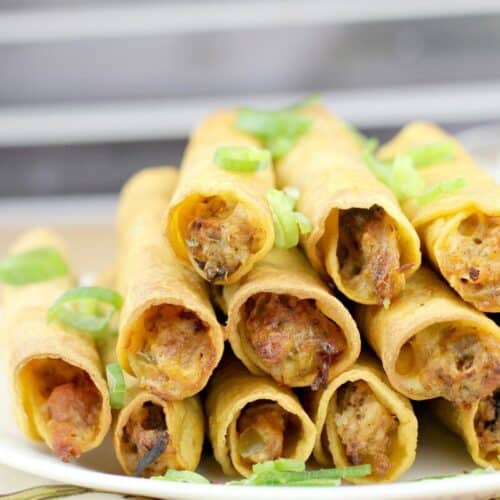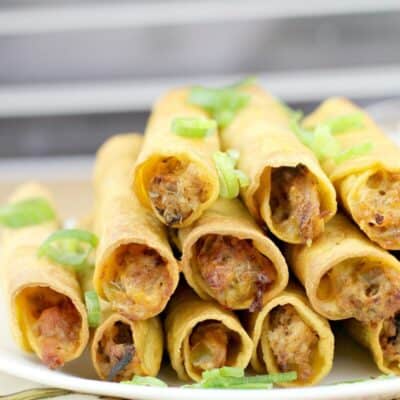 Air Fryer Pulled Pork Taquitos
Air fryer taquitos with a flavorful cheesy filling using leftover pulled pork. Make these crispy taquitos for a fun dinner on taco night, game day food, or gluten-free snack.
Ingredients
2

Tbsp

diced pickled jalapeno

drained

¼

cup

salsa

1

tsp

salt-free Mexican seasoning blend

such as McCormick Perfect Pinch or Mrs. Dash (see Notes)

½

tsp

dried oregano

¼

tsp

kosher salt

4

oz

shredded Mexican cheese blend

~7 oz pulled pork

shredded well

cooking spray

16

yellow corn tortillas

condiment of choice

such as sour cream, guacamole, and salsa
Instructions
Heat the air fryer to 400°F.

Heat a medium, nonstick skillet on medium heat. Add a tortilla, spritz both sides with cooking spray, and heat until softened on both sides. Transfer to a dish and cover with a lightly moistened paper towel to keep warm. Repeat with the remaining tortillas.

In a bowl, combine the jalapeno, salsa, seasonings, pork, and cheese.

Take a ~2 tablespoons filling and pack down the middle of a tortilla. Take one side of the tortilla and roll over the filling, using your fingers to get a tight roll, then roll up the rest of the tortilla around the filling creating the ~¾-inch diameter taquito.

Put taquitos in the basket of the air fryer in a single layer (this will require cooking in 2-3 batches depending on the size of your air fryer basket). Cook 5-6 minutes until tortillas are crispy and golden.

Serve with condiments of choice, such as sour cream, guacamole, and salsa.
Notes
Softening the tortillas and very lightly toasting is necessary so they do not fall apart when rolled.
If a Mexican seasoning blend is not available, simply substitute 1/2 tsp cumin, 1/4 tsp chili powder, and 1/4 tsp garlic powder.
If using a Mexican seasoning blend that contains salt, decrease or omit the kosher salt (tasting for seasoning is always recommended).
Calorie estimation is approximate. Calculation is for 2 taquitos per person and does not include condiment.
Nutrition
Calorie count is purely an estimate calculated using an online application to serve as a guide and not to be taken as accurate nutritional information. Percent Daily Values are based on a 2,000 calorie diet.
Tried this recipe?
Leave a comment below and let me know!