Bourbon Pork Medallions with Mustard Sauce
Perfectly cooked pork medallions glazed in bourbon sauce and finished with creamy mustard sauce. This easy pork tenderloin recipe is perfect for beginner cooking to make an impressive dish with such a delicious combination of flavors.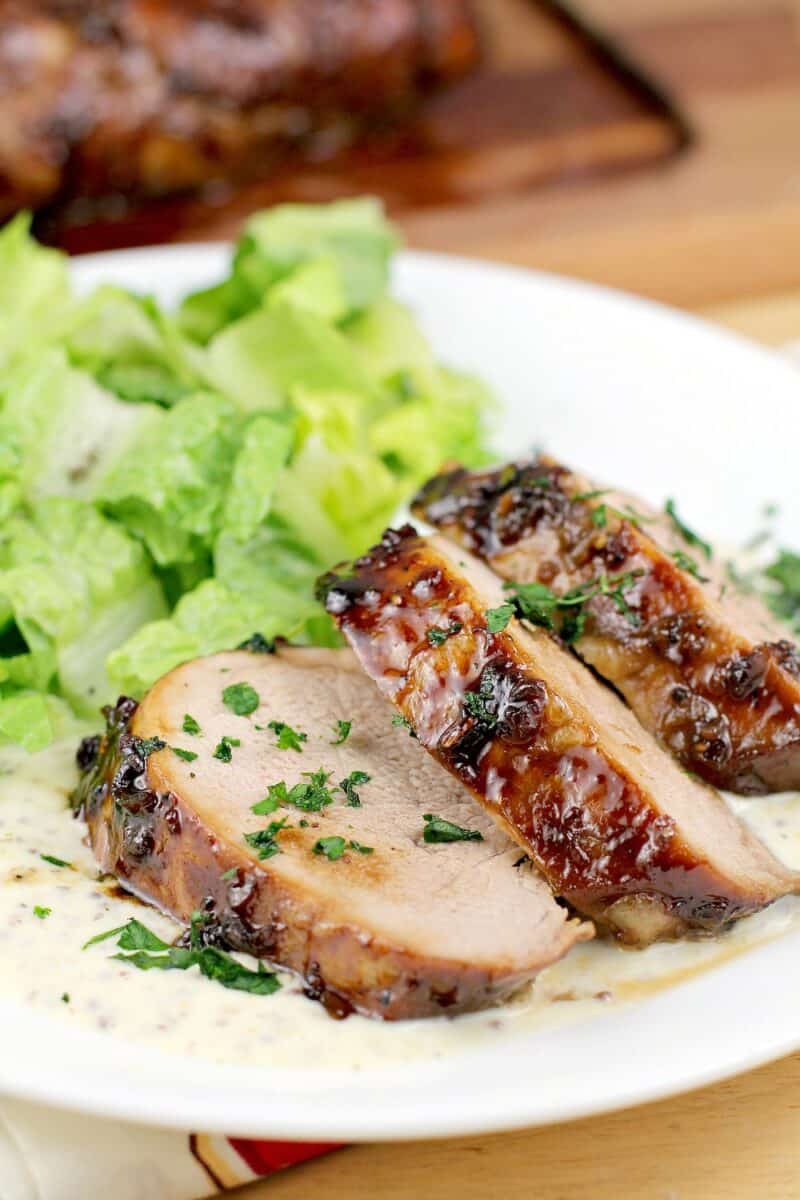 What is bourbon sauce?
Bourbon is a particular type of American whiskey, distilled from a mash made mostly of corn. In fact, for a whisky to be able to officially call itself bourbon, the mash used to make it must be at least 51% corn.
You will find various renditions of sauces using bourbon in both savory and sweet recipes. For sweet, buttery bourbon sauces are most often used in bread pudding. For savory, bourbon is often used in barbecue sauce or to make a glaze like with these pork medallions.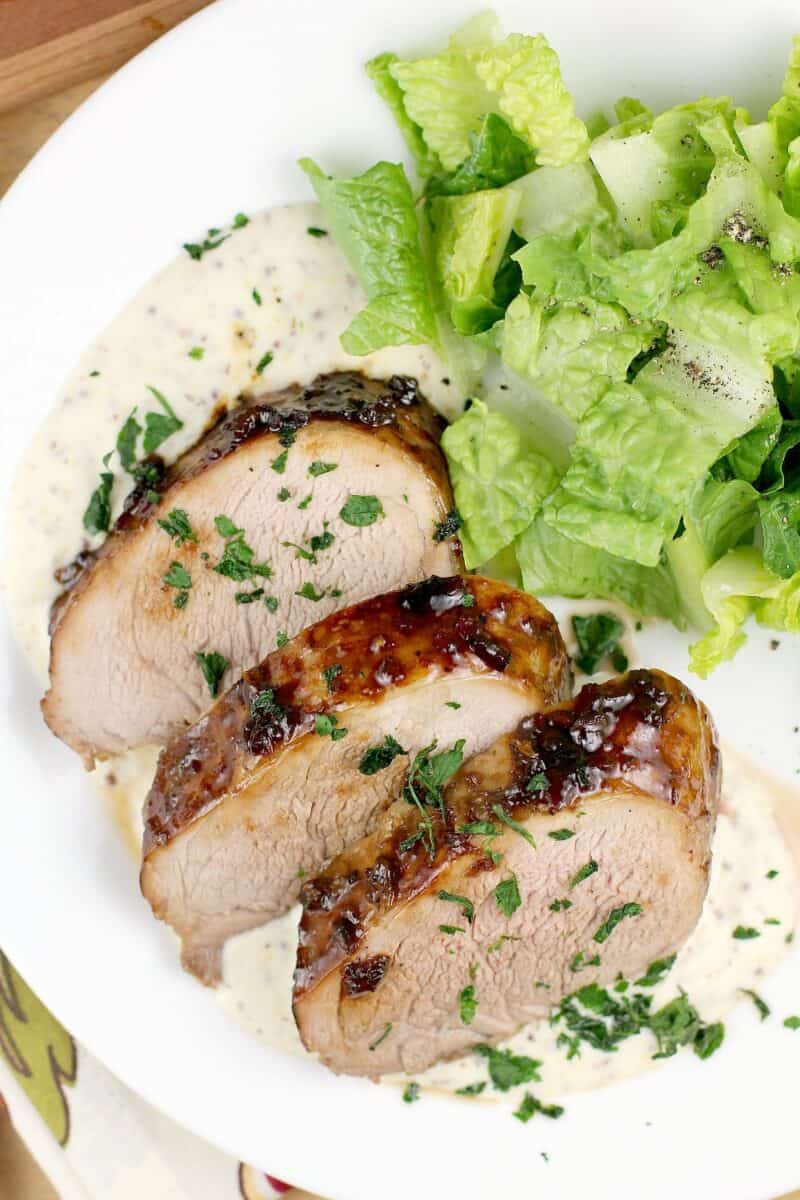 After using bourbon in the marinade for the pork, we simmer that down to make the bourbon sauce that will glaze the pork as it cooks. This serves 2 functions: to kill any bacteria that may be there from the meat and to concentrate the marinade into a saucy sauce.
The brown sugar in the marinade, along with natural sugars in the bourbon, are key to make this magic happen. And the result is a DELICIOUS meld of bourbon flavor that pairs perfectly with the pork.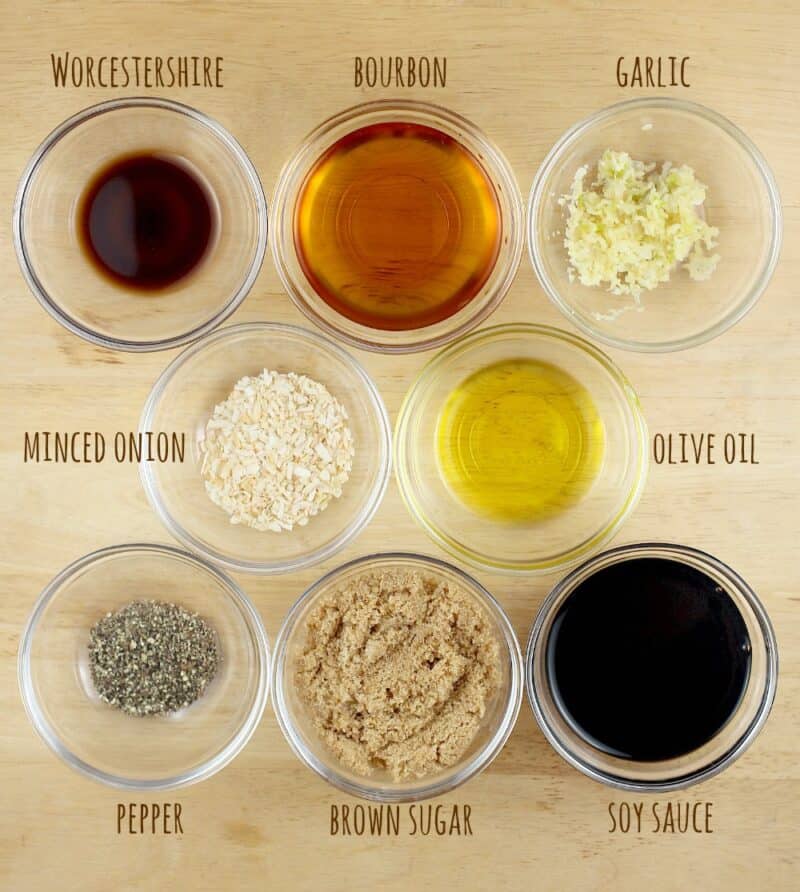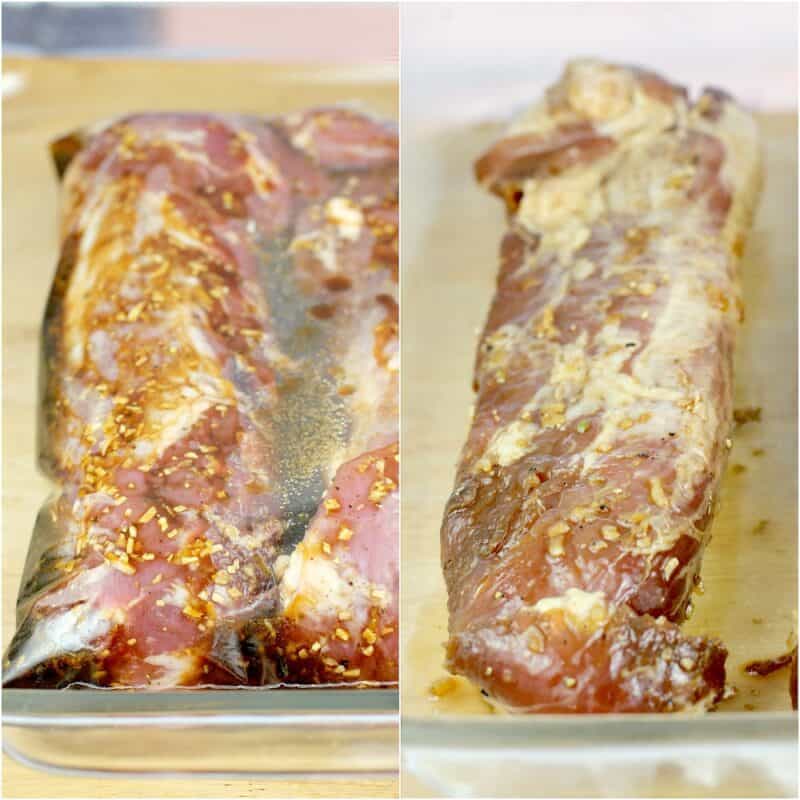 The Mustard Sauce
The mustard sauce for this recipe is literally one of the EASIEST things to make but oh so deliciously good. This handy trick of giving cream a littler simmer (to reduce and thicken), then just adding whole grain mustard, salt, and pepper, is one of the first things I ever learned to cook.
I have made this mustard sauce to up to 80 people for church suppers, it is THAT easy. And the taste is so dreamy, so perfect, with those little pearls of mustard in a luscious creamy sauce, that it tastes complicated, but completely isn't.
It is a Perfect sauce for beginner cooking.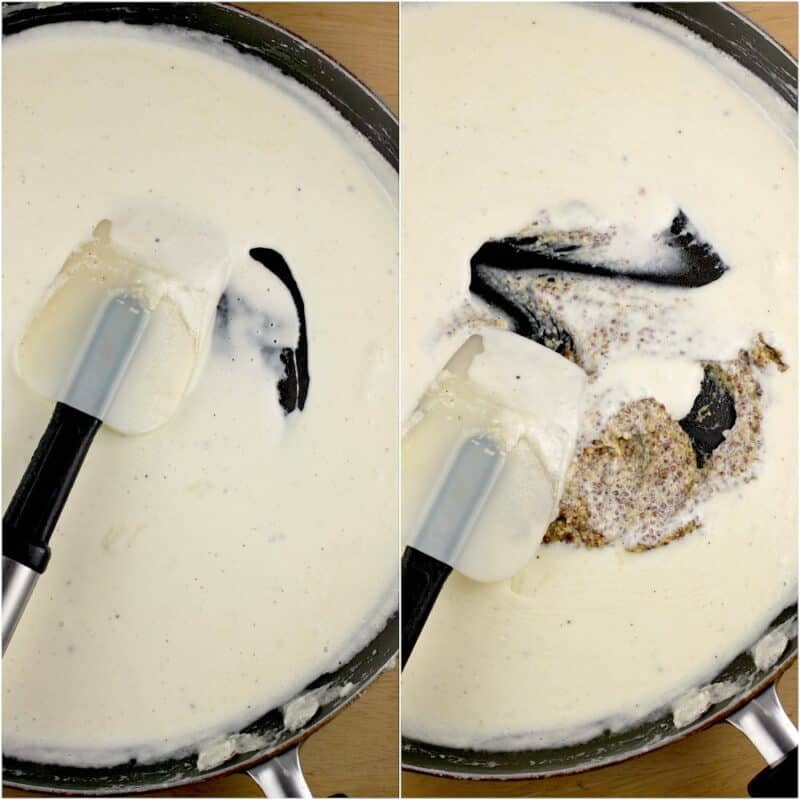 Additional meat suggestions to pair with the mustard sauce
Baked or grilled salmon
Filet mignon
Grilled portabello mushrooms
Roasted pork loin
Roast beef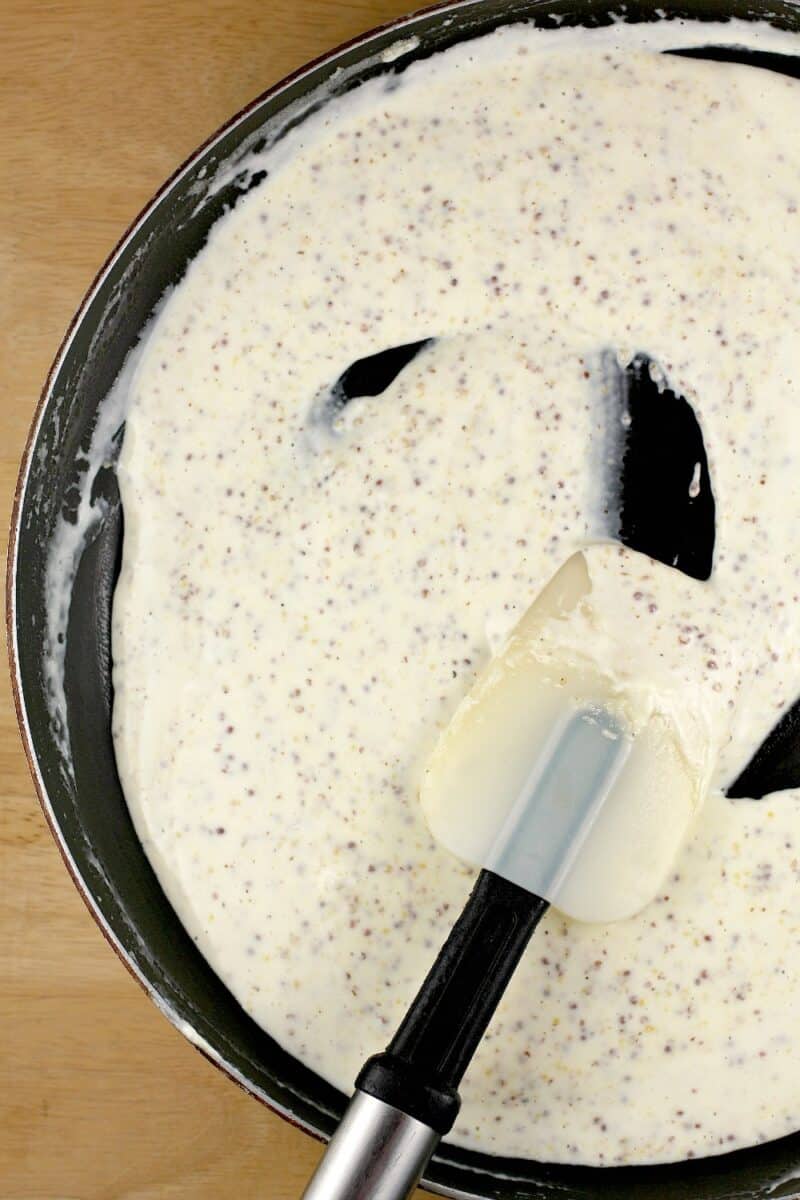 How long to roast pork tenderloin
Pork tenderloin is a forgiving meat, meaning that it is easier to cook perfect tenderloin compared to other meat like pork loin or chicken breast. The key is to cook to temperature, which is the best method to ensure that the meat is done but not too done.
Most pork tenderloin from US grocery stores actually comes with two tenderloins, each about a pound. Pork nowadays is safer to eat than it used to be, so the current wisdom is to cook to 155°F internal temperature (meaning, stick the thermometer into the center of the meat).
In a 400°F oven, pork tenderloin will reach this temperature in 30-40 minutes. Simply cook 30 minutes, check the temperature, and let it go further if necessary. If it is only at 140°F, cook another 10 minutes and check again. If it is at 150°F, cook just another 5 minutes and check again.
And always – always always always – allow meat to rest before carving. This is especially true of pork medallions where we are cutting the meat into thinner slices. If the meat isn't allowed to rest (so the juices can redistribute) once removed from the heat, then the juices will run out of the meat leaving it dry.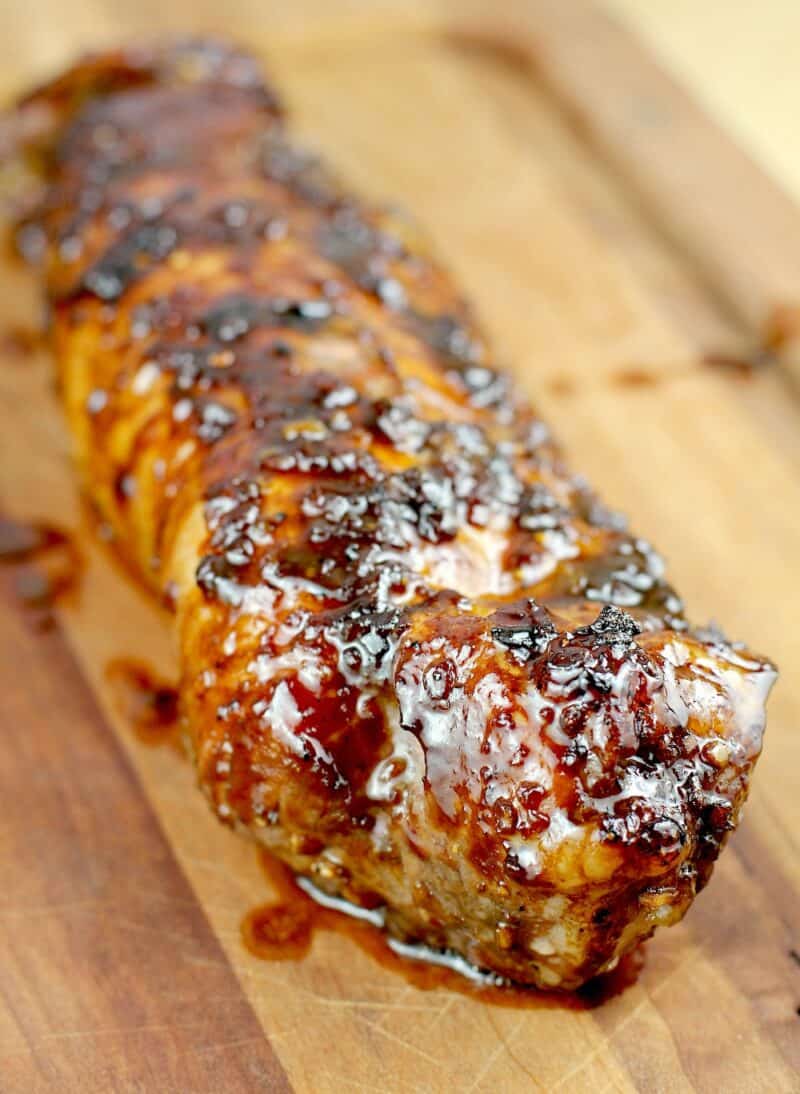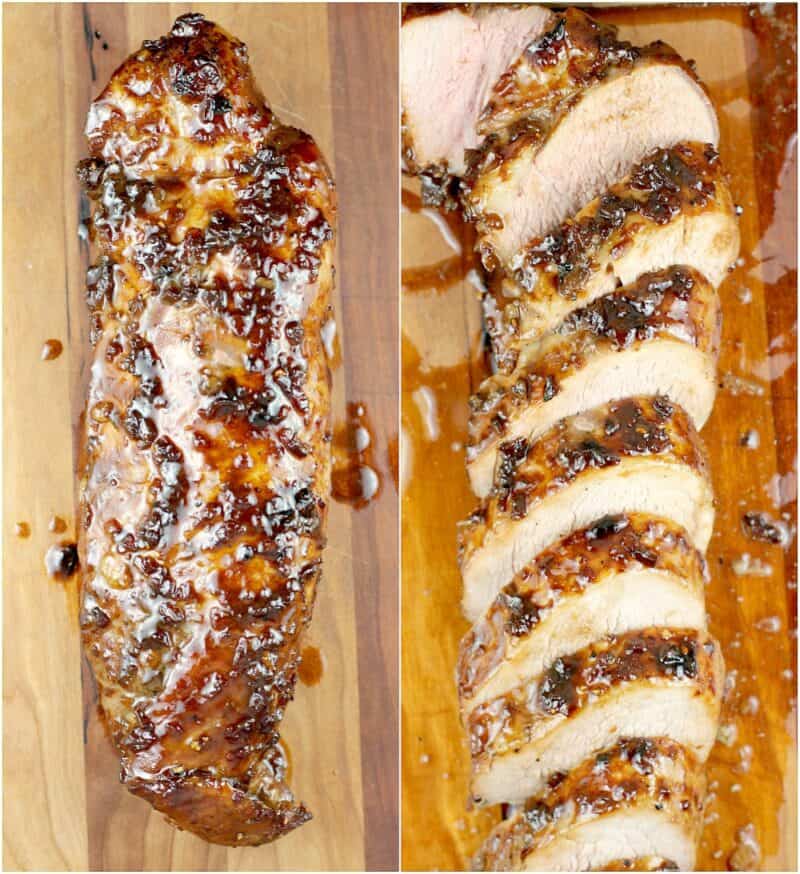 Bourbon pork ingredients
Pork tenderloin, a "forgiving" cut of meat to cook easily in the oven.
Extra virgin olive oil coats the meat to help seal in moisture.
Bourbon. The star of this show.
Soy sauce brings umami and depth of flavor.
Brown sugar brings the sweet flavor and allows the marinade to become a perfect glaze.
Dried minced onion is easy, but fresh onion can be used as substitute.
Garlic. Opt to use fresh garlic cloves and not jarred garlic.
Worcestershire sauce brings more flavor with notes of wood and citrus.
Fresh cracked pepper, but purchased ground pepper may be used as substitute.
Then, we just make a simple mustard sauce using only cream, whole grain mustard, salt, and pepper.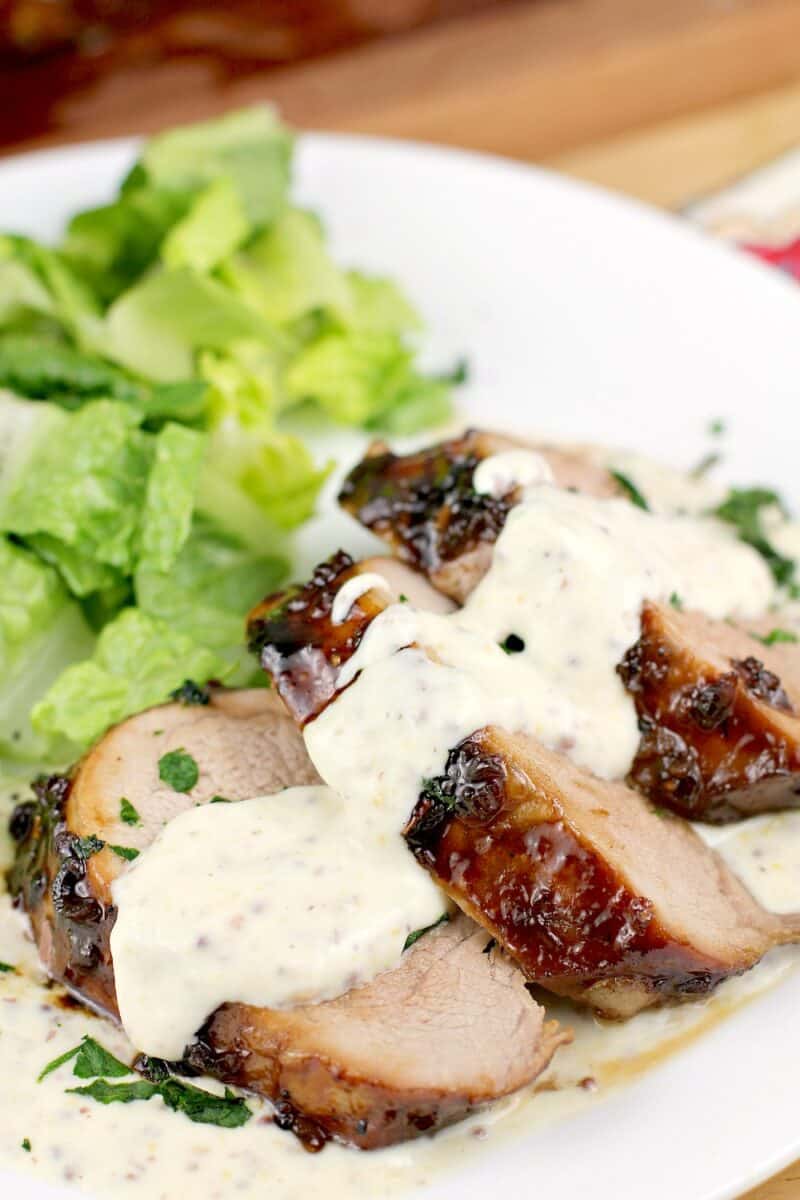 Steps to prepare this recipe
The steps to make these beautiful pork medallions, the bourbon sauce, and the mustard sauce are each very easy. To make this post as friendly as possible for beginner cooking, I included extra description in the recipe card below for even more help.
But to summarize, the steps to make this recipe are thusly:
Marinate the pork in the bourbon marinade. Eight hours is good, overnight is better to fully infuse the flavor into the meat.
Simmer the reserved marinade to make the bourbon sauce.
Roast the pork, using the bourbon sauce to glaze the meat as it cooks.
While the pork is cooking, make the mustard sauce. Simmer cream to concentrate, then just add the rest of the ingredients.
Allow the cooked pork to rest before slicing.
Serve.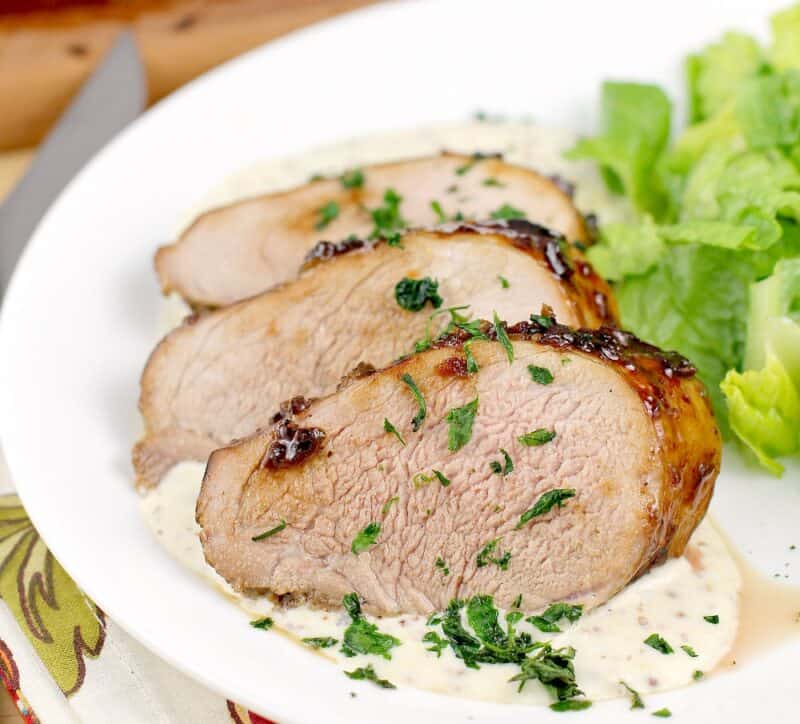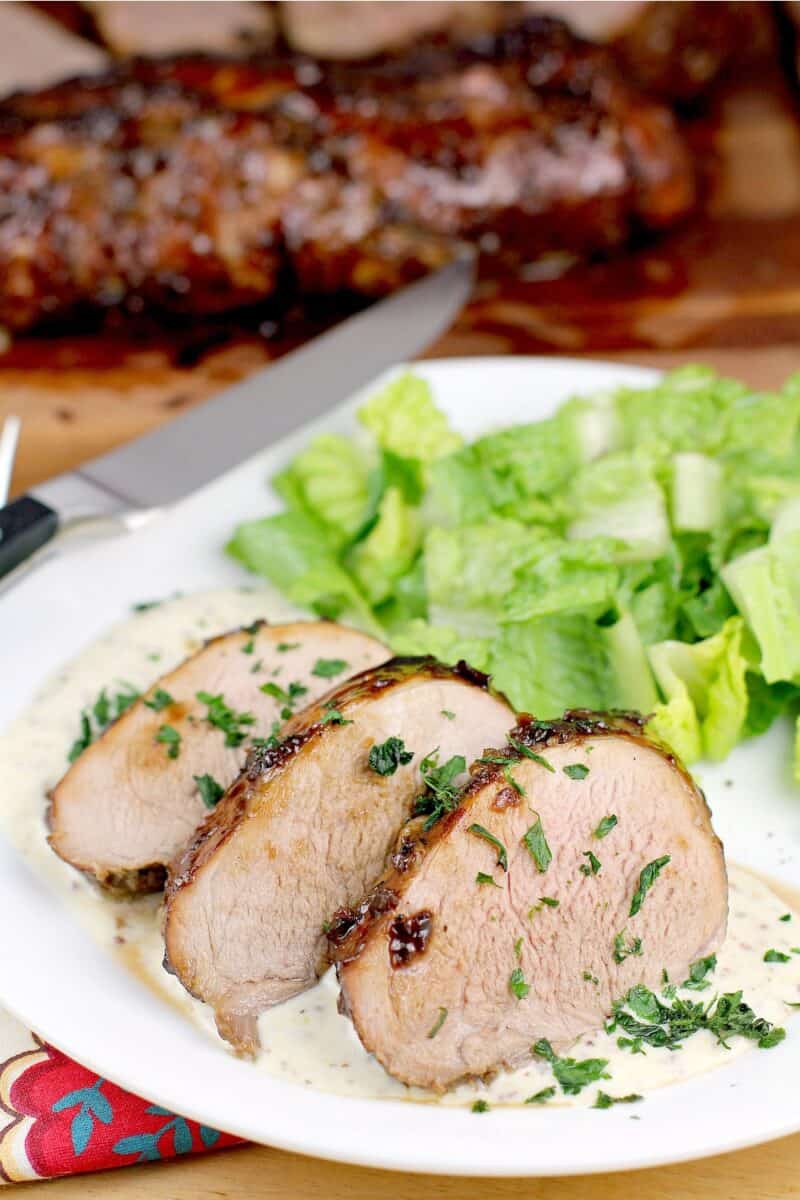 More recipes for beginner cooking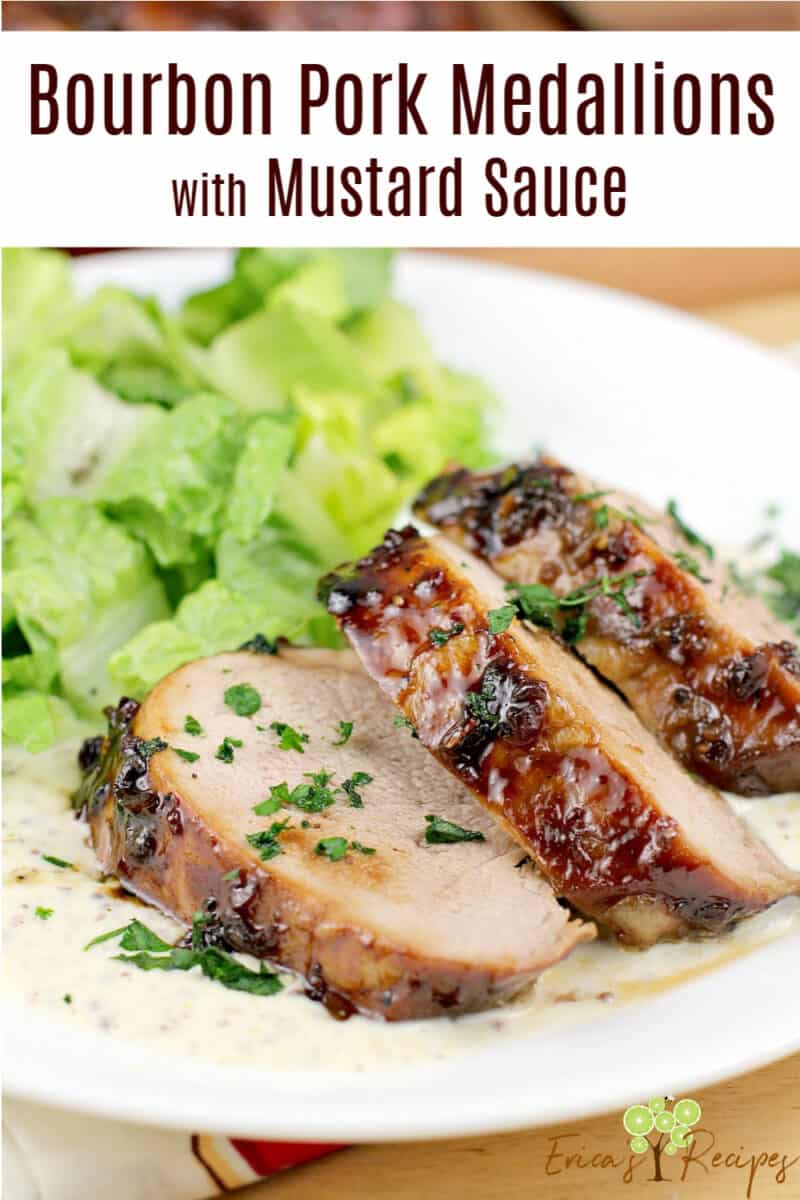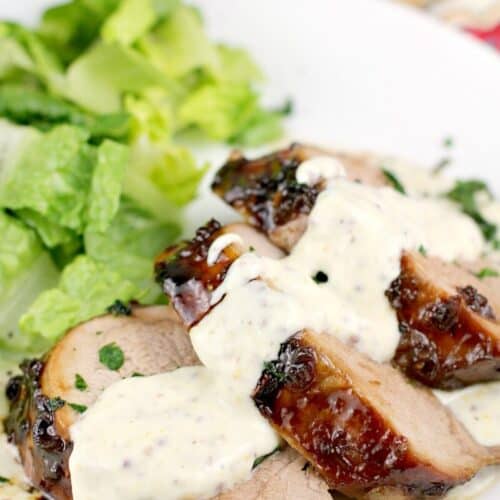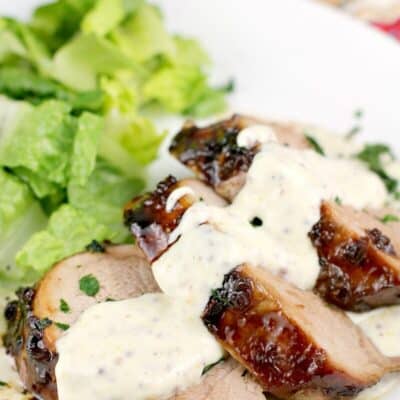 Bourbon Pork Medallions with Mustard Sauce
Perfectly cooked pork tenderloin medallions glazed in bourbon sauce and finished with mustard cream sauce. This easy recipe is perfect for beginner cooking to make an impressive dish.
Ingredients
2 to 2-½

lb

pork tenderloin
Instructions
Marinate the pork
Combine the ingredients for the bourbon marinade in a resealable bag. Add the pork and refrigerate at 8 hours to overnight.
Make the Bourbon Sauce and cook the pork
Place the pork in a 13×9 bake dish.

Transfer the marinade to a measuring cup. Bring the liquid measure up to 1 cup with more bourbon. Transfer the marinade to a small saucepan.

Set the saucepan with the marinade to simmer on medium heat until reduced by half (~½ cup) to make the Bourbon Sauce.

Bake the tenderloin at 400°F for 35-40 minutes or until the internal temperature reaches 155°F, brushing with the Bourbon Sauce every 10 minutes. (At the 30 minute mark, just pour whatever marinade is left over the pork to finish and make that perfect glaze).
Make the Mustard Sauce
While the pork is cooking, cook the cream in a nonstick skillet over medium-low heat until reduced to ~1-½ cups (~ 10 min), stirring often.

Add the mustard, salt, and pepper, and cook just until heated, stirring often.
Rest the pork, slice, and serve
Once done, remove the dish with the pork from the oven and let the pork rest 10 minutes before slicing (i.e. allow to sit in the dish away from heat).

Cut into ½-in slices; arrange evenly on dinner plates and spoon Mustard Sauce over.
Nutrition
Calorie count is purely an estimate calculated using an online application to serve as a guide and not to be taken as accurate nutritional information. Percent Daily Values are based on a 2,000 calorie diet.
Tried this recipe?
Leave a comment below and let me know!
~✿♥✿~