Creamy Poblano Macaroni Bake casserole has all the comfort food elements reminiscent of macaroni and cheese. Roasted poblano peppers star in this dairy-free, vegan recipe that will knock your socks off and make your heart smile.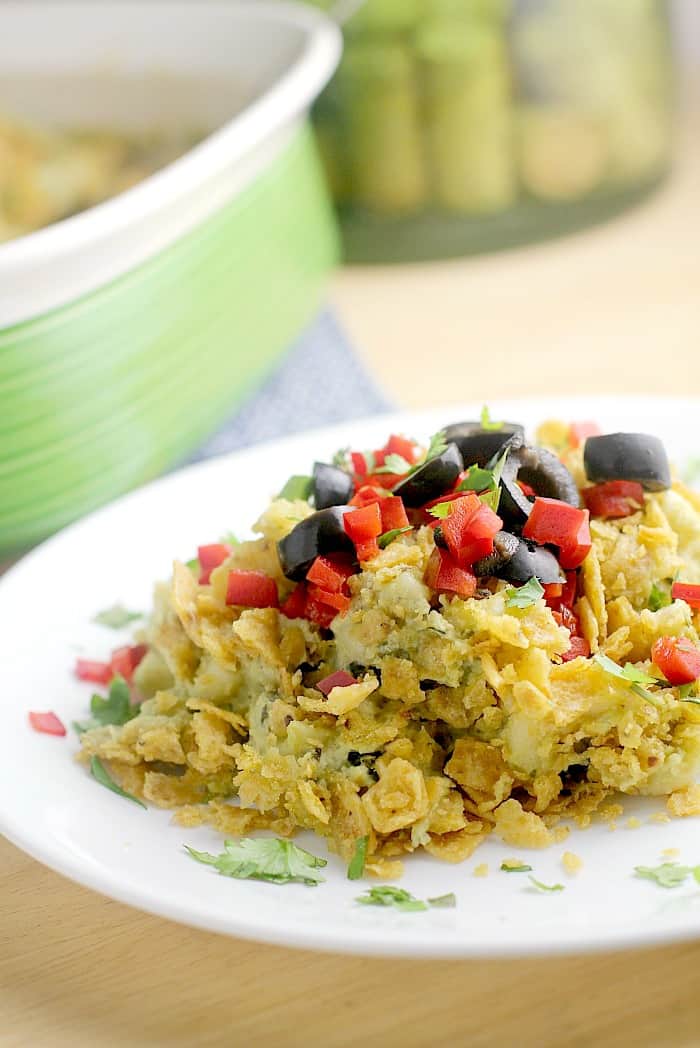 It is accomplished. My quest for a dairy-free but creamy macaroni casserole has been accomplished. And the key to this success?? I used real food. Duh, I know, but seriously – no artificial cheez or anything the least bit questionable. Recipes I read and ones I tried all used store-bought scary vegan cheese (which is disgusting) and/or a ton of nutritional yeast (which is cheddar-ish tasting, I use it also – in teaspoon quantities – but not by the cupful. Gads.). Nope, I finally skipped all that and focused on the flavor by adding phee-nom-men-ally yummy, roasted poblano peppers.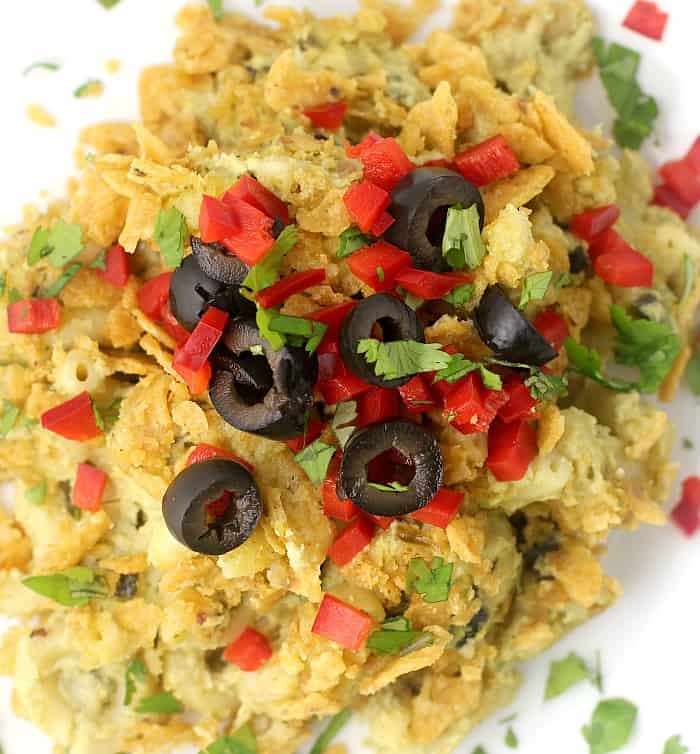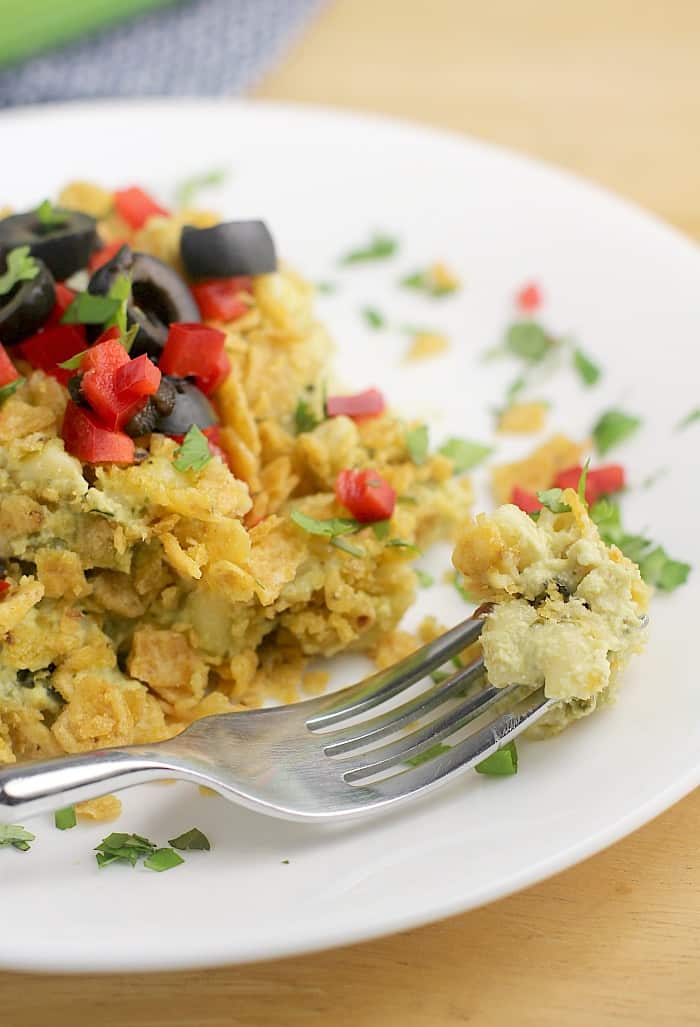 And I do not mean healthy, no. I am not claiming this to be healthy …although it has several very healthy ingredients, and I bet if we did a side-to-side comparison, this recipe would win leaps and bounds over traditional Mac n Cheese… But THAT is NOT the POINT of this recipe. I topped this bad boy with FRITOS for crying out loud. I wanted this comfort THAT badly. So let's stay focused …I just used familiar, easily reachable, everyday ingredients, and they were awesome. With no dairy.
And yes, by familiar I mean almond milk and raw cashews. Because if these are not familiar to you yet, you should get with the program.
…did that sound bossy? did I just have a Mom moment??
Alright, alright, alright – I can't even keep a straight thought because I am so excited about this Creamy Poblano Macaroni Bake.
So this is the third recipe with poblano peppers I've given you in as many weeks. Don't know what's up with that other than to say that's kinda my thing this time of year. It may be February, but it feels like spring here in Florida – sunny cool days, and the sun just starting to set a little later each evening. Just starting. And I have no clue why, but I associate Mexican food with spring, honestly. It's gotta be the colors I guess. Is there any food prettier than Mexican??
This beautiful Creamy Poblano Macaroni Bake recipe is all about the poblanos. First, we roast them up awesommme in the oven. Get the skins off and seeds out, then blend with a quick roux, cashews, and a couple other assorteds to make a sauce that is all chilll and mellow comfort just like a cheese sauce would be. Mix in the pasta, more poblano pepper, top with corn chips, and bake. And finally, we complete this story by topping with some sliced black olives, fresh red bell pepper, and cilantro.
By the way, if you are one of those people who can't handle cilantro (which tastes like soap to some; that is a real thing), then just substitute flat-leaf parsley. …Never curly parsley. Never ever.
This reheats really really well the next day too. Just saying.
So that's it folks! This recipe is fantastic, it really is and you have got to try it. So much to love here, under a crunchy topping.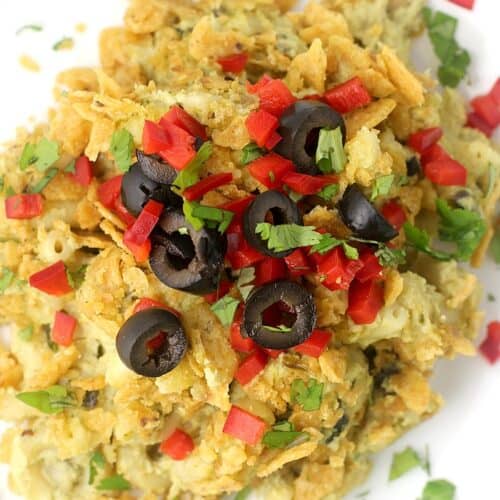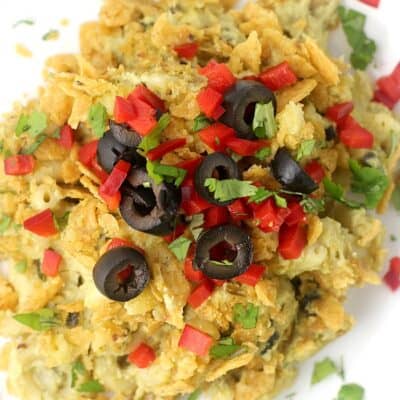 Creamy Poblano Macaroni Bake
Creamy Poblano Macaroni Bake casserole has all the comfort food elements reminiscent of macaroni and cheese. Roasted poblano peppers star in this dairy-free, vegan recipe that will knock your socks off and make your heart smile.
Ingredients
4

large poblano peppers

10

ounces

elbow macaroni

2

Tbs

vegan butter

divided

1/2

large white onion

diced

1

clove

garlic

chopped

1

Tbs

all-purpose flour

1

cup

vegetable stock

1/2

cup

almond milk

1

cup

raw cashews

soaked overnight and drained

1

tsp

Dijon mustard

juice of a lemon

1

tsp

kosher salt

couple pinches fresh cracked pepper

1/4

cup

fresh cilantro

1

cup

crushed fritos chips

garnish: finely diced fresh red bell pepper

sliced black olives, fresh chopped cilantro
Instructions
Heat up the oven broiler. Also put a pot of water on the stove to come to a boil.

Roast the peppers under the broiler, turning a bit every 5 minutes, for 15-20 minutes until charred and tender. Put the peppers in a ziploc bag to steam for 5 minutes. Discard the charred skins and seeds.

Heat the oven to 350F.

Cook the pasta just to al dente according to package directions.

Meanwhile, heat a large, nonstick skillet on medium-high heat. Add the butter, onion, and garlic. Saute until barely golden and fragrant. Add the flour and cook briefly. Add the vegetable stock and almond milk, and cook a minute to scrape up any bits from the pan with a wooden spoon or silicone spatula. Transfer mixture to a food processor.

To the processor, add two of the prepared poblano peppers, the cashews, Dijon, lemon juice, salt, and pepper. Process until smooth. Taste for seasoning and acidity, adding more salt and lemon juice if necessary (if it tastes bland, it needs more). Pulse in the cilantro.

Drain the macaroni and put back in the pot. Add the prepared poblano sauce. Dice the remaining two roasted poblano peppers and add to the pot as well. Stir to combine and transfer all to a 13x9 or mid-sized casserole dish.

Top the casserole with the crushed fritos chips. Bake at 350F for 20-25 minutes until well heated through and sizzly when you listen.

Serve topped with red bell pepper, sliced black olives, and fresh cilantro. Yields: 6 servings.
Calorie count is purely an estimate calculated using an online application to serve as a guide and not to be taken as accurate nutritional information. Percent Daily Values are based on a 2,000 calorie diet.
Tried this recipe?
Leave a comment below and let me know!
~✿♥✿~
Leave me a comment! Or else I'm just talking to myself here. What is your favorite comfort casserole?