Lemon Garlic Cream Sauce for Lobster Ravioli
This rich and glorious cream sauce for lobster ravioli with lemon and garlic is the perfect compliment to your store-bought lobster ravioli. Subtle flavors balanced with just the right seasoning, this lobster ravioli sauce will let the delicate flavor of your ravioli filling shine though. And this sauce is so easy, it comes together in the time it takes to bring your pot of water to a boil. So when you see lobster ravioli in the fresh pasta section and just don't know what sauce to serve with it, THIS recipe is your answer.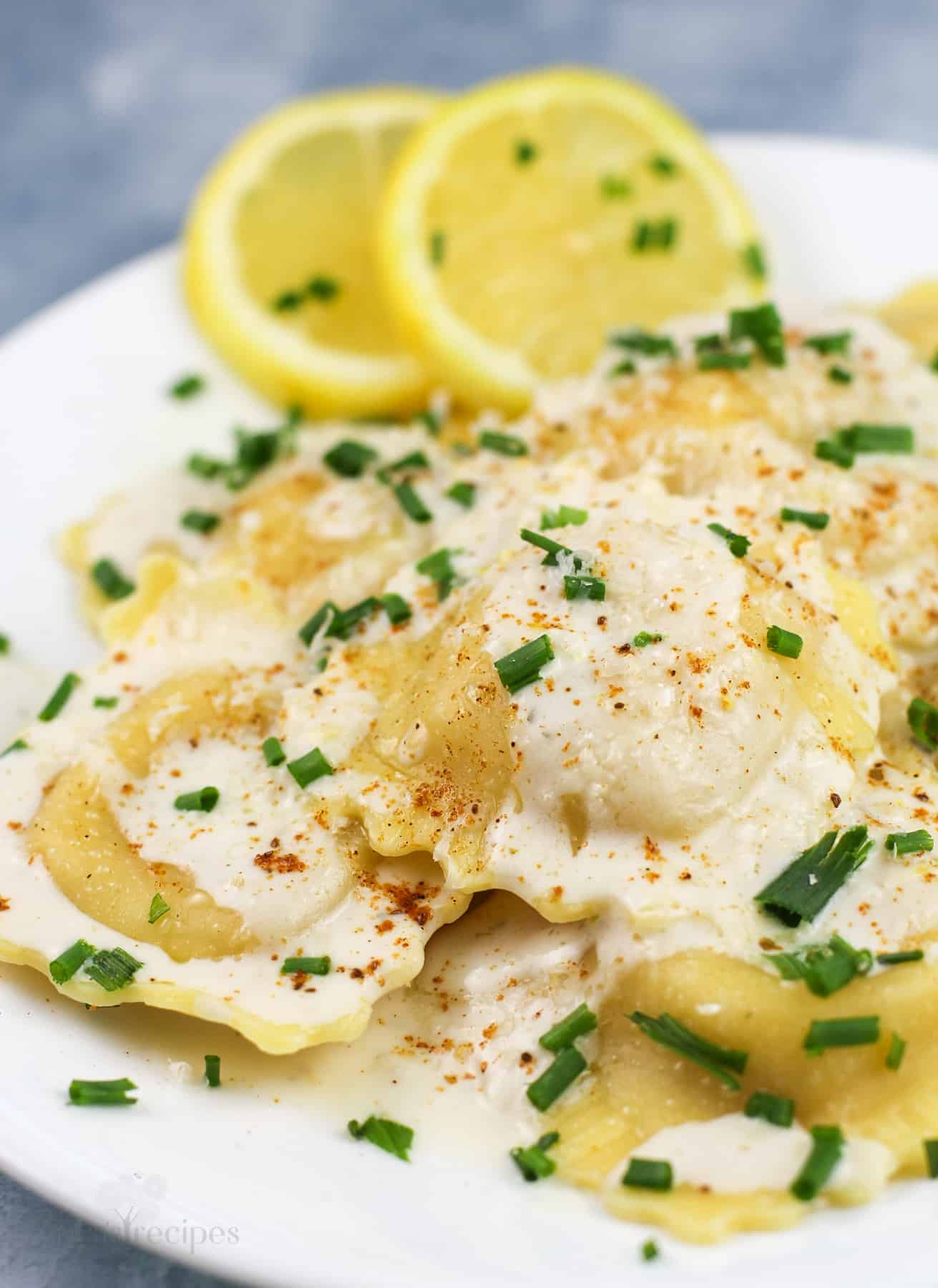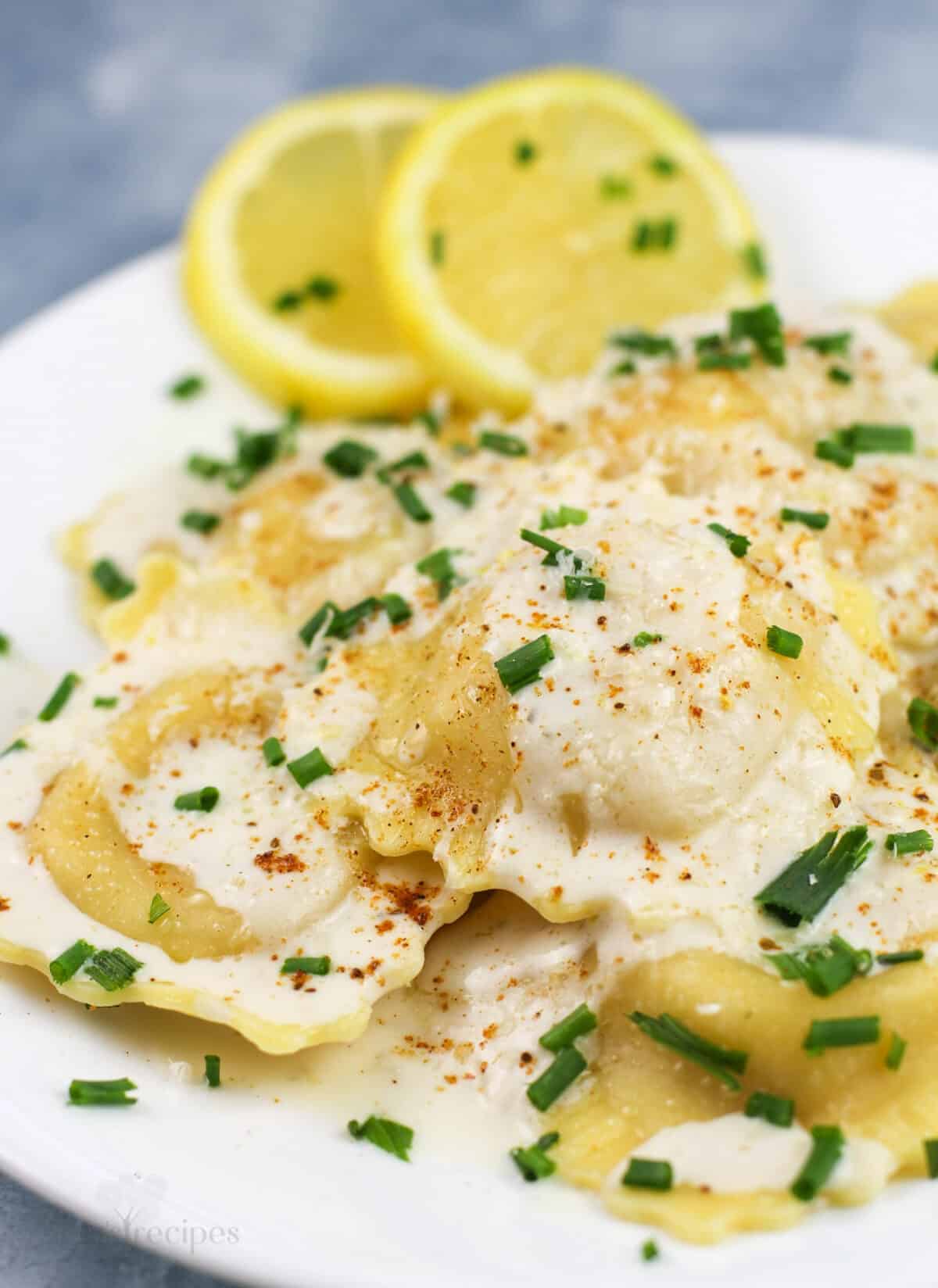 What sauce goes best with lobster ravioli?
So, I'm going to answer the contrary first – which sauce does not go with lobster ravioli and the answer to that is spaghetti sauce. Spaghetti sauce is too strong and will drown out the ravioli flavor.
If you've checked out your fresh pasta section in the grocery store lately, you may have noticed that fairly regularly there is not lobster ravioli YUM! I have seen it from a couple different companies (more on that below), but I am currently on a pretty firm Rana kick for my fresh store-bought ravioli. (This post is not sponsored, I'm just being open).
Any sauce for any seafood needs to be approached differently than meat like chicken, beef, or pork, because it is so easy to overpower seafood's delicate flavor. So the best sauces that complement lobster ravioli are 1) cream sauce (this recipe!), 2) garlic butter or a scampi-type sauce, and 3) a light, fresh tomato and herb sauce (i.e. not assertive marinara). The creamy vs butter of your sauce is up to you and your taste.
For light sauces with tomatoes, see my recipes for Gnocchi with Olive Oil, Tomato, Parmesan and Easy Baked Salmon over Orecchiette with Raw Tomato Sauce.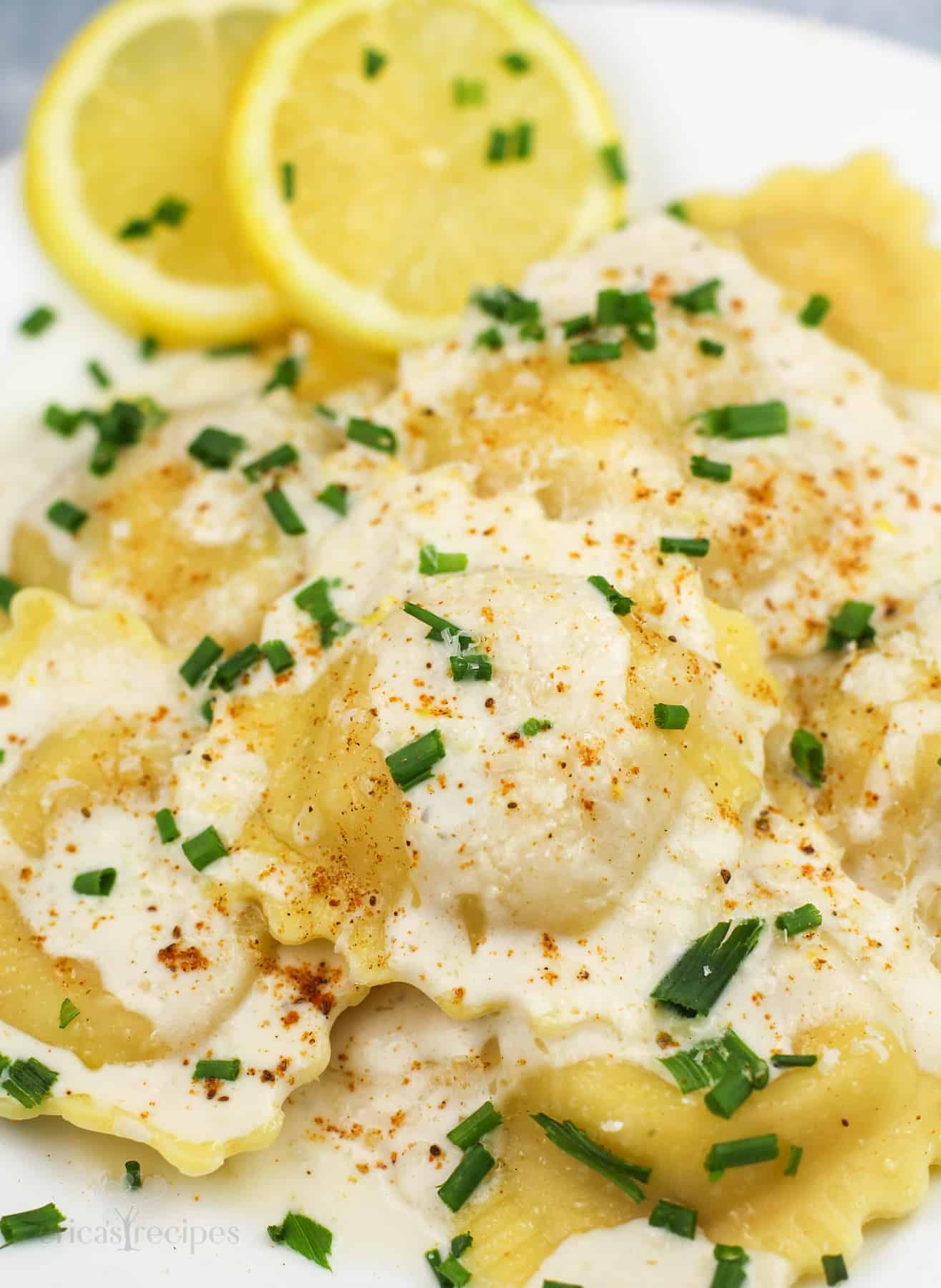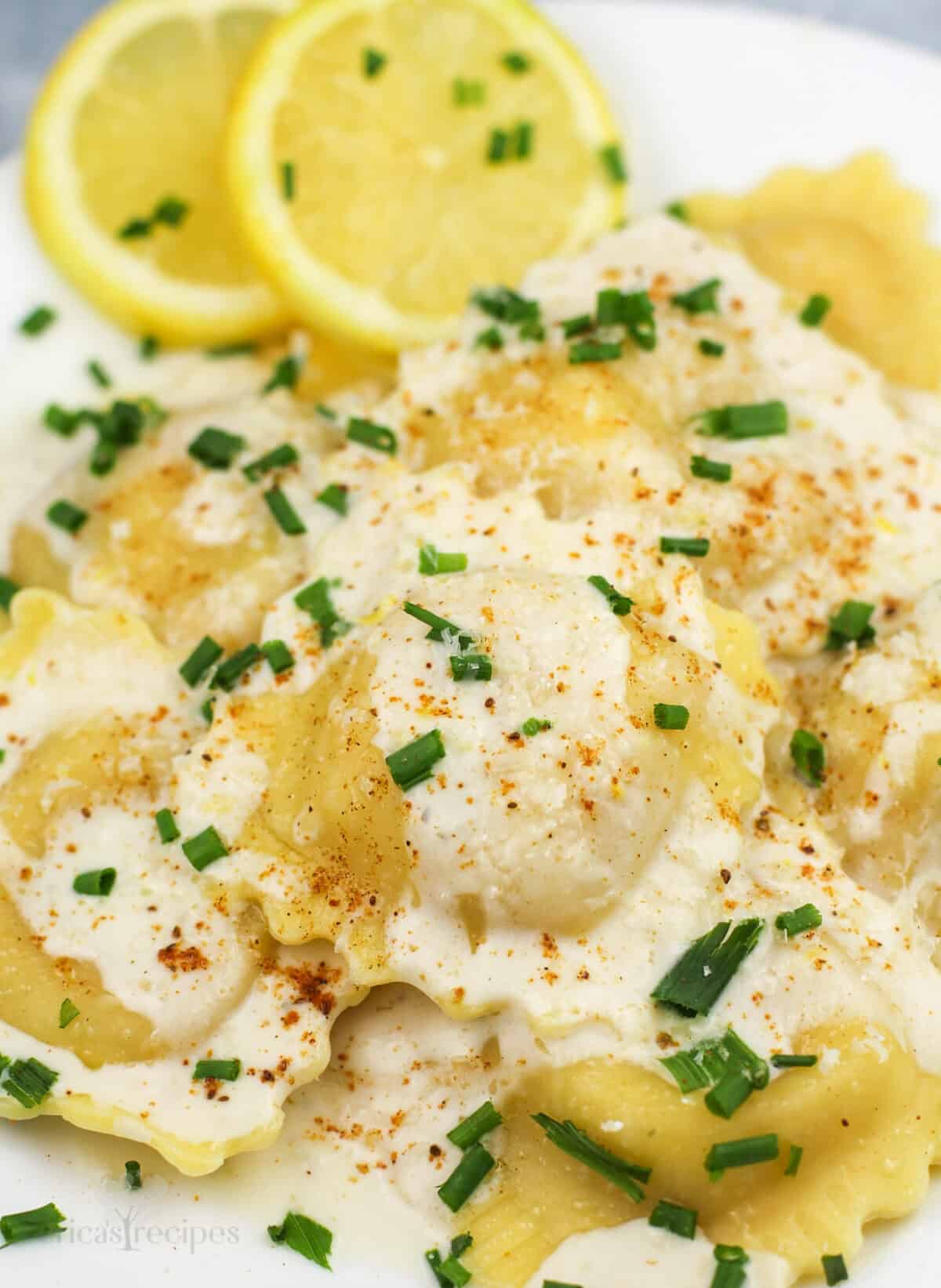 Why this recipe works
Of the above choices for great sauces, THIS recipe for a beautiful cream sauce for lobster ravioli works because its flavor goes with lobster ravioli so well AND because it is so sticking easy to make.
Hints of lemon and garlic – but not too much. Seasonings – but not too much. Creamy, but not heavy. And easy to make. Example: in a perfect world, I would have sautéed finely diced shallot or onion in with the garlic and probably done something like use lobster shells to make stock, but you know what? I didn't want to go there because I was set on the goal of an easy recipe.
Why would I get store-bought lobster ravioli that cooks in 3-4 minutes, only to make a sauce that takes eons to make? This recipe works because it is quick and easy, but doesn't taste quick and easy. Win!
About the ingredients
Unsalted butter
All-purpose flour
Garlic (2 cloves)
Dried minced onion
Chicken stock
Half and half
Boursin Garlic and Herb Gournay Cheese. Look in the section with the specialty cheeses. I got mine at Walmart, so it is easy to find.
Kosher salt
Fresh cracked pepper
Lemon – zest and juice. If you don't have a zester, simply use the fine holes of a cheese grater to get the zest.
Lobster Ravioli. More on this below.
garnish: fresh snipped chives, freshly grated parmesan cheese, sprinkling of Old Bay seafood seasoning
Where to find lobster ravioli
I use Rana brand lobster ravioli and I'm able to get it in my Walmart food order. I have also purchased Buitonni lobster ravioli with great results as well. Aldis carries a brand called Priano, Target has one called Good & Gather, and Trader Joe's carries it's brand as well.
Of the above, I have only tried Rana and Buitonni myself (and Buitonni may not be available anymore – I am inquiring). If you can get Rana (at Walmart or Publix at least that I know of), I highly recommend it because these ravioli have literal chucks of lobster meat inside, which surprises me with happiness every time.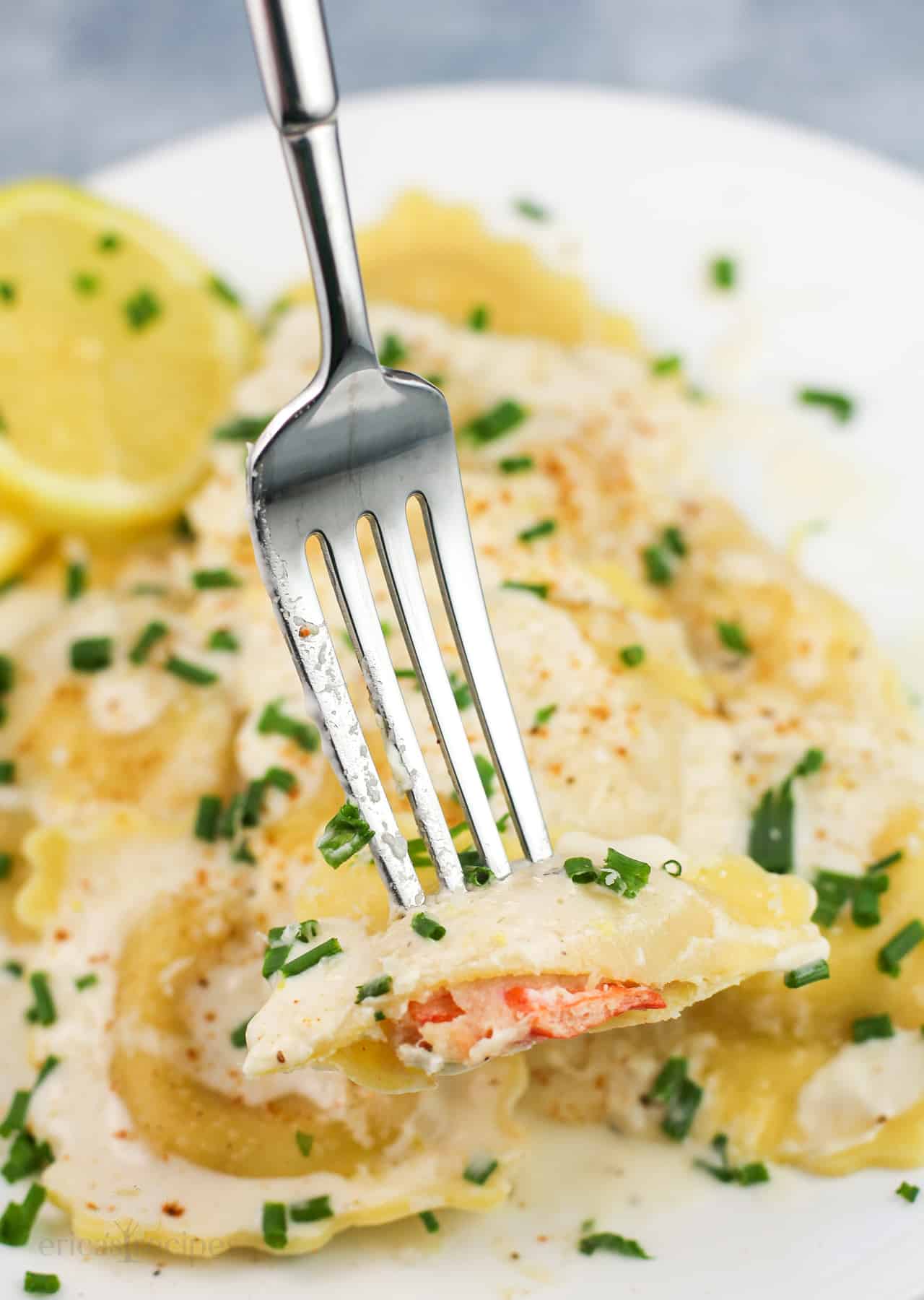 How to make cream sauce for lobster ravioli
Please see the recipe card below for full instructions and details, but the synopsis is as follows:
Boil water.
Make sauce while boiling water.
Cook ravioli.
Add ravioli to sauce (or olive oil then spoon sauce over – see the recipe card for explanation).
Garnish and serve.
Boiling water and cooking the ravioli are the easiest of easy peasy things in the world. Simply follow the package directions on the ravioli.
Making the sauce is v-e-r-y similar to making most of my sauces, like for mac and cheese. First, we make a roux with butter and flour. After adding garlic and taking the raw edge off that, we add the chicken stock and half and half – whisking with intention is key here so we get a smooth sauce and to keep it from burning on the bottom of the pan.
Once we have our sauce, we add salt, pepper, lemon zest, and one of my all-time favorite things: Boursin cheese. Once that melts and melds, we add the finishing touch: fresh lemon juice.
Being fresh pasta, it will cook in just a couple minutes. Then we assemble on our plates to make our delicious lobster ravioli. Ravioli in luscious lemon garlic sauce, topped with fresh chives, some parmesan, and a dusting of Old Bay.
Variations (and what if lobster ravioli is not available)
Want to enjoy seafood ravioli but lobster ravioli is not available? No worries!
Adding fresh seafood is always a great idea. For this recipe, you can add any of the following:
Fresh poached lobster meat.
Lump crab meat.
Large shrimp (peeled and deveined), toss in olive oil and broil ~1 minute per side until opaque and tender.
Delicate broiled or grilled sea bass, cod, orange roughy, or halibut (I would not add assertive fish like swordfish or mahi mahi).
Rock shrimp. Rock shrimp have texture and flavor reminiscent of lobster for an almost total copycat.
If lobster ravioli is not available, another option is to get spinach or cheese ravioli, add fresh seafood and this sauce and Voila. You still have delicious seafood ravioli. I did this very thing in my recipe for Ravioli with Spinach, Salmon, and Boursin Cheese Sauce.
What should you serve with lobster ravioli?
For the "What do I serve with…" question for a cream-based pasta dish, I always go with salad and/or veggies. ANY roasted veggie – broccoli, asparagus, green beans, zucchini – will be beautiful on the plate next to creamy lobster ravioli.
Salads should be simple and not laden with ranch, bacon, cheese, etc. Keep it light so that you can really enjoy the main dish here.
Some of my recipes that pair with lobster ravioli are: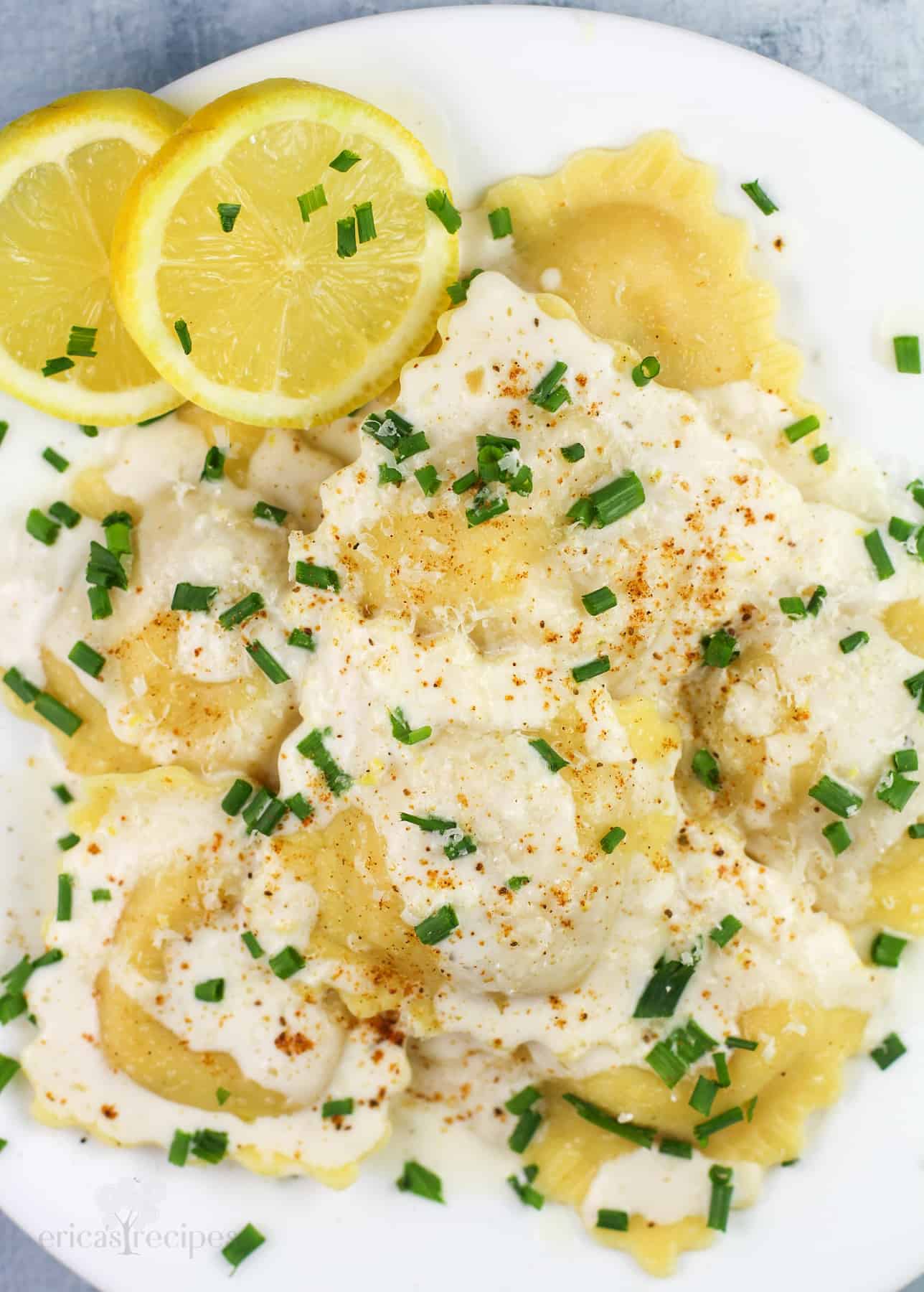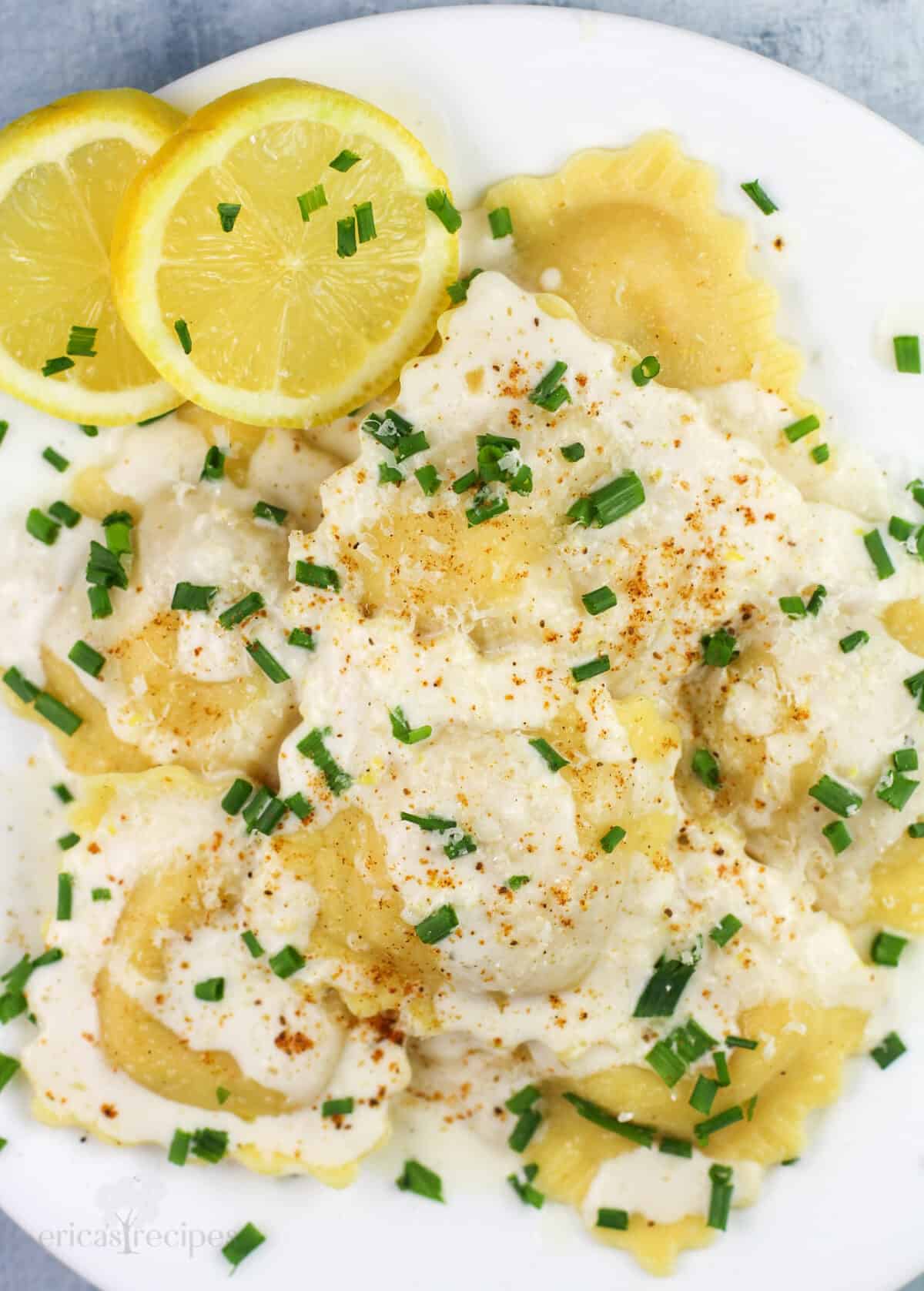 FAQs
What if I can't find lobster ravioli?
See the variations section above.
What is the best way to store this sauce?
In a glass or plastic container with a tight lid, up to 2 days.
Can lobster ravioli sauce be made in advance?
Yes. This sauce can be made up to 2 days in advance, BUT the key is to reheat slowly to prevent it from separating. If cream sauces are reheated too quickly, such as in a microwave, you end up with a separated oil slick that is not appetizing. Reheat/heat this sauce slowly in a saucepan to prevent that from happening.
Can this sauce be used on foods other than ravioli?
OMG yes. This sauce would be a-m-a-z-i-n-g on grilled salmon or swordfish, spooned over grilled or sheet pan shrimp and veggies, added to crabmeat stuffing or atop baked stuffed flounder. This is such a nice complementary sauce, the possibilities are endless.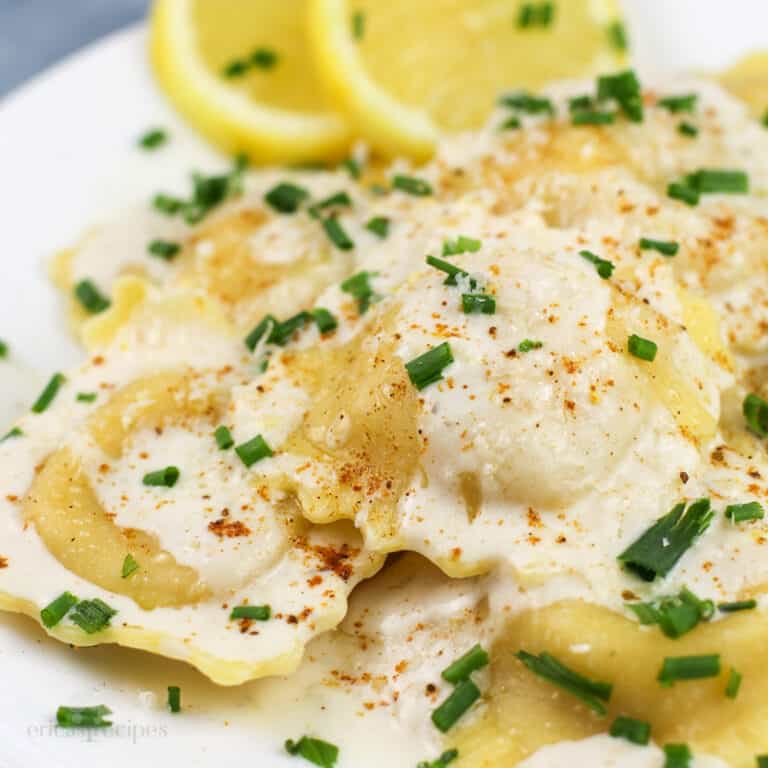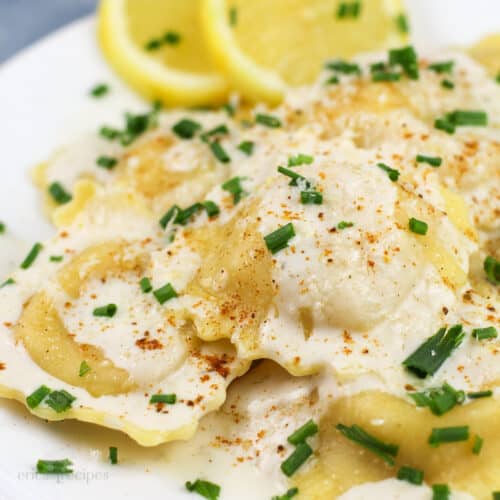 Lemon Garlic Cream Sauce for Lobster Ravioli
This rich and glorious cream sauce for lobster ravioli with lemon and garlic is the perfect compliment to your store-bought lobster ravioli. Subtle flavors balanced with just the right seasoning, this lobster ravioli sauce will let the delicate flavor of your ravioli filling shine though. And this sauce is so easy, it comes together in the time it takes to bring your pot of water to a boil.
Instructions
Bring a large pot of water to a boil.
Make the lobster ravioli sauce
While water is heating: Melt the butter in a medium saucepan over medium-high heat. Add the flour, whisk until smooth, and bring to a bubble. Cook 1 minute, whisking regularly, to cook the flour and make a roux.

To the roux, add the garlic and cook 30 seconds, whisking regularly, until garlic is fragrant.

Add the dried minced onion. Add the chicken stock and half and half, whisking constantly until smooth.

Stirring constantly so the bottom doesn't scorch, cook and stir until thickened to coat the back of a wooden spoon. Turn off the heat.

To the sauce, add the salt, pepper, lemon zest, and Boursin cheese. Break up the Boursin and stir as it melts. If stubborn little chucks of Boursin appear, use a whisk to force them into submission for a smooth sauce.

Add the lemon juice. Taste for seasoning. If the sauce gets too thick, add a splash more half and half to desired alfredo-like consistency.
Cook the lobster ravioli and serve
In the pot of boiling water, cook the ravioli according to package directions. For fresh ravioli, this will only be a couple minutes.

Drain ravioli, toss in sauce, and divide among serving plates. Alternatively, ravioli can be tossed in a bit of extra virgin olive oil (to prevent sticking), plated, then the Lobster Ravioli Sauce spooned over. (see Notes)

Top with fresh chives, parmesan cheese, and Old Bay seasoning. Serve.
Notes
I used Rana Lobster Ravioli from Walmart. See the blog writing above for sections covering Where to find lobster ravioli, as well as how to modify this recipe if lobster ravioli is not available (Variations section).
Once cooked, the ravioli can either be tossed in sauce directly or in olive oil then spoon sauce over. This sauce is enough sauce to comfortably submerge up to 3 (12 oz) packages ravioli. If serving more (4-5 packages), I recommend using olive oil and spooning sauce over to stretch the sauce further.
Nutritional information is for the sauce only and does not include ravioli or garnish.
Nutrition
Calories:
207
kcal
(10%)
|
Carbohydrates:
6
g
(2%)
|
Protein:
4
g
(8%)
|
Fat:
19
g
(29%)
|
Saturated Fat:
12
g
(75%)
|
Monounsaturated Fat:
2
g
|
Cholesterol:
51
mg
(17%)
|
Sodium:
296
mg
(13%)
|
Potassium:
77
mg
(2%)
|
Sugar:
2
g
(2%)
Calorie count is purely an estimate calculated using an online application to serve as a guide and not to be taken as accurate nutritional information. Percent Daily Values are based on a 2,000 calorie diet.
Tried this recipe?
Leave a comment below and let me know!