Succulent baked salmon, that is so simple to prepare, served over equally easy orecchiette pasta with a fresh and herbed tomato "sauce". Health and happiness are what you get with this beautiful spring-inspired Easy Baked Salmon over Orecchiette with Raw Tomato Sauce recipe.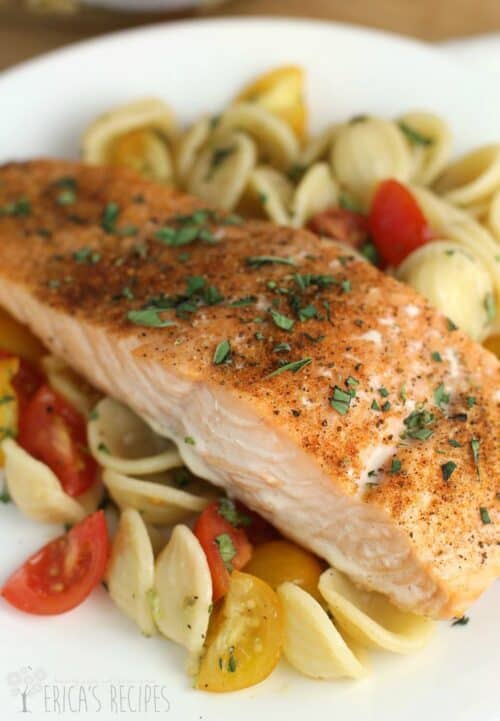 Got tomatoes? 🍅 …I do, kinda. I have soooo many tomato plants. But not many fruit. I have roughly a dozen mature plants in my garden and in pots. And I have another couple dozen babies that I started from seed. I have been unsuccessfully trying to have a vegetable garden for a couple years now, but I only recently discovered the power of fertilizer (organic of course). And compost. A garden in sandy Florida needs this help. So now my plants are actually starting to show signs of actually being productive. 🙌
But, the tomatoes. The tomatoes in this dinner did not come from my garden (the oregano did though! *she says proudly*). We're still at the one-or-two-tomatoes-a-week phase. But spring has absolutely arrived here in Florida, it was warm now and tomatoes are on the way. Hence the inspiration for this delicious dinner. Even if I did have to buy the tomatoes.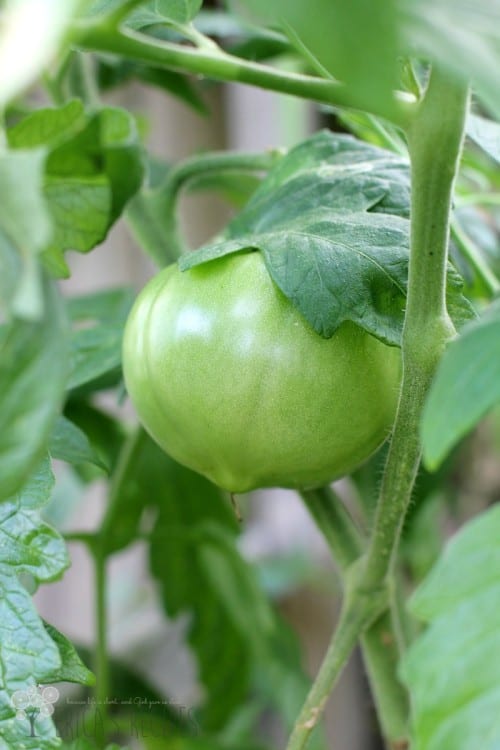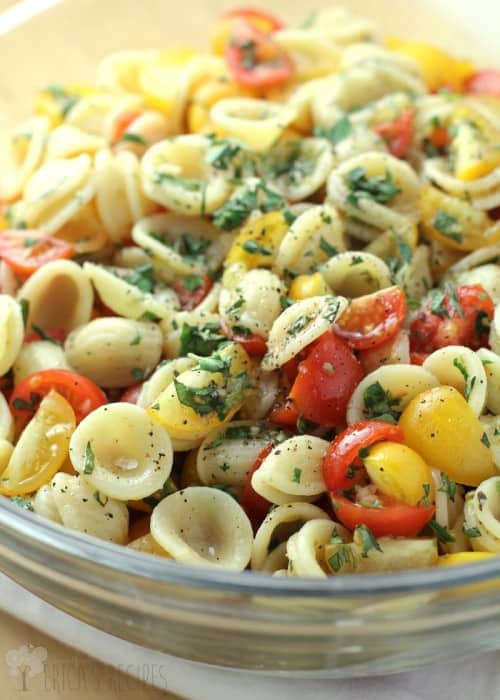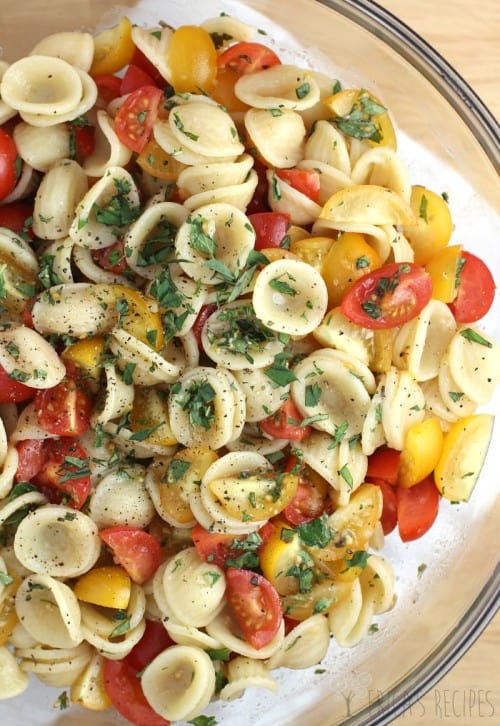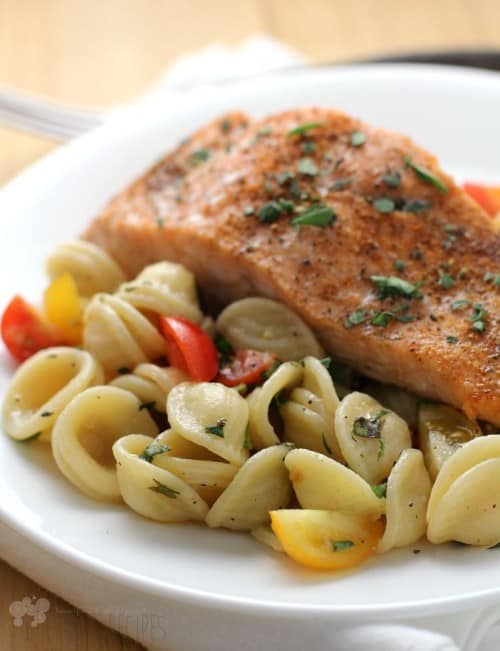 What we have with this dinner is a very easy, wholesome meal, perfect for busy weeknights. The salmon is simply baked and is ready in the time it takes to cook the pasta. Then the pasta is tossed with lovelies like olive oil, garlic, and the colorful tomatoes. The heat from the pasta warms the oil and tomatoes, but the tomatoes aren't "cooked". So awesome and so delicious.
So that's it kids! Ready super fast, totally healthy, and just super pretty to look at, this Easy Baked Salmon over Orecchiette with Raw Tomato Sauce dinner is an absolute must try for you and your family.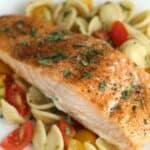 Easy Baked Salmon over Orecchiette with Raw Tomato Sauce
Ingredients
For the salmon
1-1/2

lb

salmon

with the skin, cut into 4 portions

kosher salt

fresh cracked pepper

Old Bay seasoning
For the Orecchiette with Raw Tomato Sauce
1

12 oz box orecchiette pasta

1

pint

red cherry tomatoes

quartered

1

pint

yellow cherry tomatoes

quartered

1

Tbs

good quality extra virgin olive oil

2

cloves

garlic

minced

1/4

cup

fresh oregano leaves

chopped

kosher salt

fresh cracked pepper
Instructions
Heat the oven to 400F. Bring a large pot of water to a boil.

Lay the salmon on a bake sheet, skin side down, and season with salt, pepper, and Old Bay (I'm pretty generous with the Old Bay). Put the salmon to bake in the oven 8-10 minutes or until it flakes easily with a fork.

Meanwhile, add the pasta and a palmful of kosher salt to the boiling water. Cook the pasta to al dente according to package directions.

While the salmon and pasta are cooking, add the olive oil, garlic, tomatoes, and oregano to a large boil. Once the pasta is done, drain briefly and add to the raw tomato sauce. Season generously with salt and pepper to taste.

To serve, put some of the pasta on a plate. Top with a piece of salmon. Garnish with additional oregano. Yields: 4 servings.
~✿♥✿~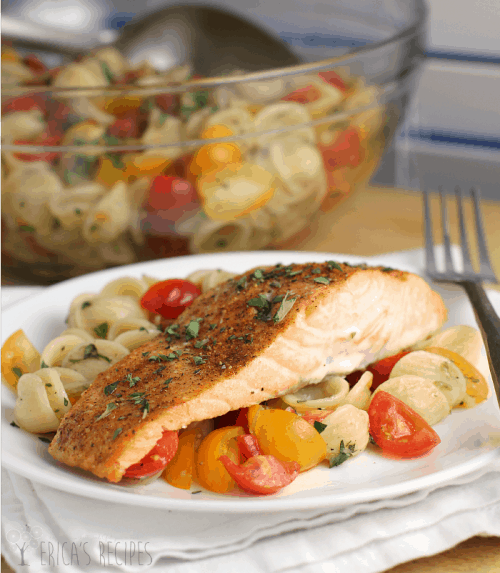 Leave me a comment and let me know what you think! Otherwise, I'm just talking to myself here. Got any tomato growing advice for me?