Buttery garlic parmesan tater tots cooked in a pie iron over an open campfire. Cooking pie iron tater tots gives you crispy taters with delicious smoky flavor and is the perfect side dish to complement your camping dinner. Fellow campers will RAVE for this campfire garlic parmesan tater tots recipe that is fun to make and so incredibly good to eat.
This website uses affiliate links which may earn a commission at no additional cost to you. As an Amazon Associate I earn from qualifying purchases.
I recently went camping with my family here in Florida, and I cooked these campfire tater tots one night. Then I proceeded to eat my weight I ate so many. Crispy, fluffy, smoky.. and buttery.. OMG YUM, garlic parmesan tater tots will now be a my must-make Every Single Time.
Can you cook tater tots over a fire?
Yes and you absolutely should. When I camp with my family, we bring a Coleman stove and a small Blackstone griddle, and I use for them most meals. But I always use my pie iron at least a couple times for the pizzazz, because it is fun and satisfying for me, and because campfire cooking gives such tasty results.
How do you cook tater tots while camping
There are two great ways to cook taters tots while camping: pie iron or in foil. I prefer a pie iron, and I own several. For cooking tater tots specifically, I use a Double Pie Iron for expediency to be able to cook more at once, though a single sandwich iron can be used as well. Alternatively, taters can be wrapped in a double layer of heavy duty aluminum foil and cooked that way.
The KEY for cooking campfire tater tots is to use plenty of butter and cooking spray. Also, flip often while cooking. This promotes even cooking, avoids burning, and keeps the tots from sticking to the pie iron (or foil).
I also do not put the pie iron directly into the fire. I learned the hard way that if I stick the iron directly into the fire, the taters cook too quickly on the outside (and end up burning) before they are cooked thoroughly through. Instead, I lay the iron on the grill grate of the fire ring. This lets the tots cook the full 20 minutes, ensuring they are fluffy soft on the inside and crispy (not burned) on the outside. If a grate is not there, simply keep the iron near the coals, but not IN the fire.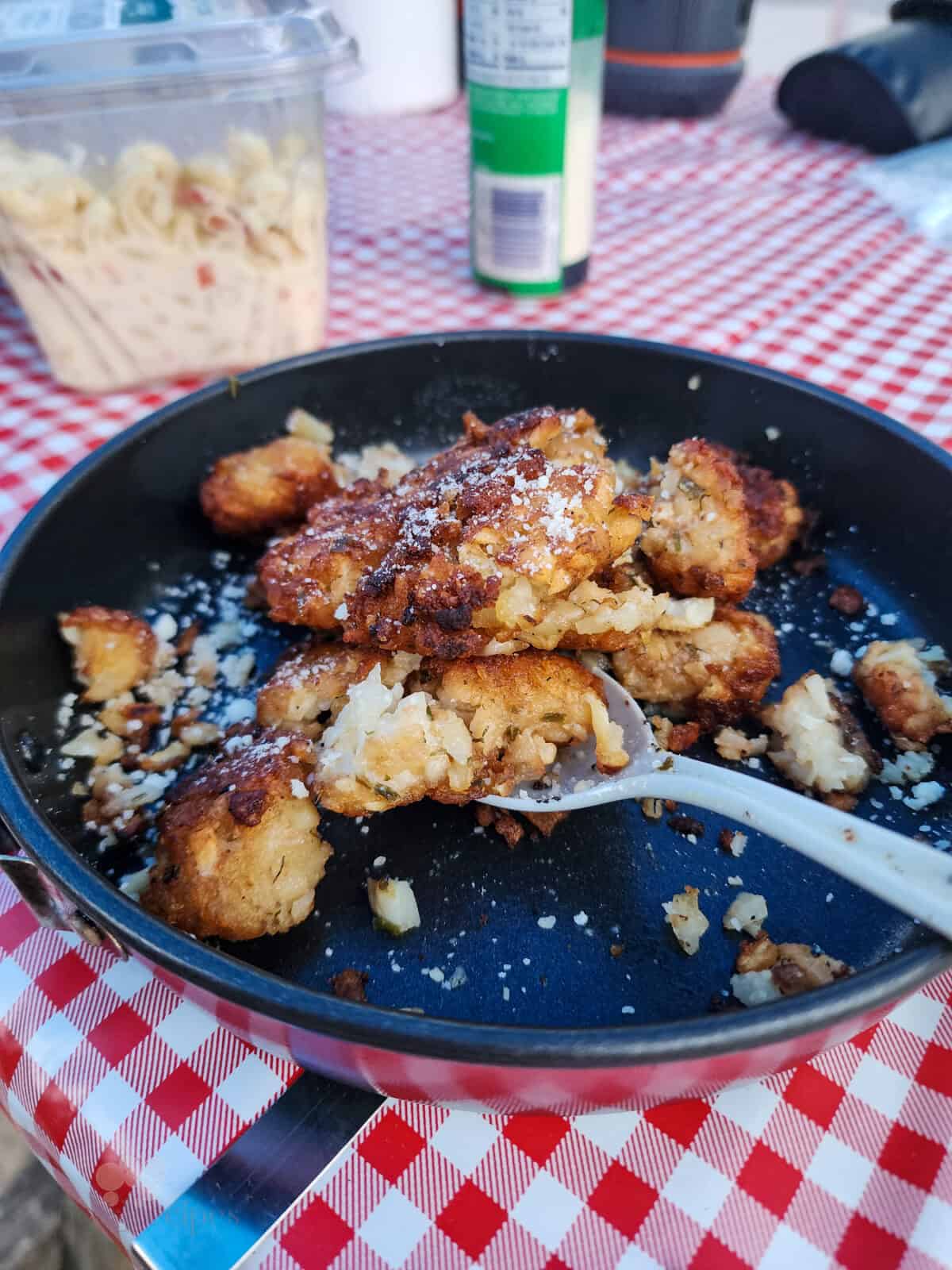 Tips for pie iron cooking
Pie iron cooking takes a little time because you have to do it in batches since you are limited by the size of the iron. So incorporate pie iron cooking as an activity:
Plan to start cooking early so you do not end up having to cook after dark.
Put the iron on a grill grate over the fire or on the ground next to coals, but do not put the pie iron directly into the fire. This will keep you from burning your food.
Have more than one pie iron going to cook more food at once. It is not hard to manage more than one pie iron at once.
Use plenty of cooking spray, oil, and/or butter to prevent food from sticking to the iron.
Make sure your iron is seasoned as this will also prevent food sticking. The handles screw off irons, so you can season your pie iron before your camp trip. Many pie irons come seasoned too. Season as you would any cast iron skillet, and here is a tutorial.
Keep it easy! If pie iron cooking, keep everything else you make super easy. Example: I served hot dogs (which everyone cooked themselves on sticks over the fire), corn cob (boiled), and prepared macaroni salad (which I totally bought at Walmart and I'm not shy about admitting that) with these taters.
Here is a nice round-up of pie iron recipes if you are looking for more ideas.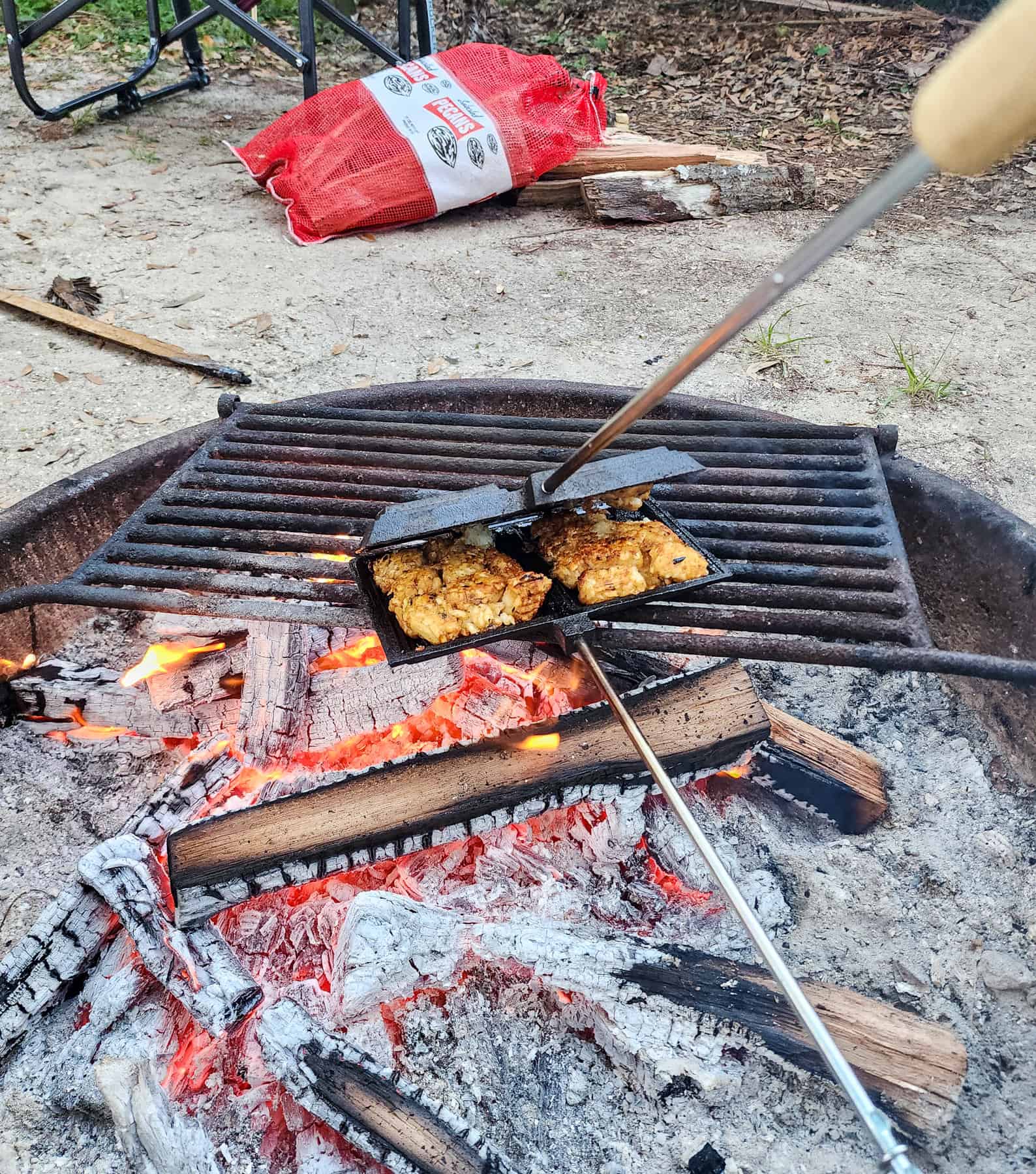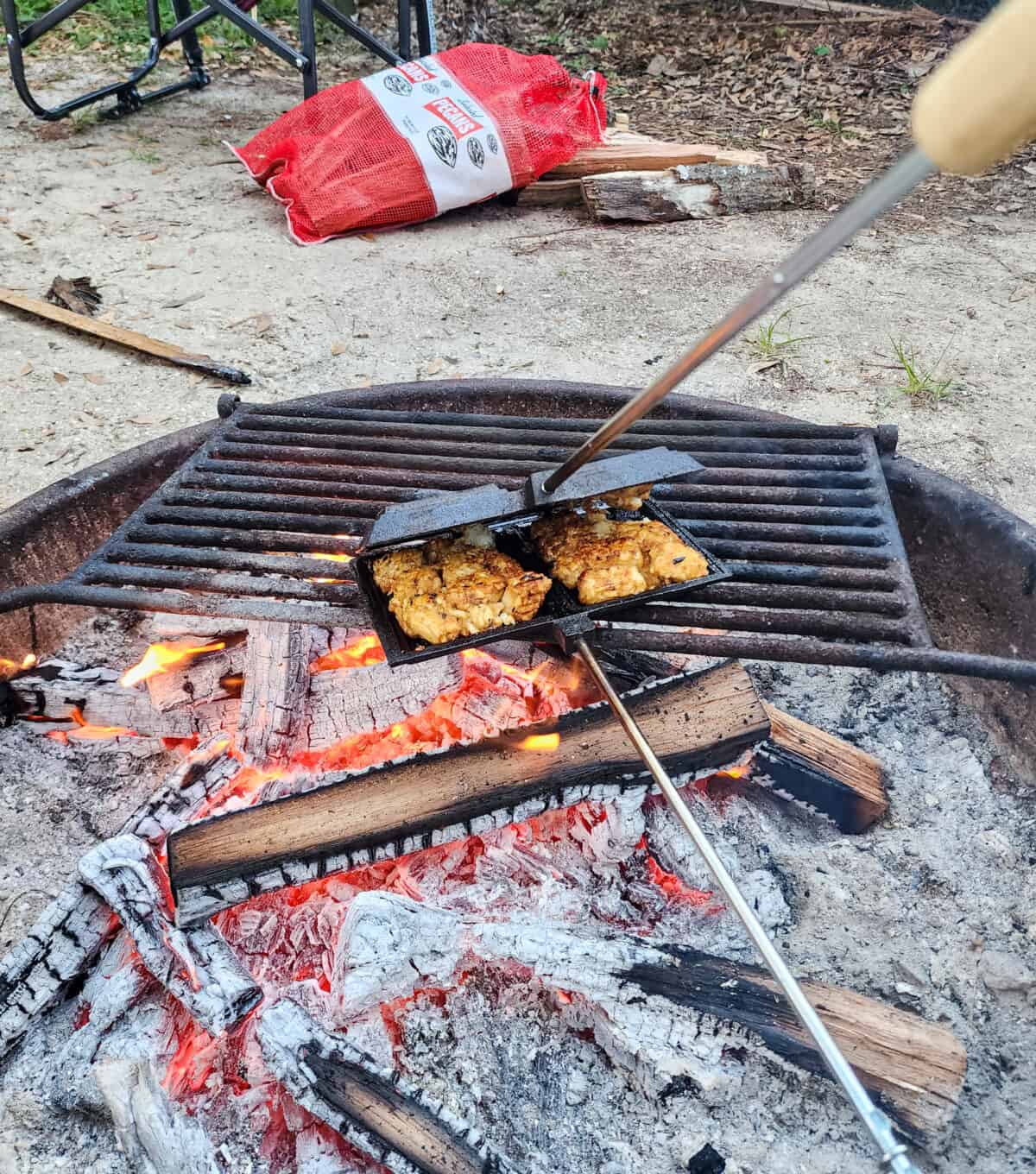 The ingredients
One this to love especially about garlic parmesan tater tots is how EASY the ingredients are. Simply store them on ice in your cooler until ready to cook.
The ingredients for my pie iron tater tots are thusly:
Freezer tater tots. I bring a 32 ounce bag of tater tots, and adjust how much I cook for how many I am serving.
A stick of garlic butter. My grocery store sells Kerrygold garlic butter as individual sticks. Alternatively, simply use a stick of unsalted butter and garlic powder seasoning.
Kosher salt. I always bring a small container of kosher salt while camping.
Grated parmesan. This is one of the few occasions I recommend using the more shelf-stable "parmesan" that can go a couple days without refrigeration.
Freezer tots obviously start out frozen because that is how they are sold, and they will thaw in a cooler with ice since that is not cold enough to keep them frozen. This is expected and perfectly fine.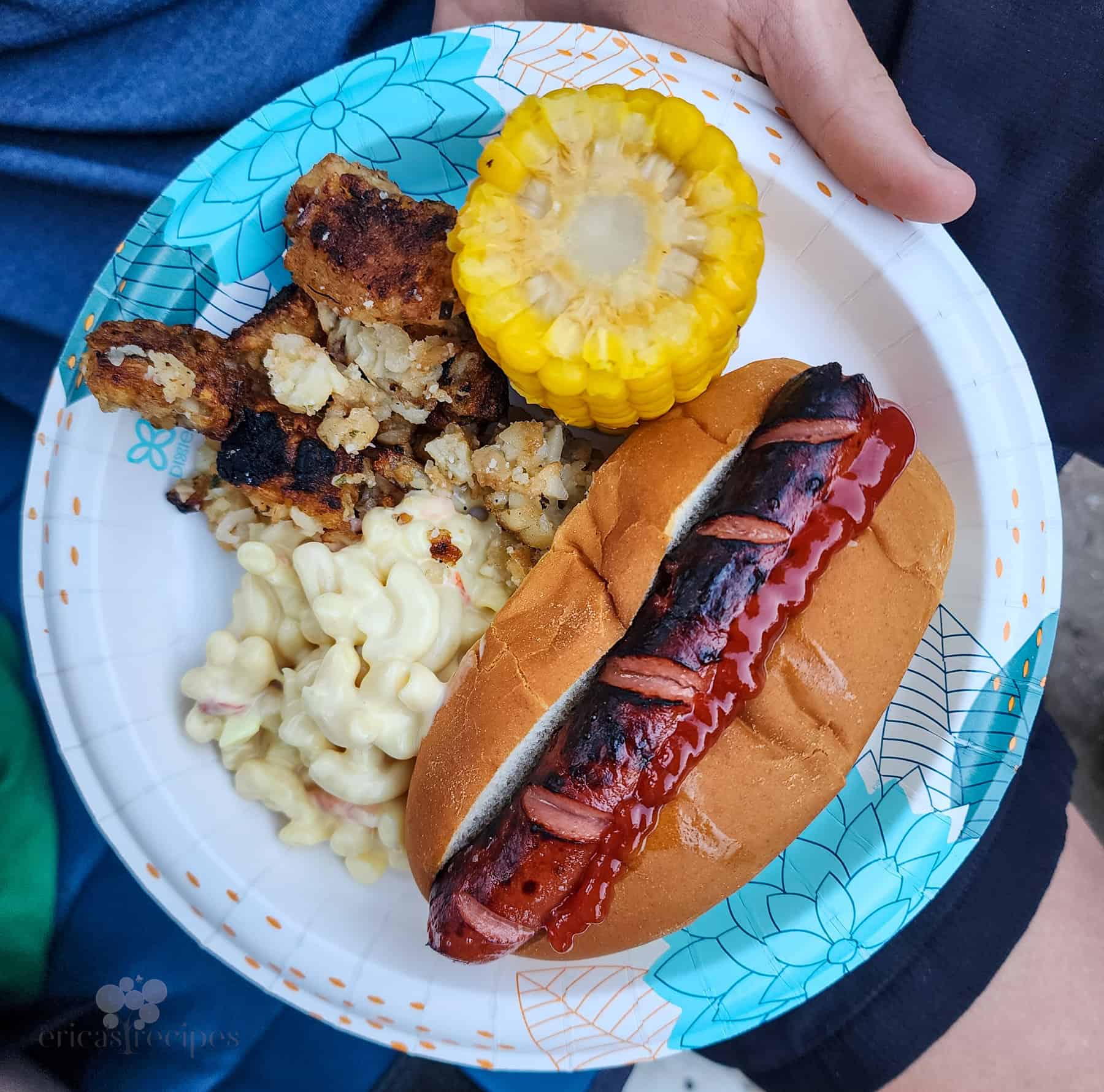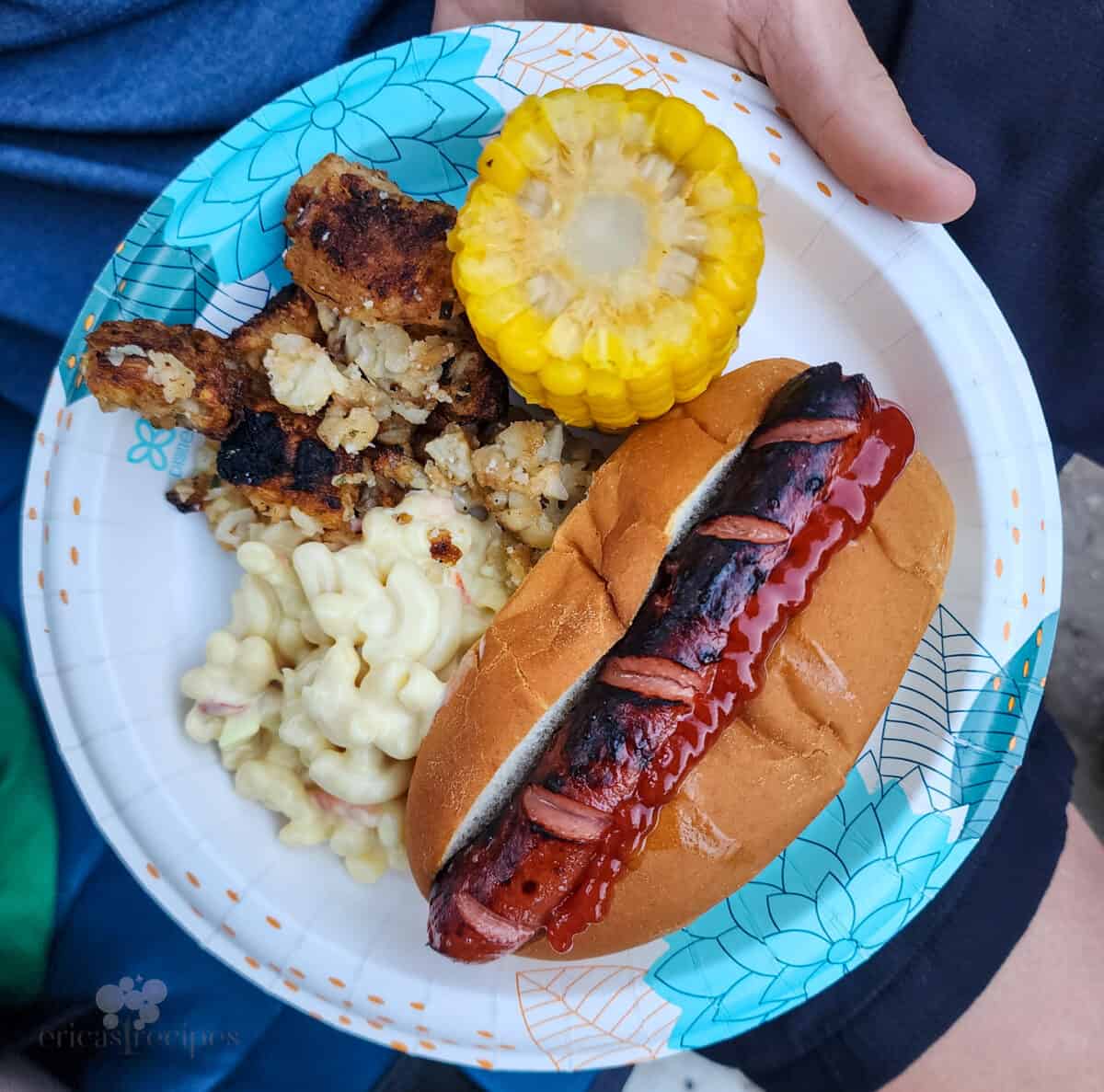 FAQs
What if I do not own a pie iron?
If you do not own a pie iron, you can make a pouch using a double layer of heavy duty aluminum foil. If you would like a pie iron, you can find them at Walmart or Amazon. In my photos, I am using this Double Pie Iron.
Why are my tater tots crumbling?
Because the tater tots are thawed and not frozen, many will break up a bit. This is expected and perfectly fine.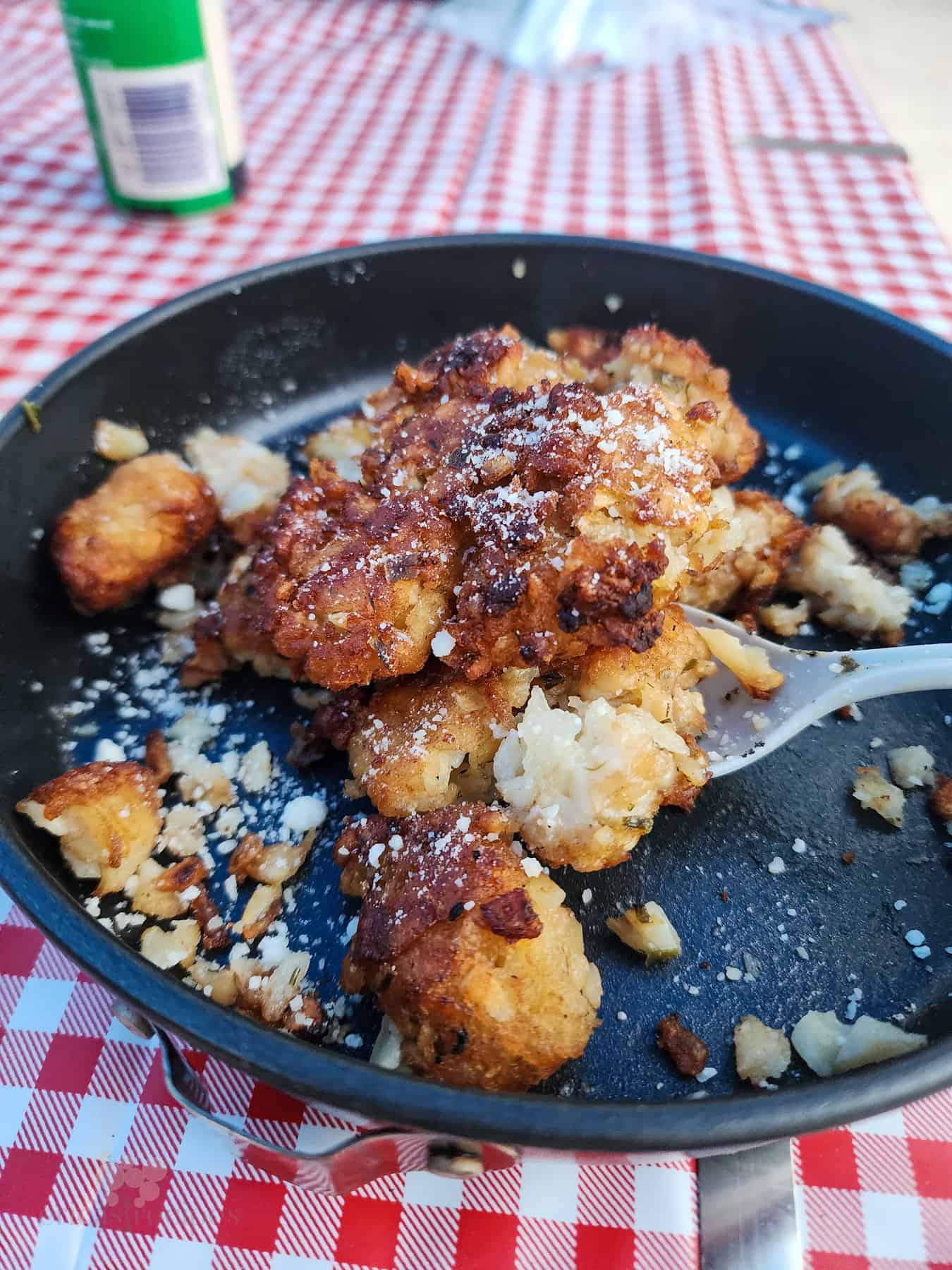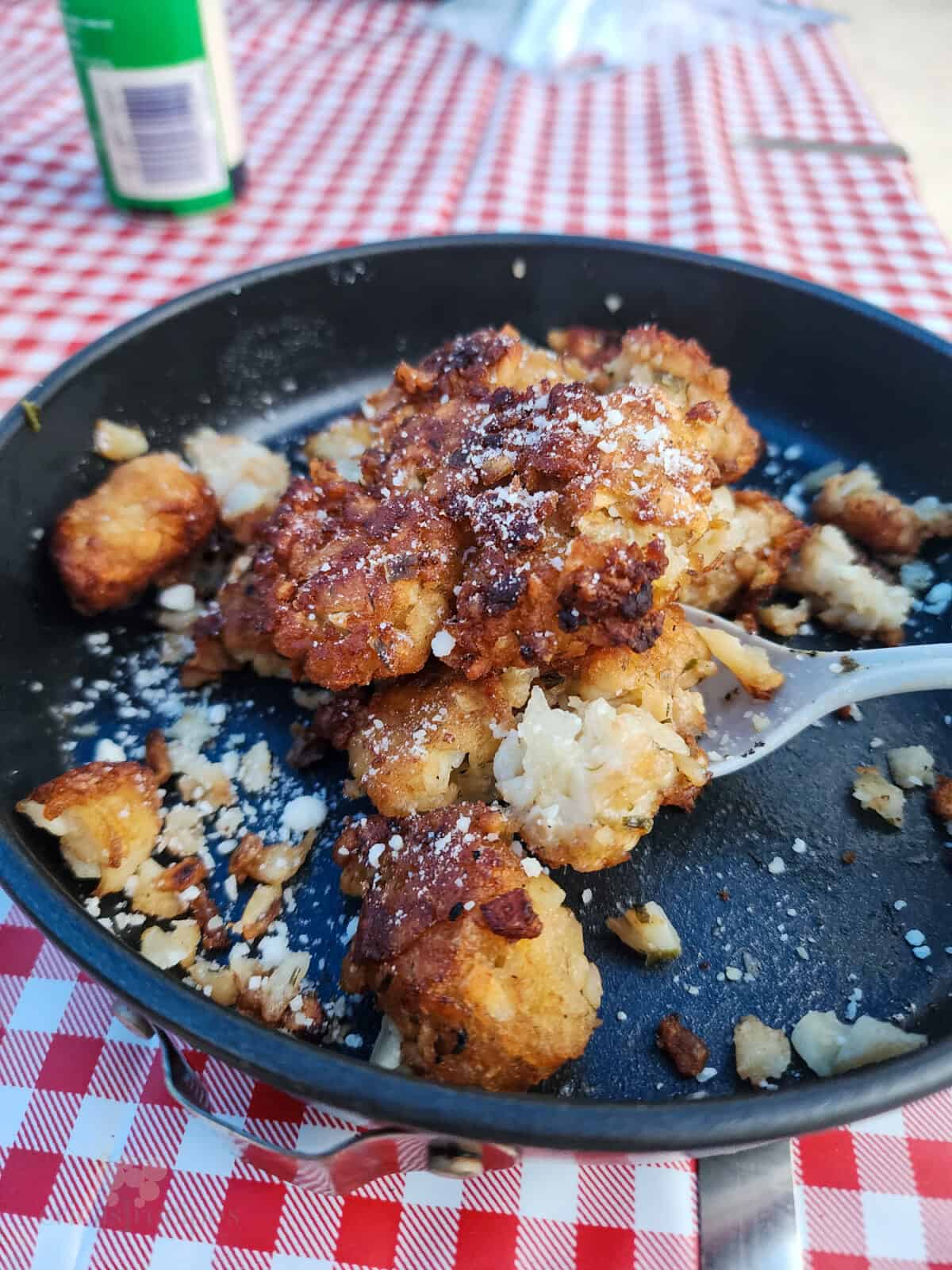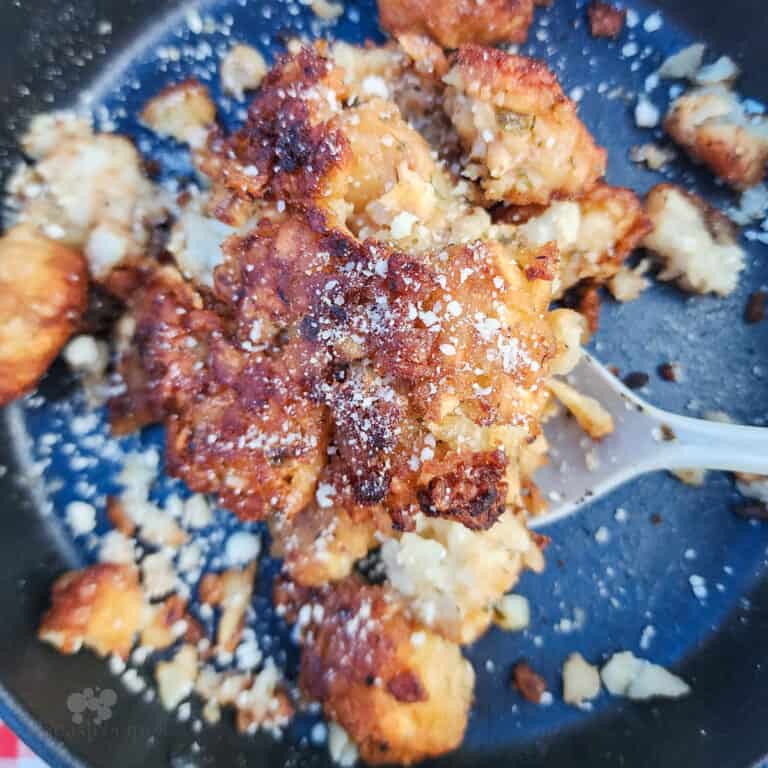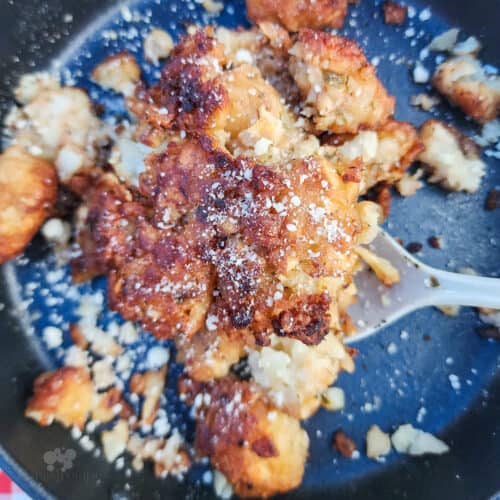 Pie Iron Tater Tots
Garlic parmesan tater tots cooked in a pie iron over an open campfire. Cooking pie iron tater tots gives you deliciously crispy taters with smoky flavor and is the perfect side dish to complement your camping dinner.
Ingredients
1

(32 oz)

frozen tater tots

1

stick

garlic butter

see Notes

4

Tbsp

grated parmesan

4

pinches

kosher salt
Instructions
Melt the butter in a skillet.

Gently coat the tater tots in a bowl with the melted butter. Season well with salt.

Spray the pie iron well with cooking spray. Load up with buttered tater tots.

Put the pie iron over a fire with developed coals. If a grill grate is not available, put the pie iron next to, but not directly in, the hot coals.

Cook 15-20 minutes, flipping often, or until tots are crispy outside and soft inside. Regularly check for doneness and to make sure they are not burning.

Transfer cooked tots to a plate. Sprinkle with cheese.

Repeat to cook more tots.
Notes
If prepared garlic butter is not available, use a stick of unsalted butter plus a 1/2 teaspoon garlic powder.
Nutrition
Calories:
431
kcal
(22%)
|
Carbohydrates:
35
g
(12%)
|
Protein:
5
g
(10%)
|
Fat:
29
g
(45%)
|
Saturated Fat:
13
g
(81%)
|
Cholesterol:
37
mg
(12%)
|
Sodium:
1057
mg
(46%)
|
Potassium:
404
mg
(12%)
|
Fiber:
4
g
(17%)
|
Sugar:
2
g
(2%)
Calorie count is purely an estimate calculated using an online application to serve as a guide and not to be taken as accurate nutritional information. Percent Daily Values are based on a 2,000 calorie diet.
Tried this recipe?
Leave a comment below and let me know!