Calabacitas con Elote with Brown Rice and Quinoa is a healthy spin on the traditional, Mexican squash and corn recipe. Loaded with fiber, vitamins, and healthy carbs, this is a fuel tank-filling recipe you can feel good about.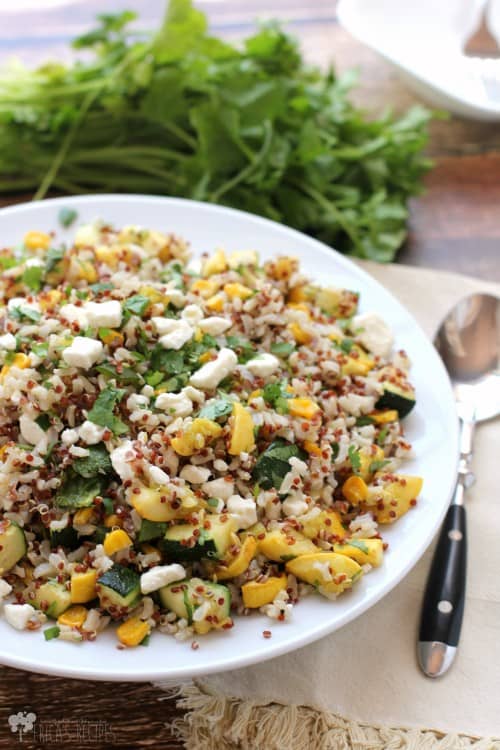 My next triathlon is this week, so you know what that means? …CARBS! Healthy, tank filling, engine fueling carbs! To load up properly takes a few days, so this recipe is perfect to top off the tanks while I do my best to rest up and be ready.
But first, the event this Sunday! This will be my second year doing the "Battle of the Bridges" triathlon. Last year, I did it at the Sprint distance (400 meter swim, 20K bike, and 5K run) …and though I placed 2nd in my age group, I almost passed out at the finish line (thank you again to my daughter for fetching a bunch of lemonade while I sat on the curb hanging on). This is one grueling tri let me tell you because it includes both biking and running bridges over the intercoastal waterway. ..So of course this year I'm going to do the Olympic distance (1500 meter swim, 40K bike, and 10K run). Because clearly I like torture.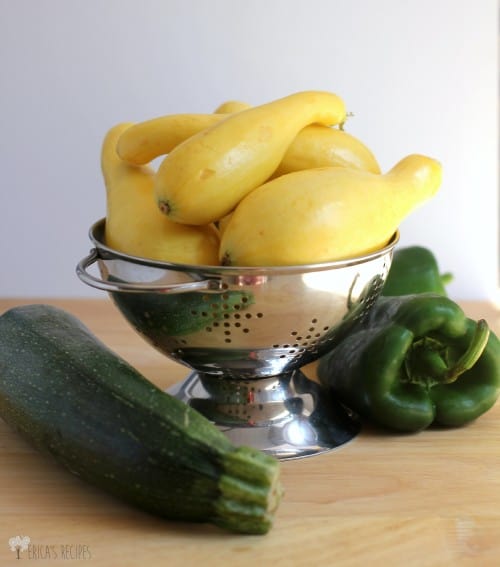 Now, if you don't give a hoot about being an athlete, that doesn't let you off the hook – you should still make this recipe! Because it's just healthy! My Calabacitas con Elote with Brown Rice and Quinoa recipe is a healthy play on the very traditional Mexican dish, Calabacitas con Elote, or squash with corn. It's easy to make and tastes awesome, and this is totally one of those things you can make on a Sunday and then eat during the week. Aaaand this recipe is perfect – it's very kid friendly (no complaints from either of mine), it's gluten-free, great for glycemic index control yada-yada-yada. So it doesn't matter where you are in your fitness journey – or if you even exercise at all – this is a wholesome, healthful dish for everyone. …not just triathletes 🙂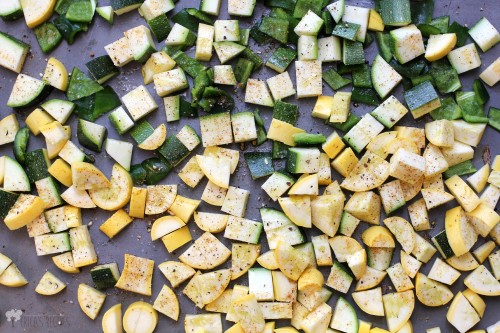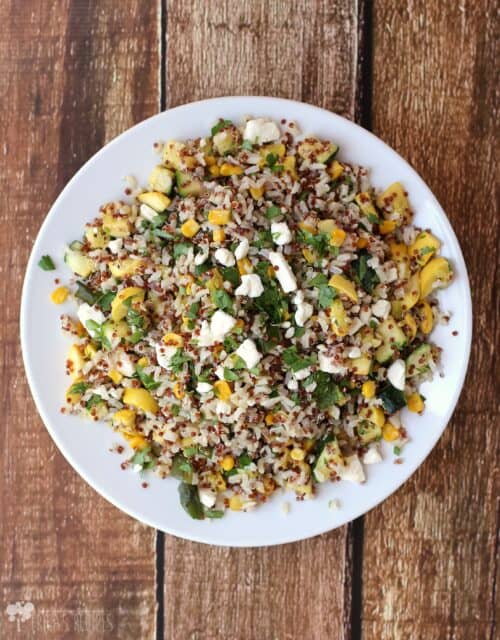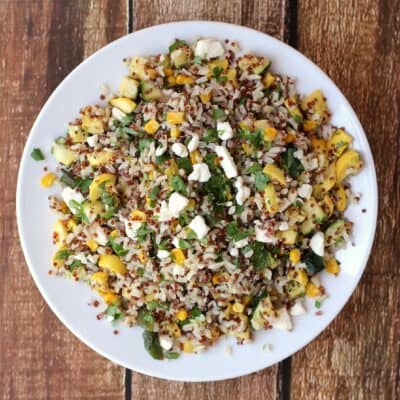 Calabacitas con Elote with Brown Rice and Quinoa
Loaded with fiber, vitamins, and healthy carbs, this is a fuel tank-filling recipe you can feel good about.
Ingredients
3-4

medium yellow squash

diced

1

large zucchini

diced

1

poblano pepper

seeded and diced

1

cup

corn

thawed if frozen

1

Tbsp

extra virgin olive oil

3/4 

cup

brown rice

uncooked

1/3

cup

red quinoa

uncooked

1/2 to 1

tsp

kosher salt

1/4

tsp

fresh cracked pepper

1/4

cup

fresh cilantro

chopped

2

oz

crumbled queso fresco cheese
Instructions
Heat oven to 400F.

Cook the brown rice according to my Perfect Brown Rice directions. Halfway through the 30 minute cook-time, add the quinoa to the pot with the rice. Otherwise, follow the recipe as written.

On a rimmed bake sheet, toss the yellow squash, zucchini, poblano pepper, and corn in the olive oil. Season with a couple pinches salt and pepper. Bake at 400F for 25 minutes or until veggies are cooked and lightly browned.

Add the cooked veggies to the pot with the cooked rice and quinoa. Add salt, pepper, cheese, and cilantro. Taste for seasoning (I add 1 t salt, but I am a heavy salter).
Notes
I once made this and found I was out of queso fresco cheese. So I used feta as a substitute. ....Don't do that. Made the whole thing taste like feet.
~✿♥✿~