Prosciutto-Wrapped Boursin Chicken
Prosciutto-wrapped chicken stuffed with Boursin garlic and herb cheese. This ridiculously delicious chicken dinner is surprisingly easy to prepare making it weeknight perfect.
This website uses affiliate links which may earn a commission at no additional cost to you. As an Amazon Associate I earn from qualifying purchases.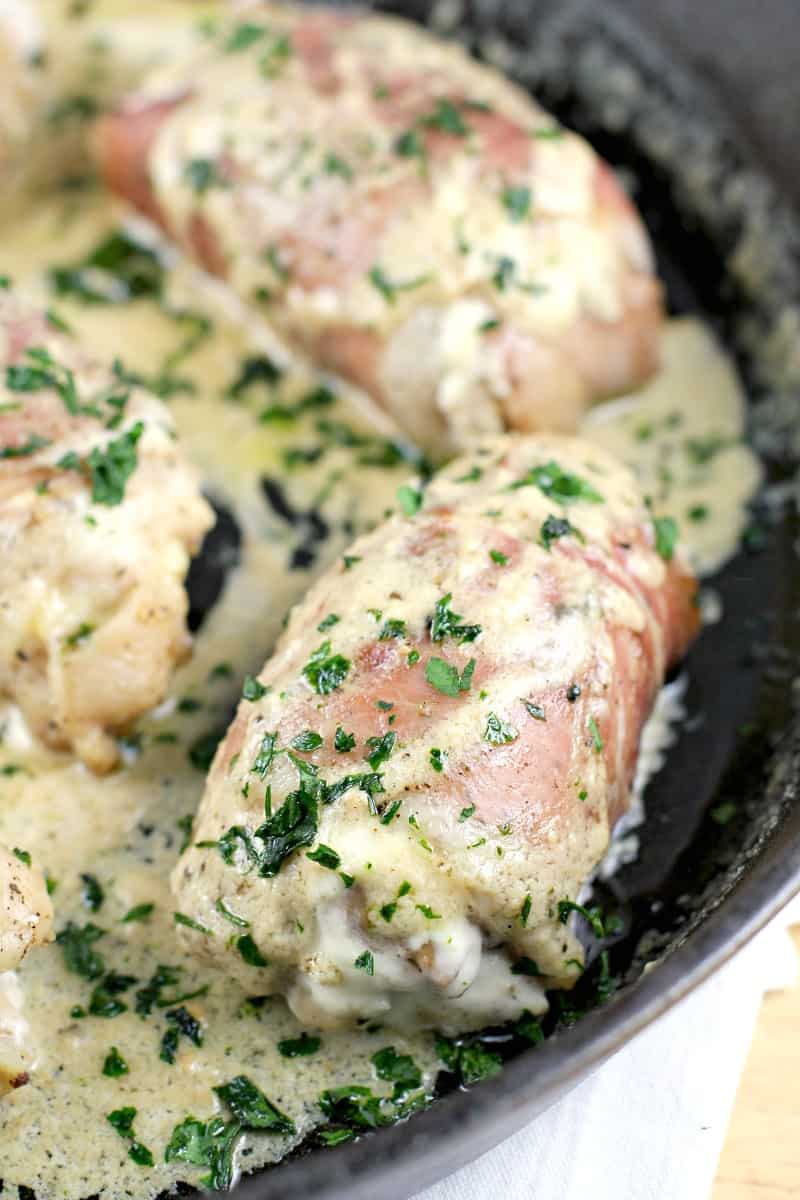 This recipe makes me happy happy. Buttery Boursin, juicy chicken, and salty prosciutto together make this prosciutto-wrapped chicken stuffed with Boursin cheese one of my all-time favorite dinners.
For more information on Boursin, check out my post HERE.
I have been making this particular recipe for years and I am stoked I finally got decent photos so I can share it properly and do it justice. Then, after I took the pics I was all like "oh, I'll just have one" ….yeah, right. Try four.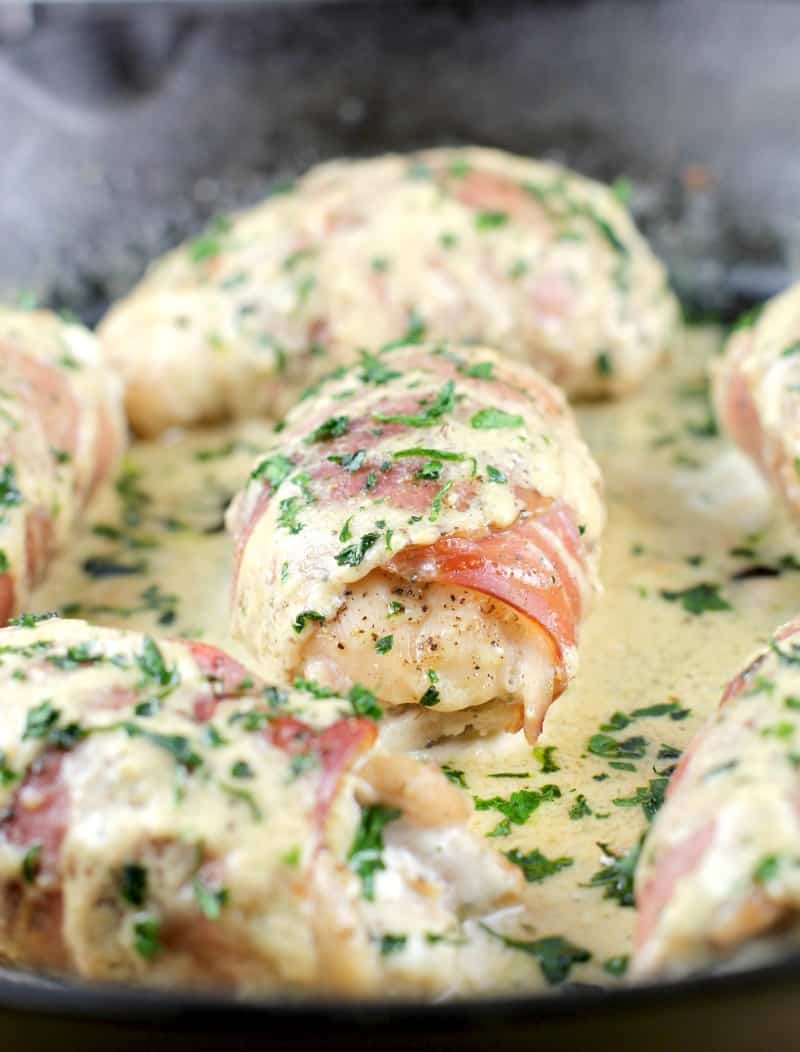 Why you need Boursin chicken in your life
What is to love here? So many things! First, you do not have to measure a single thing to make this dish. You can completely eyeball this entire recipe. The chicken and prosciutto come as they are, the you can just spoon the Boursin cheese – it does not have to be exactly measure.
So, preparation is fast and a lot easier, and there are fewer things to clean up afterward.
Next, these chicken thighs can be assembled in advance. A day in advance even. Then just throw them in the oven for 20 minutes when you are ready and voila.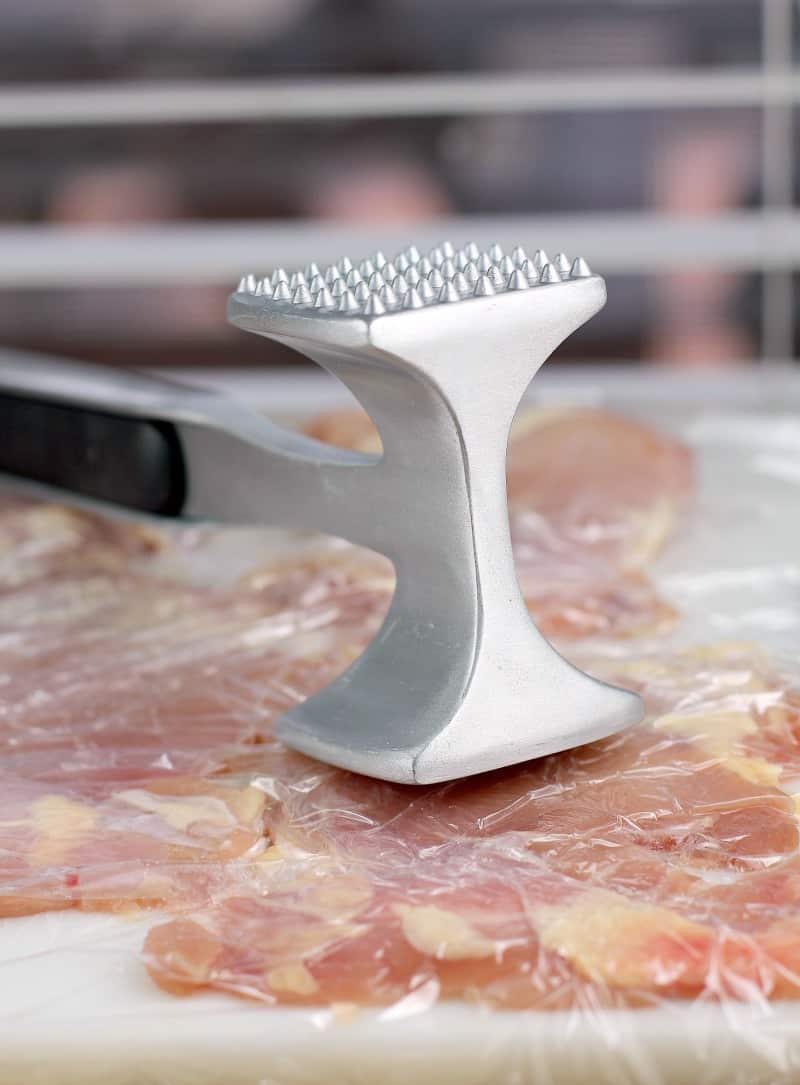 Third, the sauce is to die for easy. As this chicken cooks, the yummy Boursin cheese oozes out and spills in the pan.
So while the chicken is resting after cooking, we just add a little milk and we have a near instant sauce that tastes all fancy and impressive. A sauce that sure tastes like it took effort, when you, in fact, pretty much did nothing. Too awesome.
And lastly, I used chicken thighs making this dish nearly impossible to screw up. Dark meat chicken is much more forgiving to cook than breasts, so you are ensured of serving up juicy, succulent, perfect chicken.
That last point also means that this is a perfect recipe to scale up to feed more people. Just multiply the ingredients, figuring two chicken thighs per person, and go.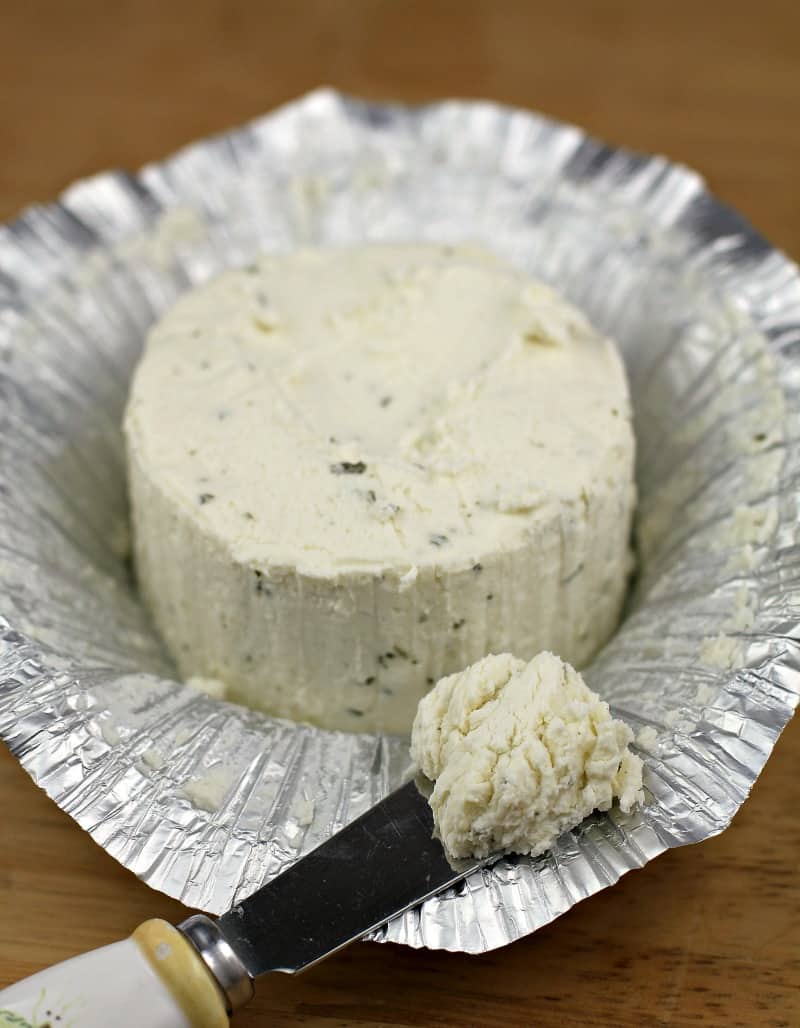 What ingredients are needed to make chicken with prosciutto
The simple ingredients needed for this winner chicken dinner are thusly:
Chicken thighs. Boneless and skinless.
Prosciutto. Sliced as thin as you can get. Find it in the deli section of the grocery store, both in prepared packaging or you can ask for it at the deli counter.
Boursin Cheese Spread with Garlic and Fine Herbs. Look for it in the specialty cheese section.
Seasoning. Kosher salt and fresh cracked pepper.
Olive oil. A little drizzle before baking to help the prosciutto cook and help the last sprinkling of pepper to adhere.
Milk. Added after cooking to the pan drippings to make a quick sauce.
Parsley. One of my rules: always finish with a bit of green, and if it is parsley, always use Italian flat-leaf parsley.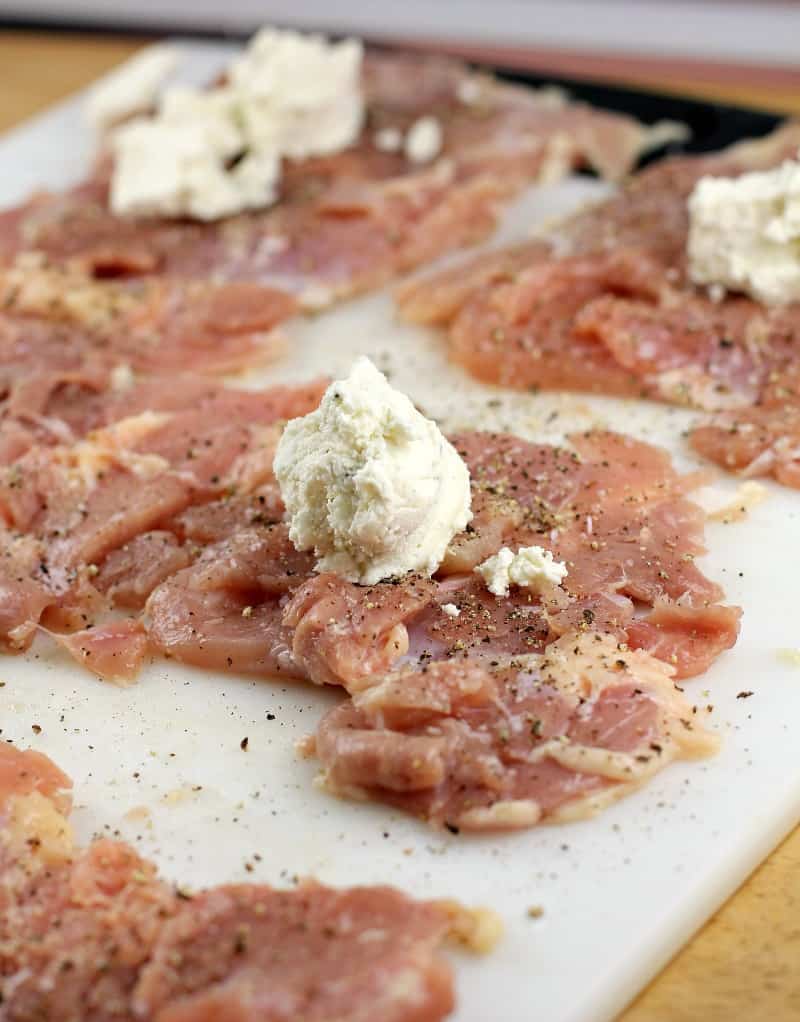 Steps to make prosciutto-wrapped Chicken
Pound boneless skinless chicken thighs flat with a meat mallet.
Place Boursin cheese in the center of each thigh and roll up.
Wrap each stuffed thigh with a slice of prosciutto.
Bake.
Use milk to make a quick sauce with the cheese and drippings that oozes out while baking.
Enjoy.
This recipe is absolutely perfect for entertaining, perfect for a company dinner, and even easy on a weeknight. Actually, it is a great idea for a weeknight because you get to beat chicken with a mallet. Therapy.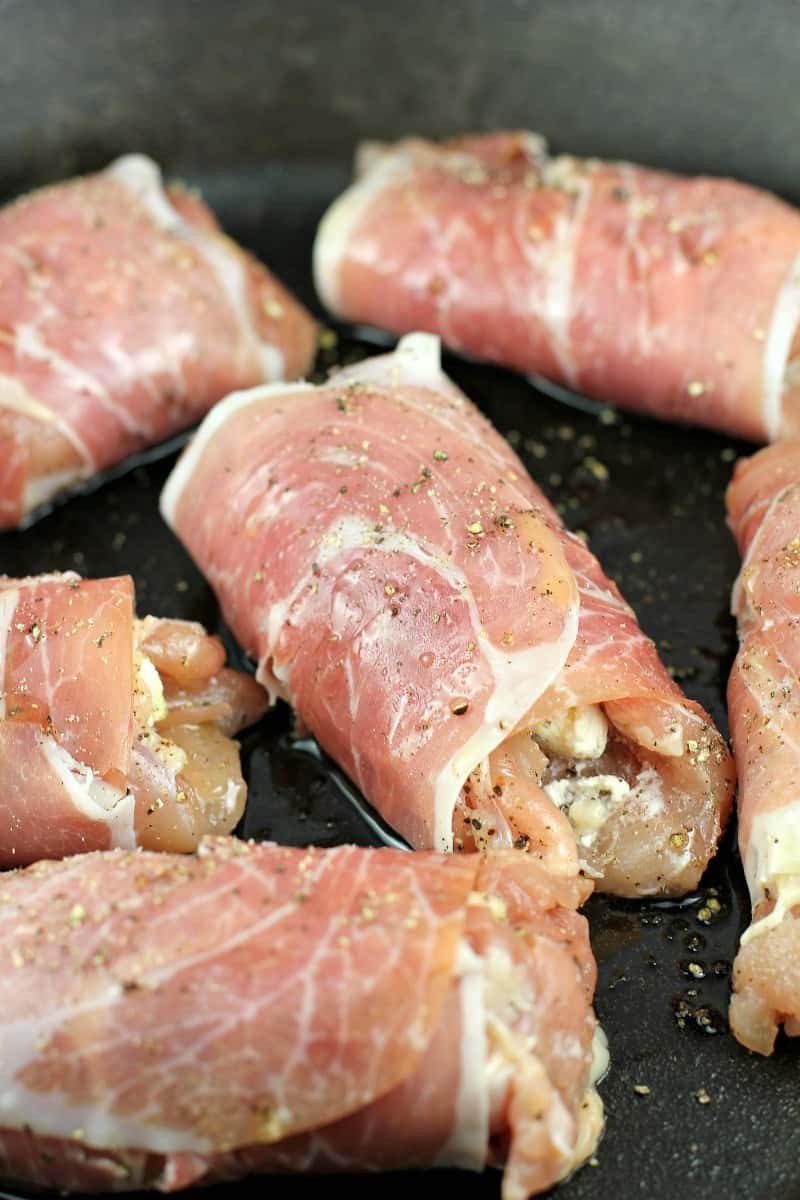 Frequently asked questions
Can prosciutto-wrapped chicken be prepared in advance? Absolutely yes, and it can be done a day in advance. Then just transfer to the skillet and put into the oven when ready to bake.
Can this recipe be scaled up to feed more people? Yes. This is a perfect recipe for mass production because you don't have to measure anything.
What is the best way to reheat leftovers? I simply put a roll on a microwave-safe dish, and warm in the microwave 30 seconds.
Are there special tools required? Not really. A proper meat mallet makes pounding the chicken fast and easier, but you could always get creative and use some other tool. It's pounding chicken. Not that complicated. Other than that, a skillet and whisk are helpful.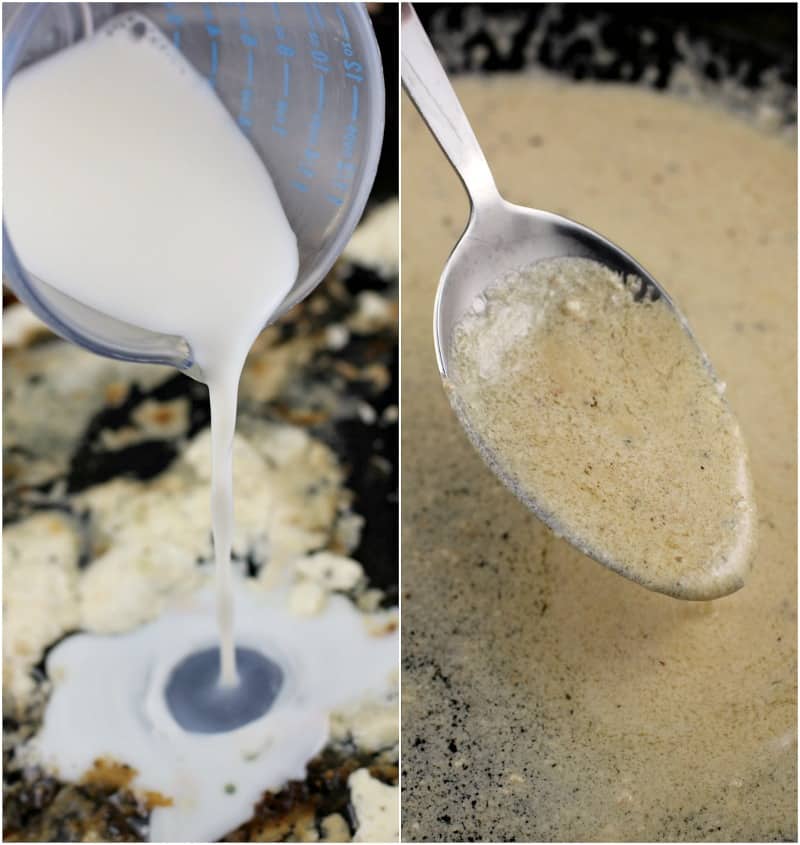 Can chicken breast be substituted for the thighs? Yes. However, I have not done that myself, so I cannot speak as to cook time.
If regular breasts are used, the cook time will be longer. If chicken cutlets are used, then the cook time is probably around the same as thighs.
When in doubt, cook to temperature using a meat thermometer. 165°F is the magic number for cooking chicken thighs and breasts.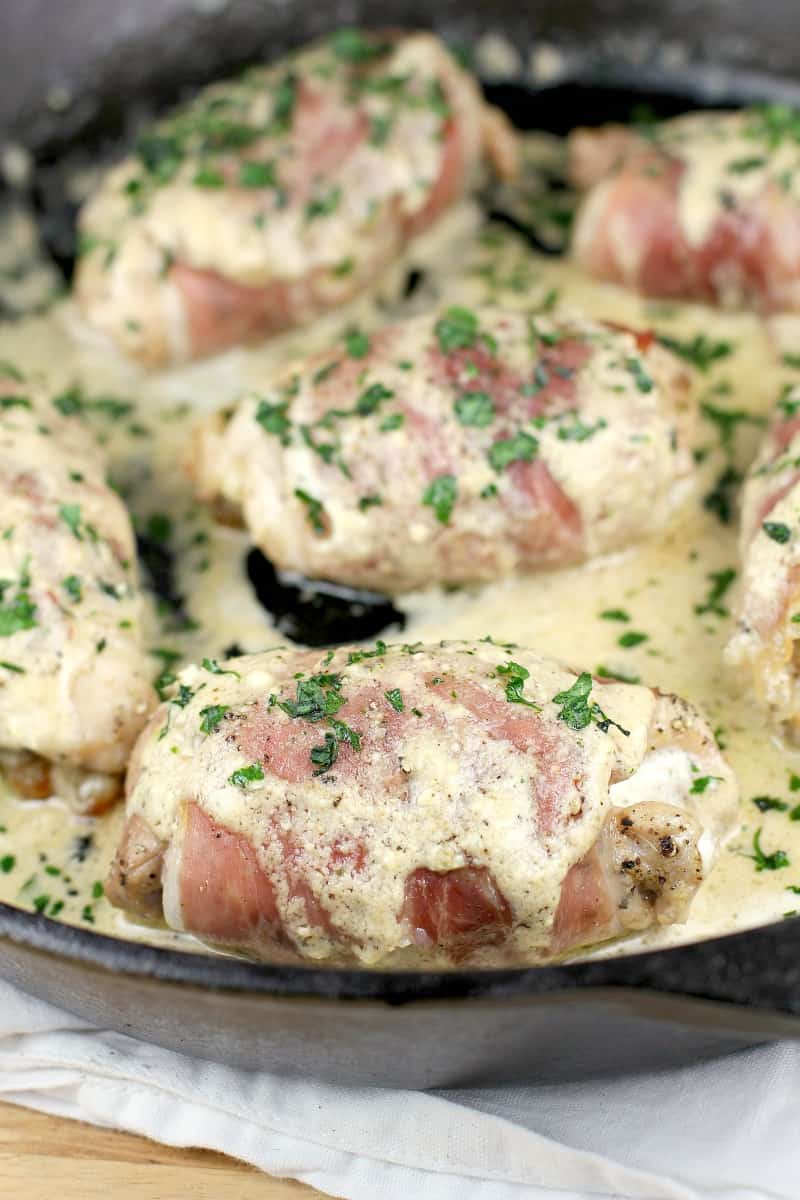 Substitutions
What if prosciutto is not available? Well, then you are in a bit of a pickle. First, I would say ask at your deli counter. They probably have it and just don't have it in the display case.
But if prosciutto is not available, then opt instead for super thin slices of smoked deli ham. Or serrano ham. Spain's serrano ham is similar to Italy's prosciutto.
I do not recommend using bacon, because 1) the cook time would be considerably longer giving us tough chicken with barely any cheese left inside, and 2) so much fat would render from the bacon into the pan that making a sauce would not be appealing at that point. So,bacon has its place in life, but not in this recipe.
What if Boursin is not available? First, I would say make sure you are in the right section of the store. Boursin is in the specialty cheese section, often near the deli.
If garlic and herb Boursin is not available, I would then recommend the Shallot & Chive flavor of Boursin as an alternative. Or another garlic and herb spread such as Allouette brand or Philadelphia garlic and herb cream cheese.
I may be partial to Boursin, but these other options will also produce delicious results.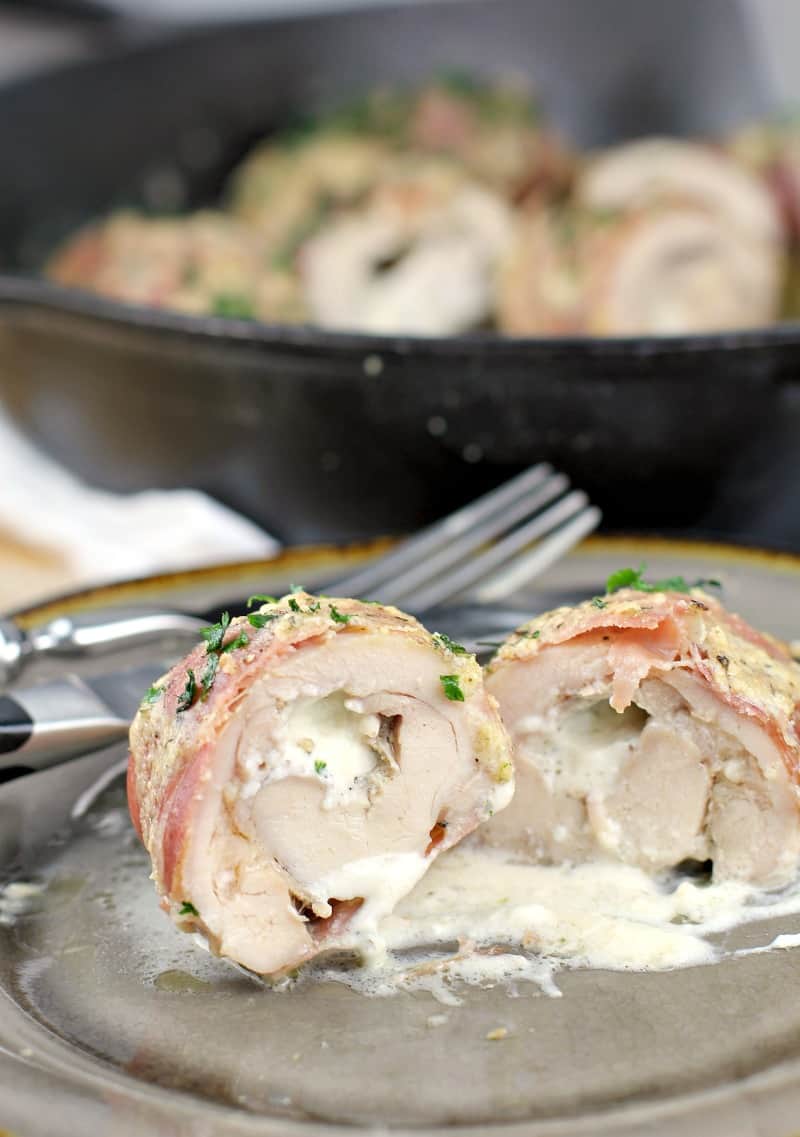 Check out these chicken recipes for more dinner ideas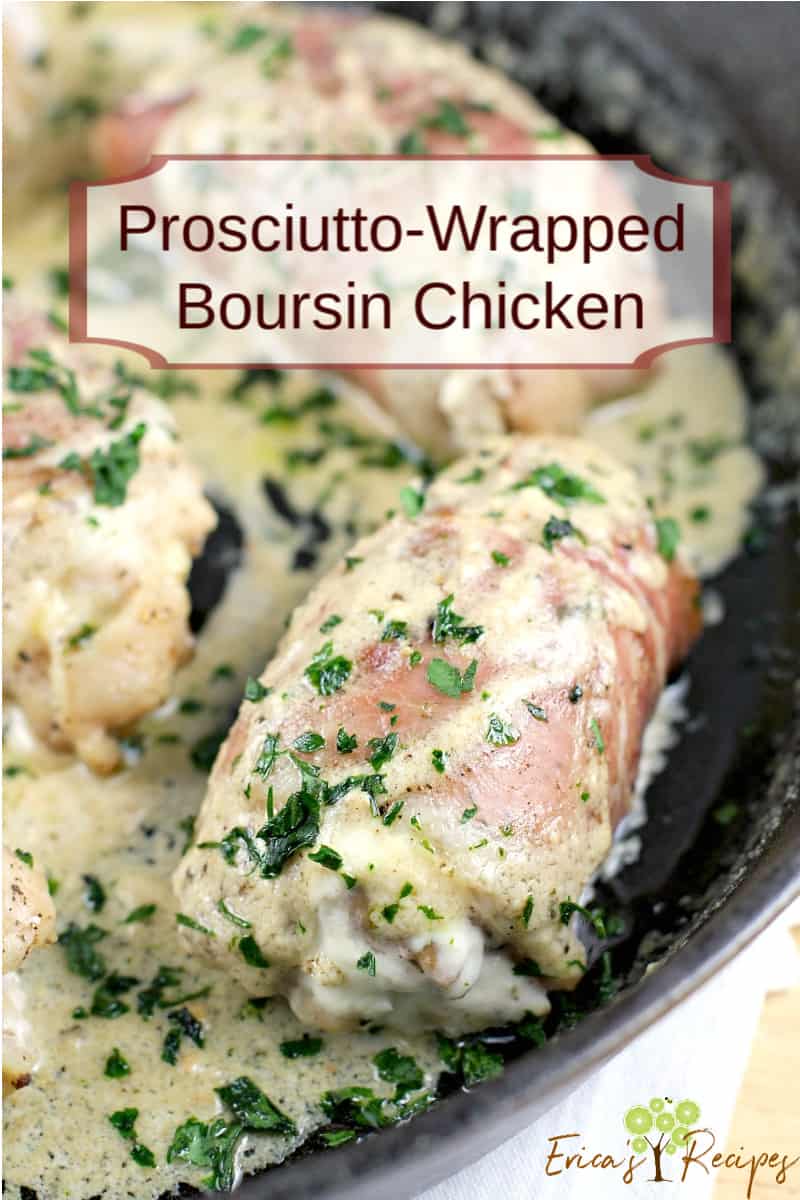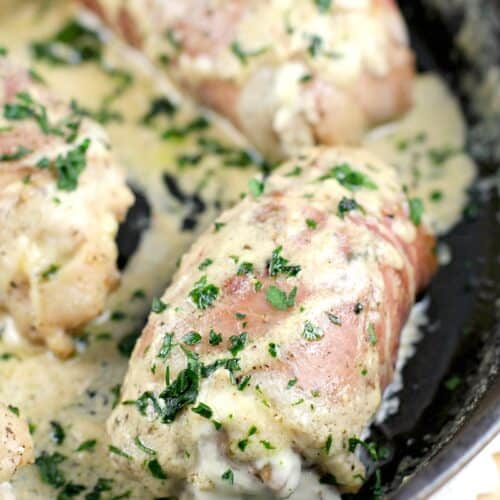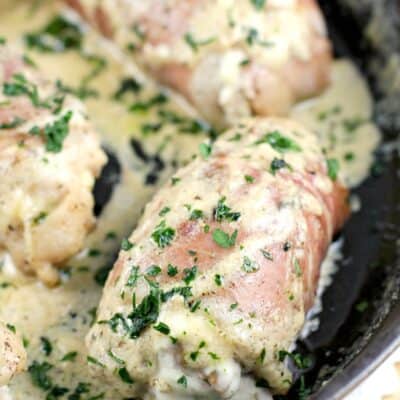 Prosciutto-Wrapped Boursin Chicken
Prosciutto-wrapped chicken stuffed with Boursin garlic and herb cheese. This ridiculously delicious chicken dinner is surprisingly easy to prepare making it weeknight perfect.
Ingredients
8

boneless skinless chicken thighs

8

slices

prosciutto

sliced thin

1

pkg

Boursin Cheese Spread

with Garlic and Fine Herbs

extra virgin olive oil

to drizzle

¼

cup

milk

garnish: chopped flat-leaf parsley
Instructions
Put the chicken between to pieces of plastic wrap and pound the chicken to an even thickness (~¼- to ½-inch).  

Season chicken with salt and pepper on both sides. Divide the Boursin among the chicken pieces, placing ~1 tablespoon dollop on each. Roll chicken around the cheese and place seam side down in a nonstick or cast iron skillet.

Wrap each chicken roll in a slice of prosciutto. Drizzle with olive oil and sprinkle fresh cracked pepper. 

Bake at 400°F for 20 minutes or until chicken is cooked through and juices run clear.

Once done, transfer chicken from the skillet to a dish or serving plate to rest. Add the milk to the skillet over medium-high heat, whisking until smooth. Simmer up to 1 minute to thicken if necessary. 

Serve the sauce spooned over the chicken rolls, and sprinkle over some parsley.
Nutrition
Calories:
562
kcal
(28%)
|
Carbohydrates:
2
g
(1%)
|
Protein:
51
g
(102%)
|
Fat:
37
g
(57%)
|
Saturated Fat:
16
g
(100%)
|
Monounsaturated Fat:
1
g
|
Cholesterol:
238
mg
(79%)
|
Sodium:
675
mg
(29%)
|
Sugar:
1
g
(1%)
Calorie count is purely an estimate calculated using an online application to serve as a guide and not to be taken as accurate nutritional information. Percent Daily Values are based on a 2,000 calorie diet.
Tried this recipe?
Leave a comment below and let me know!