Corn, herbs, and dainty little pasta, tossed in a light and simple lemon vinaigrette. With spring happening, this very easy, VERY delicious, lovely Lemony Orzo and Roasted Corn Salad is just what we need.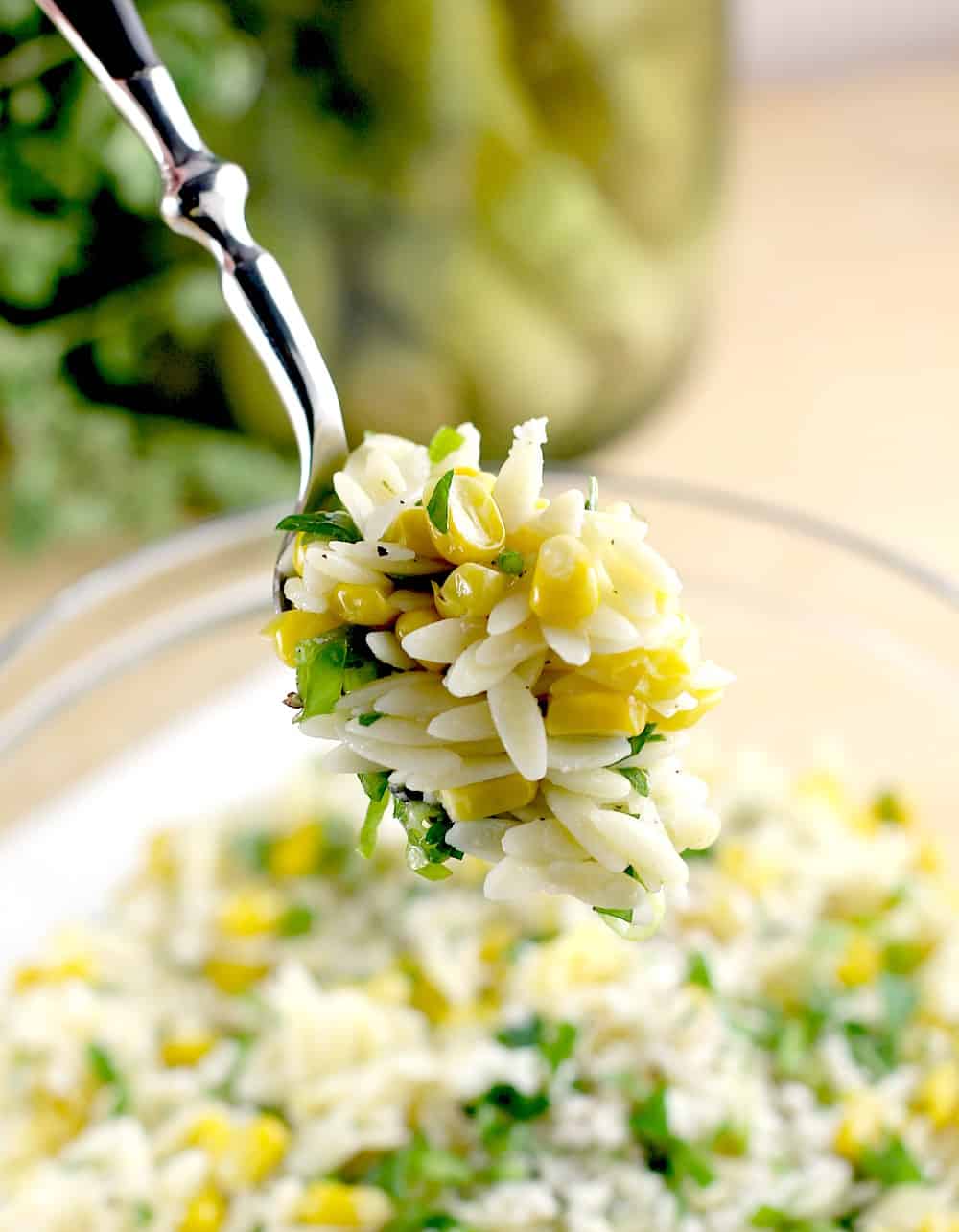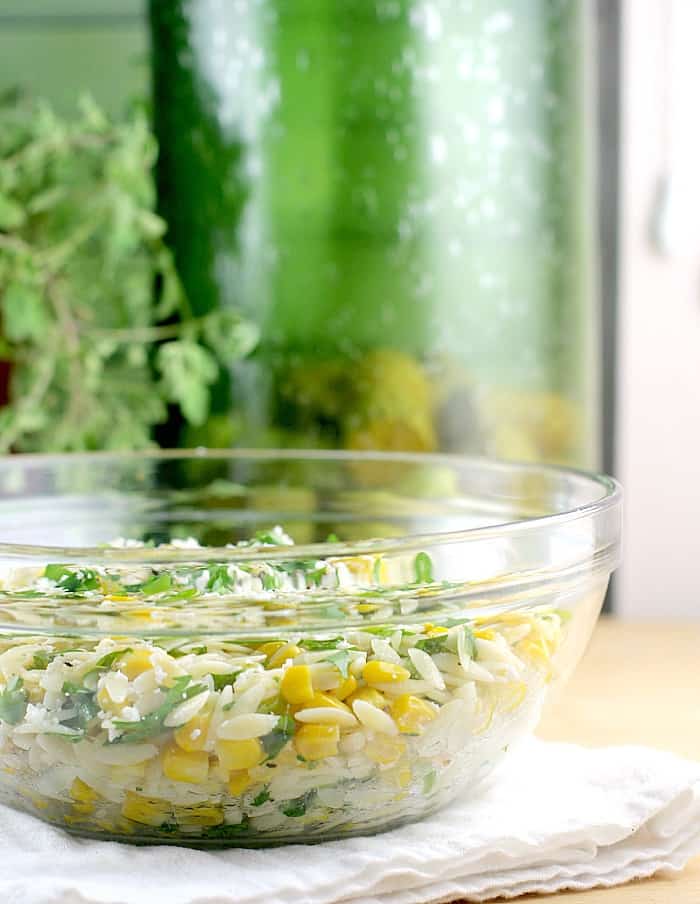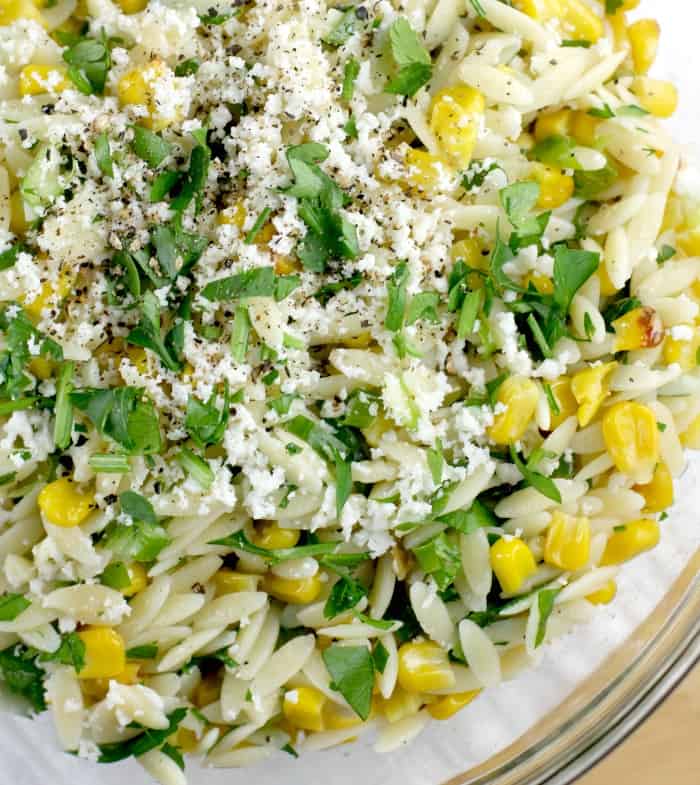 Happy spring! Yesss, it is here. …and know what else is here? MY birthday. My 45th birthday actually. Holy hell, I turn 45 tomorrow. Oyyyy.
There are those birthdays we struggle with more than others, aren't there? I struggle with the fives …I didn't like turning 25 because 21-25 you are finally old enough, and still young enough, to do pretty much anything without all the strings of responsibility or body aches to go with. Turning 35 sucked because there are 2 classes of women on every medical form ever made – those under 35 and those over 35. And now I'm looking at 45 and I am ok with it (the 40s are proving to be SO better than the 30s. By far), but I am kinda feeling like this is my last birthday before I am officially old.
Because the next one will be 50. And I know, I know, I know, you are only as old you feel and what not. And I am doing well for my age and all, I know.
But still. It is humbling. And it is making me want to do more, enjoy more, plan more.
See, I have always had something big that I have been working toward. In my 20s, I got a PhD. In my 30s, I was in the Army, had a kid, one marriage ended, changed careers, another marriage began, and I had another kid. (Busy decade) …So far in my 40s, I had both knees reconstructed, started doing triathlons, and finished an Ironman. And I started this blog.
So what next???? Ahhaa yes, I have figured that out. But it is a bit of left field and random that I am not going to share it now. But I will say that before I am 50 I want to travel to someplace amazing. Someplace exotic, on the other side of the world. And I will, for now, leave it at that.
In the meantime, happy birthday to me and let's keep on with the food shall we? That is why we are here anyway. …and there is not too much to say about this Lemony Orzo and Roasted Corn Salad anyway. It is simple, rustic but at the same time elegant. This recipe is completely dependent on the quality of ingredients you use to. Fresh lemons, crisp herbs and green onion, kosher salt, fresh cracked pepper, and, most importantly, and nice good quality, fruity extra virgin olive oil. These are the keys to success with any recipe like this because there is no hiding. The simple ingredients are what they are, with no frills. So, let's channel our inner Barefoot Contessa and appreciate that, for some recipes, the ingredients really need to be the best you can find.
But I couldn't find fresh corn, so I used frozen. Life has its limitations.
So that's it guys. A fresh Lemony Orzo and Roasted Corn Salad side for all your spring needs. With some pre-birthday, oh-EM-gee thoughts to go with. Enjoy and Happy Spring!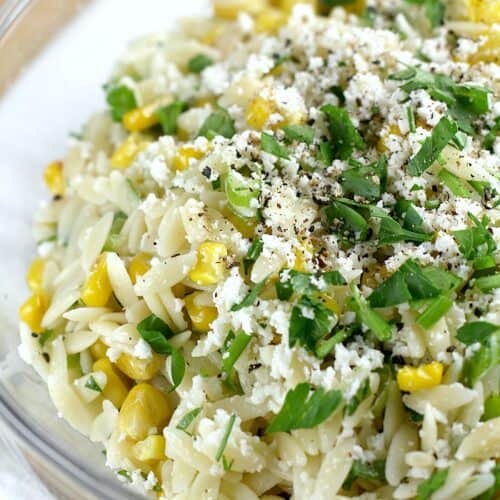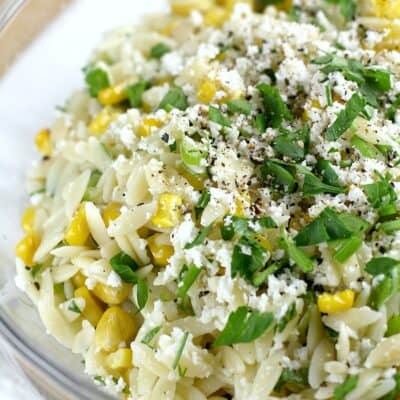 Lemony Orzo and Roasted Corn Salad
Corn, herbs, and dainty little pasta, tossed in a light and simple lemon vinaigrette. With spring happening, this very easy, VERY delicious, lovely Lemony Orzo and Roasted Corn Salad is just what we need.
Ingredients
2

cups

orzo pasta

2

cups

yellow whole kernel corn

½

Tbs

good quality extra virgin olive oil

½

cup

chopped Italian flat-leaf parsley

2

bunches green onions

chopped (white and light green parts only)

kosher salt to taste

at least 1/2 teaspoon

garnish: queso fresco cheese

chopped parsley, and fresh cracked pepper

For the Lemon Vinaigrette

juice of 2 lemons

¼

cup

extra virgin olive oil

2

tsp

Dijon mustard

good pinch kosher salt

couple pinches fresh cracked pepper
Instructions
Heat the oven broiler on high. Bring a large pot of water to a boil.

In the pot of water, cook the orzo according to package directions and drain.

While orzo is cooking, toss the corn in the olive oil and layer on a rimmed bake sheet. Broil until golden, stirring regularly. Remove from the oven and set aside.

Whisk together the ingredients for the vinaigrette.

In a large bowl, toss the orzo, corn, parsley, and green onion. Toss in the vinaigrette. Taste for seasoning and add more salt as necessary. Garnish with cheese, parsley, and pepper. Serve.
Nutrition
Calorie count is purely an estimate calculated using an online application to serve as a guide and not to be taken as accurate nutritional information. Percent Daily Values are based on a 2,000 calorie diet.
Tried this recipe?
Leave a comment below and let me know!
~✿♥✿~
Leave me a comment! Otherwise, I'm just talking to myself here …do you embrace birthday milestones?