Classic Velveeta Rotel Dip with Sausage
The ultimate crowd-pleasing party dip, my Rotel dip recipe has a couple extra touches that make it THE BEST sausage queso dip. Far better than regular Velveeta salsa dip, THIS Velveeta Rotel dip is smoother, creamier, and TASTIER thanks to juicy sausage, condensed soup, and beer.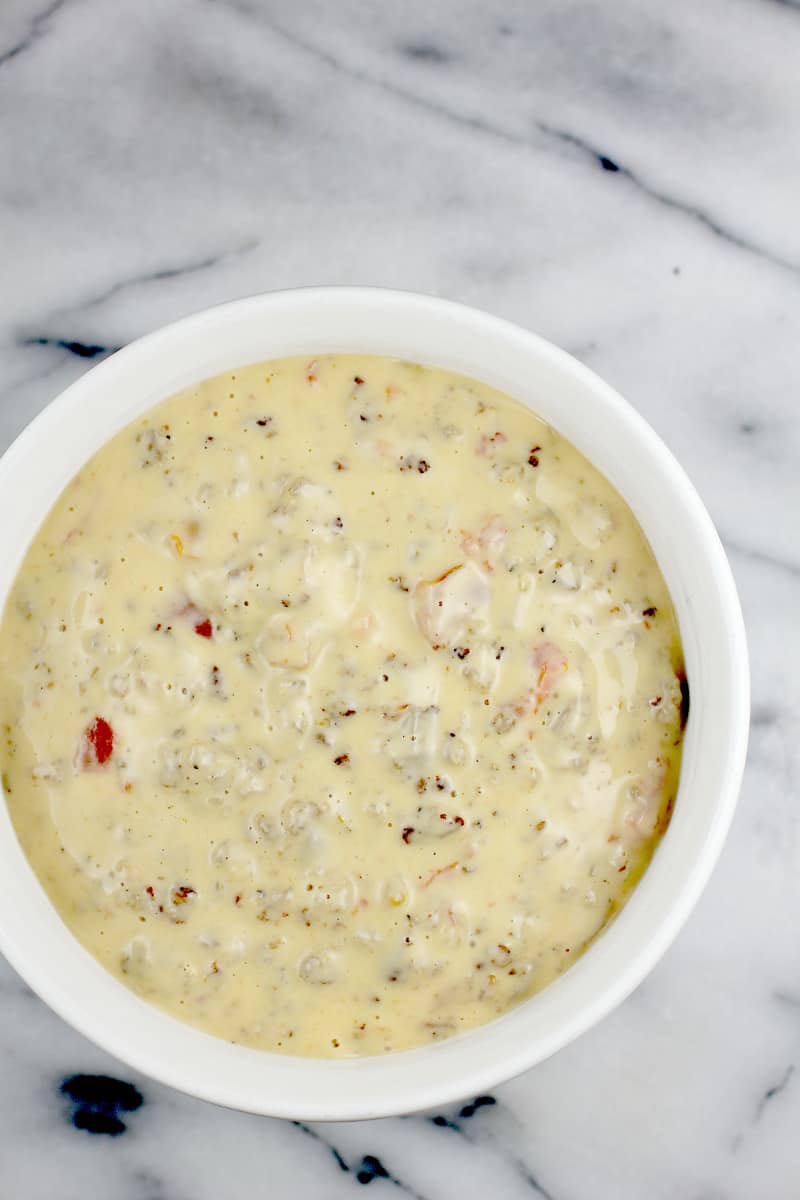 Make this Velveeta Rotel dip however you like too! On the stove-top, in the microwave, or in your slow cooker or crock-pot. Instructions for each method are included in the recipe.
OK, so let's be real… Nobody likes the flavor of straight-up Velveeta. Even in sausage queso dip.
NO ONE.
So, if you are making your Rotel dip recipe or Velveeta salsa dip with straight-up Velveeta, you are doing it wrong. I did it wrong too. For a long time I did. But we can live and learn and improve ourselves and add BEER and SOUP to make Velveeta not be so Velveeta-y.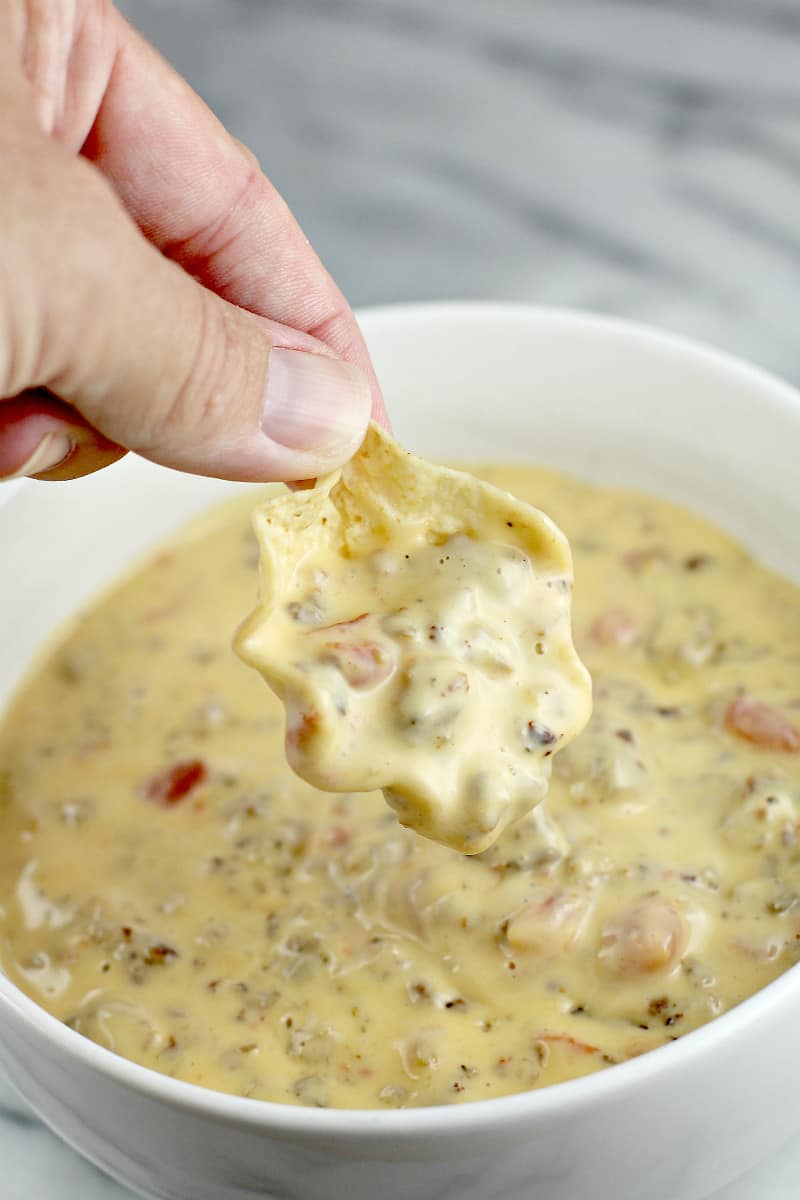 Why is this Rotel Dip Recipe SO GOOD?
Beer.
Condensed cream of mushroom soup.
Original Rotel diced tomatoes and green chilies which are SO much more flavorful than any other brand.
Hot bulk sausage (I use Odom's or Jimmy Dean).
So, basically all the ingredients. This is what makes this queso different from all the others — the way these particular ingredients come together to take a generic Velveeta salsa recipe and make it insanely good.
Each ingredient has its special role to play and that is how the magic happens.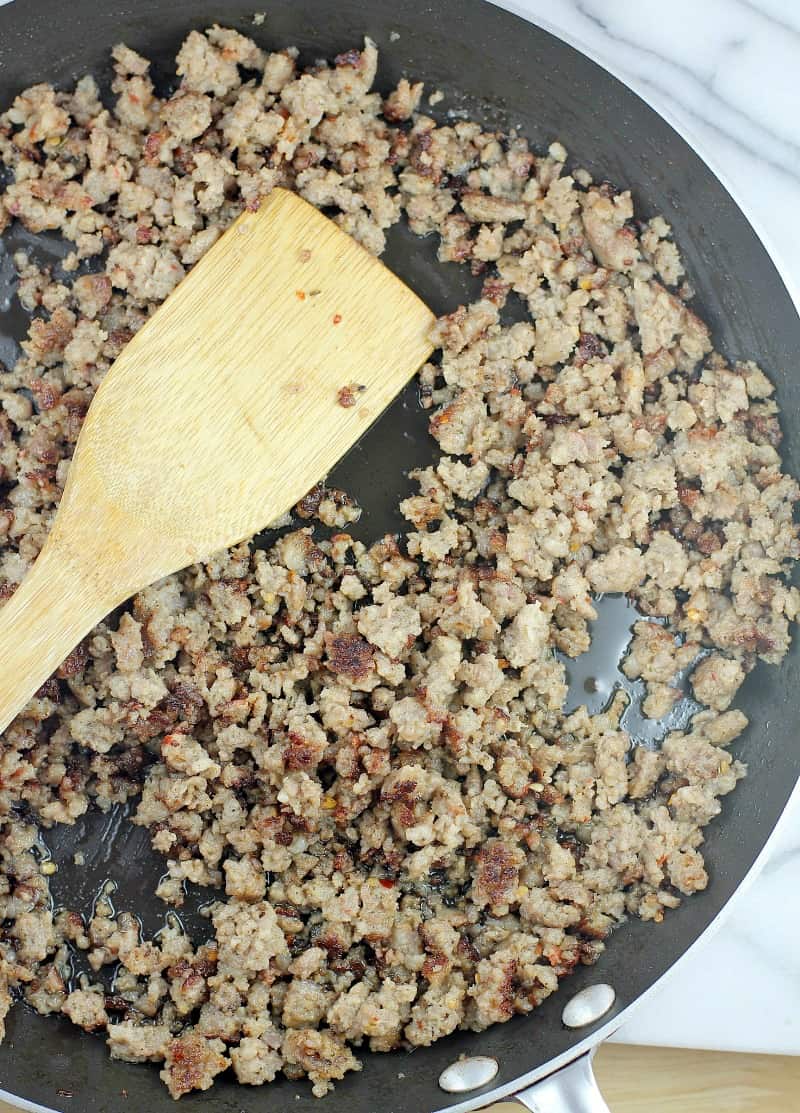 Beer, Proving Again It is the Best Ingredient
Last year, I brought you one of my still favorite posts, 41 Recipes That Prove Beer is the Best Ingredient, singing my praises for beer in cooking.
So it should come as no surprise that I add it to queso. I've added it to pretty much all my quesos now that I think about it. Beer just works.
When I have used milk to adjust the consistency of this queso, because it will thicken too much over time, it does something weird.
I can't exactly explain it – and it is counter-intuitive I admit, because one would think milk should work — but it doesn't. So don't do that.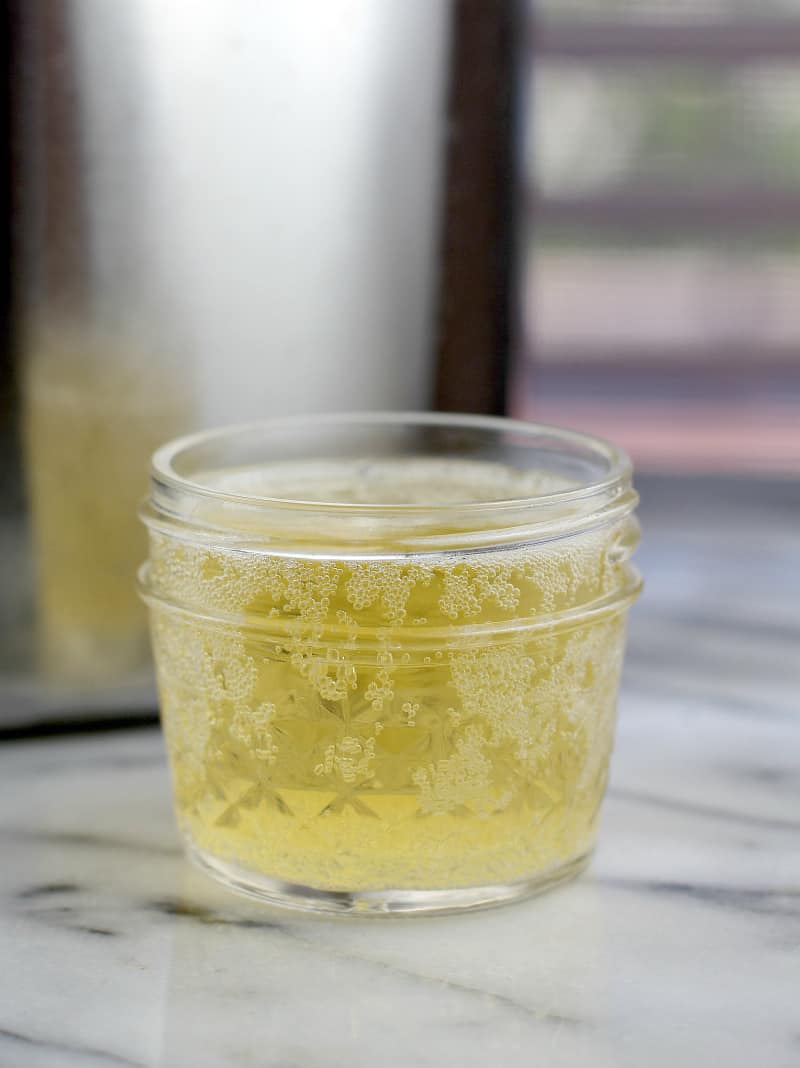 BEER on the other hand (and I use light beer, specifically whatever I happen to be consuming myself because I am always making this for watching football and there is always beer involved with that) works far better.
It provides the liquid our sausage and cheese dip needs, and the flavor adds to it rather than do the weird thing milk does.
And water would just be wrong.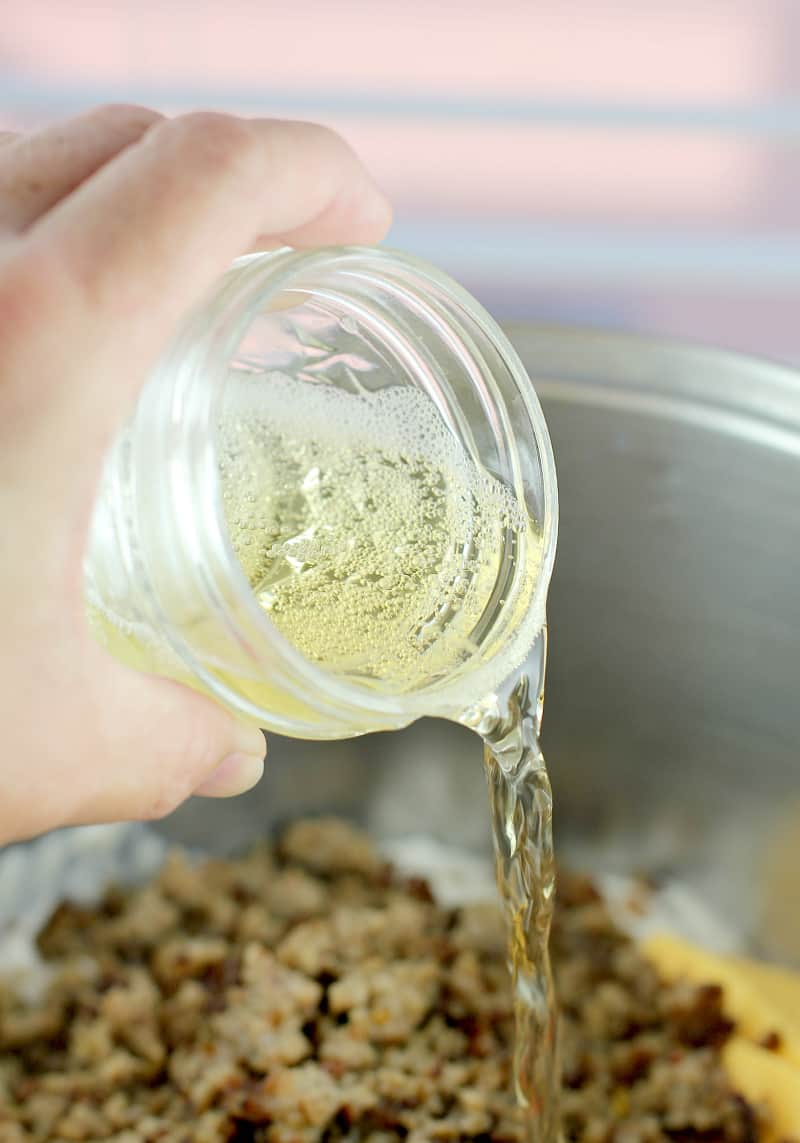 Even with Hot Sausage and Original Rotel, this Rotel Dip Recipe is not Spicy
The next key is using extra kicked up sausage and Rotel.
Original Rotel is spicy. Hot sausage is also spicy, though I don't find it that spicy myself.
So, on its face, this recipe sounds like it should be freaking mouth-on-fire, clear the nasal passages, wipe-sweat-from-the-brow spicy. But guess what? NOT SPICY.
Between the melted Velveeta, the cream of mushroom soup, and the beer, the spice just isn't there.
My 8 year old devours this stuff, and he thinks something is too spicy if I put a little black pepper on it. That should tell you right there that this sausage queso dip is not spicy.
So even though I am listing what are by themselves spicy ingredients, do not fear them. They are essential FLAVOR in this Velveeta Rotel dip recipe.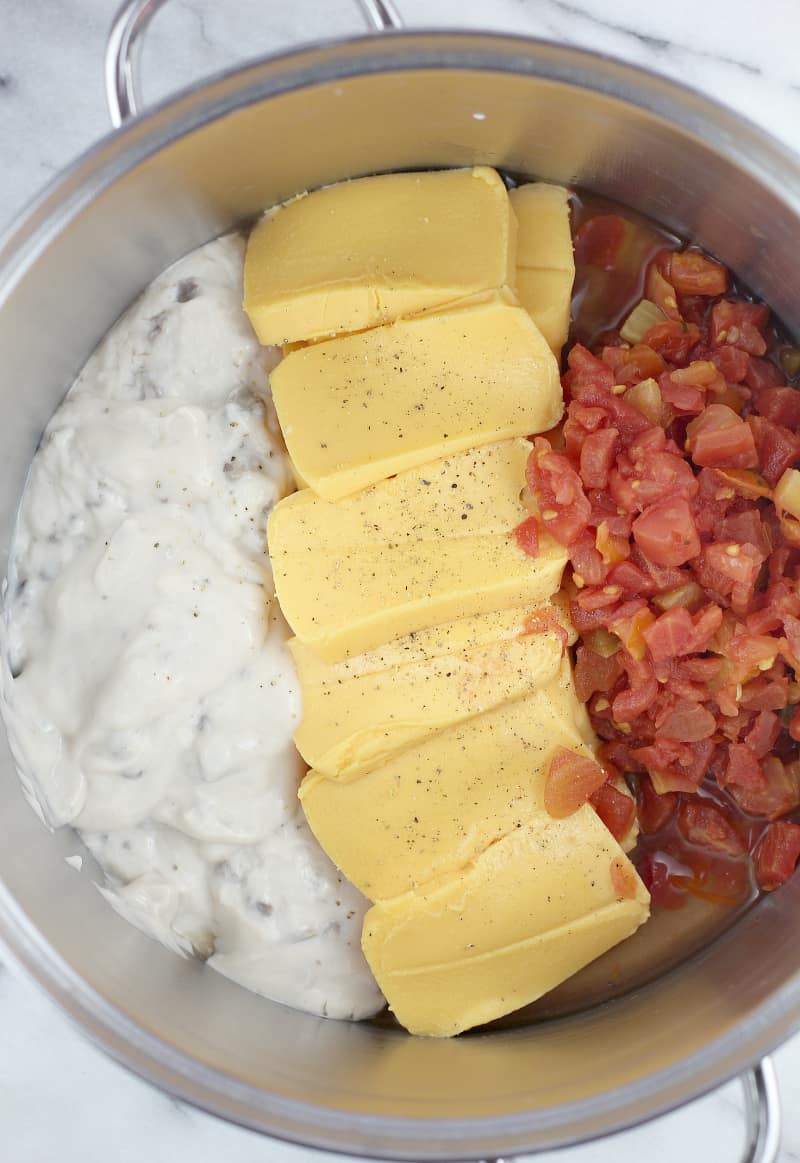 What's with the Condensed Cream of Mushroom Soup?
Yeah yeah yeah, we are not cooking wholesome here. Clearly. We are using Velveeta good grief. And dipping fried corn chips in it.
And then stuffing our faces and feeling bad that we don't feel bad because it is so stinking good.
This sausage queso dip is not about health. This recipe is about how my husband and I host the neighborhood Super Bowl party every year in our garage and people EXPECT THIS DIP.
This is about every single time I ask my family what they want for Sunday football food, this queso comes up.
"And don't do anything fancy to it Mom"
That when you go to a party and you see the food table and a row of slow cookers, you EXPECT one of them to have Velveeta cheese dip. You know you do.
So, focus. And use the condensed cream of mushroom soup from a can. It's OK.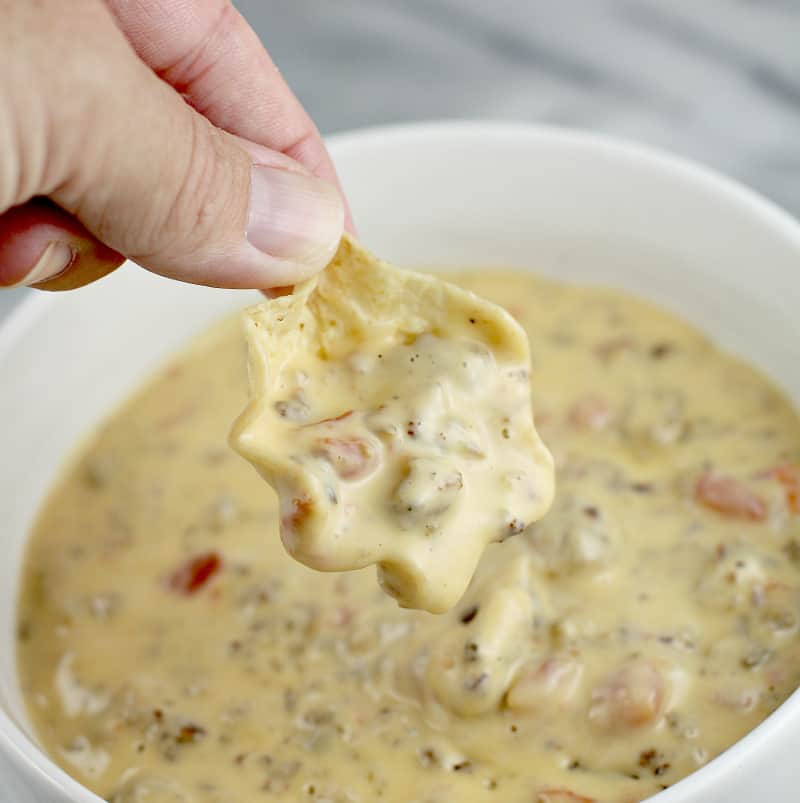 The cream of mushroom soup is KEY probably even more than the beer to my Rotel dip recipe to be honest.
The soup tames the Velveeta. It takes the cheese-product-y sting out of the Velveeta. I abhor American cheese and plain Velveeta, but I will sit and eat the shit out of this dip. Go figure.
So, Velveeta and condensed cream of mushroom soup…. Separate, they are gross. Together, they are delicious.
It is. The Weirdest Thing.
For more cheesy recipe ideas, check these out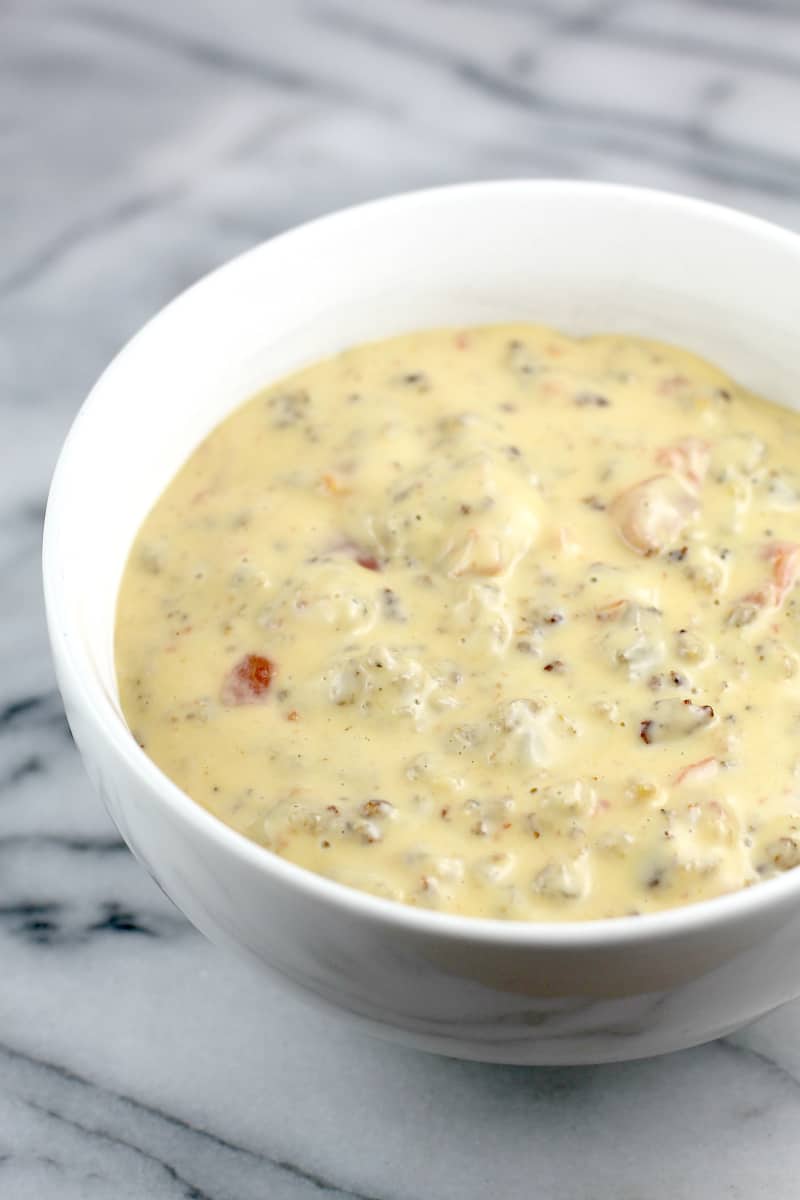 Steps for Preparing Velveeta Rotel Dip Recipe with Sausage
Cook the sausage.
Place all the ingredients in your cooking vessel depending on how you are going to prepare your queso:

Saucepan for stovetop.
Slow cooker or crock-pot.
Microwave safe dish.

Heat slowly, stirring regularly.
Once hot and melty smooth, turn off the heat.
Use more beer to dilute and reheat if queso starts to cool too much and congeal.
This sausage and cheese dip is so super simple and that is precisely why it is such perfect party food.
So that's it folks. A cult classic Rotel dip recipe, made so much better. I have been making Velveeta Rotel dip this way for 30 years, and it is still the family fan favorite. Give this one a try for your next game day party.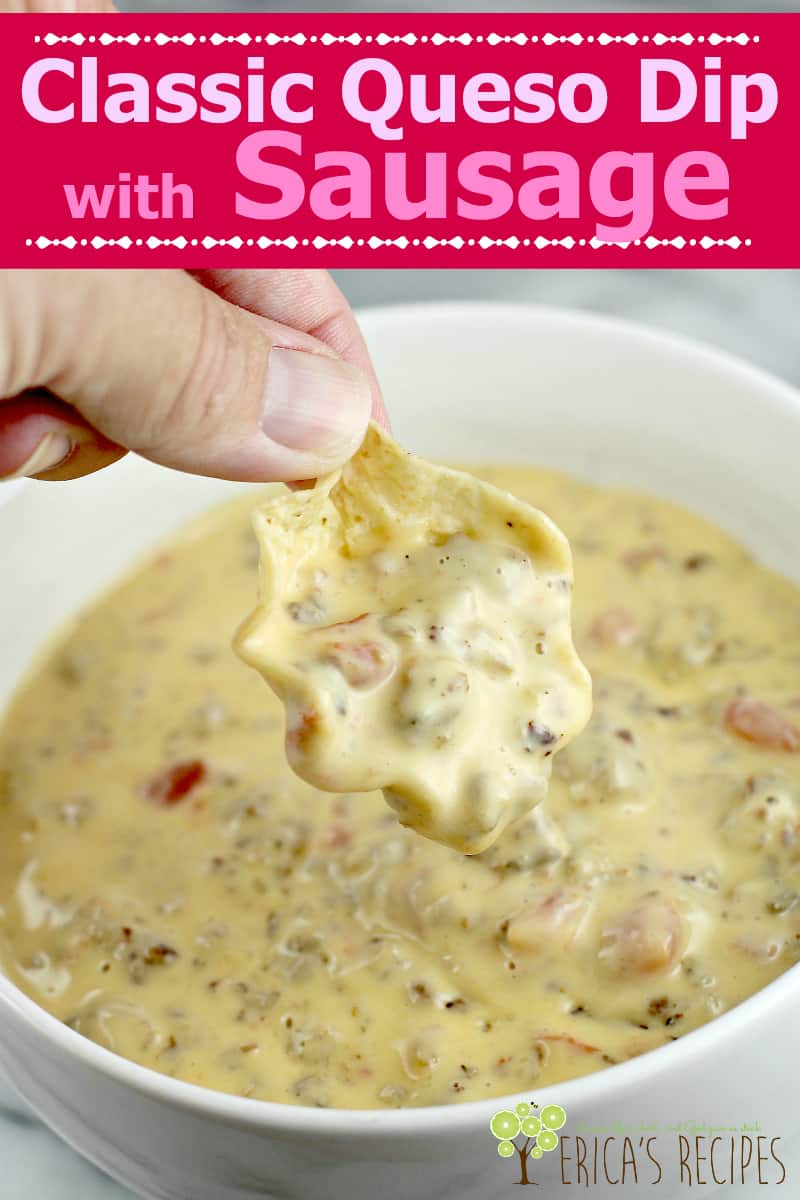 Want a fun recipe to serve your Queso? Check out my crispy Cheesy Fiesta Potatoes. Then just use this queso dip instead!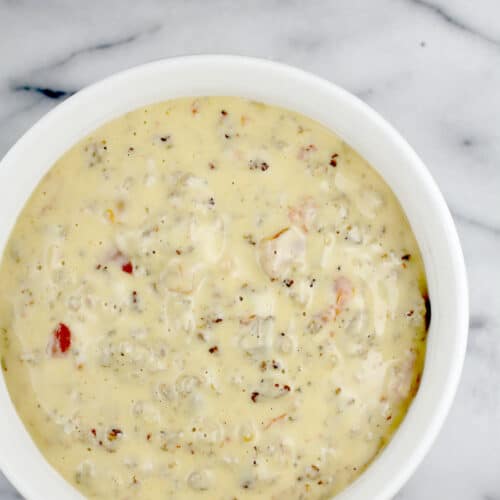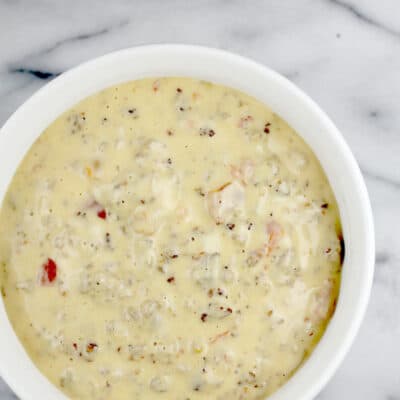 Classic Velveeta Rotel Dip with Sausage
The ultimate crowd-pleasing party dip, my Rotel dip recipe has a couple extra touches that make it THE BEST sausage queso dip.
Ingredients
1

10 oz

can Rotel Original diced tomatoes and green chilies

undrained

1

lb

bulk hot sausage

1

10.5 oz

can condensed cream of mushroom soup

undiluted

1

lb

Velveeta cheese

½

cup

beer

tortilla chips
Instructions
Brown the sausage until no longer pink, breaking up into little pieces with a spatula. Drain the fat.

In a saucepan, heat the tomatoes and green chilies, condensed soup, beer, and Velveeta until melted and smooth.

Once the cheese is melted and mixture is smooth, add the meat and serve with chips.
Notes
This Velveeta Rotel dip recipe adapts perfectly for preparation in a slow cooker.
Alternatively, it can be prepared using a microwave. Simply put the ingredients in a microwave safe dish and heat, stirring every minute, until smooth.
If mixture starts to thicken too much, add more beer to adjust consistency.
If Rotel is not available, substitute 1 can diced tomatoes and 2 (4 oz) cans diced green chilies.
Nutrition
Calorie count is purely an estimate calculated using an online application to serve as a guide and not to be taken as accurate nutritional information. Percent Daily Values are based on a 2,000 calorie diet.
Tried this recipe?
Leave a comment below and let me know!
~✿♥✿~