Garlic Sriracha Shrimp Topped Crackers
Succulent, spicy garlic shrimp, creamy guacamole, and sweet pineapple preserves atop buttery RITZ® crackers. This easy Garlic Sriracha Shrimp Topped Crackers appetizer is perfectly balanced with insanely tasty flavors that meld together into one magical bite.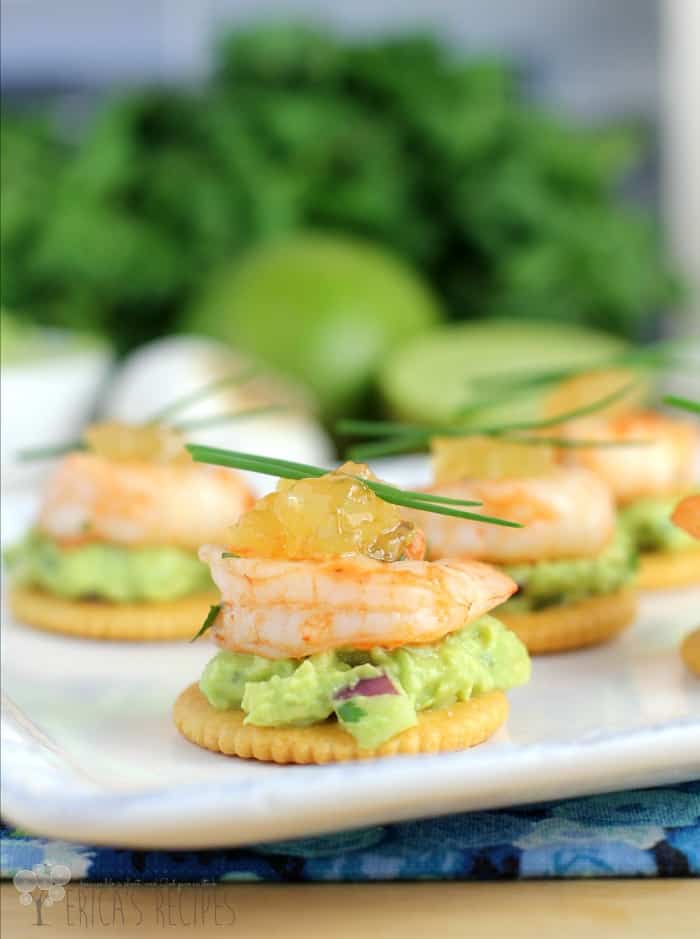 So day-yummmm these Garlic Sriracha Shrimp Topped Crackers are so good! Holy holy surprise – I do loooove when an idea comes out just right. …I had the opportunity to work with RITZ®, but the catch was that I could not crush the crackers to top a casserole or put in a stuffing or something. The crackers had to be kept whole. Hmmm…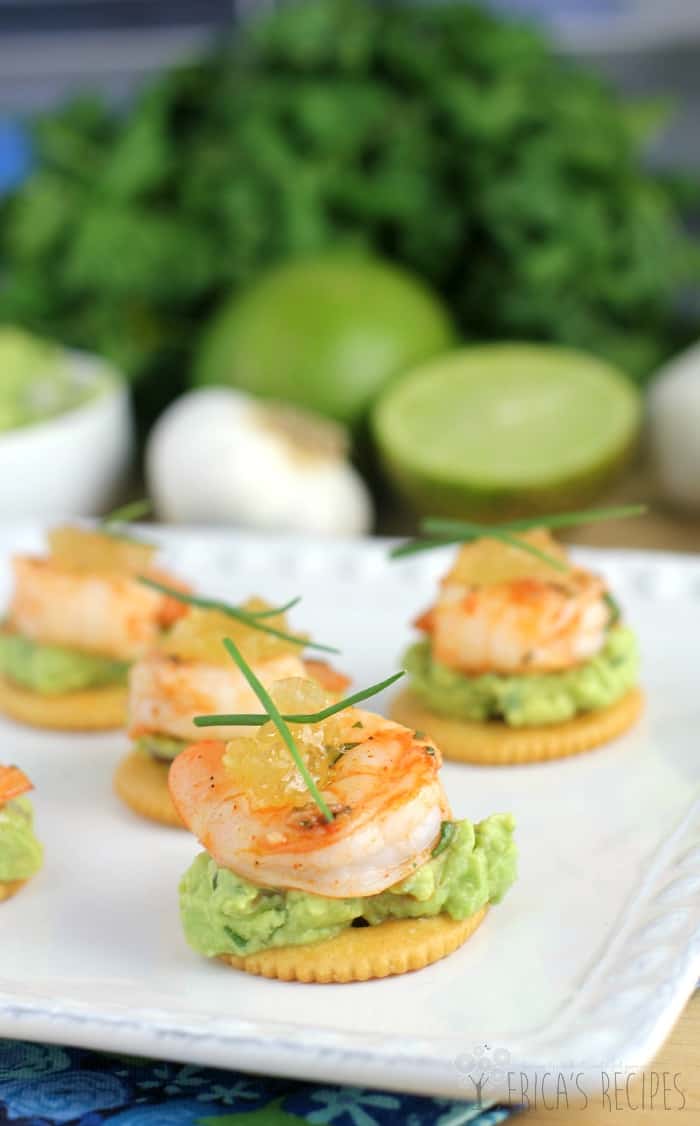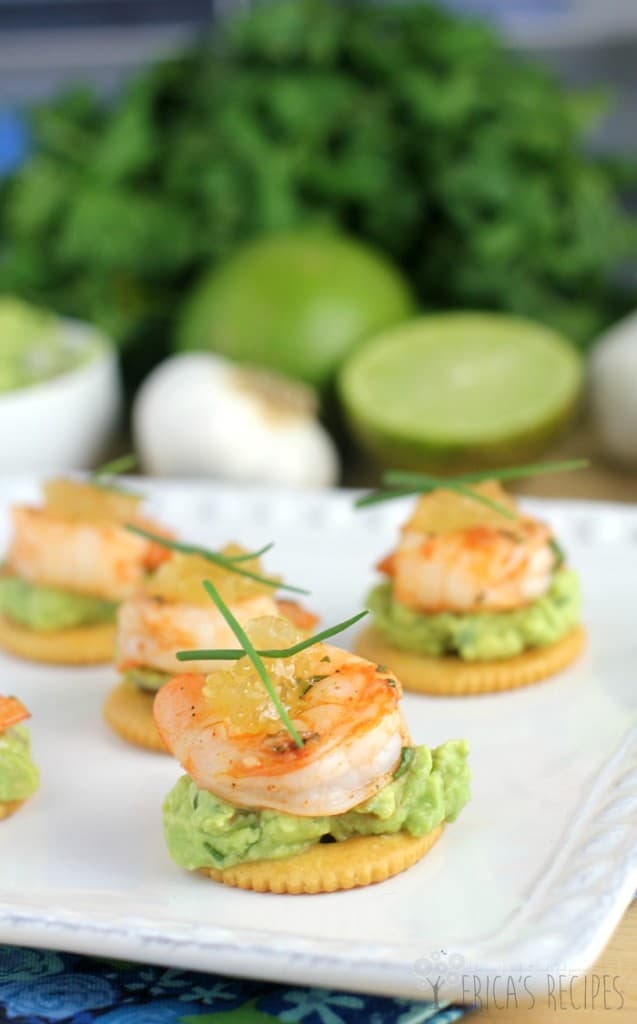 So here's a little insight into my thought process on this one …or rather, a creepy re-cap of a conversation I had with myself…
Whole crackers, What?
Yeah …whole.
OK, a challenge. I'm always up for that. …uhhh, so now what.
Well, top a cracker. But of course it has to be awesome.
Uhhh. OK…. [wheels turning]
Seafood! I always use crackers in seafood dishes. I grew up with friggin stuffed lobster and flounder and shrimp and stuff and those recipes always use RITZ®. (side-note: by-the-way, if you ever see an old recipe that calls for "crushed buttery crackers", they mean RITZ®. Just sayin.)
Alright, so seafood. Top a cracker with seafood. …how about a melt? Like crab dip or salmon or something, then top with melty cheese?
Nah. Been done. Kinda obvious.
Ohhhhhkayyyy. …how about shrimp?
How about shrimp.
Alright. How about spicy shrimp. …I did Honey Sriracha Pulled Chicken recently, so not that – GARLIC Sriracha! How about that?
Getting warmer…
Allllright. How about Garlic Sriracha Shrimp, on pretty, green, creamy Guacamole to cut the spiciness, and top with a dollop of something sweet – like pineapple preserves.
Boom.
So here we are. …this internal convo totally, quite literally happened.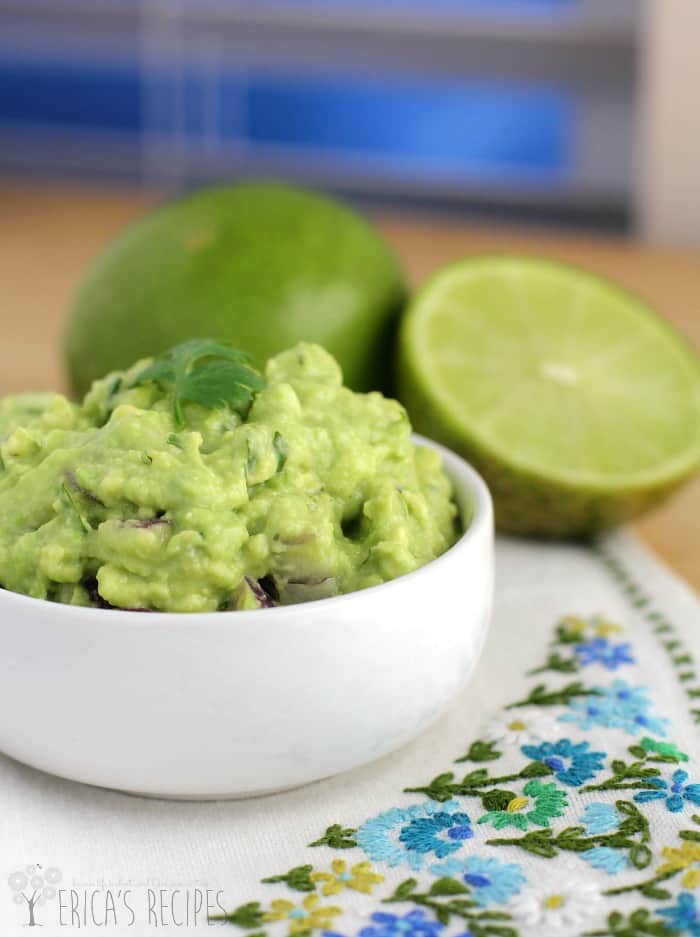 Originally, I had intended to grill these shrimp. But just 2 or 3 simple little minutes real quick under my broiler was too attractive a tactic …so I did that instead. Guacamole – which I have been making a lot lately, haven't I? – is spring perfect. My lime tree is on full crack mode making lots of fruit, and we just love guac on errything.
But the unexpected perfecting element to this whole amazing bite? …the pineapple preserves. This little bit of tart sweetness on top seriously completes the whole thing too perfectly to describe. Do not skip any element here – these are meant to be together. Spicy shrimp, cooling guac, the texture from the cracker …all lightened up with the little bit of pineapple Heaven on top.
This recipe idea sounded good in my head …but was totally delicious beyond my expectations.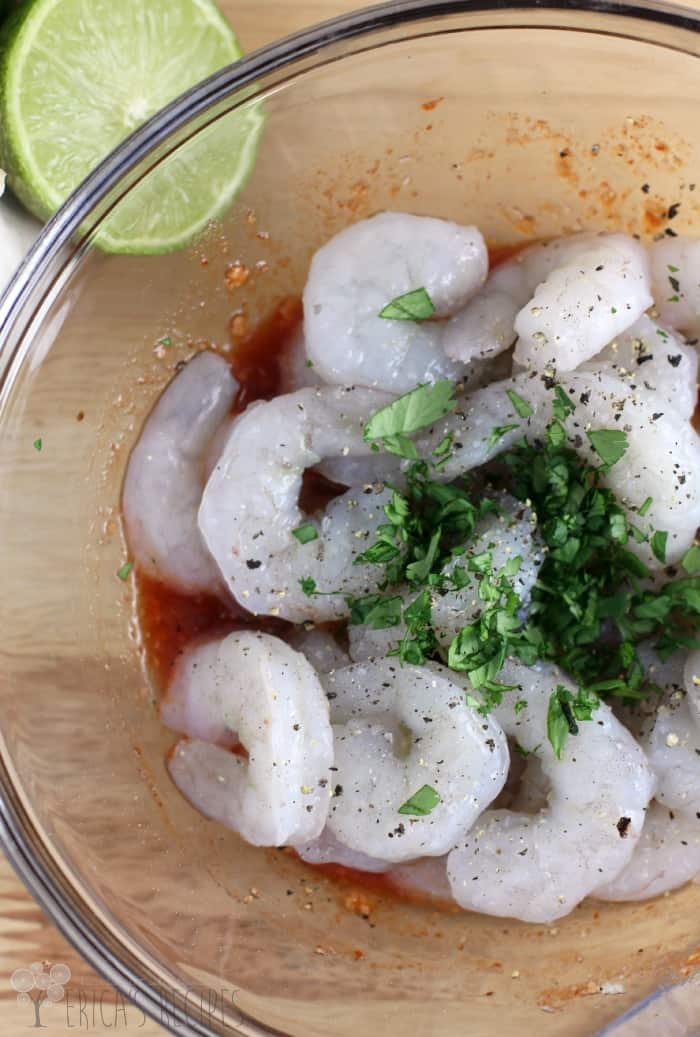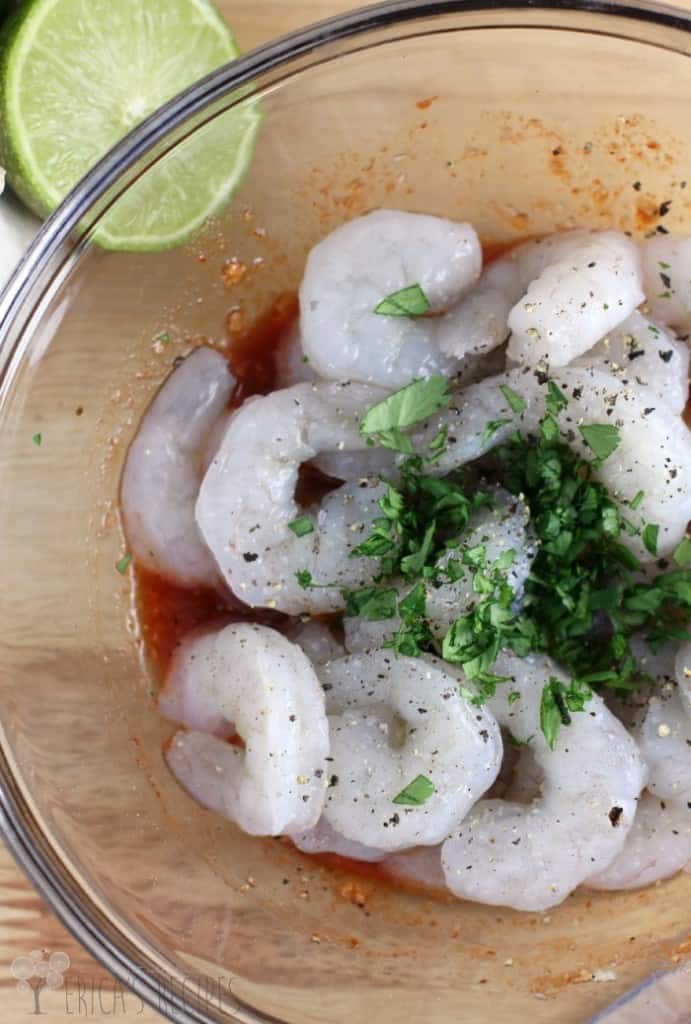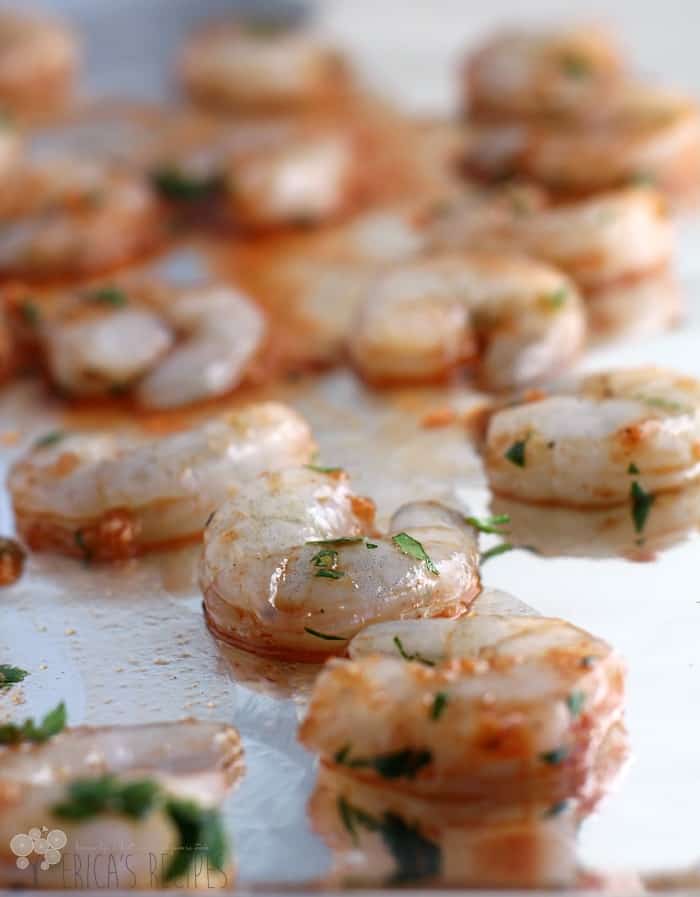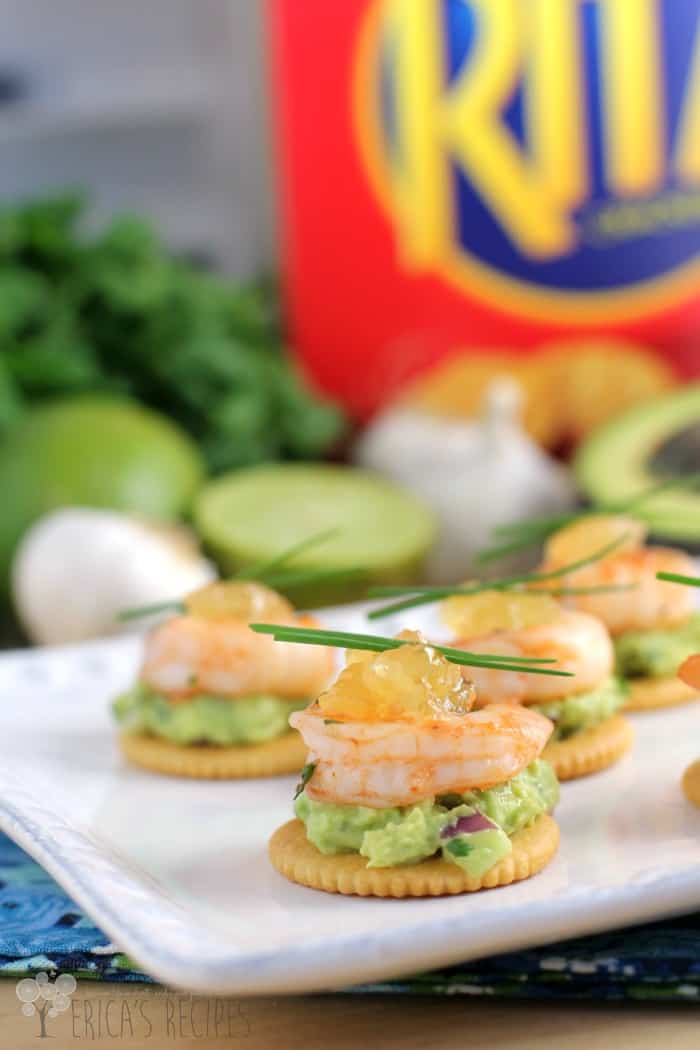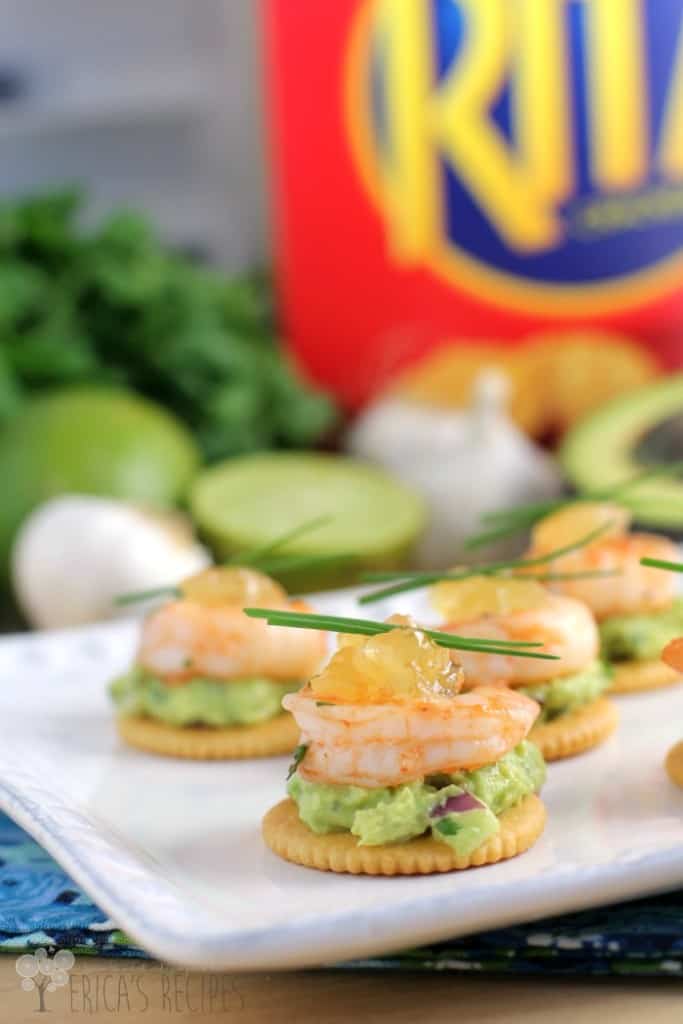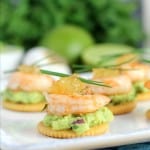 Garlic Sriracha Shrimp Topped Crackers
Instructions
Heat the oven broiler. Move the oven rack so it is a couple inches under the broiler.

In a bowl, whisk together the Sriracha, olive oil, garlic, vinegar, honey, salt, and pepper. Toss in the shrimp to coat. Spread the shrimp on a bake sheet. Broil 2-3 minutes or until just cooked through.

To assemble the appetizers, lay out the crackers. Spread guacamole on each. Top with a shrimp, then a little dollop of pineapple preserves. Garnish with a couple snipped tips of chive. Yields: 15-20 bites.
Calorie count is purely an estimate calculated using an online application to serve as a guide and not to be taken as accurate nutritional information. Percent Daily Values are based on a 2,000 calorie diet.
Tried this recipe?
Leave a comment below and let me know!