Healthy Three Potato Hash
Get ready for pretty veggie colors in this Healthy Three Potato Hash! Because I have got like all of them going on in this recipe. Pair all that with tender, leftover Easter ham and a sunny egg, and you have a fabulous and healthy Healthy Three Potato Hash to start your day.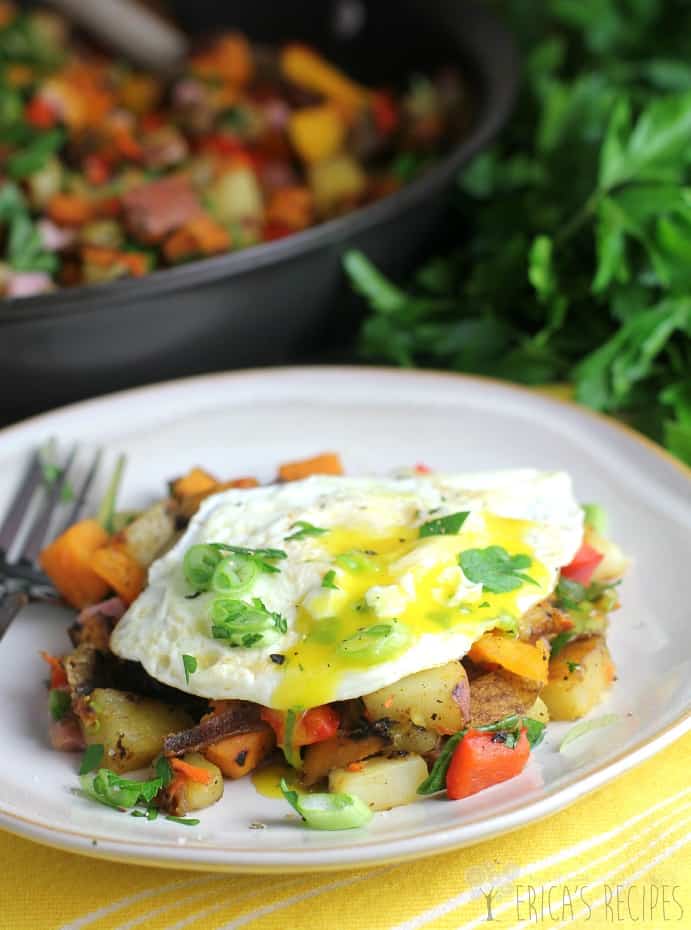 Who's making ham for Easter raise your hand! I am. I always do, and my recipe is here. And then there are of course the leftovers (yay!), and I just think dishes with leftover Easter ham are even better than the main event itself. Like Gnocchi Mac 'N Cheese with Ham and Peas, and Ham, Asparagus, and White Cheddar Breakfast Strata, and, this year, a healthy new hash.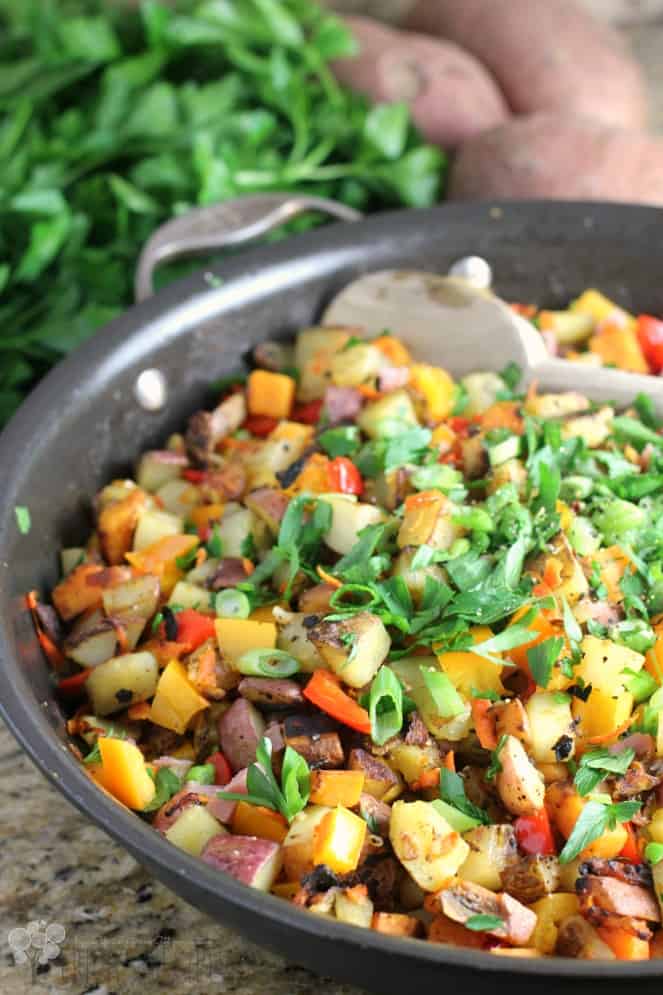 But there is even more to this dish! This healthy hash was my carb-load meal last week before the HITS Ocala Half Ironman. This triathlon was just Saturday …1.2 mile swim, 56 mile bike, and 13.1 mile half marathon run, and it was in beautiful central Florida horse country….which means hills. Yes, Florida has hills. And they are all in Ocala. …And it was cold. So so cold.
51 degrees F. Wet from the swim. Going 21 miles per hour on the downhills. It was frigid. I had planned for this and had purchased a new, super-cute, super-neon bike jacket last week. Yay preparation! -not. Cuz I had not given a single thought to my hands and feet.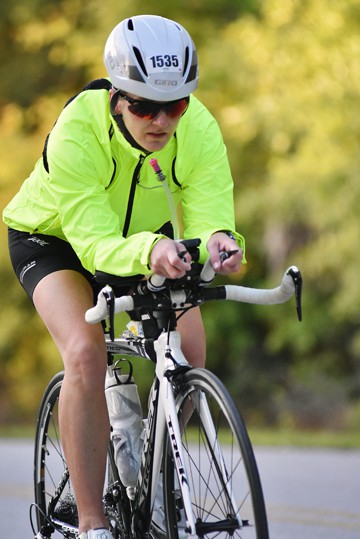 I had on ventilated bike shoes, and I could not feel my toes the entire ride. Then my hands stopped working. I stopped at the mile 14 aid station, and a beautiful volunteer (thank you whomever!) had to unzip my pocket and get out my waffle for me. My hands wouldn't hold it and I dropped it, so I had to beat my hands on my legs to get them functional again. It was like this the first 25 miles of the ride …until the sun finally came over the trees and…
On the other hand, the swim was fantastic. The water was a perfect 64F. Clear beautiful lake water. Sooo much better than salt water. Another awesome part to this race was that my daughter volunteered and worked the event. She is currently broken (torn meniscus), but still came to support me [love her so much!!].
Then I had a surprisingly great run. Miles ~5-7 were terrible. The Quit Monster, as I call it, got really loud then, telling me to stop and walk. But I didn't …cuz if I did stop and walk a bit, I would not have been able to run again. And there is no walking to the finish …So I kept going and all the sudden around mile 9, I got a second or third or fourth wind and breezed through to the end. Even placed third in my age group with a final time of 6 hours and 33 minutes.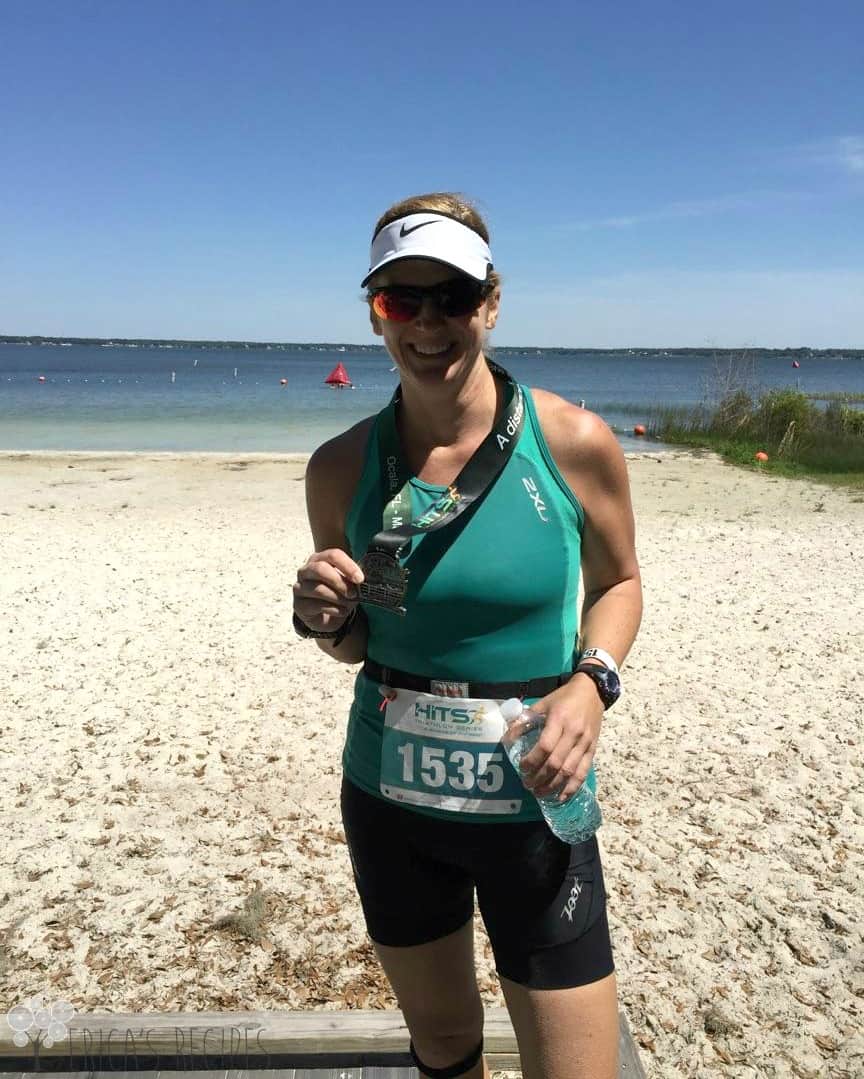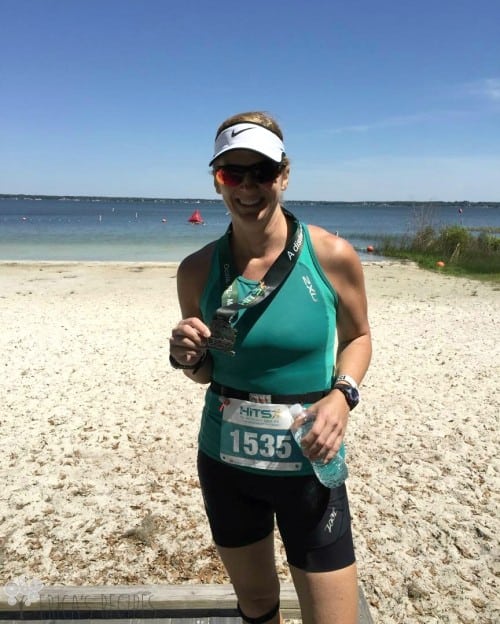 This was my tenth triathlon and second Half Ironman, and an experience I would not trade for anything. And this Three Potato Hash was the healthfulness that helped get me there.
I normally go with pasta or rice to fill the glycogen tank before an ultra-endurance race, but for this triathlon, I decided to go with healthy taters. Three of them. Red skinned potatoes, sweet potato, russet potato …then, red bell pepper, yellow tomato, green onion, garlic, parsley, carrot — holy vitamins for bonus. And protein with the salty yummy ham. …And olive oil, so there's healthy fat too. Top with an over-easy egg and just let that silky yolk sauce it all up. This is so so good.
So this recipe checks a couple boxes with me …it uses leftover ham (which I usually have and definitely will next week after Easter) and it is beautifully healthy. Eggs and ham. Breakfast potatoes. These classic combos are classic for good reason – they are delicious – and they do not have to be gut bombed drenched in oil or butter. We can have our eggs and ham and taters too, and feel perfectly happy and healthy about it.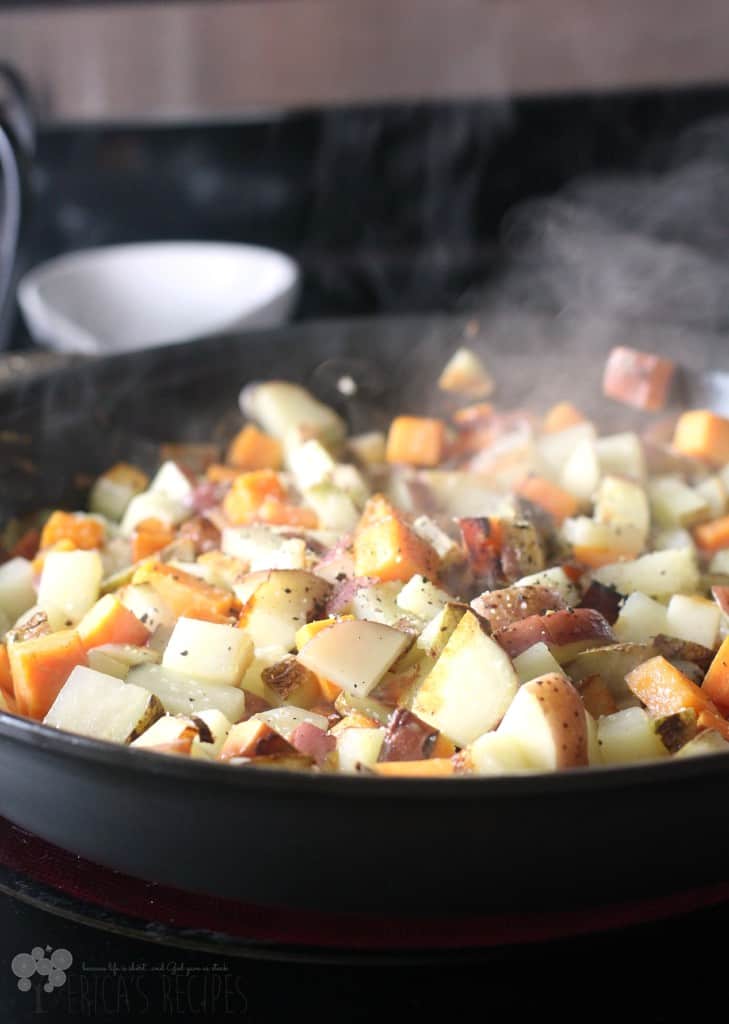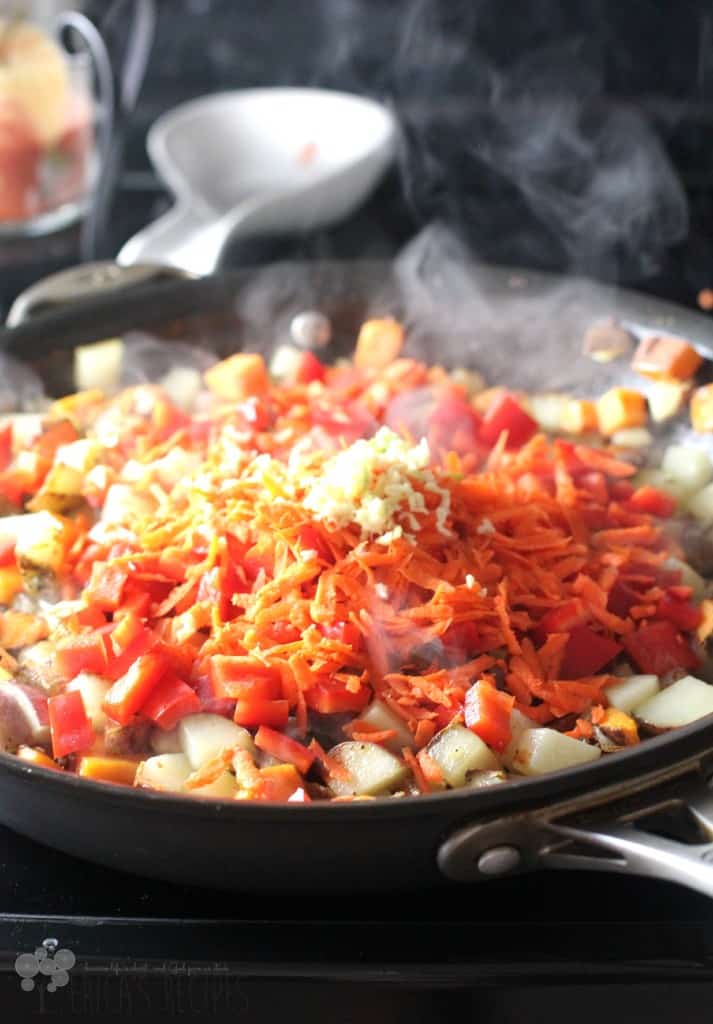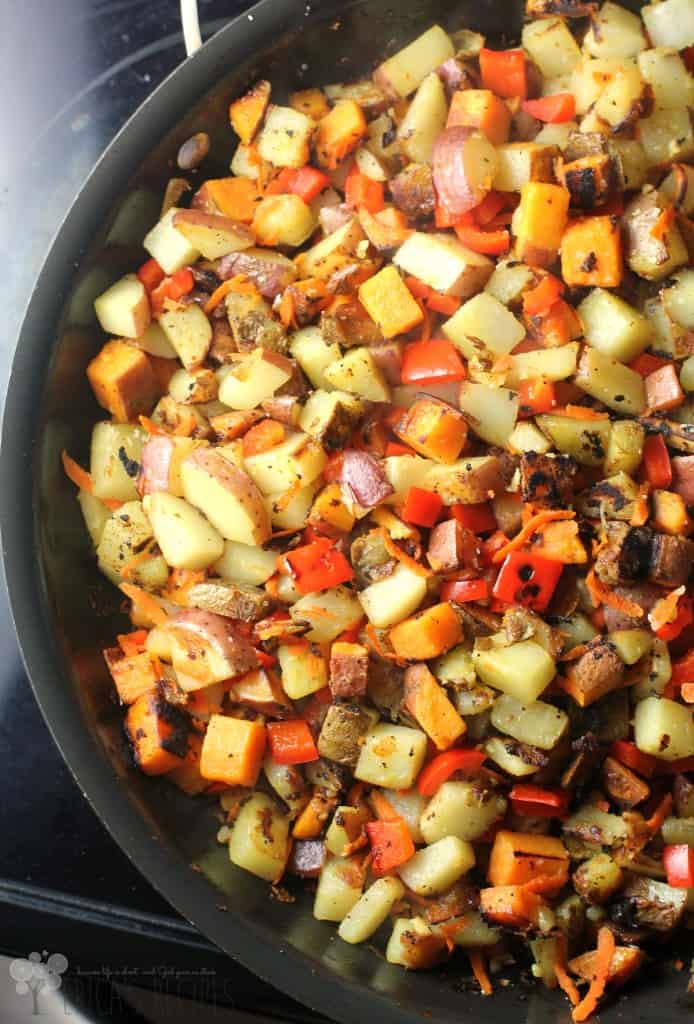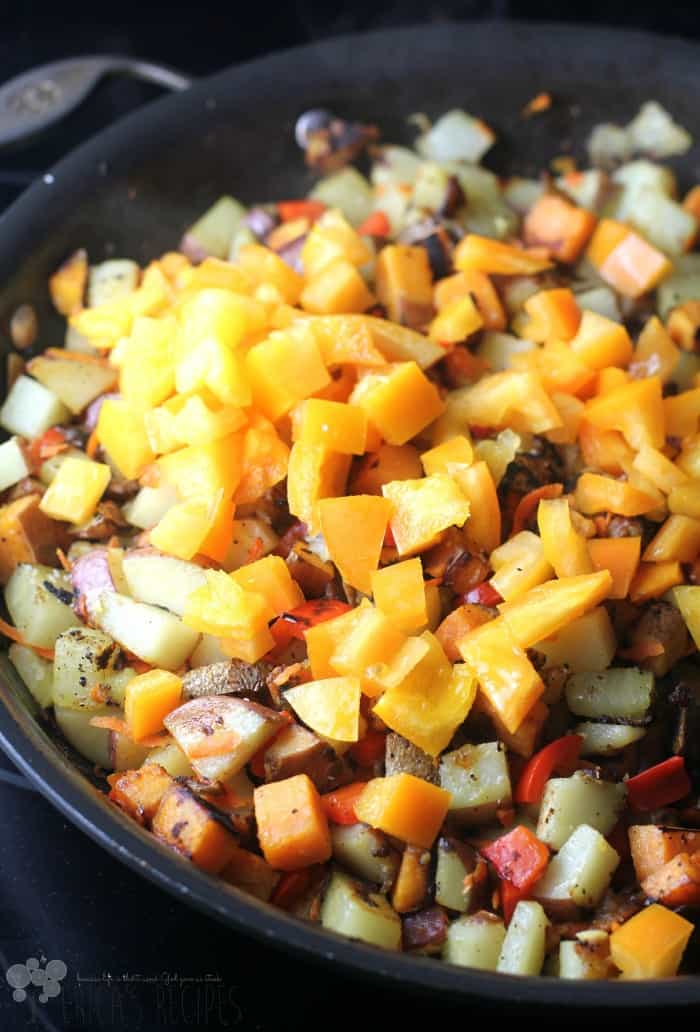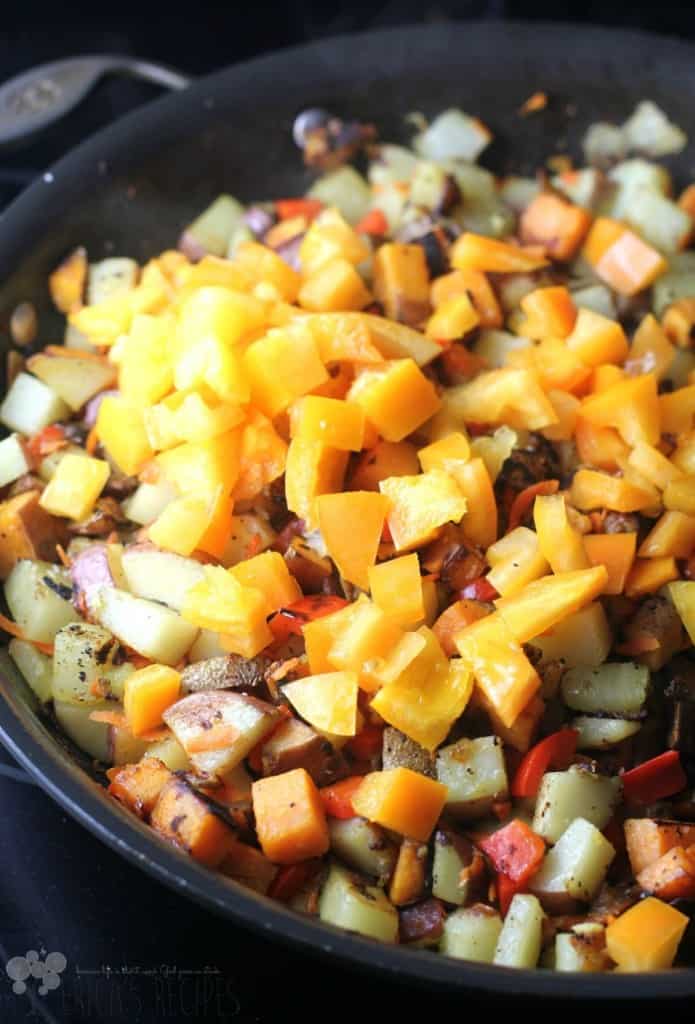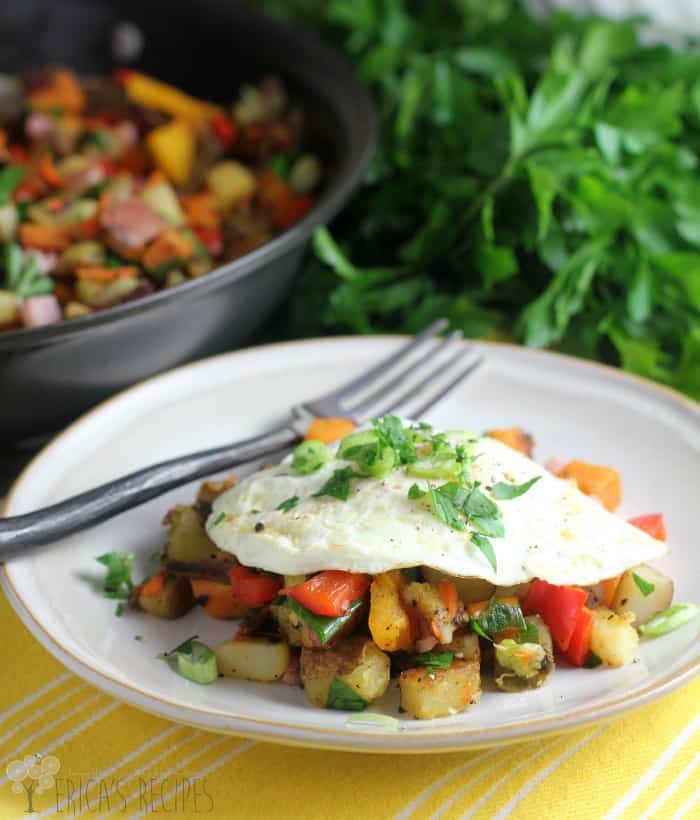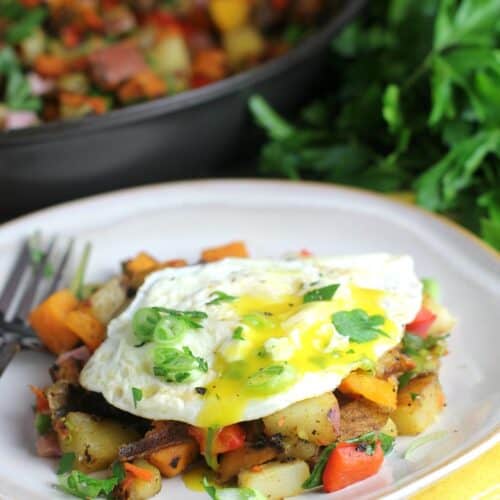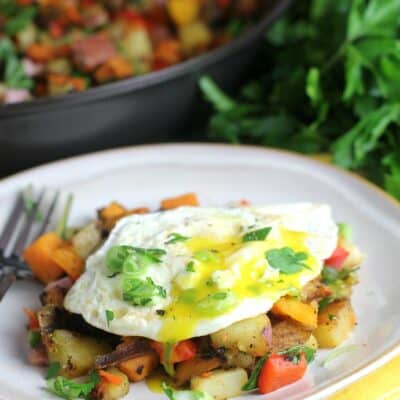 Healthy Three Potato Hash
A fabulous and healthy Healthy Three Potato Hash to start your day.
Ingredients
1

large Russet potato

skin on, small dice

1

lb

red potatoes

skin on, small dice

1

large sweet potato

skin on, small dice

2

Tbsp

extra virgin olive oil

1

red bell pepper

seeded and diced

1

large carrot

shredded

2

cloves

garlic

minced

½

cup

finely diced ham

2

yellow tomatoes

seeded and chopped

¼

cup

Italian flat-leaf parsley

chopped

4

green onions

white and green parts, thinly sliced

fresh cracked pepper

6

large eggs

cooking spray
Instructions
Heat the olive oil in your largest nonstick pan with a lid on high heat. Add the potatoes and toss to coat with the oil. Cover, cook 2 minutes, then lift the lid and stir to keep the potatoes from sticking to the pan. Repeat until the potatoes just start to soften (~10 minutes). If necessary, reduce the heat to prevent burning.

Add the garlic, red bell pepper, carrot, ham, and a couple good pinches salt and pepper. Repeat the cover-cook-toss every 2 minutes for 6-8 minutes until the potatoes are cooked through.

Remove from the heat and toss in the tomato, parsley, and green onion, reserving some onion for final garnish if desired.

Heat a nonstick pan spray with cooking spray over medium heat, and cook the eggs over easy. Season with salt and pepper.

Serve the potato hash with an egg on top, garnished with fresh cracked pepper, green onion, and parsley. Yields 6 servings.
Nutrition
Calories:
227
kcal
(11%)
|
Carbohydrates:
24
g
(8%)
|
Protein:
10
g
(20%)
|
Fat:
10
g
(15%)
|
Saturated Fat:
2
g
(13%)
|
Polyunsaturated Fat:
1
g
|
Monounsaturated Fat:
5
g
|
Cholesterol:
214
mg
(71%)
|
Sodium:
166
mg
(7%)
|
Potassium:
795
mg
(23%)
|
Fiber:
3
g
(13%)
|
Sugar:
3
g
(3%)
Calorie count is purely an estimate calculated using an online application to serve as a guide and not to be taken as accurate nutritional information. Percent Daily Values are based on a 2,000 calorie diet.
Tried this recipe?
Leave a comment below and let me know!