Slow Cooker Quinoa Tamale Casserole
Slow Cooker Quinoa Tamale Casserole is a healthy vegetarian dinner with simple, wholesome ingredients topped with a beautiful sunny egg. Keep this recipe handy for an EASY, creamy, flavorful gluten-free, dairy-free dinner reminiscent of tamales.
What is tamale casserole?
Making Mexican tamales is a labor of love where masa or dough is wrapped around meat, wrapped in corn husks, then steamed. They are delicious, but definitely require the elbow grease.
So, of course we Americans have our shortcuts. First, is tamale pie: cornmeal crust filled with tamale-type filling ingredients. Then, there is tamale casserole – even more of a mash-up, dump and go dish. And less time and effort.
In my recipe here for tamale casserole, I go with even less effort and just dump it all in a slow cooker. Ha!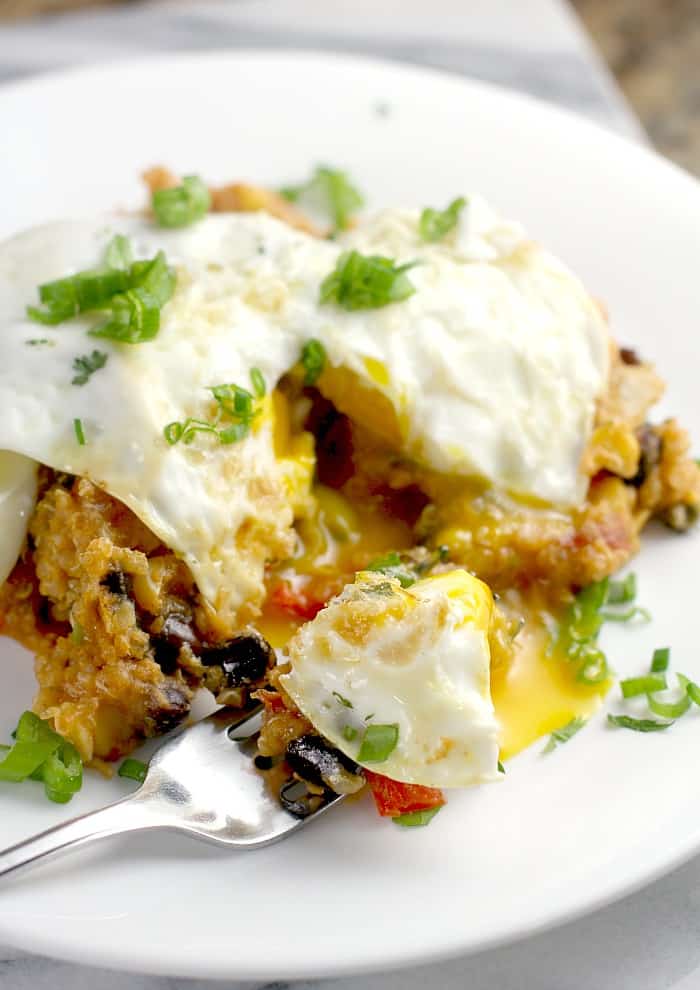 Ingredients
All of the ingredients for this dairy-free, gluten-free vegetarian slow cooker dinner are completely approachable and available in US groceries stores.
Peppers: poblano pepper and cubanelle pepper. If a cubanelle pepper is not available, substitute a medium red bell pepper.
An onion.
Yellow corn tortillas.
Black beans.
Corn.
Rotel. If not available, substitute a different brand of chopped tomatoes and green chilies, but add an additional 4 oz can chopped green chilies.
Enchilada sauce. If you would like to make you own, I have a

Homemade Enchilada

recipe but note that mine is not gluten-free.
Quinoa

Basic Cashew Ricotta

. My vegan "ricotta" recipe is nothing more than raw cashews blended with lemon juice, Dijon mustard, and salt.
Cilantro. If you do not like cilantro (which some people do not), substitute flat-leaf parsley.
Green onion.
Eggs. Cooked over easy so we get that beautiful silky runny yolk.
The eggs and the Basic Cashew Ricotta are my tricks to make a flavorful, creamy tamale casserole and keep it dairy-free.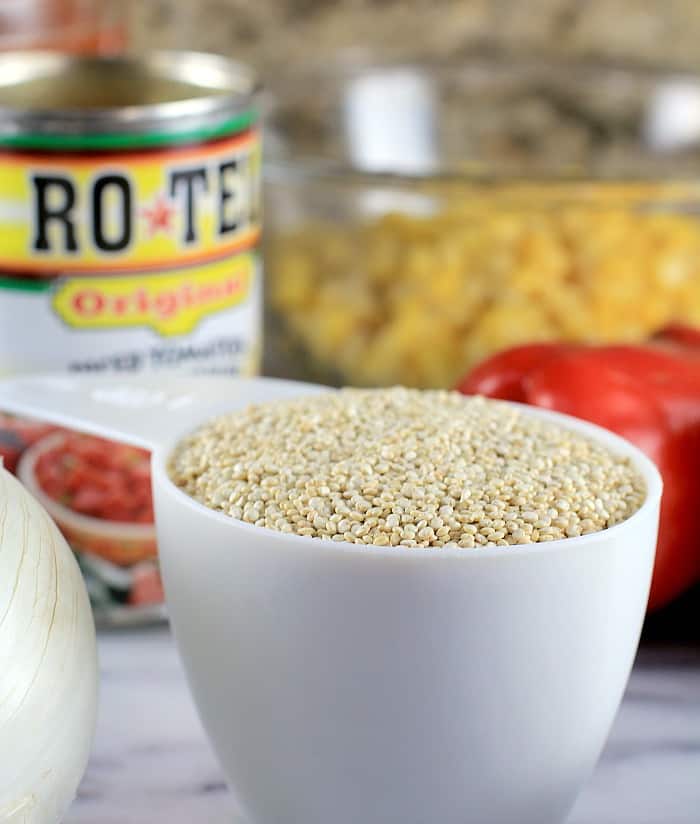 Why Rotel specifically?
As a pantry ingredient, Rotel Diced Tomatoes and Green Chilies is special. When I lived in San Antonio for graduate school and still did not know how to cook anything other than Tuna Noodle Casserole, cooking with Rotel was one of the first things I learned. A local family introduced me to it, and I have never looked back.
On my site already, you will find such examples as Super Quick Mexican Baked Penne, Mexicali Chicken Parmesan, and Mexican Pulled Chicken. It is a simple truth that Rotel saves me on weeknight pantry dives, every time.
Anytime I have ever had to use other means for canned tomatoes and green chilies, it was bland. So, I am sorry/not sorry, but Rotel just brings it.
Am I being weird? Going overboard? I mean, we are just talking a couple veggies in a can here, right? -Oh, wait, tomato is a fruit… Well, whatever.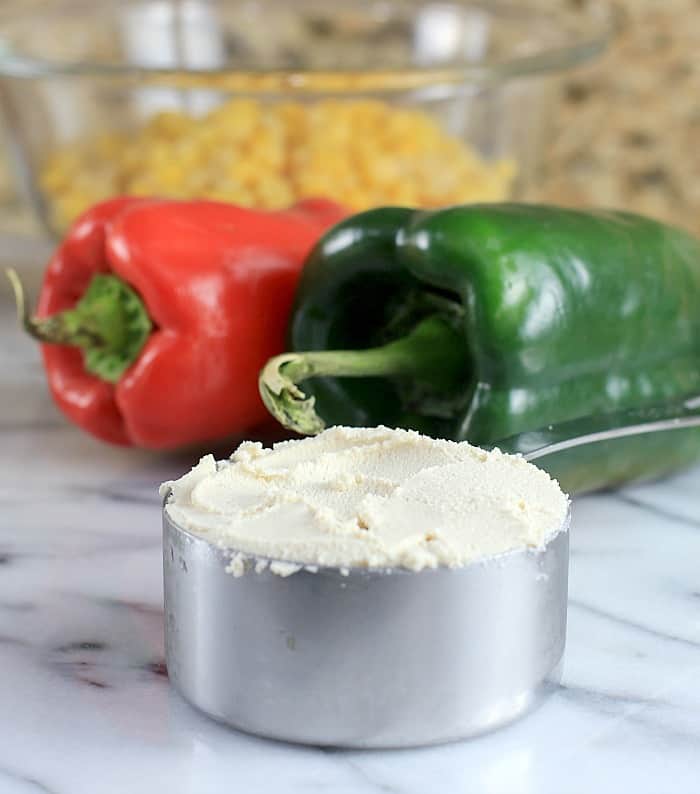 Steps for preparation
The steps required to make our slow cooker tamale casserole are thusly:
Step 1, put all the ingredients, except the eggs in the slow cooker.
Step 2, go about your day.
Step 3, fry up some over easy runny eggs to serve over your tamale casserole.
Step 4, enjoy.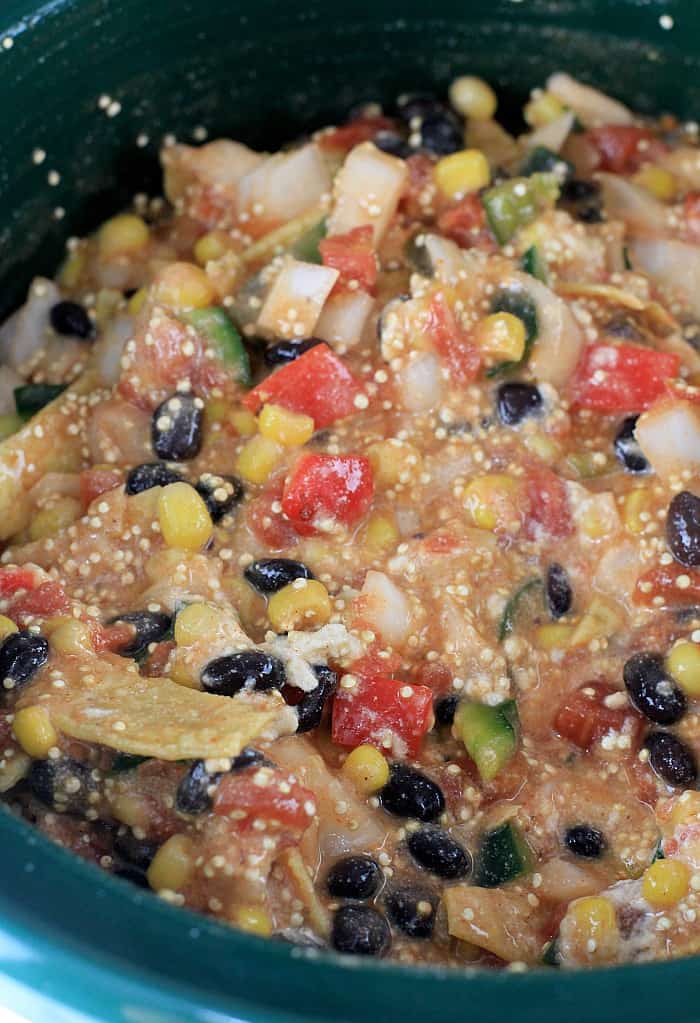 What happens with this slow cooker quinoa here is we just dump and go, and the magic happens. Literally, put the ingredients in the pot, and go away for a while.
Then come back, fry an egg to put on top, and you have got yourself a filling, luscious, healthy dinner. Easy easy.
What makes this recipe different is I added some corn tortillas – and while this all cooks, those tortillas kind of blend all in and impart that "tamale" corn flavor to the whole thing. So delicious!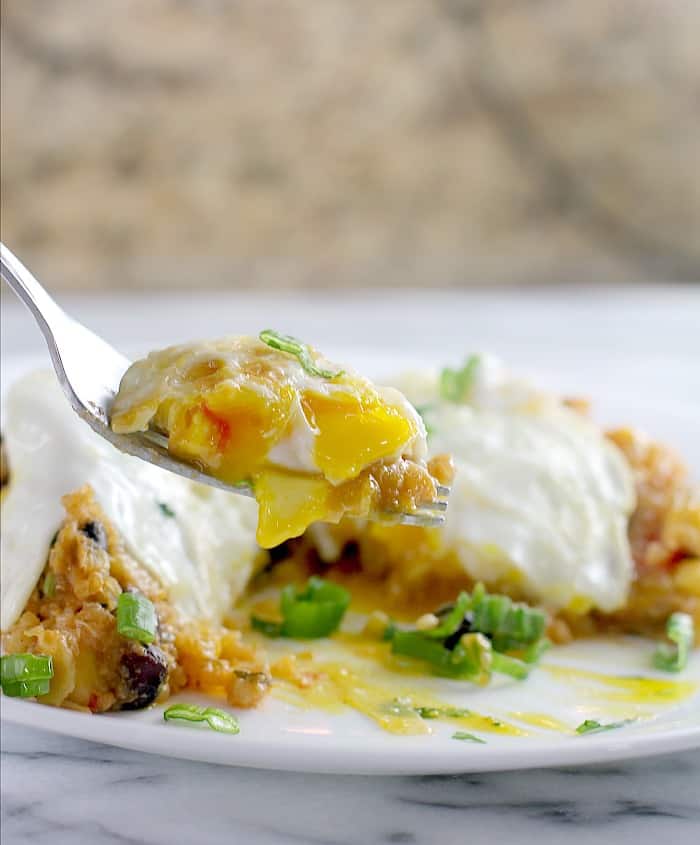 And by the way, this vegetarian dinner reheats well too. So I had leftovers without the egg, but instead topped with fresh diced avocado, and it was also really good.
So that's it folks! This dinner has all the flavor you could want for a super simple dinner from the crock-pot. Liven up your week! And do not break even a sweat doing it.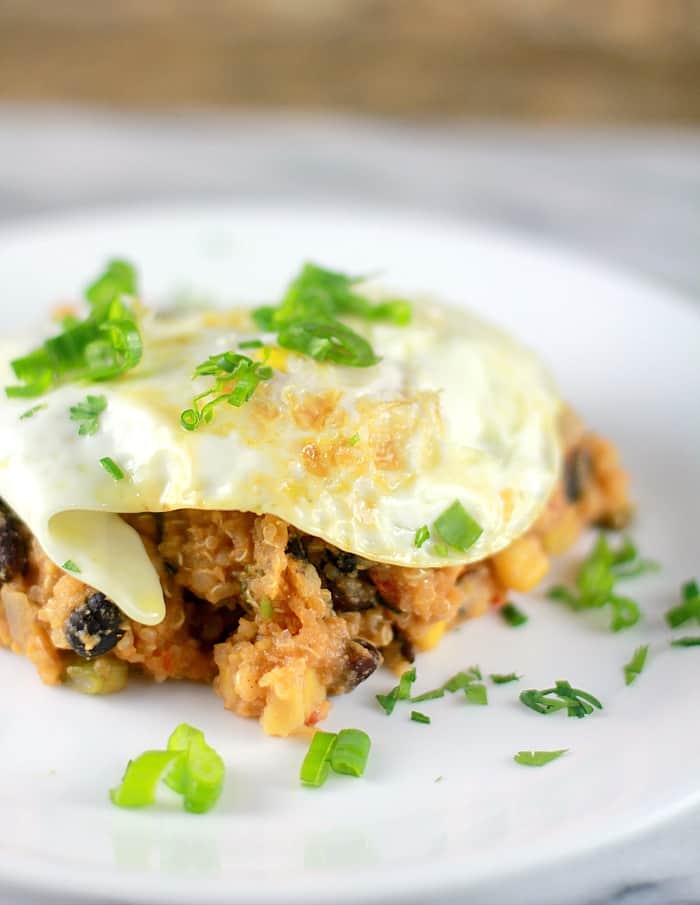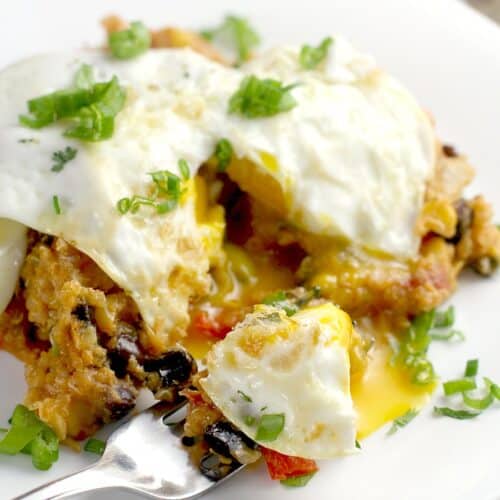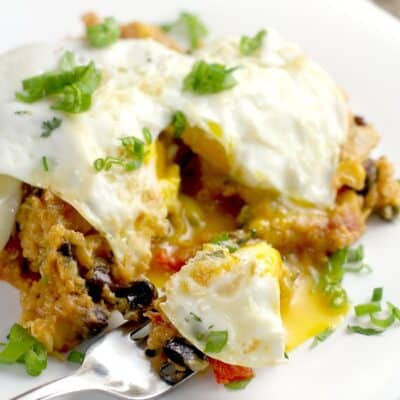 Slow Cooker Quinoa Tamale Casserole
Insanely healthy, slow cooker quinoa with simple, wholesome ingredients and topped with a beautiful sunny egg.
Ingredients
1

large poblano pepper, seeded and diced

1

large cubanelle pepper, seeded and diced (or substitute a medium red bell pepper)

1

large white onion, diced

6

yellow corn tortillas, cut into strips

1

(15 oz)

can black beans, rinsed and drained

1

(15.25 oz)

can whole kernel corn, drained

1

(10 oz)

can Original RO*TEL diced tomatoes and green chilies, undrained (see Notes)

2

(10 oz)

cans enchilada sauce

1

cup

uncooked quinoa

¼

cup

cilantro

¼

cup

chopped green onion

½

cup

Basic Cashew Ricotta

see Notes

6

eggs

olive oil, for frying the eggs

garnish: chopped green onion
Instructions
Dump all the ingredients up through the cashew ricotta in a crock-pot. Heat on high 4 hours or low 6-8 hours. Stir in the cilantro and green onion.

Cook the eggs over easy in a nonstick pan with a little olive oil.

Serve the tamale quinoa in a bowl topped with a runny egg and green onion. Yields: 6-8 servings.
Notes
If serving children or anyone that can't handle heat, use Mild RO*TEL.
Basic Cashew Ricotta is my easy, non-dairy substitute for cream cheese in this recipe. If not desiring to use that, substitute cream cheese.
Nutrition
Calories:
724
kcal
(36%)
|
Carbohydrates:
107
g
(36%)
|
Protein:
32
g
(64%)
|
Fat:
20
g
(31%)
|
Saturated Fat:
3
g
(19%)
|
Polyunsaturated Fat:
3
g
|
Monounsaturated Fat:
6
g
|
Cholesterol:
185
mg
(62%)
|
Sodium:
1152
mg
(50%)
|
Potassium:
1564
mg
(45%)
|
Fiber:
20
g
(83%)
|
Sugar:
10
g
(11%)
|
Vitamin C:
23
mg
(28%)
|
Calcium:
1240
mg
(124%)
|
Iron:
6
mg
(33%)
Calorie count is purely an estimate calculated using an online application to serve as a guide and not to be taken as accurate nutritional information. Percent Daily Values are based on a 2,000 calorie diet.
Tried this recipe?
Leave a comment below and let me know!
~✿♥✿~