Ham and Cheese Breakfast Crepes with Béchamel
Ham and Cheese Breakfast Crepes with Béchamel are tender crepes filled with ham, potato, egg, and Gruyère cheese, then topped with a luscious white wine béchamel sauce. Enjoy these elegant crepes for breakfast or brunch. Both the sauce and the crepes can be made in advance for easier preparation and time savings for these beautiful French breakfast crepes.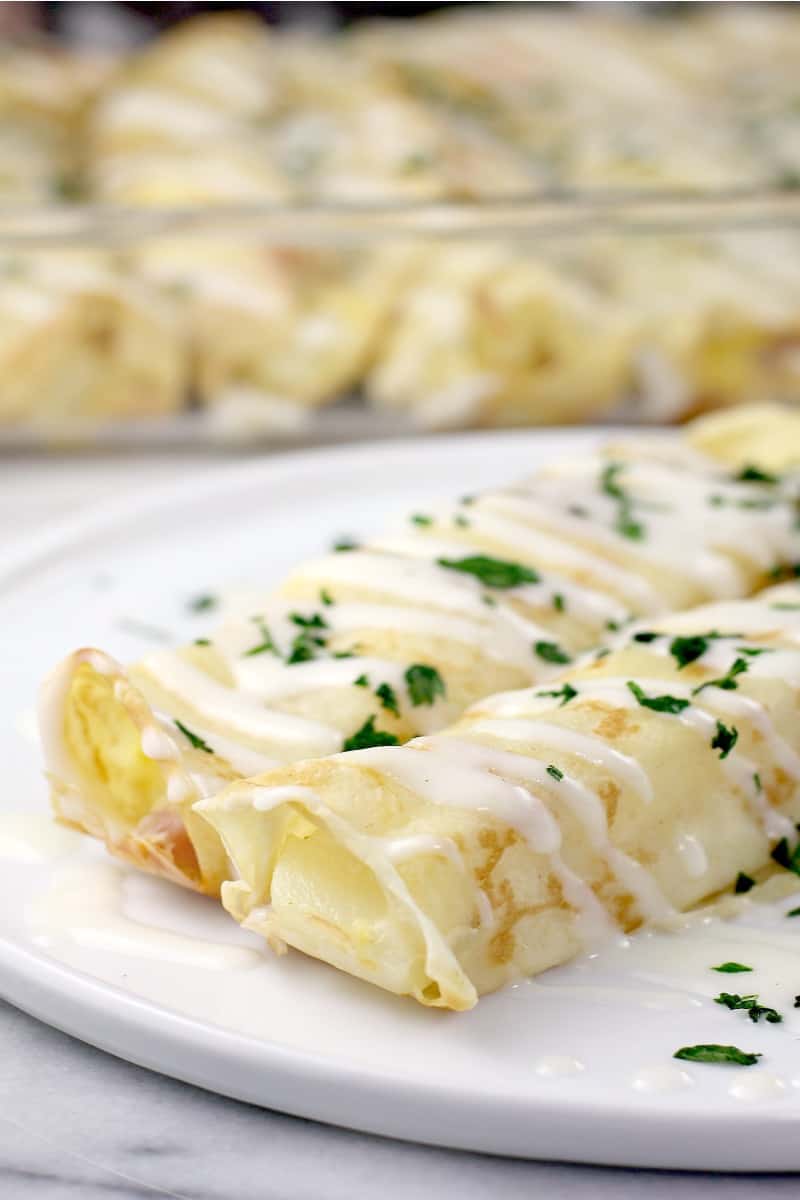 If you love making crepes or want to give them a try, also check out my Crab-Stuffed Crepes, Beef Stroganoff Crepes, and Ham, Peas, and Cheese Crepes.
Why make French crepes for breakfast
Crepes, like popovers, are one of my favorite things. Others might go for fluffy pancakes or toasty waffles, but I love denser, egg-y things and crepes are right up there.
There are so many scenarios where one would want to have an elegant (or at least, say, special) brunch or breakfast. Holidays, showers, Mother's Day. Or just because you want to treat yourself. This is where this recipe belongs.
And bonus is that this ham and cheese crepes recipe is affordable – you can use cheap wine even. All the ingredients are affordable and approachable. We just use a little technique to take those simple ingredients and make something special.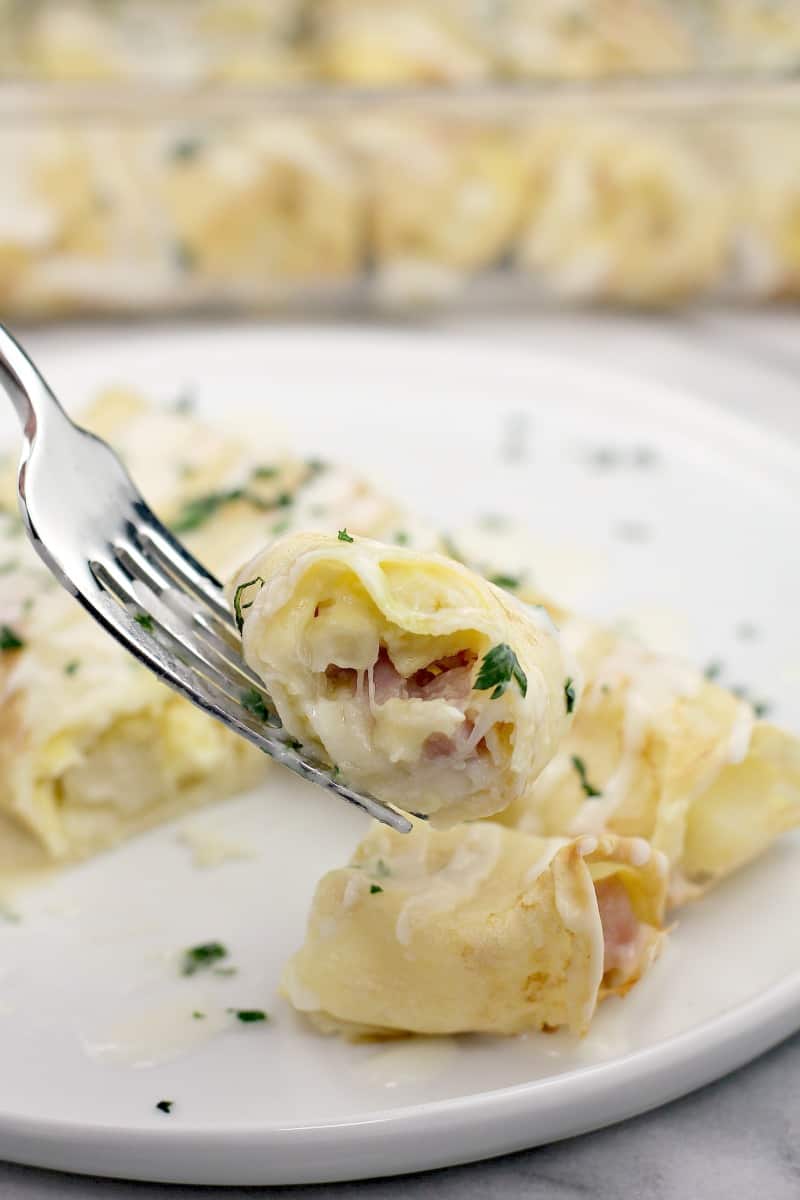 The ingredients
Ingredients for the crepes
Ham. Get a tender, quality ham or use leftover holiday ham. If there is a rind on the ham, such as from a ham steak, trim that off.
Russet potato. We do not want to add too much potato and only need about a cup, so get a Russet on the small side.
Unsalted butter. I consider using only sweet unsalted butter in all cooking to be a cardinal rule, and so does France.
White onion. This is where I slip in a little American change because French breakfast crepes would most assuredly use shallot. But shallot is not always easy to find, so I used onion.
Dry white wine. Chardonnay, sauvignon, or Pino Grigio will work. "Dry" simply means do not use a sweet dessert wine like Riesling or Moscato.
Eggs.
Kosher salt.
Gruyère cheese. If you have not cooked with Gruyère, it is wonderful. It melts very well and has a nutty, distinct – but not too assertive – flavor. If not available, use a white cheddar cheese or Fontina (neither of which are French, but oh well). I do not recommend Swiss because it would be too overpowering for the delicate balance of wine and onion in the egg.
Savory Crepes. If you choose to purchase crepes, make sure they are not sweet dessert crepes (which is all my grocery store carries). My crepe recipe is easy to make, with no special equipment required other than a small nonstick skillet and rubber spatula. I highly recommend grabbing yourself a glass of wine, then just knock them out. It's therapeutic.
Garnish: Italian flat-leaf parsley. The visual effect of topping each and every finished dish with a touch of fresh herb is the easiest way to take everyday cooking to a higher level.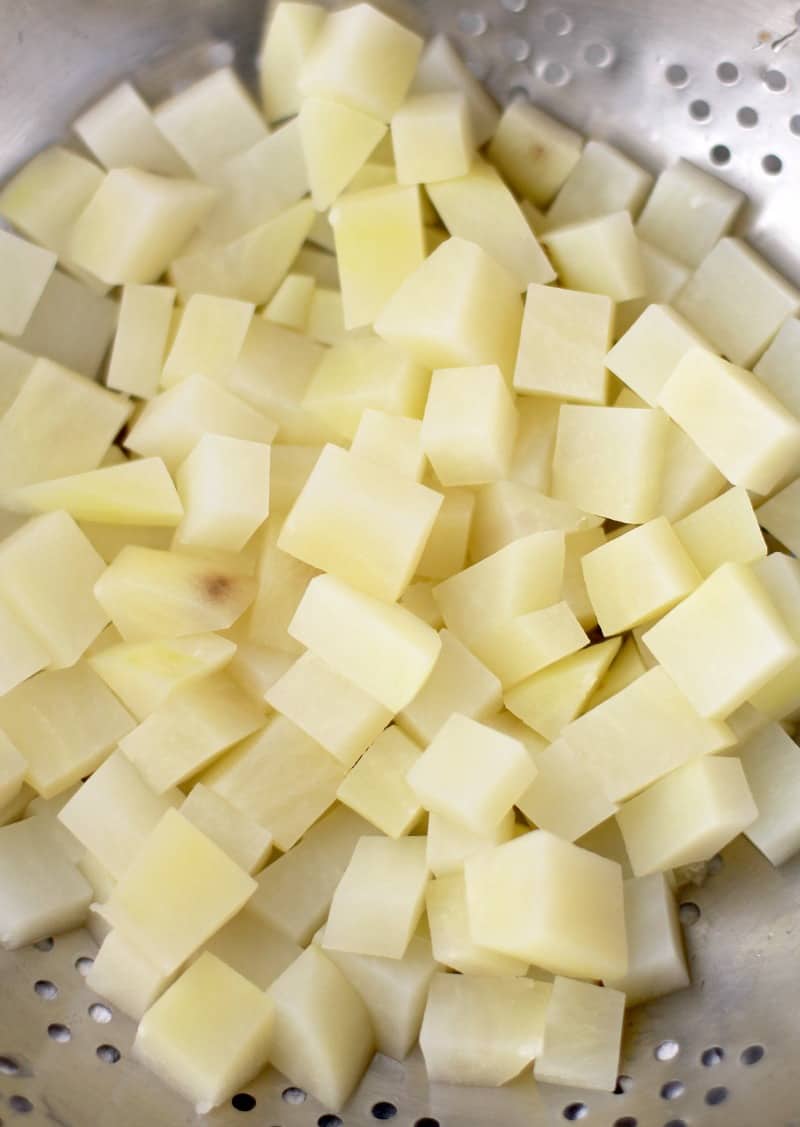 Ingredients for the Béchamel sauce with wine
The reason I made a quick Béchamel as opposed to Hollandaise or Buerre blanc is because 1) I wanted a quick and easy sauce and do not own a blender to make blender hollandaise lol. And 2) I literally tried to make buerre blanc and failed. It separated and was a greasy mess (hangs head in shame).
So, since I had those issues, I figured others would also, and therefore, I opted for the tried and true, creamy classic, Béchamel. Then I added wine to it.
Unsalted butter. I am going to sound all foodie snooty with this but I don't care: do not under any circumstance in your life use salted butter. Only unsalted butter is deserving of entry into your kitchen. Salted butter tastes terrible whereas unsalted butter is sweet Heaven.
All-purpose flour.
Milk. I used 2% because that is what I had on hand. Whole or 1% would work too. I do not recommend using skim milk… ever.
Dry white wine. Use the same wine I described above with the crepes.
Dijon mustard. Just a bit, 1/2 teaspoon. I once added more and I found it to overpower the crepes. If Dijon is not available, use a little spritz of fresh lemon juice. The point is to add a bit of bite or acidity to cut the Béchamel and make it more interesting.
Kosher salt.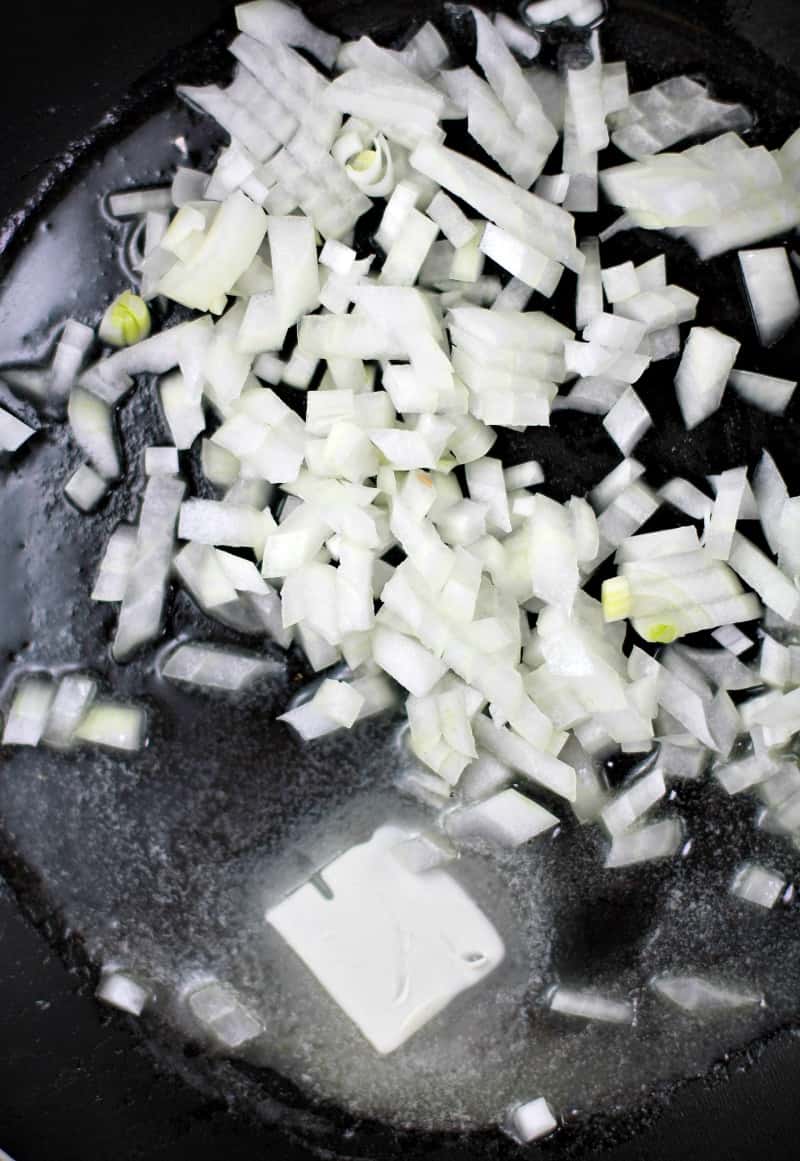 The preparation
So you wake up and it is a beautiful sunny morning. Are you going to just whip together this ham and cheese crepes recipe for breakfast? Well, maybe. But probably not. Me neither.
French breakfast crepes take a little planning. Not much – I promise. But we do need to read through and know what we are going first. Then, you honestly can just bang out your ham and cheese crepes with Béchamel (made with wine!), pour yourself a mimosa, and enjoy.
First, the crepes
I call for my recipe for Savory Crepes in the recipe card because that is the recipe I use and I know it works. Those crepes can be made a day in advance, and no special equipment is needed. Just a nonstick skillet and rubber spatula work best.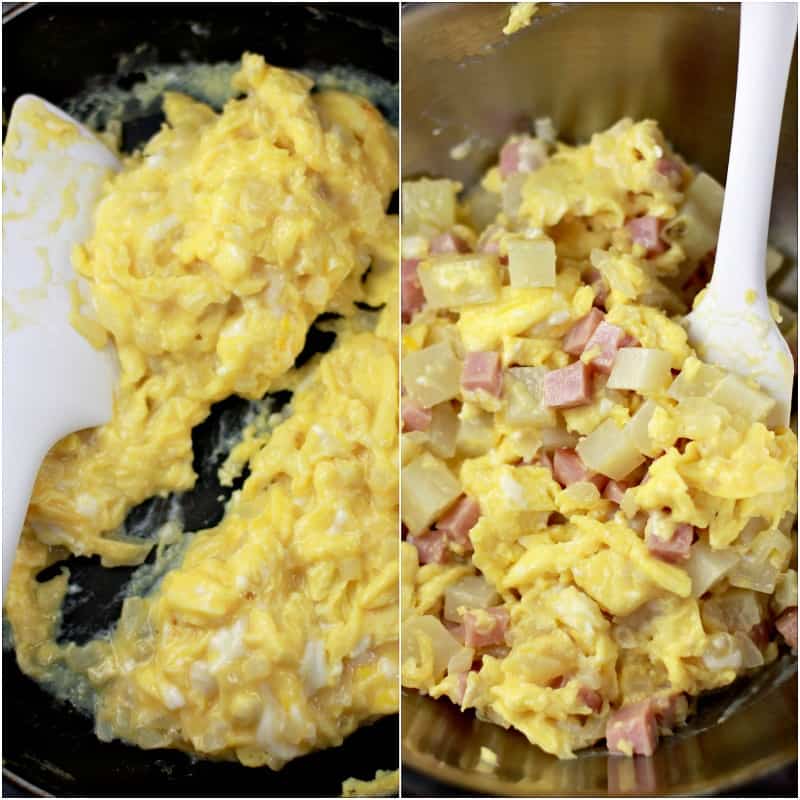 Second, the ham and cheese crepe filling
There are three steps to assembling the crepes: cook the potatoes, scramble the eggs, complete the filling and assemble the crepes.
For the potatoes, we give our small dice potatoes a quick boil in water, drain, and rinse with cold water to stop the cooking. This takes only 3-4 minutes just until they are fork tender.
For the eggs, we sauté onion in butter just to get them to give up their flavor, then we add wine. We cook that until most of the liquid is cooked off (this process also mellows the onion flavor), then we add the egg and cook just until they start to scramble.
We want our eggs to stay very wet and undercooked, because then we add the potato and ham, and assemble our crepes, the final step here, and bake. And don't forget the cheese.
The egg will finish cooking in the oven, and our French breakfast crepes will come out perfect.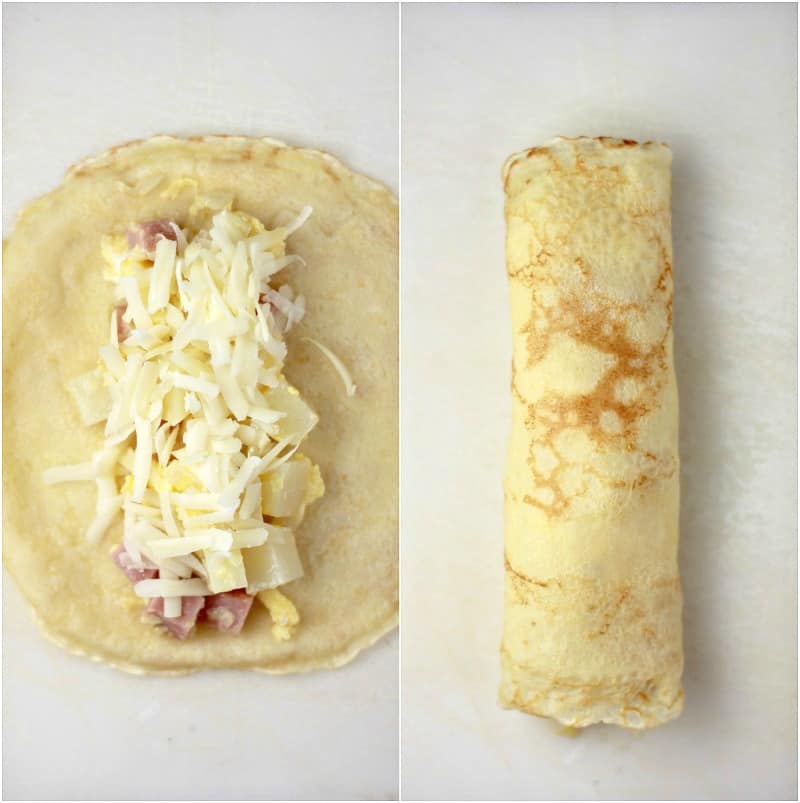 Third, the Béchamel sauce
Don't you love easy sauce that you make while your dinner is cooking? I do. This is one of those.
This Béchamel is a classic white sauce, only I add a bit of wine with the milk. I did that to marry it better with the crepe filling rather than just be a random sauce thrown on top.
So, we start by making a roux, then add the milk and wine. Be sure to whisk constantly and with intention, so that we can keep the sauce on heat and not have it burn on the bottom.
Once the sauce has thickened to where it coats the back of a wooden spoon, whisk in the Dijon and salt and it is ready.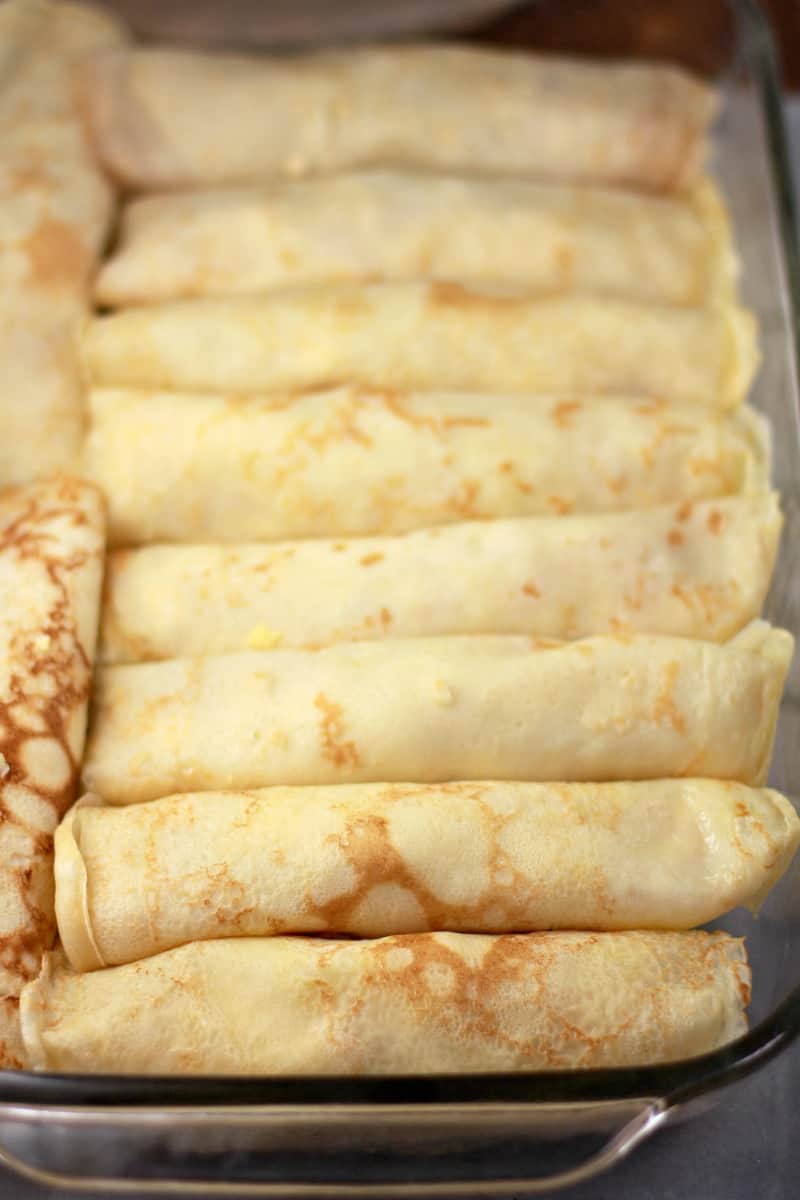 What can be made in advance
Since these are fancy French crepes for breakfast, I envision this recipe to be perfect for a brunch or holiday. Maybe a Mother's Day breakfast for another example. Baby shower even, because there is nothing spicy and the flavors will go over with everyone.
With that in mind, looking to cut corners or pre-make as much as possible may be important.
And fortunately, some, but not all, of my ham and cheese crepes recipe can be made in advance:
The ham and onion can be diced a day in advance. Then store separately in baggies in the refrigerator overnight. Nowadays, ham and onion (and even potato) can be purchased pre-diced.
The individual

Savory Crepes

. Store on a plate wrapped in plastic wrap in the refrigerator overnight.
The Béchamel sauce can be cooked in advance. Transfer to a covered storage container and refrigerate overnight, then gently warm on the stovetop or in the microwave slowly to prevent curdling or separation.
These are just a couple tips if needed. Dicing the ham and onion does not take very long, and the Béchamel sauce cooks while the crepes bake in the oven. So it isn't a huge savings todo those in advance, but if preparing other dishes as part of a larger brunch, for example, this could help.
Making the crepes in advance, now that right there saves you 30 minutes of prep time the day of.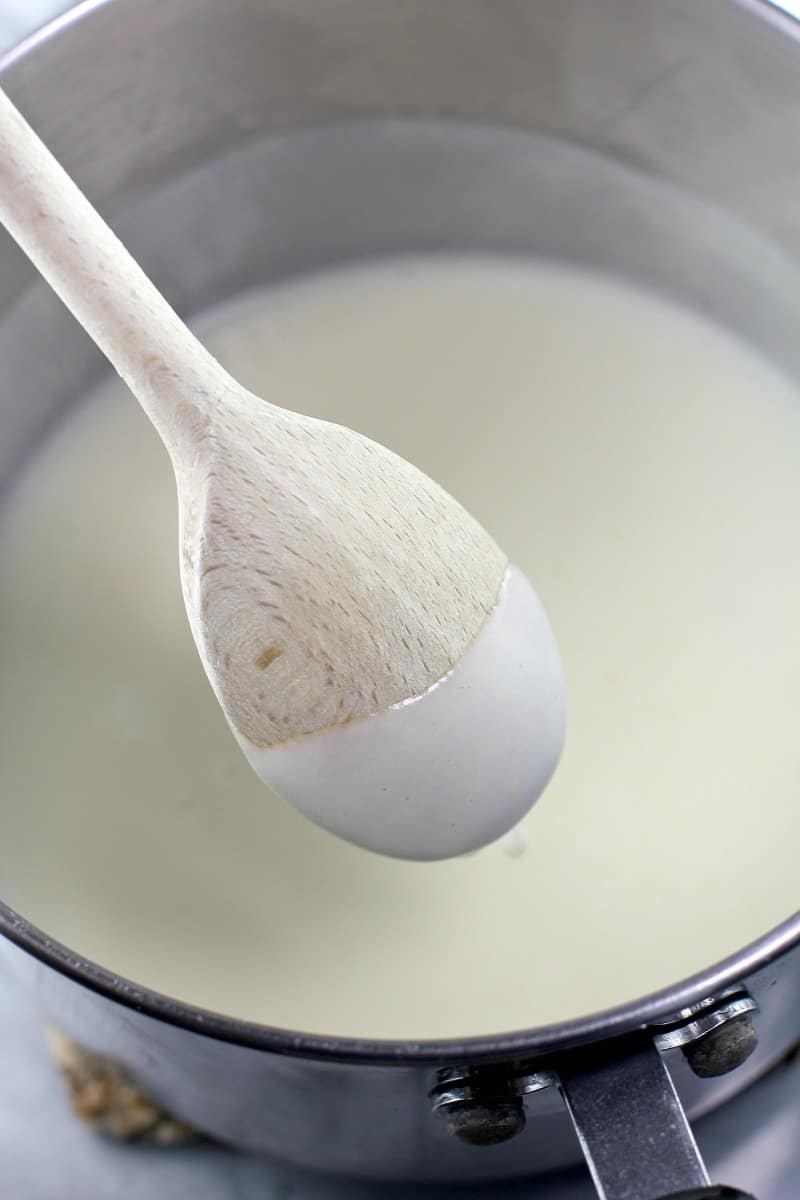 Last Tips
Do not be tempted to add more potato than is called for in the recipe. I tried doing just that, and the result was too much potato and that made the filling more bland. These are ham and cheese crepes – the potato matters, but we do not want to dilute the flavors with it.
Using a single measuring cup for the milk and wine for the sauce. Add one to measure in the cup, then top off with the other. This way, while you are whisking, you can more easily add both and not have to stop whisking. This saves time and makes for a smoother sauce.
Speaking of whisking, I specify in the instructions to "whisk constantly and with intention". The reason is that by adding the liquid a little more slowly (not overly so, no need to be ridiculous about it – we're not making aioli) is this gives the roux a better chance to start thickening that liquid. The trick though, is to whisk constantly (not stir with a spoon) while keeping it on some heat to prevent scorching the bottom.
When baking our French breakfast crepes, we love to get those crispy crepe edges, but in this recipe it is more important to not overcook the egg in the filling because dry egg is not yummy. So, after 15 minutes – maybe 20 – if you hear them talking to you, they are done.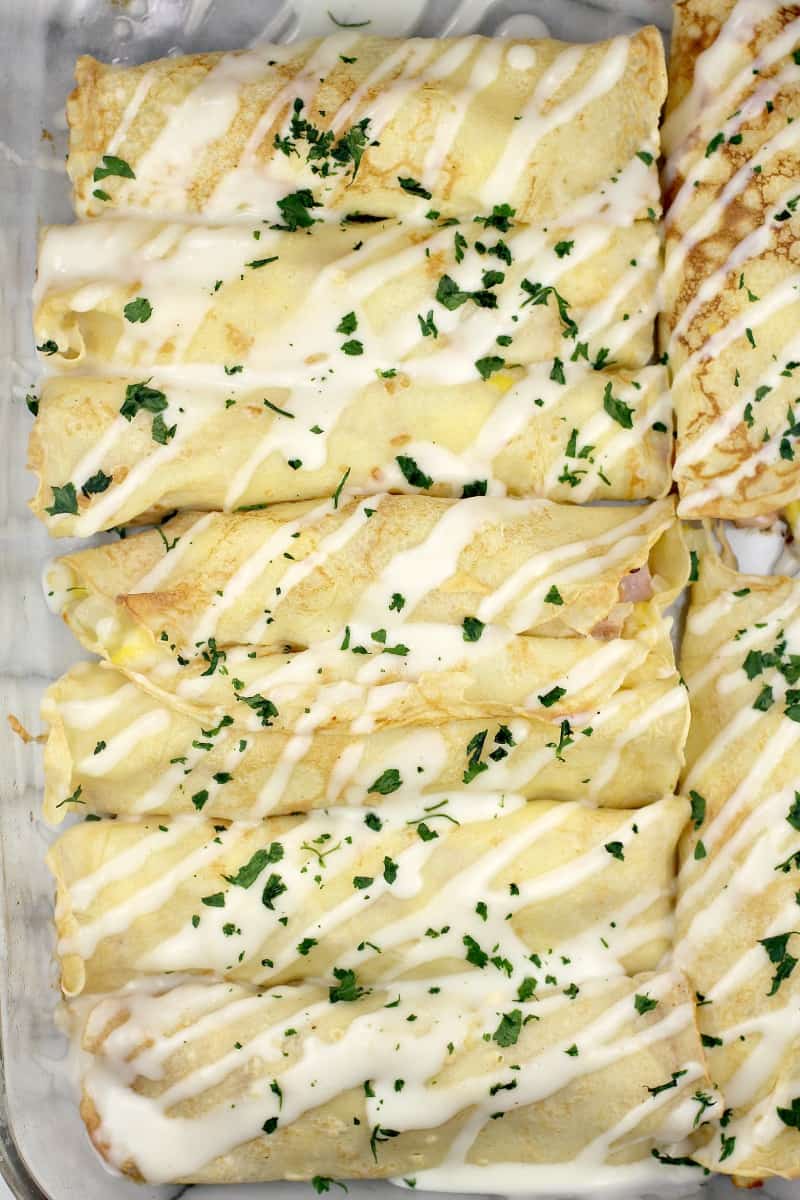 More brunch ideas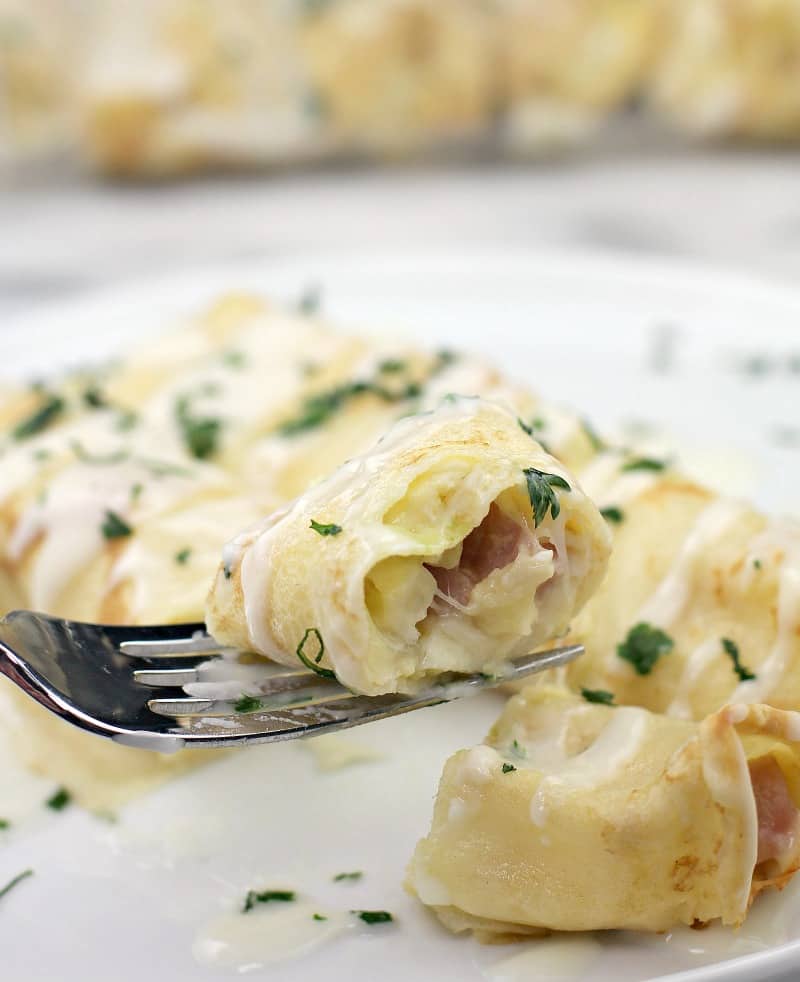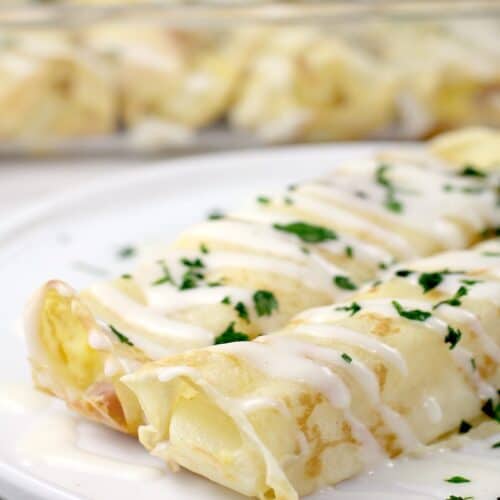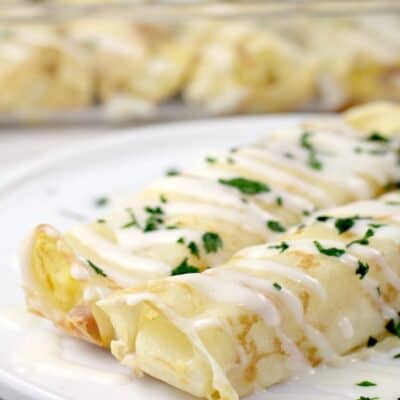 Ham and Cheese Breakfast Crepes with Béchamel
Ham and Cheese Breakfast Crepes with Béchamel are filled with ham, potato, egg, and Gruyère cheese then topped with a luscious white wine béchamel sauce.
Ingredients
For the crepes
8

oz

ham

diced

1

cup

peeled and diced Russet potato

1

Tbsp

unsalted butter

½

cup

finely diced white onion

¼

cup

dry white wine

8

large eggs

lightly beaten

½

tsp

kosher salt

8

oz

Gruyère cheese

shredded

garnish: Italian flat-leaf parsley

chopped
Instructions
For the crepes
Fill a large pot ~1/4 full with water and bring to a boil. Add the potatoes and boil 3-4 minutes just until fork tender. Drain and rinse with cold water to stop the cooking. Set aside.

In a large, nonstick skillet, heat the butter over medium heat. Add the onion, and simmer gently (reduce heat if necessary) just until fragrant and translucent. Add the wine and simmer until liquid is reduced to ~2 tablespoons.

Reduce heat to medium-low, and add the eggs to the skillet. Use a rubber spatula to gently scrape under the egg, creating long curls. Gently cook the egg, scraping from the bottom and gently folding, until egg is half way scrambled but still very wet and undercooked. Remove from the heat and fold in the potato and ham.

On a large cutting board, lay out 4 crepes. Visually divide the egg mixture into 12 sections, and top each crepe with 1 section/portion. Top each with cheese and roll up. Lay each in a 13×9 bake dish. Repeat with the remaining crepes, egg mixture, and cheese.

Bake assembled crepes at 350°F for 15 minutes or until heated through and edges are just a bit crispy.
For the Béchamel sauce
While the crepes are baking, prepare the sauce: heat the butter and flour in a medium saucepan over medium-high heat to make a roux. Once flour and butter are combined and smooth, simmer 1-2 minutes.

Slowly, whisking constantly and with intention, add the milk and wine. Cook, whisking constantly, until mixture is hot and thickened enough to coat the back of a wooden spoon.

Remove béchamel from the heat and whisk in the Dijon and salt.

Serve the crepes topped with Béchamel and garnished with fresh parsley.
Notes
Note that all 12 crepes may not fit in the 13×9 bake dish. If this is the case (as it was for me), simple grab an extra dish or casserole and stick the ones that don't fit in that. Bake just the same.
Calorie count includes my Savory Crepes.
Nutrition
Calories:
565
kcal
(28%)
|
Carbohydrates:
28
g
(9%)
|
Protein:
35
g
(70%)
|
Fat:
33
g
(51%)
|
Saturated Fat:
21
g
(131%)
|
Monounsaturated Fat:
2
g
|
Cholesterol:
376
mg
(125%)
|
Sodium:
1422
mg
(62%)
|
Potassium:
309
mg
(9%)
|
Fiber:
1
g
(4%)
|
Sugar:
7
g
(8%)
|
Vitamin C:
3
mg
(4%)
|
Calcium:
740
mg
(74%)
|
Iron:
3
mg
(17%)
Calorie count is purely an estimate calculated using an online application to serve as a guide and not to be taken as accurate nutritional information. Percent Daily Values are based on a 2,000 calorie diet.
Tried this recipe?
Leave a comment below and let me know!