Mexican Chorizo Gravy and Biscuits
Mexican Chorizo Gravy and Biscuits is a fantastic twist on the southern classic biscuits and gravy. Cream gravy with super flavorful Mexican chorizo sausage, spooned over fluffy biscuits and all the toppings to make this a delicious, satisfying, heart-warming breakfast.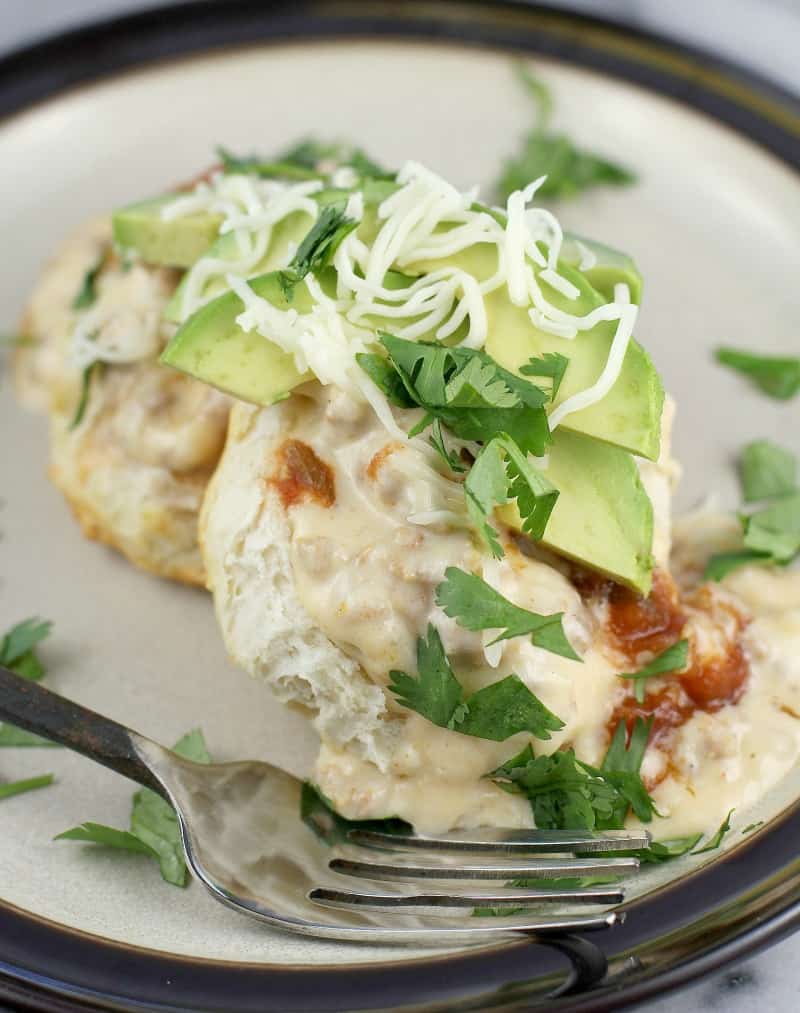 My first experience with chorizo was from street breakfast tacos when I lived in San Antonio, Texas. Fluffy egg, potato, cheese, chorizo sausage in warm tortillas – YUM they were so so good.
The flavor of chorizo blows me away Every Time still to this day. Mexican chorizo is altogether different from Spanish chorizo, so make sure you don't purchase the wrong thing.
Actually, let's discuss this for a second, because in this recipe it's kinda key. …Spanish chorizo is a delicious but milder, cured and cooked sausage seasoned primarily with smoked paprika. Because it is ready-to-eat, it can be sliced and served with cheeses, but it can also be diced and used in all kinds of recipes.
Check out these Spanish chorizo recipes
See? Spanish chorizo is a delicious ingredient, and one I apparently like to pair with cranberries quite a bit. But it is not Mexican chorizo.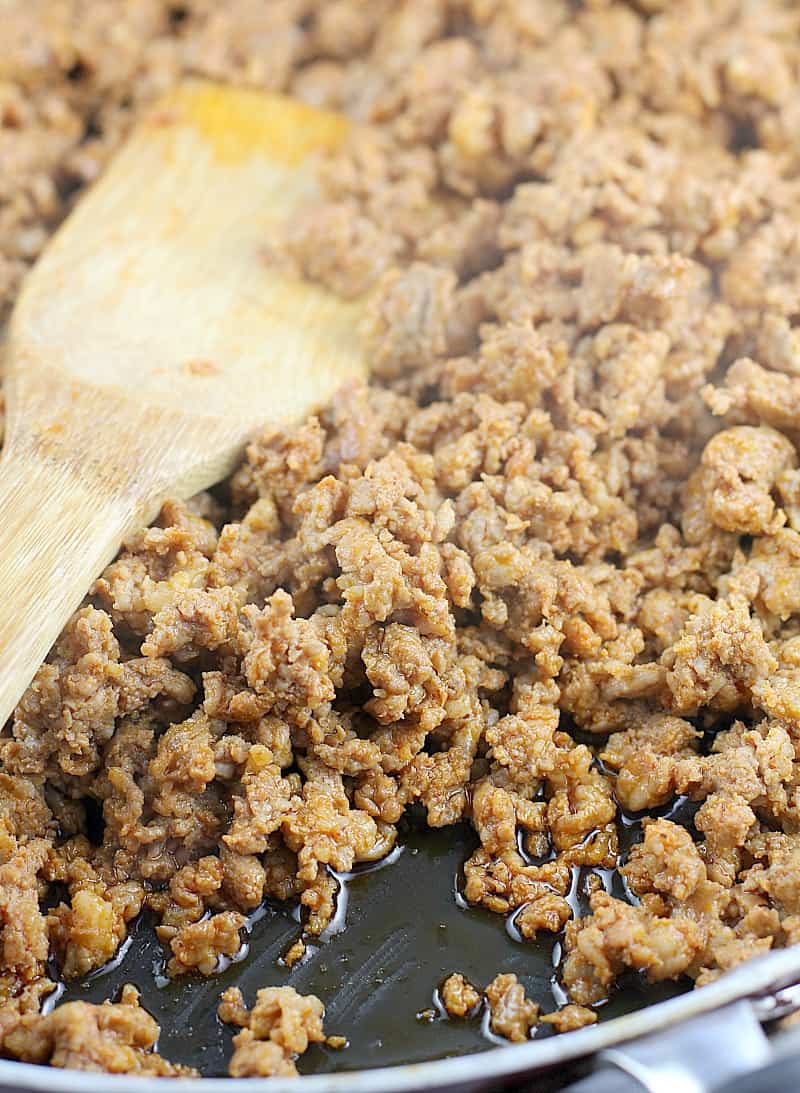 What even is Mexican chorizo sausage?
Mexican chorizo sausage on the other hand and as opposed to Spanish chorizo is a raw, fatty pork (usually, but can also be beef) sausage with a ton of seasonings. Mexican chorizo has a little kick of spice, but it is not too spicy.
It is sold in links or in bulk, so you can grill it if in links like brats, but more usually it is cooked and crumbled and used however one would bulk sausage or ground beef. And Mexican chorizo is especially glorious in all things breakfast. And also in queso dip
And can you believe that after years blogging here I have yet to post a recipe using Mexican chorizo? Yeah, I can't believe it either. Well, this oversight is totally rectified in this DELICIOUS Mexican Chorizo biscuits and gravy. The best biscuits and gravy recipe I have made yet.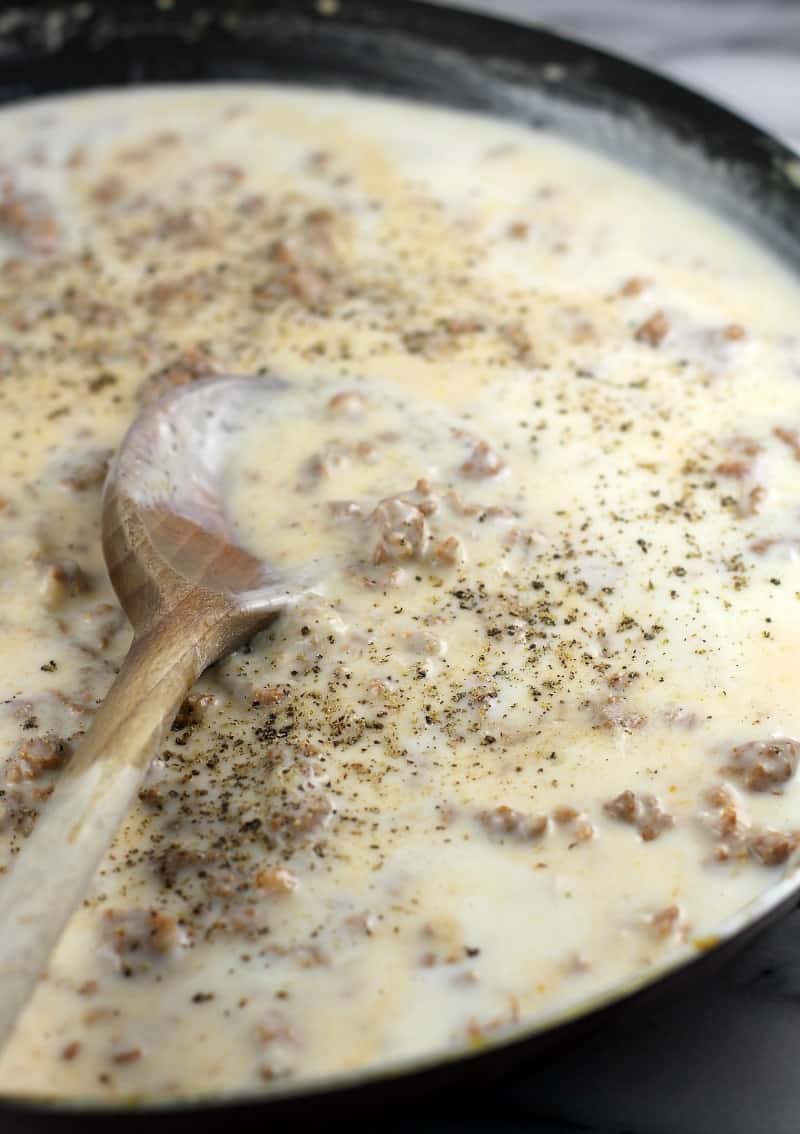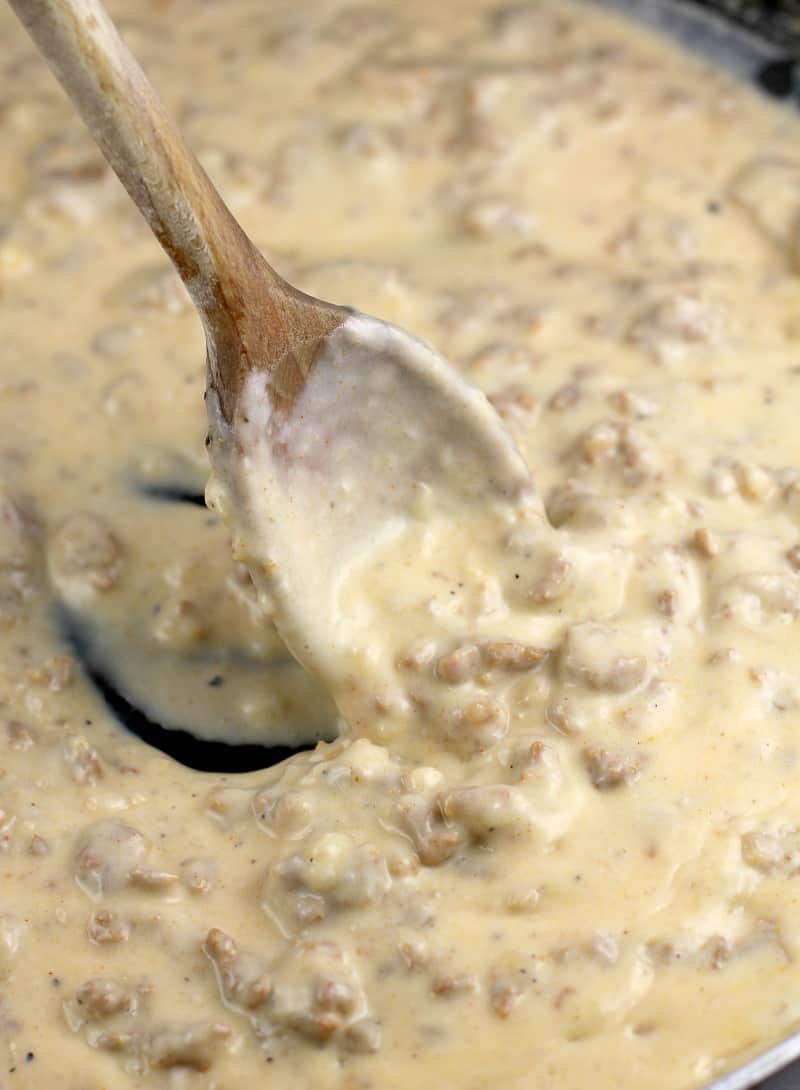 Confession on the Biscuits
I'll let you in on a little secret, but yeah I cheated with the biscuits. See, the inspiration for this Mexican Chorizo Gravy and Biscuits recipe was from a breakfast I had at a local restaurant literally yesterday. Already, I knew I was going to make something similar for a blog post. Already, I had a photo of the menu in my phone so I could recall what was primarily going on in the dish.
BUT, when I woke up this morning, I was SO feeling this breakfast ..but I was not feeling making scratch biscuits. So, yeah I totally cheated. They are freezer biscuits. Life comes at you pretty fast …and sometimes you have to use freezer biscuits.
Oh and yeah the salsa is store-bought too. #life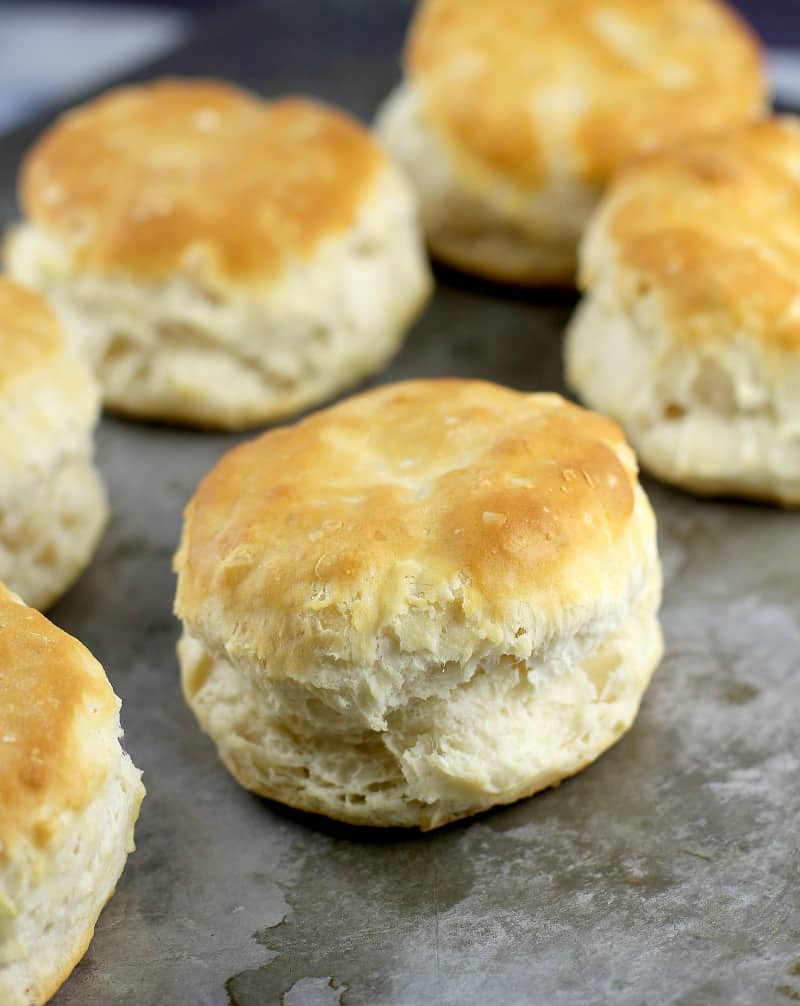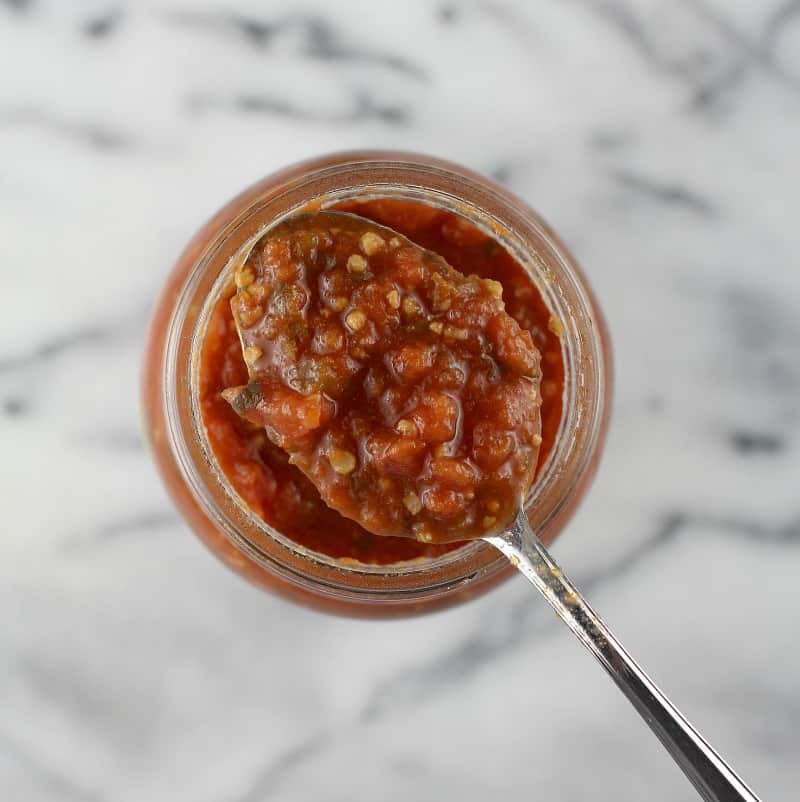 Gratuitous Cheese
Scrolling through these photos I think I have to admit that the cheese might be a bit gratuitous and arguably unnecessary. But I still think it needs to be there. I used Monterrey Jack honestly because it was what I had on hand to use up in my refrigerator.
But if I were a perfect blogger in a perfect world or maybe if this was for a holiday breakfast or if I was feeling fancy, I would spring for queso fresco cheese and crumble that over instead.
Queso fresco is classic and traditional and let's me flex my super foodie muscles, but pricier and I always end up with a ton leftover because a little goes a long way. So, just a little Monterrey Jack on top it was.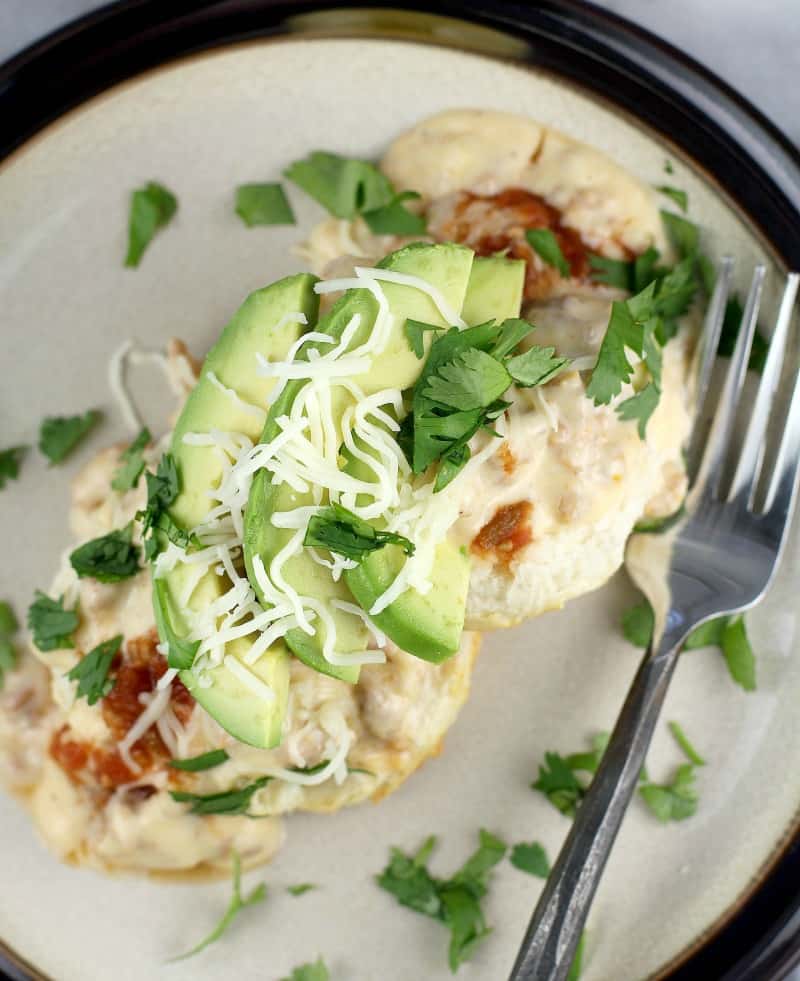 How to make Mexican Chorizo Gravy and Biscuits
The steps to making these biscuits and gravy are really really easy and are thusly:
Whether you make or purchase made biscuits, you'll want to get them nice and warm in the oven.
In a large skillet, we cook our Mexican chorizo sausage.
In the same skillet, we make our gravy.
Top our cozy warm biscuits with the Mexican chorizo gravy and the rest of the trimmings and YUM.
Easy peasy. And we don't even dirty a bunch of dishes.
Tips to making the chorizo gravy:
You will need to whisk the sauce, so if using a nonstick skillet, use a silicone-coated whisk. These are all the rage now and come in pretty colors. Just using one will make you happy.
I use butter to make the roux instead of the rendered fat from the chorizo as is traditionally done with sausage gravy. If we use the fat from the sausage, the gravy would be distinctly pink from the characteristic red of the chorizo. Don't know about you, but I'm not really about eating pink food.
Adding the milk and cream in slowly and whisking constantly will prevent lumps. But even if you get lumps, once you add the sausage you won't even be able to tell.
Season to taste with salt and pepper. Couple pinches of each should do the trick.
If your gravy gets too thick, you can always add more milk or cream to adjust consistency.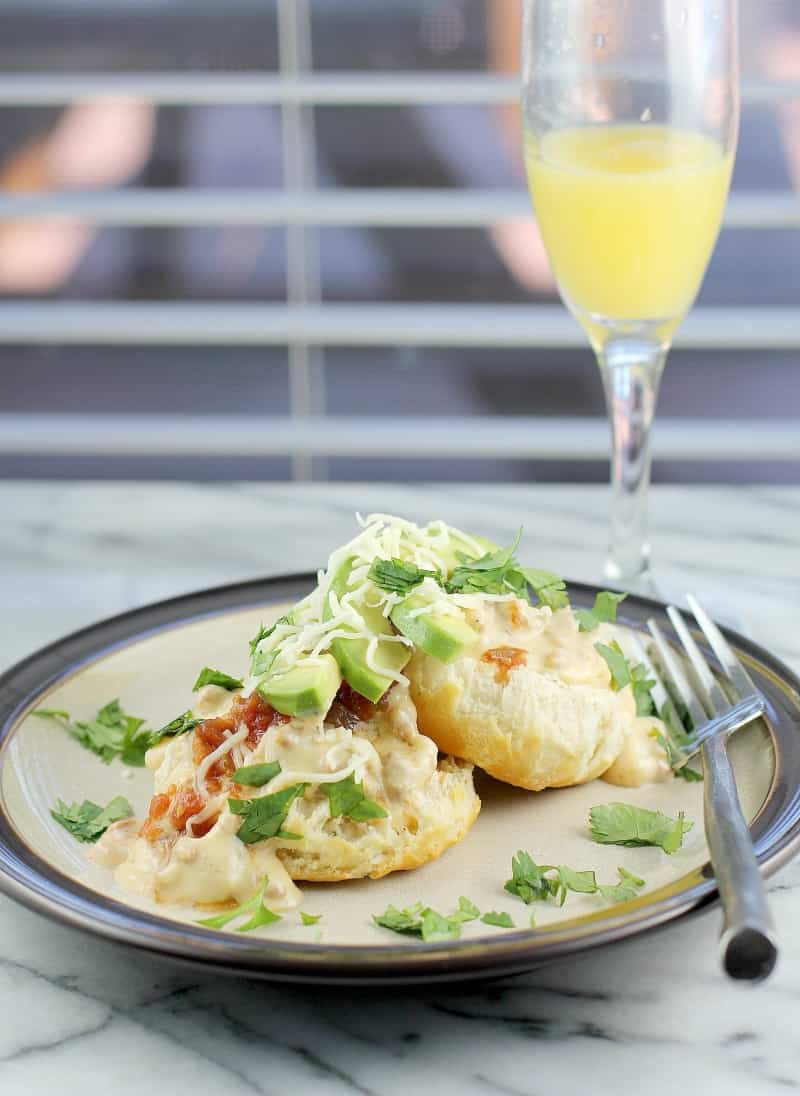 Spot the mimosa? That might have had something to do with me losing motivation to make scratch biscuits. [shrugs]
So other than making (or just warming) up the biscuits, making the gravy, then we load on our toppings. Fresh avocado sings on these biscuits! Totally necessary, as is the cilantro. If you are one of those that don't like cilantro, no worries – just substitute parsley or chive. All good.
So that's it folks! Fantastic Mexican Chorizo Gravy and Biscuits to get your southern game going with a feisty twist.
I am proud of this recipe, it is worthy of a lazy Sunday brunch or holiday breakfast. REALLY tasty, restaurant-quality food with not that much effort required, and even pretty too!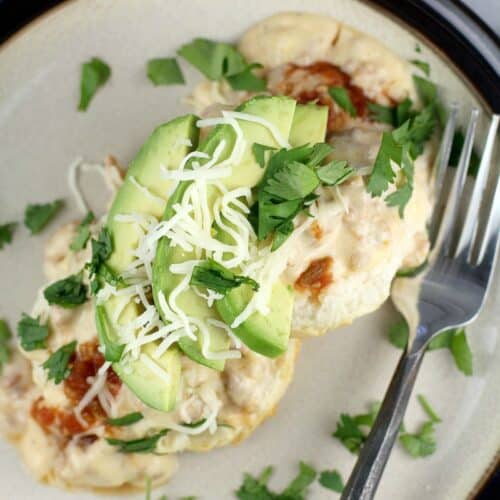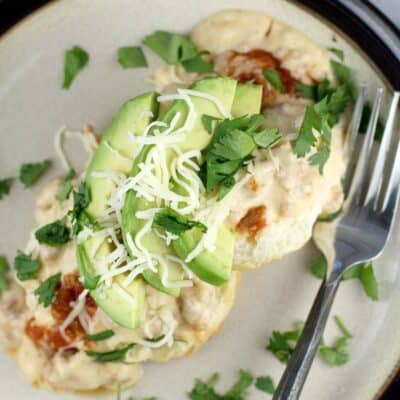 Mexican Chorizo Gravy and Biscuits
Cream gravy with super flavorful Mexican chorizo sausage, spooned over fluffy biscuits and all the toppings to make this a delicious, satisfying, heart-warming breakfast.
Ingredients
10

oz

Mexican chorizo sausage

casings removed

2

Tbsp

unsalted butter

¼

cup

all-purpose flour

2

cups

milk

¼

cup

cream

6

biscuits

purchased or here is my recipe for Southern Buttermilk Biscuits

½

cup

fresh salsa

see Notes

2

avocado

sliced

¼

cup

chopped cilantro

¼

cup

shredded Monterey jack cheese
Instructions
In a large skillet, brown the chorizo sausage, breaking the meat up into little bits as it cooks. Transfer to a bowl lined with paper towels to drain the fat and set aside.

Wipe the excess fat out the skillet with a paper towel. Add the butter and flour, whisk until smooth, and cook 2 minutes over medium heat to make a roux.

Slowly whisk in the milk and cream. Cook, stirring often, until thickened to gravy consistency. Add the cooked chorizo sausage. Season with salt and pepper to taste.

To serve, split warm biscuits on a plate. Top with chorizo gravy, salsa, avocado, cilantro, and cheese. Yields 6 servings.
Notes
For the salsa, what I mean by fresh salsa is good-quality, fresh looking salsa. Look in the produce section or gourmet fancy food section. What you don't want is ketchupy cooked salsa, which most big brands are. Pico de gallo would be an awesome substitute.
Nutrition
Calorie count is purely an estimate calculated using an online application to serve as a guide and not to be taken as accurate nutritional information. Percent Daily Values are based on a 2,000 calorie diet.
Tried this recipe?
Leave a comment below and let me know!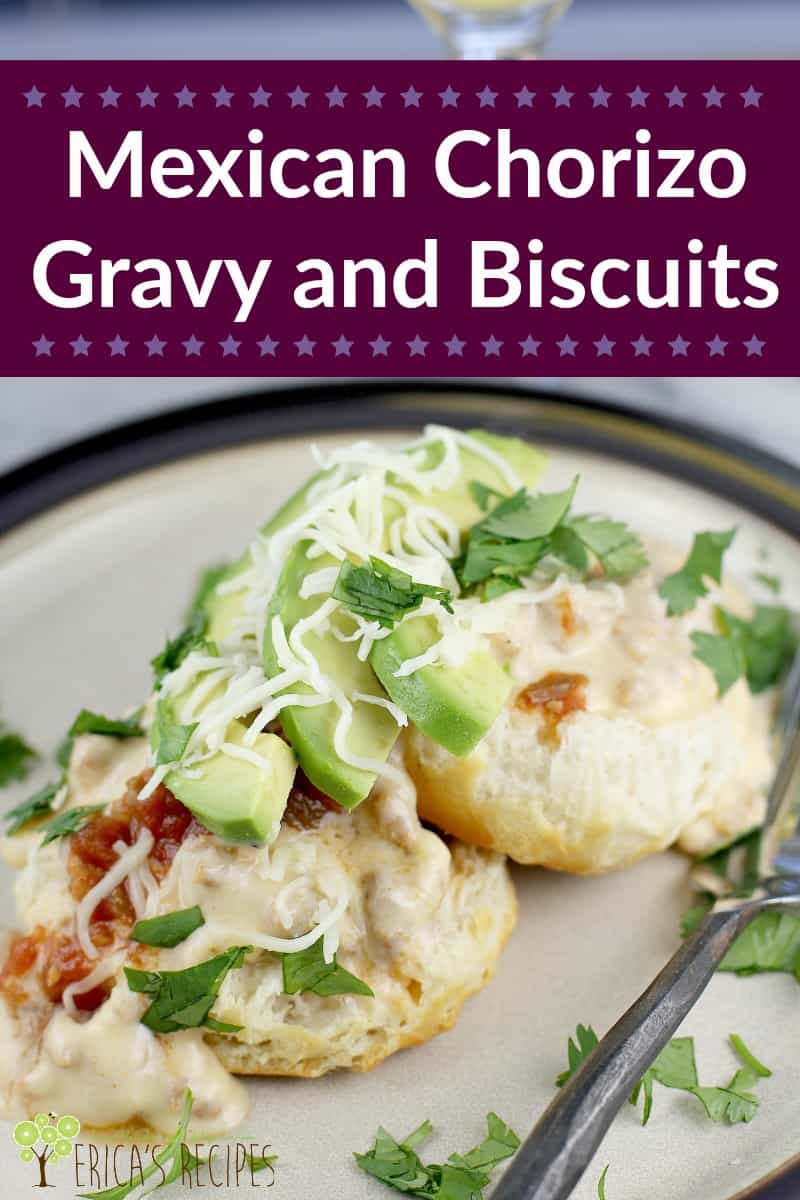 ~✿♥✿~
Here are more creative twists on classic Southern recipes