Bacon Jalapeno Popper Omelet | Keto Breakfast, Dairy-Free
This super satisfying, dairy-free Bacon Jalapeno Popper Omelet is loaded with healthy greens, satiating fat, and protein to help us reach all our goals in life. If you are looking for a new low carb or keto breakfast option, this recipe is a must-try.
Keto. Yeah I said it. Yes, there is totally conflicting information about keto diets on the internet. No, I'm not going off on some crazy keto tangent in life. But IT happened…
I got older and a slew of hormonal changes came over the past two years and with that came weight gain. And all this seems to be under control now (thank you Jesus for hormone replacement therapy), but the weight won't budge. So it was time for me to try something new.
Enter keto. Or ultra low carb eating. Or whatever you want to call it. And after 2 weeks, so far it is working.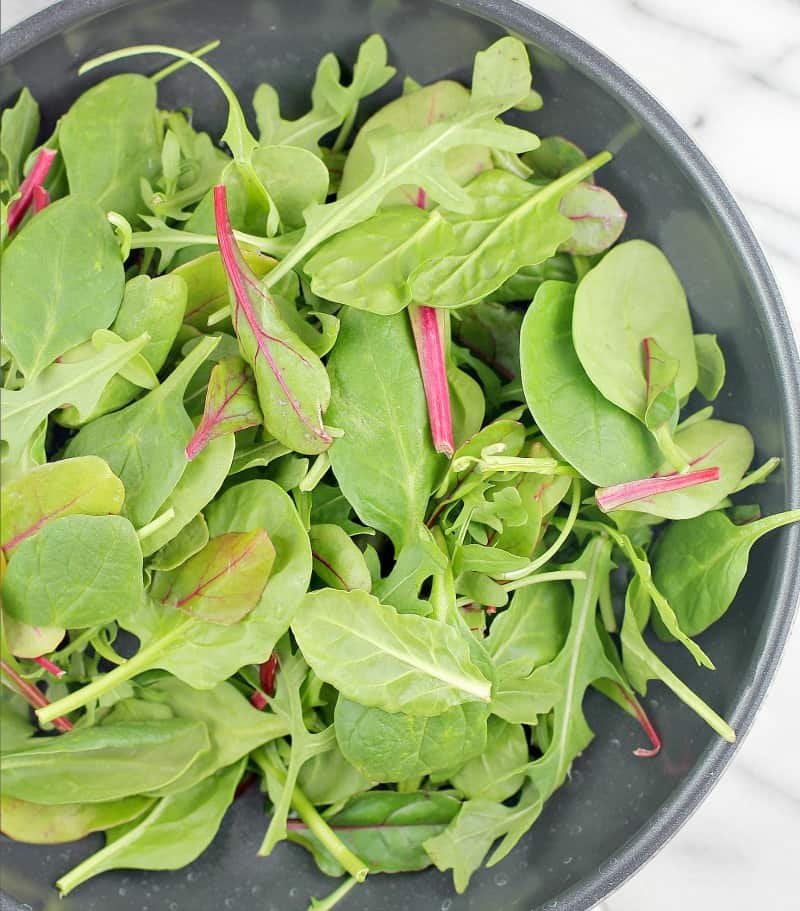 What is "keto"?
Keto is a way of eating where carbohydrates are really restricted. "Restricted" as in carbohydrates are now no more than 5% of what I what in a day with the intention of getting my body to burn fat as it's primary fuel.
To get this right, I track everything I eat and drink to make sure I stay under 20 grams carbs per day. Sounds fun right? Of course not. But with my diet consisting of mostly protein and fat, I've been able to stick to it and not be hungry. That is the clincher, and why I'm going to keep going with it for now.
Tips for keto eating:
Keto is not the same as the old Atkins diet. It is not a free license to eat nothing but crap and sausage and bacon to lose weight.
Carbs are to come from healthy, natural sources, preferably vegetables.
Count Net carbs, which is Total carbs minus fiber. Fiber passes through the body and isn't metabolized, so they don't count (though they are obviously necessary for gastrointestinal health).
Tracking is substantially easier using an app like MyFitnessPal.
The focus is on protein and getting enough each day because we want to burn fat not muscle. Fat is secondary, but that is what satisfies the appetite.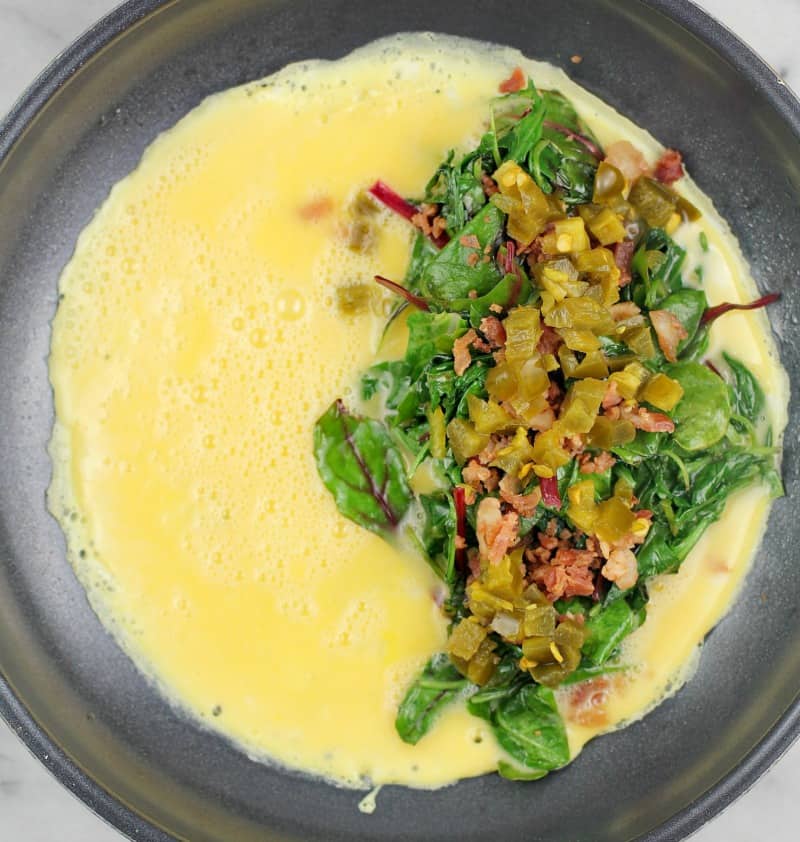 See keto, done right, is avoiding the foods that have led to the obesity problem in our country. The sugar, the processed flours, the sodas. All of it. All the inflammatory junk that not only doesn't nourish us but actually harms us.
Then, it goes further to restrict even "healthy carbs" because the goal is to get the body to burn fat. Then once I hit my goal, I'll start adding back healthy carbs.
Which brings me to my new super awesome keto breakfast. The above bullets tips relate directly to my keto Bacon Jalapeno Popper Omelet thusly…
Why this Bacon Jalapeno Popper Omelet is keto awesome:
All the carbs in this recipe are coming from natural sources: greens and avocado.
This omelet includes bacon, but only a smidgen. This is enough for flavor, but in a reasonable dose.
This recipe rocks nutritionally with RDAs of 95% vitamin A, 53% vitamin C, 11% calcium, and 11% iron.
The macros (fancy way of saying percent carbs/fat/protein) are keto perfect: 15 grams protein, 15 grams fat, and 2 grams NET carbs (6 grams total minus 4 grams fiber).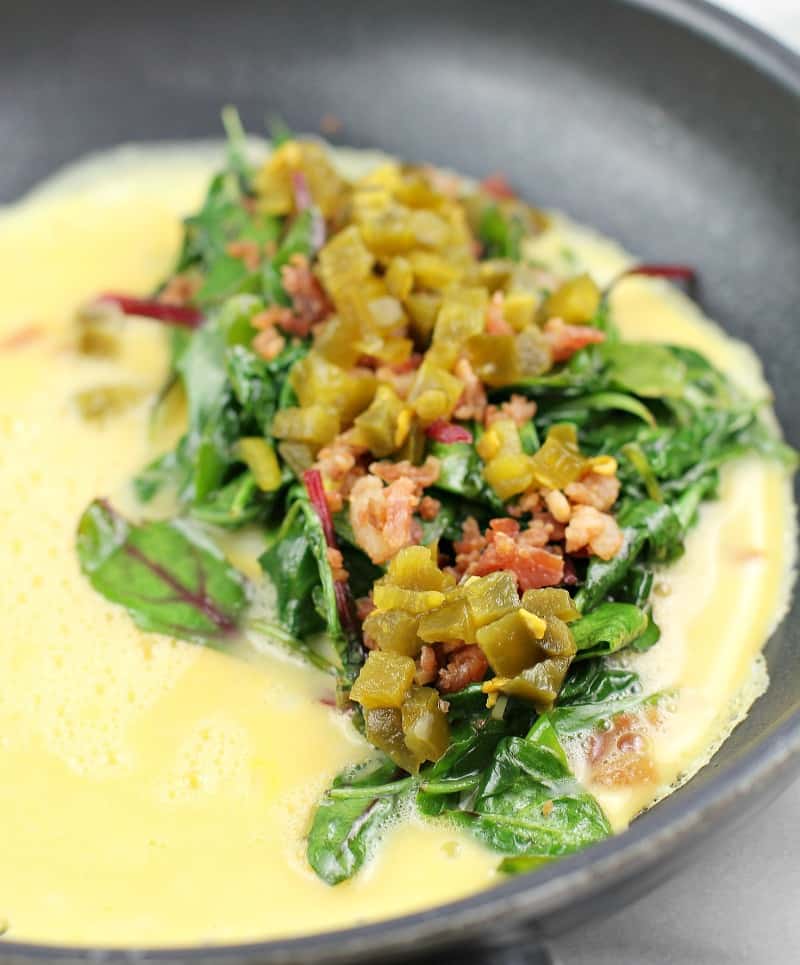 Next, to dairy or not dairy. I, myself, needs my cheese. Not giving that up, uh-uh, no way. And that's ok! There are different ways to approach keto, and cutting out dairy is not a requirement. But, dairy can be inflammatory, so I don't want too much and when I can have a delicious recipe and cut out the dairy, I try to do that.
I make this omelet as an after workout breakfast. I've made it adding a tablespoon or two of cheese in the omelet and a tablespoon of sour cream on top, and honestly, I don't think it was necessary.
Using guacamole is a trick I use a lot to make something like an omelet or tacos or whatever, where you would normally add some cheese or sour cream, actually not need it at all.
The key here is that with the mixed greens (especially arugula YUM), bacon, and jalapeno, there is so much DELICIOUS flavor here, that a bit of creamy guacamole is sufficient and we can call it good.
Tips for making this keto jalapeno popper omelet:
Use a small nonstick skillet. Get it hot to saute up the greens, but let it cool a bit before adding the egg. Only one pan to wash!
Using a rubber spatula (or two) is the easiest way to get under, lift, and fold the egg over to form the omelet.
Make sure to fold the egg when the egg is almost, but not quite, set. You can still flip and cook a bit to ensure it is cooked through, but having some of that egg get good and into the greens is better.
If you can't find mixed baby greens, you can substitute spinach.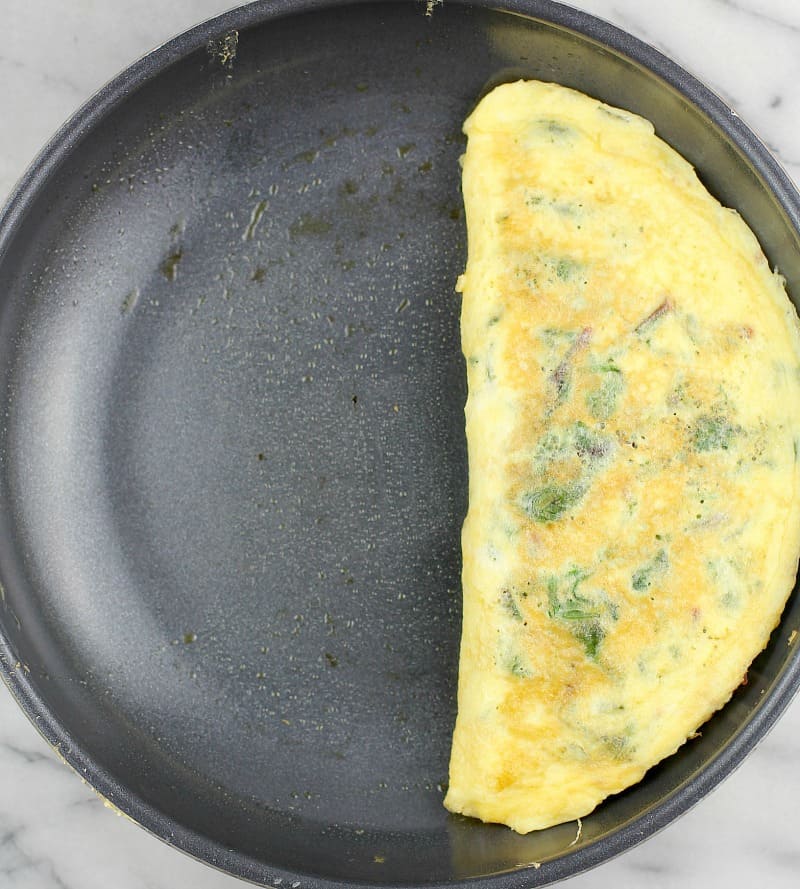 This omelet – this healthy glorious omelet – will make you glow. It will make you feel good about yourself, love yourself, and love anyone you make it for. The FLAVOR packed in this little egg package is SO good.
Jalapenos are greens are meant for each other. Like in my Skinny Jalapeno Spinach Dip, totally also keto by the way, the flavor combination of jalapeno with leafy greens is kinda magical. Love It.
So that's it kids! I publish recipes that are real in my life, and this keto omelet has been real for me daily for a week. Happy, wholesome, yummy. Fulfilling.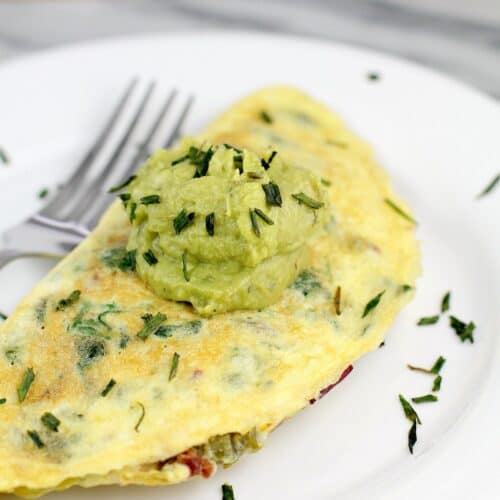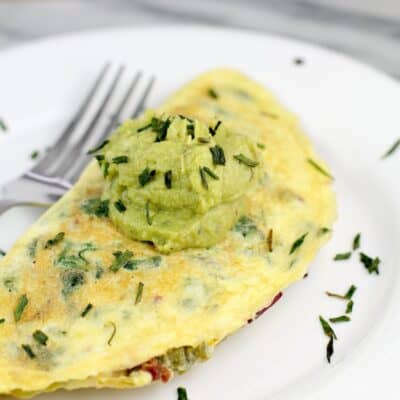 Bacon Jalapeno Popper Omelet
This super satisfying, dairy-free Bacon Jalapeno Popper Omelet is loaded with healthy greens, satiating fat, and protein.
Ingredients
1

tsp

extra virgin olive oil

2

cups

mixed greens including baby chard

spinach, and arugula

1

whole egg

1

egg white

1

Tbsp

cooked and crumbled bacon

or purchase real bacon bits

1

Tbsp

diced pickled jalapeno

pinch

Himalayan sea salt

2

Tbsp

prepared guacamole

olive oil cooking spray
Instructions
In a small, nonstick skillet, heat the olive oil over high heat. Add the greens and saute, turning often, until very wilted. Transfer greens to a plate. Allow the pan to cool a bit before proceeding.

In a small bowl, lightly beat the eggs until smooth with a fork.

Spray the same small skillet with cooking spray. Heat over medium-heat. Add the egg mixture. On one side, layer the greens, bacon, and jalapeno. Season with a pinch salt.

Cook gently until egg is almost set, then use a rubber spatula to gently fold the half of egg without toppings over onto the other half to form the omelet. Continue to cook, flipping once, until egg is cooked through. Yields 1 serving.
Notes
Two cups of the mixed greens is essentially two handfuls. No need to measure.
Nutrition
Calorie count is purely an estimate calculated using an online application to serve as a guide and not to be taken as accurate nutritional information. Percent Daily Values are based on a 2,000 calorie diet.
Tried this recipe?
Leave a comment below and let me know!