Grilled Green Bean Casserole with Bacon
Grilled green bean casserole with bacon will blow your mind with the insanely good combination of smoky barbecue green beans, onion, and bacon. This bbq green bean casserole cooks on the Big Green Egg or regular grill in half the time of traditional green bean casserole and has twice the flavor.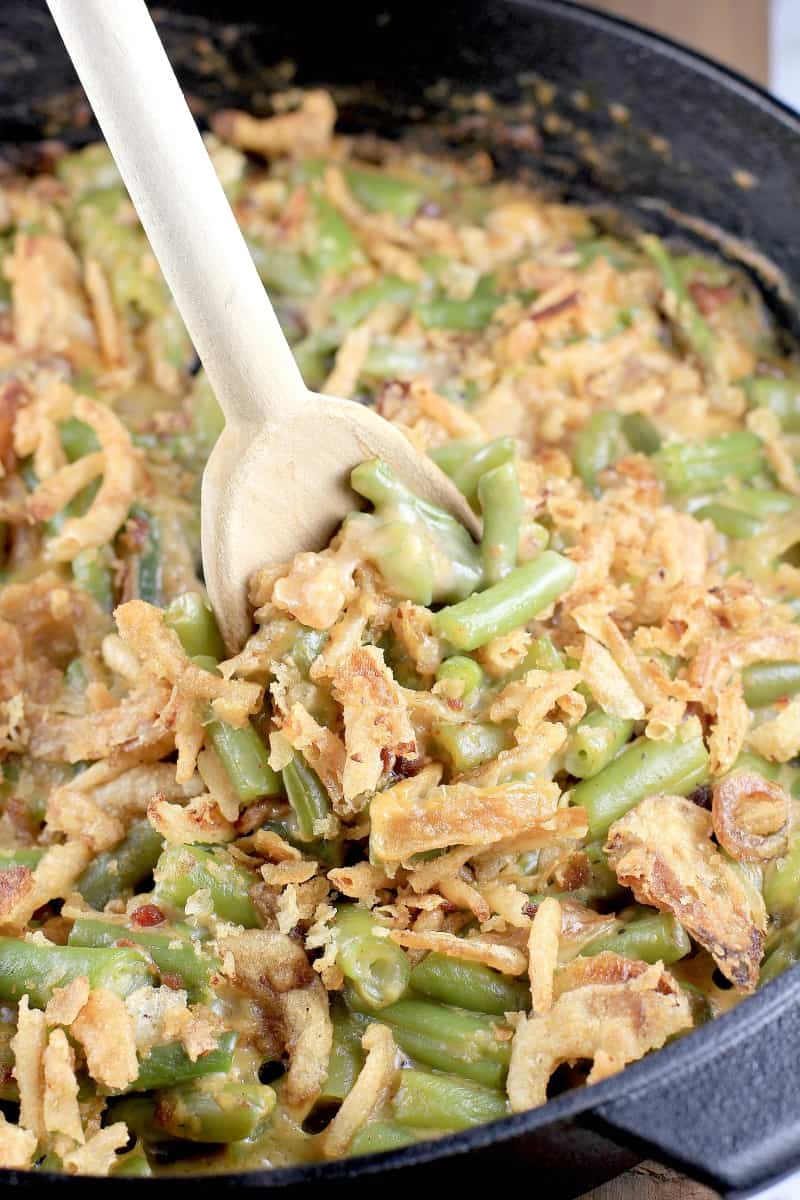 Why the Big Green Egg
The "Big Green Egg" is a kamado-style, ceramic charcoal cooker. You can grill on it, smoke on it. It is super versatile, and there are a bunch of accessories available to allow me to cook all the things.
We got our Big Green Egg just a couple weeks ago and I have literally transformed from someone always begging to go out to eat (because though I am a food blogger, I hate cooking dinner LOL) to one actually wanting to cook dinner at home Every Night.
The Egg is fun to use and the flavor – even straight out for the box first use – is insane compared to my gas grill. So, my husband suggested I start blogging some of these insanely good things we are cooking, and so here we are.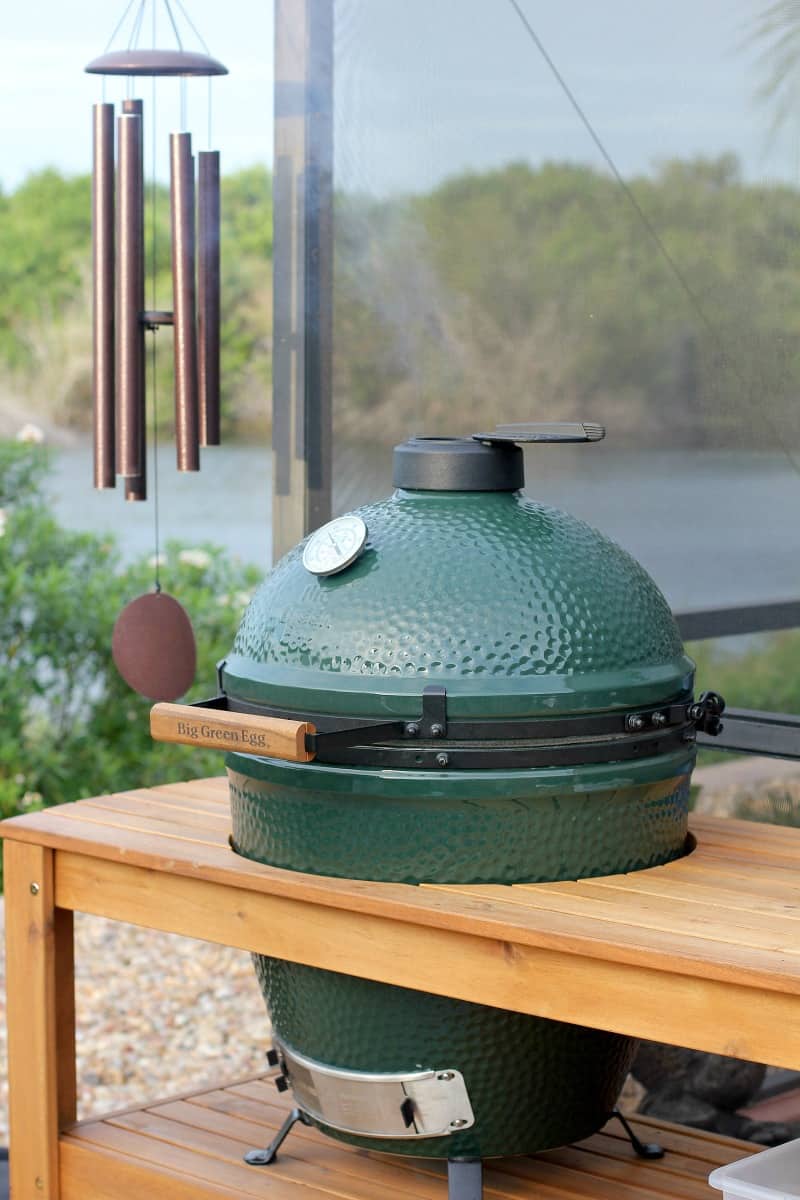 But what if you don't have a Big Green Egg
No big deal! If you do not have a Big Green Egg, then use any another grill. Charcoal or gas is fine for this since it is a BBQ green bean casserole. Charcoal would be referable to gas just for the flavor, but either will give you a delicious yummy grilled green bean casserole with bacon.
And if you do not have a grill, that is no big deal either. Just bake for 25 minutes in a 400°F oven, top with the remaining onions, and bake another 5-10 minutes until bubbly and golden.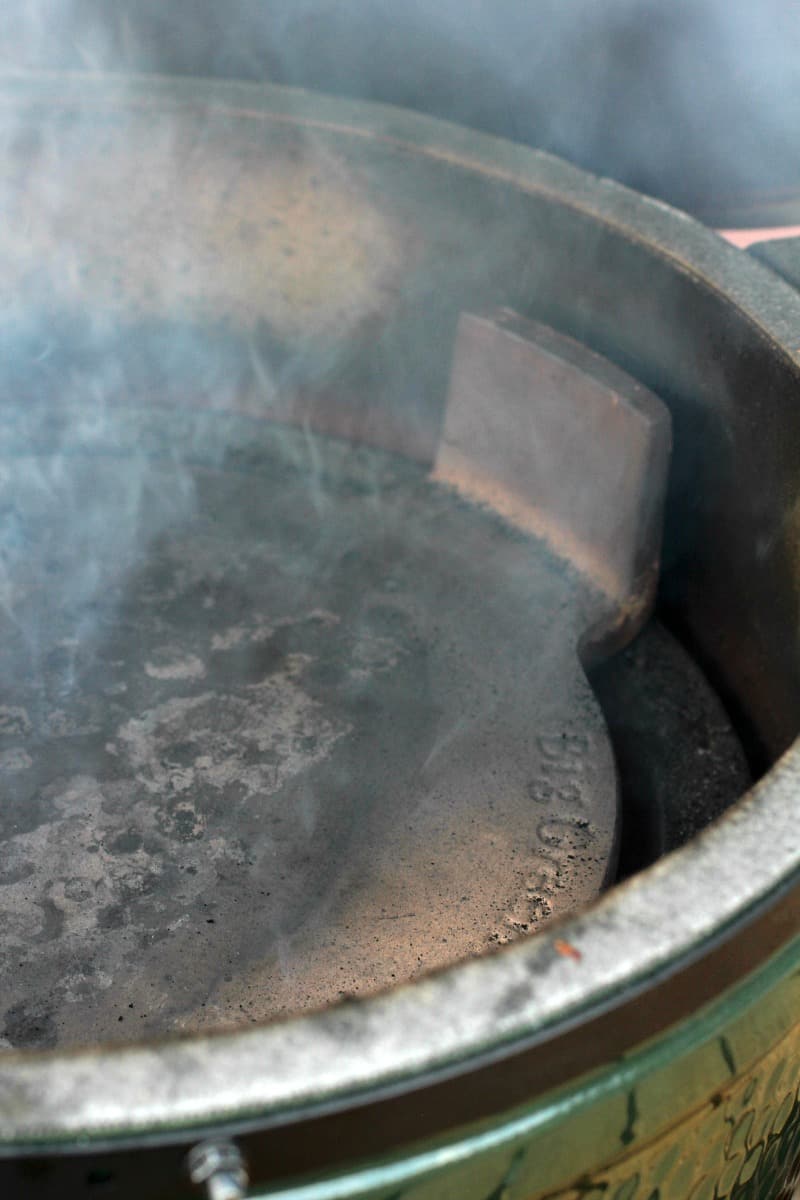 Ingredients needed for grilled green bean casserole with bacon
Green Beans. I used a bag of cut frozen green beans (and you don't have to wait for them to thaw!), but any fresh or frozen green beans would work for this recipe.
Bacon. I literally threw in a handful from a bag of cooked bacon I had in the fridge on a last minute whim (and boy am I glad I did!). So, the 1/4 cup in the instructions is a ballpark approximation – I would say probably 3-4 slices will do it.
Cream of mushroom soup and milk. Yep, I did not make the sauce from scratch (hangs head in shame), but if you know how to do that (it isn't hard), knock yourself out. I kept this casserole old school with the condensed canned soup.
Seasonings: smoked paprika; barbecue seasoning (used any that you favor); garlic powder; dill; salt and pepper.
Maple syrup. This bbq green bean casserole is not sweet whatsoever, but I added just a bit of maple to have that going on in the background with the smokiness and other seasonings.
Fried onions. You know the stuff. Yeah, they are kinda deplorable but also freaking tasty in green bean casserole.
As is, I love that this casserole is super easy to throw together so now we can enjoy year 'round and not just at the holidays which is only when I have traditionally made it.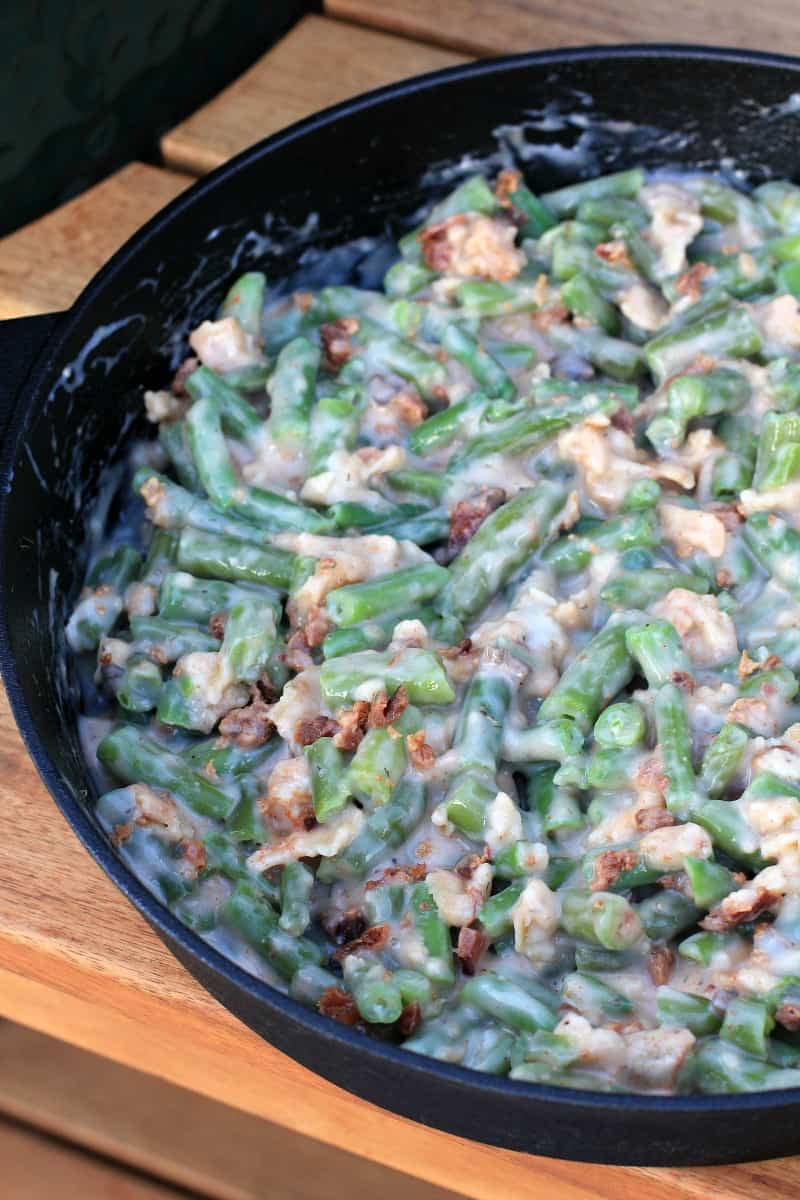 The instuctions
Making this casserole could not be easier.
In a grill-proof (or oven-proof if baking) skillet, dish, or pan, combine all the ingredients except half the crispy onions. We leave those out until the end for a big crunchy finish on top.
Prep the Big Green Egg (or grill or oven) to temperature and for indirect cooking, then bake our casserole.
Mid-way through cooking, we give a little stir, top with the onions, then finish.
Enjoy!
Ridiculously easy with totally approachable ingredients.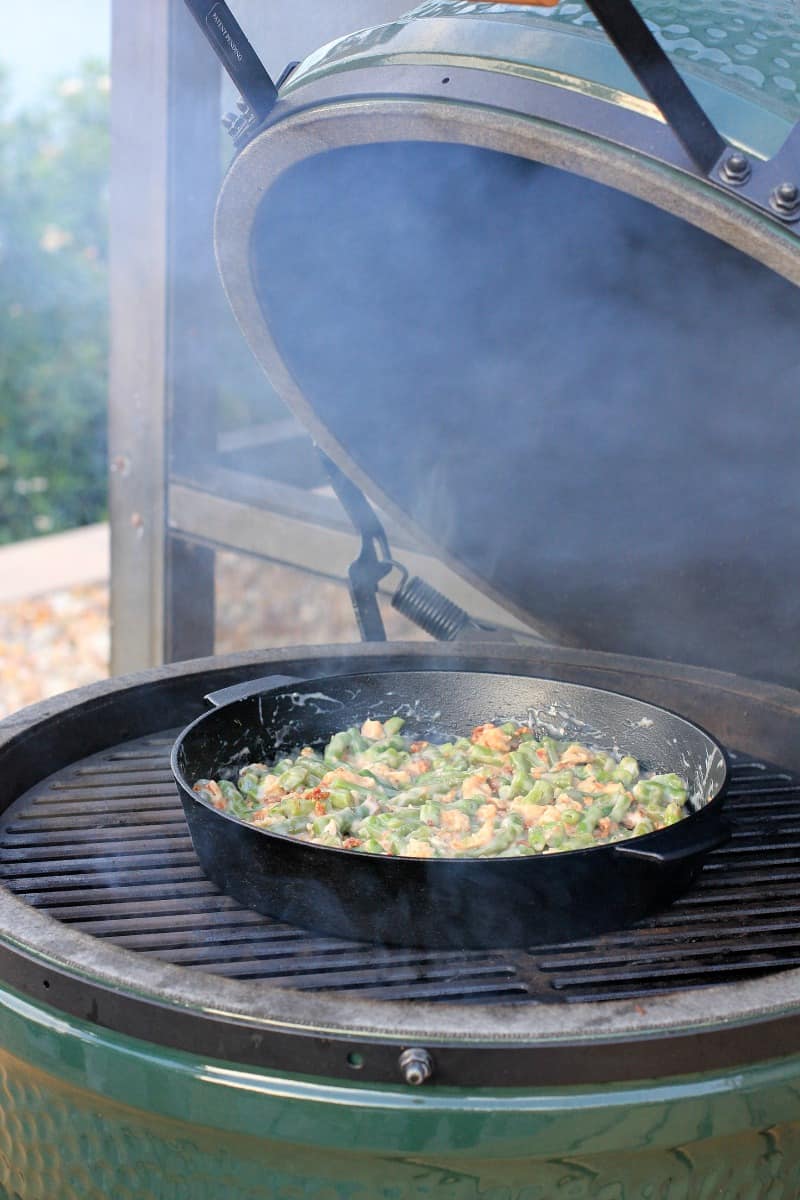 Suggested casserole additions
Speaking of ingredients, it is always fun to change things up, so if you want to change this recipe up and make it your own go for it!
Normally I add mushrooms (browned first in butter) and shredded white cheddar cheese to my green bean casserole and either would of course work here.
Other additions (and I'm brain storming here) could be sun-dried tomatoes, sausage in place of bacon (or in addition!), shredded cooked chicken, real diced onion, shredded red cabbage, or diced ham.
Those are just a couple ideas. There is never a reason not to experiment with classic dishes.
Last tips
Be sure to cook over indirect heat. Even if the grill is in the correct temperature range, if the casserole is over direct flame it will burn.
If a cast iron pan is not available, any grill-proof skillet or pan will do. An aluminum pan will also work.
This casserole can be assembled up to a day in advance, leaving off half the onions until you get to that step in cooking.
If you cook this recipe in advance, heat up gently in the oven and then stick it under a broiler for a couple minutes to crisp up the onions on top again.
You do not need to wait for frozen green beans to thaw before preparing this recipe.
If using the oven to bake, this casserole will take 30 minutes to bake rather than 15-20.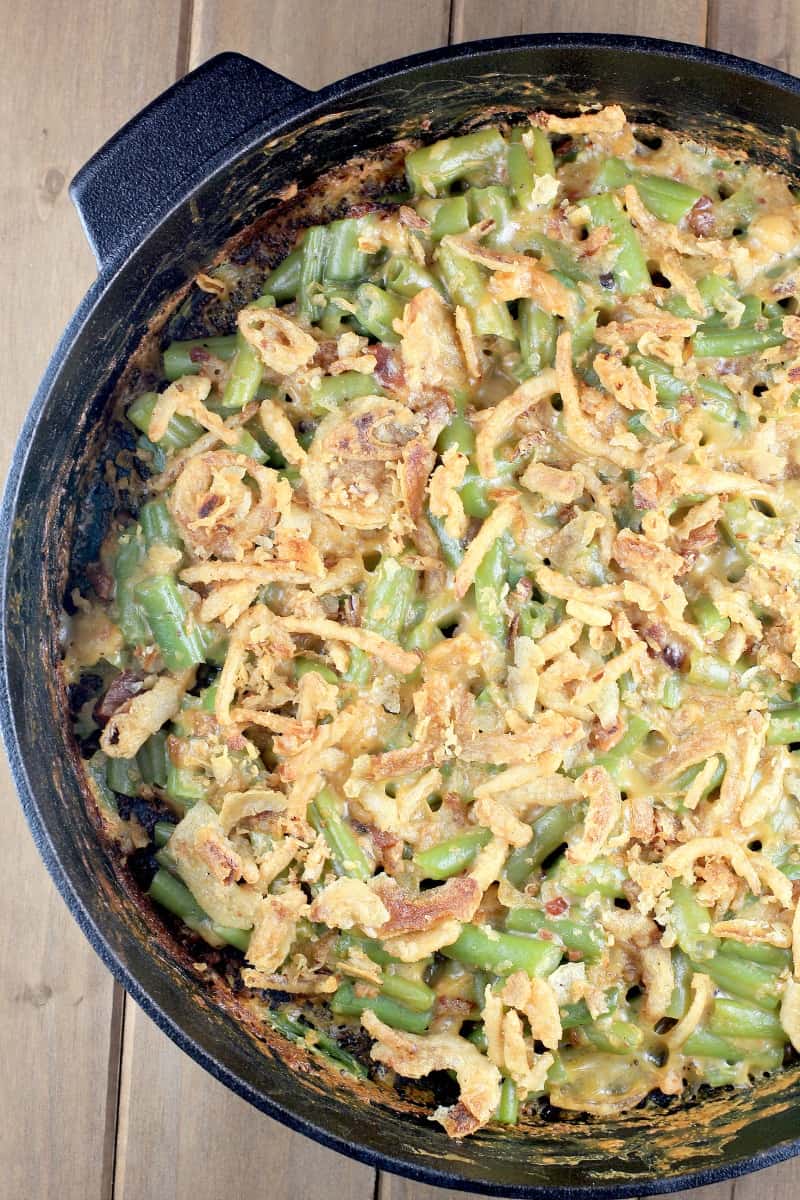 More grill recipes
For my best steak recipe, check out Grilled Steak with Horseradish Dijon Sauce with all the tips for a perfect grilled steak.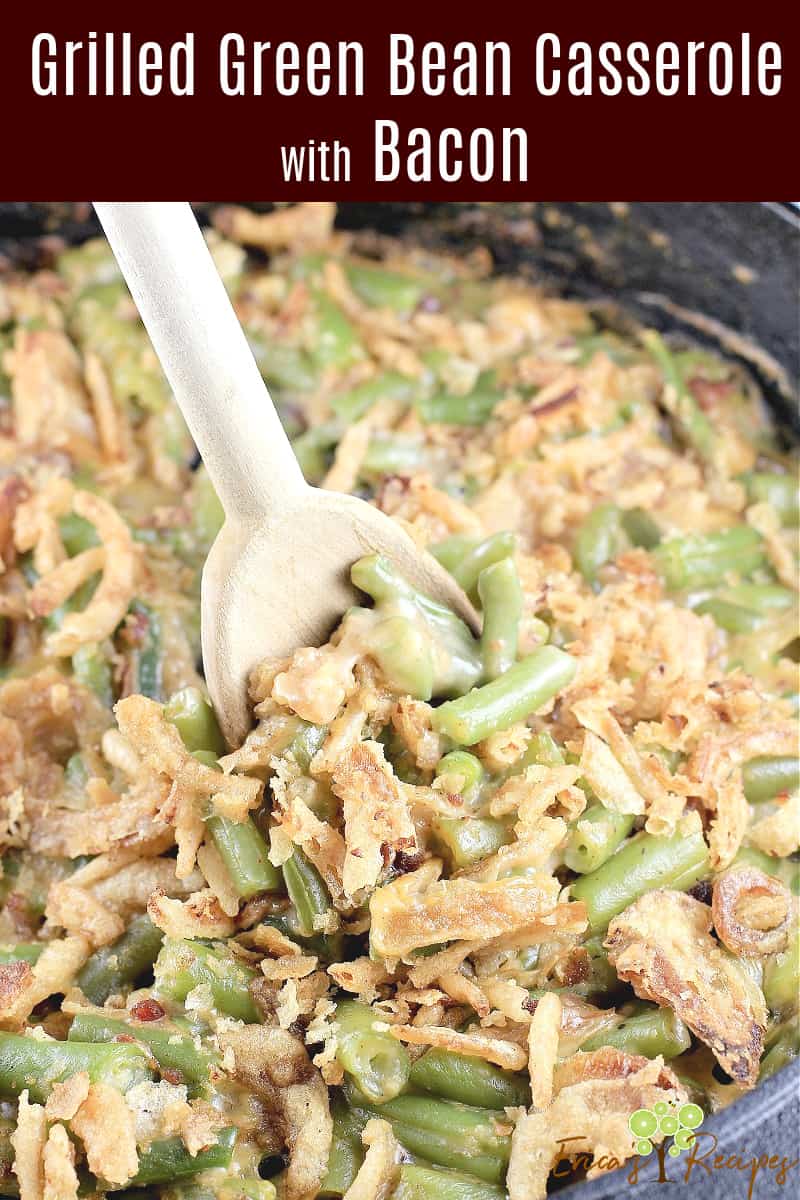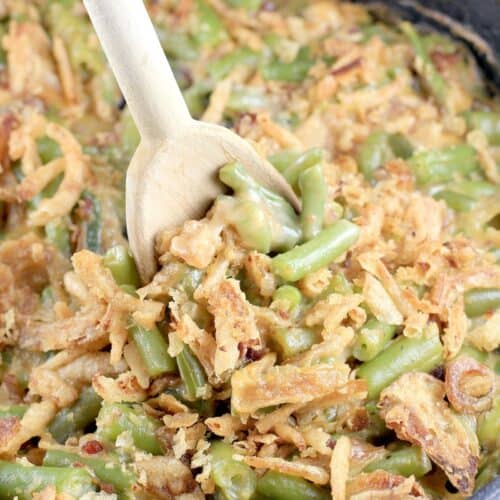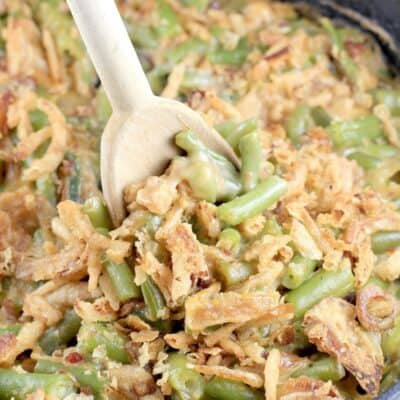 Grilled Green Bean Casserole with Bacon
Smoky tender BBQ green bean casserole with bacon cooked on the grill.
Ingredients
1

12 oz bag frozen cut green beans

¼

cup

cooked and crumbled bacon

½

10.5 oz can condensed cream of mushroom soup

undiluted

¼

cup

milk

¼

tsp

smoked paprika

¼

tsp

barbecue seasoning of choice

¼

tsp

garlic powder

couple pinches dried dill

couple pinches kosher salt

couple pinches fresh cracked pepper

1

tsp

pure maple syrup

1

2.8 oz container fried onions
Instructions
In the 10.5-inch Big Green Egg cast iron skillet (or similar sized pan), combine all of the ingredients except the onions. Stir in half the onions.

Add the casserole and cook 10 minutes.

Give the green beans a stir with a spoon, top with the remaining fried onions, and cook an additional 5-7 minutes until top is toasty and casserole is bubbly. Serve.
Notes
To cook on a grill, simply heat gas or charcoal grill to

400-425°F and follow the instructions as written cooking the casserole on indirect heat (i.e. not directly over fire). Use a fork to check that the beans are fork tender, then they are done.
Nutrition
Calorie count is purely an estimate calculated using an online application to serve as a guide and not to be taken as accurate nutritional information. Percent Daily Values are based on a 2,000 calorie diet.
Tried this recipe?
Leave a comment below and let me know!