Perfect Popovers are crispy on the outside, light and airy on the inside. Made from a simple batter of eggs, milk, flour, and butter, this is a classic recipe for popover rolls that rise up tall but are hollow and buttery delicious inside. All my tips and tricks are included to easily give you perfect popovers every time.
This post was published December 2013 and updated May 2022.
This post contains affiliate links. As an Amazon Associate I earn from qualifying purchases. See Privacy Policy for full disclosure.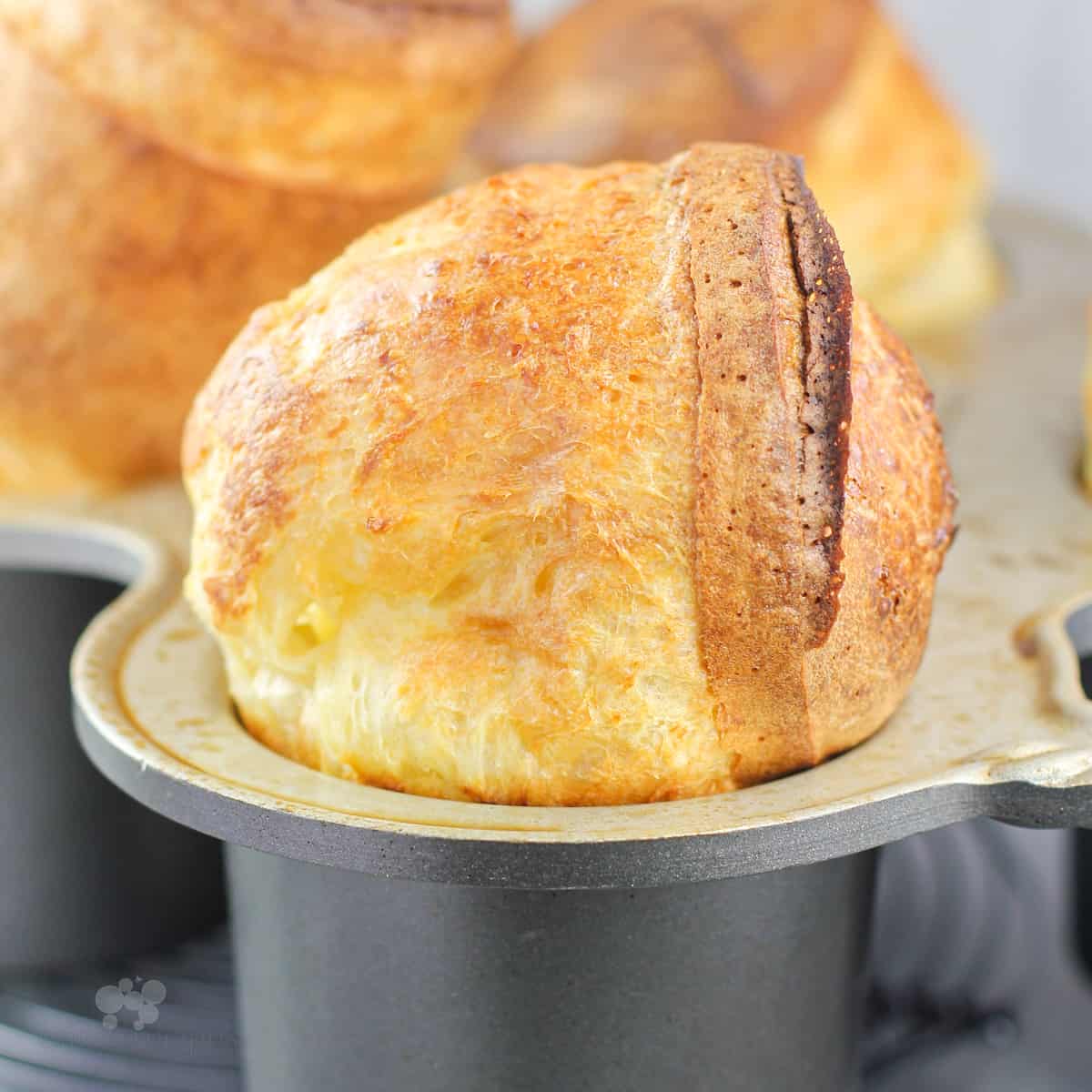 A little known secret to which my family can attest is that when I have too much wine, I will whip up a batch of late night popovers. "So, it was a popover night, huh Mom?" It's fine, I own it and I'm coming out because it proves my point that making perfect popovers is No Big Deal.
What are popovers
Popover rolls were brought to New England in the 1800s by settlers from England who "Americanized" them into the big airy pastries they are today. Popovers rolls are made from a simple, almost pancake-like batter except there are no leavening agents added.
Instead, the batter with eggs, milk, flour, and butter is added to the tins of a popover pan which are designed to allow the heat to circulate around the tins with spaced out deep wells and straight sides. The sudden intense heat of the oven makes air expand in the batter to puff puff puff them up.
Popovers are special. They are impressive and tasty. They should be light and crispy, not dense and egg-y. These tips below work for me to consistently make perfect popovers every time.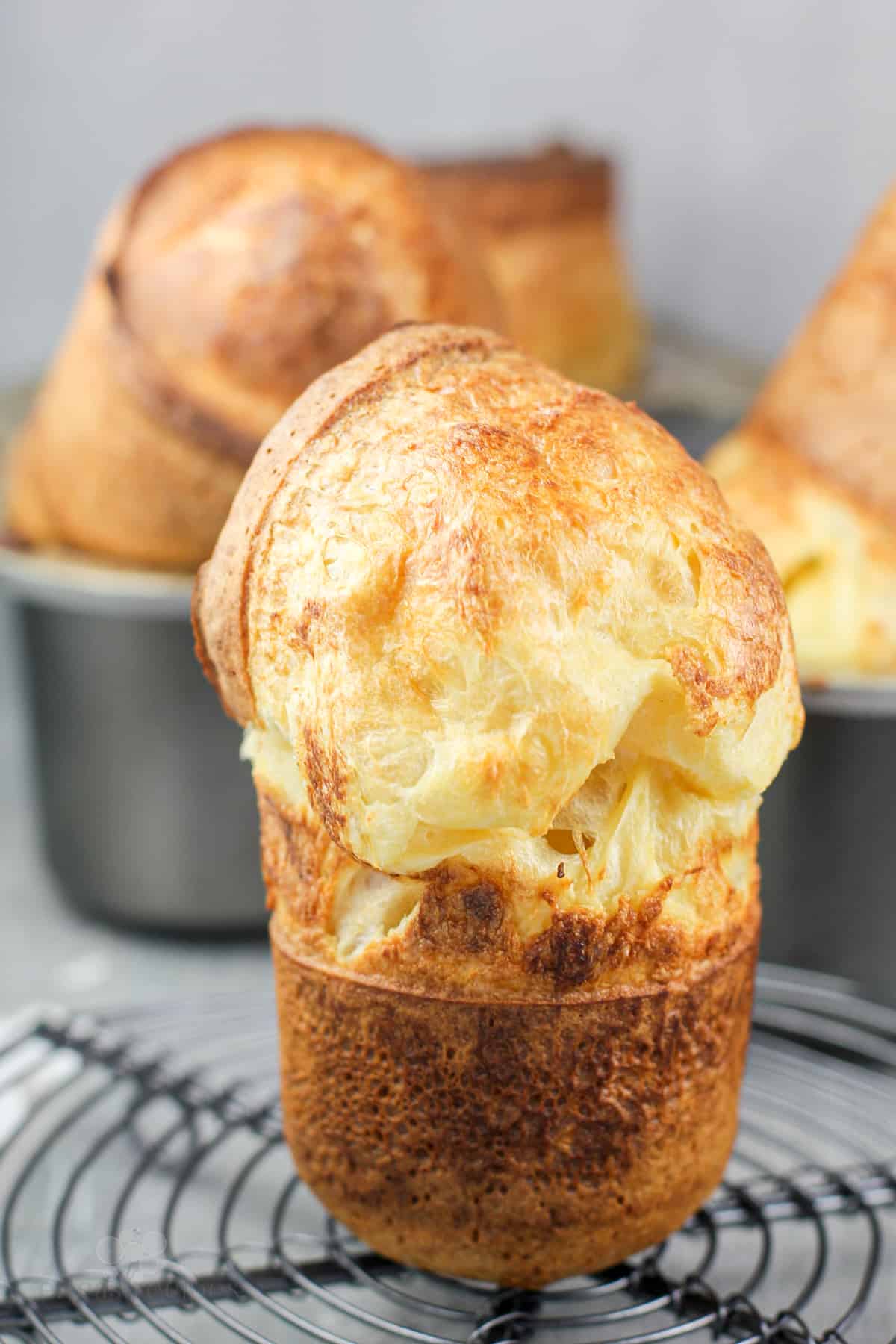 Are popover the same as Yorkshire pudding?
Yes and no. Yorkshire pudding is made from the same kind of batter, but they are made in regular muffin tins greased with beef fat. They are often made to accompany beef dishes.
About the ingredients
Eggs. This recipe uses 2 whole, large eggs. It is important that they be at room temperature and not cold. To speed up a late-night popover sesh, I put the eggs in hot tap water for 15 minutes.
Milk. I use 1% or 2% milk because that is what I always have on hand. I do not recommend skim milk, and I have not tried whole milk. Like the eggs, the milk needs to be room temperature or even a little warm, so I give it a zap in the microwave.
Flour. Regular all-purpose flour. Be sure to spoon and level the flour into the measuring cup and not scoop, which packs the flour in and creates an inaccurate measure.
Salt. Popovers need some salt. I forgot the salt once and ended up throwing them out. Kosher salt is recommend for this recipe and not table salt.
Butter. Butter is a central, necessary component and unsalted butter tastes better than salted. Also, we need the butter melted.
We do also need a way to greased the popovers tins. I use cooking spray since it's so easy, but butter will also work.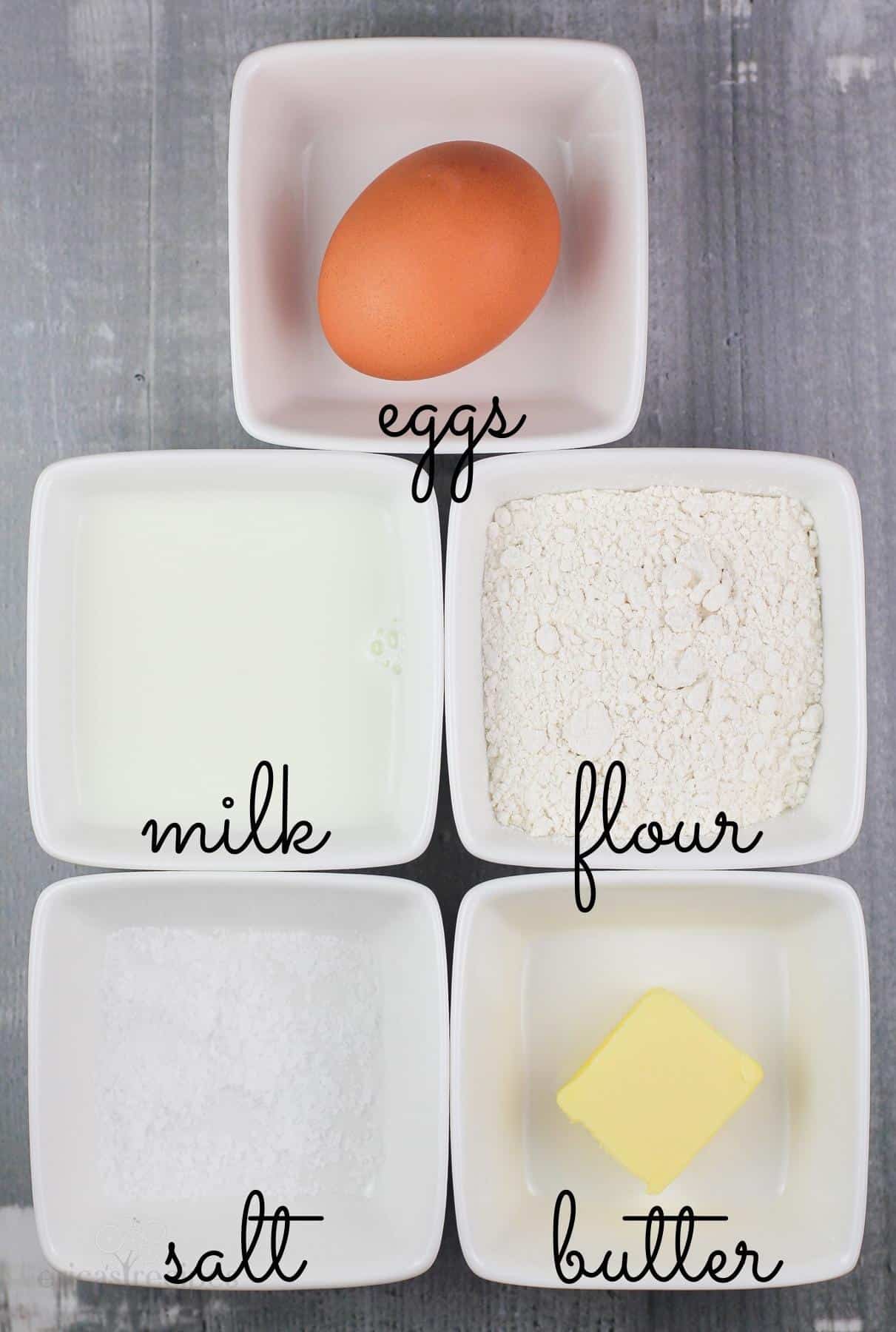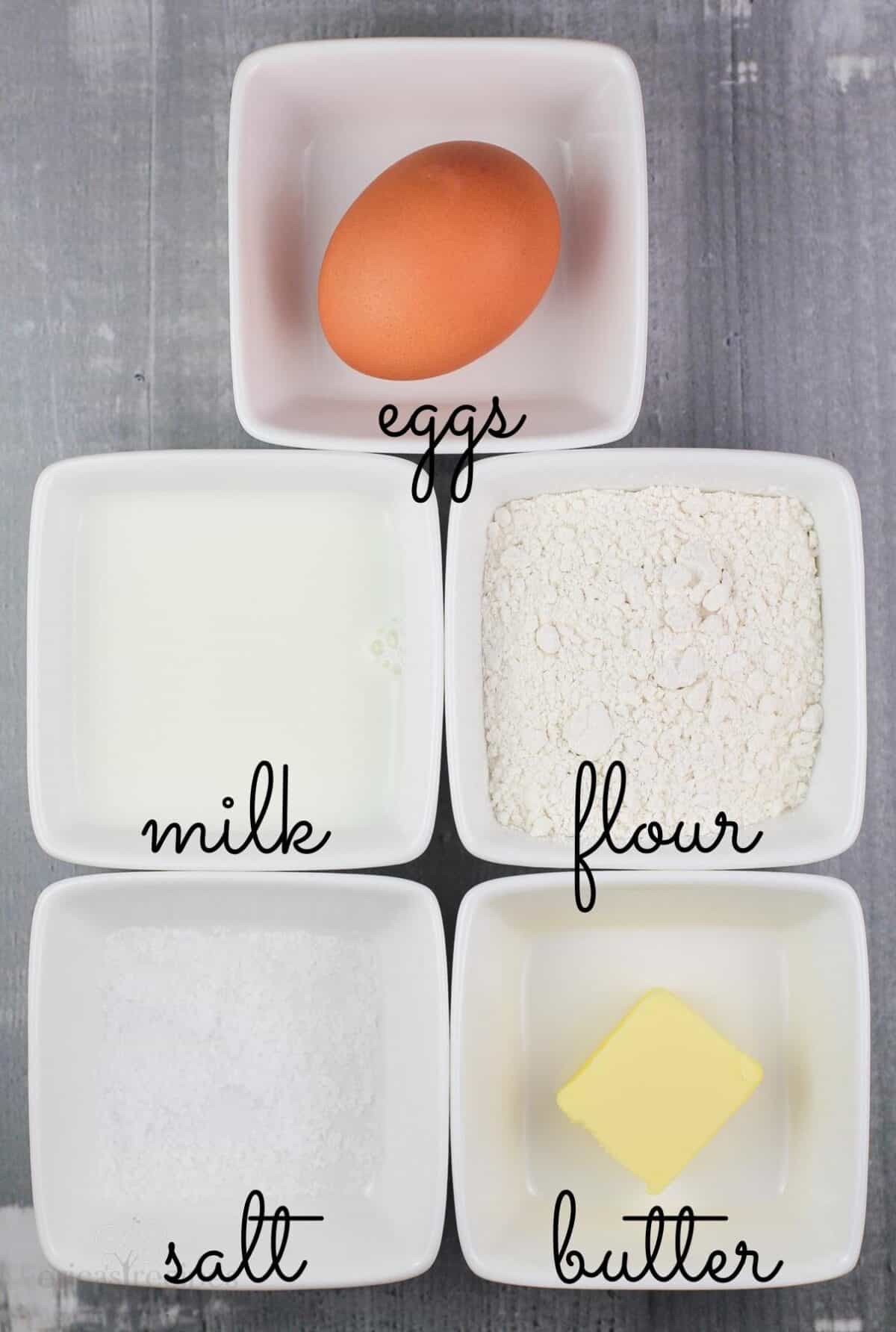 How to make popovers
We only need the five ingredients listed above (eggs, milk, flour, and butter) to make popovers plus a popover pan. If you are wondering if you need an actual popover pan – yes. If you want big beautiful perfectly puffed popovers, you do need a proper popover pan.
First we make the batter. This is easy enough, because we just whisk them together in a bowl. Then we let the batter rest while the oven heats up.
Heat up the oven to 450 degrees Fahrenheit (232 degrees Celsius). Do this with the popover pan in the oven to heat as well. This helps make the steam in the batter quickly to create all that lift for the batter. This is also why the eggs and milk should be room temperature to start.
Using a really good potholder, we take out the hot popover pan and spray with cooking spray. Divide the popover batter in the tins and put in the oven for the magic to happen.
Bake at 450°F for 15 minutes. Then, without opening the oven, reduce the oven temperature to 350°F for 15 minutes.
Take the pan out of the oven, pierce each popover with a sharp knife to allow steam to escape, and take them right out of the popover tins. Popovers are best eaten fresh from the oven.
The high heat of the pan and high heat the oven is what creates the steam initially to get the batter to rise, then the bake at 350°F sets the batter and creates the crispy outside.
Once cooked, we want to pierce the popover rolls with a knife and get them out of the pan. This will allow remaining steam to escape rather than be trapped and softening the popovers.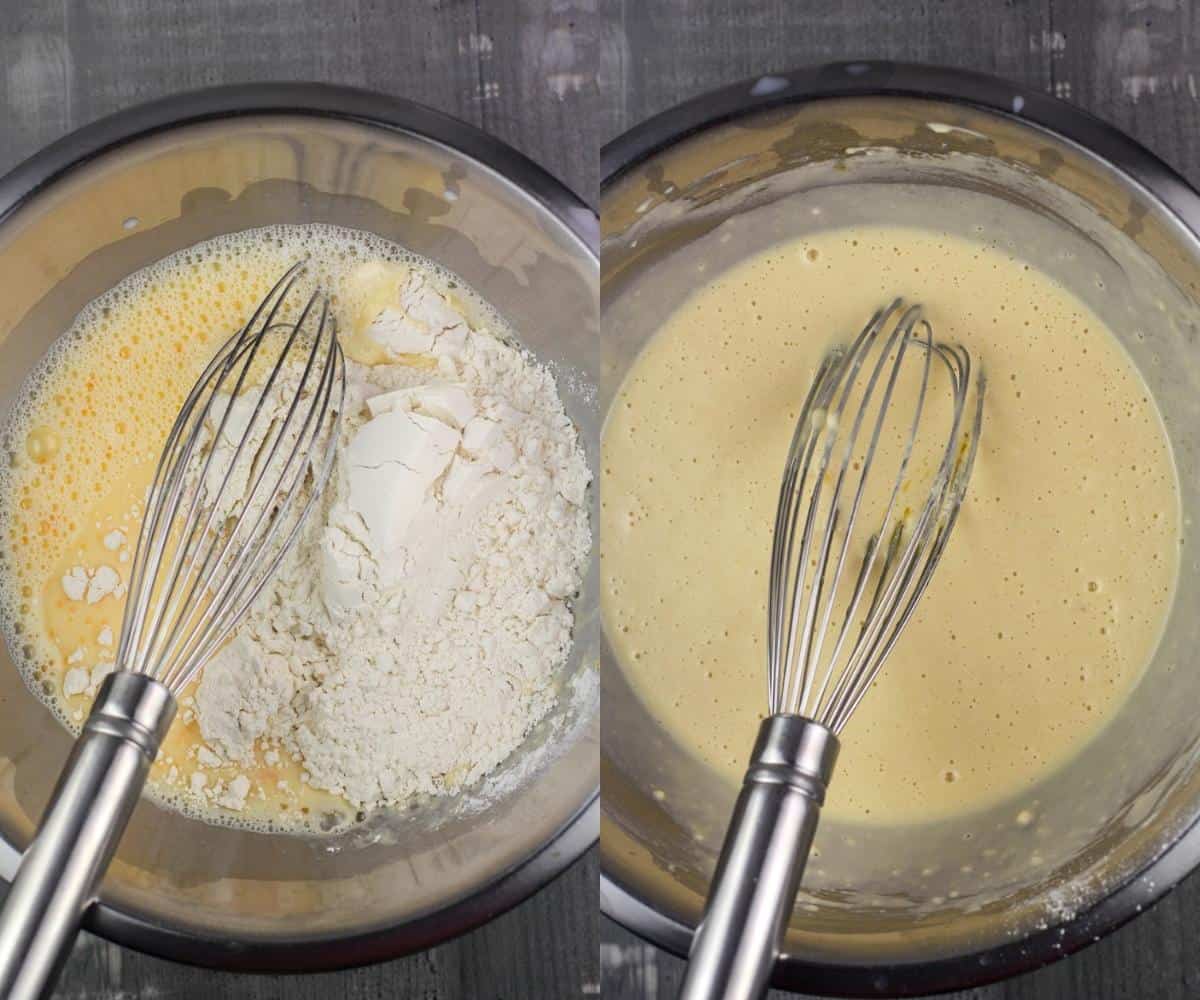 What is the secret to popovers?
Making perfectly puffed popovers is all about creating steam in the batter as soon as they go in the oven. First is having the ingredients at room temperature and then resting the batter to allow the flour to take up the moisture from the egg and milk so that the steam can be created quickly once in the oven. Preheating the popover pan, as well as the shape of the pan itself, also contributes to get the air trapped in the batter to expand rapidly and create the "puff".
Important popovers tips
Not all popover pans are created equal. For decades, I used a pan my best friend gave me and I always had perfect popovers. When that pan reached the end of its life, I got one off Amazon that looked just the same and it was a fail. Then another and another. Finally I found the Nordic Ware pan made of graphite and that was the winner for me. The key is you want graphite or carbonized steel, not aluminized steel which is in many pans on on Amazon because they are cheaper.
Also, it is crucial to have the eggs and milk to room temperature before making the batter. Then let the batter rest while you heat the pan in the oven. These are all the keys to perfect popovers.
The ratio of ingredients is also important so be sure to spoon the flour into the measuring cup rather than scoop it.
Also, don't over beat the batter. Some recipes call for blending the batter which floors me because the last thing we want to do is beat up the flour like that. Mix (I do use a whisk) until combined with no large lumps and we are good!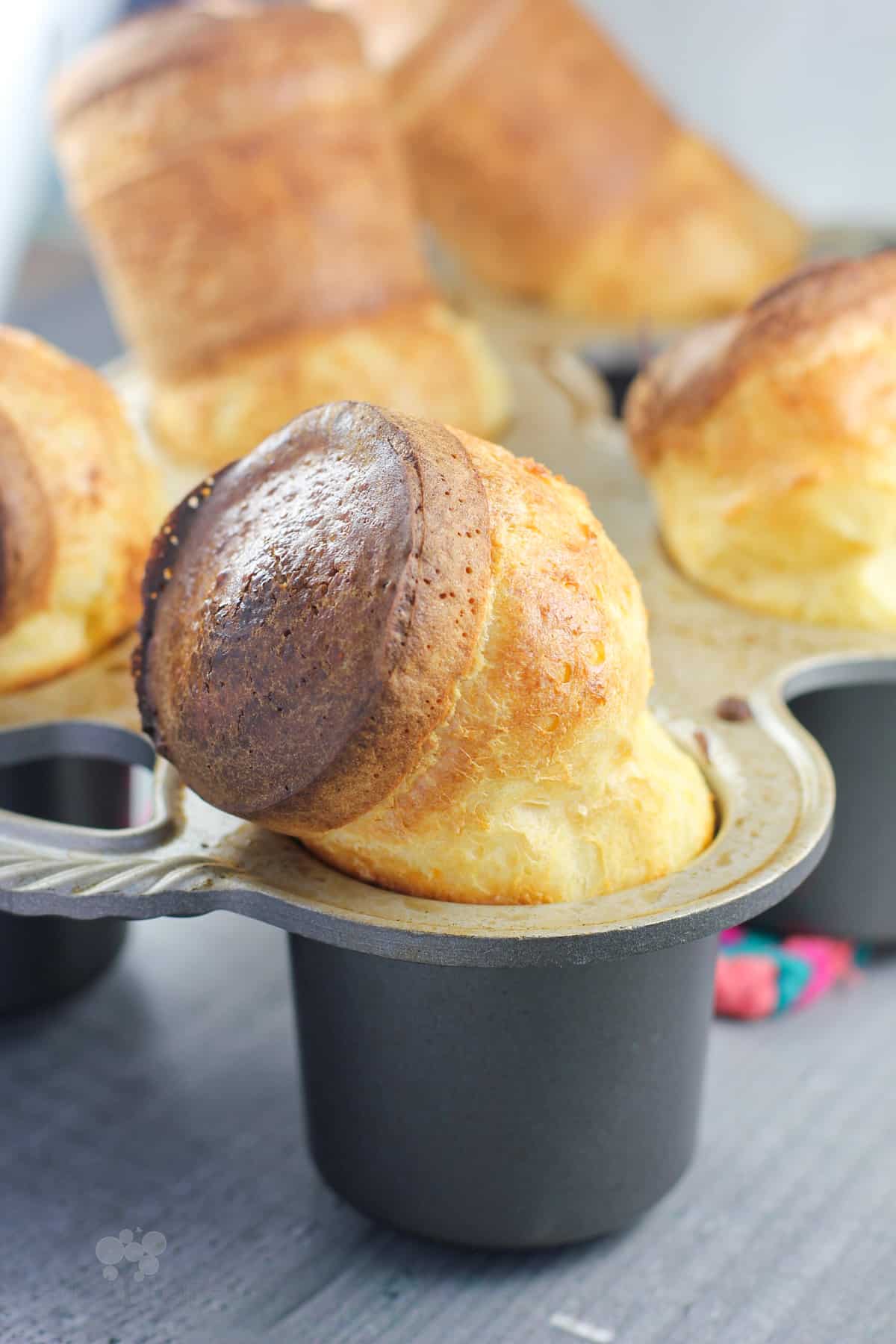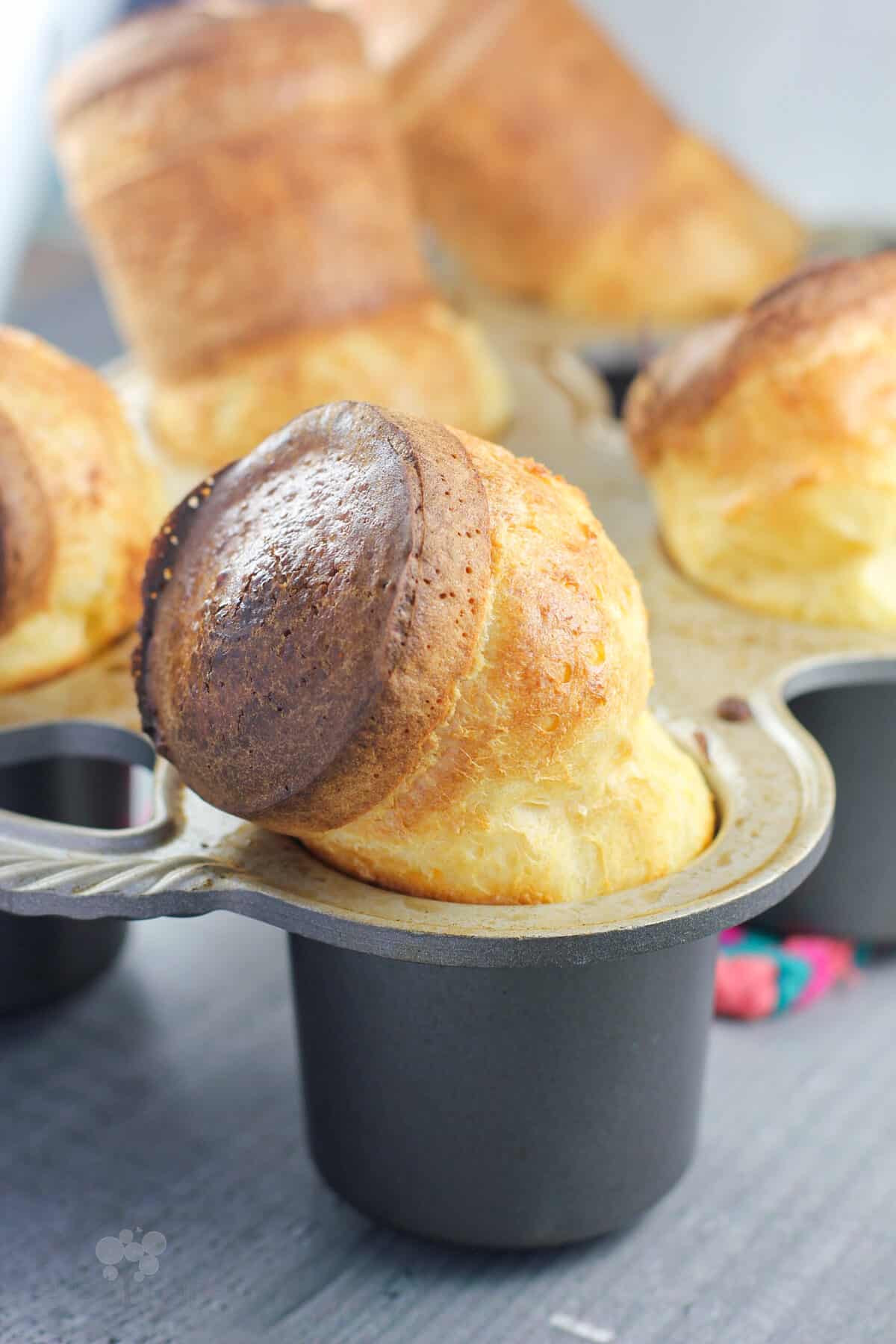 Popover recipe variations
The best variations on popover rolls are those that add a little cheese and herbs. There are also dessert popovers recipes too, such as chocolate popovers. The key is not to add so much that the added ingredients interfere with the puffing process. Here are my popovers recipes:
How to store and reheat popovers
Popover rolls are honestly best eaten very fresh from the oven. I am all about potluck and make-ahead recipes, but popovers aren't one of them. That said, you can store popovers in a container with a lid and you can freeze them for up to a month. Reheat them in the oven so they regain their crispness.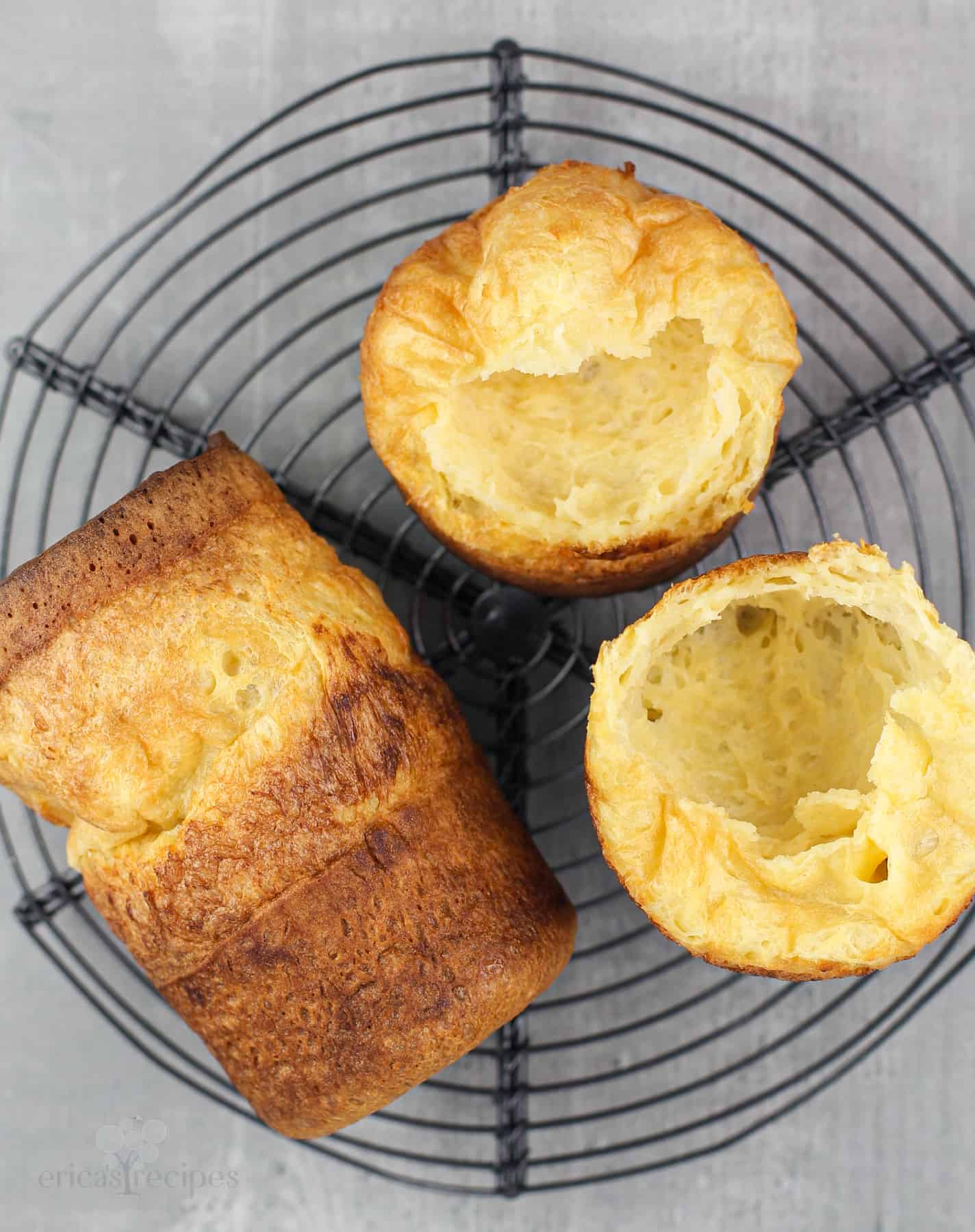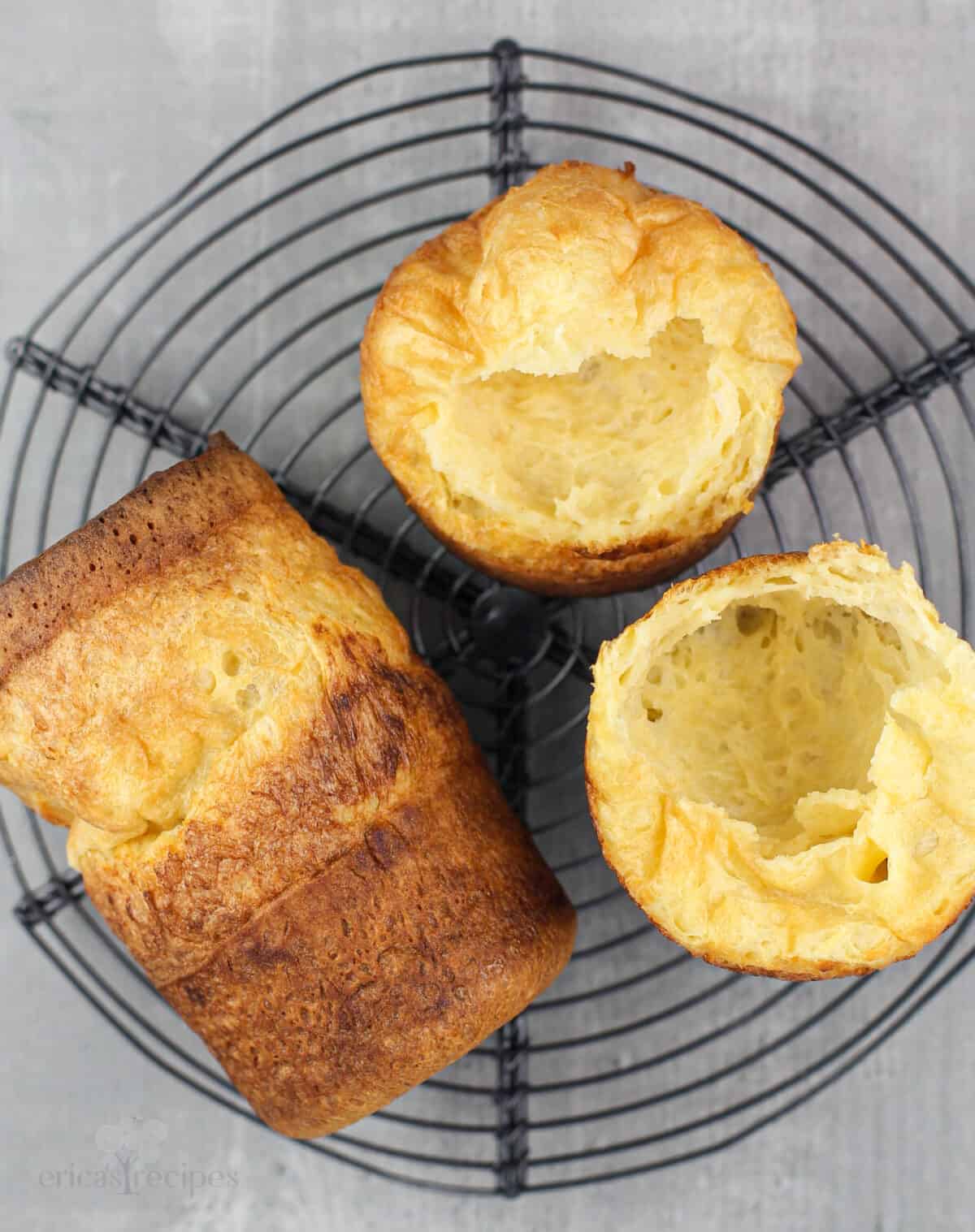 FAQ
What is the best way to store popovers?
Store in a plastic bag or container, tightly sealed. Popovers can also be frozen for up to 1 month. Reheat in a 350°F oven until crisp outside, hot inside.
Why are my popovers dense?
Dense popovers (either from not rising or not getting nice hollows inside) can result from a couple things but usually it is by either not starting with room temperature eggs and milk, not preheating the popover pan, and/or not using a quality popover tin. Look for pans that are graphite or carbonized steel.
Is a popover pan required to make popovers?
No. I have made this recipe for popovers using a traditional 12-tin muffin pan and they turned out great. Just understand that a popover pan is required for huge, classic popovers.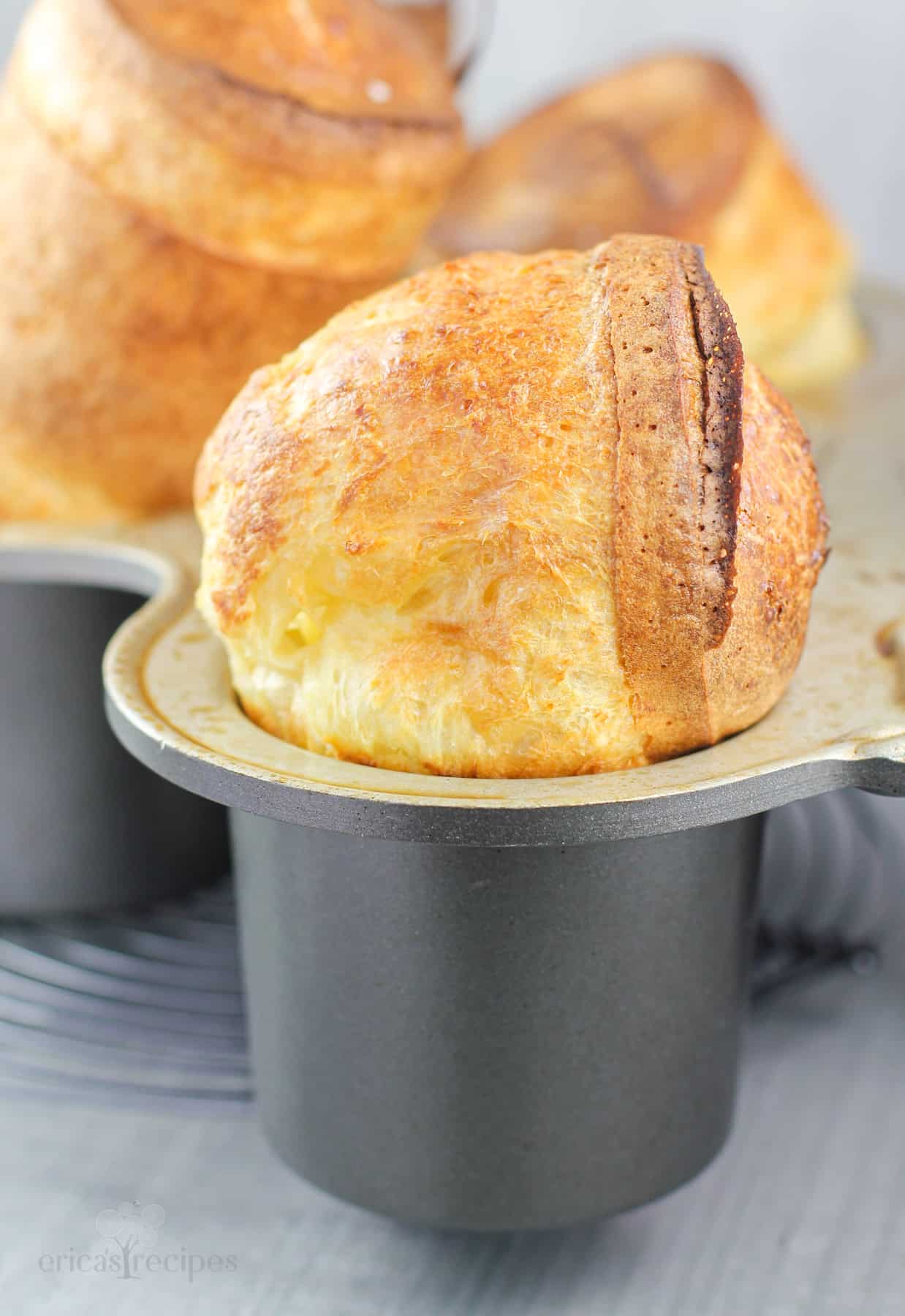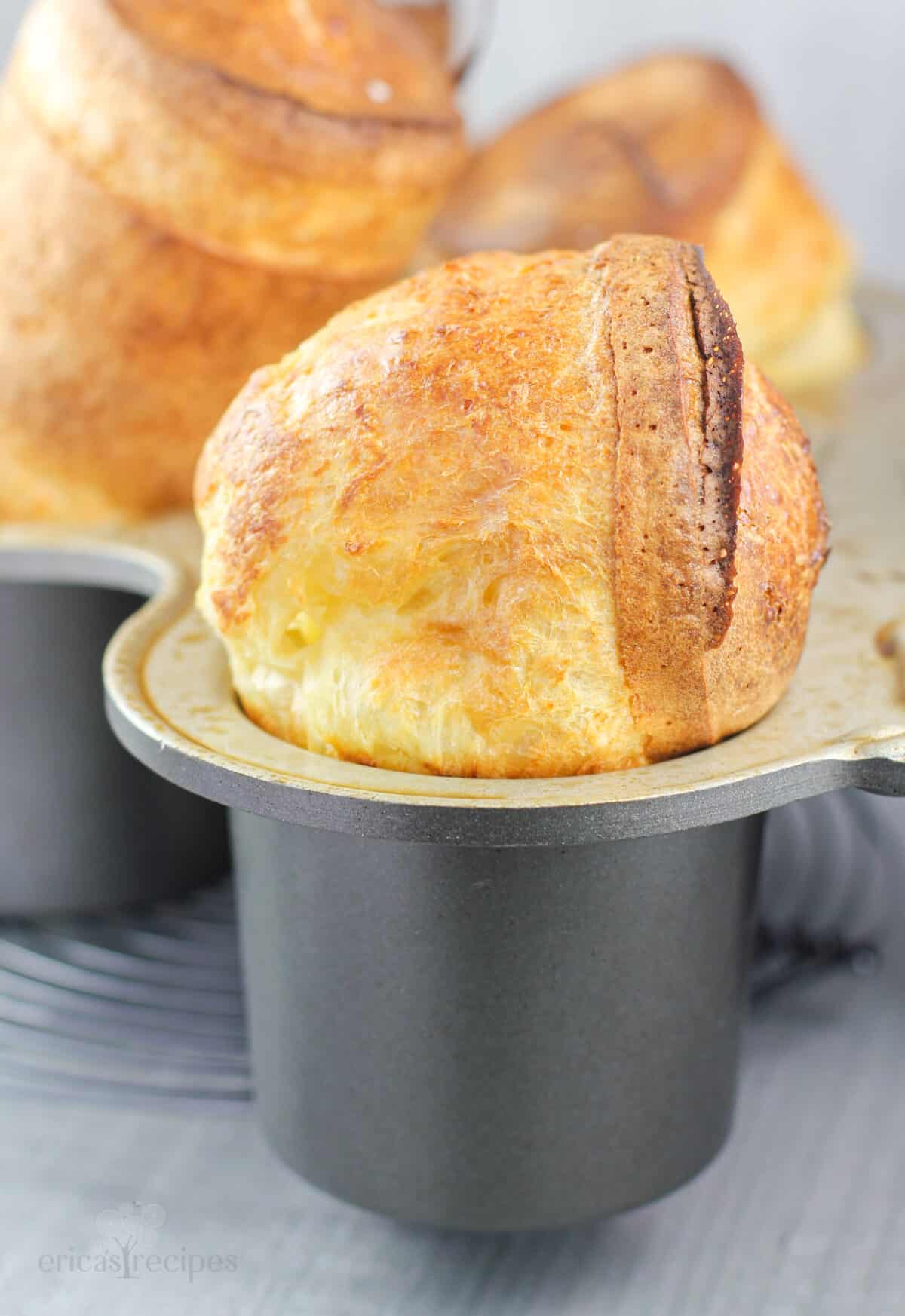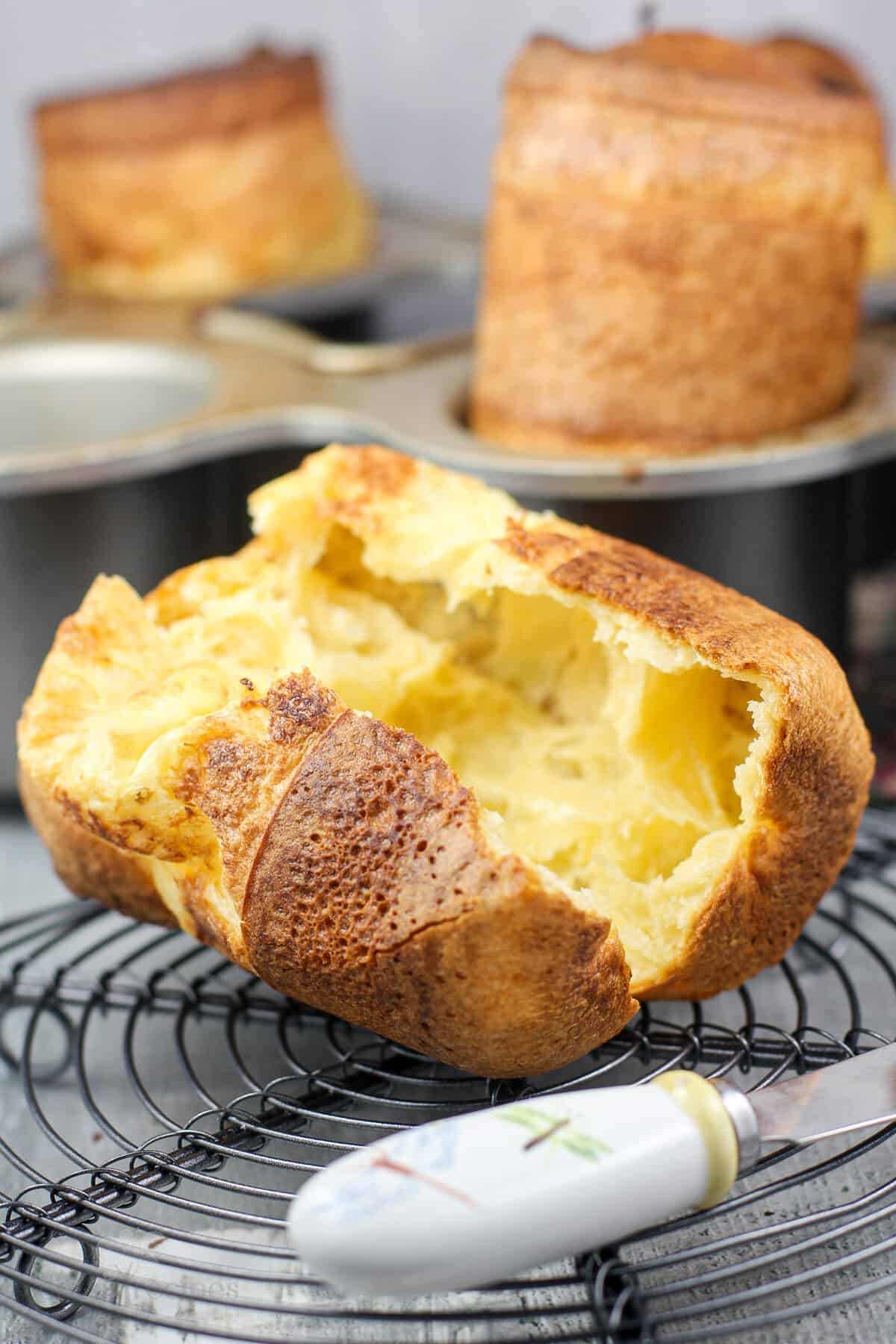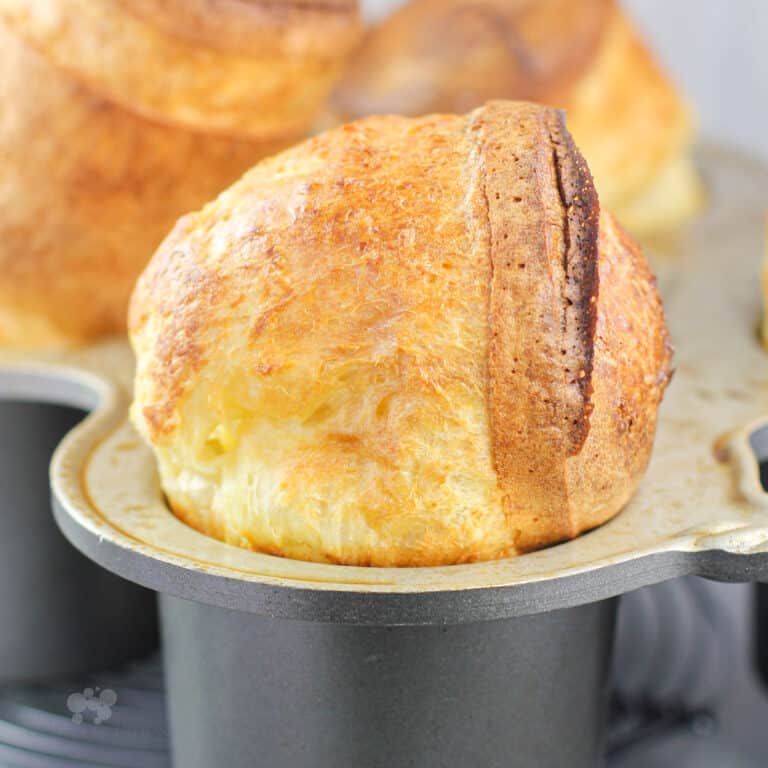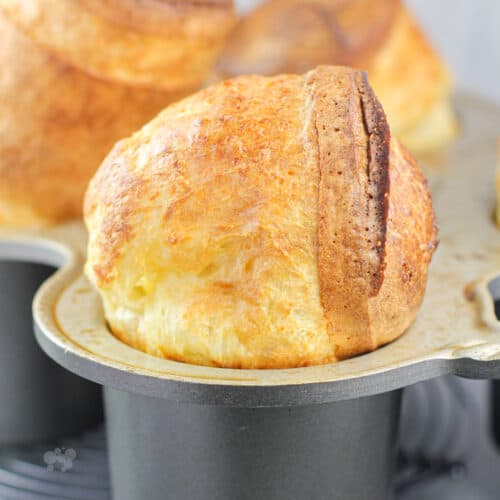 Popovers
Perfect Popovers are crispy on the outside, light and airy on the inside. Made from a simple batter of eggs, milk, flour, and butter, this is a classic recipe for popover rolls that rise up tall, but are hollow and buttery delicious inside.
Ingredients
2

eggs

room temperature

1 ½

cup

milk

room temperature

1 ½

cup

all-purpose flour

½

tsp

kosher salt

2

Tbsp

unsalted butter

melted
Instructions
Combine all ingredients in the order given and whisk just until combined. Don't overbeat the batter (a bit lumpy is ok). Allow batter to rest while the oven heats.

Heat oven to 450°F. Put the popover pan into the oven to heat for 2 minutes.

Remove preheated pan from the oven. Spray with cooking spray. Divide the batter out into the tins.

Bake at 450°F for 15 minutes. Reduce oven temperature to 350°F and cook another 15 minutes until golden. Do not open the oven at any point.

Pierce popovers with a sharp knife and remove from the tins. Serve immediately.
Nutrition
Calories:
221
kcal
(11%)
|
Carbohydrates:
29
g
(10%)
|
Protein:
10
g
(20%)
|
Fat:
7
g
(11%)
|
Saturated Fat:
4
g
(25%)
|
Cholesterol:
79
mg
(26%)
|
Sodium:
179
mg
(8%)
|
Potassium:
231
mg
(7%)
|
Fiber:
1
g
(4%)
|
Sugar:
6
g
(7%)
Calorie count is purely an estimate calculated using an online application to serve as a guide and not to be taken as accurate nutritional information. Percent Daily Values are based on a 2,000 calorie diet.
Tried this recipe?
Leave a comment below and let me know!