Loaded Sriracha Chicken Kettle Chips
Slow cooked, pulled Sriracha chicken piled on to crispy kettle chips with bacon, jalapeno, tomato, and tons of cheese. This spectacular party recipe for Loaded Sriracha Chicken Kettle Chips will absolutely WIN any gameday gathering.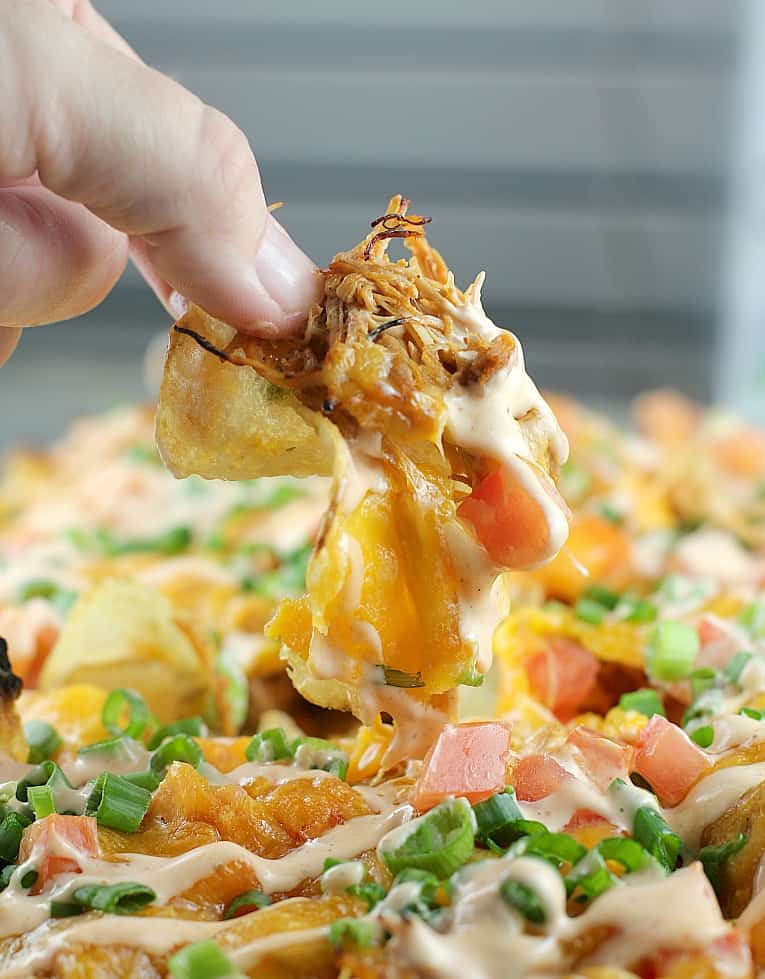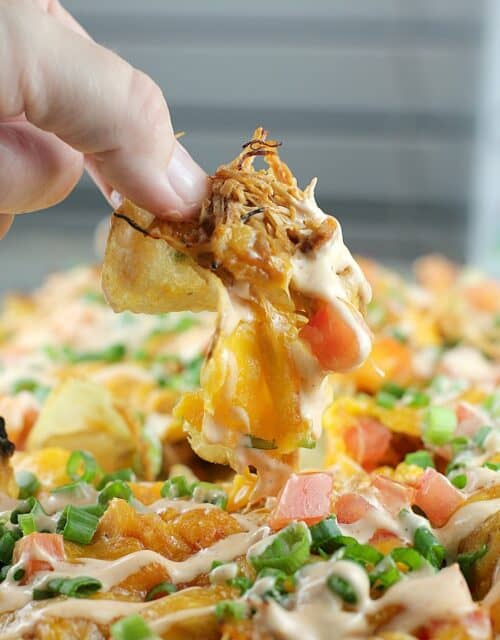 You guys! Just check out this football food, I am SO excited. Super easy, freaking AMAZINGLY good food. I mean, holy flavor PUNCH with this Sriracha chicken. AND to top it all off, I load it all on my end-all, be-all, lifelong favorite Cape Cod® Potato Chips.
Yum yum yum yum yum.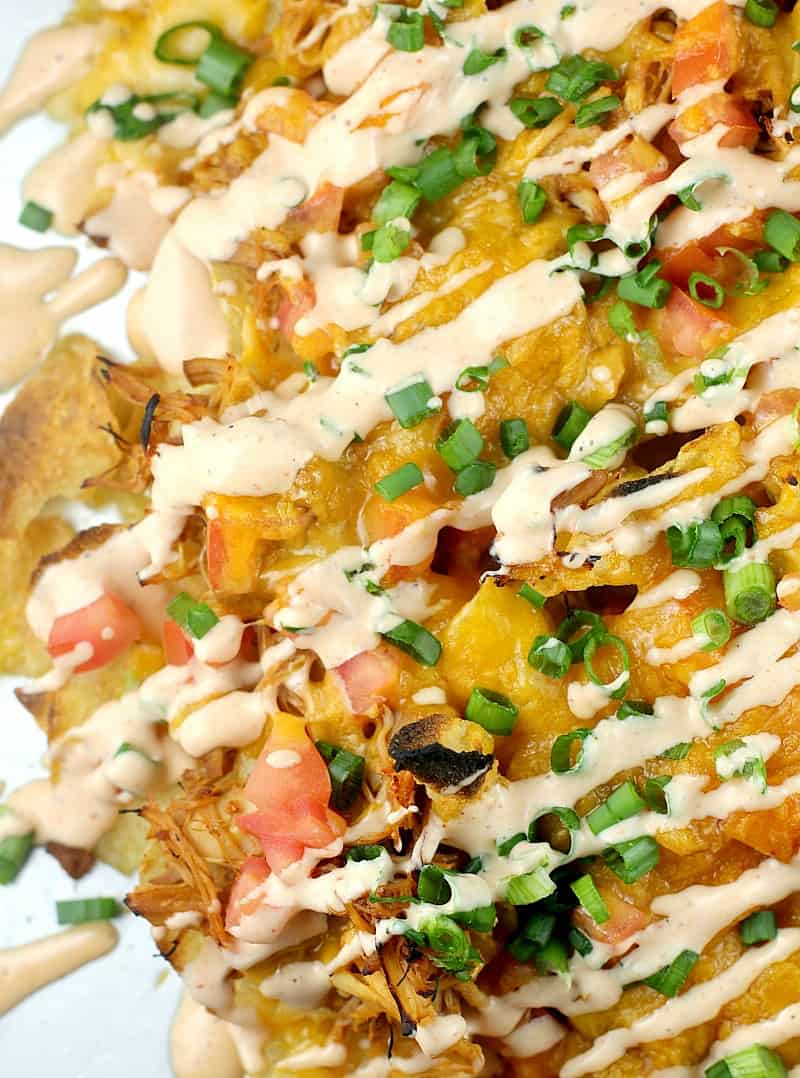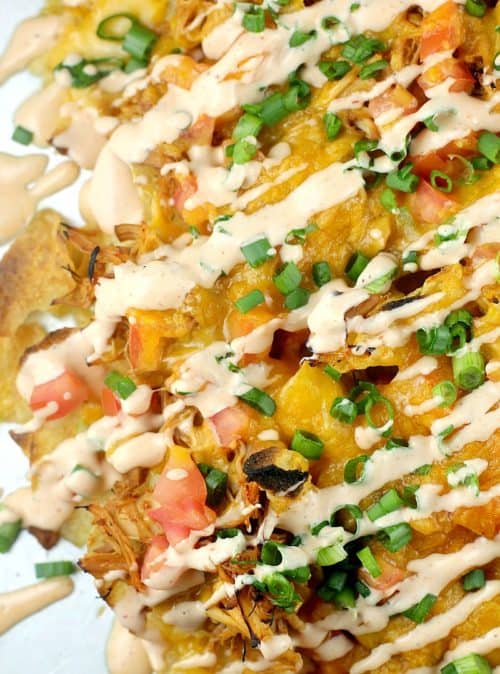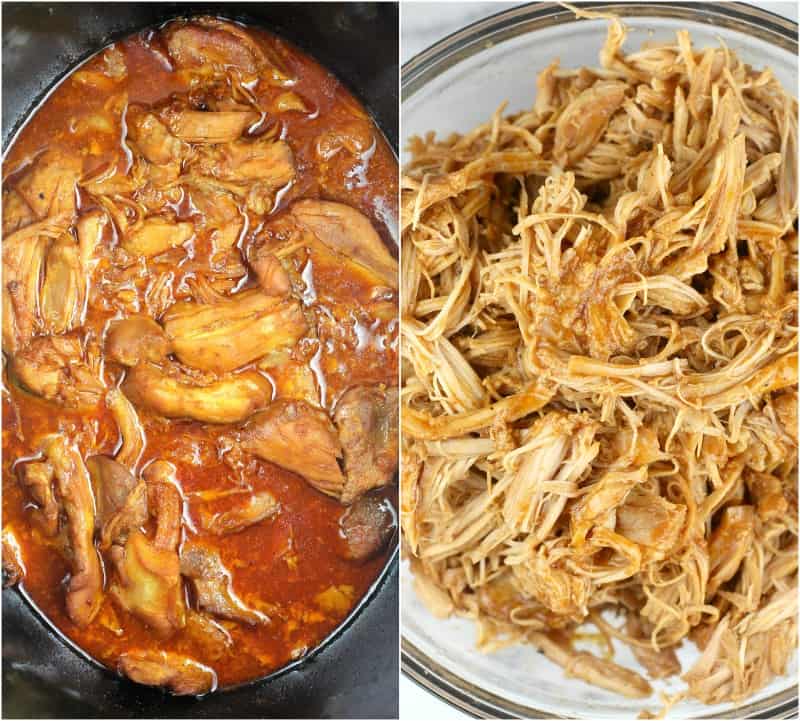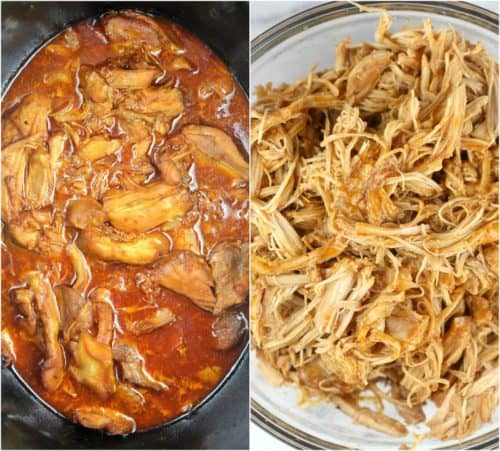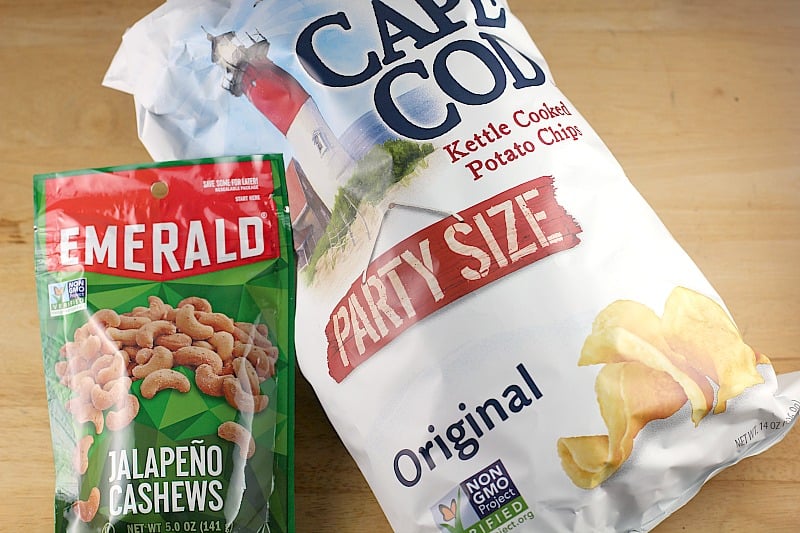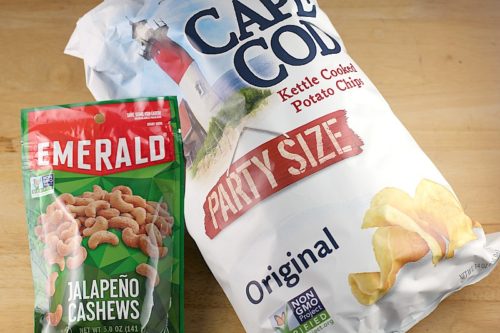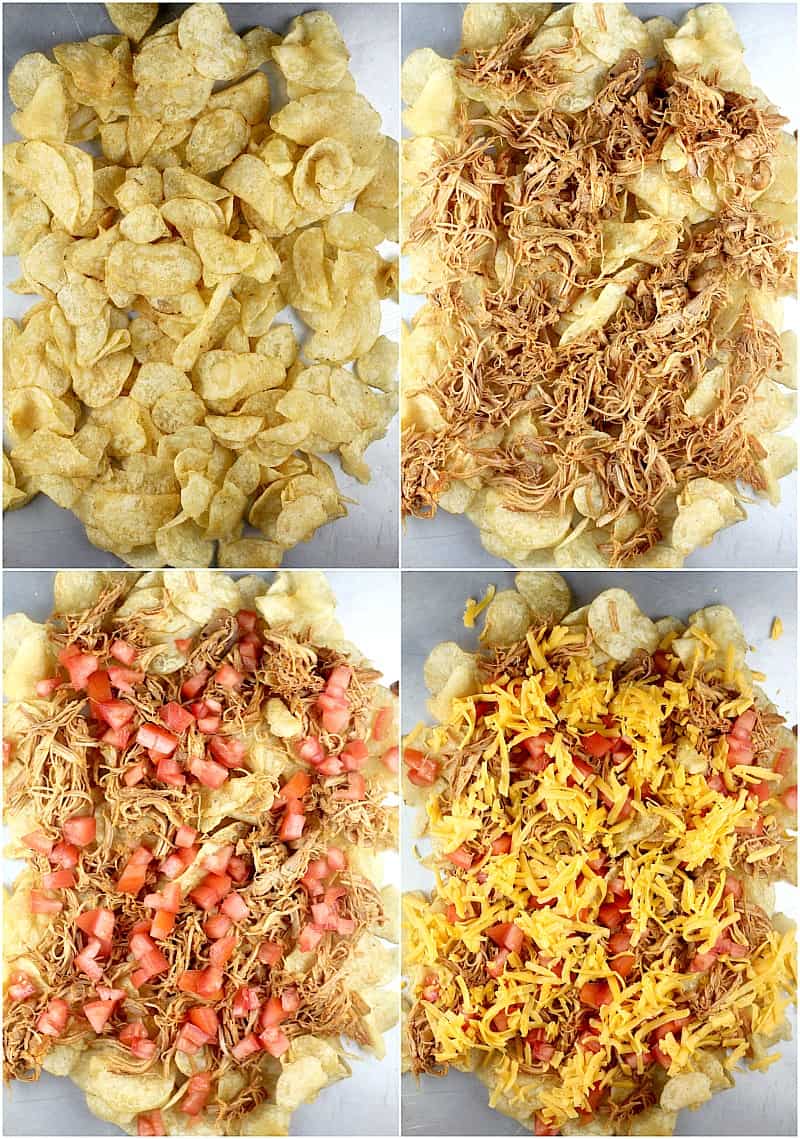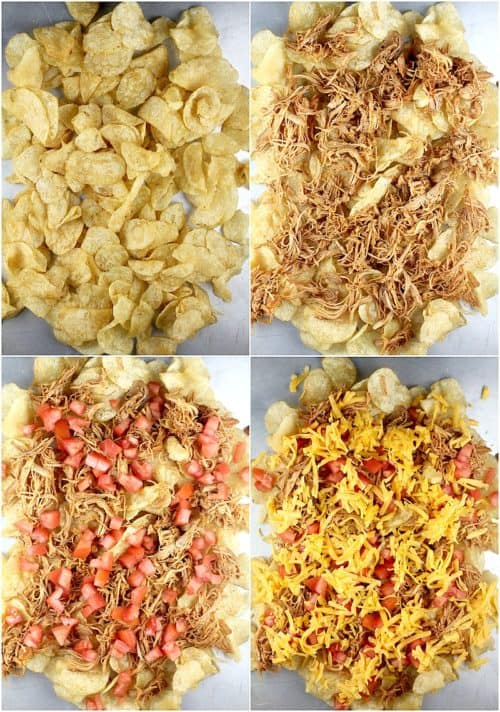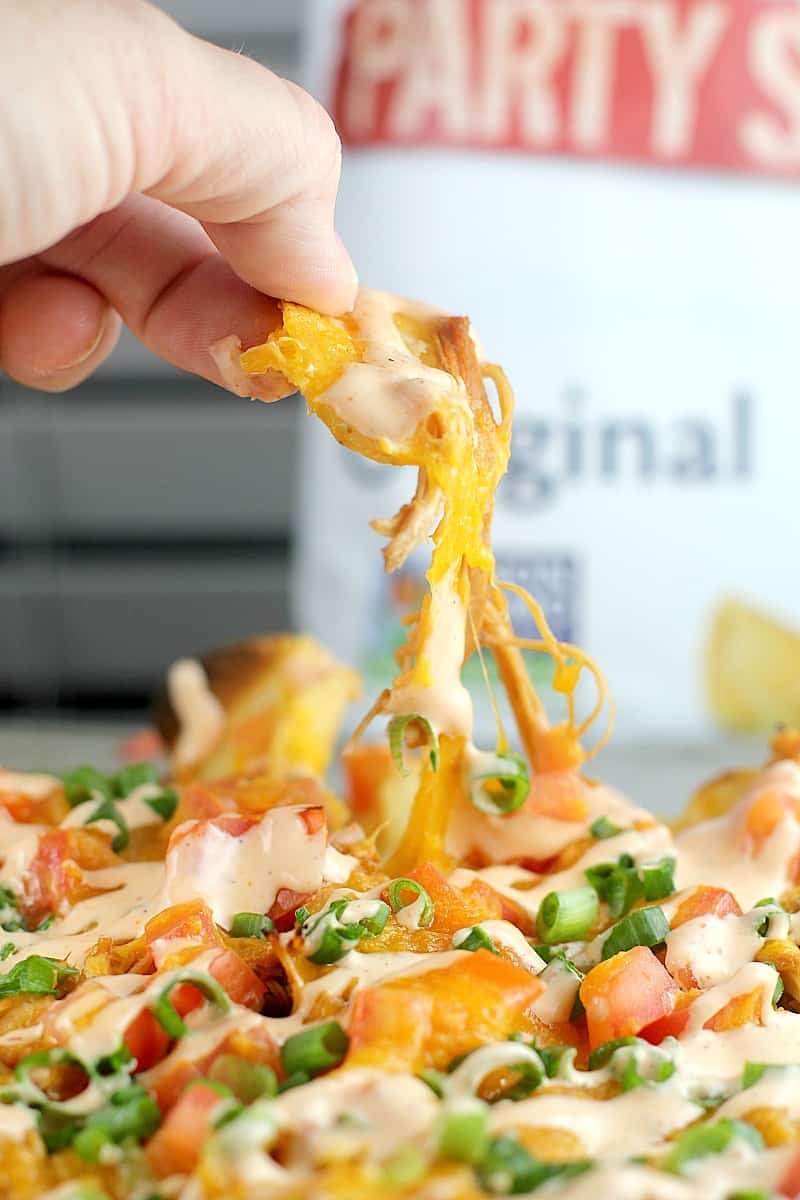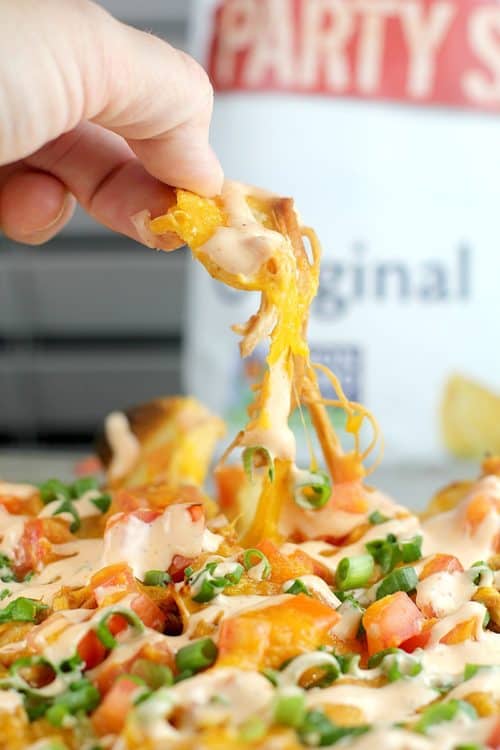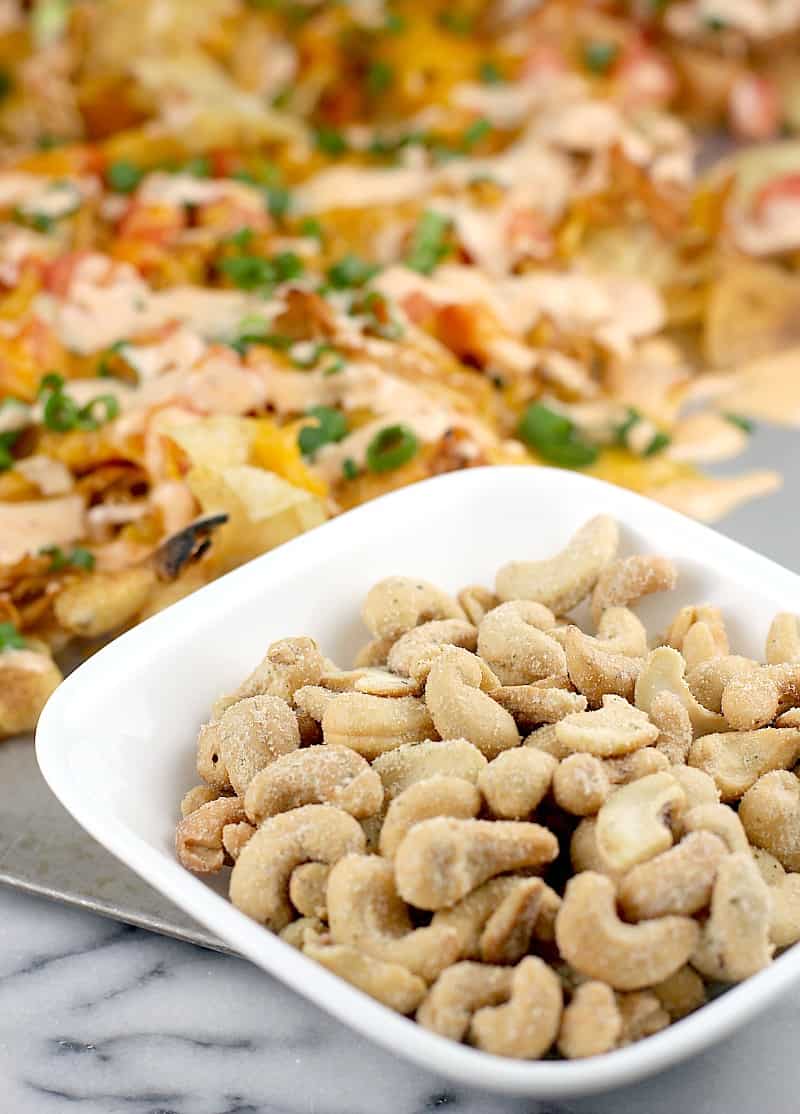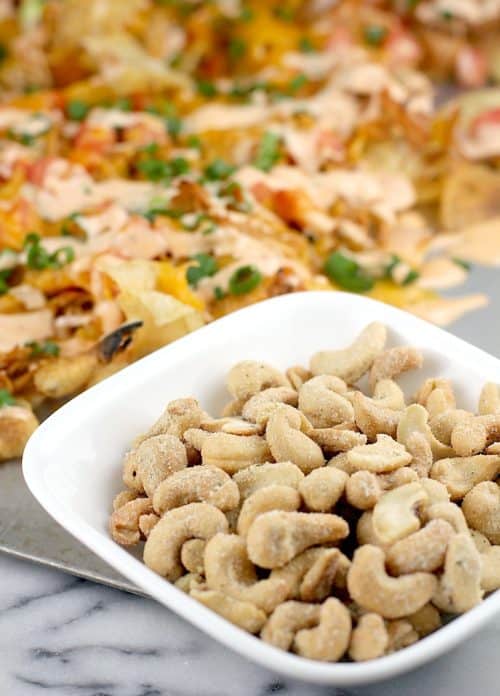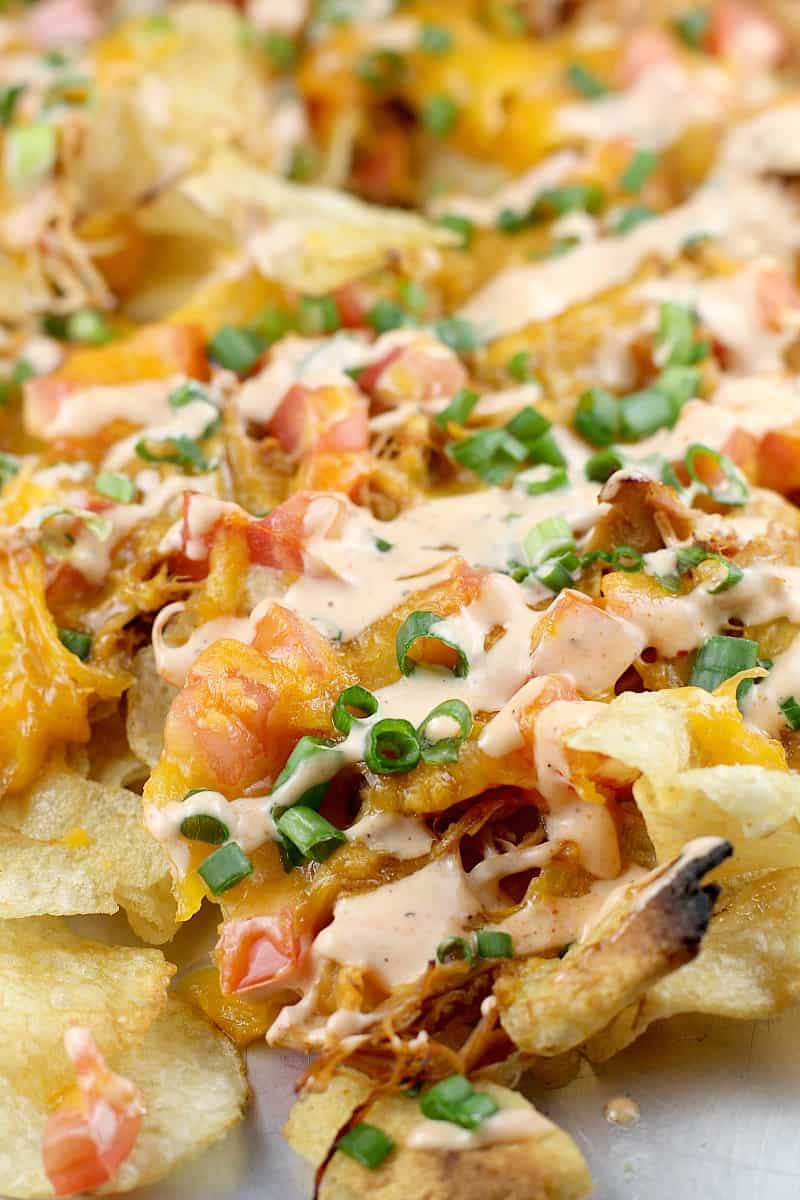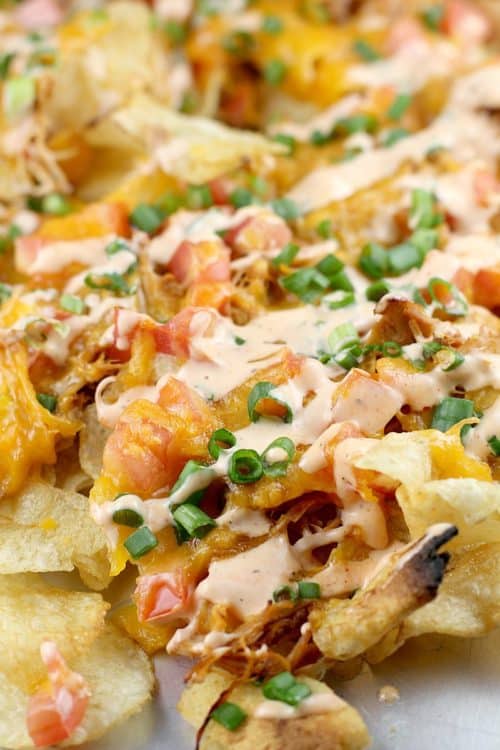 Maybe it is because I'm from Boston originally, so there is the whole Cape Cod association with home, but these chips have been my favorite for everrrr. I literally jumped on my computer when I saw the opportunity to work with this brand for a party recipe. Then of course add to it that MY TEAM and our G.O.A.T QB ? have been killing it this season and I have EVERY confidence we will make it to the big one. Woo-hoo!
Anywho, I really want to do it up this year and even suggested to my husband that we throw an actual official football party, which we haven't done like foreverr. We have gotten to know our neighbors better this year, and oddly enough that started with going to our local watering hole to watch football. My husband is from Maryland, I am from Mass, and we live in Florida with three teams of its own …so, it is rare that our games are on TV. We started going out to watch our games each Sunday, and our neighbors often do the same so it became this super fun thing. So, I am thinking that we should finish out this season with a party at home. Hence, this recipe which was even inspired by kettle chip "nachos" served at this same restaurant. Boom.
So, with said party planning in the works, I want food that is new and exciting, not just chips and salsa, but I want it easy for me to make. And with me being a food blogger and all, food failure is not an option. My plan is to make a big 'ol sheet of these Loaded Sriracha Chicken Kettle Chips. I also picked up a bag of Jalapeno Cashews Emerald® Nuts and dangggg are they tasty, so I'll put them out as well. Then I'll also do veggies and Snyder's of Hanover® Pretzels with my Light and Creamy Horseradish and Dill Dip, and then maybe one other snazzy dish like my Beer Brats in Blankets and Smoked Gouda Fondue and call it good. This will work to have a little variety for everyone but keep it easy for me.
The recipe for my Loaded Sriracha Chicken Kettle Chips is ridiculously simple considering what a crowd-pleasing dish it is. First, we just throw our boneless, skinless chicken thighs in the slow cooker, and this can be done a day in advance. We let that go low and slow so the meat gets all super tender, then we shred it up. Then, when ready, we load up all our ingredients all nacho-like on the Cape Cod® Potato Chips and give a quick heat under the oven broiler to warm and melt the cheese. Easy and Done! I went heavier with the Sriracha in this recipe than I have previously, and MAN it was SO SO tasty. Everything works together here – this is quality grub that I will gleefully serve out for the crowd.
So that's it folks. These insanely good, party chips with my delicious Sriracha chicken is worthy of your biggest football get-together. Enjoy!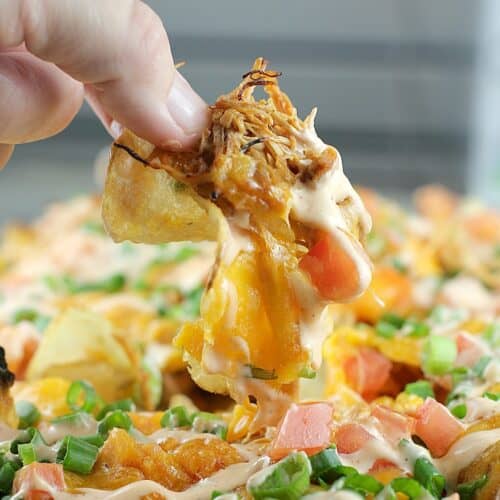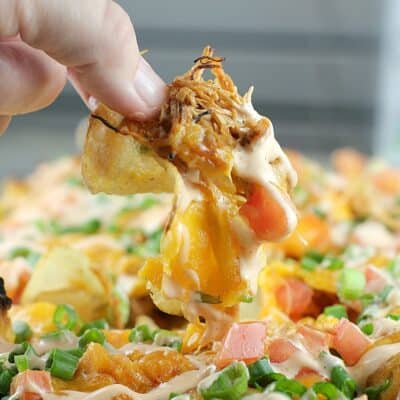 Loaded Sriracha Chicken Kettle Chips
Slow cooked, pulled Sriracha chicken piled on to crispy kettle chips with bacon, jalapeno, tomato, and tons of cheese. This spectacular party recipe will absolutely WIN any gameday gathering.
Ingredients
For the Sriracha Pulled Chicken
For the Loaded Kettle Chips
1

14 oz

Party-Sized bag Cape Cod® Potato Chips

2

cups

shredded sharp cheddar cheese

½

cup

cooked and crumbled bacon

2

tomatoes, diced

¼

cup

diced or sliced pickled jalapeno

½

bunch

green onion, chopped

spicy ranch (see Notes)
Instructions
Put the chicken, soy sauce, barbecue sauce, Sriracha sauce, and barbecue seasoning in a slow cooker. Cook on high for 4 hours or low 8 hours. Use two forks to shred the chicken.

On a large sheet pan, layer chips, chicken, tomato, bacon, jalapeno, and cheese. Put under the oven broiler for a minute or two to melt the cheese and heat everything through. Top with green onion and spicy ranch. Serve immediately. Yields: 6 servings.
Notes
For the spicy ranch, I added 1 Tbs Sriracha to 1/3 cup regular ranch and combined, but you can also purchase spicy ranch salad dressing. To make it look fancy fancy, I put the ranch in a small baggie, snipped the corner, and drizzled over my kettle chips.
Nutrition
Calorie count is purely an estimate calculated using an online application to serve as a guide and not to be taken as accurate nutritional information. Percent Daily Values are based on a 2,000 calorie diet.
Tried this recipe?
Leave a comment below and let me know!