This cheap dinner recipe for pasta with homemade sloppy Joe mix is a filling, budget-friendly twist on classic sloppy Joes. With basic, pantry ingredients and ground beef, this simple sloppy Joe dinner will save you money too. Kid approved!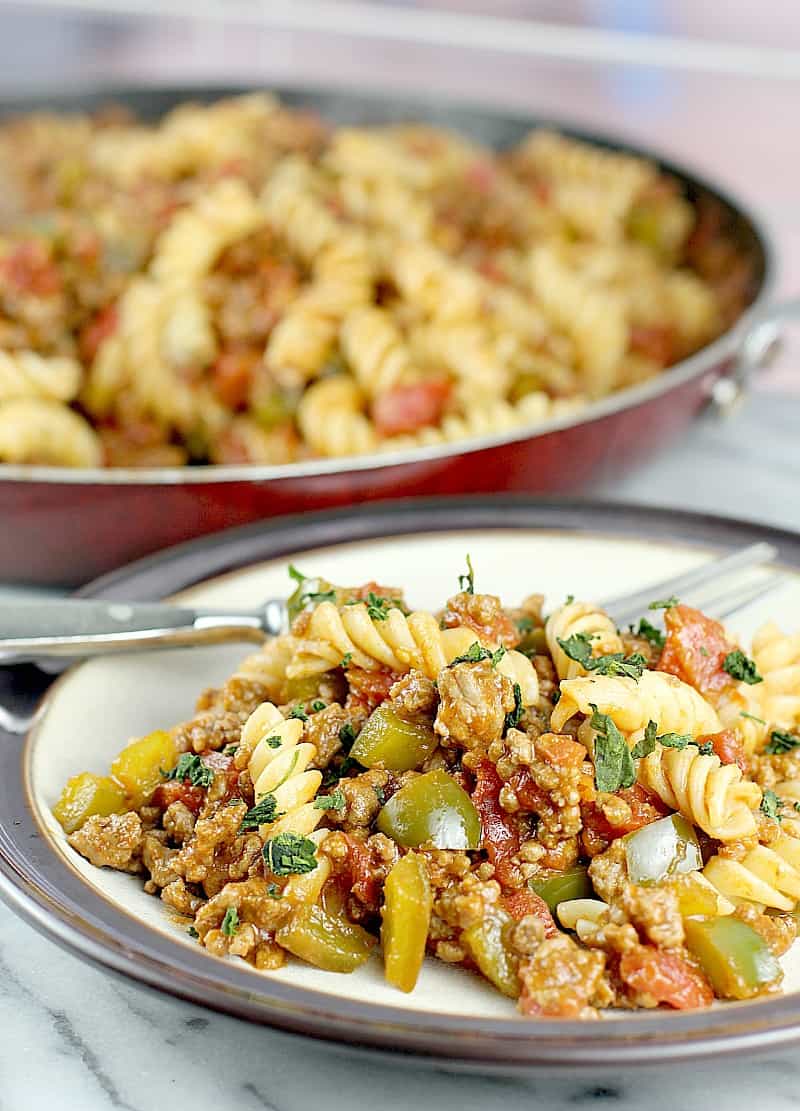 This post was originally published June 2014 and updated December 2019 for photos and content.
This recipe was sprung into existence because our grocery bill is consistently insane. Like, insane insane.
Granted, I'm a food blogger, so yeah there's that. But jeeezzzz our grocery bill is just too much.
So, when my husband started poking me a bit to try to work harder and get the bill down some, I took it as a challenge to come up with a few dependable and CHEAP dinners I could throw together on the fly.
And hence this little star was born.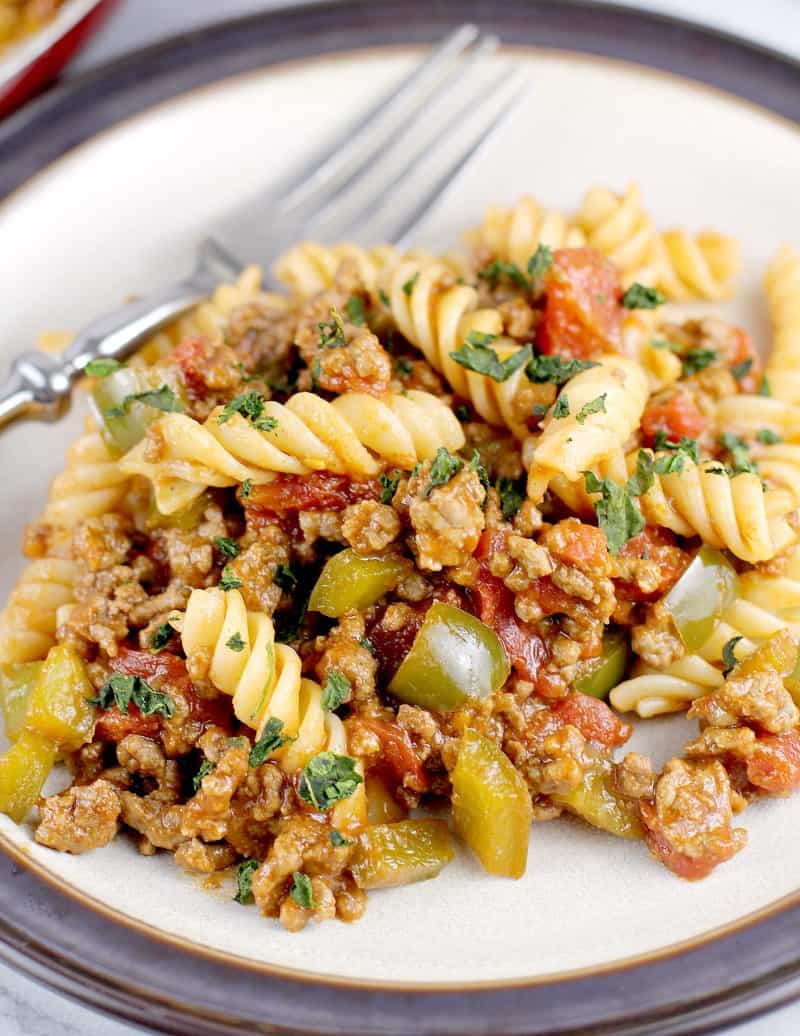 How is Sloppy Joe Pasta a cheap meal?
This simple sloppy joe recipe uses literally the easiest and cheapity cheap cheap of pantry ingredients and then just throws in some cheap pasta.
Done.
The best part is that, at least where I live, ALL of these ingredients regularly go on sale Buy-One-Get-One-Free. Score that, then this meal is half the cost.
Except actually ground beef and green bell pepper, which go on sale but never BOGO. Oh well, but even still they are generally affordable.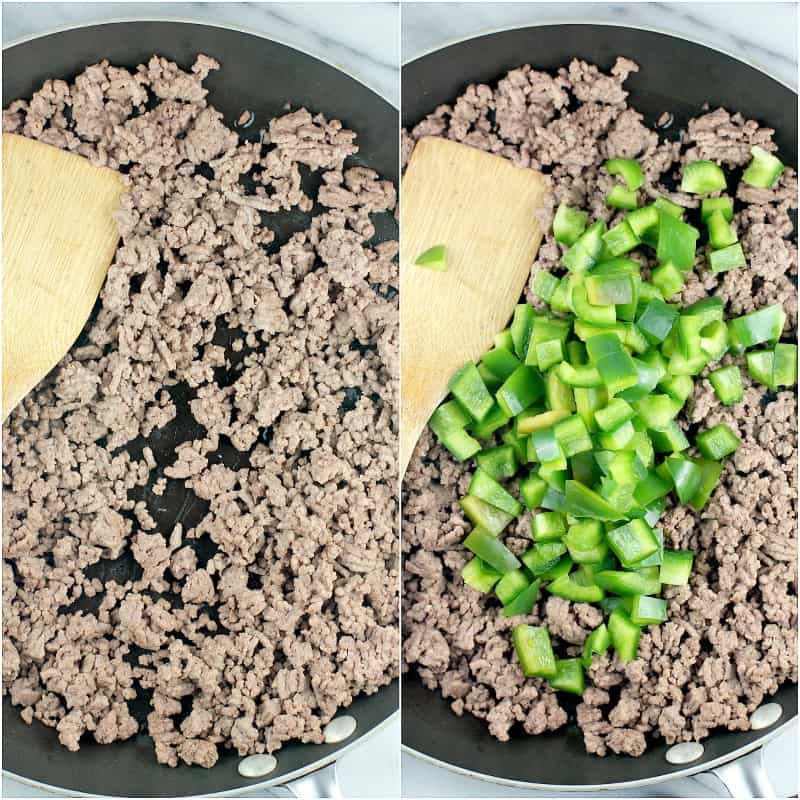 What are the ingredients for Sloppy Joe Pasta?
The simple ingredients for this family dinner are thusly:
Ground beef. Get leaner beef if you can or opt for the less expensive varieties and just drain the fat well once cooked.
Green bell pepper. One nice fresh one is all that's needed.
Canned tomatoes. I prefer the "petite" diced, but regular is fine.
Ketchup. Ketchup is the basis of sloppy Joe mix.
Mustard. Regular yellow mustard, nothing fancy.
Brown Sugar. Just a bit. This dinner does have a touch of sweetness to it.
Worcestershire Sauce. Fun fact, Worcestershire is also known as English Sauce. The more you know..
Seasonings.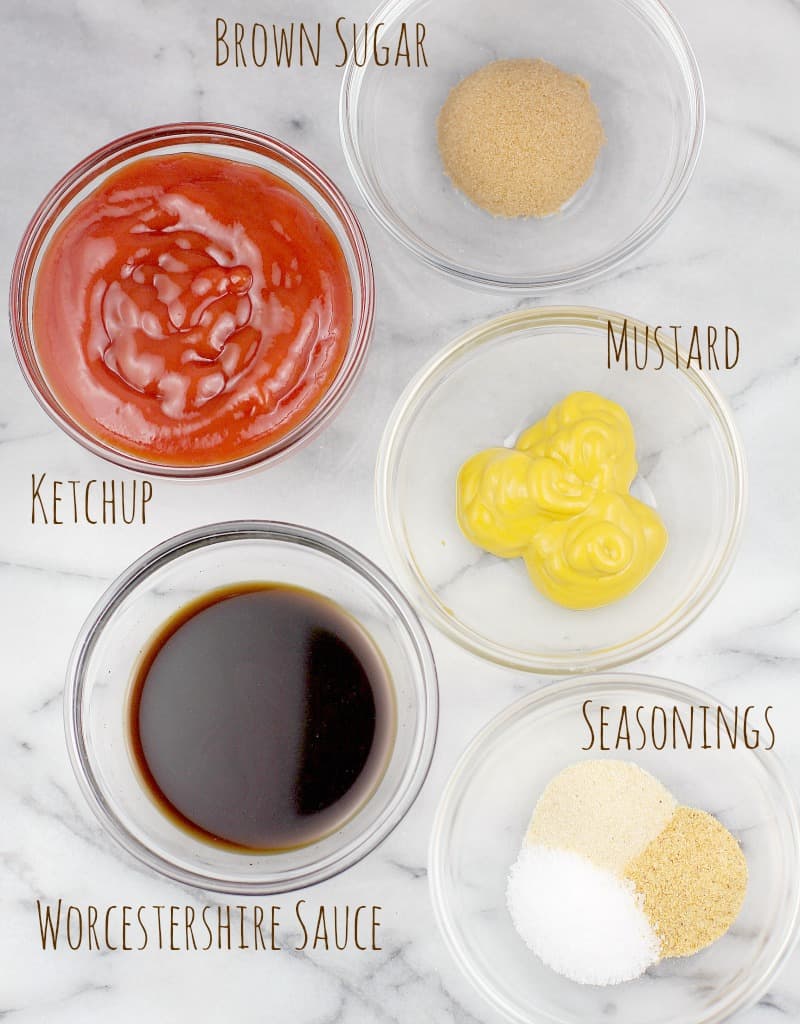 Does homemade sloppy joe mix taste better than manwich?
Are you even asking this? YES homemade Sloppy Joe mix tastes SO MUCH better than canned Manwich (sorry Manwich).
This isn't surprising, homemade is usually (always?) better, and this recipe is no exception. Especially when it is so easy to make too.
Even though we are using pantry stuff, I think the seasoning mix (garlic powder, onion powder, and salt) is the deal-breaker. Super simple wins the day.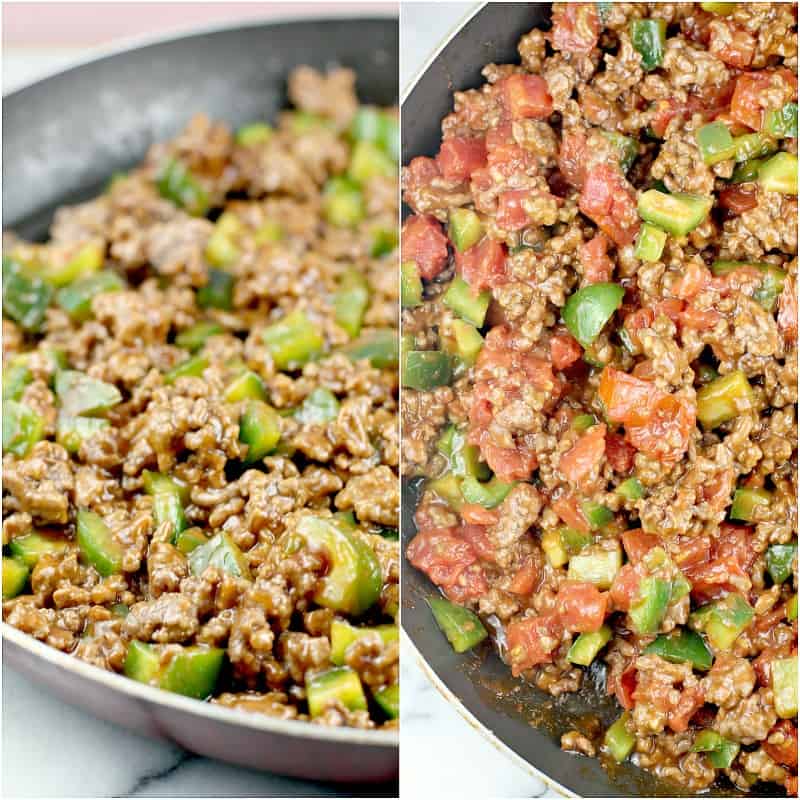 What are the steps to make this sloppy joe recipe?
Steps to make this CHEAP dinner idea are thusly:
Ground your beef and add the bell pepper and tomato.
Add the Sloppy Joe mix ingredients.
Add the pasta.
That's it! So easy, this dinner comes together in less than 30 minutes.
And one of the best things about this dinner too is that you will get NO complaint from your kids. Not One.
They will eat, promise.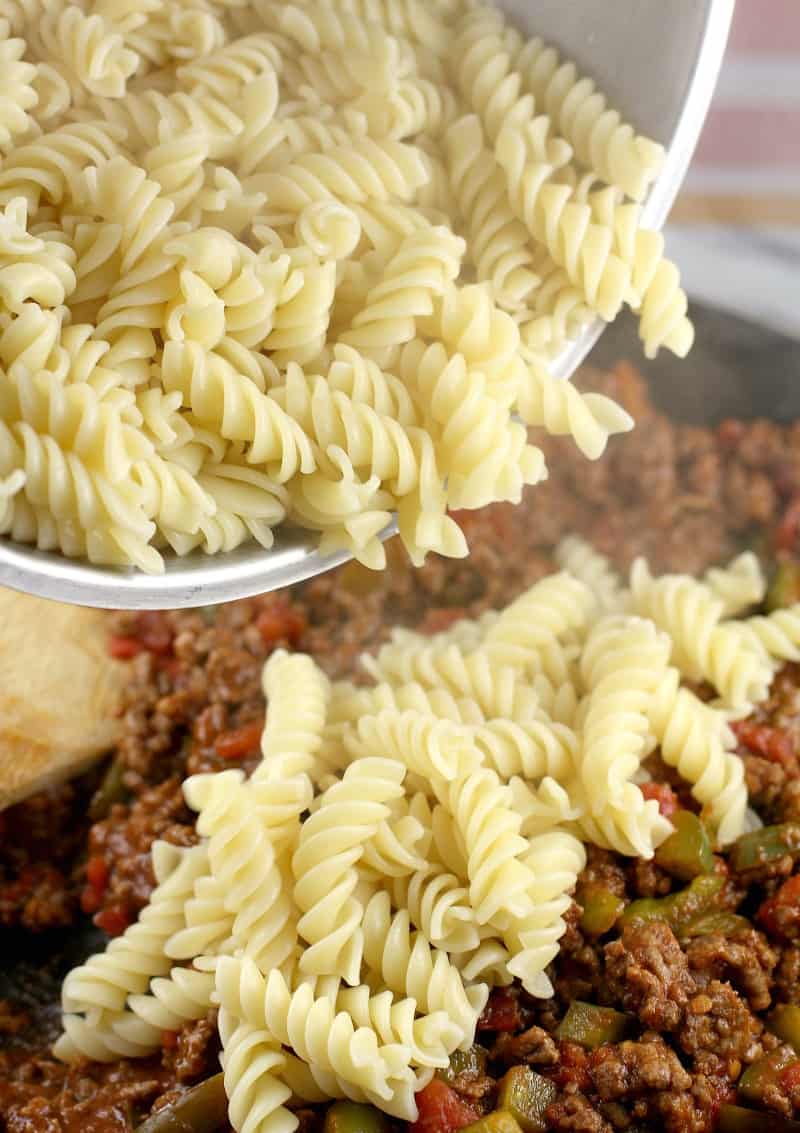 What should you serve with Sloppy Joe Pasta?
I recommend keeping sides simple with this dinner. We've just cooked a super simple dinner, why would we want more work or much more expense?
So, think salad and bread. Or peas and a roll. Maybe crescent rolls and some buttered corn.
Simple simple. And your kids will thank you.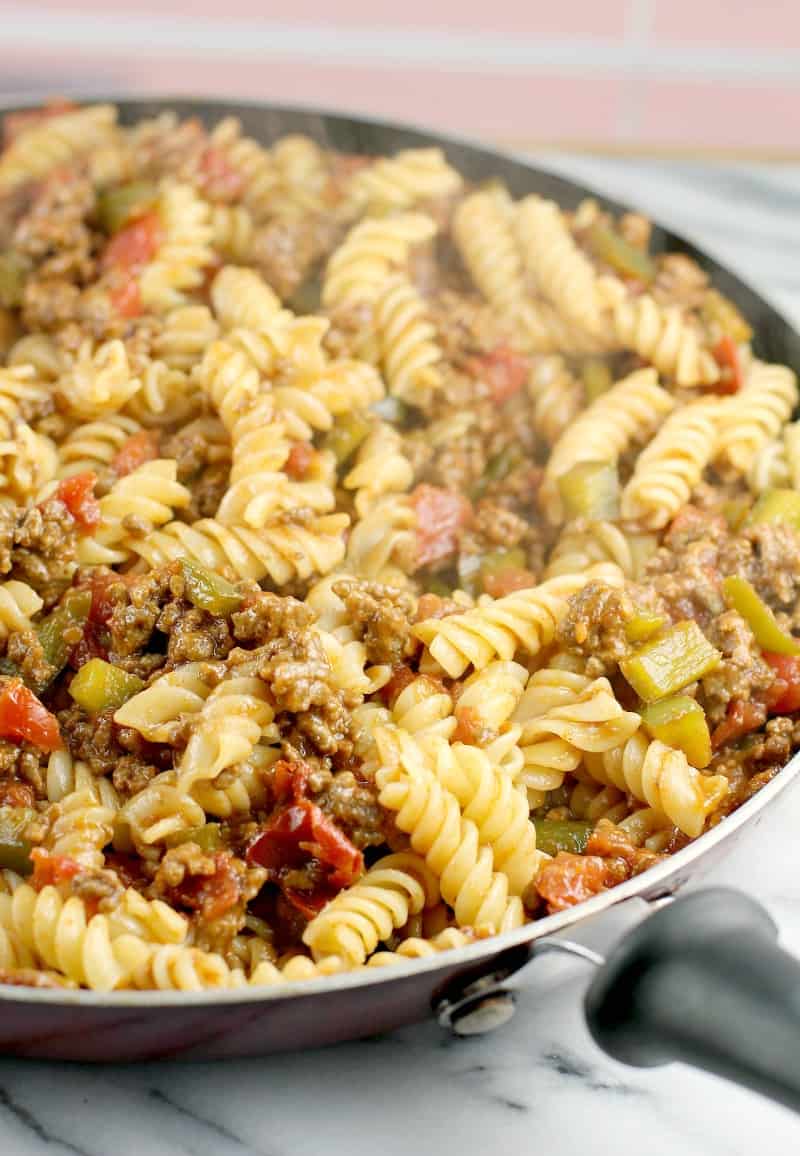 Can this homemade sloppy joe mix be made healthier?
Yes! There are always ways to lightenup.
If your budget allows or if on sale, use lean 90% or 93% ground beef to cut down on fat and calories.
Other lighter protein alternatives would be lean turkey, chicken, or pork too.
Replace the ketchup with reduced- or no sugar added-ketchup.
Add veggies. For example, grate in carrot when you add the bell pepper. I do this trick with my goulash too.
Replace the pasta with veggie-infused pasta. Or replace the pasta with veggies altogether (zoodles!).
Omit the brown sugar. I used to add more to begin with, I may cut it out the next time I make it. I'm on the fence if it's needed or not frankly. So feel free to omit and let me know how that works.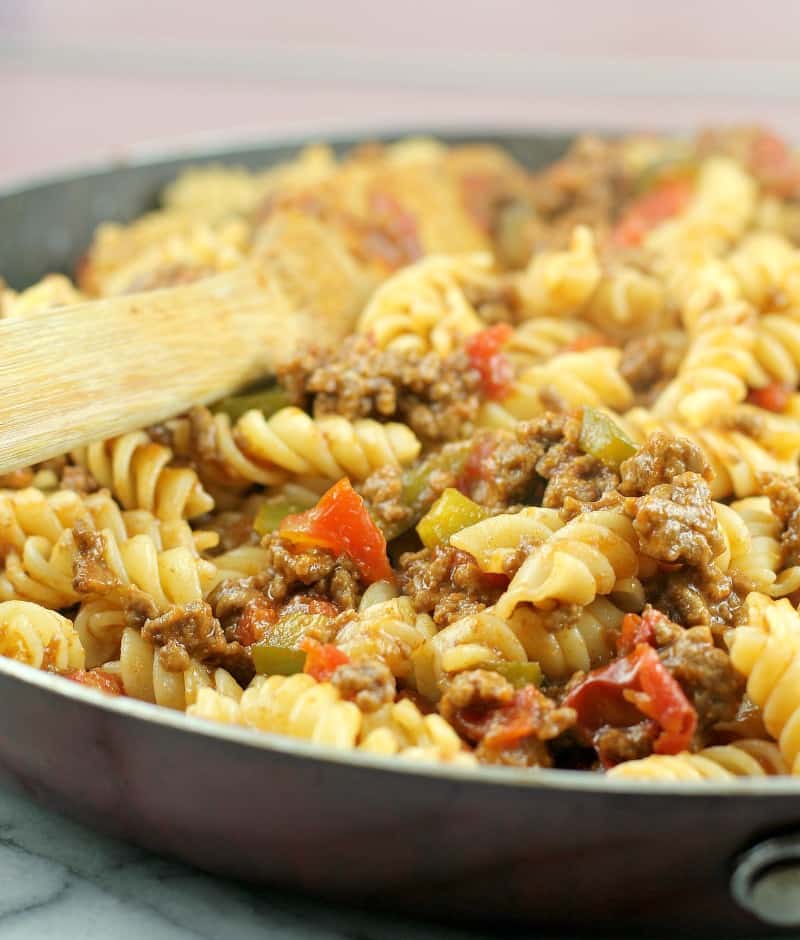 More Tips
First, this recipe has a sweetness to it. When you first add the sloppy joe mix to the meat, bell pepper, and tomato, if you taste then it will be sweet. This is normal. As the mixture cooks and the flavors meld, the sweetness will mellow. All is good. If you're worried about it, just omit the sugar.
This recipe reheats really well. So you can make in advance, have the leftovers for lunch, whatever – it's all good.
Definitely change this up to add veggies for your family and such.
If you want a DELICIOUS Sloppy Joe recipe to put on hamburger buns, as is traditional, then make this recipe as written, but omit the tomatoes and the pasta. YUM. And another cheap dinner idea.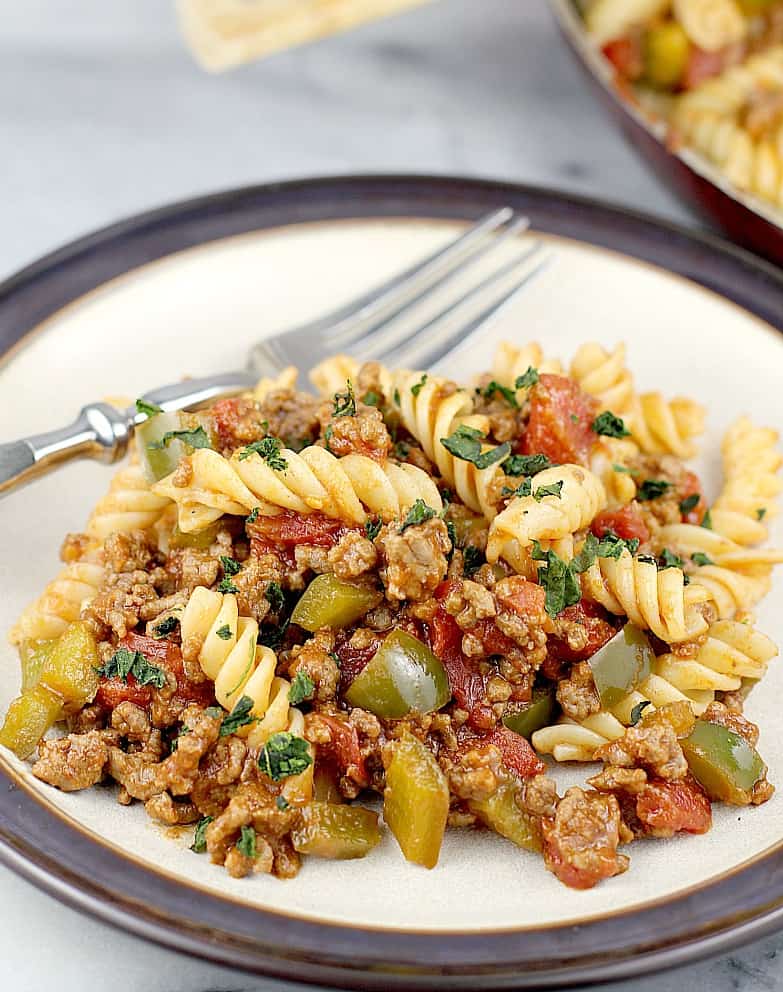 So, challenge answered for a budget-friendly sloppy joes dinner! For less than $7.00 I fed my family. And I fed them well.
I paid $6.99 for the ingredients I didn't already have on had. $1.19 for the pasta, $0.89 for the can of tomatoes, $0.64 for the bell pepper, and $4.27 for the ground beef (which was on sale).
Ketchup, mustard, onion powder, garlic powder, salt, and Worcestershire sauce are all pantry stuff I keep on hand. See this article about My Pantry to learn more about what I keep stocked.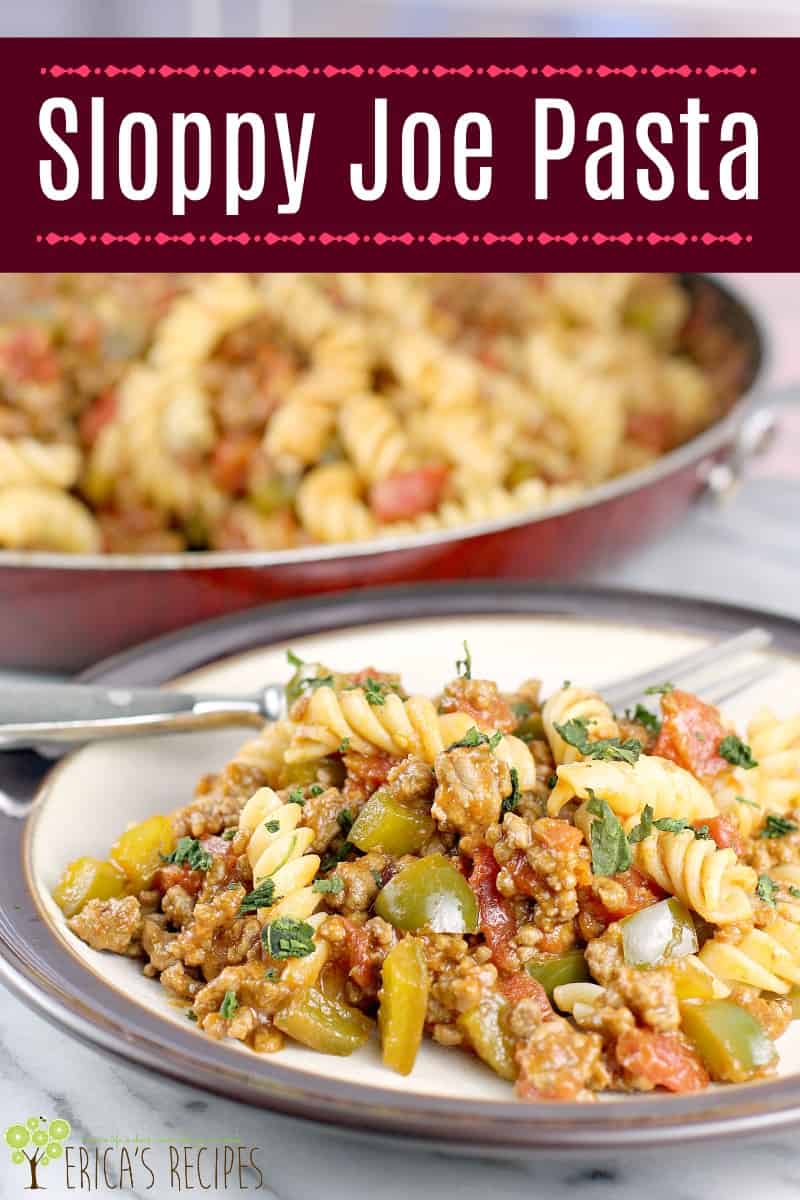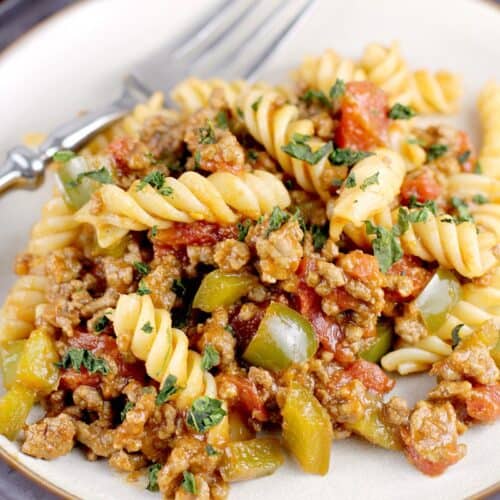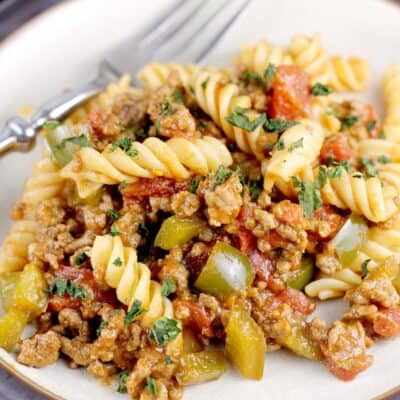 Sloppy Joe Pasta
This budget-friendly dinner for Sloppy Joe Pasta is a delicious, family-friendly twist on classic Sloppy Joes.
Instructions
Bring a large pot of water to a boil.

Meanwhile, heat a large skillet on high heat. Add the ground beef and cook until no longer pink. Drain off any fat.

Add the bell pepper and saute 1 minute to soften.

Reduce heat to medium-low, and add the brown sugar, mustard, ketchup, Worcestershire sauce, salt, garlic powder, and onion powder. Stir well to combine.

Add the tomatoes and gently stir them in. Simmer gently to blend flavors while you cook the pasta.

Cook the pasta to al dente according to package directions. Drain and toss into the Sloppy Joe mixture.
Notes
If wanting a traditional Sloppy Joe mix, omit the tomatoes and pasta. then just pile on hamburger buns and serve.
Calorie estimation is approximate.
Nutrition
Calories:
442
kcal
(22%)
|
Carbohydrates:
59
g
(20%)
|
Protein:
31
g
(62%)
|
Fat:
9
g
(14%)
|
Saturated Fat:
3
g
(19%)
|
Cholesterol:
71
mg
(24%)
|
Sodium:
915
mg
(40%)
|
Potassium:
275
mg
(8%)
|
Fiber:
3
g
(13%)
|
Sugar:
15
g
(17%)
Calorie count is purely an estimate calculated using an online application to serve as a guide and not to be taken as accurate nutritional information. Percent Daily Values are based on a 2,000 calorie diet.
Tried this recipe?
Leave a comment below and let me know!
Leave me a comment! How do you save money feeding your family and what is your go-to budget-friendly dinner?
~✿♥✿~
For more budget-friendly family dinner ideas, check out these recipes