Cranberry BBQ Crockpot Meatballs
With 4 simple sauce ingredients plus frozen meatballs, these sweet and sour crockpot meatballs in cranberry bbq sauce take just minutes to assemble for your easiest party food ever.
This is an updated take of the old grape jelly and chili sauce slow cooker meatballs recipe. My family knows them as Christmas Cranberry Meatballs!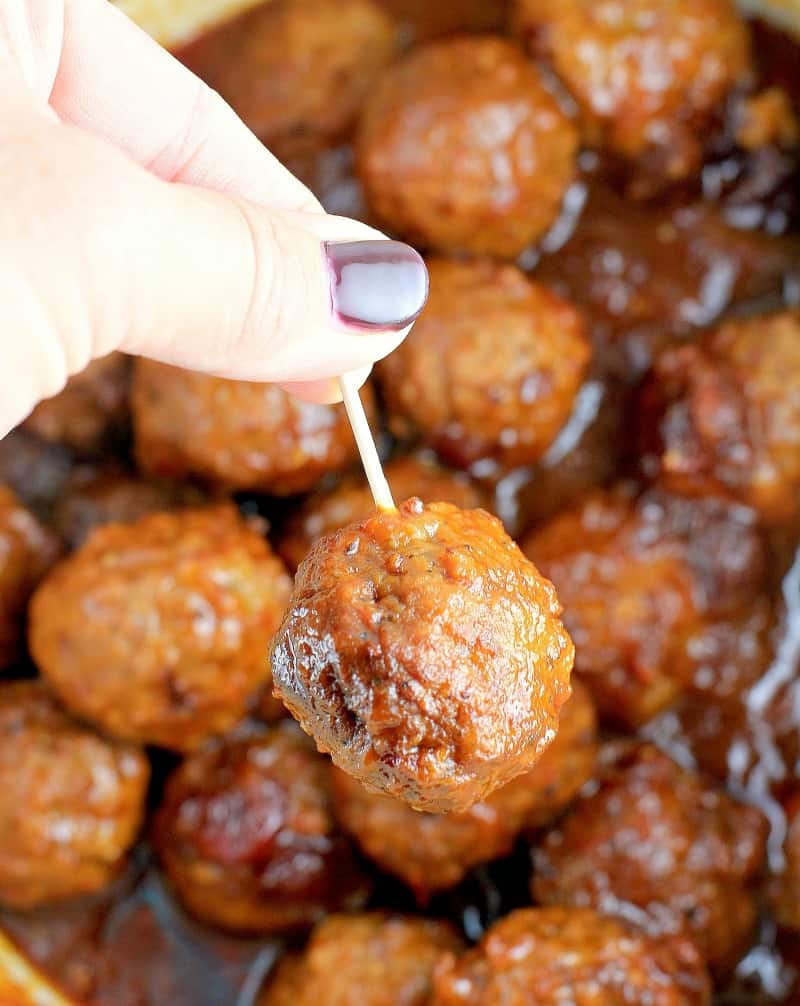 This recipe for easy crockpot meatballs is just one of those dependable, go-to recipes that you make time and time again.
I had previously posted this recipe as my Christmas Cranberry Meatballs recipe, but I decided to change the name to Cranberry BBQ Meatballs because party meatballs should not just be limited to Christmas.
Case in point, I'm planning to again for the Superbowl in February. Maybe New Year's too. We will see.
That said, I make this very recipe for slow cooker meatballs every year on Christmas Eve. This, and my Christmas Soup, also made in the crockpot.
I think my family looks forward more to Christmas soup and cranberry BBQ meatballs more than the actual Christmas dinner. And I think I do too.
But I do these recipes because Christmas Eve is soooo hectic and busy, with last minute wrapping and going to church and taking care of every last thing. So I LOVE our tradition of these easy recipes for the night before Christmas.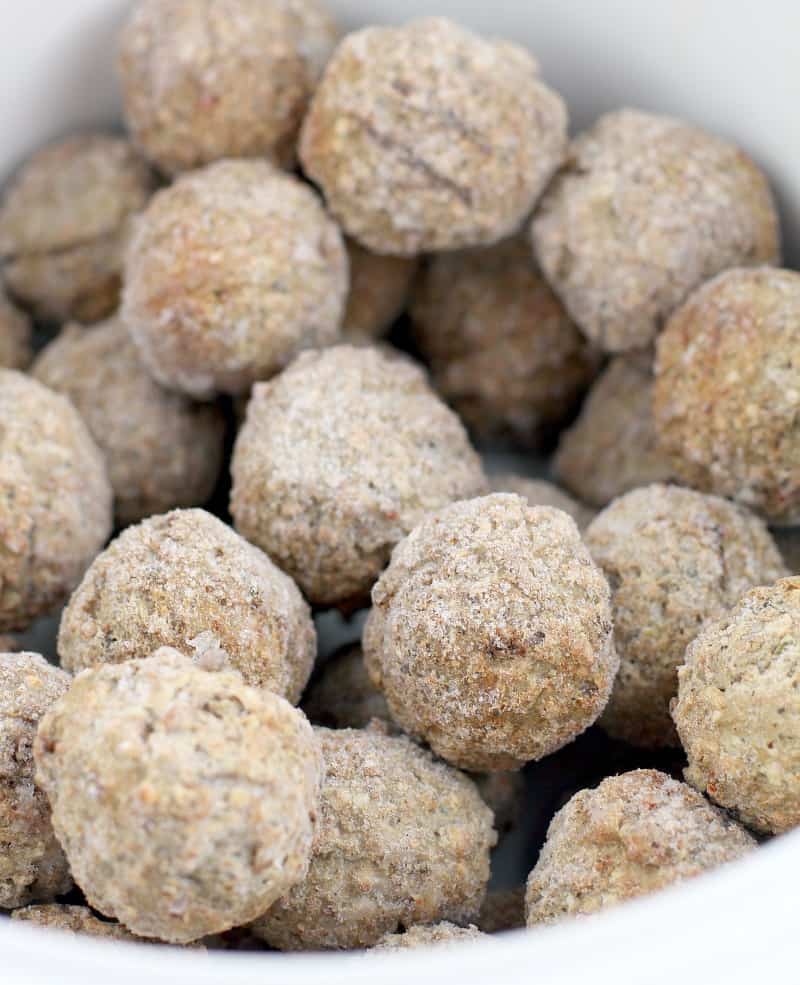 What are the ingredients for Cranberry BBQ Meatballs?
Frozen meatballs.
Whole berry cranberry sauce.
Chili sauce.
Barbecue sauce.
Whole grain mustard.
That's it! Very easy ingredients that are easy to find at the grocery store. And HINT: my grocery store in Florida always has the freezer meatballs on sale Buy One Get One Free right before the holidays.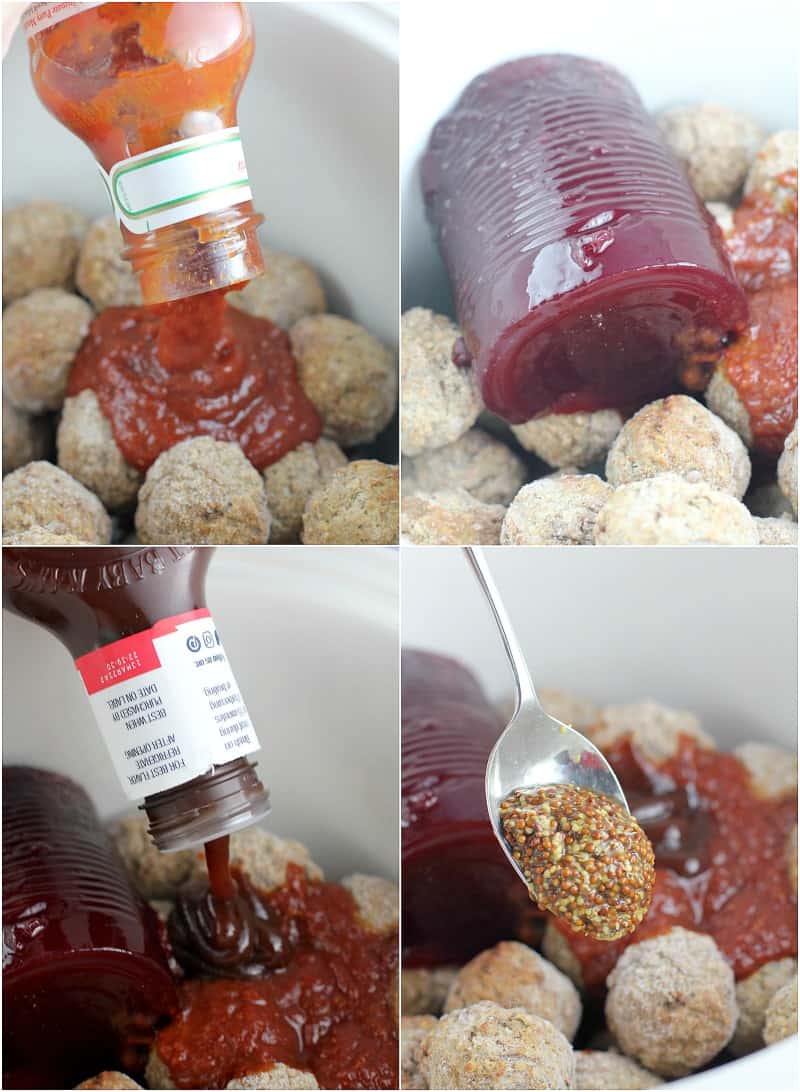 What are the steps to make the crockpot meatballs?
Put the ingredients in your crockpot.
Heat.
Literally that easy! This is precisely why this recipe for party meatballs rocks as it does – just a couple easy ingredients, and you just dump the ingredients in the pot and go about your day.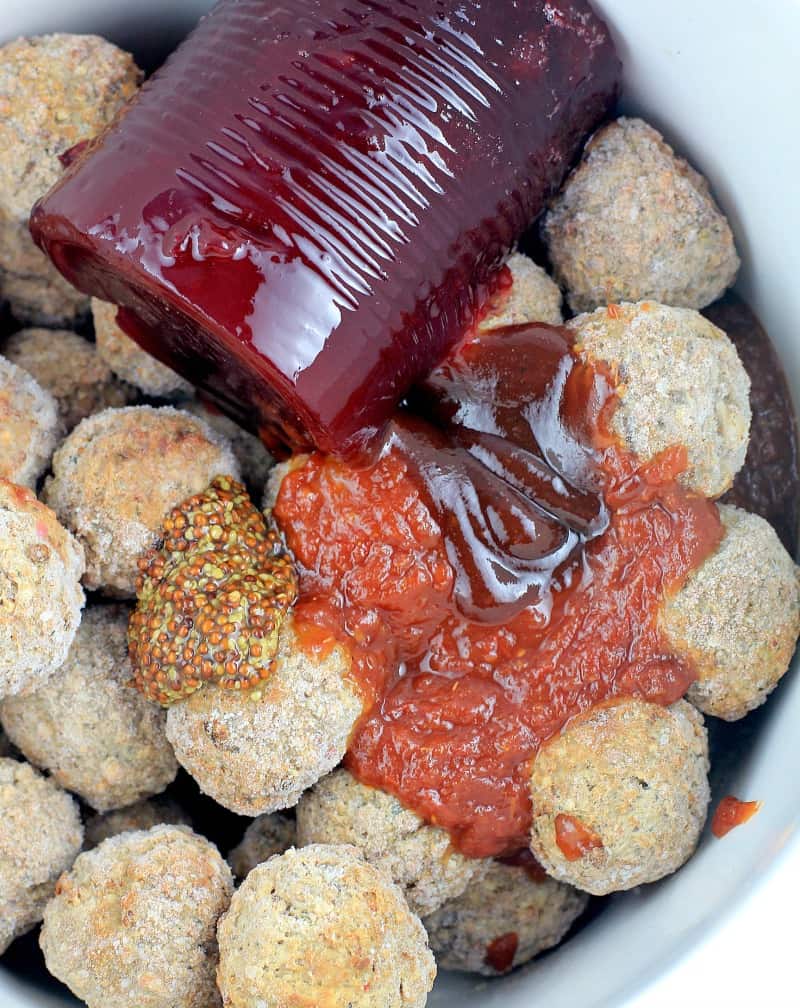 Can Cranberry BBQ Meatballs be made in advance?
Yes! If you have time issues, these cranberry bbq meatballs can be made in advance and reheated in a microwave, oven (covered) or in the crockpot before serving.
These also make for great leftovers to munch on with all the other great leftovers. …Is anything better than a big plate of holiday leftovers?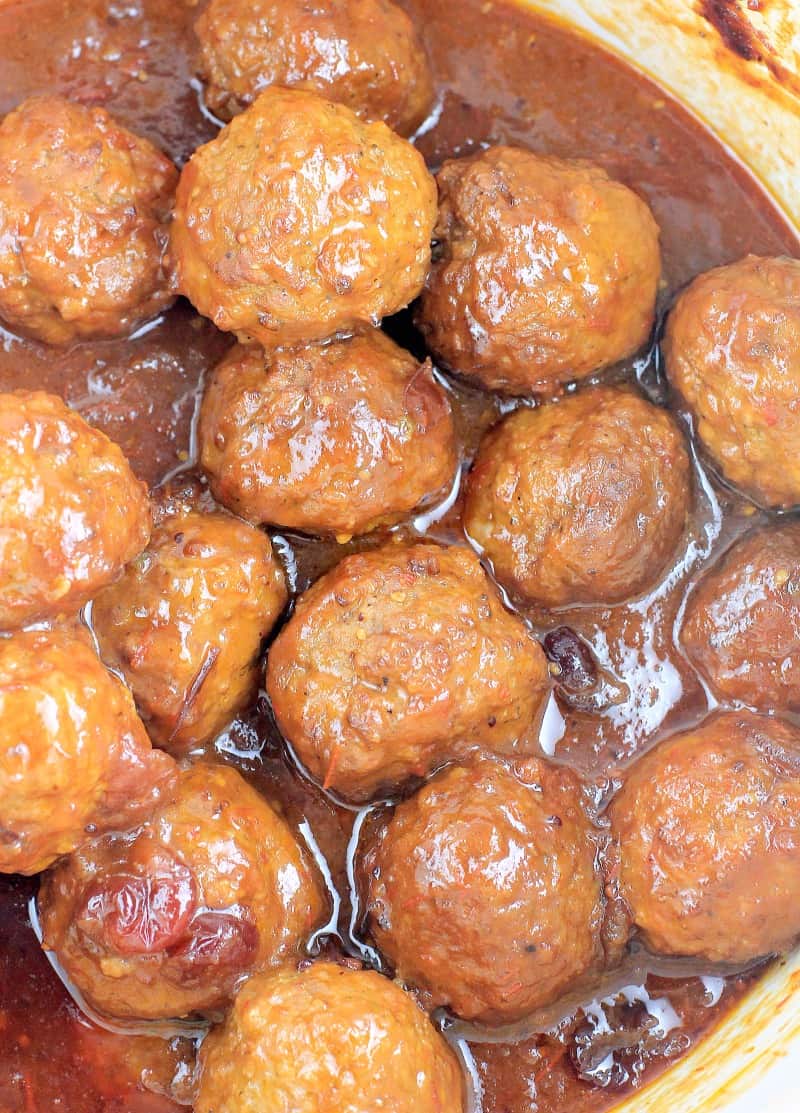 What are the cook times?
Timing is always important for any party, but that's the beauty of using the slow cooker right? So, these meatballs are ready in 4 hours on high (if starting with frozen meatballs) or 6-8 hours on low. If your meatballs are thawed, reduce cook time by half.
As the meatballs cook and the sauce comes together, the meatballs aren't cooked just once they are heated through. As they cook in this sauce for this time, they absorb the flavors of the sauce and even swell to become larger.
So when the meatballs are plump and juicy in this delicious cranberry bbq sauce, then you know you are good to go.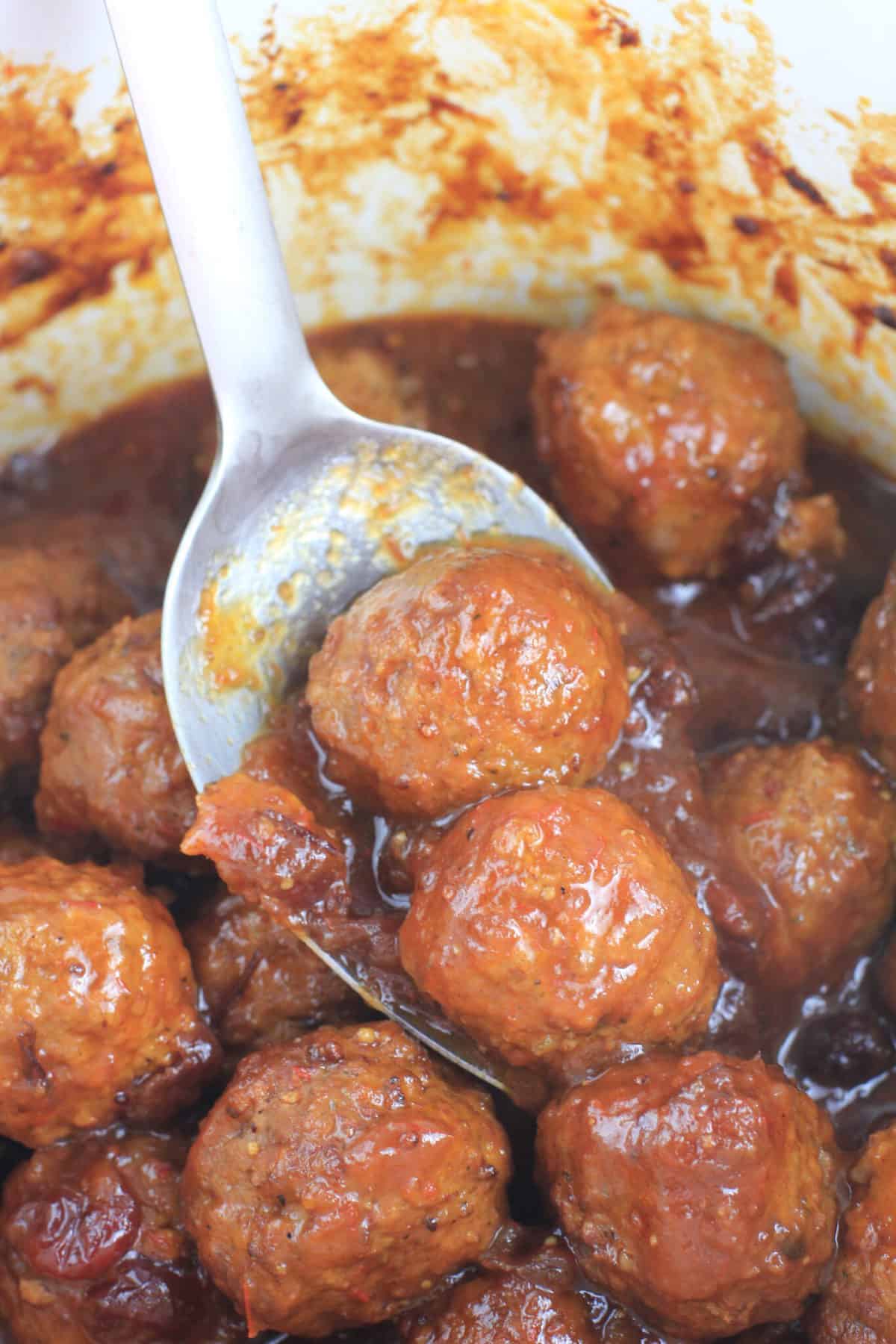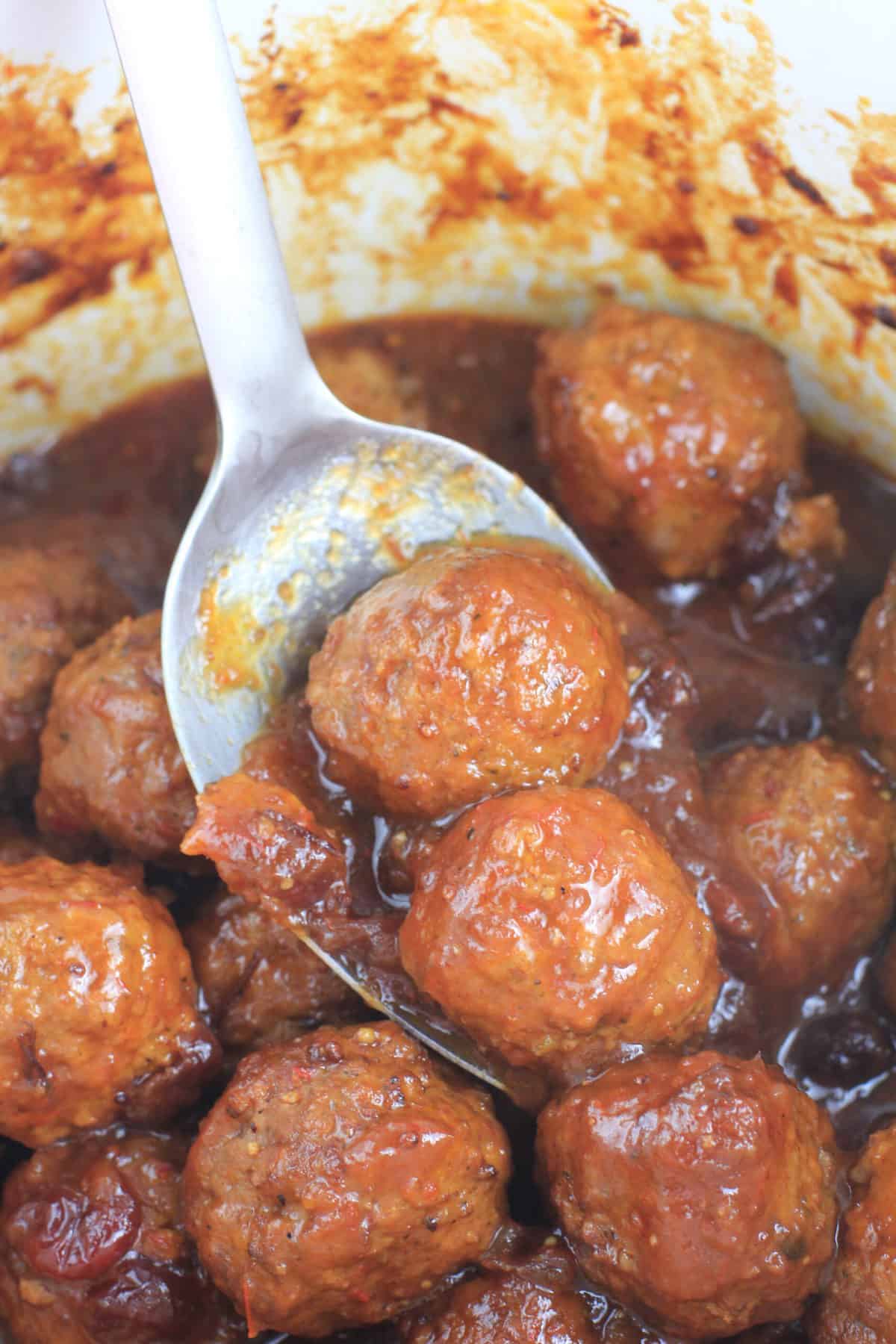 Tips for crockpot party meatballs:
The meatballs do not have to be thawed. Just put them in the slow cooker still frozen.
Look for sales on meatballs especially around the holidays. My grocery store had them BOGO just last week.
All of these ingredients have a long shelf life, so you can keep them stocked.
I used angus meatballs for these photos. I've also used turkey and pork. They all work for this recipe.
While the meatballs are cooking, give them a stir with a large spoon to get them covered well in the sauce ingredients.
These slow cooker meatballs reheat really well, so they can be made in advance.
If you prefer, use jellied cranberry sauce in place of whole berry.
Regular Dijon mustard can be substituted for the whole grain mustard. Sub 1 Tbsp Dijon for the 2 Tbsp whole grain mustard.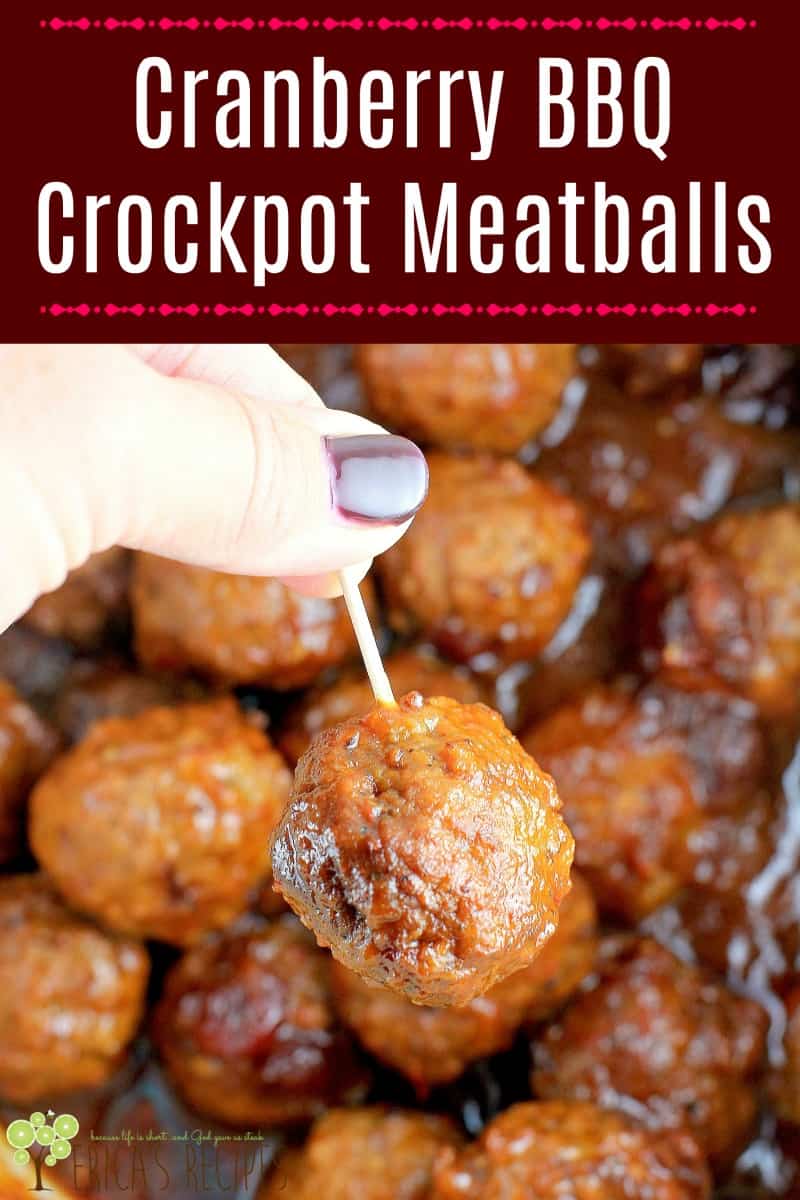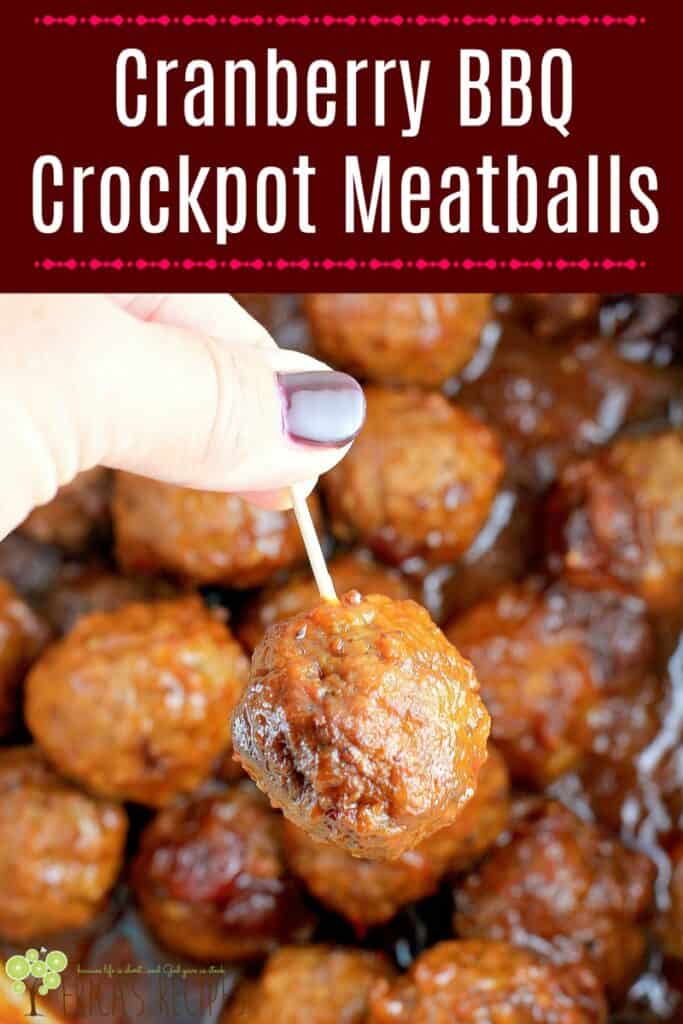 For more holiday party recipes, check these out
Last but not least, also check out another holiday favorite, the Best Stuffing Ever.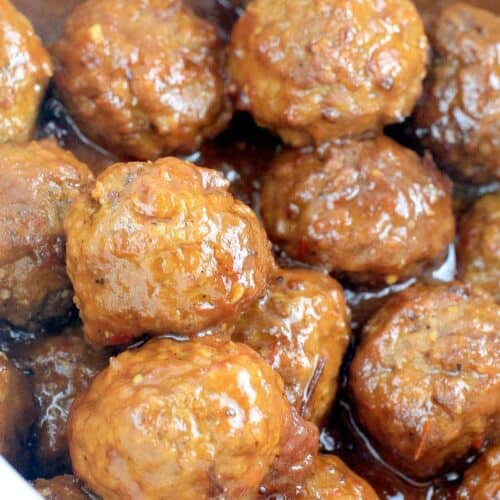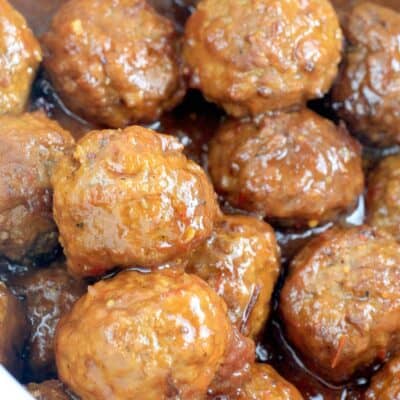 Cranberry BBQ Crockpot Meatballs
Sweet and sour crockpot meatballs in cranberry bbq sauce that take just minutes to assemble for your easiest party food ever.
Ingredients
2

20 oz bags frozen meatballs

1

12 oz bottle chili sauce

1

14 oz can whole berry cranberry sauce

1-2

Tbs

whole grain mustard

¼

cup

barbecue sauce
Instructions
Put all in a slow cooker on high 4 hrs or low 6 hrs.

Stir a couple times while cooking so the meatballs are all covered well in the sauce.
Notes
When shopping, be sure to get a bottle of chili sauce and not cocktail sauce. The bottles can look similar, and I have made this mistake.
Calorie count estimation is for a 2 meatball serving size.
Nutrition
Calorie count is purely an estimate calculated using an online application to serve as a guide and not to be taken as accurate nutritional information. Percent Daily Values are based on a 2,000 calorie diet.
Tried this recipe?
Leave a comment below and let me know!