Smoked Salmon Appetizer Mini Tarts
Smoked Salmon Appetizer Mini Tarts with arugula and fresh dill are a perfect Christmas appetizer or party food idea. Cheesy mini quiches in crispy filo shells with gorgeous savory gourmet flavor using cold smoked salmon.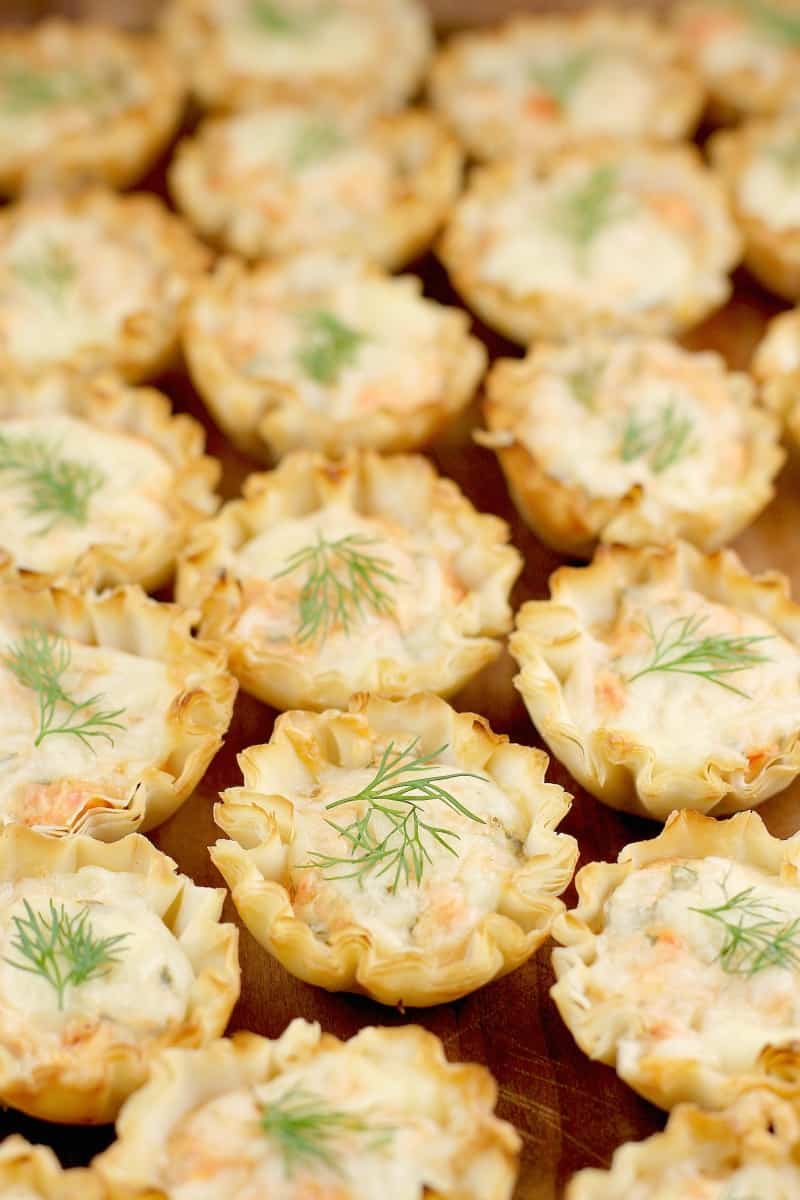 This recipe was originally posted September 2013 and updated November 2019 for content and photos.
So this little recipe is one of those that originated from an epic fail.
See, I had attempted to make a new pizza using this flavor profile with crisp, peppery arugula, lovely dill, and cold smoked salmon…. but I opted first to do it on pizza and even put eggs on it.
It was terrible. But out of food fails is sometimes were my best food successes come from! After the fact anyway.
So, these creamy smokey beauties are the result of having failed completely at one thing last night, but regrouping and reinventing the next day.
What is Smoked Salmon?
Smoked salmon is literally that… fresh salmon that has been cured and either hot or cold smoked.
Hot smoked salmon is an easy sell because the fish is totally cooked, much like happens with baking salmon filet.Just nice and smokey. Here's my recipe for hot smoked salmon you can make at home.
Cold smoked salmon is what you find at the grocery store. Very thin pieces (~3 ounce range) of raw looking but kinda cooked (because cured), definitely smoked salmon. When you picture smoked salmon, similar to lox, you are picturing smoked salmon.
I think of it like smoked salmon cerviche. It isn't raw, because it is cured. But it has a wetter texture and very red color, as opposed to the nice pink color of cooked salmon.
Although! I need to point out that often cold smoked salmon that you can purchase is sockeye salmon, which naturally has a deeper, red color than other varieties of salmon. so, I guess that's why that is.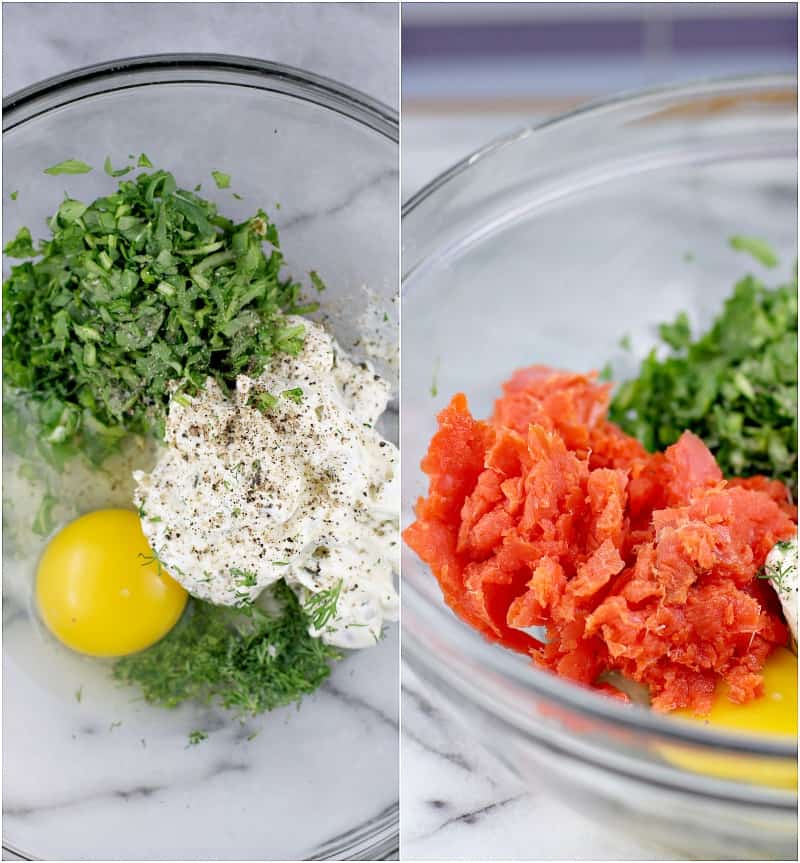 Reasons to try these mini tarts with cold smoked salmon (even if you don't like smoked salmon!):
If you have never had cold smoked salmon, you should definitely try it. And if you have tried it and weren't a fan (LIKE ME), you should definitely still try this recipe.
I have made these tarts for friends that are not fans of cold smoked salmon, and they were loved. Because the salmon is cooked into a kinda-sorta mini quiche, the salmon becomes like hot smoked salmon with a bit firmer texture.
The smokey flavor from the salmon is mellowed and melds into the egg and cheese. The peppery arugula, fresh dill, and chive from the cream cheese are Heaven with the salmon and crisp filo pastry.
The flavors combine and become a truly, singularly delicious bite. This appetizer isn't about the smoked salmon, it's about all the ingredients together being DELICIOUS.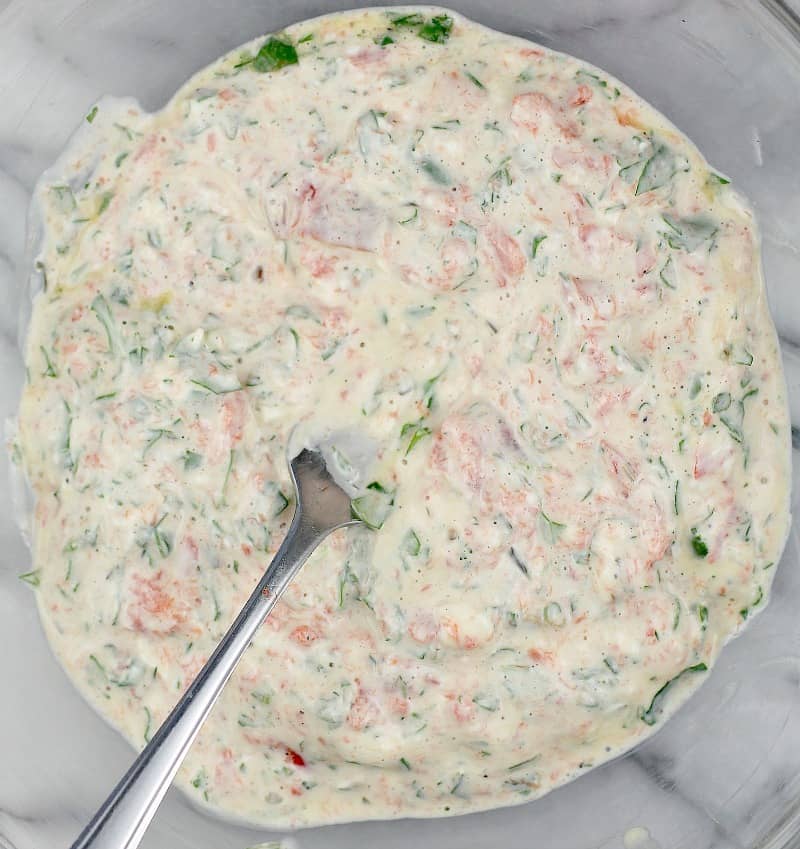 How to Make this Smoked Salmon Christmas Appetizer
Why Christmas party food specifically? Because this recipe is easy! I first made this recipe years ago, but I have found myself whipping it out for Christmas functions more than anytime else.
Maybe it's because of the lovely salmon color? Or maybe it's because this is such an easy but really elegant recipe? Dunno, but it speaks Christmas to me although obviously this is a lovely finger food, mini tart recipe appropriate for New Year's or any event or special occasion.
So, the steps to make this mini tart recipe are thusly (Note this is a summation, I obviously put more detail in the recipe card below if you want to scroll down):
Combine an egg, arugula, dill, cream cheese, and flaked salmon to make the filling.
Fill the filo (Fillo? Phyllo?) shells with the salmon filling.
Top each mini tart with a bit of cheese.
Bake.
Top each tart with a garnish of dill.
So easy! We need easy recipes like my Christmas Soup, Christmas Cranberry Meatballs, and this recipe to survive. Literally to survive.
But, again, this recipe is not Christmas specific. I'm just putting that spin out there.
Can I Make These Appetizers in Advance?
Yes! You can make the filling hours in advance. Or, you can bake them an hour or two in advance, then warm them back up in the oven or serve them at room temperature. All will be delicious.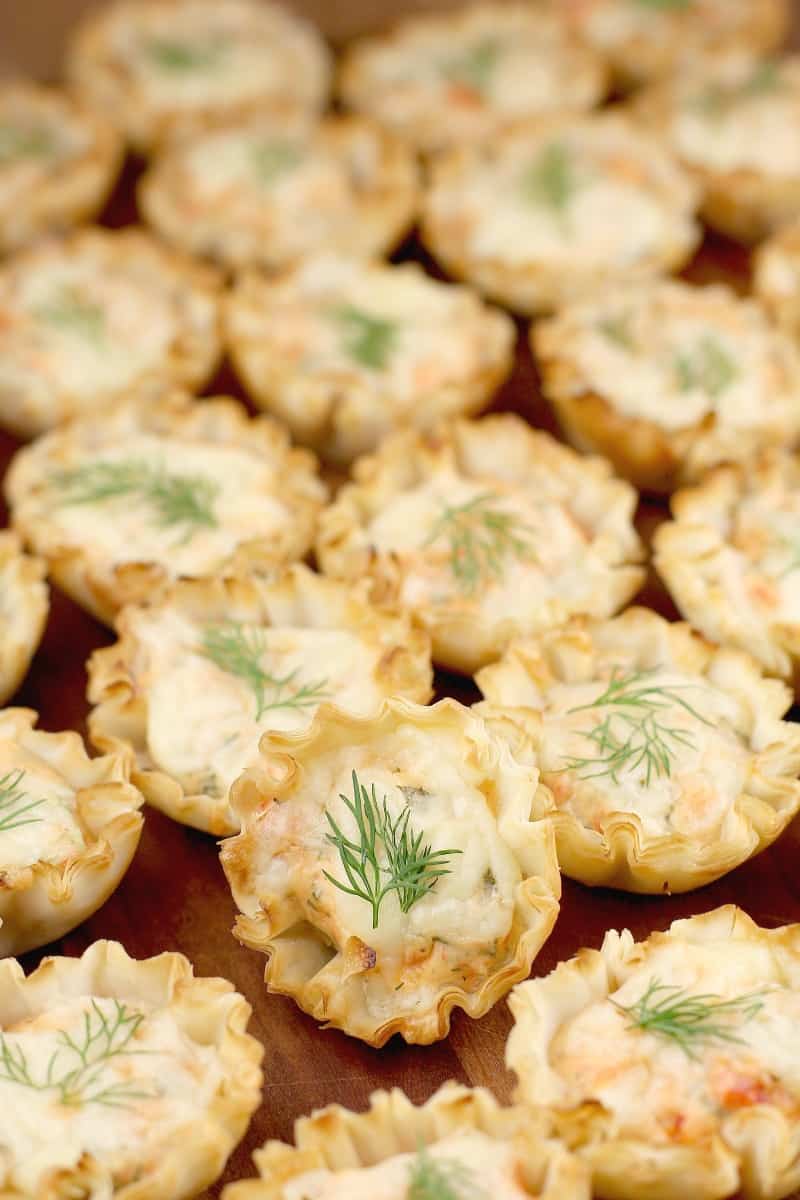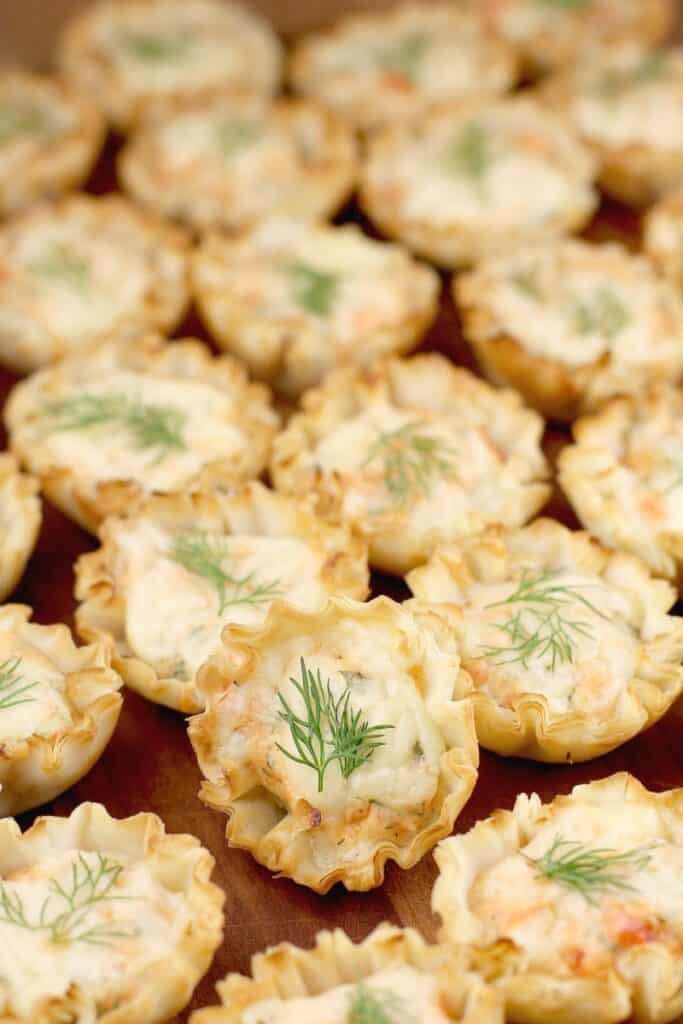 Can I Substitute for the Chive and Onion Cream Cheese?
Yes. By Chive and Onion Cream Cheese I am talking about the little tubs of Philadelphia found in the dairy section, NOT the whipped one though. So make sure you don't grab the wrong one.
However, if your store doesn't carry Chive and Onion Cream Cheese, simply use 4 ounces plain cream cheese and add 1 tsp snipped fresh chives or 1/4 tsp dried minced onion.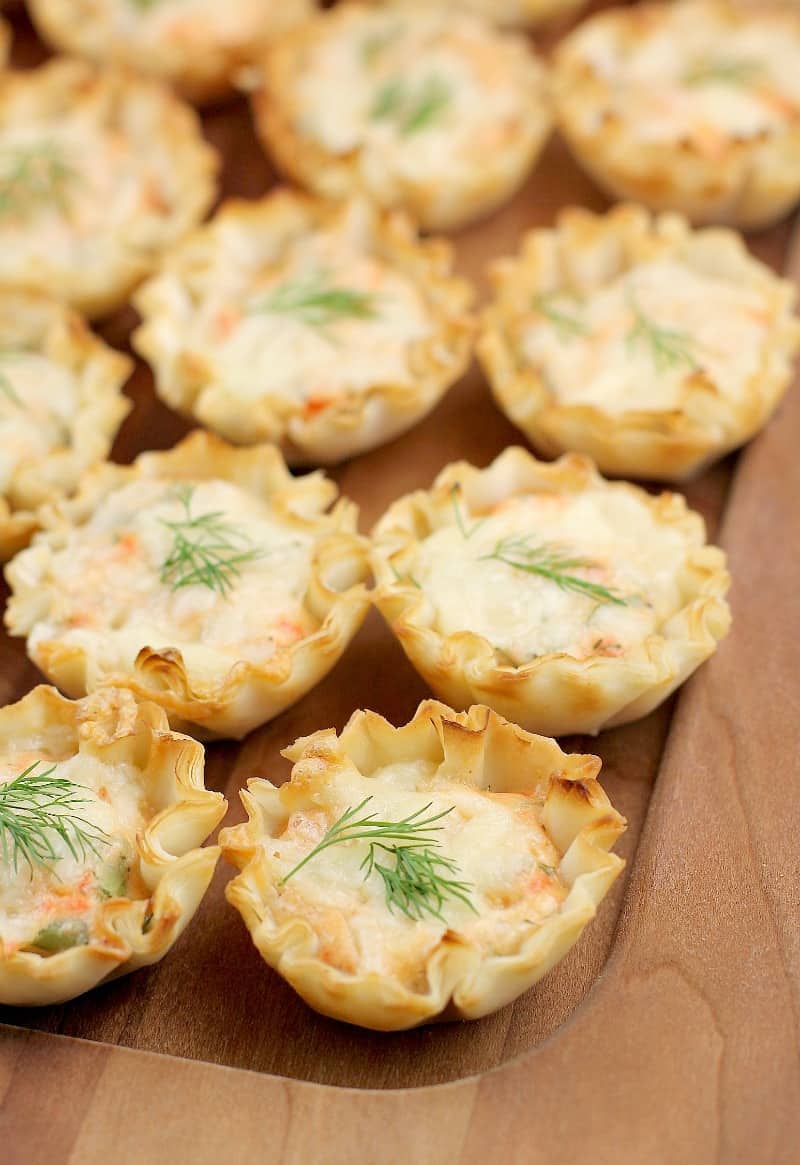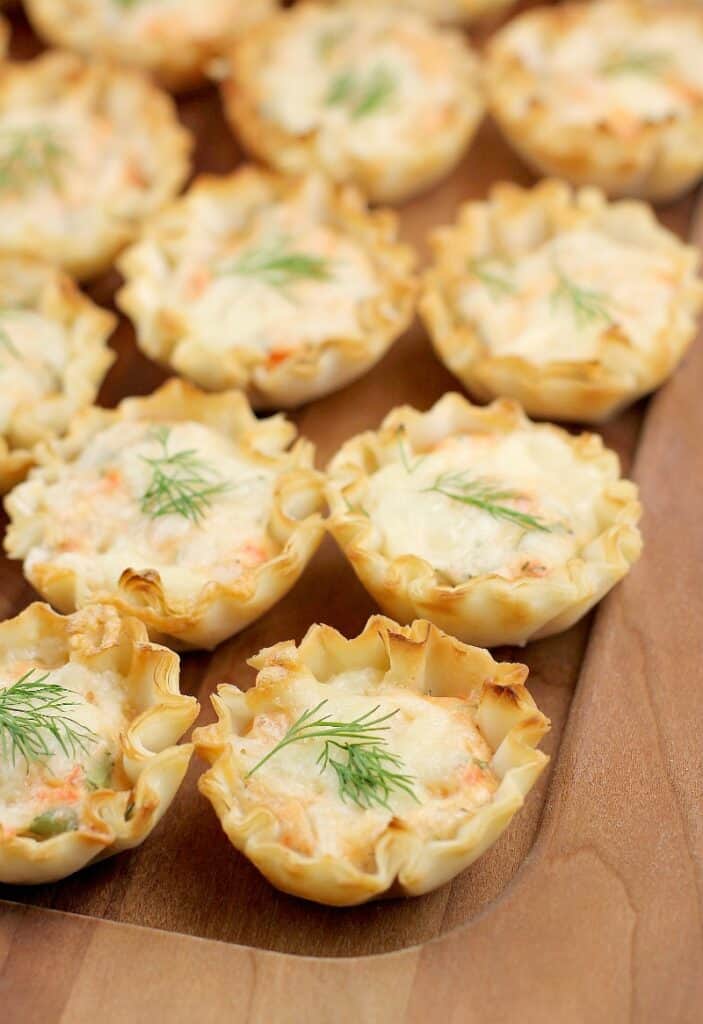 Can I substitute Plain Baked Salmon for the Smoked Salmon?
Are you even really asking this? Where's your foodie sense of adventure! …but yeah, you totally can.
Just add a teensy drop — ONE LITERAL DROP and the smallest one you can humanly make happen at that — of hickory liquid smoke. I do not recommend mesquite liquid smoke, ever ever.
But this way, you can use your regular salmon of choice and still get that smokey flavor and enjoy these Smoked Salmon Appetizer Mini Tarts.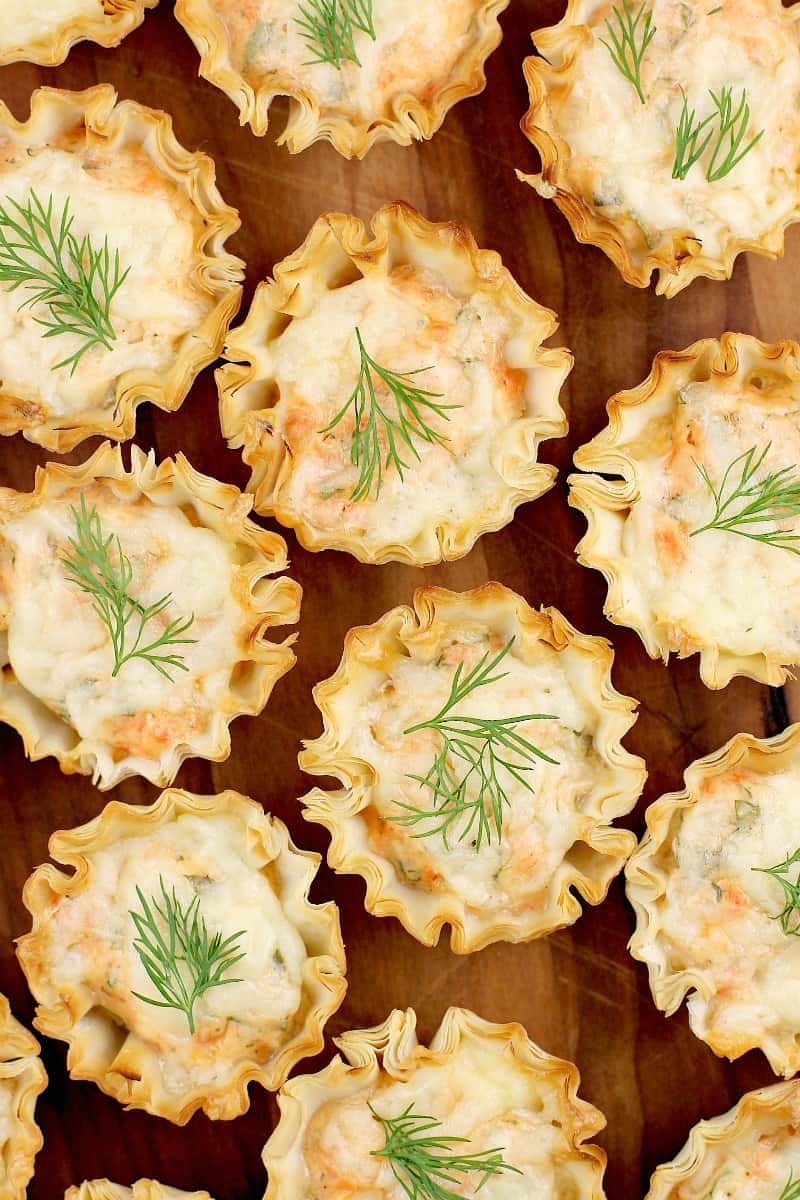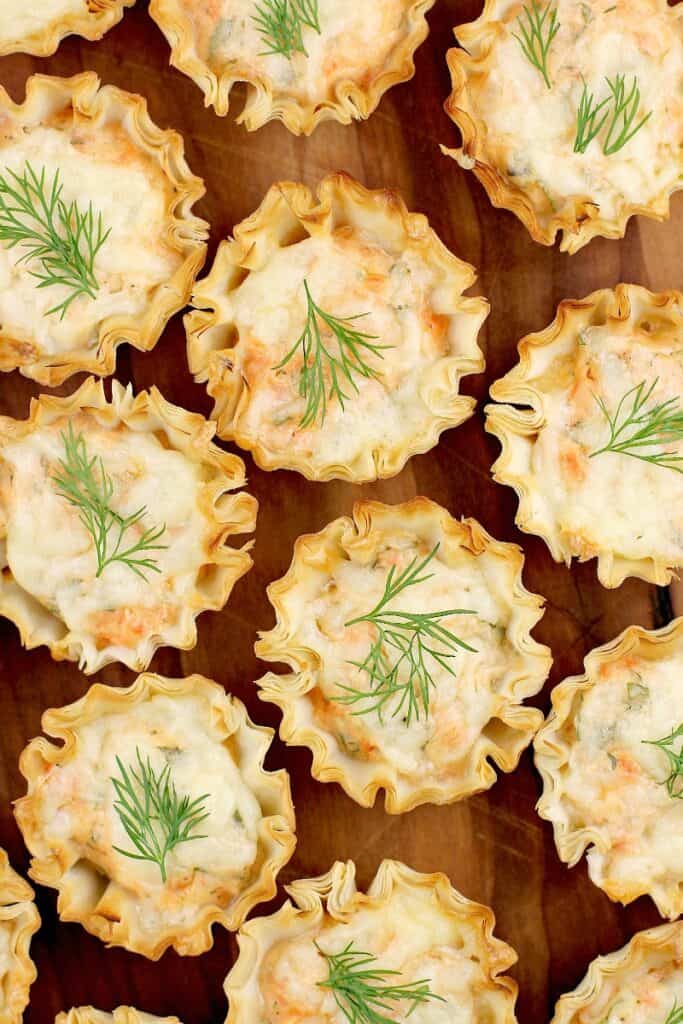 So that's it kids! A kinda fancy – kinda simple recipe for a mini tart party finger food that will rock your world.
This recipe is DELICIOUS and a sure bet. Make it and see for yourself.
Click the P for Pinterest at the bottom of this post to save this recipe. If you make it, post on Instagram and tag @ericasrecipes.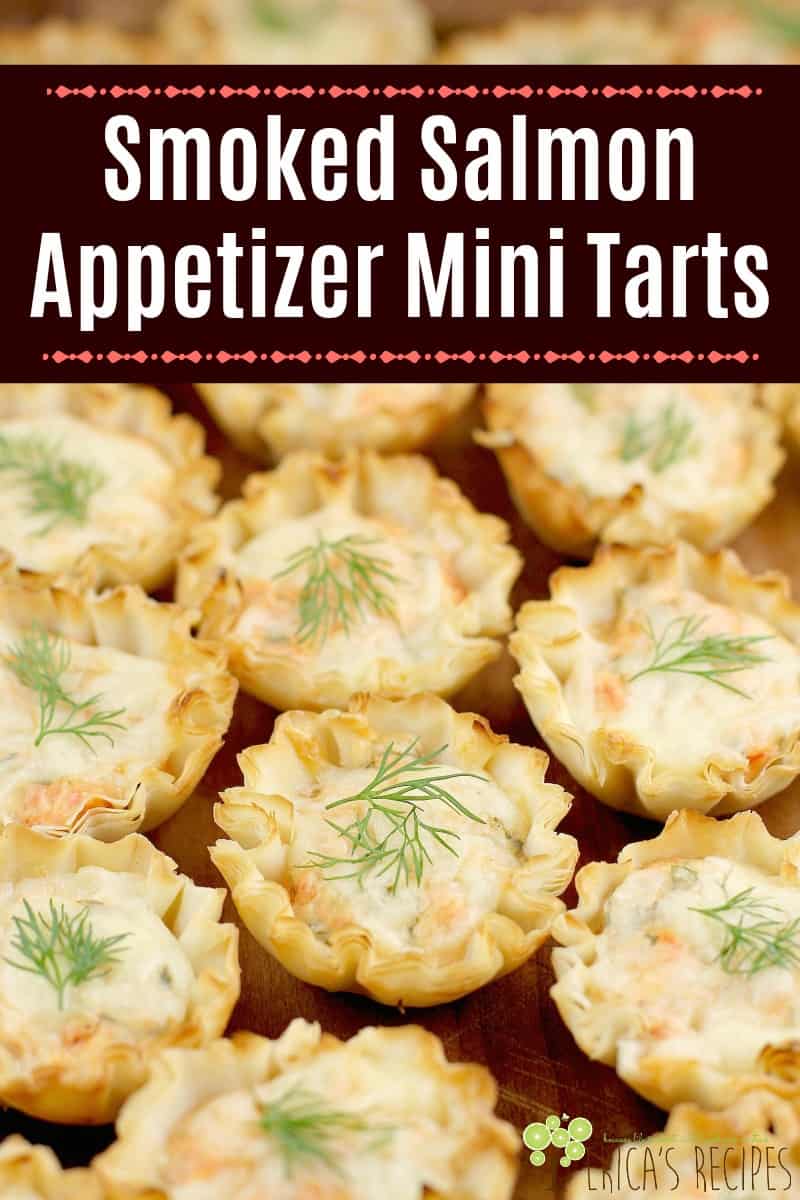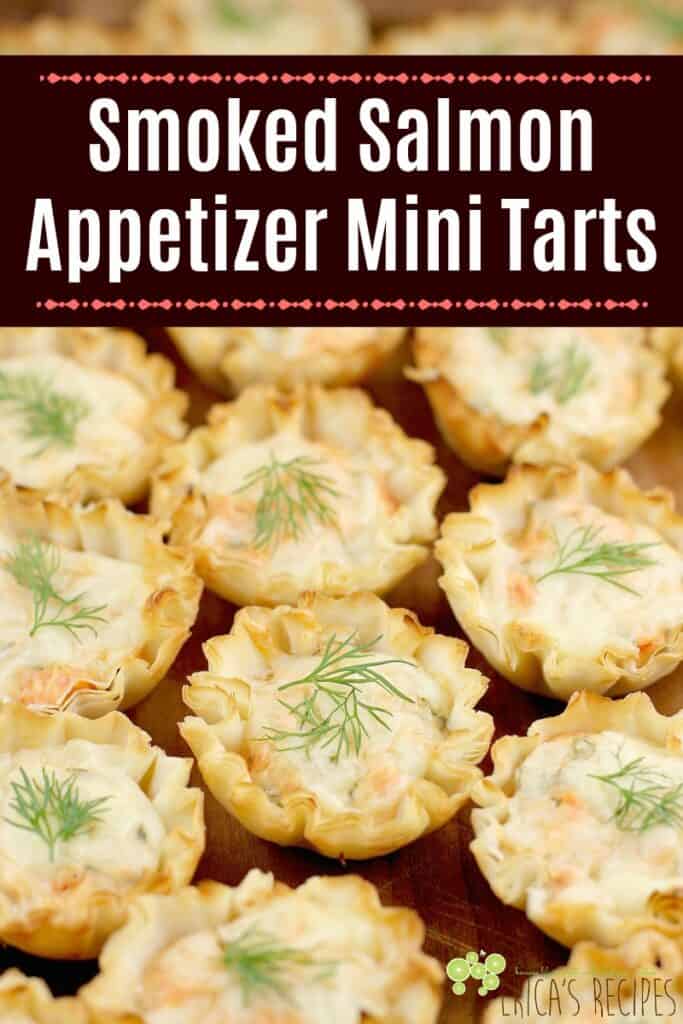 Looking for More Party Foods? Check These Out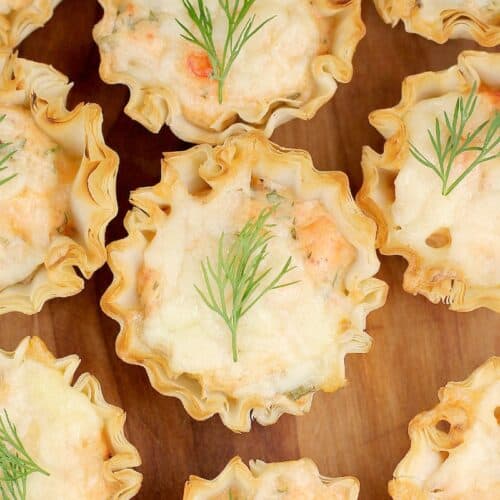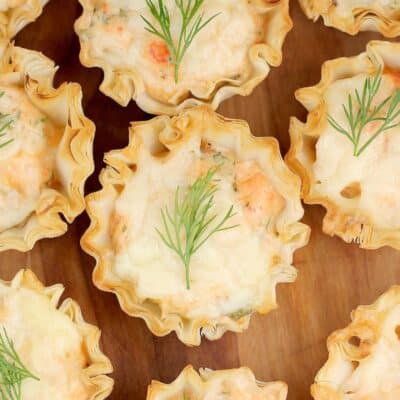 Smoked Salmon Appetizer Mini Tarts
Cheesy mini quiches in crispy filo shells with gorgeous savory gourmet flavor using cold smoked salmon.  
Ingredients
2

oz

smoked salmon

flaked into small pieces

4

oz

chive and onion cream cheese

softened

¼

cup

arugula

chopped

1

whole egg

1

tsp

fresh chopped dill

plus additional for garnish

good pinch kosher salt

good pinch fresh cracked pepper

¾

cup

shredded white cheddar or fontina cheese

2

boxes

mini filo tart shells

(30 shells total)
Instructions
In a mixing bowl, combine the cream cheese, salmon, arugula, egg, dill, salt, and pepper. Using a fork helps.

Spoon the salmon mixture into the filo shells on a bake sheet. Top each with a bit of cheese.

Bake at 400F for ~15 minutes or until cooked through and a little sizzly.

Serve garnished with a little fresh dill. Yields 30 appetizers.
Notes
See my writing text above in the body of the post if you would like to substitute out the chive and onion cream cheese or smoked salmon.
Nutrition
Calorie count is purely an estimate calculated using an online application to serve as a guide and not to be taken as accurate nutritional information. Percent Daily Values are based on a 2,000 calorie diet.
Tried this recipe?
Leave a comment below and let me know!
~✿♥✿~