Christmas Soup is a family tradition with a delicious vegetarian soup recipe for creamy tomato basil soup. Make this slow cooker soup for your Christmas Eve dinner and free up time for your last minute wrapping or to have ready when you get home from Christmas Eve services.
This website uses affiliate links which may earn a commission at no additional cost to you. As an Amazon Associate I earn from qualifying purchases.
I make this Christmas Soup every year on Christmas Eve for supper with Christmas Cranberry Meatballs. Both recipes are made in slow cookers which really helps that both recipes are so easy while I'm running around getting ready for Christmas.
With the red tomatoes, green chilies, and tri-color pasta, Christmas Soup sure looks the part! Colorful and festive. Creamy, delicious, and this cheesy soup reheats beautifully for leftovers too!
This is one of those special recipes. When my kids are grown, they will always remember Christmas Soup.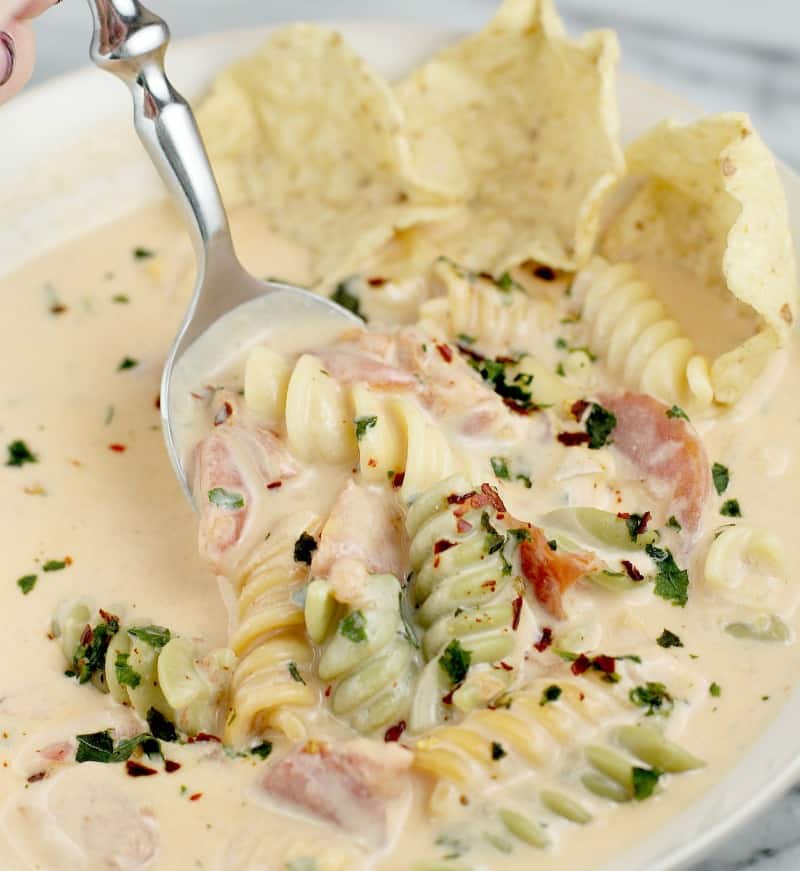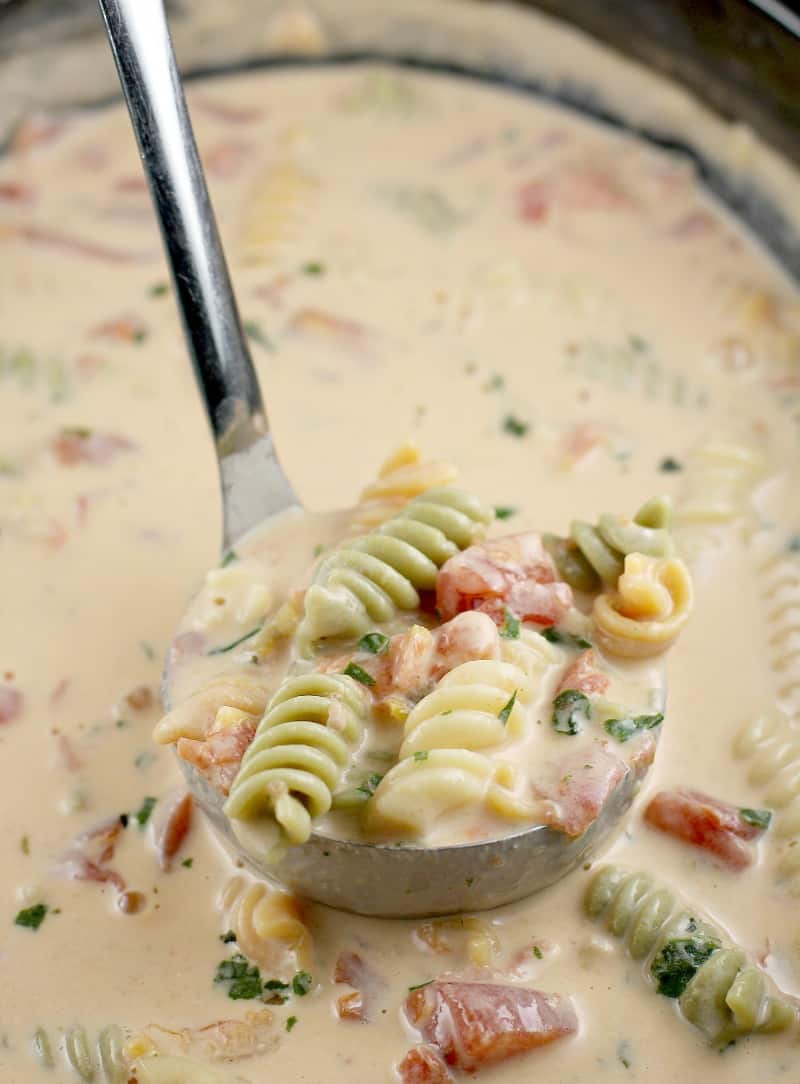 What is Christmas Soup?
Christmas soup is a creamy, cheesy, COLORFUL comforting bowl of tomato basil love, that's what it is.
A vegetarian soup recipe making a cream tomato basil soup with pasta in the slow cooker.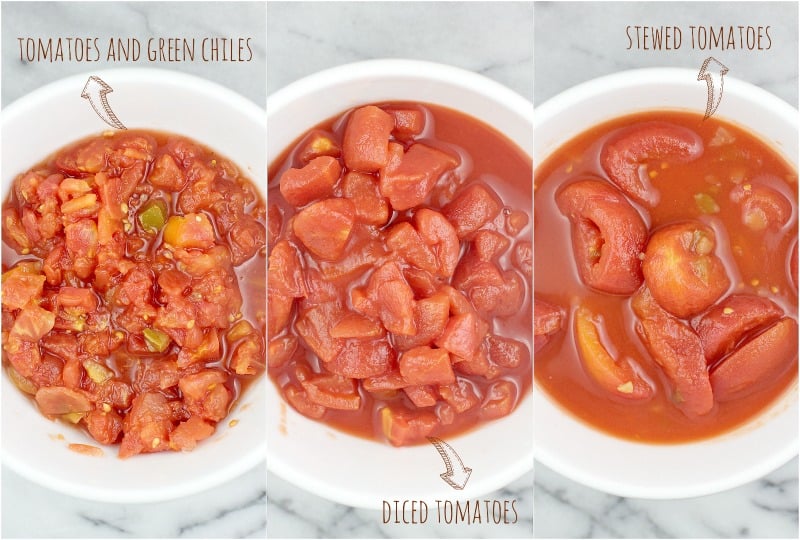 This Christmas dish is reminiscent of queso dip, but soupier. And with the pasta, it is nice and filling.
I serve it with tortilla chips for dipping, but they are honestly not required. It is delicious served right up with just a spoon.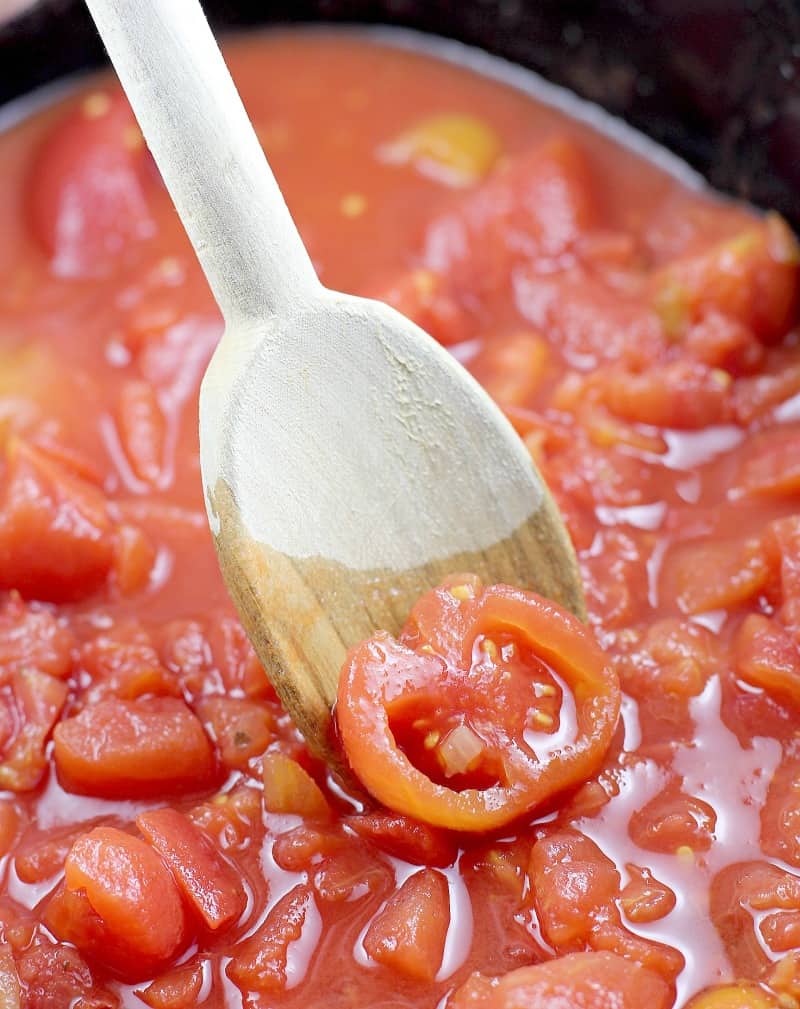 OR anther idea that I have done is to crumble crushed tortilla chips over top of this soup. This is yummmmmy too.
Kinda like oyster crackers on chowder, you know?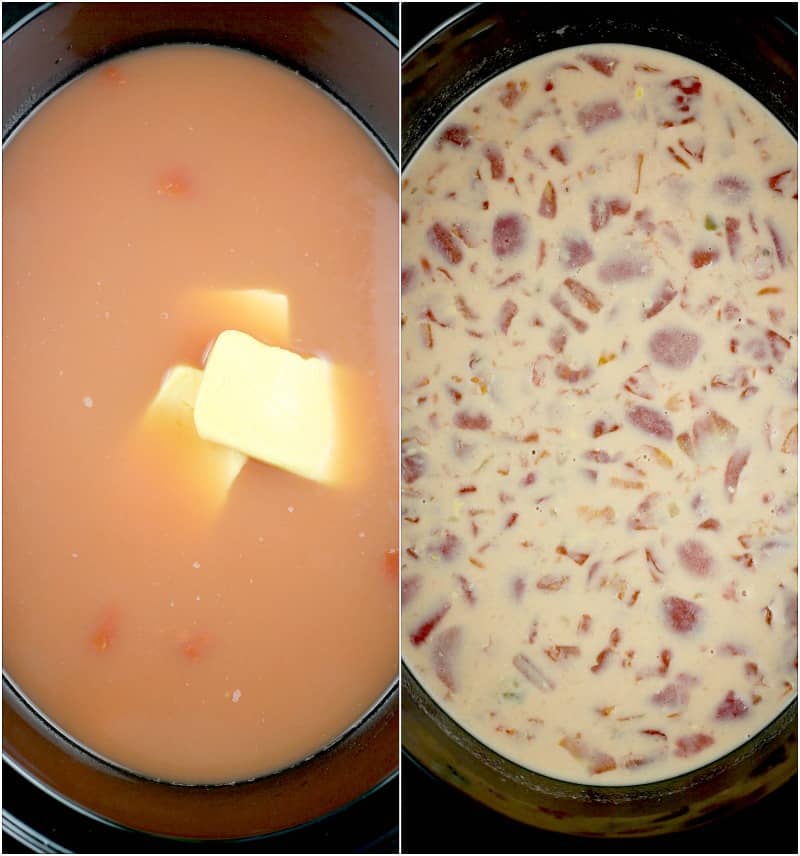 What are the ingredients for Christmas Soup?
The ingredients for this soup are cheap pantry staples! So there's nothing to throwing this together.
Three different kinds of canned diced tomatoes.
Vegetable or chicken stock.
Sour cream.
Fresh basil.
Velveeta cheese (yes, it's processed. It's Christmas, let it go.).
Tri-color pasta.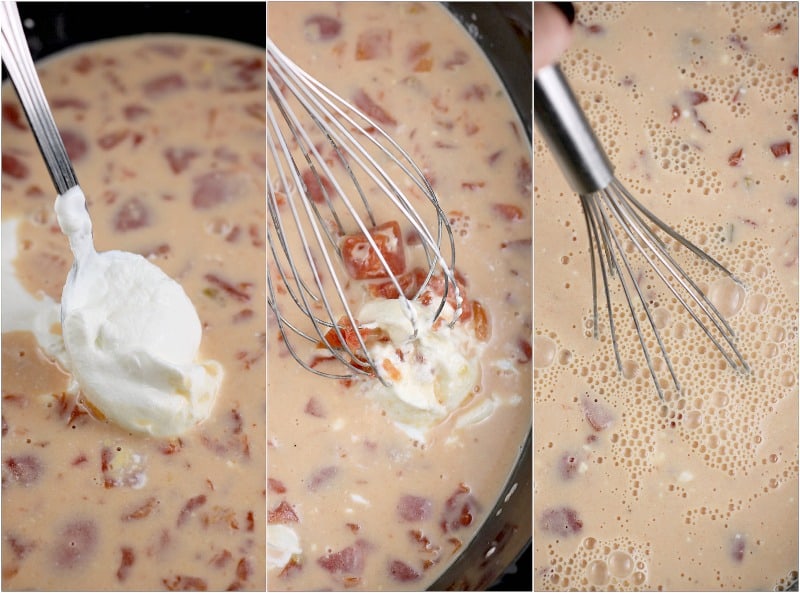 That is basically it, and like I said you can serve with or without the chips.
Steps to make this creamy tomato basil soup recipe
This soup is SO easy to make, which is pretty much the whole point of the recipe… an easy, yummy festive soup for Christmas.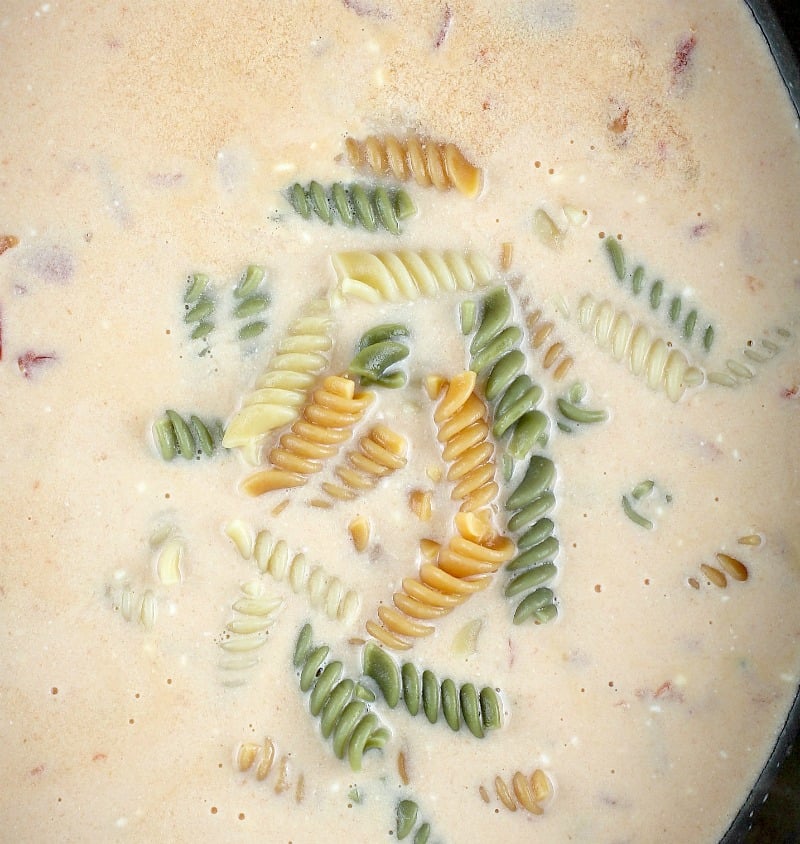 Heat the tomatoes, stock, and cheese in the slow cooker.
Whisk in sour cream.
Add remaining ingredients.
Heat a while to thicken a bit and serve.
EASY! Now, I have been making this soup on Christmas EVE for years, because it is so easy. I have also sometimes cooked it less and sometimes cooked it more.
I used to like this soup super thick, almost like queso. But over the years, I have come to appreciate this soup much more on the thinner side – not thin, but definitely not thick.
So, 1 hour to melt the cheese, then another hour to thicken a BIT, and this soup is just right.
I do love that this recipe makes a good amount for those easy leftovers to have soup and sandwiches in the days following Christmas!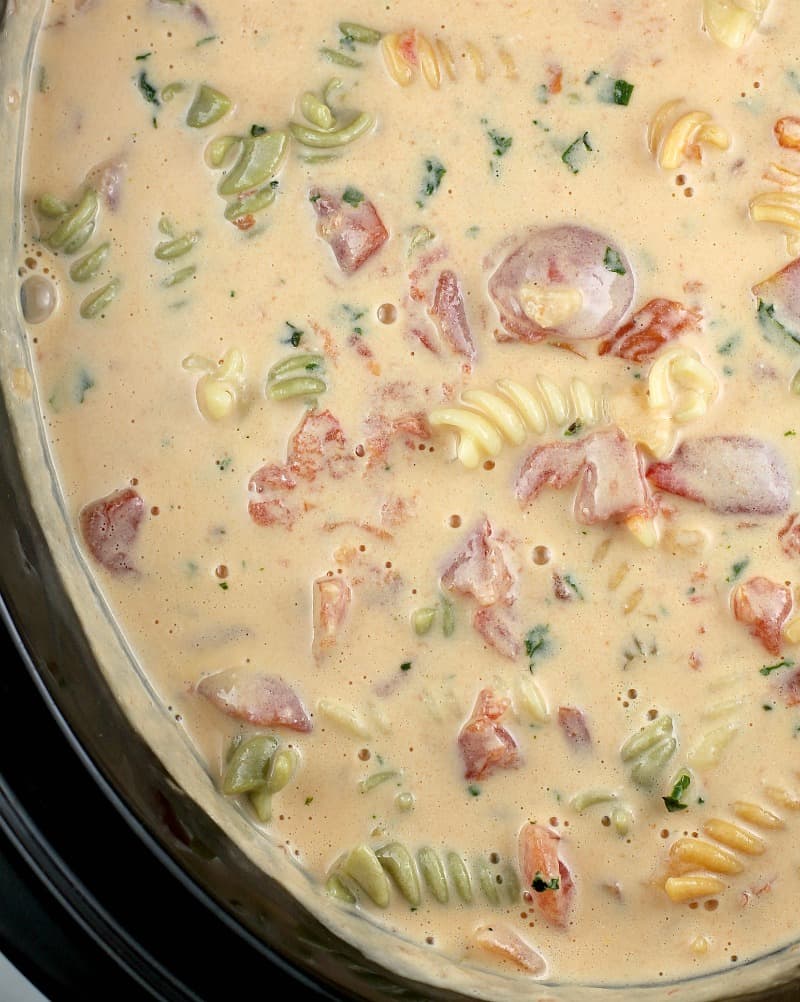 FAQs
Can this soup be made in advance?
Yes. If pressed for time, I recommend cutting down the second hour of cooking. However, another option is to make the soup without the pasta ahead of time, then add the pasta when ready.
Can meat be added?
Yes, and I've gotten a lot of feedback that people do. Adding shredded chicken seems to be popular. Also, sliced sausage.
Should the canned tomatoes be drained?
No. Three different cans of tomatoes sure sounds like a lot, but do not drain them. Those juices are an important part of the flavor of this soup.
When do I add the pasta?
Add the cooked pasta (cooked according to package directions) after the rest of the soup is assembled. Then I cook a bit more to thicken, but this is not necessary – it just depends on the consistency you want. Please note, that the longer the pasta is in the soup, the noodles will eventually get mushy. So don't let it go more than an hour at the most.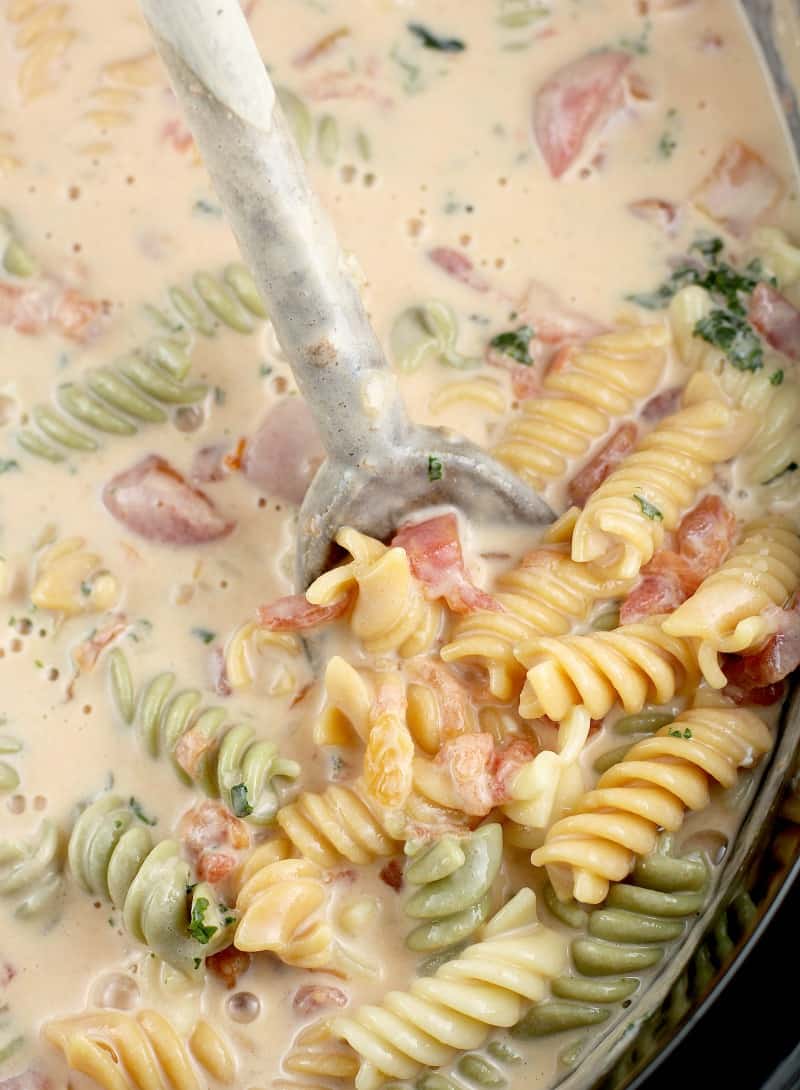 Here are more Christmas recipe ideas: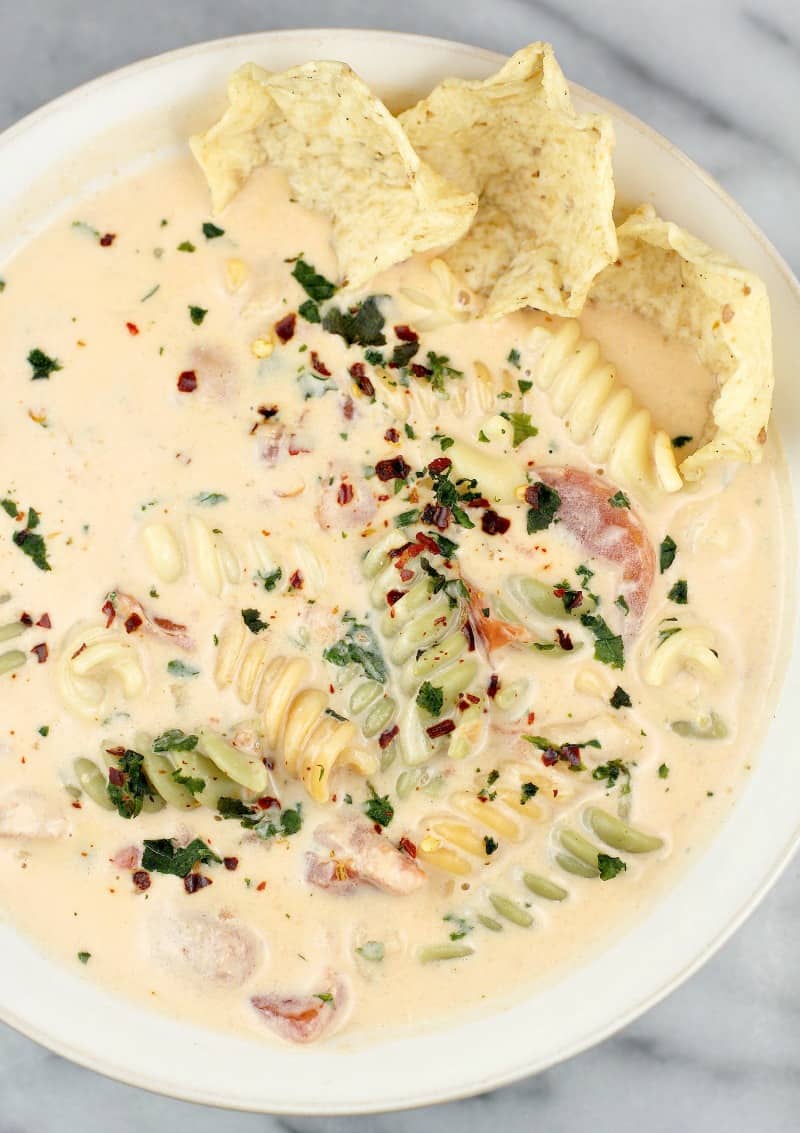 Last Tips
I make this soup in the slow cooker early so it is ready in the early evening when we get home from church. While it is becoming magical in the crockpot though, if it gets too thick, just thin it back out some with more stock or water.
Wait to add the pasta until the last hour of less of cooking. If the pasta is in the soup too long (like any soup), the noodles will get mushy.
When reheating this soup, just put some in a bowl and heat in the microwave, adding a little stock or water if needed for desired consistency.
A slow cooker is not required for this recipe, and it can be made on the stove-top. See the Notes section of the recipe card for instruction.
When adding the sour cream, using a large whisk helps because of all the tomatoes. There will still be white little bits of sour cream visible, this is fine. They go away eventually.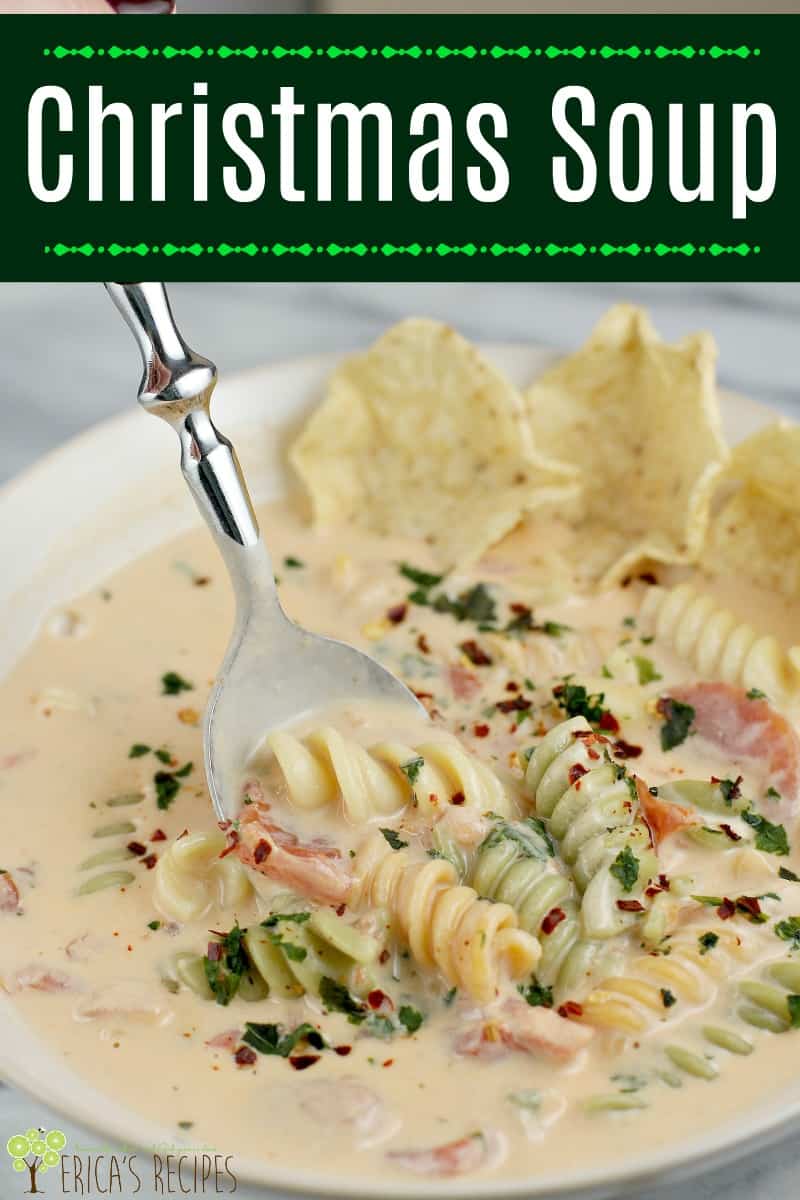 So that's it folks! A delicious family Christmas tradition of ours. Make it one of yours too!
Also check out another holiday favorite, the Best Stuffing Ever.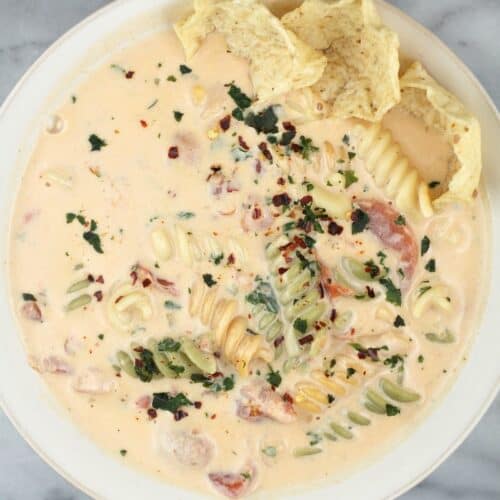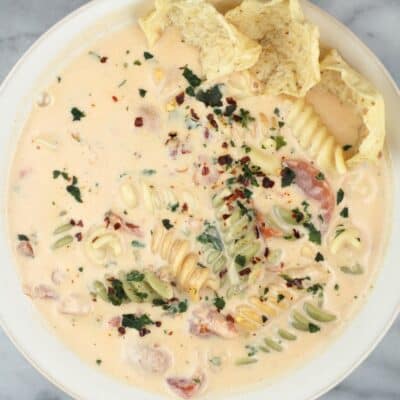 Christmas Soup 
Creamy tomato basil soup, made easily in the slow cooker.
Instructions
In a slow cooker, add all the tomatoes with the juice. Break up the stewed tomatoes into pieces with a spoon.

Add the stock and Velveeta. Cook on high 1 hour.

Add the cooked pasta and basil. 

Cook 1 hour on high to thicken the soup a bit. (see Notes)

Serve topped with a sprinkle of red pepper flakes, more basil, and tortilla chips.
Notes
Once the pasta is added, the pasta will thicken the soup. After 1 hour, it is the consistency I like – not thick, not thin. You can let the crockpot continue further, another hour or two, but in this case, reduce the heat to Low when adding the pasta. Otherwise, the soup will thicken to more of a queso rather than soup. Also, the pasta can overcook if allowed to go longer than an hour once added to the crockpot.
If a slow cooker is not available, this soup can be made just as easily on the stovetop. Use medium heat, stirring often, for the first 2 steps to get the cheese melted. Reduce heat to low, and proceed with the rest of the steps.
Calorie estimation does not include tortilla chips.
Nutrition
Calories:
498
kcal
(25%)
|
Carbohydrates:
62
g
(21%)
|
Protein:
26
g
(52%)
|
Fat:
17
g
(26%)
|
Saturated Fat:
11
g
(69%)
|
Cholesterol:
40
mg
(13%)
|
Sodium:
1750
mg
(76%)
|
Potassium:
445
mg
(13%)
|
Fiber:
4
g
(17%)
|
Sugar:
17
g
(19%)
Calorie count is purely an estimate calculated using an online application to serve as a guide and not to be taken as accurate nutritional information. Percent Daily Values are based on a 2,000 calorie diet.
Tried this recipe?
Leave a comment below and let me know!
~✿♥✿~