This heirloom, vegetarian soup recipe for creamy tomato basil Christmas Soup is a family tradition. Make this slow cooker soup for your Christmas Eve dinner and free up time for your last minute wrapping or to have ready when you get home from Christmas Eve services.
Creamy, delicious, and this cheesy soup reheats beautifully for leftovers.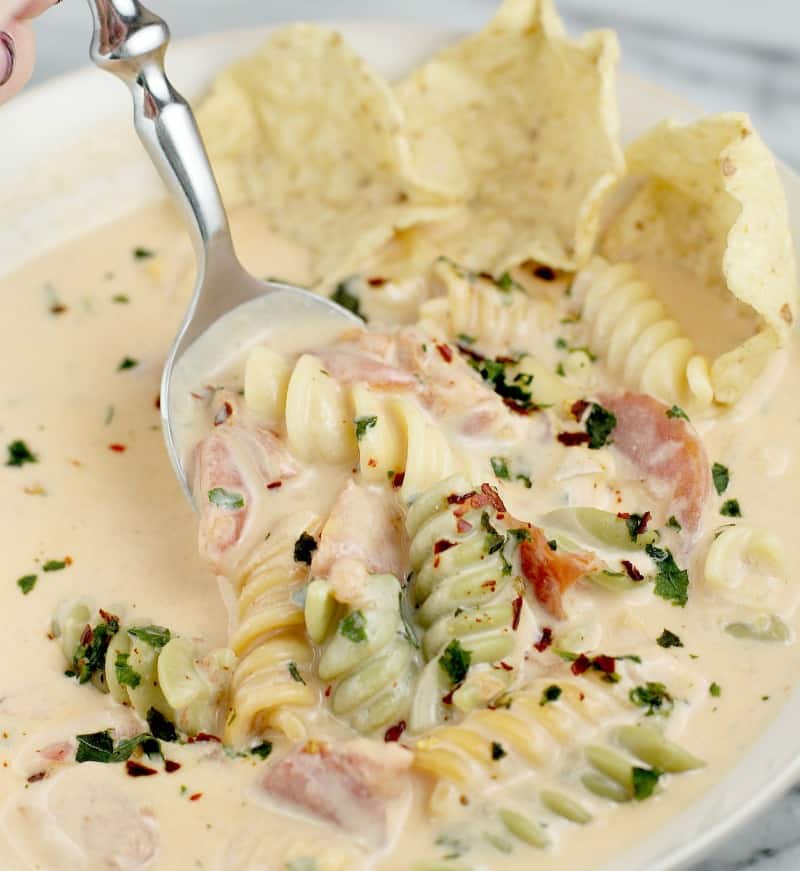 This post was first published May 2013 and updated December 2019 for photos and content.
Christmas Soup
I make this Christmas Soup every year on Christmas Eve for supper with Christmas Cranberry Meatballs. Helps that both recipes are so easy while I'm running around getting ready for Christmas.
And with the red tomatoes, green chilies, and tri-color pasta, it sure looks the part! Colorful and festive.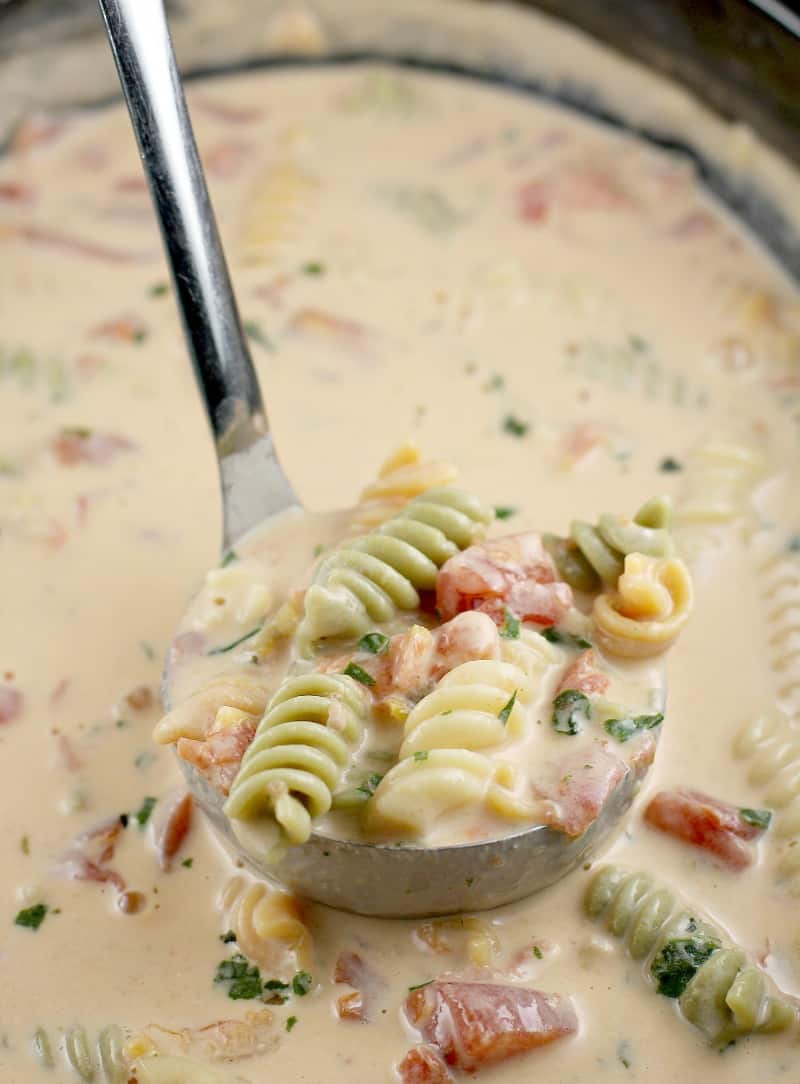 This is one of those special meals. When my kids are grown, they will always remember Christmas Soup.
What is Christmas Soup?
Christmas soup is a creamy, cheesy, COLORFUL comforting bowl of tomato basil love, that's what it is.
A vegetarian soup recipe making a cream tomato basil soup with pasta in the slow cooker.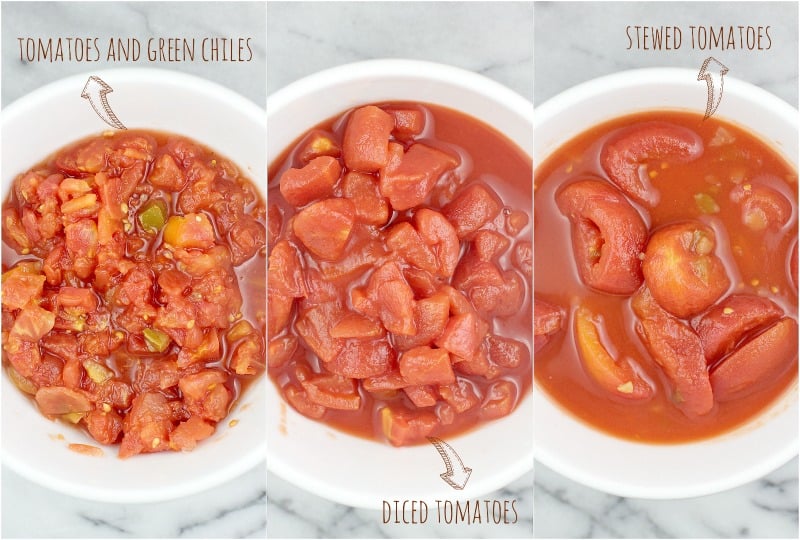 This Christmas dish is reminiscent of queso dip, but soupier. And with the pasta, it is nice and filling.
I serve it with tortilla chips for dipping, but they are honestly not required. It is delicious served right up with just a spoon.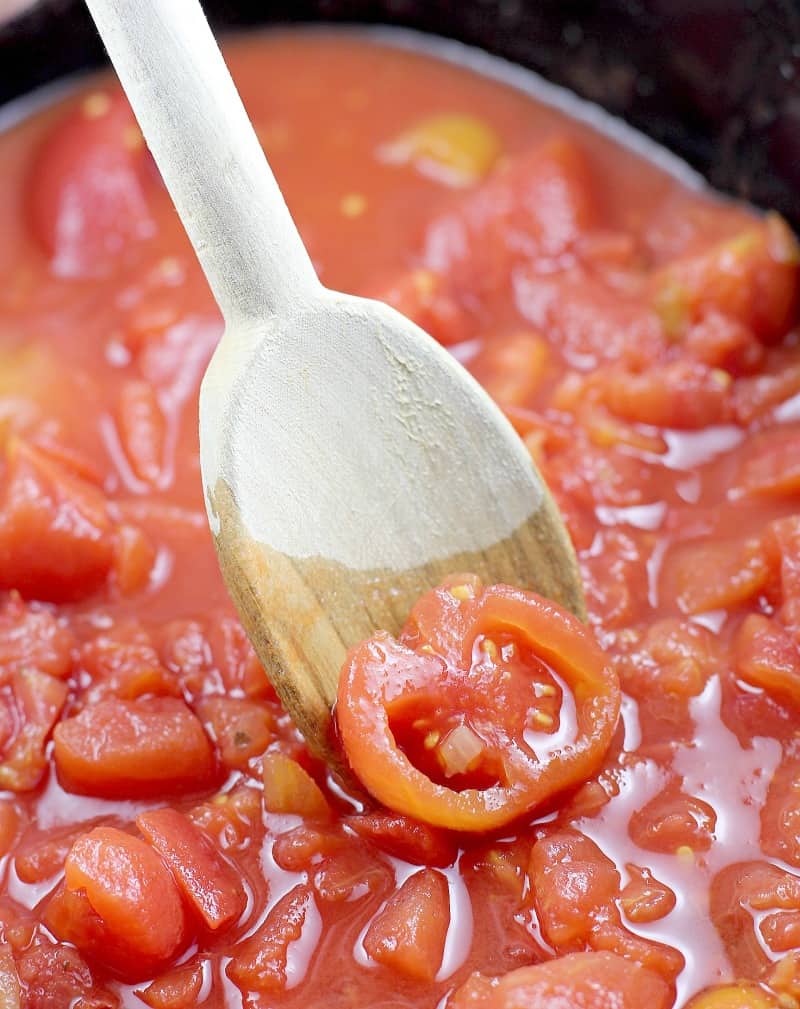 OR anther idea that I have done is to crumble crushed tortilla chips over top of this soup. This is yummmmmy too.
Kinda like oyster crackers on chowder, you know?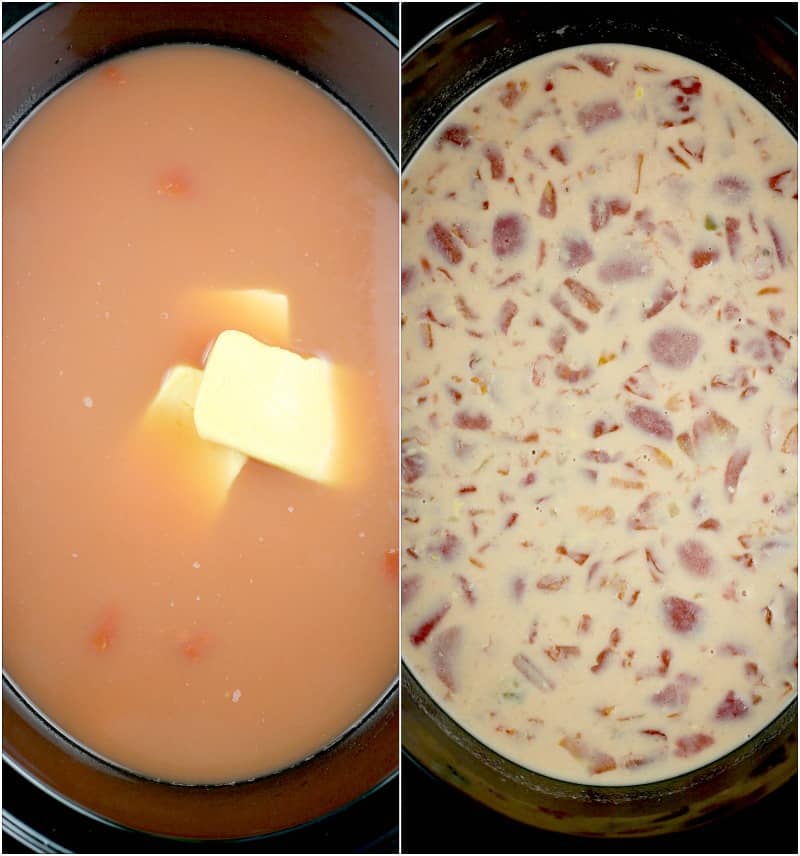 What are the ingredients for Christmas Soup?
The ingredients for this soup are cheap pantry staples! So there's nothing to throwing this together.
Three different kinds of canned diced tomatoes.
Vegetable or chicken stock.
Sour cream.
Fresh basil.
Velveeta cheese (yes, it's processed. It's Christmas, let it go.).
Tri-color pasta.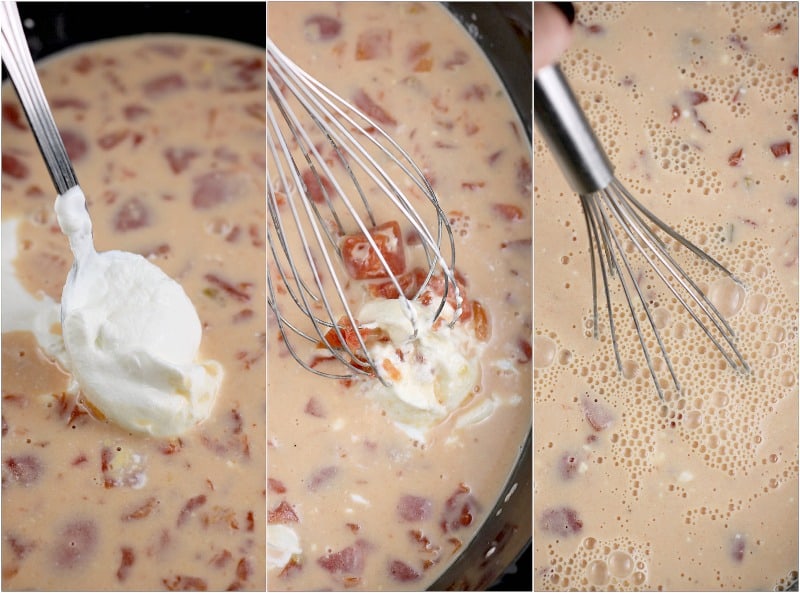 That is basically it, and like I said you can serve with or without the chips.
Steps to make this creamy tomato basil soup recipe
This soup is SO easy to make, which is pretty much the whole point of the recipe… an easy, yummy festive soup for Christmas.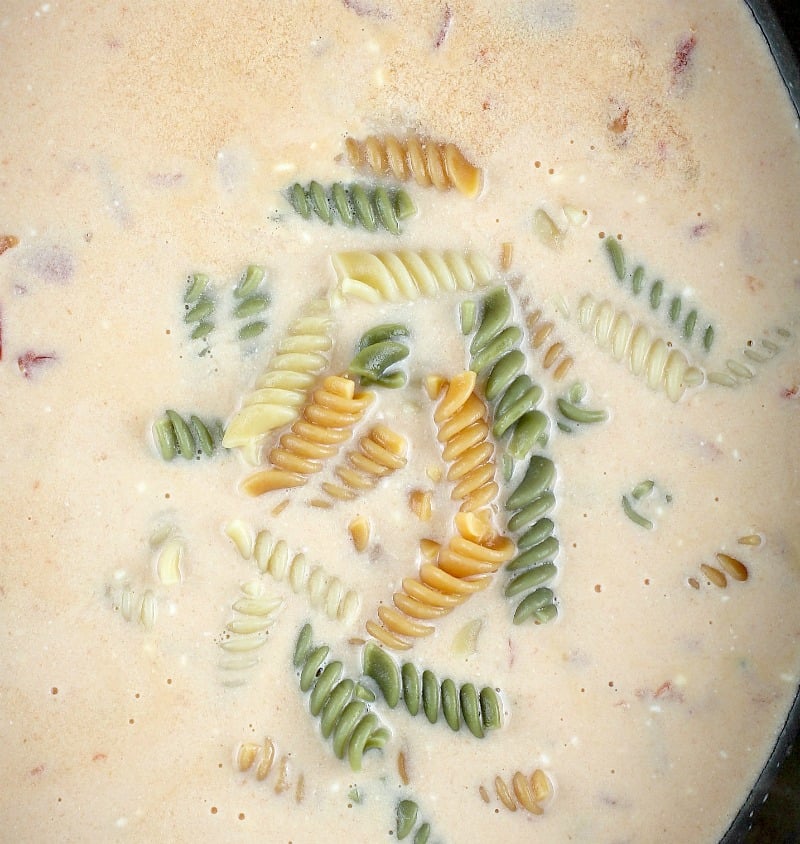 Heat the tomatoes, stock, and cheese in the slow cooker.
Whisk in sour cream.
Add remaining ingredients.
Heat a while to thicken a bit and serve.
EASY! Now, I have been making this soup on Christmas EVE for years, because it is so easy. I have also sometimes cooked it less and sometimes cooked it more.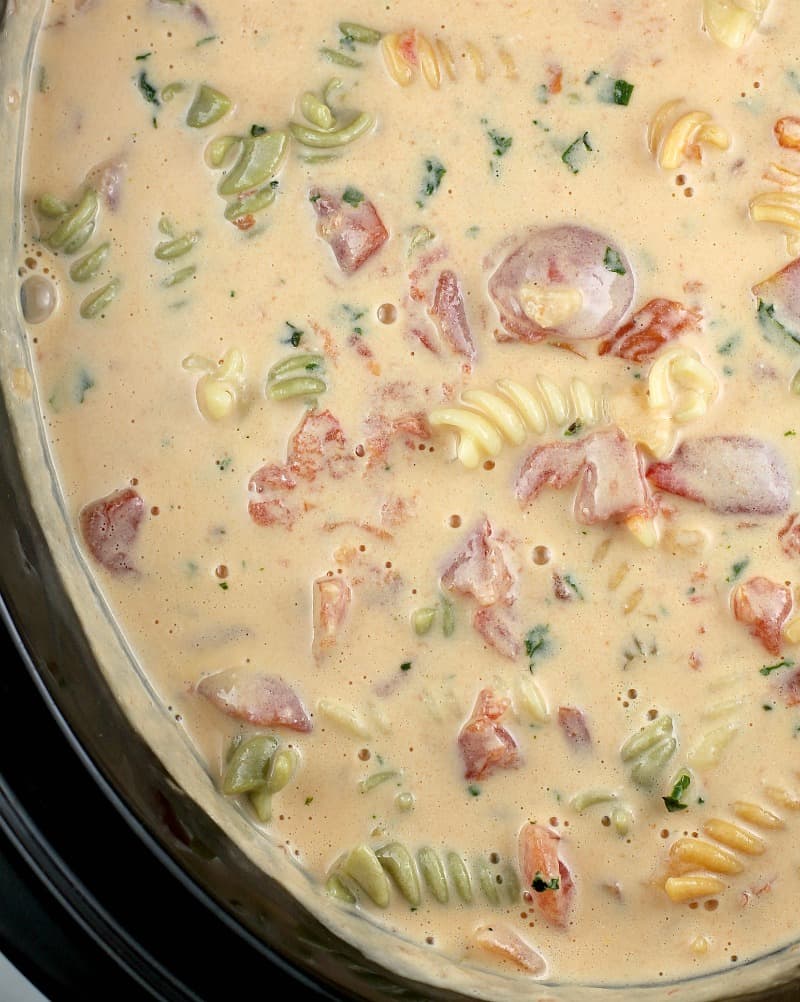 I used to like this soup super thick, almost like queso. But over the years, I have come to appreciate this soup much more on the thinner side – not thin, but definitely not thick.
So, 1 hour to melt the cheese, then another hour to thicken a BIT, and this soup is just right.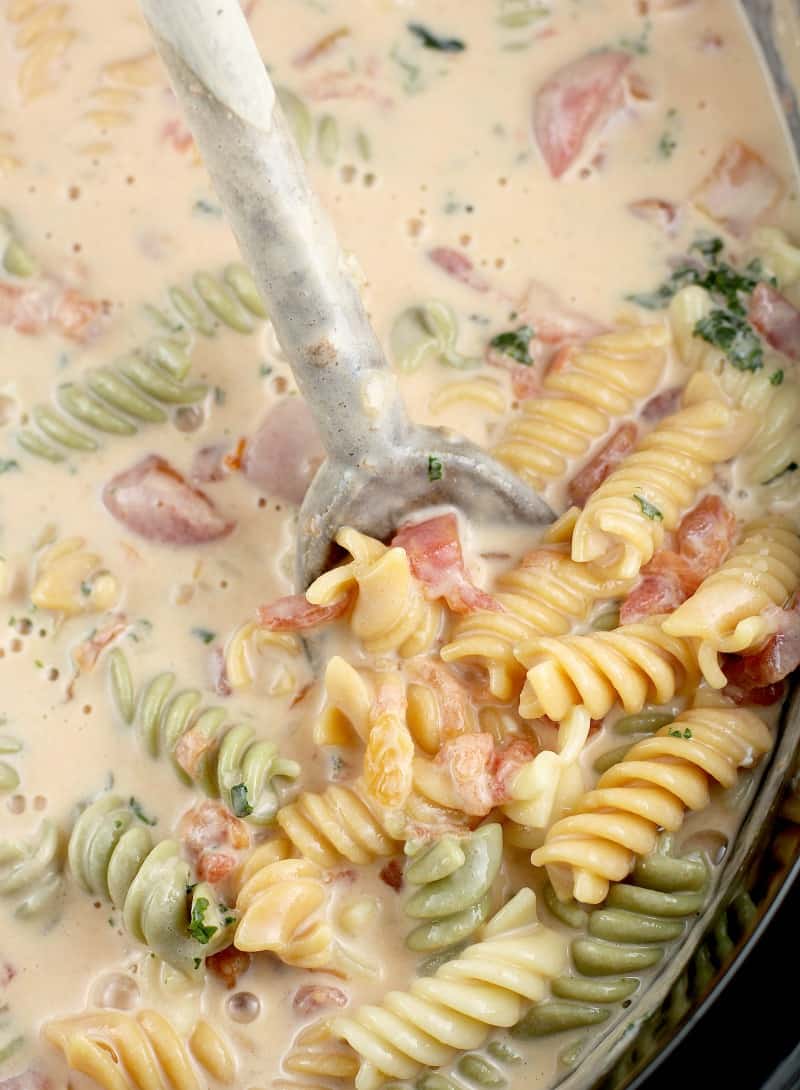 Here are more Christmas recipe ideas: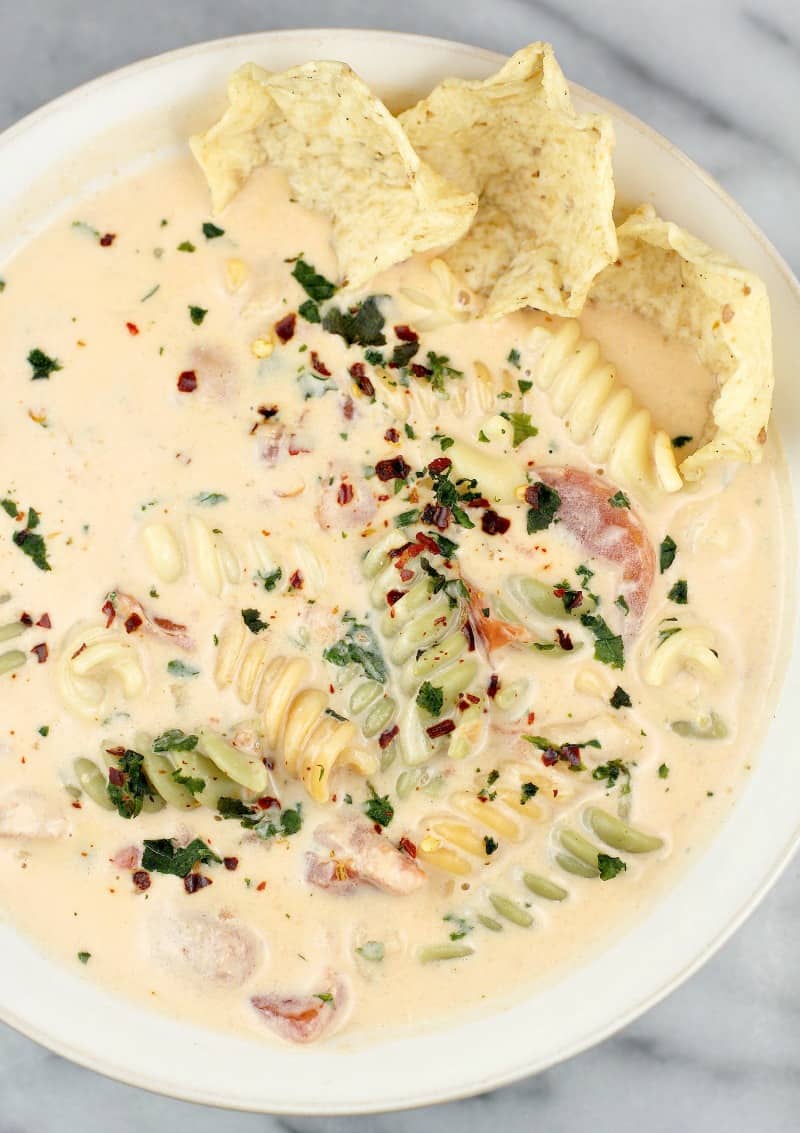 I make this soup in the slow cooker early so it is ready in the early evening when we get home from church. While it is becoming magical in the crockpot, if it gets too thick, just thin it back out some with more stock or water.
The same goes for when reheating this soup. Just put some in a bowl and heat in the microwave, adding a little stock or water if needed for desired consistency.
I do love that this recipe makes a good amount for those easy leftovers to have soup and sandwiches in the days following Christmas!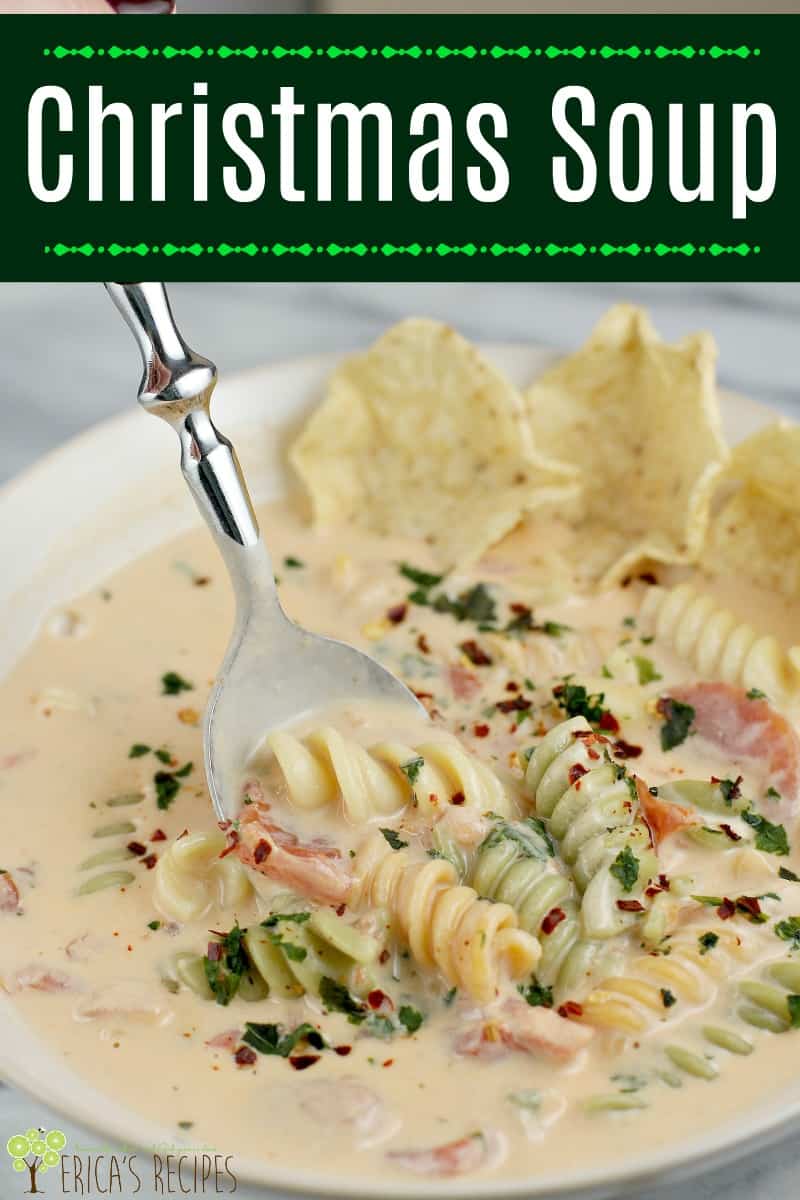 So that's it folks! A delicious family Christmas tradition of ours. Make it one of yours too!
Click the P for Pinterest at the top or bottom of this post to save this recipe. If you make it, post on Instagram and tag @ericasrecipes.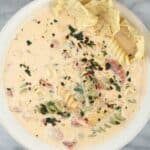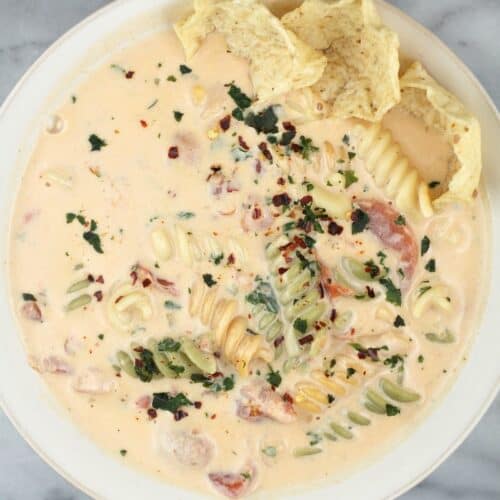 Christmas Soup 
Creamy tomato basil soup, made easily in the slow cooker.
Total Time
2
hours
5
minutes
Ingredients
1

14.5 oz

can diced tomatoes

1

14.5 oz

can Italian stewed tomatoes

1

10 oz

can Rotel Original tomatoes and green chilies

1

lb

Velveeta cheese

sliced into 1-inch slices

4

cup

vegetable stock

or chicken stock

1

cup

sour cream

1

12 oz box tricolor spiral shaped pasta, cooked al dente according to package directions

1

Tbsp

fresh basil

finely chopped

scoops tortilla chips

crushed red pepper flakes

sprinkle on top
Instructions
In a crockpot, add all the tomatoes with the juice. Break up the stewed tomatoes into pieces with a spoon.

Add the stock and Velveeta. Cook on high 1 hour.

Add the cooked pasta and basil. 

Cook 1 hour on high to thicken the soup a bit. (see Notes)

Serve topped with a sprinkle of red pepper flakes, more basil, and tortilla chips.
Recipe Notes
Once the pasta is added, the pasta will thicken the soup. After 1 hour, it is the consistency I like – not thick, not thin. You can let the crockpot continue further, another hour or two, but in this case, reduce the heat to Low when adding the pasta. Otherwise, the soup will thicken to more of a thicker queso rather than soup.
If a slow cooker is not available, this soup can be made just as easily on the stovetop. Use medium heat, stirring often, for the first 2 steps to get the cheese melted. Reduce heat to low, and proceed with the rest of the steps.
Calorie estimation is approximate and does not include tortilla chips.
~✿♥✿~