The Best Stuffing Recipe Ever
The best stuffing recipe ever is homemade stuffing with sausage, sage, beautifully browned mushrooms, and Pepperidge Farm stuffing. This traditional Thanksgiving sausage stuffing has just the right combination of flavors and moisture making it perfect for your holiday dinner.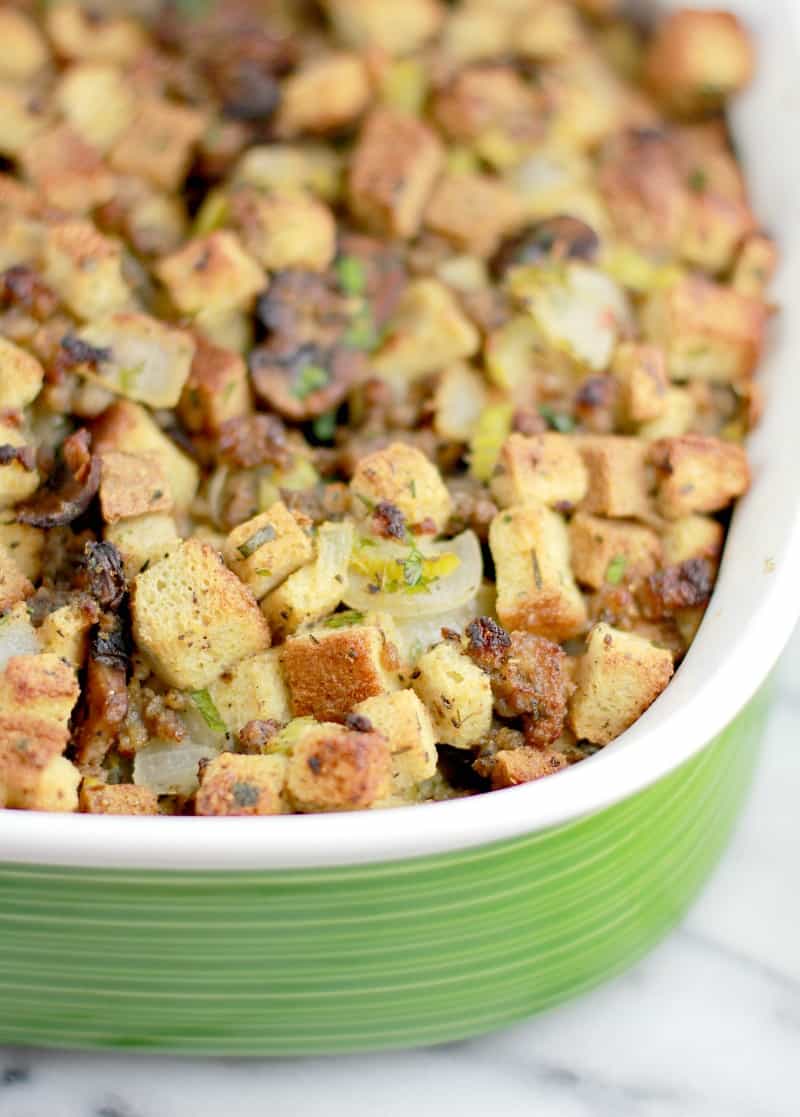 Thanksgiving stuffing is life
You would think the turkey would be the star of the holiday feast, but in our house it is the Thanksgiving stuffing. At least for me.
As soon as I realize Thanksgiving is approaching, I daydream about this stuffing. I live for this stuffing — which sounds weird and completely extra, but it is oddly totally true and I make no apologies.
I do not have a sweet tooth — for me, it is all about the savory. Chips and dip, cheesy things, cheesy stuffed things, breads and butter. And this stuffing.
Early hint: if you want a great way to use stuffing leftovers, see my Bacon Wrapped Stuffing Balls.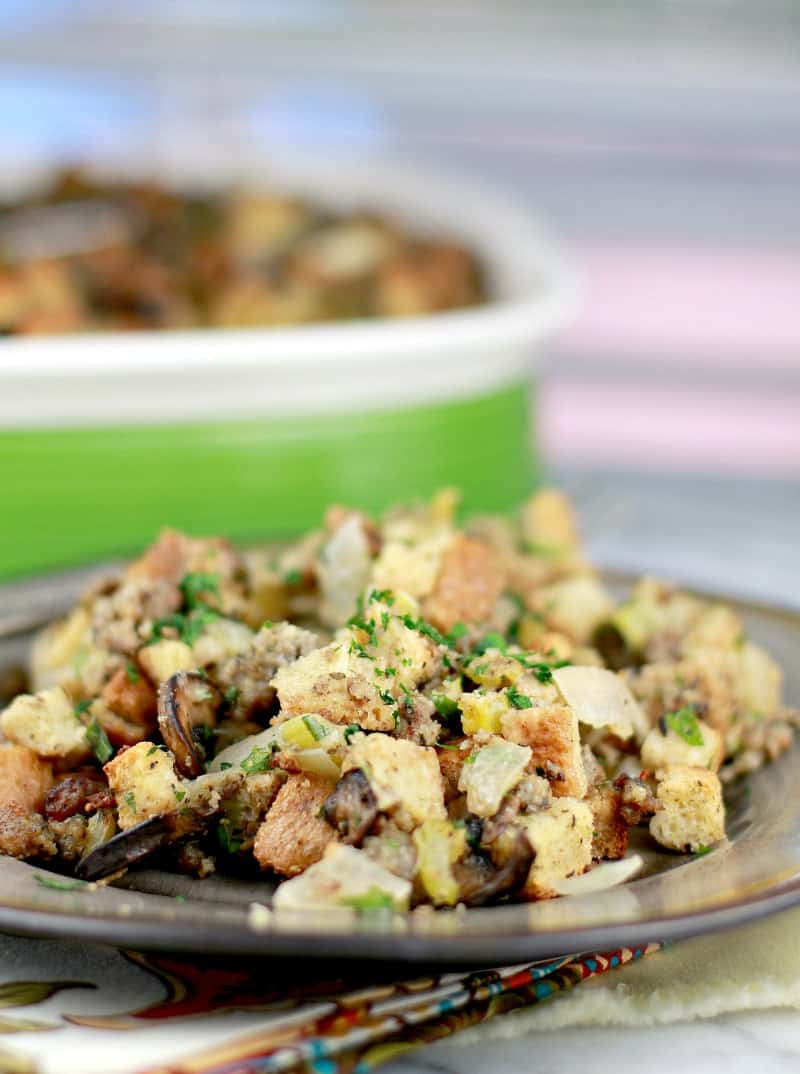 When I was growing up, my Grammy Peggie would cook the exact same meal Thanksgiving, Christmas, and Easter.
This meal consisted of turkey, gravy, stuffing, mashed potatoes, glazed sweet potatoes, mashed butternut squash, cranberry sauce, rolls, and pies. Just this meal, every time.
And it was DELICIOUS. And the stuffing with gravy was always my favorite part. Plus a turkey leg.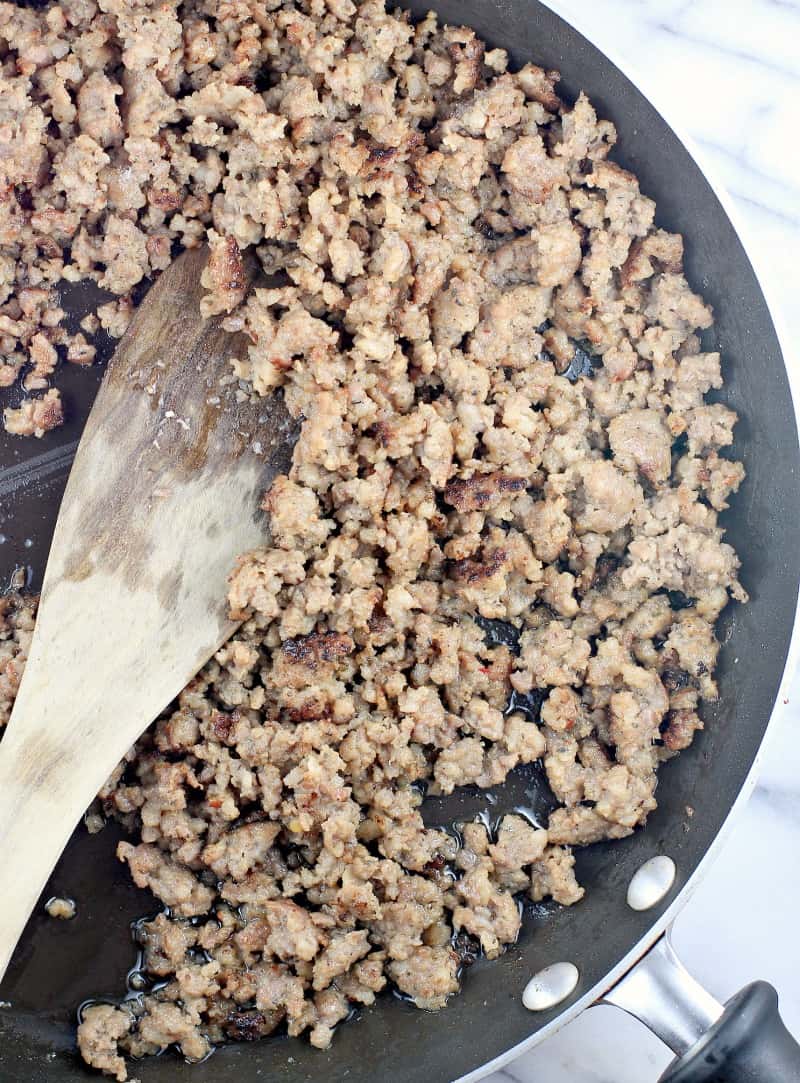 My grandmother's stuffing did not have sausage. It did not have mushrooms. But it had everything else — the onions, celery, and Pepperidge Farm stuffing. And it that something special that pretty much all grandmother dishes have.
It is a New England thing for sure, but using Pepperidge Farm stuffing is not negotiable.
Sure, you could make stuffing from a box. But do you really want to when it is so easy and SO much better to make it homemade?
If you want to cut corners, there are plenty to cut — purchase ready-made pie crust (or already made pie), already mashed potatoes or squash, bakery rolls, Redi-wip instead of whipping your own cream, etc.
But do not cut corners on the stuffing. You keep the stuffing special and make THIS, the Best Stuffing Ever.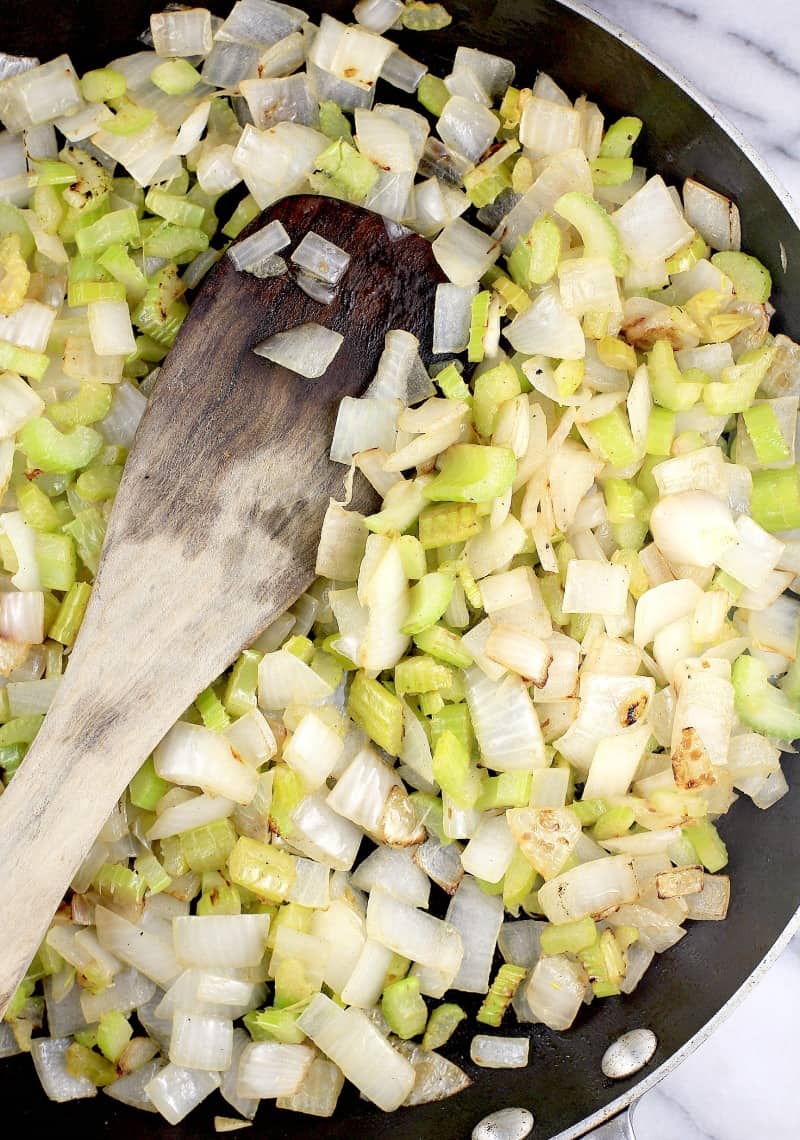 The essential elements of stuffing (or dressing)
Bread. Be it cubed Pepperidge Farm stuffing or crushed herb stuffing or cut up baguette or cornbread, the heart of any stuffing recipe is the bread.
Veggies (and maybe Fruit). Dressings and stuffing all have something savory like onion and celery (as is the case in my recipe), but they often have fruit too like sweet apple or tart cranberries.
Nuts, or not. Walnuts or pecans are often in dressing. I prefer no nuts.
Meat. I like sausage in my stuffing, but you will find everything from oysters up north to crawfish down south added to stuffing.
Or No Meat. As often as you will see meat in stuffing, you find variations without. My grandmother made it without meat because she cooked it in the turkey.
Moisture. Be it stock, broth, milk, water, eggs or some combination thereof, the aforementioned bread needs moisture to transform into stuffing.
If you want to make my homemade stuffing recipe meat-free, this is easy! Just up the mushrooms to 20 ounces and use vegetable stock in place of chicken stock.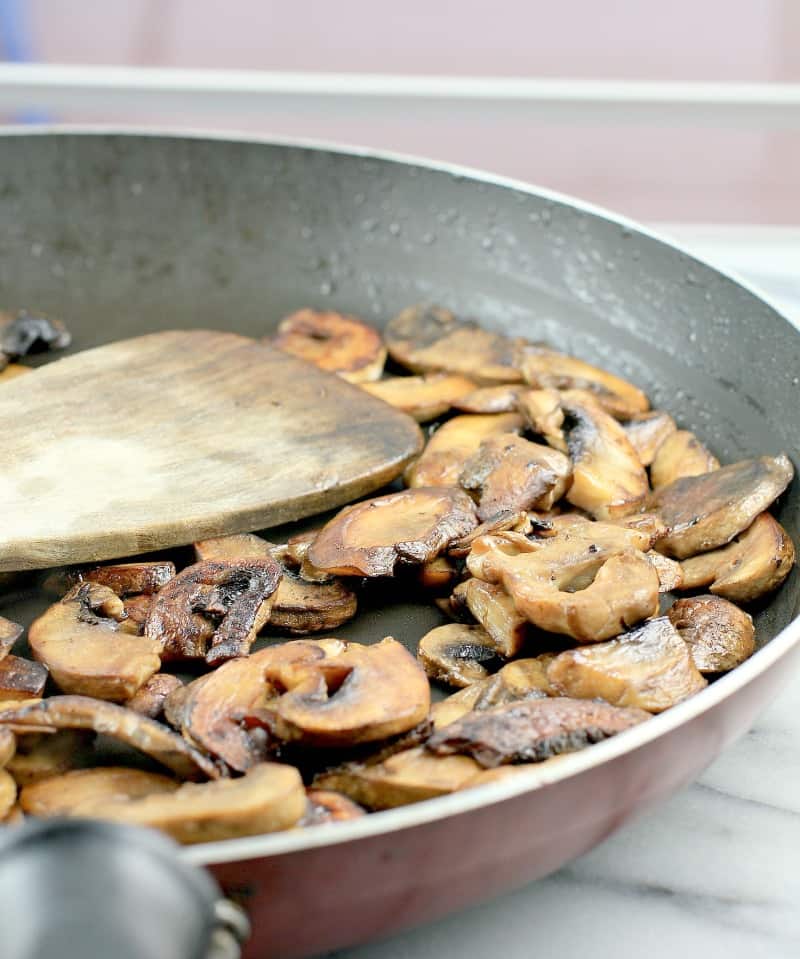 Ingredients for the best stuffing ever
There are a couple key factors that make this recipe, to me, the best stuffing ever have I ever made or even tasted in my life.
Cubed bread stuffing. By using cubed Pepperidge Farm stuffing rather than crushed (which my grandmother used – sorry Gram!), our stuffing comes out picture perfect rather than mush.
Butter. Speaks for itself.
Sage. By using savory sausage with sage specifically, and then adding dried rubbed sage, the flavor is just so mmmmm.
Mushrooms. Mushrooms bring umami. It's a real thing, so we need them. (keep reading if you have issues with mushrooms; I gotcha).
Chicken stock. Stock is richer than broth, so be sure to use stock be it chicken or vegetable. Either work.
Eggs. As delicious as stock is, it is the stock with the eggs that bring the perfect amount of moisture plus a bit of creaminess to make our bread stuffing the perfect texture.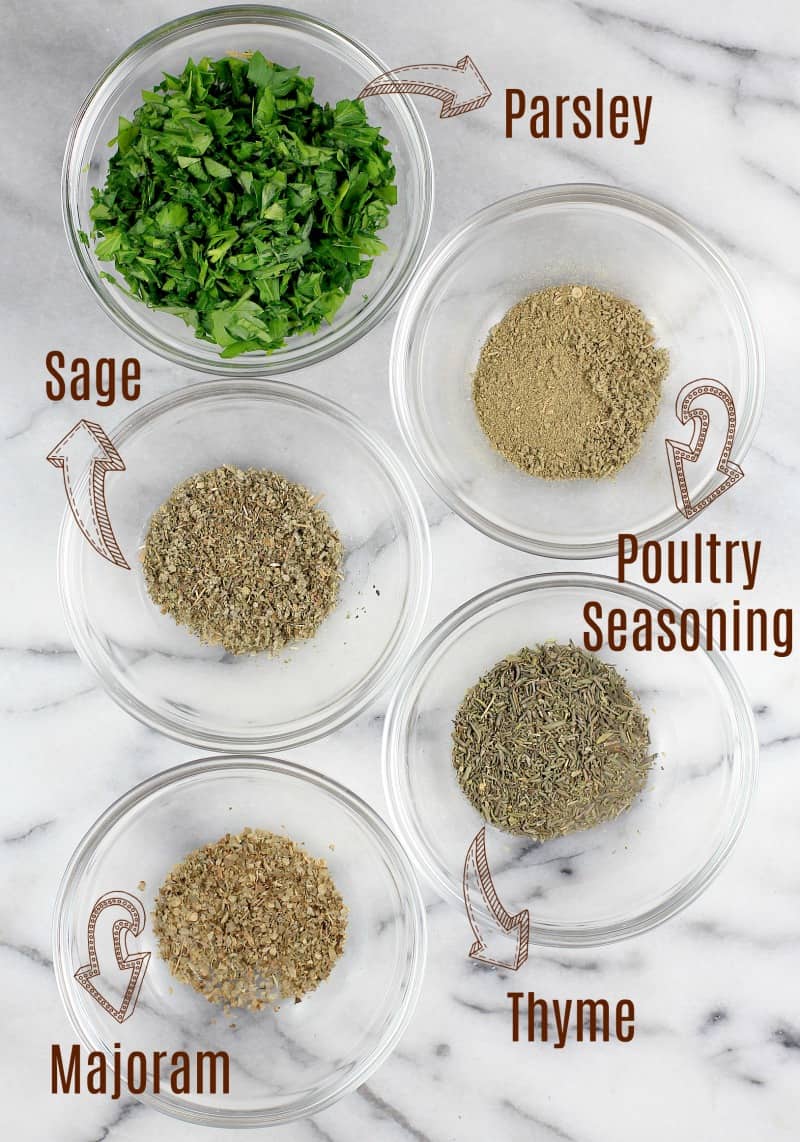 This homemade stuffing recipe is traditional, historic, classic New England perfection.
And that is pretty much it. The ingredients sound basic, I know, but day-yum do they come together to make a magical side dish that I love more than anything else at Thanksgiving.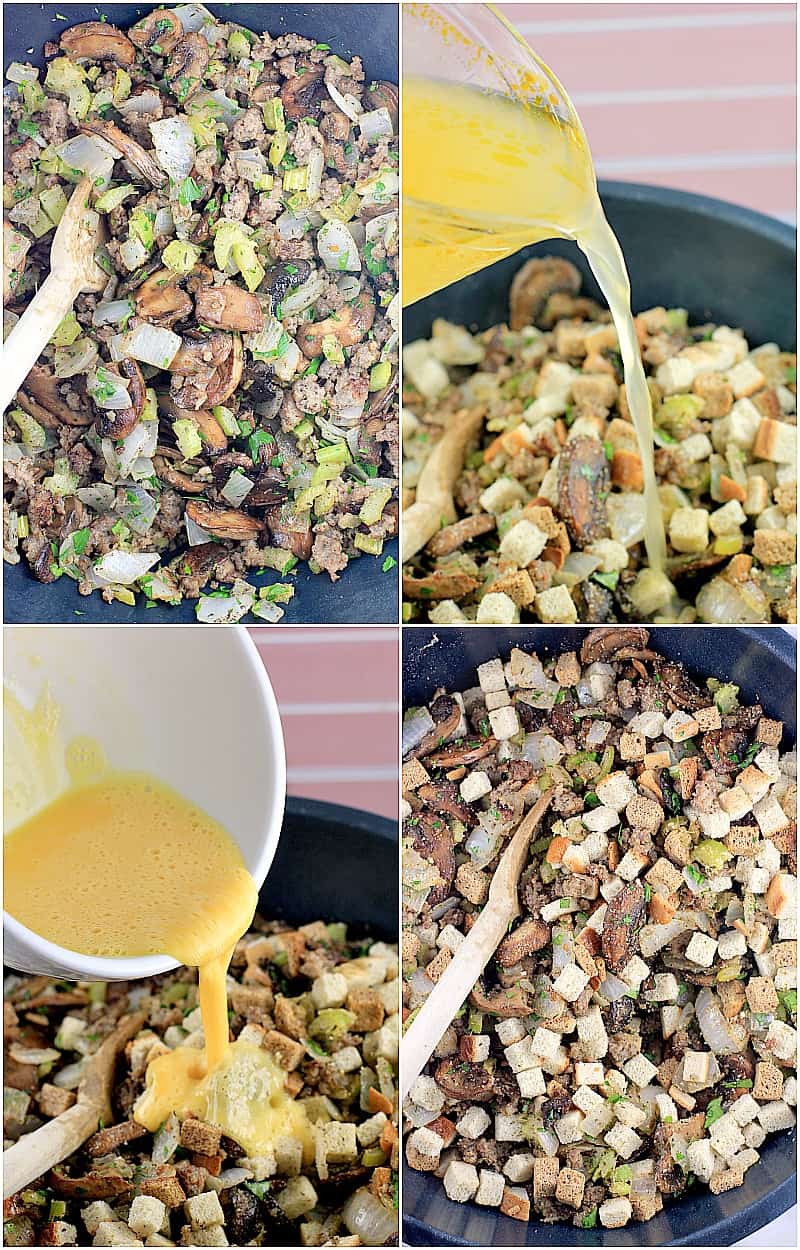 But "Erica, what if I don't like mushrooms?" or "What if my guest doesn't like mushrooms?"
I gotcha boo…
Not a fan of mushrooms? Make the following modification:
Mushrooms bring umami, as I said. But this can happen without them being obvious.
So in this situation, reduce the mushrooms from 8 ounces to 2-4 ounces.
Instead of slicing them, chop them up into small pieces (such as you would get in a can of cream of mushroom soup). The pieces will shrink further when you cook them.
Proceed with the recipe as written.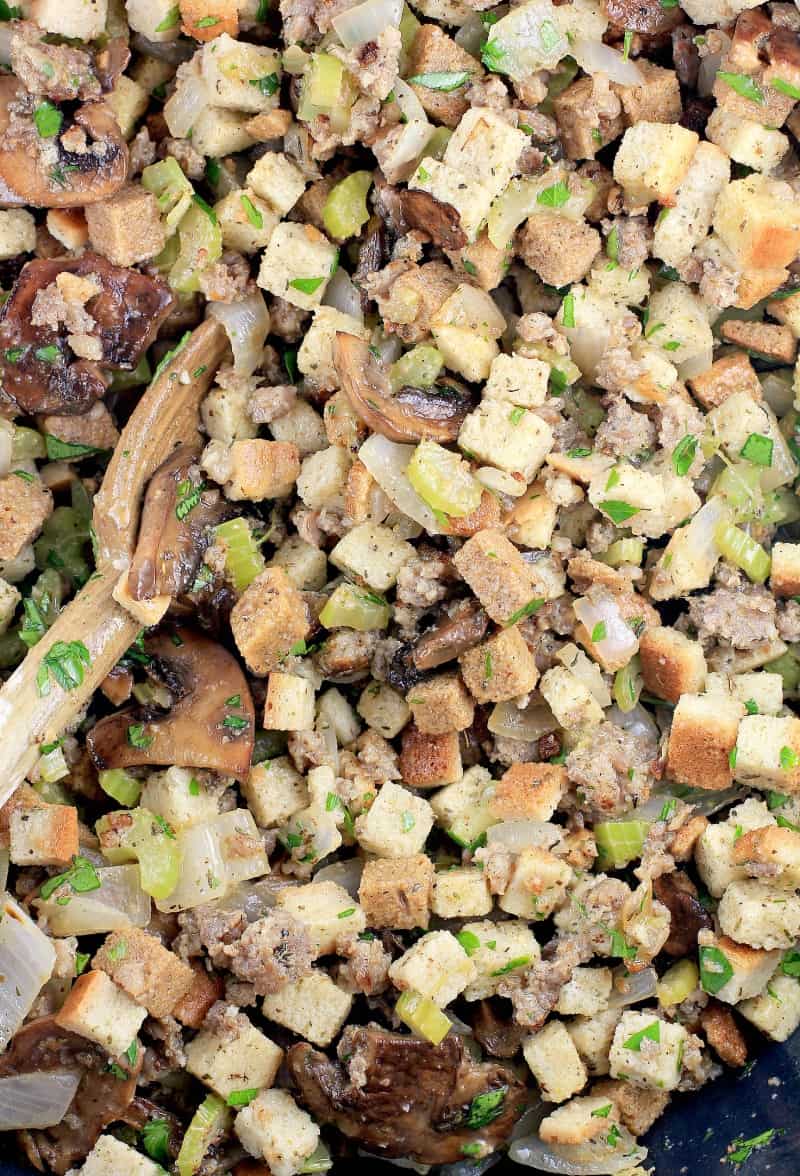 I made this little modification and served my homemade stuffing to a family of SIX last year — none of whom like mushrooms — but they loved my stuffing. And they had no idea mushrooms were there.
Boom.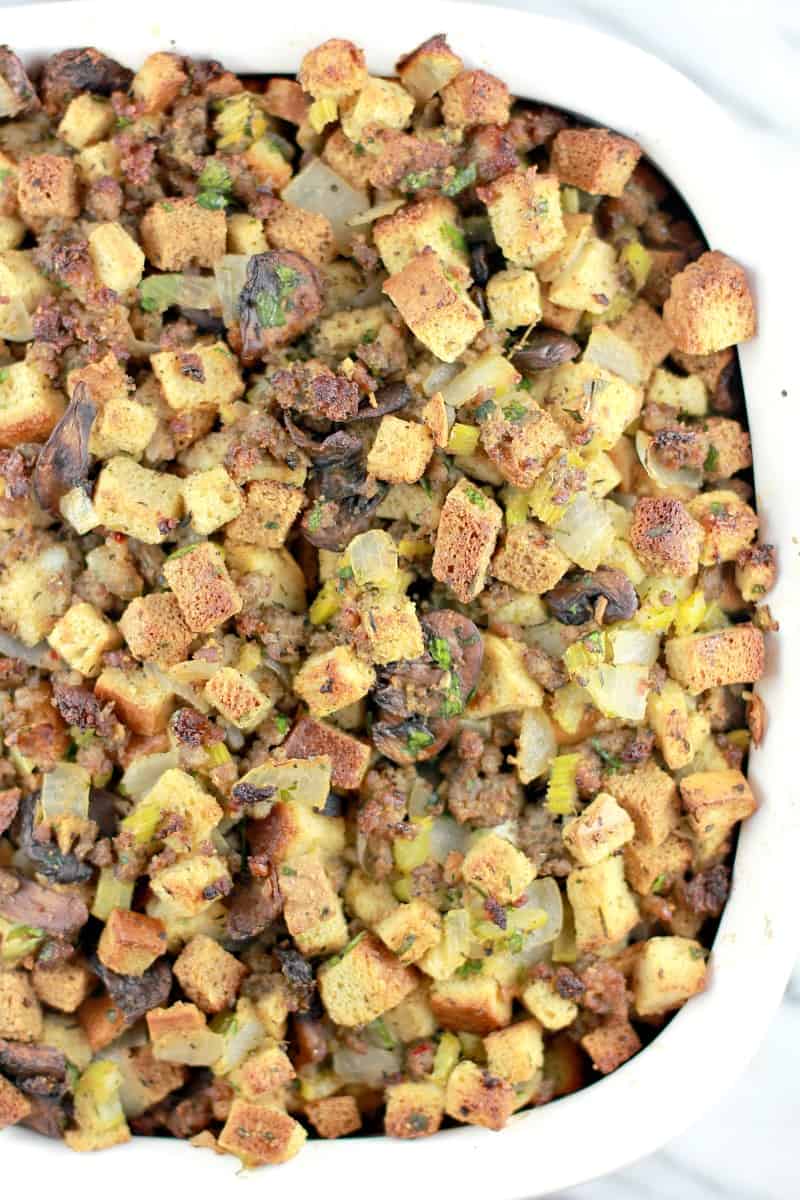 How to make stuffing
Cook and crumble the sausage if not already prepared. Drain fat.
Saute the onion and celery. Set aside.
Brown the mushrooms.
Combine all the ingredients.
Cover with foil and bake.
Remove foil and bake more.
Serve!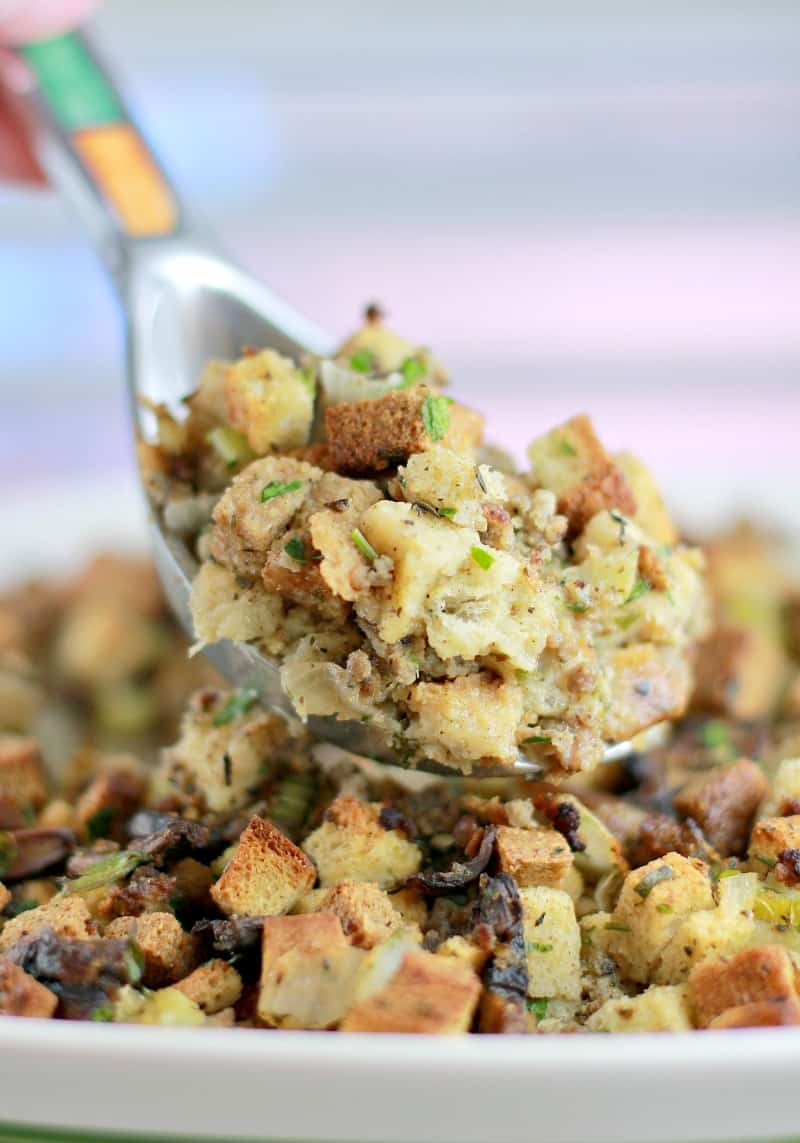 Another big key to why this sausage stuffing recipe is so good is because I have taken the guesswork out of how much stock to add.
Two cups of chicken stock and two large eggs brings the perfect amount of moisture to soak into the bread cubes and deliver a perfect stuffing, but not too much so we do not end up with mush.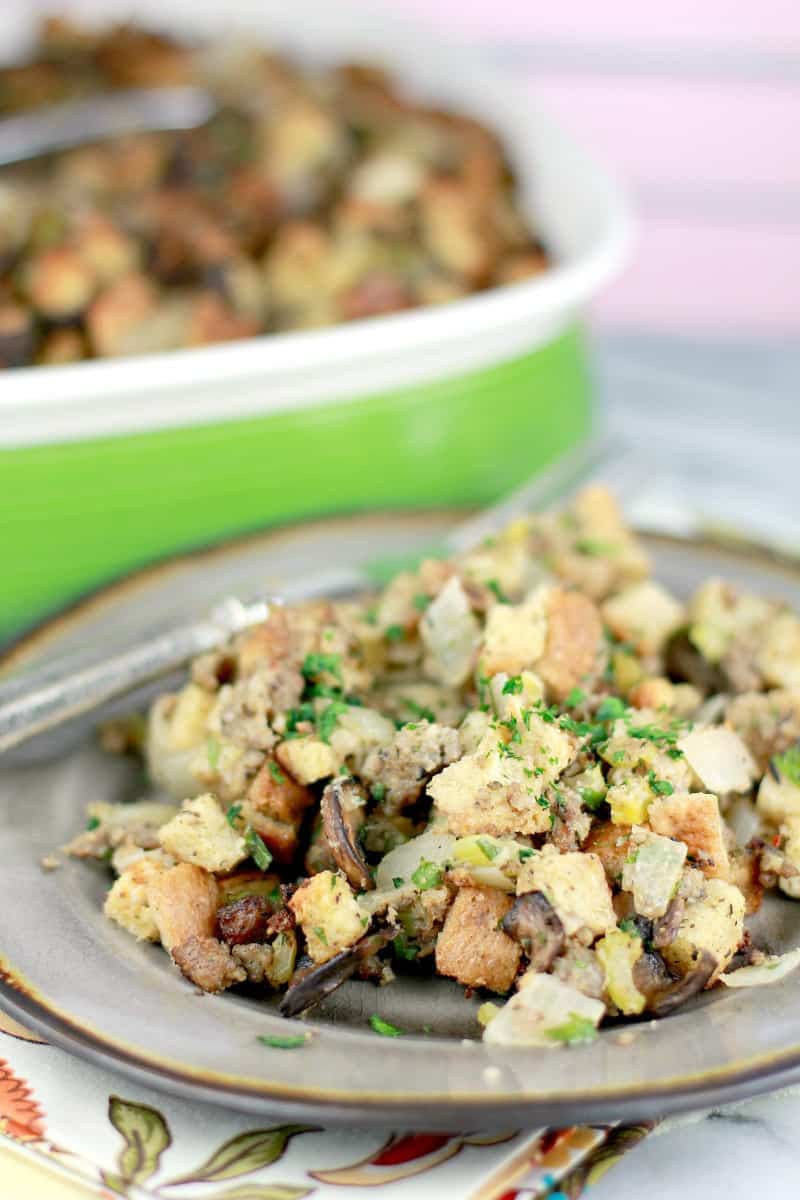 Kitchen tools needed to make homemade stuffing
cutting board and knife
large skillet and spatula
liquid measuring cup
1 and ½ teaspoon measuring spoons
bake dish
Nothing fancy needed, just standard kitchen tools.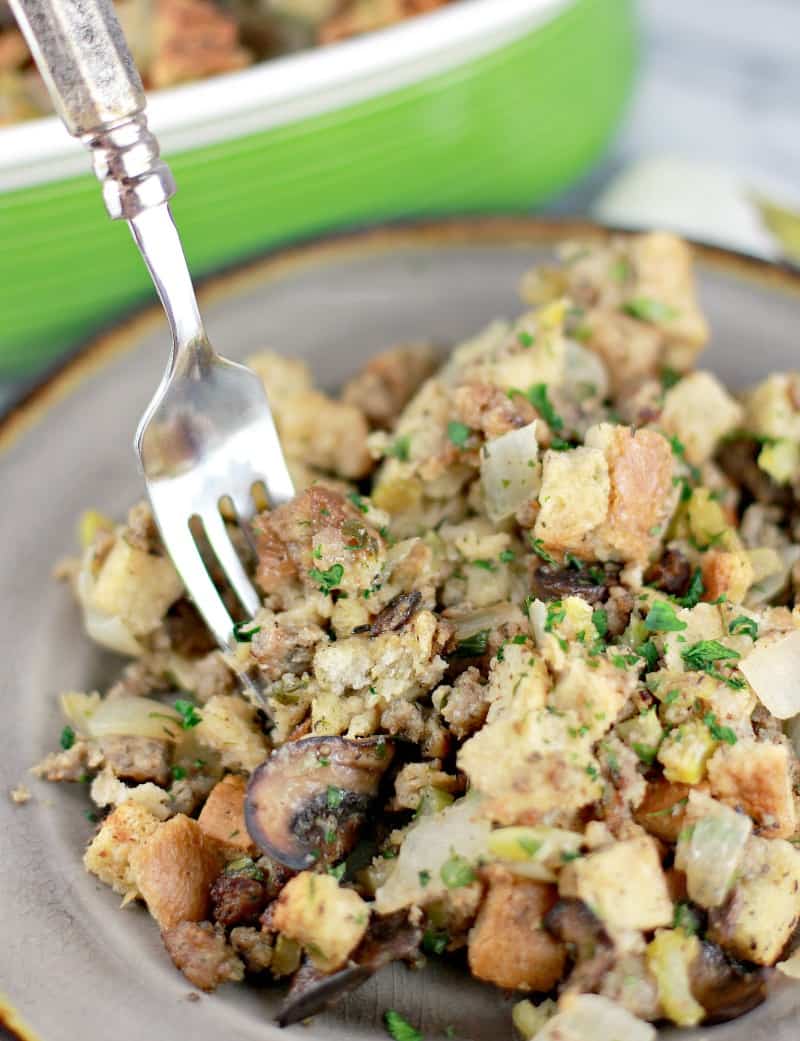 One of the beautiful things about this homemade stuffing recipe is that during the hectic food kitchen chaos that goes with prepping any holiday dinner, this recipe does not contribute much to the mess.
And an even more beautiful thing is that homemade stuffing can be made in advance. You can either assemble and let sit, then bake (method I prefer).
Or you can prep all the way through, including baking. Then simply reheat when ready to serve.
Either way, you will have yourself the Best Stuffing ever of your life.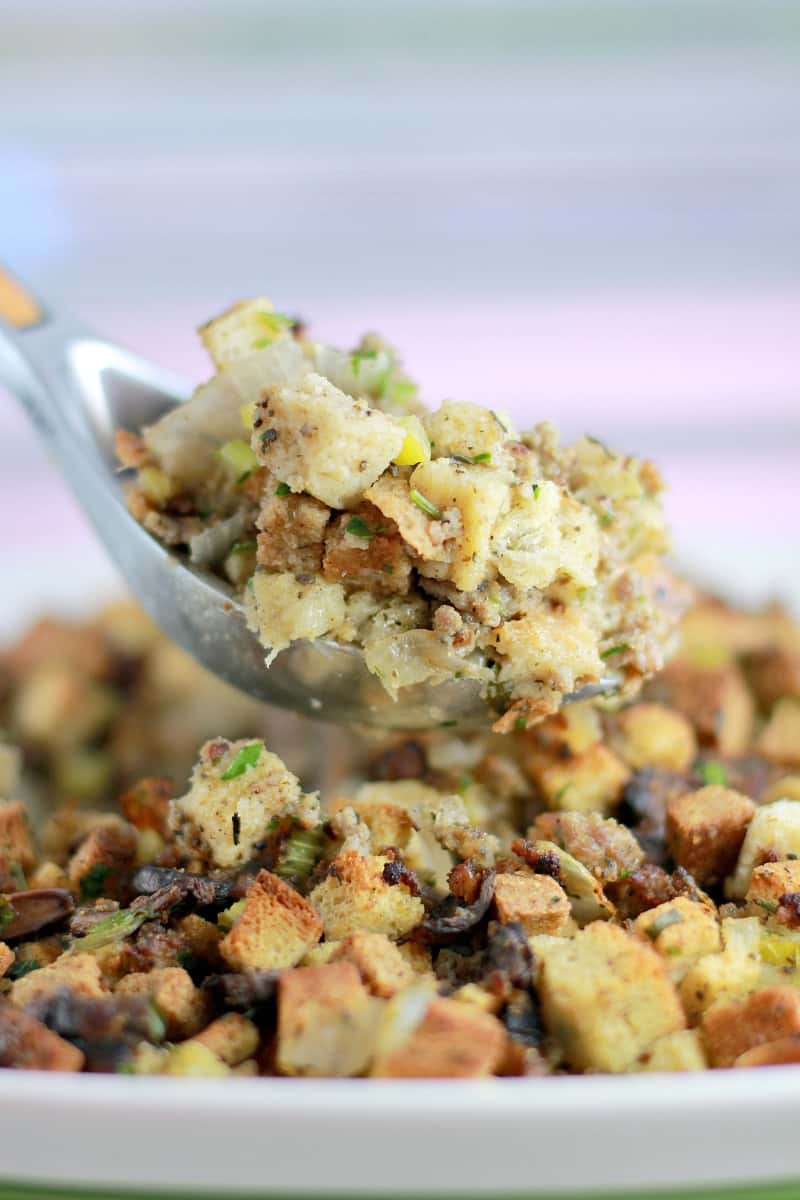 Extra tips for making this sausage stuffing recipe
An easy way to drain fat from sausage is to put the cooked sausage in a bowl lined with several paper towels. Let sit 10 minutes.
For detailed instruction on how to properly brown mushrooms, see my article here.
I have used purchased stock and homemade. For a recipe for homemade stock, visit here. I have also used vegetable stock with complete success.
Letting the prepared sausage stuffing sit a bit allows the Pepperidge Farm stuffing to soak up the liquids better. I find the final result to be better than baking straight away. This also helps because you can make it is the morning, cover with foil, and let sit until you're ready to cook it later in the day.
If you opt for stuffing a turkey, ensure you cook the center of the stuffing in the bird to 165F. Then this will be the Best Turkey Stuffing Recipe Ever.
So that's it folks. One of my best, most favorite recipes in the world. Share it with those you love, just like I do every year.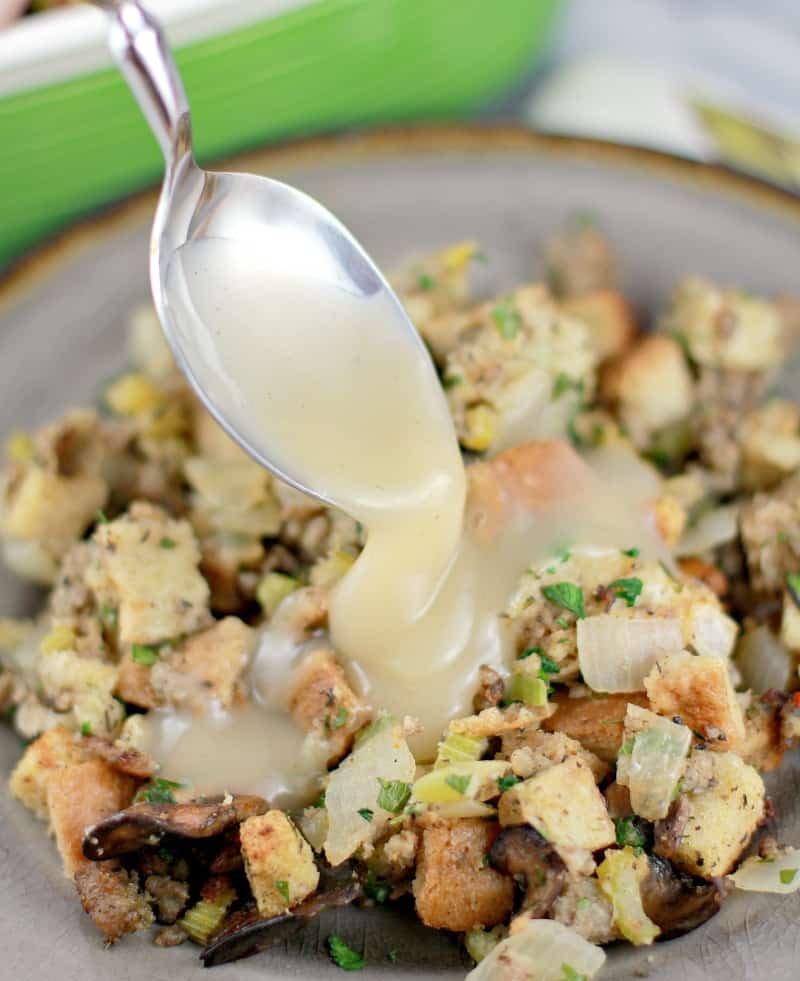 More recipes to plan your best Thanksgiving ever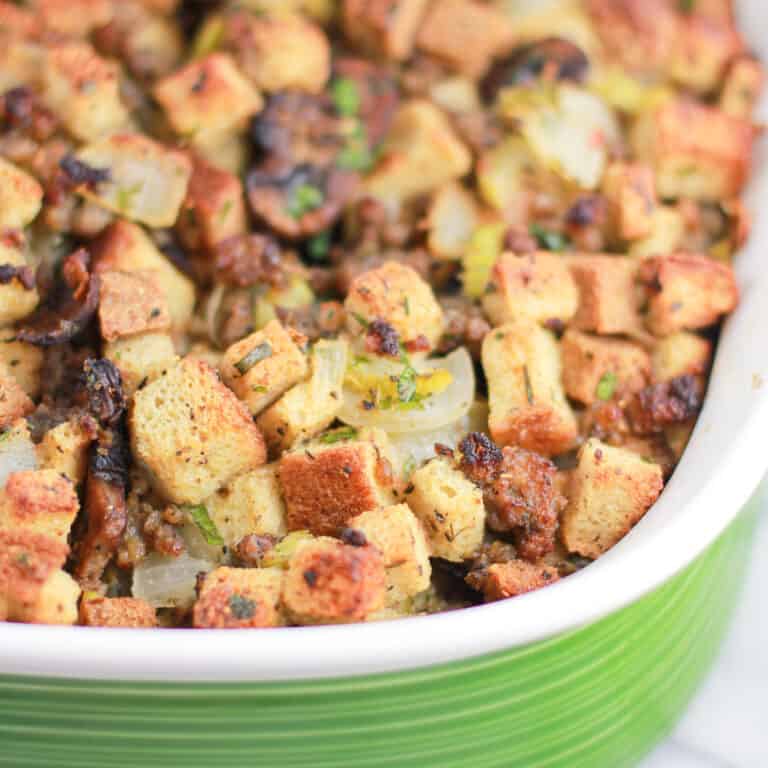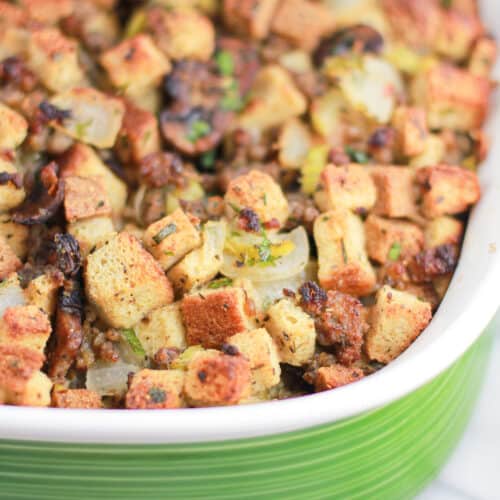 The Best Stuffing Recipe Ever
This homemade stuffing with sausage, sage, and Pepperidge Farm stuffing, will be the best stuffing recipe you have ever had.
Ingredients
1

lb

bulk sage sausage

browned and drained of fat

4

Tbsp

unsalted butter

divided

1

large white onion

diced

4

large celery ribs

thinly sliced

¼

cup

Italian flat-leaf parsley

chopped

8

oz

fresh cremini or white button mushrooms

sliced

1

(12 oz) pkg

Pepperidge Farm country-style, cubed stuffing

1

tsp

poultry seasoning

1

tsp

dried sage

1

tsp

dried thyme

½

tsp

dried marjoram

1

tsp

kosher salt

½

tsp

freshly ground black pepper

2

cups

chicken or vegetable stock

2

large eggs

lightly beaten
Instructions
Cook the onion and celery in 2 Tbsp butter until softened. Remove from the pan and set aside.

In the same pan, cook the mushrooms in 2 Tbsp butter until browned.

Toss the cooked veggies and mushrooms with the parsley and seasonings in a large mixing bowl. Add the sausage and stuffing.

Add the stock and mix in eggs. Transfer mixture to a 13×9 baking dish sprayed with cooking spray, and cover with foil.

Bake 30 minutes at 350-375°F. Remove foil, and bake another 30 minutes.
Notes
This stuffing is amazing with my Applejack Giblet Gravy
If using Pepperidge Farm crushed or cubed stuffing with HERB added, make the following adjustments: OMIT the poultry seasoning and sage; cut the marjoram and thyme in HALF; leave the salt, pepper, and fresh parsley the SAME as written above.
Nutrition
Calories:
445
kcal
(22%)
|
Carbohydrates:
36
g
(12%)
|
Protein:
17
g
(34%)
|
Fat:
25
g
(38%)
|
Saturated Fat:
10
g
(63%)
|
Polyunsaturated Fat:
1
g
|
Monounsaturated Fat:
2
g
|
Cholesterol:
97
mg
(32%)
|
Sodium:
1186
mg
(52%)
|
Potassium:
218
mg
(6%)
|
Fiber:
4
g
(17%)
|
Sugar:
5
g
(6%)
Calorie count is purely an estimate calculated using an online application to serve as a guide and not to be taken as accurate nutritional information. Percent Daily Values are based on a 2,000 calorie diet.
Tried this recipe?
Leave a comment below and let me know!
~✿♥✿~